Best in Canada
If you needed any more reason to choose Muskoka as your leaf peeping destination!
Aside from the stunning colours, Muskoka is praised for the fun and exciting ways to experience the fall colours, including boat cruises, hiking trails, golfing, zip line excursions, and kayaking adventures.
Fall Colour Guide
These dates are our best guess for when to see the fall colours this year. Please note, these are just educated guesses based on historical trends. There are many factors that affect when the fall colours will be best for viewing, and these conditions and dates may change slightly from year to year.
Early fall colour viewing opportunities: September 24 – September 30
Peak maple fall colour viewing opportunities: October 1 – October 12
Peak golden encore fall colour viewing opportunities: October 13 – 21
If you plan on visiting Muskoka this fall, bookmark this page so you get the most up-to-date report.
By the Water's Edge
Muskoka has over 100 places to stay!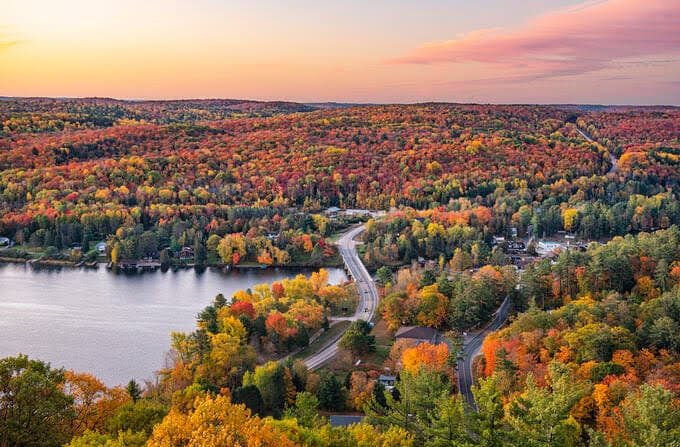 Book a stay at one of Muskoka's incredible Resorts, Inns or Cottage Rentals.  Muskoka is home to 17 resorts including historic getaways like Windermere House or Bayview Wildwood Resort, or experience a larger resort like Deerhurst Resort or JW Marriott The Rosseau. 
Looking for an Inn or accommodation style off the water? Explore Crestwood Inn, Inn at the Falls and The Dudley Inn. Click here to explore all 15 Inn's in the area. If you're looking for a Bed & Breakfast, check out Four Ninety B&B,  Fern Glen Inn or The Inn on Bay. 
Muskoka is known for the quaint Cottage Resorts & Lodges including Club Muskoka at Granite Ridge, Muskoka Beer Spa, Blue Spruce Resort, or Lumina Resort to name a few. Click here to explore all the accommodation options. 
Looking for a place all to yourself? Explore a Cottage Rental or explore all options with a Cottage Rental Agency. 
Drink in the colour-changing scenery as you drink in a delicious brew. We suggest Muskoka Brewery's Harvest Ale or Lake of Bays Brewing Co. Pumpkin Ale. 
Take a Cruise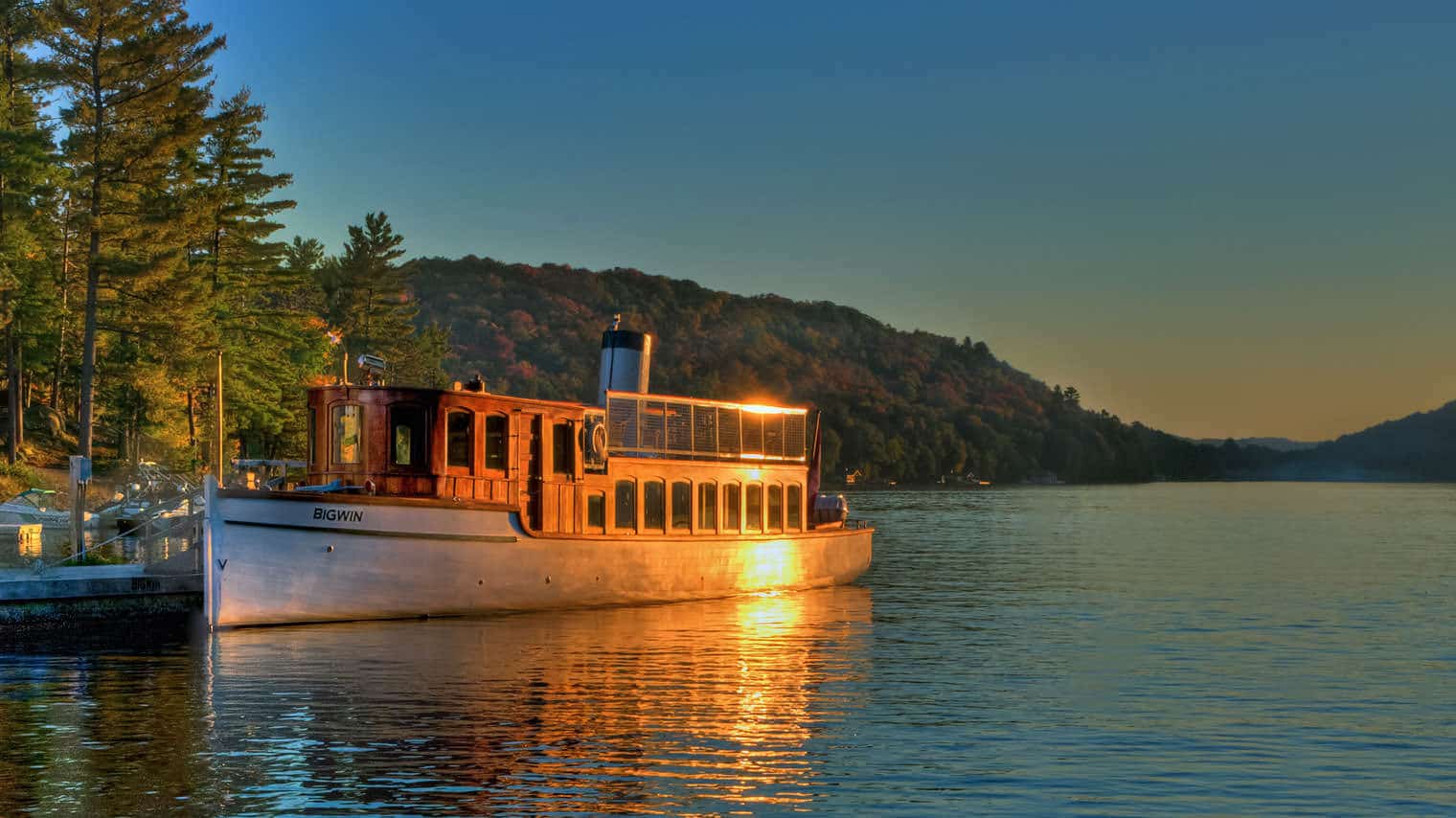 Muskoka boasts six fall cruises that will give you the best seats in the house to view the colours. Witnessing the majestic colours aboard one of these masterful vessels that ply the beautiful Muskoka waterways is an experience worth reliving again and again.
From the Trails
Fall is perfect for hiking: the cooler temperatures and natural beauty combined create the ideal hiking season. Fall is fleeting, so take the opportunity to experience a fall hike in Muskoka before it gets too chilly to be outdoors for extended periods of time. Here are 5 breathtaking hikes that you might not have explored before! Take the trail less travelled, as some hiking spots in Muskoka like Hardy Lake Provincial Park, Algonquin Park and Huckleberry Rock Lookout Trail tend to be quite busy. If you're exploring those trails we recommend arriving very early. 
Ragged Falls Oxtongue River Hiking Trail in Dwight is located off Highway 60 near Algonquin Park. It's only 1km long and offers a spectacular view of Ragged Falls. Which has been named one of the top 10 waterfalls in Ontario.
School House Trail in Georgian Bay Township gives guests the full Georgian Bay landscape experience, a 4km trail that traverses a local watercourse via a boardwalk and runs past many of the area's native species.
Limberlost Forest & Wildlife Reserve is only 11km's from Algonquin Park and showcases nature the way it was intended to be, with 20 private lakes, 70km of trails, and 10,000+ acres of unspoiled wildlife just waiting to be explored
Wilson's Falls Hiking Trail in Bracebridge is a forested walking trail that brings you up close to the rushing waters and admire this natural scene. It is hard to believe this walking trail and waterfall is just minutes from downtown.
Hunter's Bay Trail in Huntsville is unlike any other trail in Muskoka. This 3.6km urban trail has a little bit of everything; riverside views, orchards, wooded trails, beaches, and over 500m of floating boardwalk over the waters of Hunter's Bay. We recommend walking the entire trail, you will not be disappointed.
Serene Morning Paddle

There is no better time to go for a canoe or kayak than a crisp Autumn morning. The mist slowly clears away, and the beautiful fall colours appear to be on fire with the burning sun finally touching down on them. We've got a number of outfitters right on the water that rent canoes, with recommended routes for you to take:
From the Highest of Heights – Muskoka's Lookouts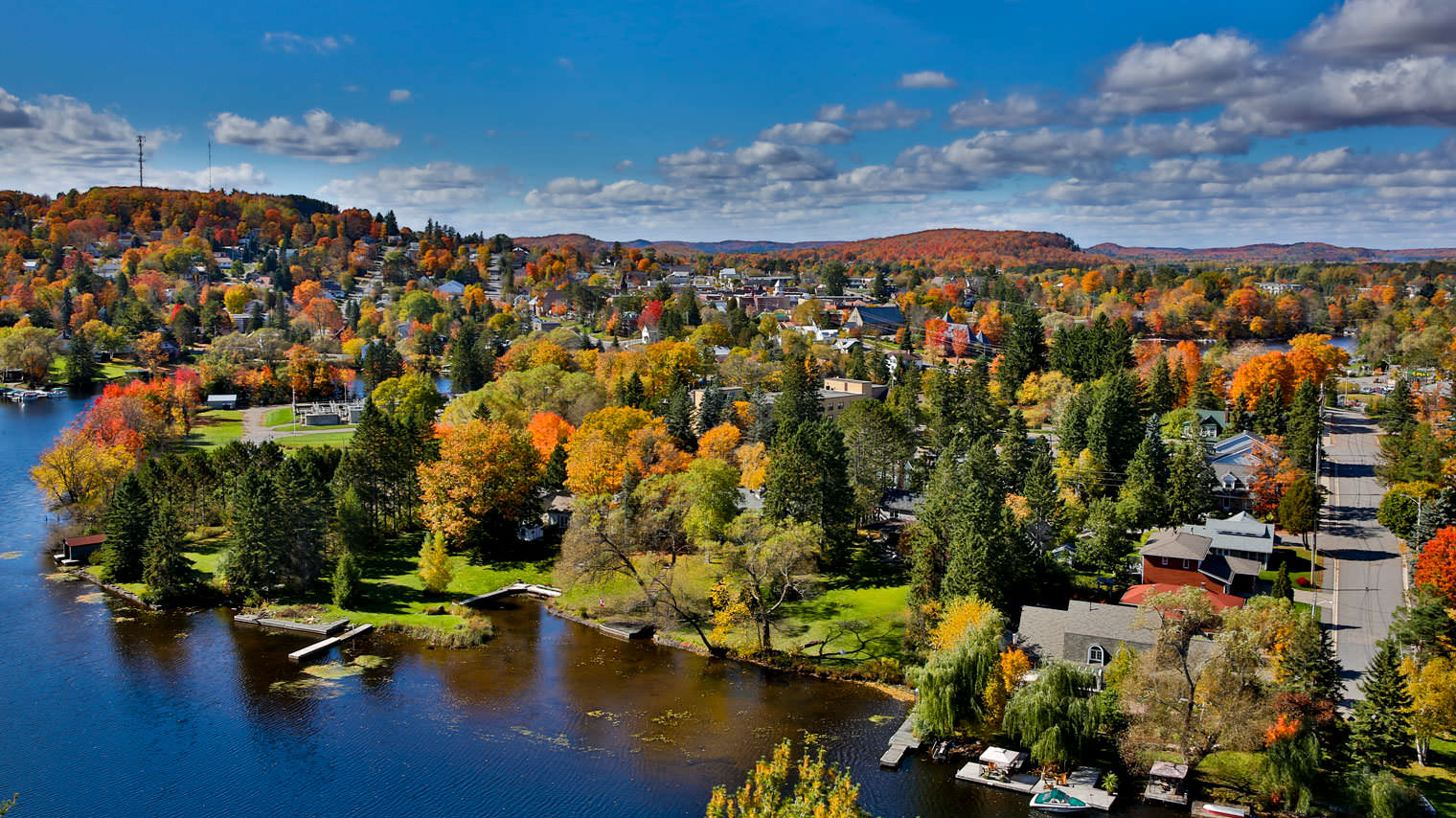 The best vantage point to see the colours is from above, and the best way to catch a view is from a refreshing hike. A few of the most popular lookout points are:
Lion's Lookout in Huntsville
Huckleberry Rock in Muskoka Lakes
Track and Tower in Algonquin Park
Walker's Point Lookout Trail in Walker's Point
Dorset Lookout Tower in the Township of Algonquin Highlands
On the Links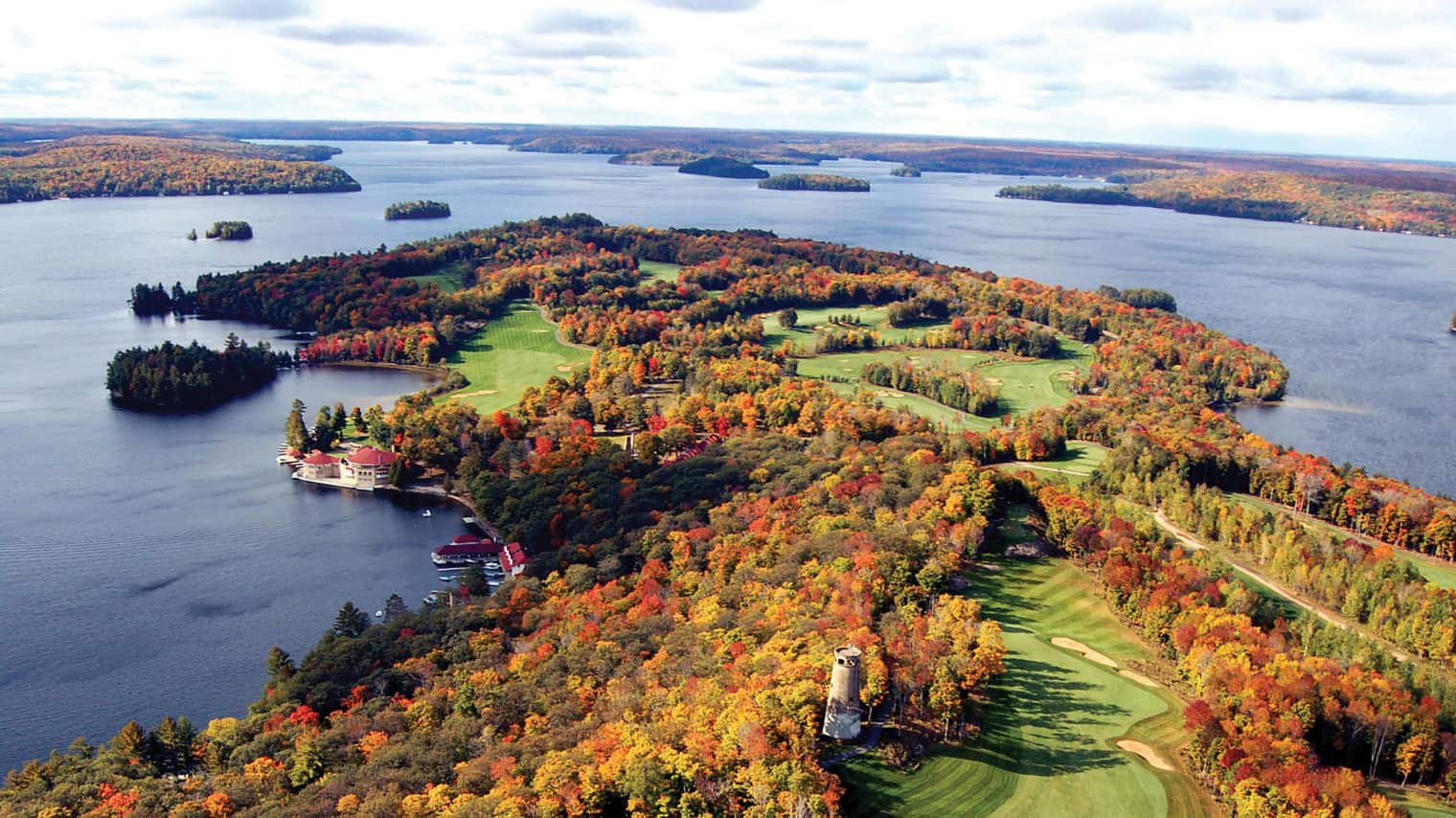 Muskoka has quickly gained a reputation as one of Canada's destinations for Stay & Play getaways.  With dozens of championship golf courses that truly capture Muskoka's unheralded beauty and unique terrain, it is easy to see why Muskoka is being recognized for having some of the best golf courses in Ontario and is widely considered to have some of the best golf courses in Canada.
However you choose to enjoy the fall colours, the best place to do it is here in beautiful Muskoka!
In the Trees
Treetop Trekking in Huntsville! Zip lining through a canopy of coloured leaves is a remarkable feeling! The crisp fall air hits your face and a blur of colours passes you by as you zip from tree-to-tree.
On The Road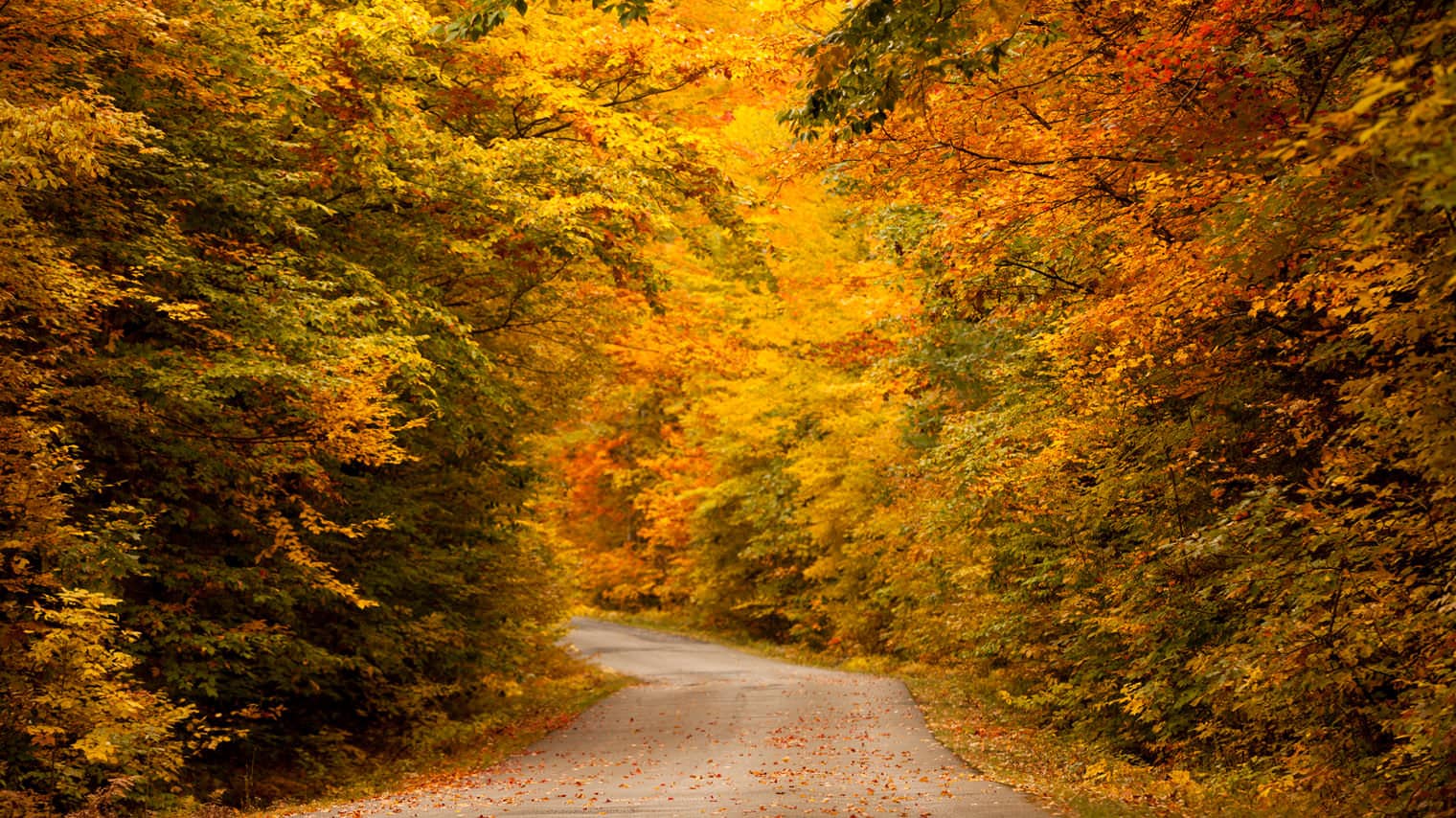 Explore Muskoka's 10 Driving Routes! Nothing can compare to a relaxing drive during the colourful fall season, and there is no better place to hit the road than in Muskoka, recently named the best place in Canada to view fall colours by Huffington Post. You will be in awe of the oranges, yellows, and fiery reds that are bursting at every turn in the road, and the thousands of lakes across Muskoka only add to the allure. Pack your bags, hop in the vehicle, and hit a number of these open roads in Muskoka to see the fall colours at their absolute best!
As the Backdrop to your Perfect Day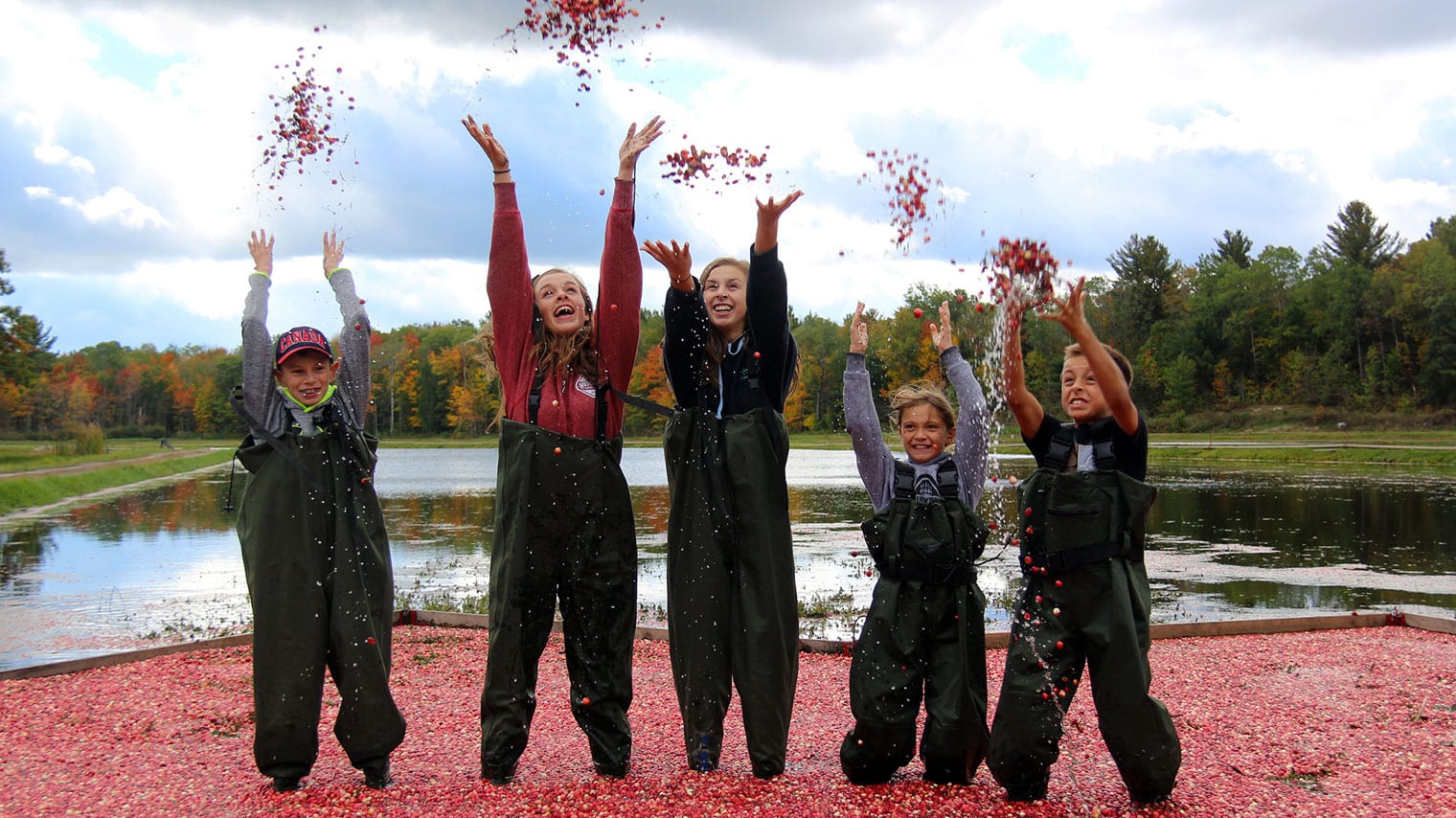 Bala is the Cranberry Capital of Ontario, highlighted by their weekend celebration, the Bala Cranberry Festival, always the weekend after Thanksgiving. The celebration isn't just confined to this weekend. This tart little berry is celebrated throughout its harvest.
You can visit Muskoka Lakes Farm & Winery throughout the cranberry harvest. They offer three tours daily, wine tasting, shopping, tasting, hiking, wagon rides, helicopter rides, and the ever popular photo opt of you walking in the berries.
On a Horse and Wagon Ride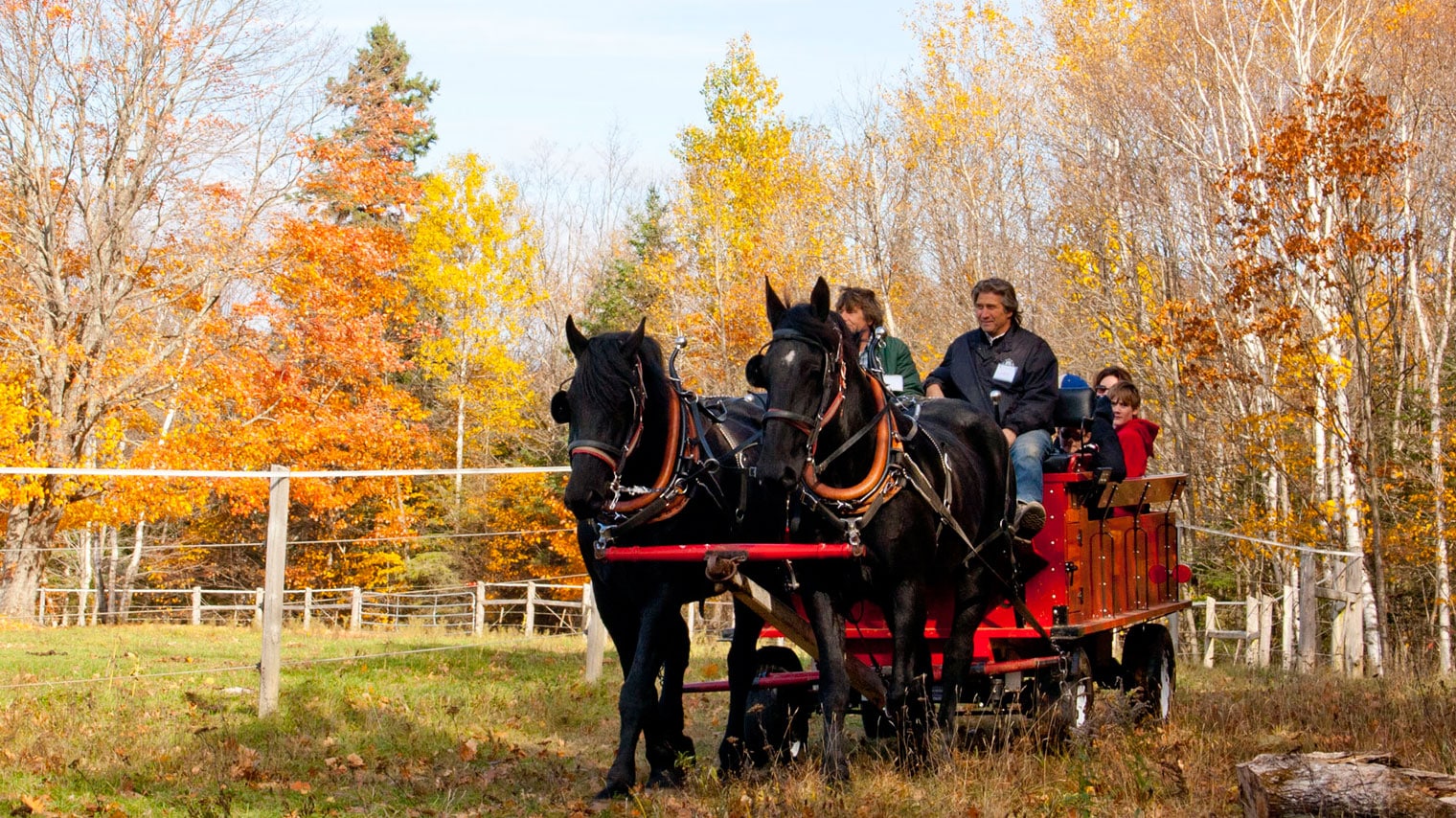 Back of Beyond Equine Centre (just outside of Huntsville) offers a unique way to admire the colours with their horse and wagon rides. These fall wagon rides are great for families, from kids to grandparents and everyone in between. The experience has proven to be very popular with couples as well with a smaller, more intimate wagon for lovebirds.
High in the Sky
Cottage Air Inc.Cottage Air Inc. offers clients throughout Ontario a secure and private charter flight to cottage country.
Georgian Bay Airways can take you on the ride of your life, flying over the beautiful fall landscapes of Muskoka and Parry Sound, as well as the rugged coast line of Georgian Bay's 30,000 islands, home of the world's largest freshwater archipelago.
Things To Do
Places To Stay
Fall Packages
Discover