SEPTEMBER 19, 2017 – MUSKOKA / ALGONQUIN PARK
Environmental conditions vary from year to year, so it is always tough to guess exactly when the fall colours will be at their best.
One thing is for certain though, the 2017 fall colours are coming in early and they're coming in hot! Environmental conditions have teamed up to create an earlier than average fall colour change, and early season leaf peepers are benefiting.
Take note of these tips if you want to take advantage of these early leaf peeping opportunities.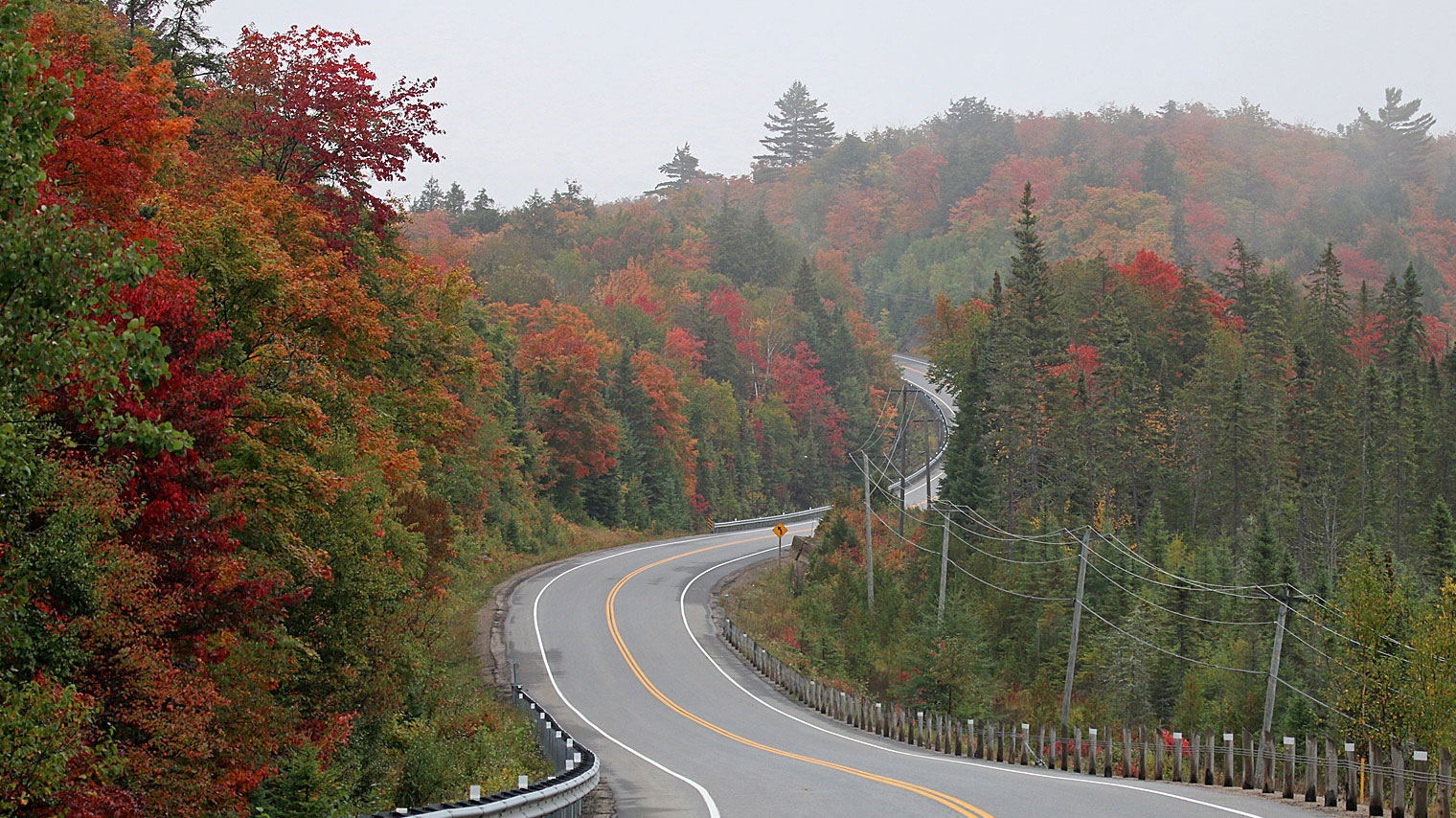 Photo Credit: The Friends of Algonquin Park. Fall colour approaching the West Gate in Algonquin Park on the foggy morning of September 19, 2017.
Algonquin Park
Algonquin Park will be a popular spot this weekend and with good reason as the sugar maples are a vibrant red and at their best for viewing. If you want to see a great display, visit the park midweek; September 20 – 22 or September 25 – 29. Weekend waits to get into the park have been long (3+ hrs), and should be avoided if possible. Here is a smart FAQ to read if you are planning on visiting Algonquin Park.
If you find yourself in one of these long lines to get into the park on a weekend, consider turning around and visiting Limberlost Forest and Wildlife Reserve. This nature reserve is a hidden gem, and is only about 11km west of Algonquin Park as the crow flies.
Visiting Algonquin Park and looking for nearby accommodation? Book your accommodation now!
Muskoka
Take a scenic drive through the area and you will not be disappointed. Fall colours in Muskoka are excellent right now for early fall colour viewing  with reports of up to 50% colour change in the area. The sugar maples in North Muskoka (Huntsville / Lake of Bays) are a vibrant red and are especially stunning.
A relaxing fall drive around the lakes will bring you to many brilliant pockets of colour. Take a popular fall driving tour, or combine the beauty of art and nature with the Muskoka Autumn Studio Tour this weekend and next. (September 23 – 24 and September 30 – October 1).
If you are looking for a memorable experience, Johnston's Cranberry Marsh will be starting their cranberry harvest on September 23 which will run until October 31. There is a ton of fun happening out at the marsh including wagon tours, wine tastings and more. For more information, visit their website
Fall in Muskoka is as much about admiring the beautiful colours as it is actually experiencing the fall colours. From boat cruises to canoe paddles, helicopter tours to zip lining adventures, check out the Best Ways to Experience Fall Colours in Muskoka
Looking for accommodation in Muskoka for your fall adventure? Book your accommodation now!
Photo below: September 14 – Fall colours bursting just outside of Bracebridge on Muskoka District Road 4 (continue on Manitoba St from downtown Bracebridge)