Explore a magnificent Winter Wonderland on Snowshoes! 
Snowshoeing in Muskoka is not just a winter activity; it's an immersive journey into the heart of Ontario's natural beauty. As you venture through the snow-covered trails, breathe in the crisp winter air, listen to the silence of the woods, and relish the sense of serenity that can only be found in this enchanting region. Muskoka's snowshoeing adventures promise not only physical activity but a deep connection with nature, creating memories that will linger long after the snow has melted away. So, bundle up, strap on your snowshoes, and discover the magic of Muskoka in winter.
1. Trails & Terrain:
Arrowhead Provincial Park: Known for its 8km of well-groomed trails, Arrowhead Provincial Park offers an ideal setting for both beginners and experienced snowshoers. The park's expansive trail system winds through dense pine forests and opens up to stunning views of snow-covered lakes.

Located just outside of the Town of Bracebridge, the Resource Management Centre Trails are a local favourite for snowshoers. The centre provides 16.5 kilometres of winter-groomed easy-to-moderate trails, suitable for snowshoers and cross-country skiers. You'll pass by spectacular wooded areas and postcard-pretty vistas along the Muskoka River. 

Lake of Bays Trails are another great option for snowshoers. With over 10 kilometres of trails, including one main trail and 14 smaller trails, the park offers many options for families and those looking for a more relaxed pace. For some Instagram-worthy winter views, be sure to visit the viewing platform overlooking the park.


Muskoka Lakes Farm and Winery: This picturesque winery, located in Bala, is not only known for its wines but also for its scenic trails. During the winter months, the 10 kilometres of trails become a snowshoer's delight, winding through vineyards and offering beautiful views of the surrounding landscape. For the more advanced snowshoers, check out the Superberry Trail. You must purchase a trail pass to access.



Located just outside of the Town of Huntsville, Limberlost Forest and Wildlife Reserve offers over 70km of complimentary trails for all levels. You must bring your own snowshoes and sign-in upon arrival. The Buck Lake Loop offers stunning views and relatively flat terrain. 

Frost Centre's snowshoeing trails should be on every snowshoer's must-do list. These 11 kilometres of stacked loop trails take in gorgeous cliff-top lookouts and spectacular ice falls, and offer visitors the chance to glimpse wildlife like deer, owls, and martens. Access to the centre is by donation and trail maps are available at the trailhead. 

For a full list of all 1,000km of trails, visit Ontario Trails.
 Wildlife Encounters:
Muskoka's winter landscape is not just about the snow-covered trees and trails; it's also a prime opportunity to spot wildlife in their natural habitat. Snowshoeing silently through the snow-covered woods increases the chances of encountering elusive creatures like deer, foxes, and various bird species. Click here for tips and tricks on Wildlife tracking. 
Places to Stay with Snowshoeing: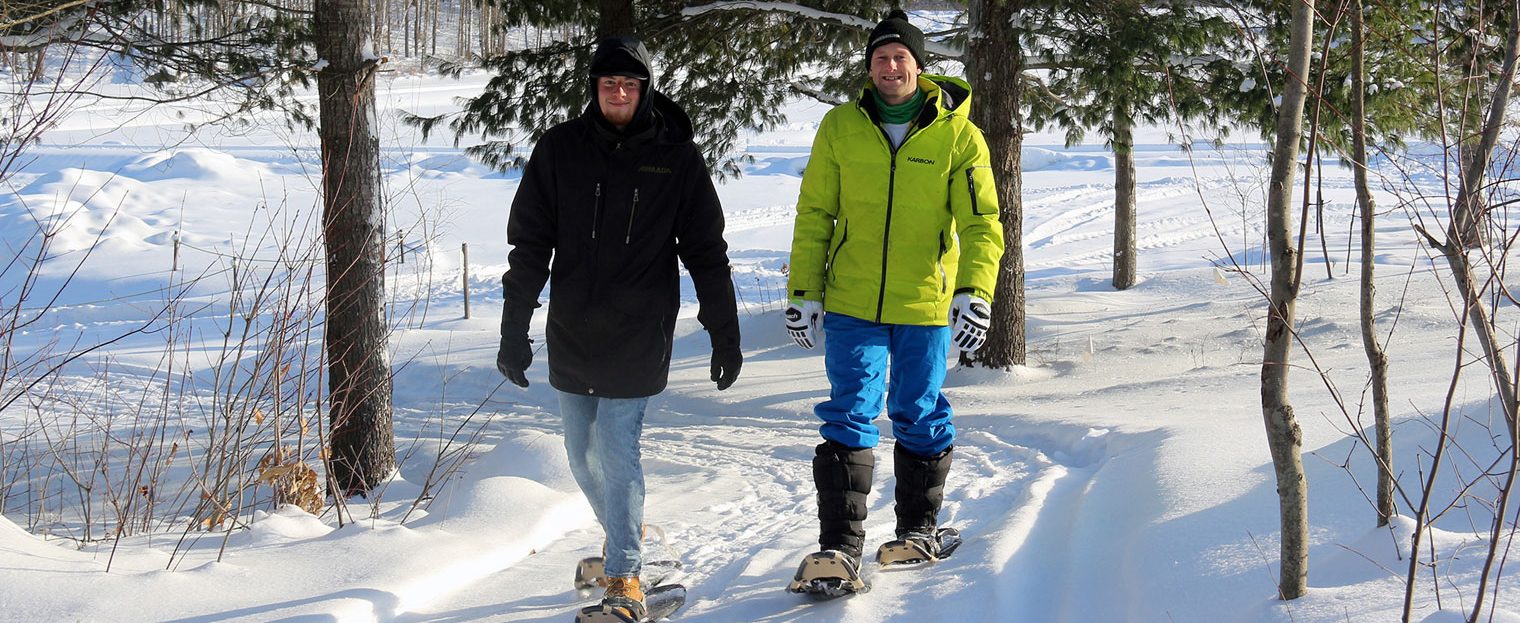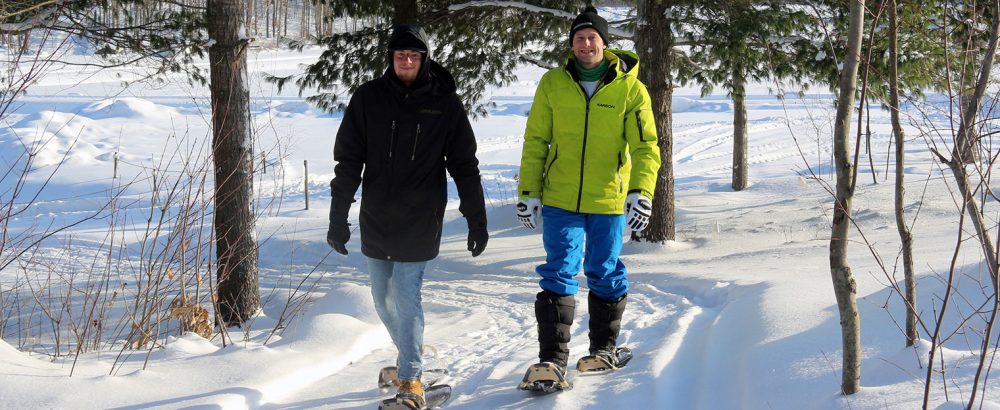 Could there be a better way to relax after an invigorating, sunny day snowshoeing through the woods than curling up in front of a roaring fire or warming yourself back up in a relaxing hot tub? Book your family into one of Muskoka's beautiful resorts and make it a perfect day and night. Many resorts have snowshoe trails and rentals on-site. Here's a selection to get you started:
Snowshoe Rentals & Tours
No snowshoes? No problem! Several outfitters in Muskoka offer snowshoe rentals, allowing you to explore the nearby trails without worrying about bringing or buying your own.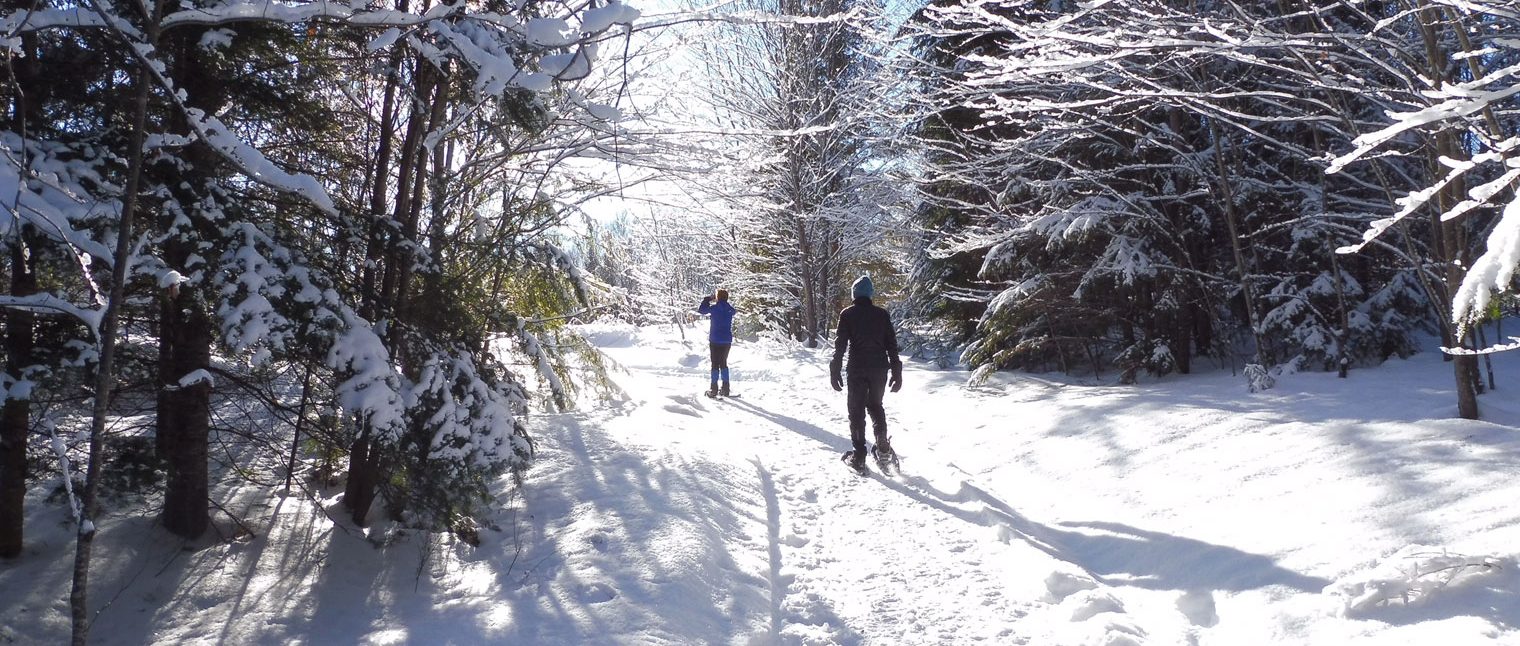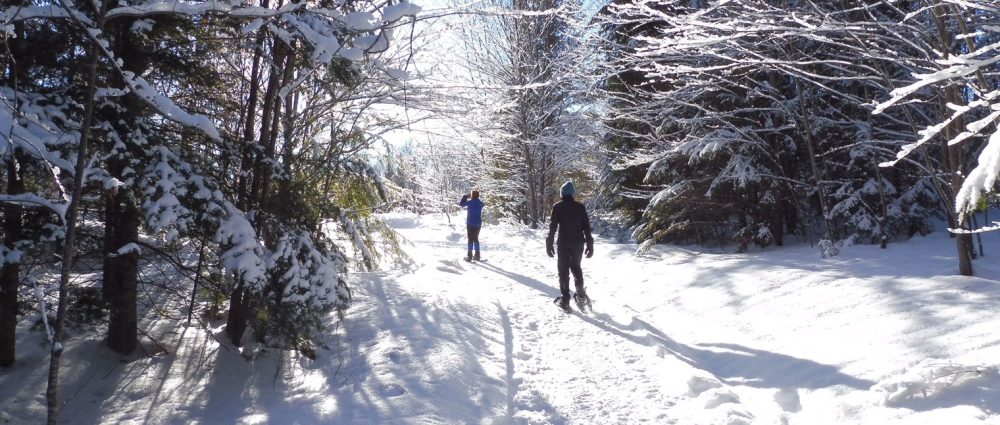 Algonquin Outfitters also offers a wide variety of winter equipment rentals, including snowshoes. Both their Oxtongue Lake and Huntsville storefront locations provide snowshoe rentals for both adults and children, as well as snowshoe poles. Rentals are by the day and reservations are not required. The Bracebridge and Haliburton locations also offer rentals, although equipment is limited, and it is recommended that you call 705-787-0262 ahead of time to avoid disappointment.



To get well off the beaten path, take part in a Snowshoe Safari this winter with

Find Your Wild

. Choose from a guided half-day excursion on the Find Your Wild grounds or a full-day adventure in Algonquin Park. Snowshoes and a light snack are supplied with both excursions. The Algonquin adventure includes wildlife tracking with a local, experienced guide and wild-harvested tea

.

Liv Outside offers both guided and self-guided snowshoe tours through the well-maintained winter trails located on their grounds. For DIY snowshoers, check out the Self-Guided Snowshoeing Tour. This excursion includes snowshoes, snowshoe instructions, and a winter trail pass to access the Liv Outside trail system. The Guided Day Snowshoe Tour is also available, which includes an experienced tour guide for the duration of your adventure.
Practical Tips for an Unforgettable Snowshoeing Experience

1. Gear Essentials:
Dress in layers to regulate body temperature.
Wear waterproof and insulated boots to keep your feet warm and dry.
Bring adjustable trekking poles for stability on uneven terrain (optional).
Don't forget essentials like a backpack, water, snacks, and a map of the trails.
2. Weather Awareness:
Check weather conditions before heading out and be prepared for changing conditions.
Dress appropriately for the temperature and be mindful of wind chill.
3. Trail Etiquette:
Respect trail rules and closures for safety.
Yield to other trail users, such as cross-country skiers and hikers.
Check in advance if dogs are permitted.