There is something for anyone and everyone to try this winter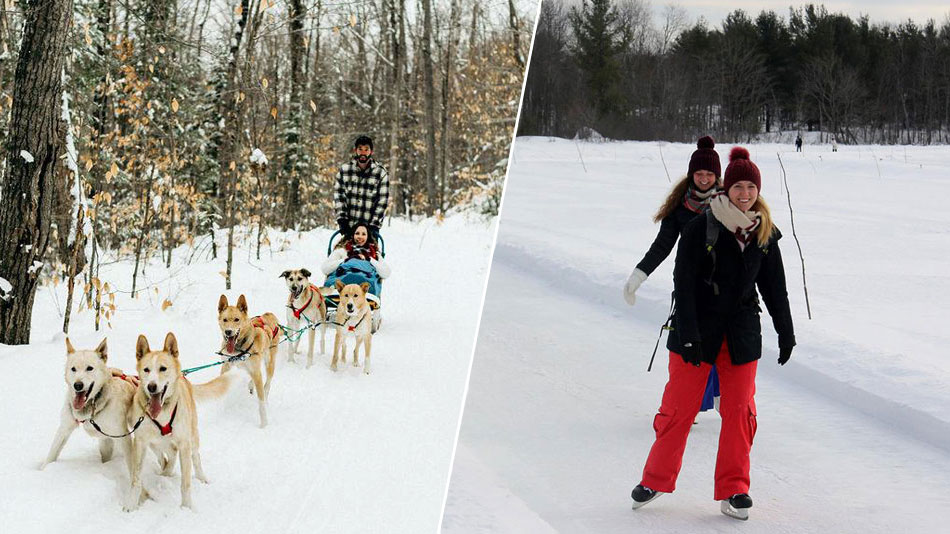 There is so much fun to be had in Muskoka all year round! All of these winter adventures are fit for a family outing, an adventure with friends, or a snow date with your partner. The winter conditions have been excellent this year, so what are you waiting for? Get out and enjoy everything Muskoka has to offer and make some memories you will cherish forever.
Tubing at Arrowhead Provincial Park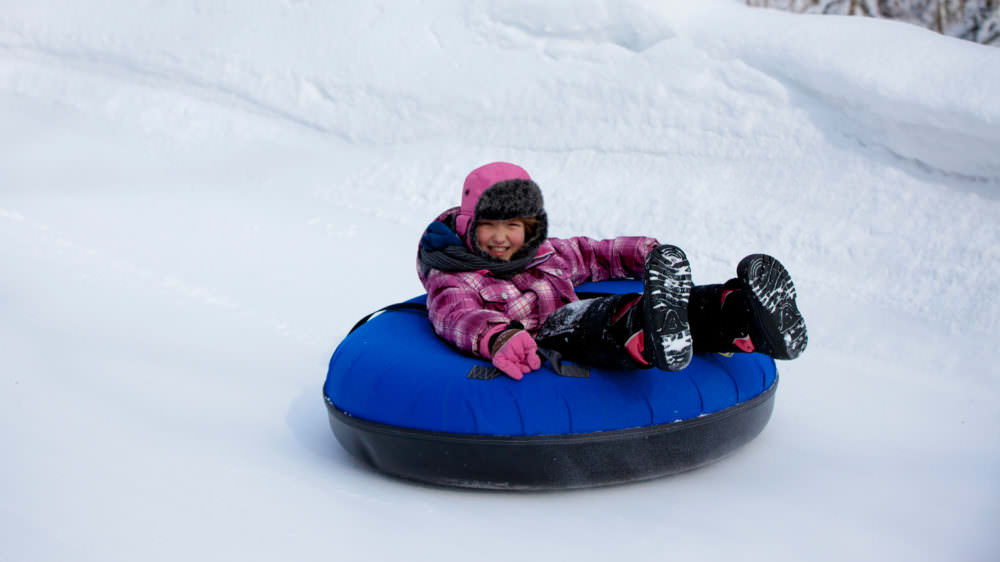 Flying downhill on a tube or toboggan should bring back some nostalgia from your childhood. Arrowhead Provincial Park has a groomed tubing track with tubes on-site, and access to the park also gives you access to their snowshoe trails and the famous ice skating trail. Fun all day!
Snowshoe in the back country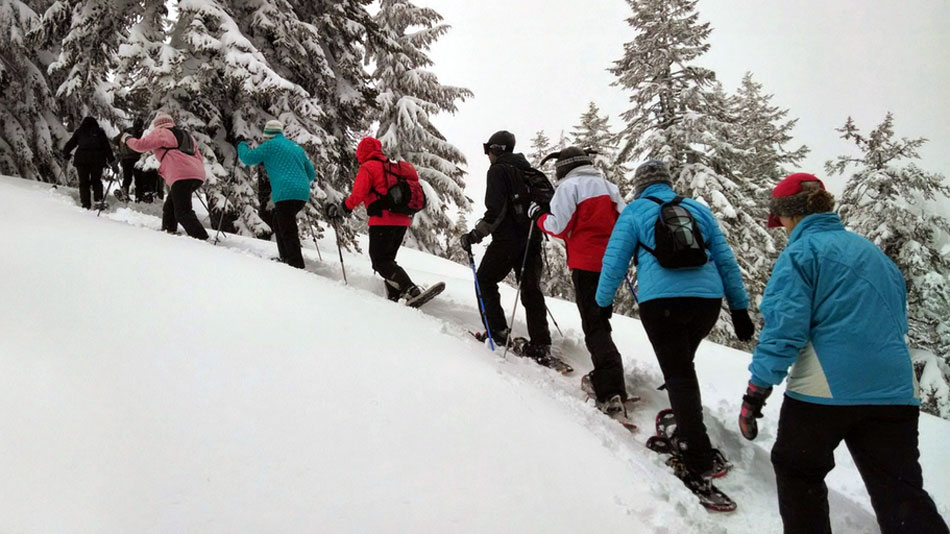 Snowshoeing is an inclusive activity for all ages and skill levels and one of the easiest ways to bring the entire family together!
Muskoka KOA, Muskoka Lakes Farm & Winery and Arrowhead Provincial Park all have rentals and great trails on-site. If you have your own shoes, Hardy Lake Provincial Park is a popular trek with both a 3km and 8km loop.
If you want a fun and interactive snowshoeing experience, let a local expert take you into Muskoka's wondrous back-country with a guided snowshoe tour. These expert adventurers will show you the ropes while providing your group with interesting knowledge and facts only a local could know.
Pond hockey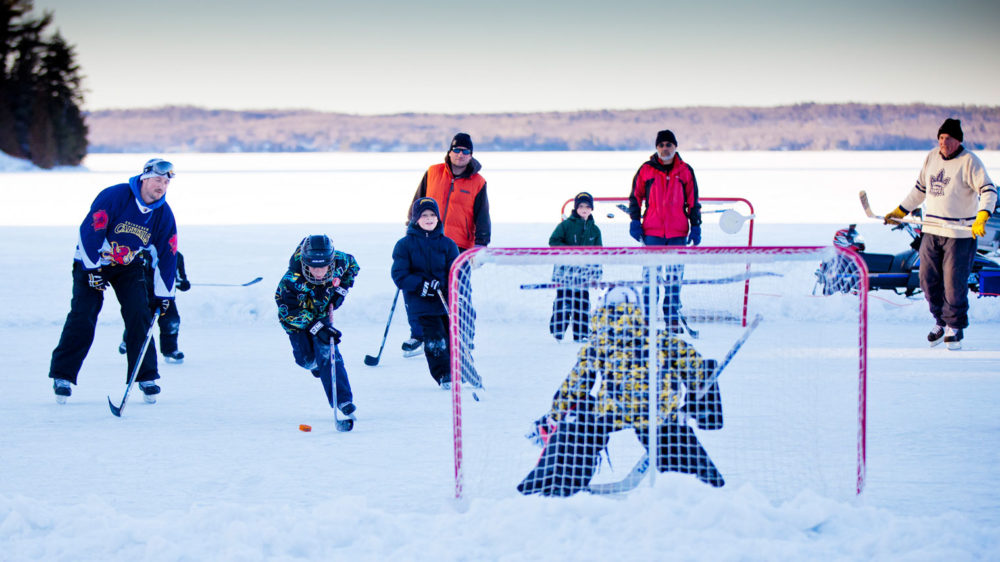 A family game of pond hockey is the quintessential Canadian winter experience. Don't forget to load your thermos with hot chocolate!
If you want to organize an epic game of pond hockey, Muskoka Lakes Farm & Winery has flooded one of their cranberry beds and created regulation outdoor pond hockey rinks. Give them a call to book the rink.
Cann Lake in Huntsville is a well maintained outdoor rink with hockey nets on the ice.
The Port Sydney Rink on Mary Lake is kept in good shape throughout the winter, has hockey nets and even has lights for a night game.
Although not on the pond, Annie Williams Park in Bracebridge and the Muskoka Wharf in Gravenhurst have outdoor rinks that offer both skating and hockey, the best of both worlds.
Downhill ski at Hidden Valley Highlands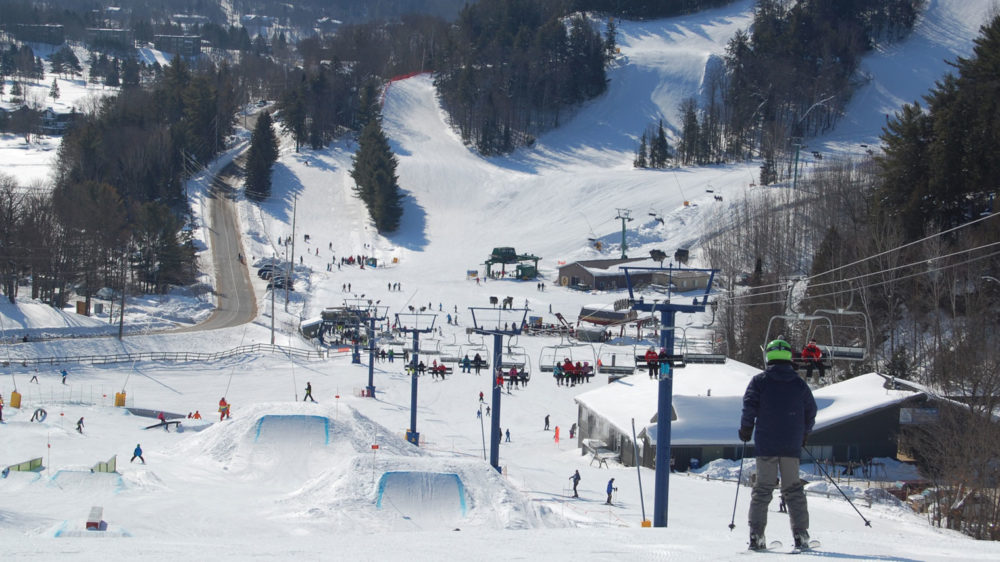 There is only one place to hit the slopes in Muskoka, and families love it here! Hidden Valley Highlands Ski Area is a family-friendly hill, challenging enough for the avid skier but plenty of runs for the beginners as well.
Dog sled through the snowy forest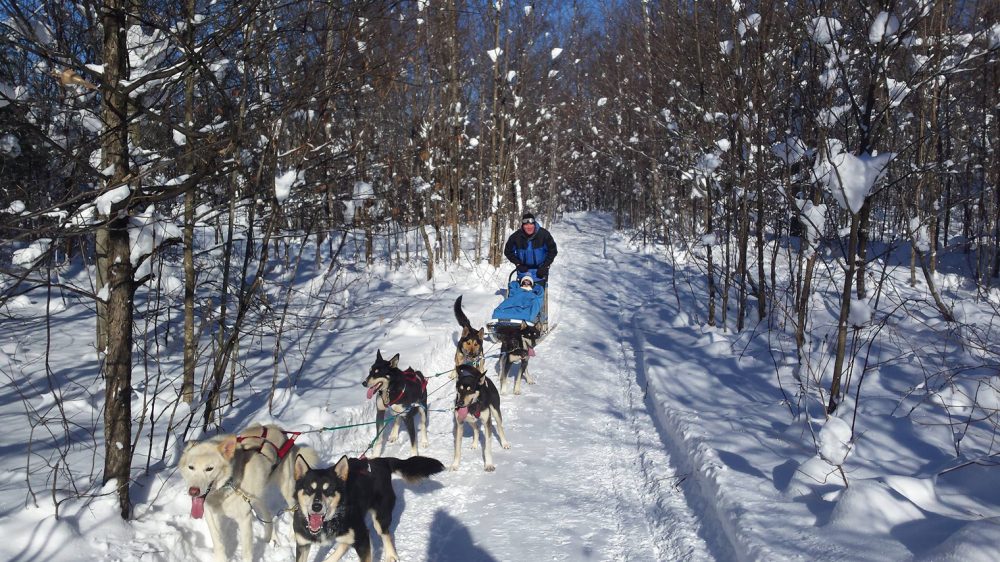 There is nothing quite like the rush you get dog sledding through Muskoka's mixed green forest, especially after a fresh snow fall. North Ridge Ranch in Huntsville offers dog sledding excursions all winter long and there is enough room on the trails for the whole family.
Outdoor ice skating trails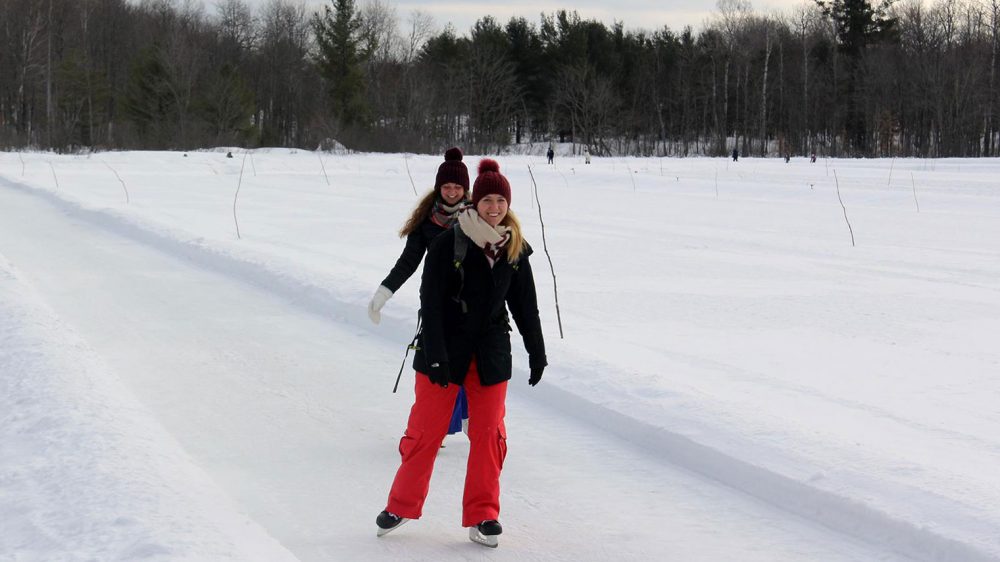 Ice skating trails are relatively new on the scene, but they are by FAR the most popular winter activity sweeping across Canada. There are a number of skating trails across Muskoka that are available for public use, and are maintained throughout the winter (weather dependent). For a full list of ice skating rinks and trails, visit this article
Looking to kick your ice skating trail experience up a notch? Skate under the light of tiki torches at Muskoka Lakes Farm & Winery or Arrowhead Ice Skating Trail.
Nordic skiing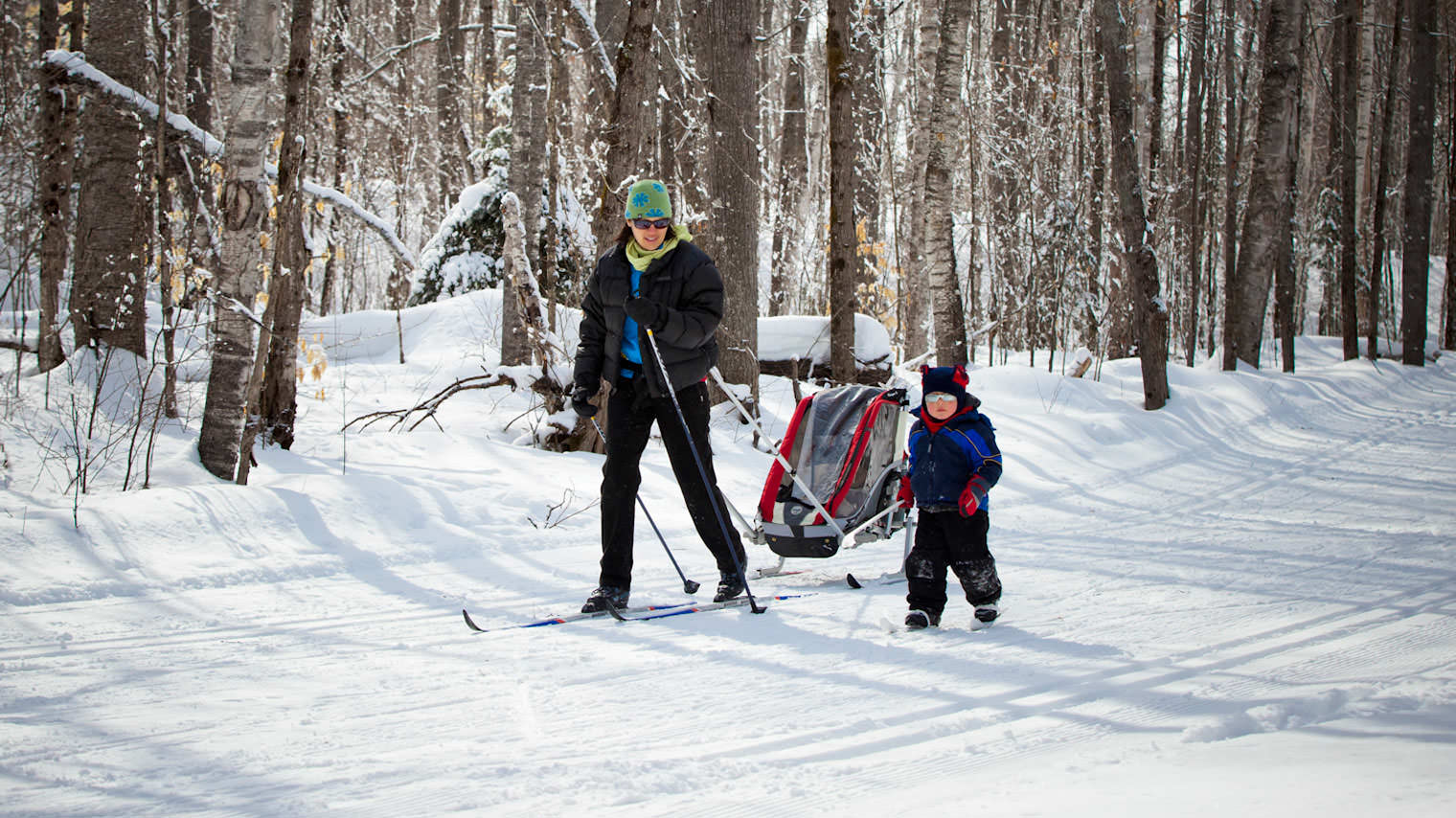 Muskoka has some of the best cross country ski trails in Ontario, just waiting to be discovered. Arrowhead Provincial Park is widely considered to be one of the top cross country skiing destinations in Canada, with over 30km of meticulously groomed beginner and intermediate tracks waiting to be explored, as well as a full fleet of rentals.
Algonquin Park is another great cross country skiing destination, with over 100km of trails carved out of a beautiful wilderness setting. Ontario's most famous provincial park features three groomed, track-set trails and one wilderness trail. If you need equipment, be sure to stop at Algonquin Outfitters Oxtongue Lake location just west of the park entrance for one of the area's largest rental fleets.
A couple of local favourites, Gravenhurst Muskoka KOA offers 15kms of groomed and track-set cross country ski trails through their 785 acres of wilderness. Ski equipment and snowshoes are available to rent, and these trails are only minutes from both Gravenhurst and Bracebridge. Just up the road off Hwy 11 is the Bracebridge Resource Management Centre, a 'local's know' ski park with 16.5km of groomed, track set trails.
Stay and Play
Make the most of your Muskoka experience and check out our top recommendations for places to stay and perfect getaway packages.