Be a winter wildlife detective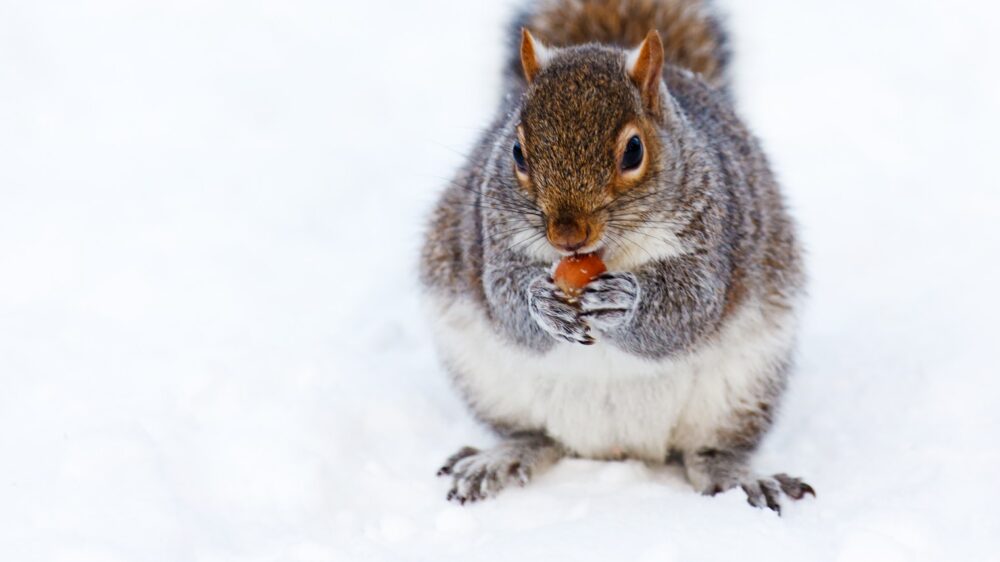 As a Muskoka local, you're likely already very familiar with the different natural areas, trails, and backroads that criss-cross the region. Every snow-capped pine tree, frozen waterfall, and stunning scenic vista – you've seen it. But have you ever stopped to consider the neighborhood wildlife that also call this beautiful region home?
This winter, rediscover your own backyard and learn more about the local critters with wildlife tracking. The snowy season is one of the best times to observe animal tracks because the fresh powder holds the tracks so well. Brush up on your wildlife detective skills with this tracking guide from Ontario Parks and then bring the kids for an afternoon of snowy, sleuthing fun on these nearby trail systems.
Read on to learn more about 5 places to go winter wildlife tracking in Muskoka.
Bracebridge Resource Management Centre Trails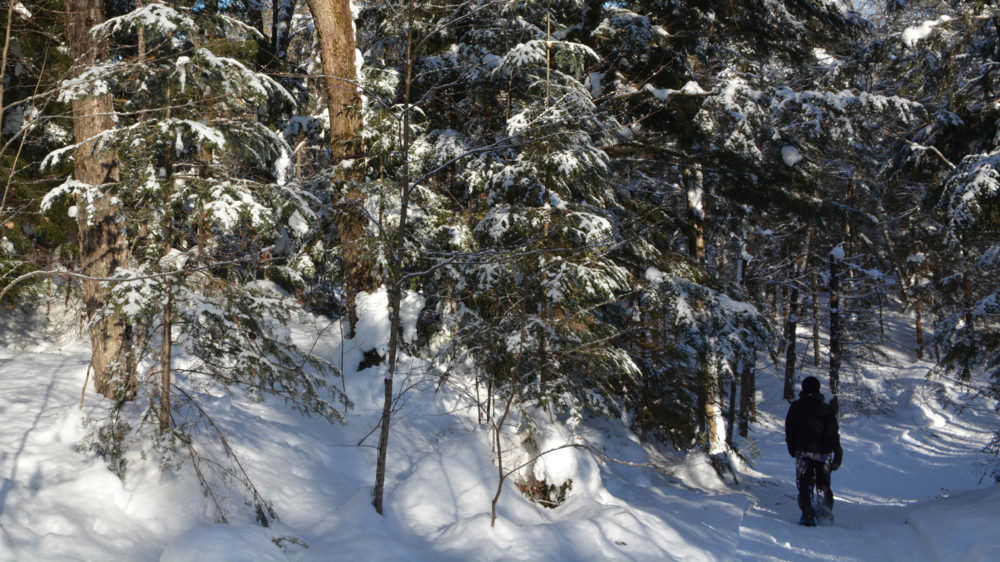 Hwy 11 north, Bracebridge
Bring your family bubble to the Bracebridge Resource Management Centre Trails for some excellent wildlife tracking opportunities this winter. The Centre's 16.5 km of top-notch winter trails serve as the perfect destination for an afternoon of sleuthing. Travel through scenic wooded areas and pass by scenic vistas as you watch the snow for tracks.
Access the Bracebridge Resource Management Centre from Hwy 11 north, just 2.5 km past the exit for Hwy 117. Parking is available on-site. Click here for a trail map.
Winter Wildlife Watch #1 – Red Squirrels: Be sure to keep your eyes peeled for red squirrel tracks on these trails. Watch for hopping tracks that start and end at the bottom of a tree. Their tracks often look like diamond shapes in the snow. Look for drag marks left behind from the squirrel's tail.
Torrance Barrens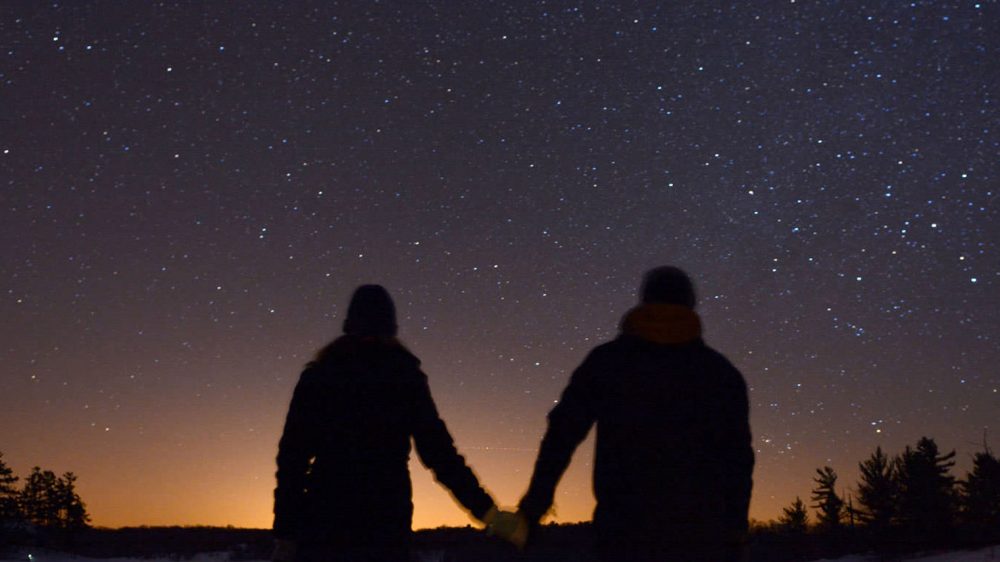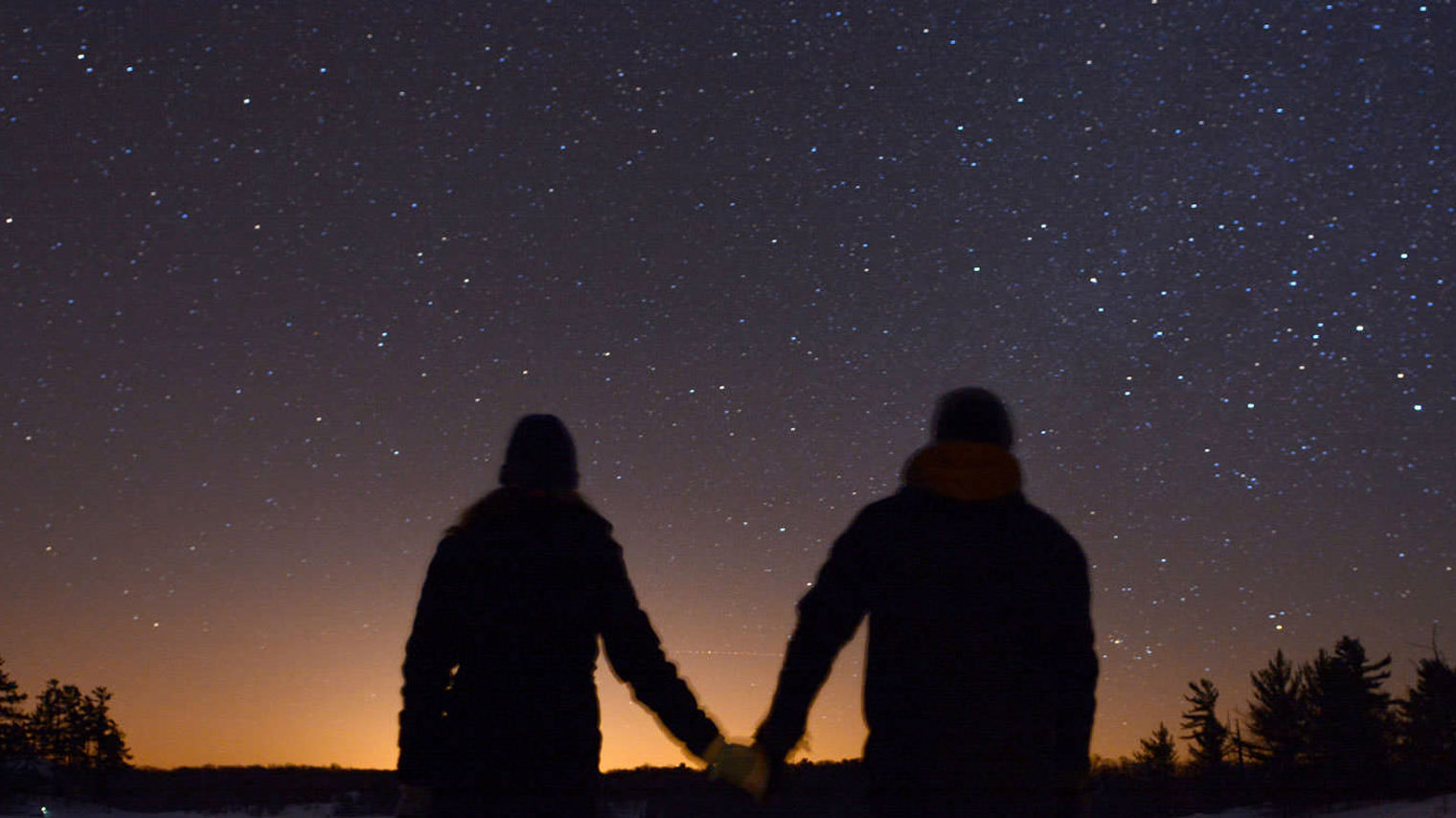 Southwood Road, Torrance
Tucked away on Southwood Road, just outside of Gravenhurst, lies the Torrance Barrens Conservation Area. While you'll want to look up to the stars to discover its true claim-to-fame (it was designated as a Dark Sky Preserve in 1999), it's also a great location for winter wildlife tracking.
Choose from 3 separate trails for your winter sleuthing, ranging in length from 3 km, 5 km, and 6 km. You'll stroll along low ridges of Precambrian rock, past frozen wetlands and stunted trees, and several scenic lookouts across the Barrens. The trail is marked with stone cairns and metal signs, but please note that trail marker visibility may be reduced in the winter and be sure to take precautions to ensure that you do not get lost.
Access the Torrance Barrens off of Southwood Road (Muskoka Rd 13) and travel 7 km to the Torrance Barrens signpost. Parking is available on-site. Click here for a trail map.
Winter Wildlife Watch #2 – Snowshoe Hare: You likely won't see this shy, secretive (and adorable) mammal, but you'll want to watch for its tracks! Although the snowshoe hare generally calls the northern region home, Muskoka lies at the very southern portion of its habit range. You'll want to look for their unique footprints in the snow which, much like snowshoes, are extremely large and help the animal to walk on top of the snow. These hares leave hopping tracks in clusters of four that leave a triangular pattern.
Echo Valley Nature Trails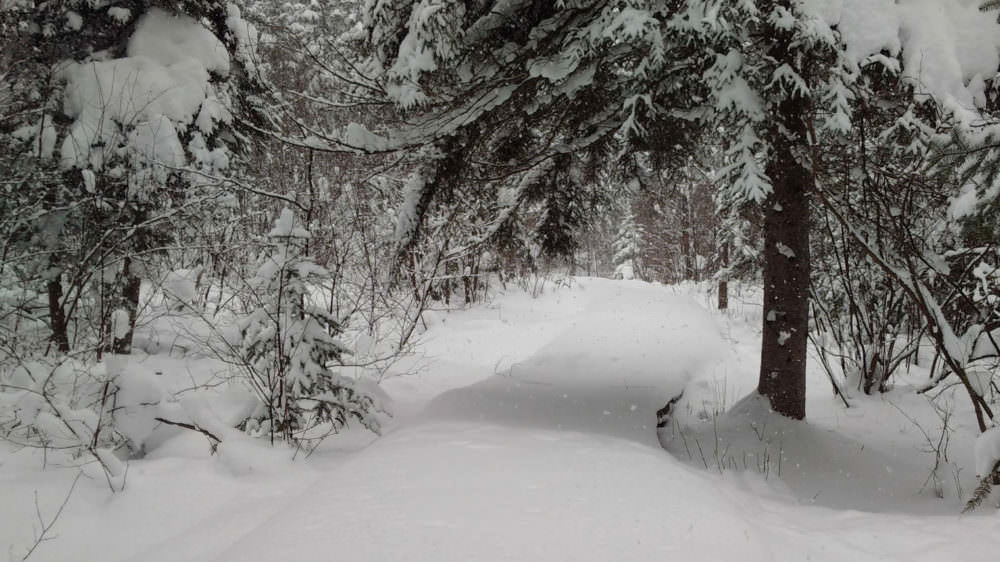 Echo Hills Rd., Dwight
Nestled in the Lake of Bays region lies the Echo Valley Nature & Bike Trails. This is a prime destination for winter wildlife tracking because it is just west of Algonquin Park, the world-famous park well-known for its wildlife viewing opportunities.
With over 14 different trails available in difficulty levels and lengths, you and your family will be sure to find the right trail for a day of wildlife detective work. A viewing platform overlooking the scenic area, as well as 3 information kiosks, help to enhance your experience on the trails.
Find Echo Valley just off of Hwy 60, near the community of Dwight. Parking is available on-site. Click here for a trail map.
Warm up with a hot drink afterwards at Erika's, a family-run bakery located just 5 minutes away from the Echo Valley trails on Hwy 60. Need a sweet snack? The bakery offers a variety of delicious baked goods, including butter tarts, doughnuts, and squares. Please note that the bakery is only open for take-out at this time. Place your order for pick-up by calling 705-635-9490 or texting 705-571-9490.
Winter Wildlife Watch #3 – White-tailed Deer: Look carefully for heart-shaped tracks to spot signs of white-tailed deer on this trail system. Their heart-shaped tracks also have small dots behind each print from the animal's declaw. Male deer tracks tend to be larger while the tracks from female deer are smaller and shorter in length.
Limberlost Forest & Wildlife Preserve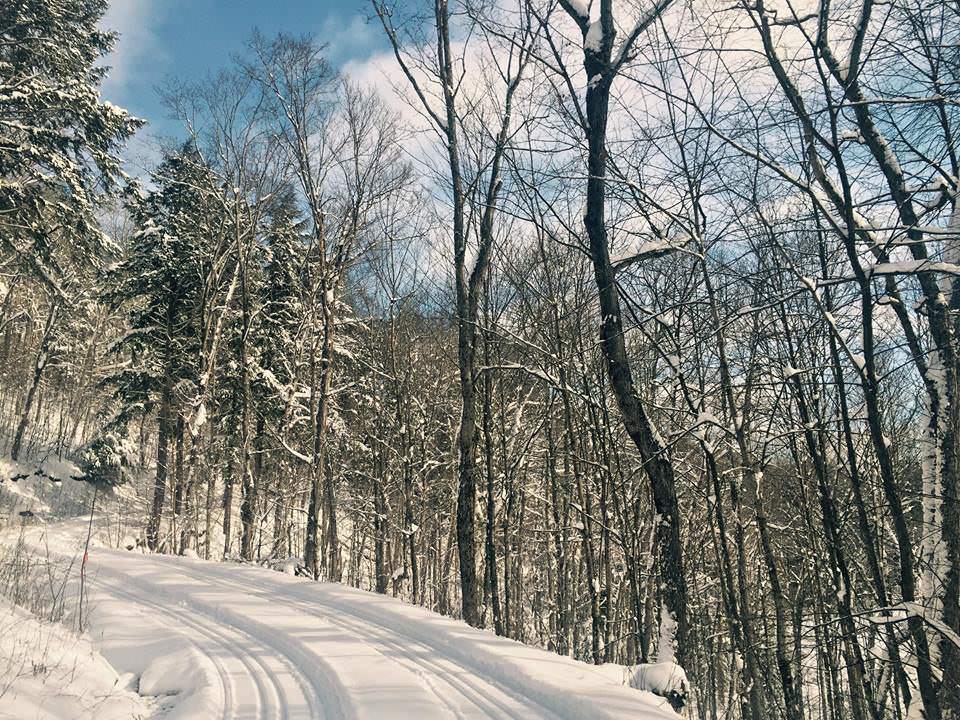 1088 Buck Lake Landing, Huntsville
No winter wildlife list would be complete without the Limberlost Forest & Wildlife Reserve. A stunning, publicly accessible year-round wilderness haven with more than 70 km, it's a type of backcountry paradise. The main trails range in length from 4.2 km to 13 km and pass by scenic waterside views and through gorgeous mixed forests. Several of the trails have even been widened to allow for two family members to walk together, side-by-side.
Locate the Limberlost Forest 3 km off of Muskoka Rd 8/Limberlost Rd. It's approximately a 20-minute drive from both Huntsville and Dwight. Please note that access to the reserve is limited to 9 am – 5:00 pm. Once you enter through the reserve's gates you'll find a kiosk containing parking passes, trail maps, and a safety waiver. You must read and complete the waiver before exploring the trail system. Click here for a trail map.
Winter Wildlife Watch #4 – Red Fox: At first glance, red fox tracks look a little like the tracks from your favourite four-legged pal at home. But, unlike dog tracks, fox tracks have a large space between the toe and pad tracks. You'll also want to look at the direction of the tracks – fox tracks are generally in a uniquely straight line.
The Frost Centre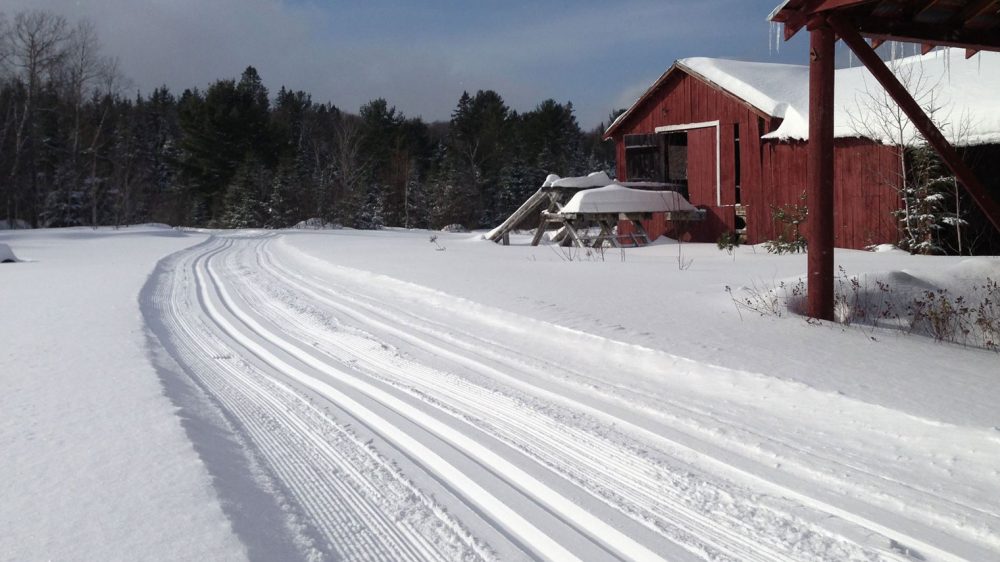 20130 Highway 35 north, Algonquin Highlands
Also a must-visit for cross-country skiing, the snowshoe trails at the Frost Centre are an excellent place for wildlife tracking. Trek along the 11 km of stacked loop trails that pass by scenic St. Lake Nora and keep your eyes on the snow for tracks. There are 8 different trails to choose from, ranging in length from 0.2 km to 4 km. Found in the Algonquin Highlands, the Frost Centre is rich with wildlife.
Access the trails from Hwy 35 north, about 12 km from the village of Dorset. Parking is available on-site. The trails are open from January 1st-March 21st, 7 days a week. Click here for a trail map.
Craving something sweet? Head over to Baysville, just 25 minutes away from the Frost Centre, to sample some of Humble Pie's award-winning butter tarts. We're pretty sure that a raspberry-coconut butter tart or freshly-baked muffin from the Humble Pie Butter Tart Factory & Pizzeria is the best way to end a day out on the trails.
Winter Wildlife Watch #5 – Dark-eyed Junco: This bird is known to frequent backyard bird feeders in the winter and has distinct tracks that almost resemble a 3-pronged fork. Look for 3 forward-pointing to marks with a longer toe at the end. The Dark-eyed Junco frequently hops, so you'll notice obvious spaces between the tracks.
COVID-19 Modifications
The Muskoka region, including the restaurants and local businesses discussed above, have taken several precautions to help prevent the spread of COVID-19. Social distancing procedures must be followed. Masks are required for entry into all buildings and when social distancing is not possible. Frequent hand-washing is encouraged and everyone must self-isolate if experiencing any COVID-19 symptoms. For more information regarding COVID-19, please visit our COVID-19 Updates page.
Stay and Play
Make the most of your Muskoka experience and check out our top recommendations for places to stay and perfect getaway packages.