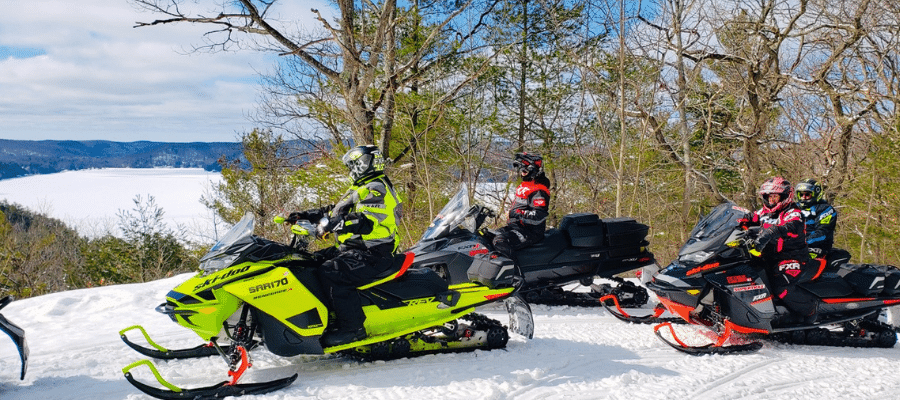 Gas up your sled and ride along Muskoka's renowned snowmobile trails this winter. With some of Ontario's most unbelievable scenery and over 1,000 kms of groomed snowmobile trails that link the northern and southern parts of the province, you won't regret the decision to hop on!
Trail Tips & Trail Loops
When planning your trip, consider a midweek excursion if you can. Trails are quieter, conditions are better and rates for overnight snowmobiling packages are cheaper. For a complete look at the trails in Muskoka, visit the OFSC Interactive Trail Guide.
Photo credit: Craig Nicholson
To get you started, here are three self-guided tours we highly recommend:
Take the Lake Muskoka Magic Tour, a leisurely day ride (approximately 125 km) around the glorious Lake Muskoka. Start your tour at the Muskoka Wharf in Gravenhurst, just off trail C101D. There is ample room for trailer parking, so you can park and ride worry-free. This incredibly scenic loop takes you through Torrance, Bala, Port Carling, Bracebridge, and Gravenhurst, with services easily accessible throughout these communities (note: gas is not available in Bala). Don't miss the opportunity to take the small excursion to Huckleberry Rock Lookout and take in one of Muskoka's most famous views.
To explore a different part of Muskoka, the Lake of Bays Watch Tour makes a satisfying day ride (approximately 200 km) through Lake of Bays and the Huntsville area. Tour highlights include impressive ice cliffs, the historic Big East River Bridge, the beautiful Oxtongue Rapids and the stirring Dyer Memorial.  This scenic loop takes you through Baysville and Dorset, and close to Huntsville and Dwight. We suggest you start your tour at the Port Sydney Ultramar (just be sure to ask before you park), and take D103B east to D102B.
Finally, if you've got the time and are really looking for adventure, you won't want to miss out on the Round Algonquin Park (RAP) Tour. Known as the granddaddy of all snowmobile tours, this 850 km loop of Ontario's world-famous Algonquin Park appears on the bucket list of most sledders, and for good reason. By far the most popular loop in Ontario, many return year after year to get their fix. Sleddable in three to five days, depending on how hard you want to ride, the tour takes you through a varied range of Muskoka's signature terrain, from winding trails through thick maple forests to wide open straightaway corridors and rolling hills. Sledders will find themselves welcomed by the many local businesses, restaurants, gas stations, and providers of accommodations along the way. If you spend the first night and the last night of your trip at one of Muskoka's welcoming resorts, you will be more than welcome to leave your sled trailer parked on their premises for the duration of your trip.
Guided Snowmobile Trips 
Muskoka Stay N' Play Tours takes you on a ride of Muskoka's most beautiful trails while enjoying the incredible views and attractions they have to offer. Wide and well-marked trails ensure safety and enjoyment for riders of all levels of experience. Join them Thursday afternoon for 1/2 off Ride N' Wings or 1/2 off Taco N' Ride Tuesdays.
Deerhurst Resort offers guided snowmobile tours with eco-friendly snow machines on a variety of guided adventures, complete with safety and driver training session beforehand. No experience needed! Snowmobiling is fun for people of all ages and experience levels, and it can be a great family sport to enjoy together. The Yamaha Riding Adventures at Deerhurst promotes riding safely and having fun while preserving our environment.
Haliburton Forest & Wildlife Reserve LTD.  offers 400km of groomed trails, Haliburton Forest offers snowmobile rentals to help you explore everything this winter wonderland has to offer. Gear up with Haliburton Forest's snowmobile equipment, from snowmobile helmets to boots, which are also available to rent (gear rental available onsite only). Rentals include one full tank of gas.
After you check out the snowmobile rental prices, you can also choose your dates and book your snowmobile rental online.
Where to Stay
Make your trip equal parts adventure and cozy relaxation when you stay at one of Muskoka's favourite resorts. Many offer specialty overnight packages tailored specifically to sledders. Take advantage of these offers and follow a day of trail riding with an evening of luxurious warmth and great food at one of these excellent establishments:
Stop for Lunch
Maybe it's all that fresh air, but as any sledder can tell you, nothing hits the spot quite like a hot lunch when you've been riding the trail all morning. Park your sled by one of the many eating establishments near the trails and take a timeout to enjoy a delicious meal, from comforting pub grub to global culinary fare. Here's a selection of some sledder faves, virtually trailside:
Local Rentals
If you like the sound of this exhilarating winter pastime but don't own a sled, don't let it hold you back! Muskoka has several snowmobile rental companies, many of which will deliver and pick up the sled wherever you're staying. Some of these companies also offer guided sled tours catering to all experience levels, so regardless of how many times you've been sledding before (or not), you are sure to get the fullest experience possible. Start your planning today by reaching out to one of these local Muskoka rental companies:
Huntsville: Yamaha Snowmobile Adventure Tours
Dorset: Mountain Trout House Marina
Dwight: Back Country Tours
Port Sydney: Muskoka Wild