Ride the RAP Tour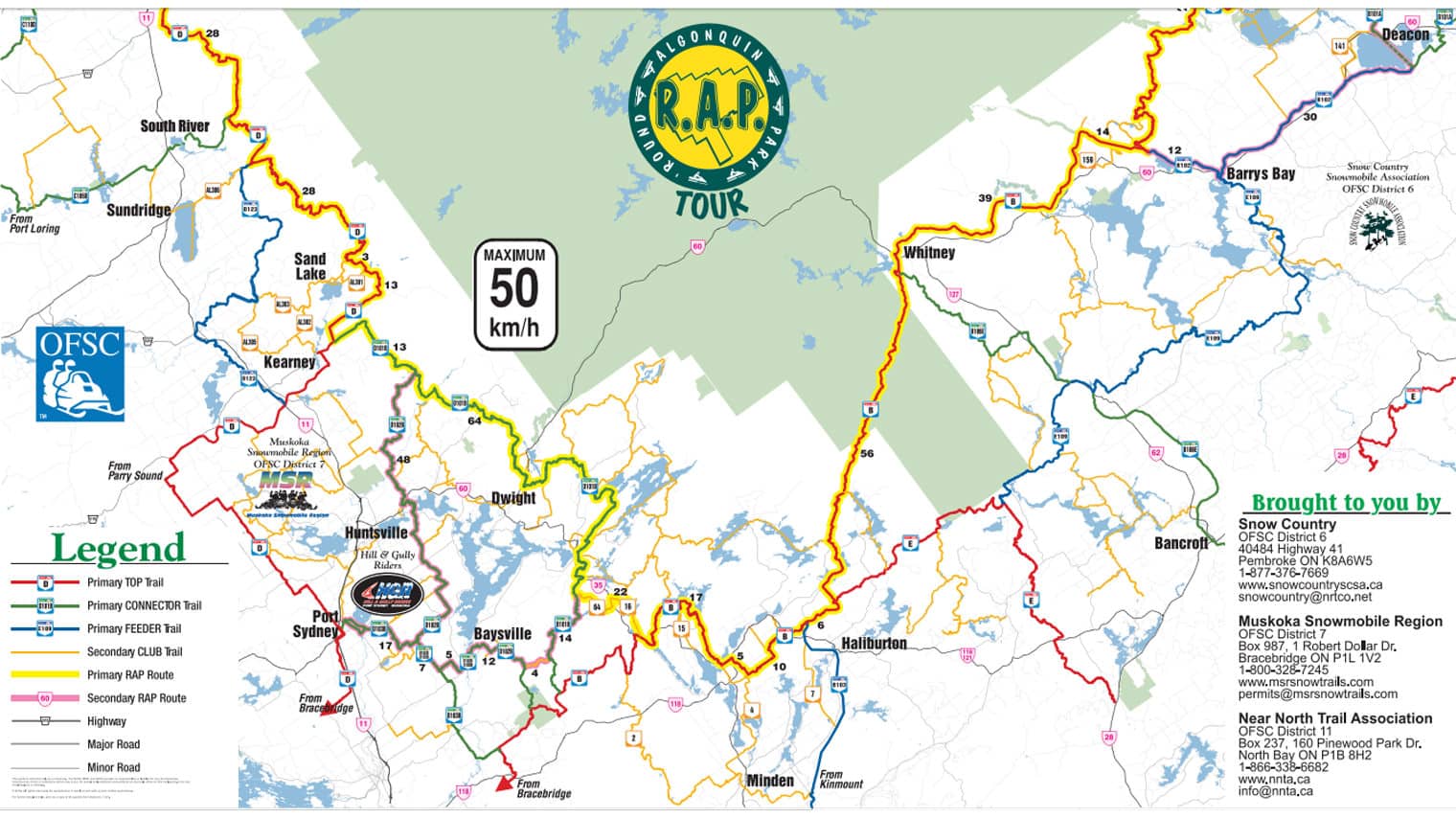 Click here to download a PDF of the full RAP Tour. You can also access the route digitally on the OFSC website. Visit their Interactive Trail Guide, and in the top right corner select the Snow Tours drop-down. Choose Eastern Ontario > R.A.P.
Known as the grand daddy of sled tours, this 850km loop of World famous Algonquin Park is a must-do tour for sledders in Ontario. By far the most popular loop in Ontario, many return year after year to get their fix. Over the 850km stretch sledders get to experience a diverse set of terrain and riding, winding through thick maple forest , across wide open straightaway corridors, past scenic vistas, rolling hills, granite rock outcroppings, snow-covered evergreen pines, and maybe even some wildlife. The tour can be done in 3 days of 'hard' snowmobile riding, but many prefer to stretch it out into a more leisurely 4-5 full days, averaging about 200km a day, riding about 6 – 9 hours each day. The great thing about the RAP tour is the people you will meet along the way. Accommodations, restaurants, gas stations and local businesses love sledders and make you feel comfortable and welcome every step of the way. This loop has been called on of the best snowmobiling tours in Ontario, but it also might just be friendliest as well!
Park and Fly in Muskoka
The closest starting point from Toronto for the Round Algonquin Park Tour is Muskoka. Here's a list of accommodations that welcome sledders, and are near the Round Algonquin Park Tour trails. If you spend the first night and the last night of your trip at these accommodations, you are more than welcome to leave your sled trailer parked on their premises for the duration of your trip. Make sure to make arrangements with accommodations for this during time of your booking.
Tally Ho Inn

 located right on Trail #77 on beautiful Penn Lake, halfway between Huntsville and Dwight.  Rates start at $93 per cottage midweek. Watch your favorite sports on Shaw Satellite in each cottage.
Deerhurst Resort in Huntsville has accommodations ranging from hotel style rooms to 3 bedroom condos, as well as on-site restaurants, weekend entertainment, fuel, pool and hot tub.
Bondi Village Cottage Resort offers comfortable cottage style accommodations with their own cozy wood burning fireplace. Ask about their 15% sledders' discount
Blue Spruce Resort offers comfortable cottage or suite accommodation, with ample parking for trailers and trucks
Suggested Round Algonquin Park Tour Itinerary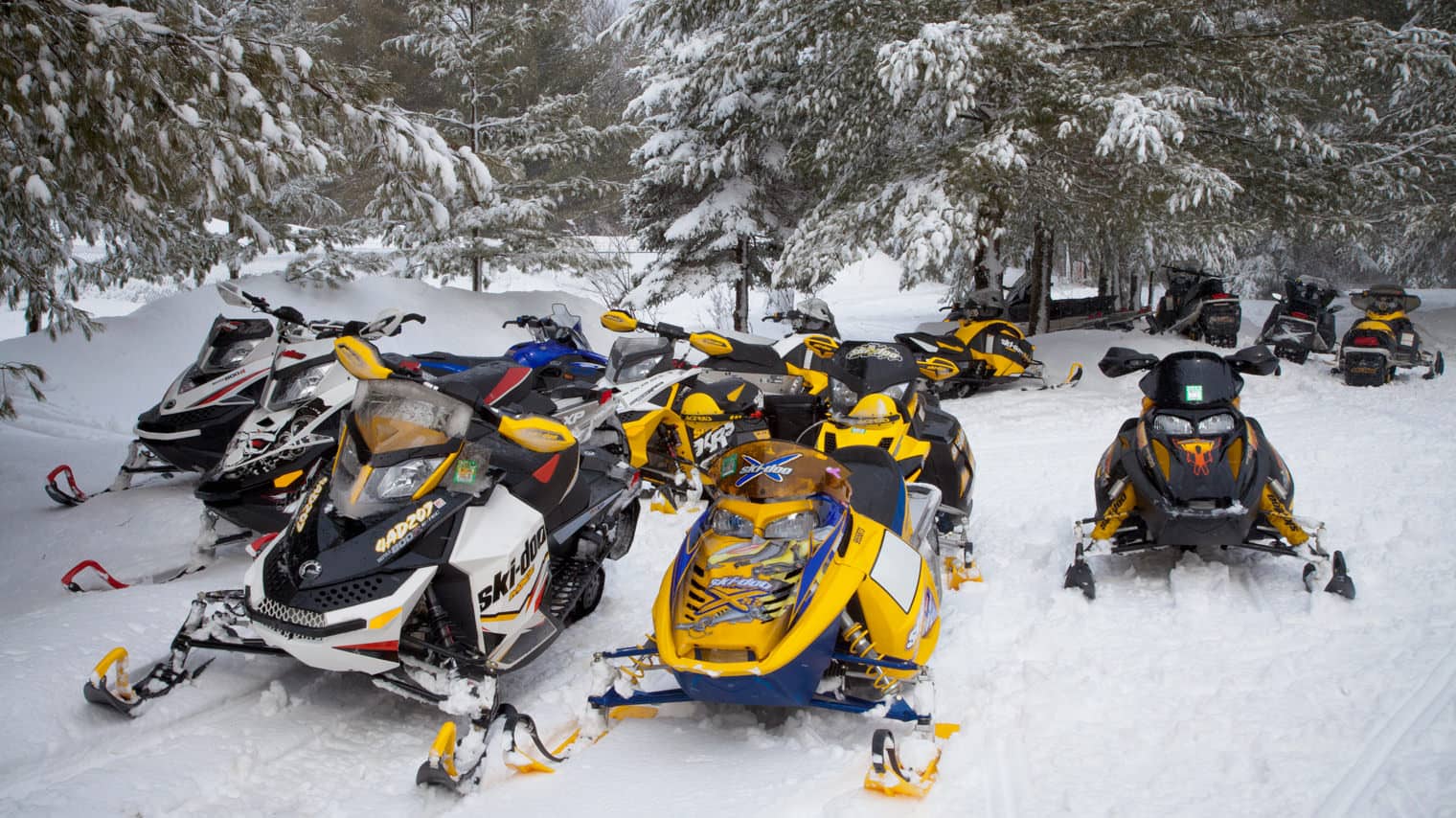 Day 1. Head to Muskoka. Arrive at your Muskoka accommodation for check-in. Complete any last minute errands before your tour. Grab a bite to eat at your hotel's on-site restaurant, or one of the great establishments in town. Muskoka is a world class desination, and has many great accommodations and restaurants to choose from.
Day 2. Hit the trails bright and early, heading counter clockwise. Wind your way through the rolling hills and valleys of the Muskoka forest, and finish the day with a 37km stretch through the only snowmobile trail in Algonqin Park. End the day in Whitney, a popular sledder's stayover. Couples Resort and Adventure Lodge are both sled friendly, and offer top notch dinners and breakfasts as part of their packages.  Depending on where you stayed the first night, today's ride will be anywhere from 135km to 180km.
Day 3. The day is yours to enjoy on the trails. The countryside changes from the dense Algonquin forest to the scenic rolling hills of Madawaska Valley. Stay overnight in Pembroke at the Best Western or Holiday Inn Express, both of which are right on the trails and across the street from an Irving Truck Stop Restaurant and gas station. Today's ride is roughly 150km. If you want to cut down on tomorrow's ride, stretch out today's ride to Deep River, and stay at the Bear's Den Lounge & Motel.
Day 4. You are going to want to get an early start for this one! This is a great stretch, with some wide open trail systems that will let you tack on a few extra clicks. A portion of the trails on this stretch are groomed double wide, as well as some long stretches of forest trail and a number of scenic lookouts. This will definately be your longest stretch on the trails, but you will be rewarded at the end of the day with hot food and accommodation in North Bay at the Best Western. They have a snowmobiler's rate, restaurant on-site, and secure lock-up for your sleds. Today's ride will clock in at 277km (230km from Deep River).
Day 5. The home stretch! Sleep in a bit today, you earned it! Wake up to a hot breakfast and get ready for your last day on the trails. This is a more technical section of the RAP Tour, with more turns and bends in the trail. Depending on where you stayed the first night, today's ride will be anywhere from 135km to 180km. Stay overnight in Muskoka at the same property you stayed at your first night. Eat, drink, and be merry!