A fun-filled (and delicious) culinary trail inspired by our beloved cranberry!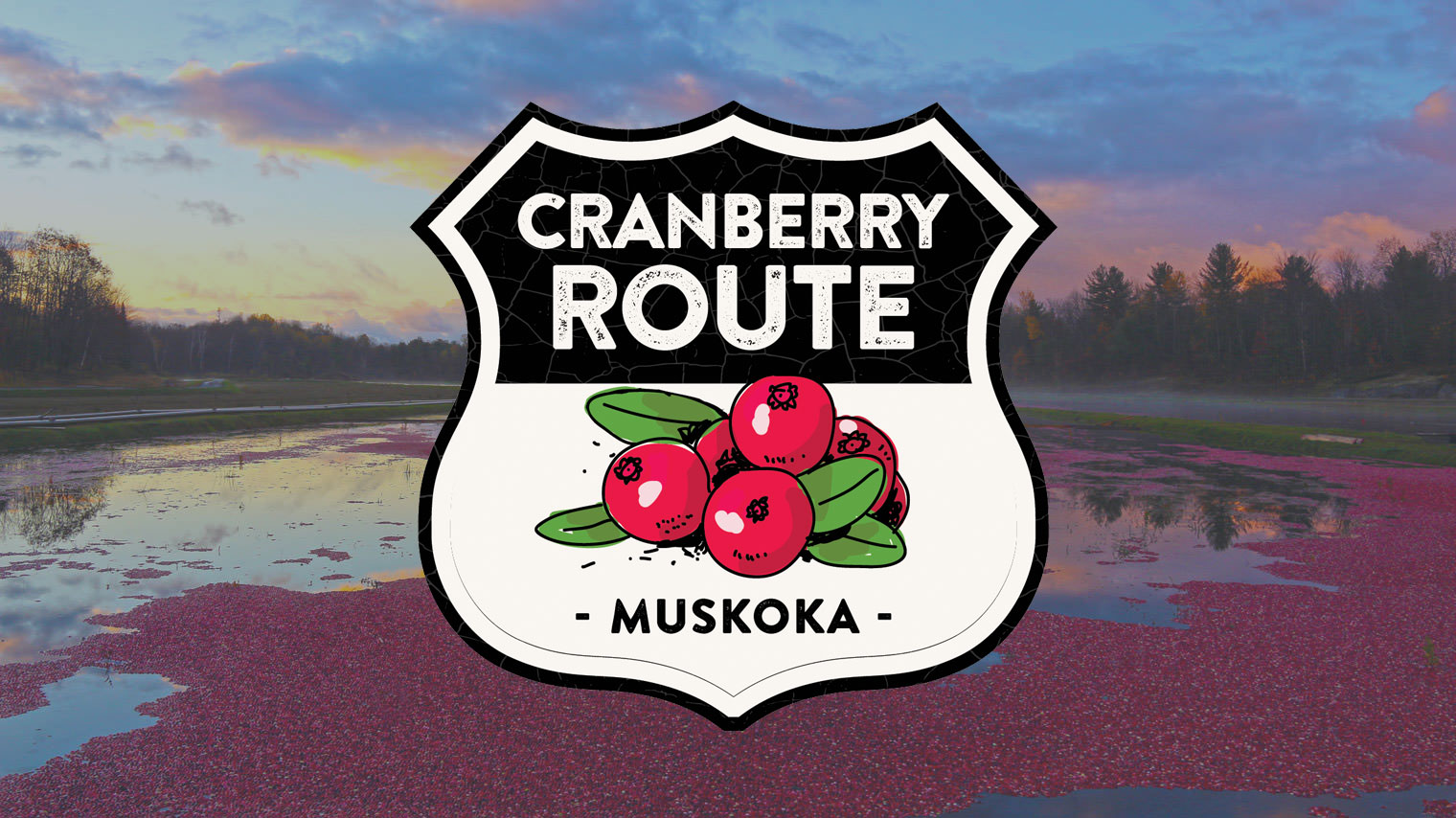 There is some pretty exciting news coming out of Muskoka this fall with the launch of the ALL NEW Muskoka Cranberry Route, a culinary trail (or route if you will) with 25 crantastic stops across Muskoka.
You might already know this but Bala is the Cranberry Capital of Ontario, and has been hosting one of the biggest cranberry celebrations, the Bala Cranberry Festival, for the last 30+ years. The cranberry capital of Ontario is also home to the oldest cranberry farm in Ontario, and the only cranberry farm in the world with its own on-site winery.
The love for cranberries doesn't stop in Bala, Muskoka has long been crazy for cranberries. Across Muskoka, our talented chefs, bakers and brewers have been incorporating local cranberries into their craft for years, and the Muskoka Cranberry Route pulls this collection together to showcase our local food and our local talent.
Tour the cranberry marsh (and get that iconic photo in the berries), sip cranberry craft beer and cider, indulge in cranberry baked goodies and treats, be amazed by cranberry inspired cuisine, and bring home the tastes (and smells) of the harvest! Your cranberry adventure will take you down some of Muskoka's historic main streets and coolest back roads, along the shores of our stunning lakes and sweeping forests.
Plan your #CRANROUTE culinary adventure today. This is one crantastic experience you don't want to miss!
Visit the Cranberry Marsh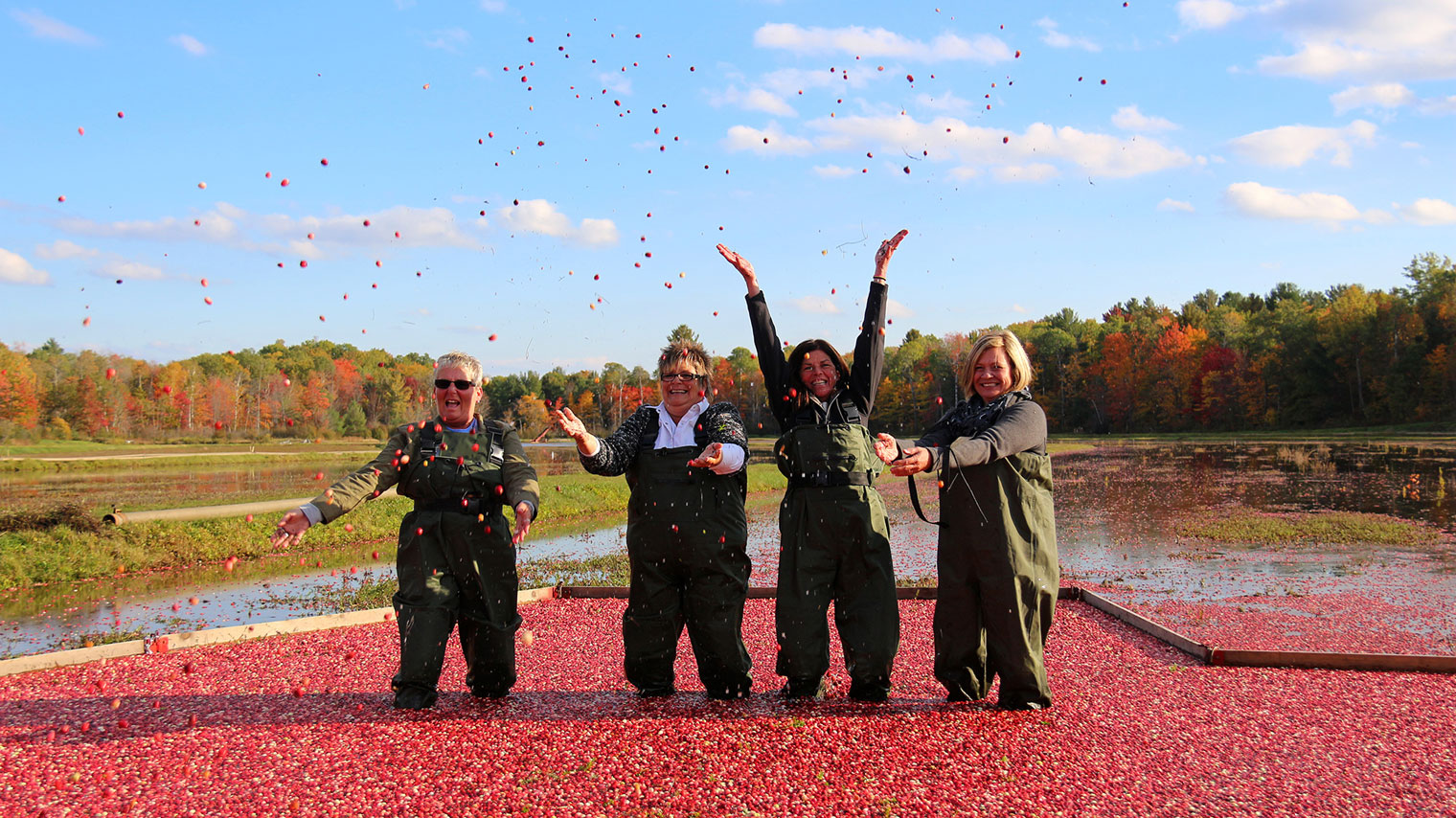 Every Muskoka Cranberry Route culinary adventure should start with a visit to Muskoka Lakes Farm & Winery to gain a true appreciation and understanding for cranberries.
Take the Bog to Bottle Discovery Tour, an experience so special it has been designated a Canadian Signature Experience. This one-of-a-kind experience includes a tour of the farm followed by a tutoured wine tasting of their delicious fruit wines. Tour is available 3 times daily – 11am, 1pm and 3pm – and all day during cranberry harvest weekends.

Take the Cranberry Plunge, one of Muskoka's most exciting fall experiences. Put on hip waders and venture into the cranberries for that amazing candid photo that should be hung on your wall, on your fireplace, or posted as your Facebook profile photo. There have even been marriage proposals in the berries (she said yes!).

Shop the Cranberry Store for some amazing goodies to take home like fresh cranberries, delicious fruit wines, Mrs. J's (famous) preserves, cranberry honey, cranberry teas and oh so much more. Definitely take home one of their NEW Cranberry Cider or Cranberry Splash Wine Spritzers!
For more information, visit their website
Dining & Culinary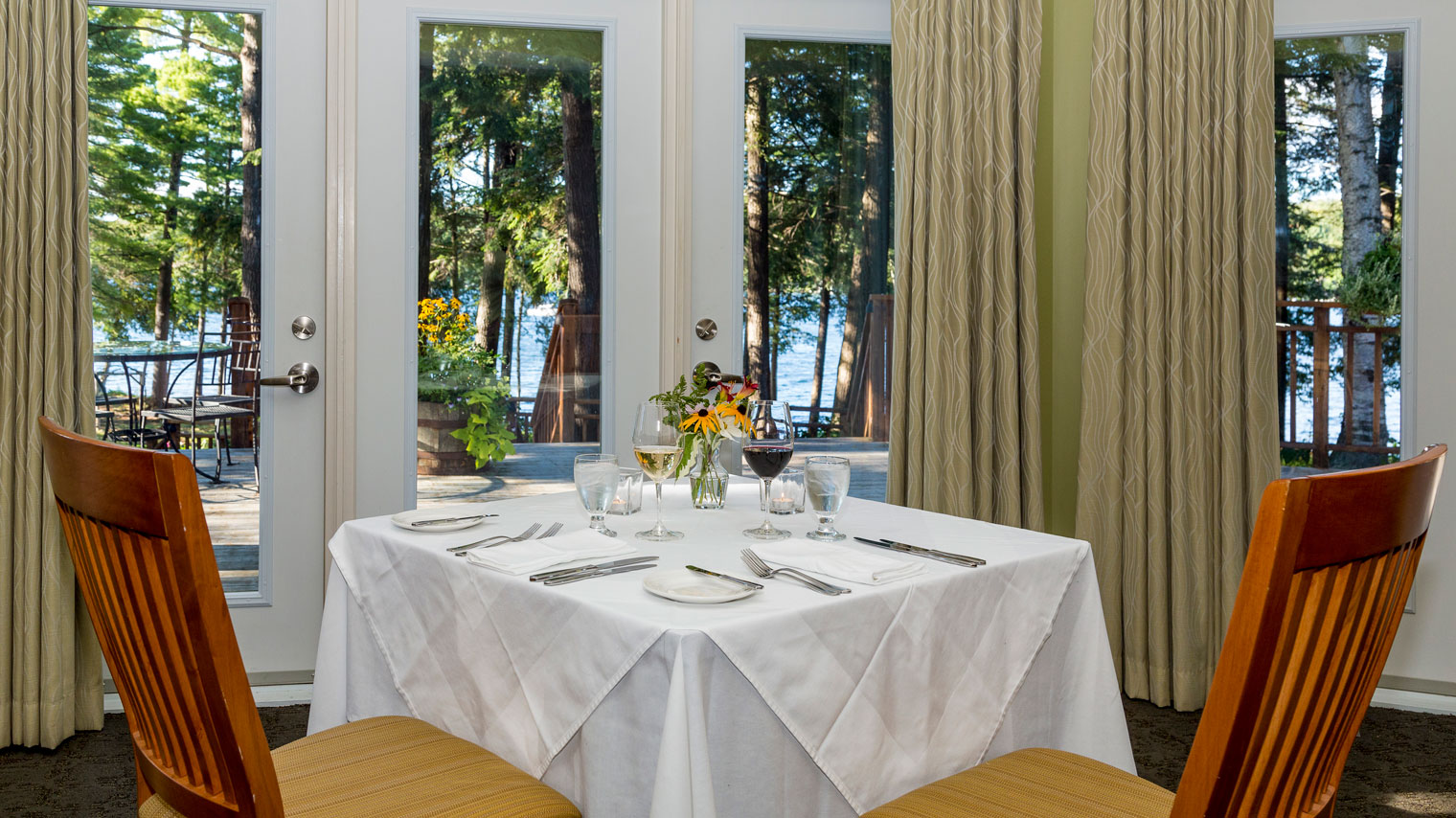 Muskoka has a growing reputation as a foodie destination and with good reason. Our restaurants boast exceptionally talented chefs that share a commitment to fresh, local ingredients (like fresh, local cranberries).
Discover the amazing tastes of cranberry-inspired cuisine at these great eateries and restaurants:
Moon River Lookout: Three Course Cranberry Menu, featuring a Field Greens Salad with a Cranberry Vinaigrette, choice of Beer Battered Pickerel & Chips with their famous Cranberry Tartar Sauce or Cranberry BBQ Chicken & Ribs, finished with their delicious Cranberry Apple Crumble
Rende Italian Eatery: 4 cranberry menu features including their Cranberry Lasagna, fresh lasagna with Cranberry Italian Sausage in a cranberry cream sauce. 100% authentico Italian cuisine. Buon appetito!
Vintages Dining Room at Sherwood Inn: 3 cranberry menu features including their Cranberry Panko Crusted Salmon Filet, served with your choice of whipped Yukon potatoes, apple and sausage stuffing, or seasonal fall harvest vegetables.
Muskoka Chophouse at JW Marriott The Rosseau Muskoka: Sip on a Bala cranberry infused cosmopolitan as you savour succulent lump crab cakes, Certified Angus Beef, tantalizing sides and the crowd pleasing crème brulee
The Gypsy Market Mews & Relish Café: Stop in for lunch to try their Turkey/brie sandwich with cranberry mustard and arugula paired perfectly with a steamed beverage. Wander to the back of the shop to marvel at the antique gems available for purchase. Find that perfect unique gift for someone special in your life, or treat yourself.
Huntsville Brewhouse: 3 cranberry menu features including their Shore lunch – pan fried pickerel, maple baked beans, fried potatoes and onion, thick tomato slices, served alongside fried bannock made with local Bala cranberries. Wash the dish down with a refreshing ice cold craft beer.
York & Mason: open for breakfast and lunch offering a smoked turkey breast, herbed goat cheese, arugala and cranberry chutney on a ciabatta roll. Pair with a beverage from their extensive coffee menu, and for dessert a freshly baked cranberry and lemon muffin.
The Hook & Ladder: is frying up a fluffy 3-egg omelette made with craisins, maple sausage, apples and onion served with toast and homefries. If you have a sweet tooth top your morning pancakes with the Hook and Ladder's own homemade fresh cranberry syrup.
Local Craft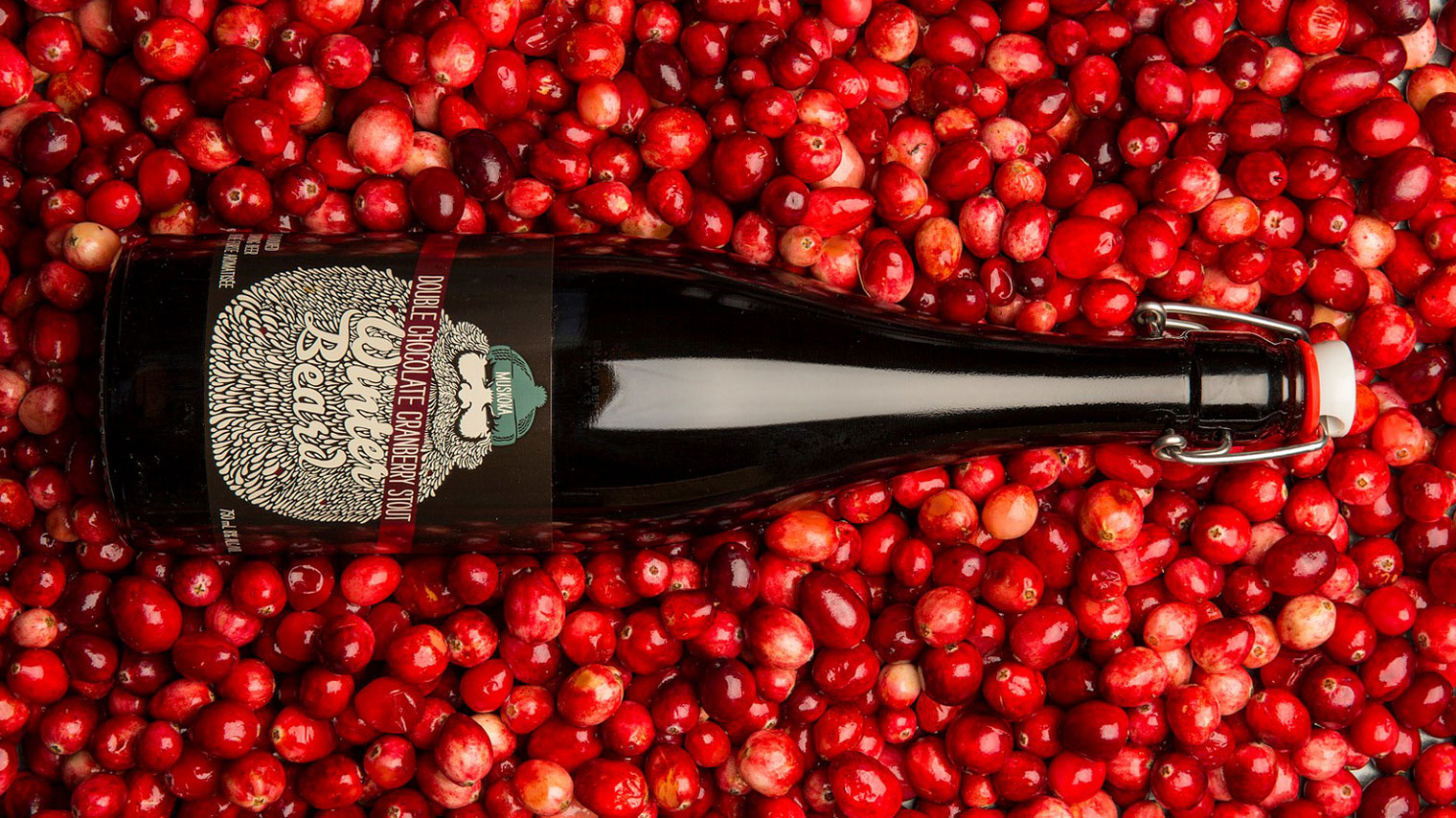 Crack a pint (or stop in for a sample) and enjoy the good life at these great local craft breweries.  Be sure to take some craft pints home to enjoy throughout the harvest!
Try these delicious cranberry inspired craft brews:
Clear Lake Brewing Co.: Cran Radler is an extra light and ultra refreshing must-try beer at the quaint craft brewery in Torrance ON. The bursts of cranberry will delight your taste buds, leaving you wanting more and you're in luck because you can take home a Growler full!
Muskoka Brewery: Double Chocolate Cranberry Stout name Winter Beard is a rich and full-bodied dark beer with dominant flavours of chocolate, cranberry, and subtle coffee notes. The beer will keep you warm with every sip all winter long. It pairs wonderfully with cheesecake, berries and of course, chocolate. Stop by the brewery in Bracebridge to pick up the beverage, or stay a while to check out the grounds, and maybe even tour the brewery.
Sawdust City Brewing Co.: The Blood of Cthulhu Imperial Stout is a flavoured imperial stout with a ridiculous amount of malt, rich chocolate, and a mixture of tart cranberries and raspberries. The stout pairs well with dark beefy venison stews, dark chocolate cakes, and vanilla ice cream. The seasonal beer is available at the Sawdust City Brewing retail store located on the north end of Gravenhurst's main street.
Huntsville Brewhouse: Lake of Bays Brewery Peach IPA blended with Cranberry Apple Cider is a medium body IPA with a lingering bitterness balanced by the natural sweet and tart taste of the beloved cranberry. The Peachy Keen Milkshake IPA by Lake of Bays mixed with Thornbury's Cranberry Apple Cider is the perfect combination to invigorate your taste buds. The brewhouse features all the Lake of Bays brews and is conveniently located right downtown Huntsville.
Baked Goodies & Treats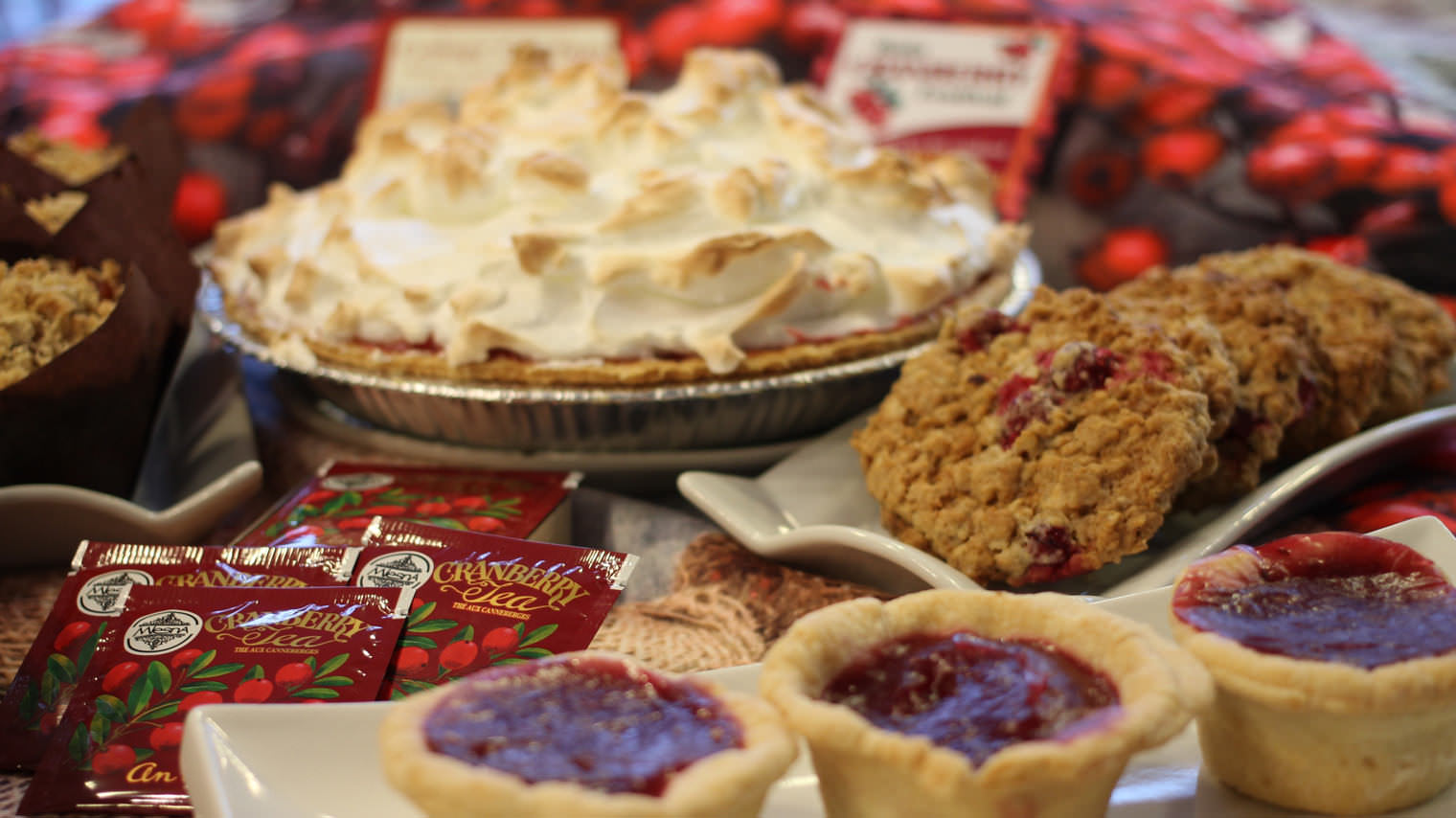 Who doesn't love baked goodies? And who doesn't love baked goodies with delicious cranberries, the perfect blend of sweet and tart. You've got to try these unbelievably good baked goodies at our local scratch bakeries and cafes:
Cottage Cravings: whipped up glorious cranberry tarts, oatmeal cranberry and white chocolate chip cookies, and cranberry frozen yogurt for all cranberry route goers to enjoy with a cup of hot coco. There is a flavour for every taste, with over thirty mouth watering hot chocolate flavours to choose from.
The Shipyards: offering cranberry white chocolate butter tarts which pair perfectly with a hot or iced beverage from their Wheelhouse Café/Starbucks. The cranberry passion tea, hot or on the rocks, is a crowd favourite and is the perfect companion for this decadent tart.
The Gypsy Market Mews & Relish Café: has freshly baked cranberry Orange muffin straight out of the oven. Make sure to get them while they're hot and pair with your favourite steeped or steamed beverage. After having a bite to eat embark on your walk around the shop to see what new finds are on display.
Whimsical Bakery: is baking cranberry scones with house-made cranberry raspberry jam, apple cranberry crumble tarts, lemon cranberry muffins, cranberry walnut muesli bread and cranberry frozen yogurt for their featured stop on the cranberry route. The light, warm, and fluffy pastry will have your mouth watering with the lasting taste of cranberries.
What a Bakery: has warm and crumbly cranberry apple crisp, orange cranberry loafs & muffins, lemon cranberry scones, and creamy oatmeal cranberry cookies all freshly baked and ready for you to divulge in cranberry goodness. This stop on the route will curb all your sweet cranberry cravings. 
Cranned Goods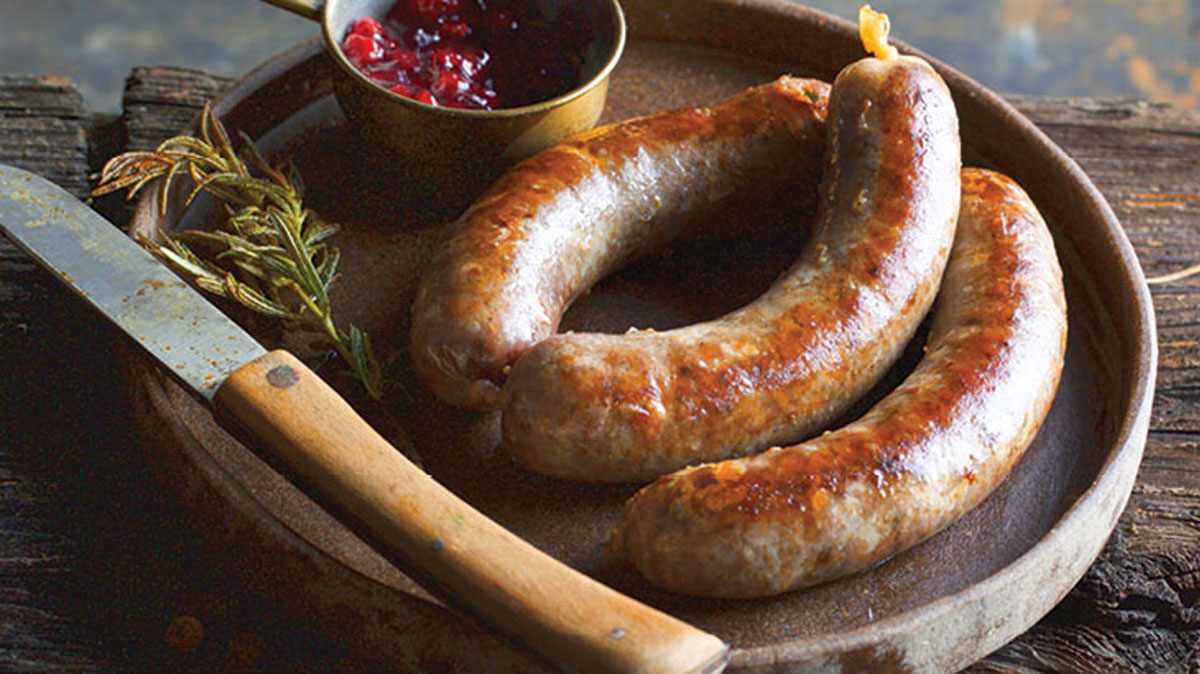 Visit these route stops and bring the cranberry harvest home with you to enjoy year round!
Bala Freshmart: home to the pure pork cranberry sausages, the perfect hearty fall BBQ headliner. The sweet and savoury combination is a match made in heaven. Pair with a fresh baked bun, lightly toasted, and your friends will be calling to ask when the next BBQ will be happening.
The Wahta Station: offering an assortment of cranberry spreads, part of their Laura's Kitchen line of fine spreads and sauces. The spreads taste wonderful on just about any edible thing you can think of, the sky is the limit. All of the delicious products are made from locally sourced cranberries from the one and only, Johnston's Cranberry Marsh.
Rich Hill Candles: will ignite your senses with their cranberry fragrance candles that have been their #1 seller for 30 years. They are equally as decorative as they are delicious smelling. Fill your home with the scent of cranberries for the harvest season and beyond.
Yummies in a Jar: created 6 types of cranberry jams, jellies and sauces, oil free vinagrettes and more to bring the beloved cranberry into your home and around your dinner table. They have been tantalizing the taste buds of people in Muskoka and afar since 1992 and have always batched and bottled their goods right in their Muskoka kitchen.
Cranberry Spa Treatments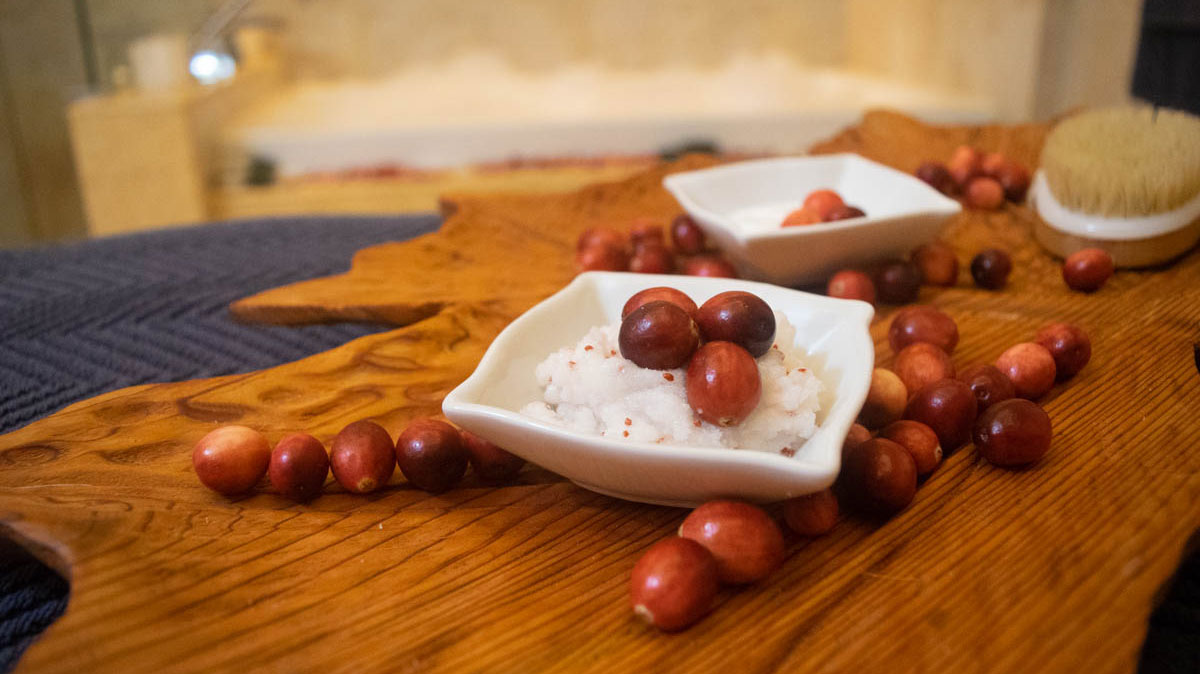 Sometimes it is just nice to get pampered! Sip cranberry cinnamon cider, taste local cranberry treats and re-hydrate with luxurious treatments; lounge in the hydrospa, aromatherapy steam room, whirlpool or sauna at the JW Marriott The Rosseau Muskoka.
For more information, visit the #CRANROUTE website
Where to Stay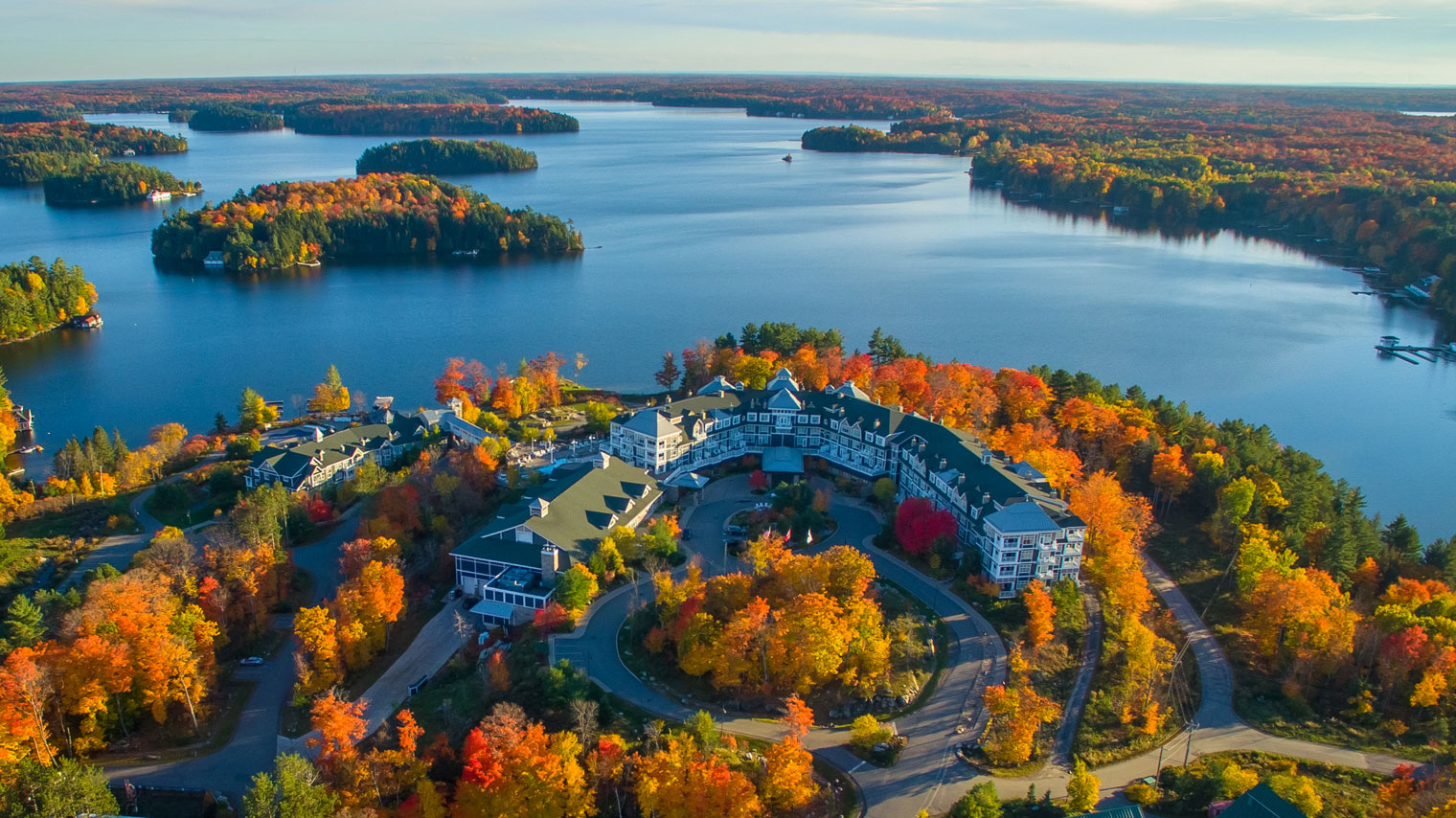 Muskoka is brilliant during the fall season, and a Muskoka Cranberry Route culinary adventure is the perfect excuse for a fall getaway. Stay at one of these great Muskoka Cranberry Route accommodation partners: