A fun-filled (and tasty) trail inspired by Muskoka's love for cranberries!
September 18th, 2023 – October 15th, 2023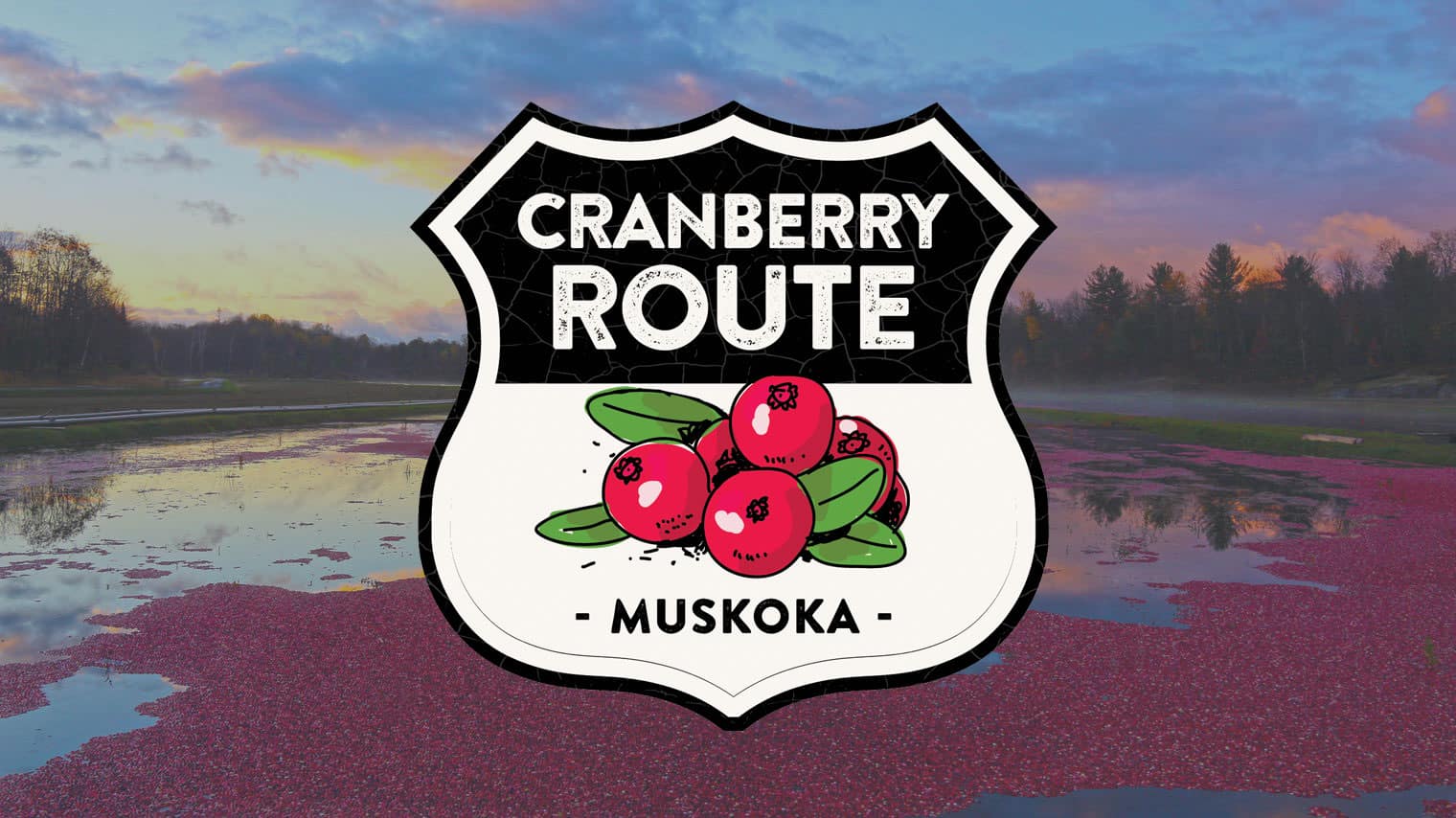 This fall the annual Muskoka Cranberry Route is back for another season! Join us at more than 25 stops across Muskoka, giving you the opportunity to enjoy cranberries in a plethora of different ways.
Bala is the cranberry capital of Ontario and has been hosting one of the largest cranberry celebrations, the Bala Cranberry Festival for the last 30+ years.  This year the festival is on October 13- 15, 2023. This cranberry capital is also home to the oldest cranberry farm in Ontario, and the only cranberry farm in the world with its own on-site winery!
The cranberry love doesn't stop in Bala; in fact Muskoka has long been crazy for cranberries! Across the region talented chefs, bakers, creators and brewers have been incorporating local cranberries into their craft for years. The Muskoka Cranberry Route pulls this collection together to showcase local food, talent and culinary creativity.
Tour the cranberry marsh, sip cranberry craft beer and cider, indulge in cranberry baked goods, taste cranberry inspired cuisine, and so much more! Your cranberry adventure will take you down some of Muskoka's most historic main streets, scenic back roads and along iconic lake side views.
Plan your #CRANROUTE culinary adventure today. This is one crantastic experience you won't want to miss!
Visit the Cranberry Marsh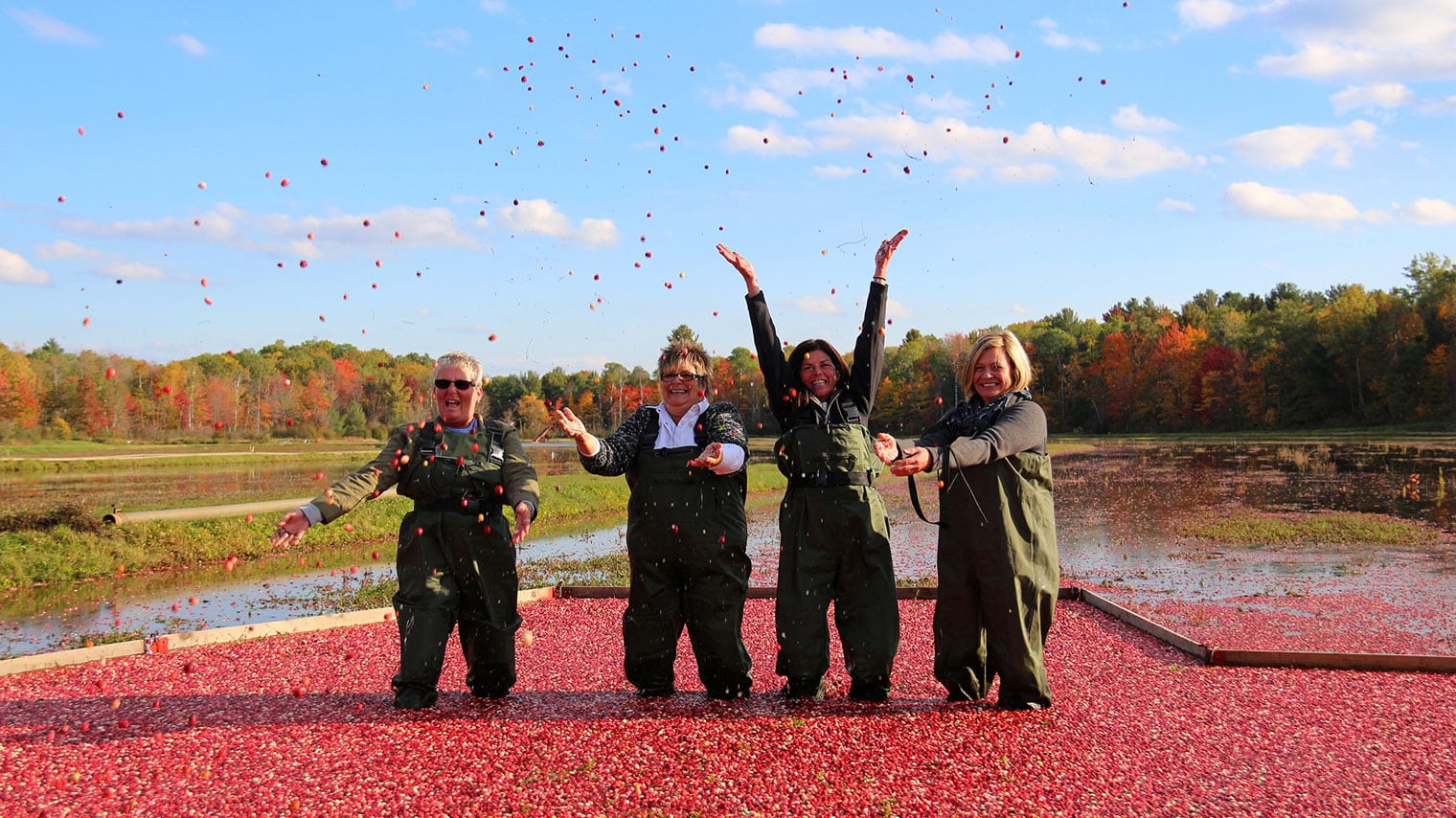 It is only natural to start the Muskoka Cranberry Route culinary adventure with a visit to Muskoka Lakes Farm & Winery. Here, you can gain a true appreciation and understanding of how versatile cranberries really are before journeying on to the next stops.
Take the Bog to Bottle Discovery Tour, an experience so special it has been designated a Canadian Signature Experience. This one-of-a-kind experience includes a tour of the farm followed by a guided wine tasting of their delicious wines. The Bog to Bottle tour runs all year and, during the fall harvest, the tour is a guided wagon ride around the South Marsh.
Take the Cranberry Plunge, one of Muskoka's most exciting fall experiences. Don a pair of hip waders and venture into the cranberries for that iconic candid photo of raining cranberries that will surely liven up any photo album or Instagram feed! There have even been marriage proposals in the berries (they said yes)!
Shop the Cranberry Store for some amazing goodies to take home like fresh cranberries, wines, Mrs. J's famous preserves, cranberry honey, cranberry teas and so much more cranberry inspired delicacies. A must-take-home treat is one of their Cranberry Ciders or Cranberry Splash Wine Spritzers!
For more information, visit their website
Dining & Culinary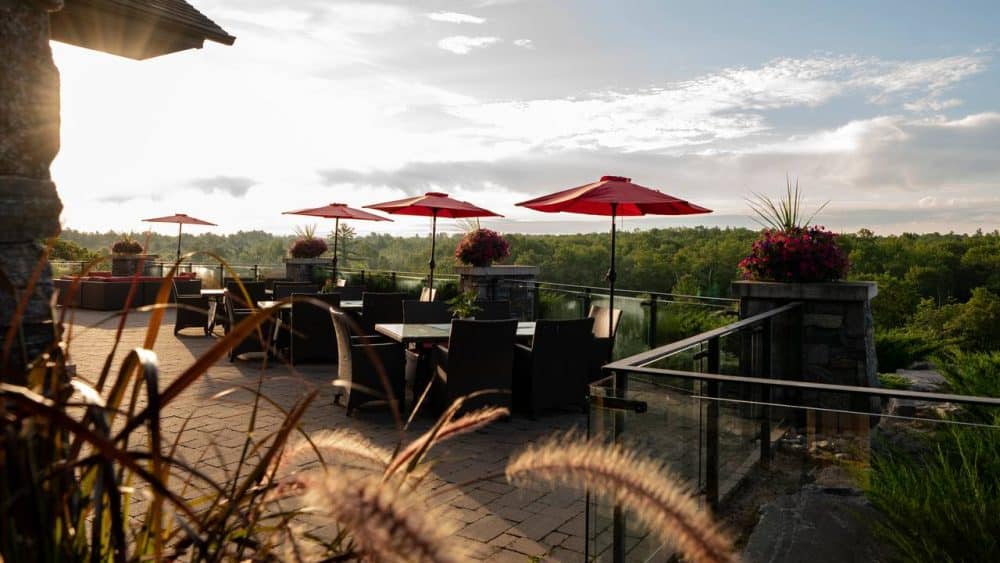 Cliffside at Muskoka Bay Resort

Muskoka is home to many hidden culinary gems and deemed a worthy foodie destination by food enthusiasts. With exceptionally talented chefs committed to fresh, local ingredients (like Bala cranberries), it's no wonder Muskoka is starting to gain a reputation for fantastic food!
Discover the amazing tastes of cranberry-inspired cuisine at these great eateries and restaurants:
Bala Bay Takeaway: Experience several cranberry products on the menu, which are available year round and a few that available seasonally. Items include Cranberry Chicken Clubhouse Wrap, Halibut & Chips with Cranberry Tartar Sauce, Cranberry BBQ Chicken Wings, Cranberry BBQ Pizza and Cranberry BBQ Chicken Breast on a Ciabatta. Pair any one of these cranberry cuisines with an assortment of delicious cranberry beverages!
Affogato Café + Gelato: This year on the Cranberry Route, Affogato Café + Gelato are creating a cranberry gelato accompanied by other crantastic menu items. This is a must-try cranberry treat!
BeaverTails Huntsville: After shopping downtown, stop in to BeaverTails for a cranberry treat! Enjoy their mEHple Cranberry Tail and Cranberry Poutine! The mEhple Cranberry Trail is made with a Maple Flavoured Spread, Maple Sugar Crunch and icing sugar, topped with Cranberry Sauce. The Cranberry Poutine is made with French fries, real Quebec cheese curds and gravy, topped with Cranberry Sauce!
The Pearl Muskoka: Experience the ultimate cranberry delight at The Pearl in Bala, nestled along the enchanting Cranberry Route. Indulge in the exquisite Bala Martini, accompanied by delectable treats like white chocolate-cranberry cookies, scones, and twisted cranberry danishes. Don't miss out on the homemade cranberry shortcake potted desserts either! Gather your friends and embark on a cranberry-filled adventure, savoring all the enticing cranberry offerings along the route
Hotels/Resorts Dining Options
Check out the collection of hotels and resorts offering specialty food and drink for cranberry season. Available for overnight guests or public access. Reservations recommended.
Deerhurst Resort: Enjoy a Cranberry Table d'hote for $59.95/pp featuring Cranberry Sour Speciality Cocktail, Cranberry Homemade Focaccia, Cheese Souffle and Cranberry Arugula Salad, Cranberry Prosciutto Wrapped Supreme of Chicken, plus so much more! Plan your getaway or book a dining reservation.
Muskoka Beer Spa: Visit Muskoka Beer Spa for an overnight stay Sunday to Thursday and add a five course cranberry inspired beer pairing dinner for $88 per person. *Thanksgiving Sunday excluded. Day Visitors have the opportunity to take part in the Cranberry infused two beer pedicure while at BeerSpa. Cranberry infused two beer pedicure is available during technicians hours.
Trillium Resort & Spa: Offering a variety of delicious dishes you need to check out on your way through the Muskoka Cranberry Route. They are adding special additions to their menu like their maple cranberry roasted chicken with mashed sweet potatoes, spiced cranberry with mushroom and bok choy stir fry, and baked brie with cranberry chutney. They also have a cranberry gin fizz cocktail and cranberry creme brulee for dessert. So make sure to stop by and indulge in all the great food they have to offer!
Taboo Muskoka: Dine at the Boathouse Restaurant for breakfast, lunch or dinner. The Boathouse Restaurant overlooks beautiful Lake Muskoka and offers ample seating for Muskoka residents, resort guests and cottagers! Come enjoy a delicious cranberry inspired breakfast for two when you book during the Cranberry Route!
The Rosseau – JW Marriott: Make it a weekend to remember, or visit the restaurant to enjoy a Cranberry Cheesecake. The cake has a lovely orange crust, cranberry gel, rose blonde orange granita and fresh berries.
Inn at the Falls: Basilico, an Italian restaurant and outdoor patio, overlooks the Muskoka River and is located right at Inn at the Falls. Enjoy the signature cranberry dish: Baked Brie.
Muskoka Bay Resort: At Cliffside Restaurant & Terrace During the Cranberry Route Muskoka Bay Resort is serving up special cocktails in celebration of this little berry, including a Cranberry Rosemary Fizz. Pair this beverage with their tasty menu for the full cranberry experience!
Sherwood Inn: Located just 8 minutes away from Muskoka Lakes Farm & Winery, soak in the cranberry festivities during the day and return to Sherwood Inn for a meal from their acclaimed restaurant; featuring a Cranberry Baked Brie!
Christie's Mill Inn & Spa: ENJOY A UNIQUE DINING EXPERIENCE AT OUR WATERFRONT RESTAURANT IN PORT SEVERN
Stay and dine at our hotel's very own restaurant in Port Severn! After a long day of enjoying the Muskoka Cranberry Route, stop by our restaurant for a delicious Cranberry inspired meal.
Local Craft
Crack a pint, stop in for samples and discover great local craft breweries. Be sure to bring some craft pints home to enjoy throughout the harvest, taking a bit of Muskoka home with you!
Try these delicious cranberry-inspired craft brews:
Clear Lake Brewing Company: Find this local brewery downtown Torrance, just off of Southwood road. The Cranberry Radler is a refreshing beverage made with Muskoka cranberry juice. Pair the Cranberry Radler with any one of the delicious cranberry featured menu items!
Canvas Brewing: Canvas Brewing Company is Huntsville's hometown craft brewery, born out of a love for the local landscape and a passion for fresh, well-made craft beer. En route during the cranberry harvest season stop in for a thirst quenching cranberry inspired cocktail as well as a cranberry infused beer.
Muskoka Brewery: Nestled in the heart of Muskoka, Muskoka Brewery handcrafts premium beers as unique and refreshing as the region they're from. Enjoy the Winterbeard Stout with a blend of chocolate, cranberries, and subtle notes of roasted coffee on your stop along the Muskoka Cranberry Route.
Sawdust City Brewing: Sawdust City Brewing is Gravenhurst's go-to craft, local brewery with a delicious menu. During the Cranberry Route, stop in and enjoy their cranberry beer as well as the cranberry inspired menu options.
Muskoka Lakes Farm & Winery: We start with quality, local fruit to craft wines that reflect this region. The French call it 'terroir' – or taste of place. We make wines from dry to dessert that have won awards at national and international competitions. They're delicious, fruit forward and perfect for every occasion! Enjoy ciders, wines and seltzers!
Cranned Goods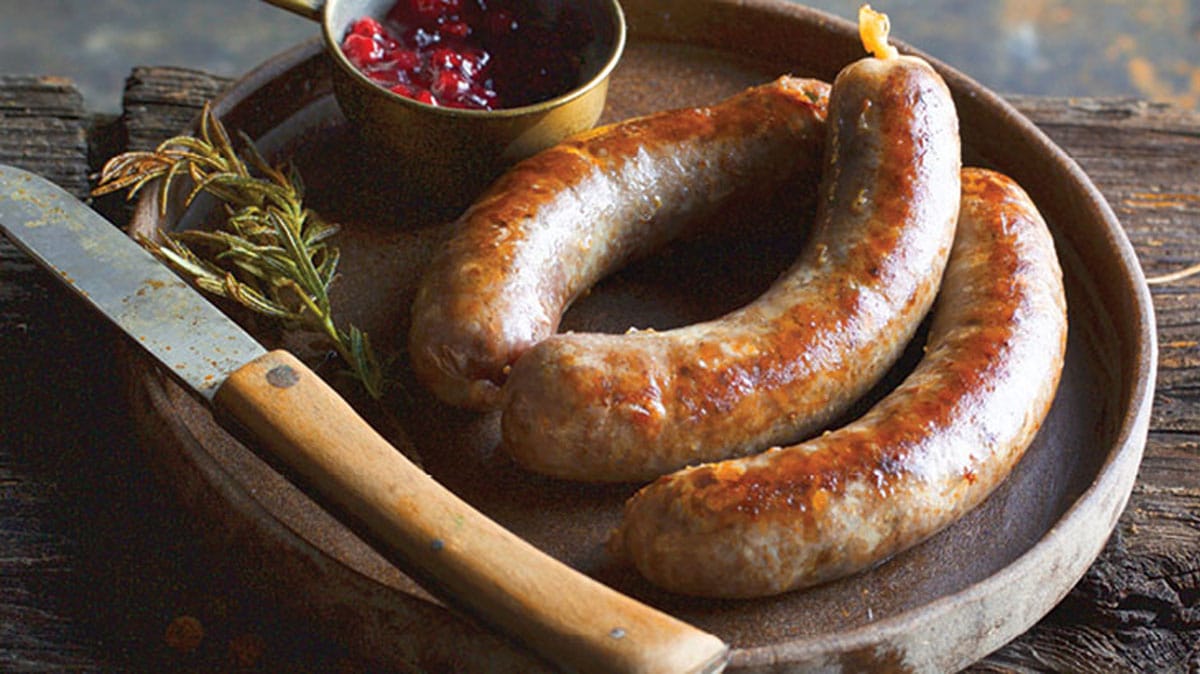 Visit these route stops and bring the cranberry harvest home with you to enjoy year round!
Bala Freshmart: Don't forget to pick up some of their famous pure pork Cranberry Sausages, the perfect hearty fall BBQ headliner. The sweet and savoury combination is a match made in heaven. Pair with fresh-baked buns for a delicious cranberry dinner you can enjoy from the comfort of your own home. Available fresh or frozen.
Henrietta's Pine Bakery: Visit this family owned and operated bakery as you make your way through the Cranberry Route and indulge in their delicious cranberry-inspired baked goods!
Wahta Station: Wahta Station offers Laura's Kitchen cranberry-based spreads. These include cranberry sauces like cranberry, cranberry-blueberry, cranberry-strawberry & cranberry-raspberry spreads. They also sell delicious homemade cranberry chicken pies. So stop by while touring the cranberry route and try these amazing cranberry goods!
Experiences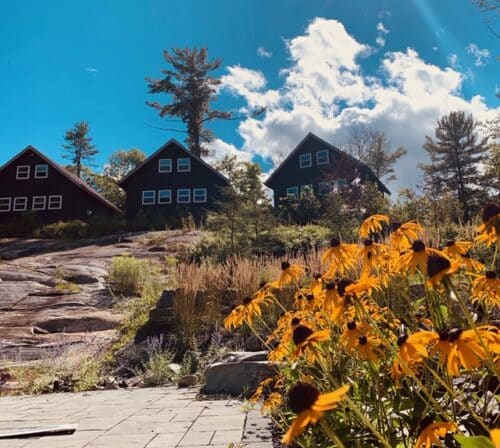 Muskoka BeerSpa: Spa day visits or and overnight accommodation available.  Day Visitors have the opportunity to take part in the Cranberry infused two beer pedicure while at BeerSpa. Cranberry infused two beer pedicure is available during technicians hours. Two beers, one for your feet, one for your face and both with cranberries if you wish! Be sure to check the website for more great Cranberry season offers! Overnight packages available.
Jack & Stella: The perfect place to stop-in and enjoy all it has to offer, especially during the Cranberry Route. The cafe will be serving up a special Cranberry Loaf, Stella's Lounge will have cranberry inspired cocktails, and Georgie's Li'l Doughnuts will delight you with cranberry flavoured doughnuts. Visit them over the Cranberry Festival weekend on October 15 for a mini market, where you'll find  handmade goods created by local artisans and small business, as well as live music dockside in the afternoon.
Overnight Packages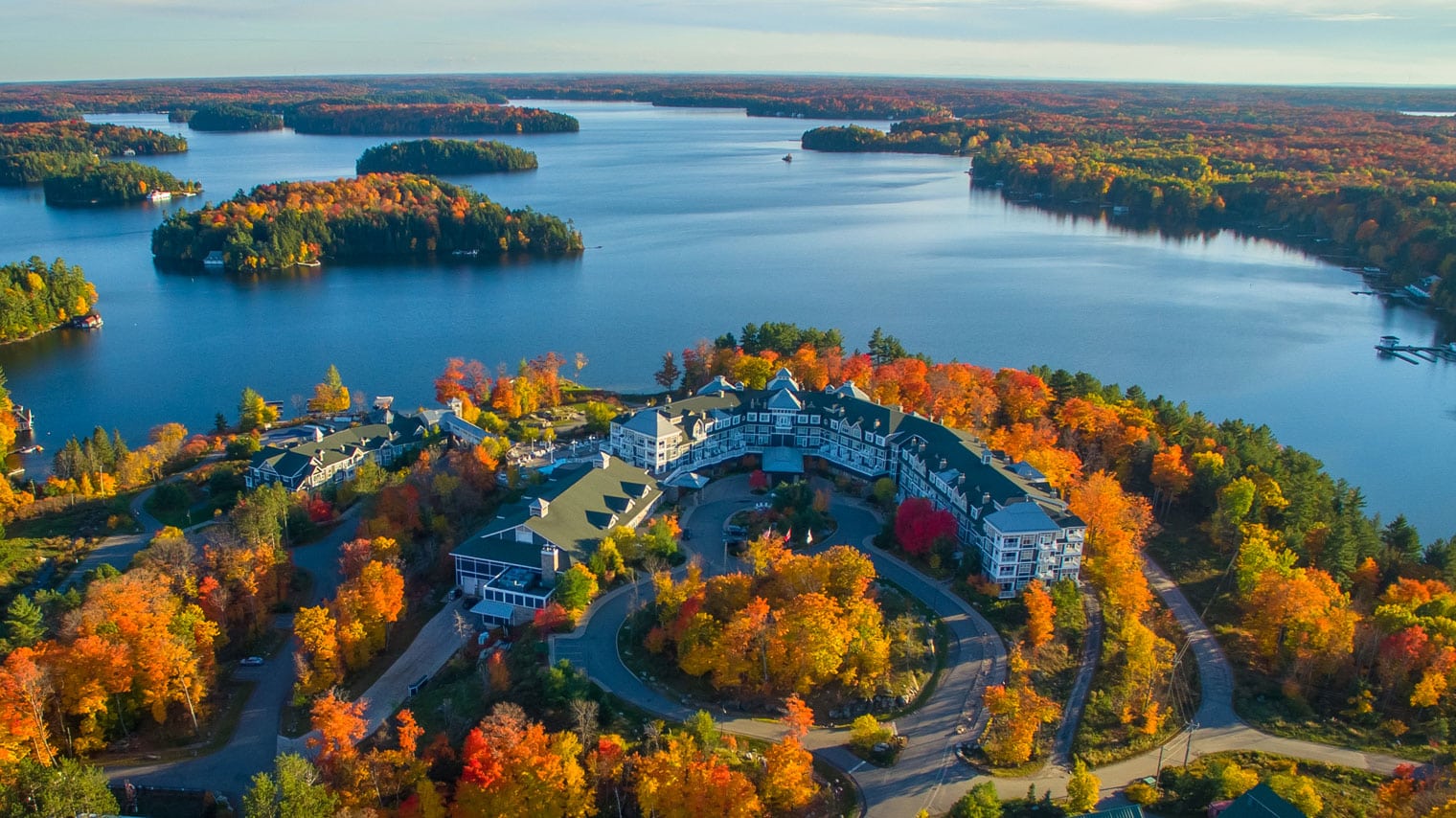 Muskoka is brilliant during the fall season, and a Muskoka Cranberry Route culinary adventure is the perfect excuse for a fall getaway. Stay at one of these great Muskoka Cranberry Route accommodation partners:
Muskoka BeerSpa

: (Torrance) Spend the night in reimagined glamping cabins complete with in room draught taps, complimentary junk food, delivered morning pastries and more. In celebration of the cranberry harvest, try the new 2 Beer Cranberry Pedicure!

The Chalets on Lake Muskoka

: (Between Gravenhurst and Bala) Book a stay Using promo code: cranberry when you book your Fall getaway to have a bottle of sparkling cider waiting for you upon arrival.
Muskoka Bay Resort: (Gravenhurst) Along with their cranberry inspired menu items, Muskoka Bay Resort is offering a Cranberry Getaway Package.
Taboo Muskoka: (Gravenhurst) Book the Bala Cranberry Tour Bed & Breakfast Package which includes a one night accommodation in the Premier Lakeview Rooms, a bottle of Muskoka Lakes Cranberry Wine, breakfast for two in the Boathouse Restaurant. This package starts at $214 per person.
Inn at the Falls: (Bracebridge) Inn at the Falls is offering 10% off your stay when you spend 2 or more nights or 8% off when you spend 1 night. Be sure to check out their restaurant for some delicious eats and amazing views!
JW Marriott The Rosseau Muskoka Resort & Spa: (Minett) Stop by the JW Marriott The Rosseau Muskoka to see how they are celebrating cranberries this season during the Cranberry Route!
Sherwood Inn: (Port Carling) Located just outside of Port Carling, overnight guests can enjoy a special cranberry dessert made specially by the Chef.
Christie's Mill Inn and Spa: (Port Severn) Get away from the everyday at the picture perfect lakefront Christie's Mill Inn & Spa. Unwind in your comfortable and tastefully adorned guest room, and take a moment to put your feet up by the fireplace or on your patio overlooking the lake or gardens.

Jypsy Inn

: (Bracebridge) This boutique inn/hotel in Muskoka has seven themed suites and is perfect for a romantic couples getaway or a weekend away with friends. Cranberry package includes cranberry loaf and Muskoka Lakes Farm and Winery wine upon arrival.
Sunnylea Resort: Your Cranberry Route Home Base: Unwind at Sunnylea Resort Make Sunnylea Resort your home away from home during your adventure along the picturesque Cranberry Route. From September 18 to October 15, 2023, when you book your stay at our charming resort, get ready to be greeted with delightful cranberry-themed gifts in your cabin upon arrival.
Things To Do
Discover
Places To Stay
Discover
Packages
Discover