We've all experienced it, that feeling of dread sitting in traffic on the way to or from cottage country. Once you get there it's worth it; until you have to sit in traffic again on the way back.
What if it doesn't have to be like that? Porter Airlines and FlyGTA Airlines are taking that dread away and giving you more time to enjoy your experience in Muskoka! Don't waste another moment with 35-minute flights from Toronto to Muskoka all summer long.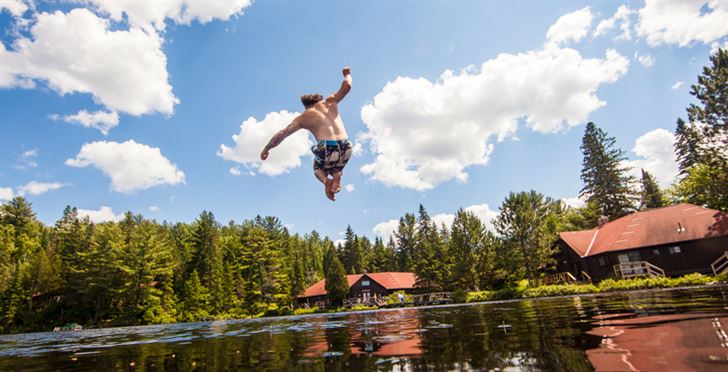 Spend a week in Muskoka by hopping on a Monday flight, or spend a weekend with a Friday flight in and a Monday flight out.
Monday to Friday Itinerary: Family Vacation
With school out, keep the entire family busy and entertained without the hassle of driving. Here is your potential travel itinerary for five days in Muskoka:
Duration of Stay:
Monday to Saturday
FlyGTA Airlines Flight Departure:
Monday, July 11, 2022 from Billy Bishop Toronto City Airport (YTZ) @ 1pm
Accommodation:
The Grand Muskoka Suite at The Inn on Bay
Day One:
Day Two:
Day Three:
Day Four:
Day Five:
Day Six: 
Don't have all week? Catch a Friday flight and a Monday flight back to enjoy a weekend in Muskoka. You can do a lot in one weekend; here is your could-be three day long weekend getaway itinerary:
Duration of Stay:
Friday to Monday
Friday, July 8, 2022 from Billy Bishop Toronto City Airport (YTZ) @ 2:25pm
Once you land, hop on the Explorers' Edge shuttle to get you where you need to go!
Explorers' Edge has partnered with Hammond Transportation to operate a hassle-free shuttle service at the Muskoka Airport to connect you with Porter Airline flights this summer. If you are flying in or out of the region, use the shuttle to access any one of the 5 Designated Routes that span from Algonquin in the east to Georgian Bay in the west.
A $20 (cdn) fee per person per one-direction trip applies.
Accommodation:
The Lakeside Lodge at Deerhurst Resort
Day One:
Day Two:
Day Three:
Day Four:
Flying offers a stress-free escape to Muskoka, giving you more time to enjoy your week-long or weekend getaway!
Get started on planning your adventure with a Fly GTA flight or Porter Airlines.