With its rich abundance of unspoiled lakes and rivers, it is hardly surprising that Muskoka is also home to numerous delightful sandy beaches. Whether for swimming or simply kicking-back and unwinding, cottage country boasts well over 30 public beaches situated on some of Ontario's most beautiful lakeside locations.
From popular in-town parks to quiet out-of-the-way islands, Muskoka's beaches are waiting to be explored!
Click here to see a map of Muskoka's beaches, including directions on how to get there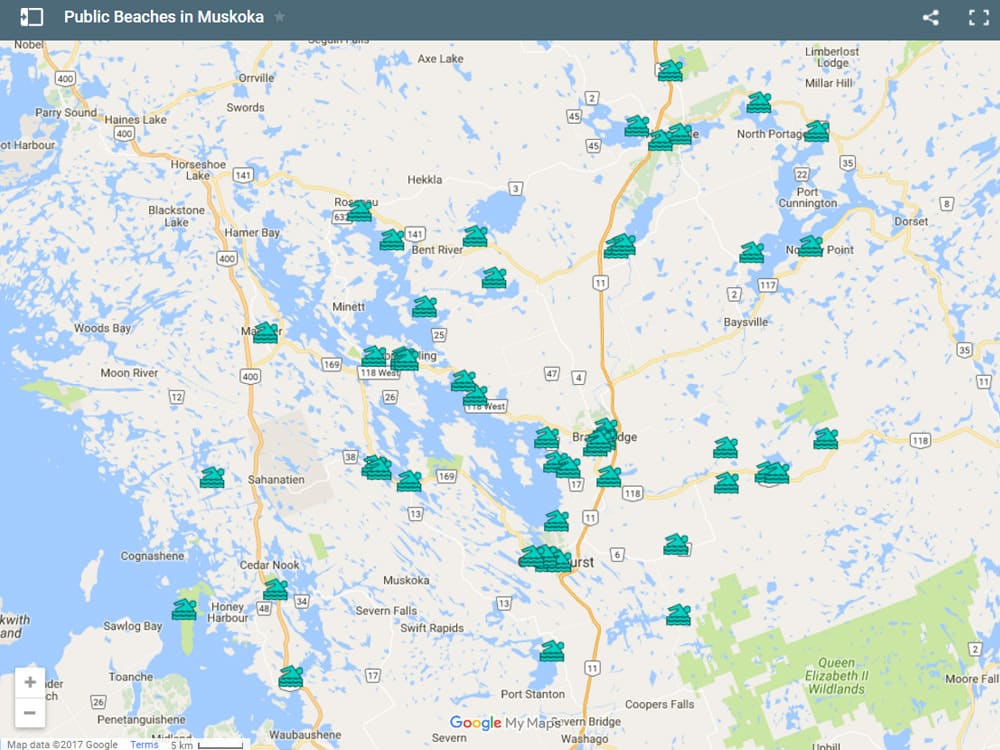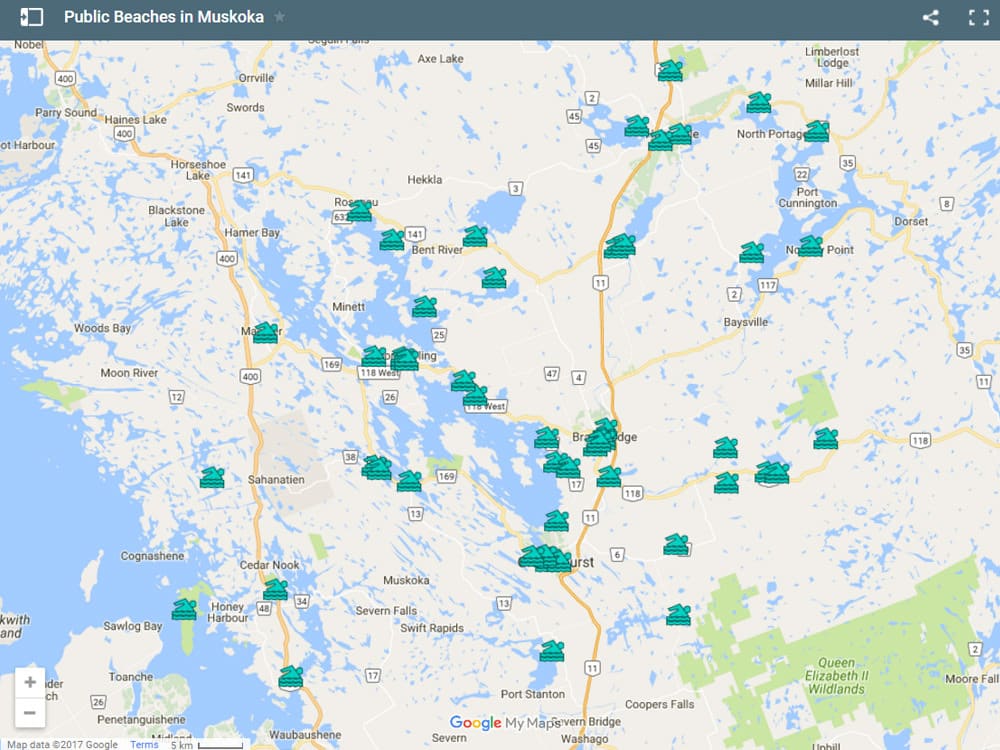 Warning: Not all swimming beaches are patrolled by lifeguards
Huntsville/Lake of Bays Beaches
Algonquin Provincial Park – Hwy 60 then go 45 km east of Huntsville
Arrowhead Provincial Park – Off Hwy 11 at the north end of Huntsville
Avery Beach – On Hunter's Bay off Main St. West, Huntsville
Camp Kitchen Beach – Muskoka Heritage Place and then left onto Camp Kitch Road
Dwight Beach – Lake of Bays, off Hwy. 60 in Dwight
Hutcheson Beach – Lake Vernon, off Muskoka Road 2 west of Huntsville
Lake of Bays Park – Lake of Bays, South Portage Road, Baysville
Oxtongue Rapids Park – Off Hwy. 60 east of Dwight
Port Sydney Beach – Muskoka Road 10, Mary Lake, Port Sydney
Tally Bay Beach – Peninsula Lake, off Hwy. 60, Hillside

Georgian Bay Coast
Georgian Bay Island National Park – Beausoleil Island, 17 km north of Port Severn
MacTier Beach – Stewart lake, east of the town centre on Stewart St.
Prospect Lake Beach – Hwy 118 east to Prospect Lake Rd.
Six Mile – 17 km north of Port Severn off Highway 400
Gravenhurst Beaches
Bass Lake Park – Housey's Rapids Road (District Road 6)
Franklin Park – End of Kilworthy Road, south of Gravenhurst
Gull Lake Park – Bethune Drive, Gravenhurst
Muskoka Bay Park – Muskoka Bay, Muskoka Rd. 169, west of Gravenhurst
Muskoka Beach Park – Off Muskoka Beach Road, Gravenhurst
Bracebridge Beaches
Annie Williams Park – Wellington Street to Santa's Village Road
Bass Rock Park – Wilson's Falls Rd. (rock only – no sand)
Bowyer's Beach – Bowyers Beach Road off of Golden Beach Road
Bracebridge Bay – Ecclestone Drive (Kelvin Grove Park, deep area only)
Bracebridge Bay Park – Wharf Rd. (Bracebridge Bay Park)
Clear Lake Beach – Located at the end of Clear Lake Road
Fox Point beach – Highway 118 E. to Conway Crescent then to Fox Point Road (Neighbourhood Park)
Holditch Street Park/Beach – Holditch Street and Dill Street (Neighbourhood Park)
Kirby's Beach – Lake Muskoka, off Beaumont Drive in Bracebridge
Muskoka Falls – Morrow Drive (Neighbourhood Park)
Strawberry Bay Beach – Stephens Bay Road
Wood Lake Beach – Oakley Cres. to Caribou Lodge Rd to Rignalls Road (Neighbourhood Park)
Muskoka Lakes Beaches
Archdekin Park – Harris Street, Port Carling
Baycliffe Park – Milford Bay Road, Muskoka Road 118 West, Milford Bay
Four Mile Point Park -Rosseau Rd. #3 (off Hwy 141)
Hanna Park Beach – Off Bailey Street, Port Carling
Indian Crescent Park – Indian Cres., Port Carling
Jaspen Park – Moon River, off District Road 38, Bala
Port Sandfield Park – Muskoka Rd. 7, Port Sandfield
Rosseau Beach – Lake Rosseau, in village of Rosseau
Skeleton Lake Park – Skeleton Lake Road #5, Ullswater
Sunset Park – Wharf Rd. (off Torrance Rd.), Torrance
Valley Green Beach – Muskoka Road, 118 W, Milford Bay
Windermere Park – Lake Rosseau, off District Road 4
Windsor Park – Off Muskoka Road 169, Bala
COVID-19 Modifications
The Muskoka region, including the restaurants and local businesses discussed above, have taken several precautions to help prevent the spread of COVID-19. Social distancing procedures must be followed. Masks are required for entry into all buildings and when social distancing is not possible. Frequent hand-washing is encouraged and everyone must self-isolate if experiencing any COVID-19 symptoms. For more information regarding COVID-19, please visit our COVID-19 Updates page.