As a leader in the tourism and hospitality community, Muskoka Tourism recognizes our role and responsibility in ensuring the health and safety of our partners as well as visitors to the District of Muskoka. At this time, we are following recommendations from our municipal, provincial and federal governments to implement safety precautions and reviewing how we proceed. We are working proactively to support our region during this time and will continue to share information as it is received from our partners. We are supporting our local businesses and communities by adhering to the current restrictions outlined in Modified Step Two of the Roadmap to Reopen.
Modified Step Two of the Roadmap to Reopen
The province will return to the modified version of Step Two of the Roadmap to Reopen effective Wednesday, January 5, 2022 at 12:01 a.m. for at least 21 days (until January 26, 2022), subject to trends in public health and health system indicators.
Current public health measures in effect:
Reducing social gathering limits to five people indoors and 10 people outdoors.
Limiting capacity at organized public events to five people indoors.
Requiring businesses and organizations to ensure employees work remotely unless the nature of their work requires them to be on-site.
Limiting capacity at indoor weddings, funerals, and religious services, rites and ceremonies to 50 per cent capacity of the particular room. Outdoor services are limited to the number of people that can maintain 2 metres of physical distance. Social gatherings associated with these services must adhere to the social gathering limits.
Retail settings, including shopping malls, permitted at 50 per cent capacity. For shopping malls physical distancing will be required in line-ups, loitering will not be permitted and food courts will be required to close.
Personal care services permitted at 50 per cent capacity and other restrictions. Saunas, steam rooms, and oxygen bars closed.
Closing indoor meeting and event spaces with limited exceptions but permitting outdoor spaces to remain open with restrictions.
Public libraries limited to 50 per cent capacity.
Closing indoor dining at restaurants, bars and other food or drink establishments. Outdoor dining with restrictions, takeout, drive through and delivery is permitted.
Restricting the sale of alcohol after 10 p.m. and the consumption of alcohol on-premise in businesses or settings after 11 p.m. with delivery and takeout, grocery/convenience stores and other liquor stores exempted.
Closing indoor concert venues, theatres, cinemas, rehearsals and recorded performances permitted with restrictions.
Closing museums, galleries, zoos, science centres, landmarks, historic sites, botanical gardens and similar attractions, amusement parks and waterparks, tour and guide services and fairs, rural exhibitions, and festivals. Outdoor establishments permitted to open with restrictions and with spectator occupancy, where applicable, limited to 50 per cent capacity.
Closing indoor horse racing tracks, car racing tracks and other similar venues. Outdoor establishments permitted to open with restrictions and with spectator occupancy limited to 50 per cent capacity. Boat tours permitted at 50 per cent capacity.
Closing indoor sport and recreational fitness facilities including gyms, except for athletes training for the Olympics and Paralympics and select professional and elite amateur sport leagues. Outdoor facilities are permitted to operate but with the number of spectators not to exceed 50 per cent occupancy and other requirements.
VISITOR CENTRES
The Muskoka Tourism Travel Information Centre is closed. For general inquires please call 1-800-267-9700 or email us at info@muskokatourism.ca. Or, inquire through our online chat feature, available on the main page of our website here. 
Gravenhurst, Bracebridge, Muskoka Lakes, and Huntsville/Lake of Bays, SE Georgian Bay Visitors Centres are all available to assist your needs via e-mail or by phone.
SUPPORT FOR BUSINESSES
Muskoka Tourism wants you and your business to get the funding, support, and resources needed to get through these difficult times. Click here for more information about the COVID-19 support and resources available for small businesses.
STOP THE SPREAD OF COVID-19
As the situation continues to evolve quickly, we encourage you to reference the Simcoe-Muskoka Health Unit website for the latest regional updates.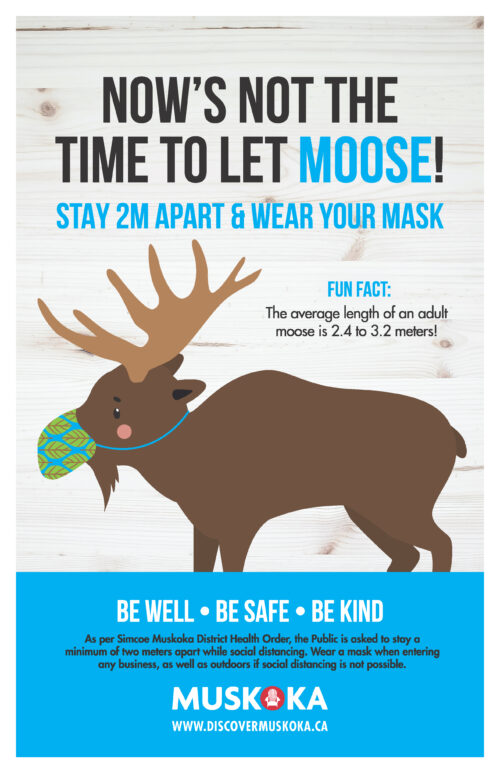 Safe Travels Stamp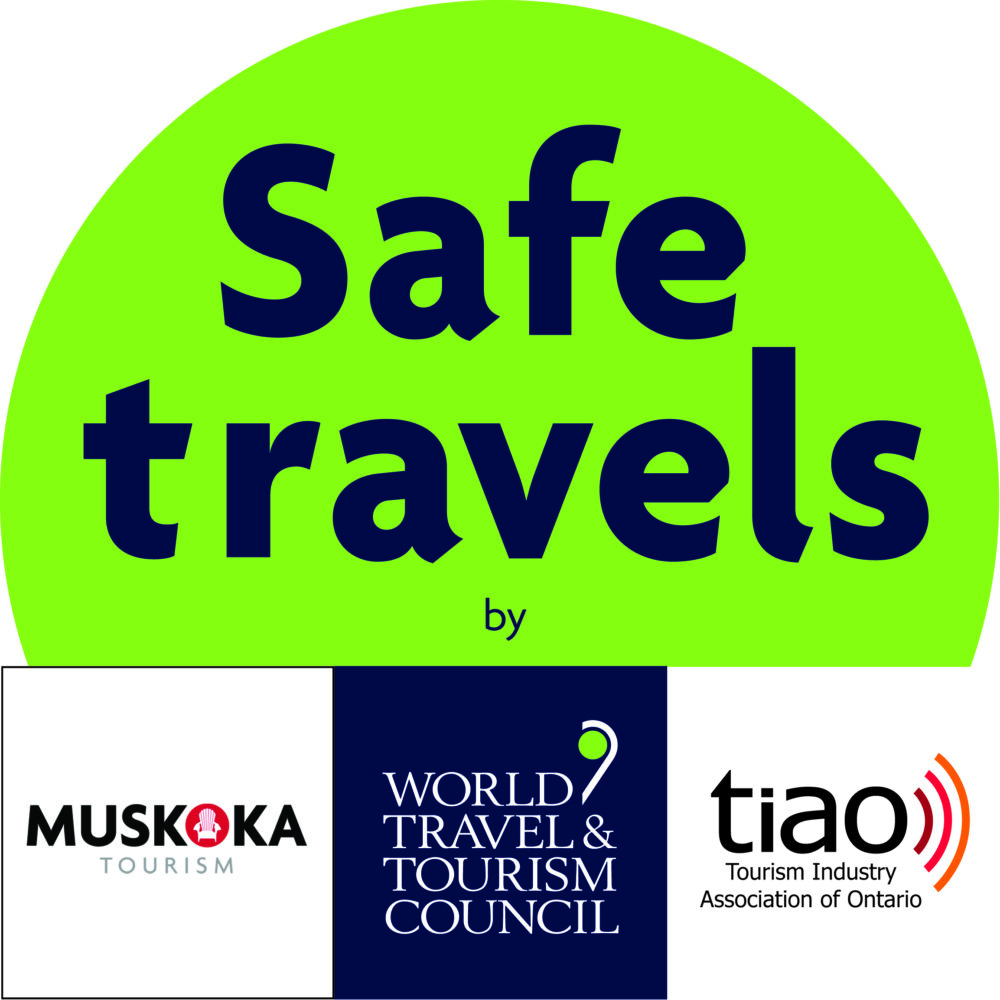 Muskoka Tourism is delighted to announce it has been awarded the #SafeTravels Stamp. The
Safe Travels Stamp is an international symbol designed to allow travellers to recognize
governments and companies around the world, which have adopted health and hygiene,
standardized protocols – so consumers can experience 'Safe Travels'.
Part of our protocols include providing the public & private sectors with the insights & toolkits for interaction & implementation to ensure that people are and feel safe. It is paramount to have common rules. Ultimately, we envision a future of travel which is safe, secure, seamless and provides an authentic and meaningful experience to the traveller across the journey; one which supports the livelihoods of millions and contributes to sustainable economic growth. For more details on the program click here.