As a leader in the tourism and hospitality community, Muskoka Tourism recognizes our role and responsibility in ensuring the health and safety of our partners as well as visitors to the District of Muskoka. At this time, we are following recommendations from our municipal, provincial and federal governments to implement safety precautions and reviewing how we proceed. We are working proactively to support our region during this time and will continue to share information as it is received from our partners. We are supporting our local businesses and communities by adhering to the current restrictions outlined in the province's framework.
VISITOR CENTRES
The Muskoka Tourism Travel Information Centre is closed until further notice. We are still here to help! For general inquires please call 1-800-267-9700 or email us at info@muskokatourism.ca. Or, inquire through our online chat feature, available on the main page of our website here.
Gravenhurst, Bracebridge, Muskoka Lakes, and Huntsville/Lake of Bays, SE Georgian Bay Visitors Centres are all available to assist your needs via e-mail or by phone.
PROVINCIAL EMERGENCY & STAY-AT-HOME ORDER
As of 12:01am on Thursday April 8th the Muskoka Region and the entire Province of Ontario is in the 'Emergency Stay-at-Home Order' level of the provincial framework to reopening, which impacts service levels at many businesses in the region. To learn more click here.
Residents are asked to stay home, only leaving for necessary purchases and services.
Please plan ahead and contact any businesses or attractions prior to visiting for updated services and hours.
GET IT TO GO!
Many businesses in Muskoka, including food & drink establishments, are offering online and curbside pick-up shopping options to help minimize potential exposure. If you plan to dine or shop indoors, considering checking the establishment's website or social media platforms or contacting the business directly, to ensure that indoor dining or shopping is currently offered.
Find out who is currently offering take-out
SUPPORT FOR BUSINESSES
Muskoka Tourism wants you and your business to get the funding, support, and resources needed to get through these difficult times. Click here for more information about the COVID-19 support and resources available for small businesses.
STOP THE SPREAD OF COVID-19
The spread of COVID-19 can be minimized by following proper health and safety measures. These measures include:
Wearing a face covering when entering indoor public spaces, including stores and common areas
Maintaining a physical distancing of at least 2 metres from all people outside of your household
Staying home if sick and getting a COVID-19 test if you display any symptoms
Washing your hands often with soap and water
Regularly using alcohol-based hand sanitizer
As the situation continues to evolve quickly, we encourage you to reference the Simcoe-Muskoka Health Unit website for the latest regional updates.
Safe Travels Stamp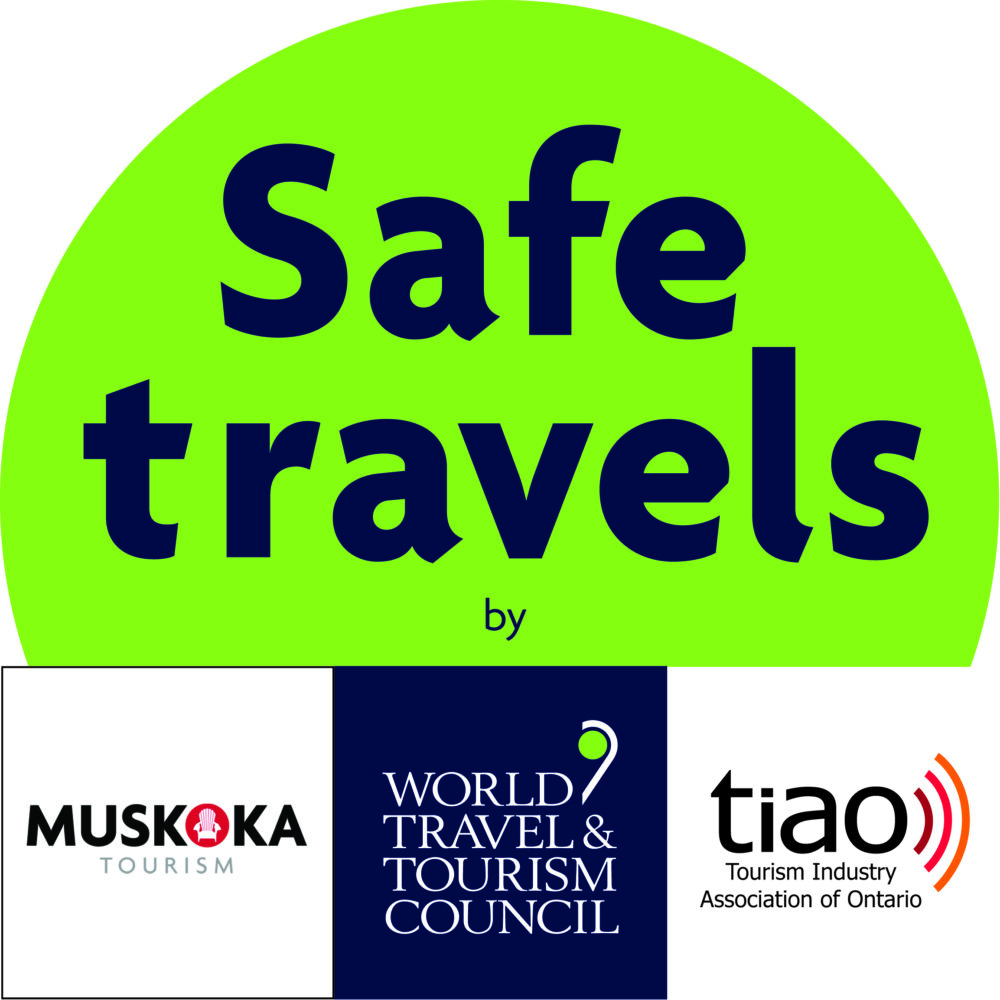 Muskoka Tourism is delighted to announce it has been awarded the #SafeTravels Stamp. The
Safe Travels Stamp is an international symbol designed to allow travellers to recognize
governments and companies around the world, which have adopted health and hygiene,
standardized protocols – so consumers can experience 'Safe Travels'.
Part of our protocols include providing the public & private sectors with the insights & toolkits for interaction & implementation to ensure that people are and feel safe. It is paramount to have common rules. Ultimately, we envision a future of travel which is safe, secure, seamless and provides an authentic and meaningful experience to the traveller across the journey; one which supports the livelihoods of millions and contributes to sustainable economic growth. For more details on the program click here.