Family-friendly winter fun, close to home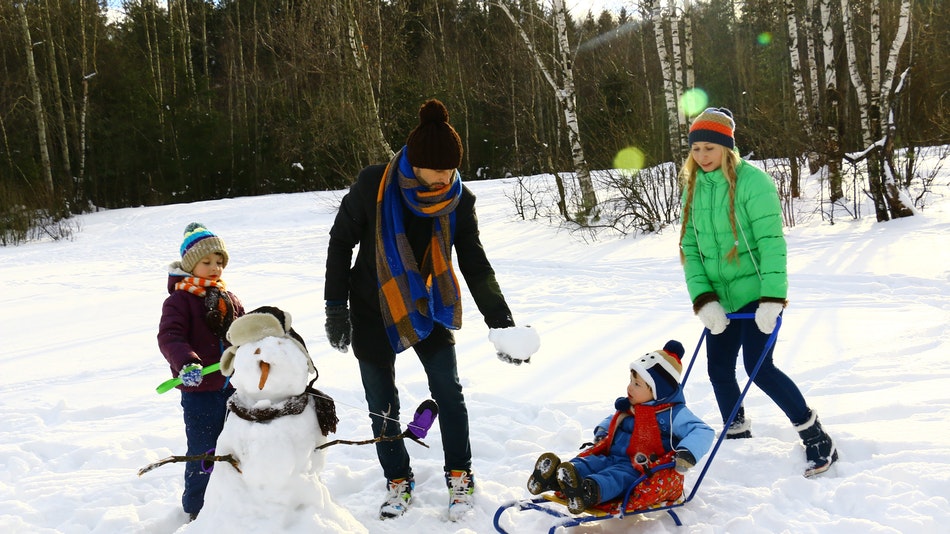 For many of us, 2020 was the year that we spent even more time than usual with our closest family members. And sure, the at-home movie nights, family bake-offs, and hours spent playing board games are entertaining for a while, but after so much time inside together, you're probably ready for some new ideas for family fun that are available close to home.
That's why we've made a list of some of the best family-friendly experiences in Muskoka to check out this winter. From tobogganing adventures to afternoons filled with ice skating and hot chocolate, exploring local with your family bubble has never been so much fun.
Read on to learn more about 5 ideas for local family-friendly fun in Muskoka.
Back of Beyond Equine Centre – Family Sleigh Ride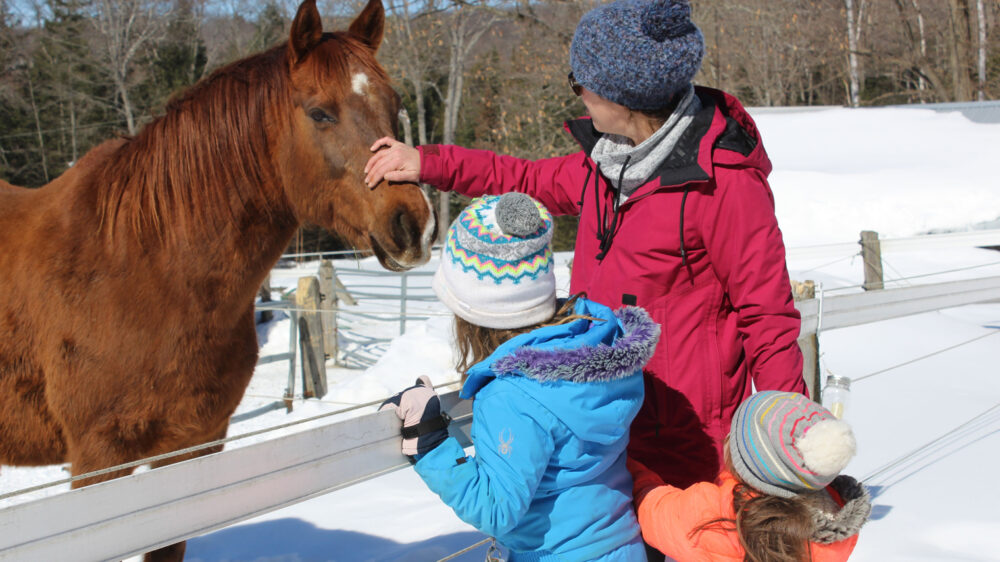 2572 Muskoka Rd. 10, Hunstville
Bring your family bubble together this winter for a Family Sleigh Ride & Campfire with the Back of Beyond Equine Centre. This unforgettable experience includes a tour of the Back of Beyond horse farm, a chance to meet the 14 adorable ponies, and a sleigh ride along the beautiful, private winter trails at the Centre. Snuggle up together under warm blankets and gaze out at the stunning winter wonderland that blankets the farm. Afterwards, warm up with a crackling campfire, sip on hot chocolate, and roast marshmallows over the glowing embers. Children will also get to take home a photo of their favourite horse, meaning they'll always remember this unique family adventure.
Reserve your Family Sleigh Ride online. And hurry! The winter calendar is filling up fast.
Limberlost Forest – Winter Wildlife Tracking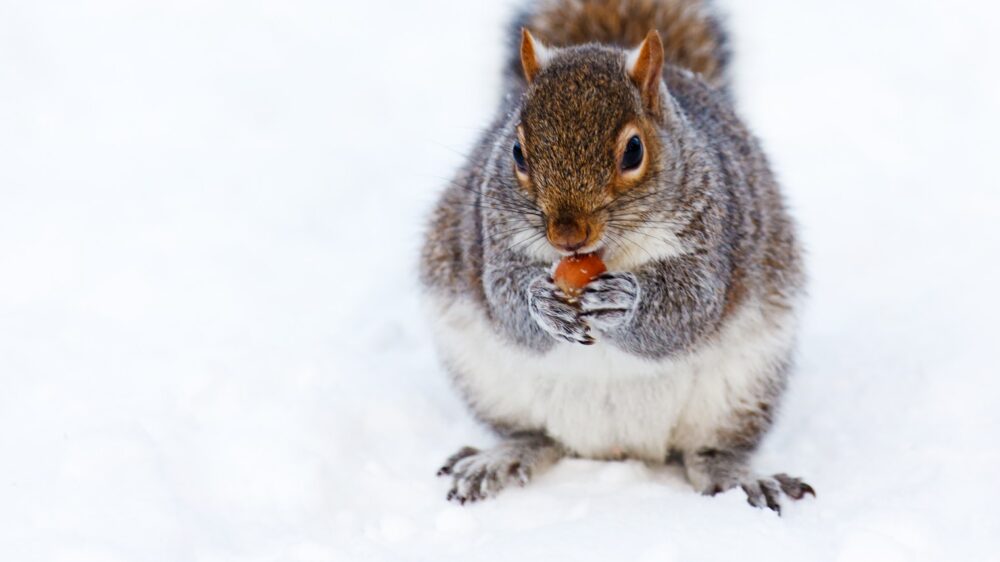 1088 Buck Lake Landing, Huntsville
Learn more about the local critters that also call the Muskoka region home this winter with an afternoon of winter wildlife tracking. Visit the Limberlost Forest & Wildlife Preserve, a publicly accessible year-round wilderness haven, and challenge the kids to see what animal tracks they can find hidden in the snow. The main trails range in length from 4.2 km to 13 km and pass by scenic waterside views and through snowy mixed forests, and are home to many different types of wildlife, including red squirrels, foxes, and white-tailed deer.
Locate the Limberlost Forest 3 km off of Muskoka Rd 8/Limberlost Rd. It's approximately a 20-minute drive from both Huntsville and Dwight. Please note that access to the reserve is limited to 9 am – 5:00 pm. Once you enter through the reserve's gates you'll find a kiosk containing parking passes, trail maps, and a safety waiver. You must read and complete the waiver before exploring the trail system. Click here for a trail map.
Algonquin Outfitters – Snowshoe Rentals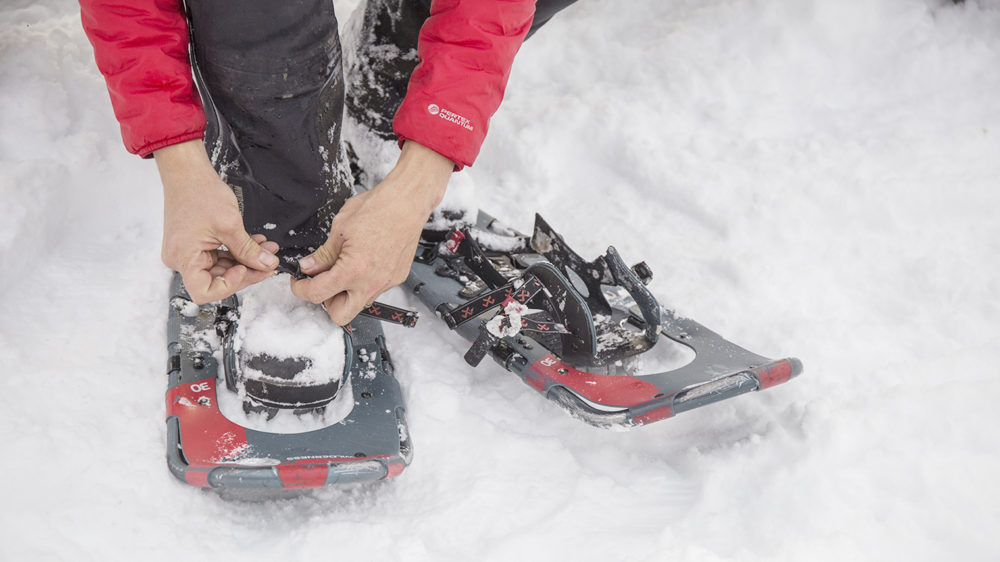 Various locations in Muskoka
Combine family bonding time and a great workout this winter with an afternoon of snowshoeing. Algonquin Outfitters offers curbside snowshoe rentals for both adults and youth (under 16). Rentals are available at the Bracebridge (705-645-9262), Haliburton (705-457-3737), Huntsville (705-787-0262), or Oxtongue Lake (705-635-2243) locations and are by the calendar day. Please visit their website or call ahead to book a curbside pickup appointment time.
Muskoka offers some of the best snowshoeing trails in the province, and many are short and accessible enough to be considered family-friendly. The Bracebridge Resource Management Centre has a 1.4 km snowshoe loop and is a great choice if you rented snowshoes from Algonquin Outfitter's Bracebridge location. The Frost Centre, located in the Algonquin Highlands, provides over 11 km of stacked snowshoe trails that wind around scenic St. Lake Nora. In Dwight, the Echo Valley Nature & Bike Trails are a must-try for snowshoes. There are a total of 3.5 km of trails that are perfect for a scenic snowshoe excursion, with one main trunk line and 14 shorter trails.
Tobogganing Hills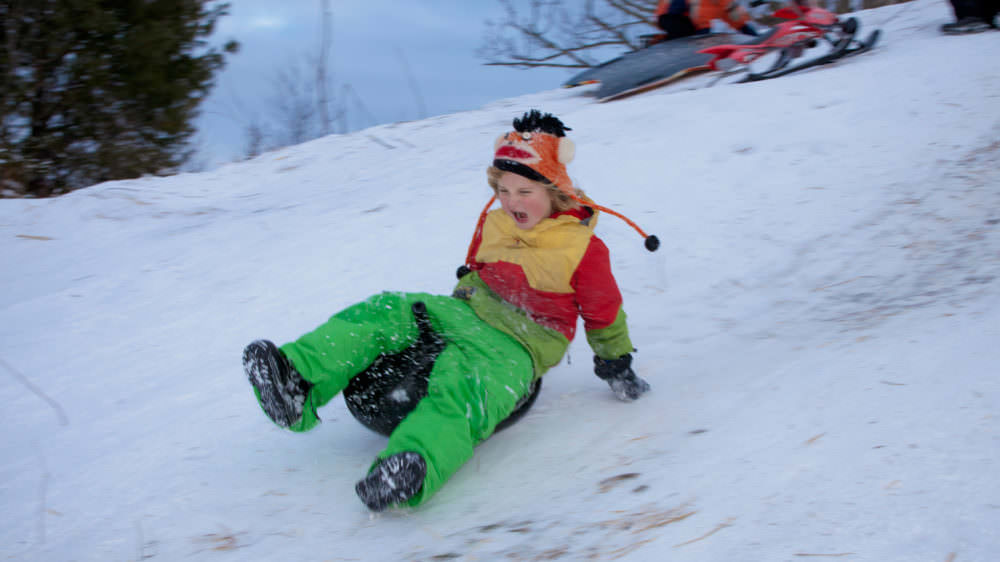 Various locations in Muskoka
Tobogganing is one quintessential Canadian experience that no one ever truly outgrows. And the best part? Tobogganing is a safe way to have fun outdoors this winter, as social distancing is possible. So grab a sled, fill a thermos with hot chocolate, and check out one of these nearby top toboggan hills, located right in your own backyard.
In Bracebridge, try the designated sliding hill at Kerr Park, found at 130 Beaumont Drive. Annie Williams Memorial Park is also a must-try. Find the park at 50 Santa's Village Road. Kelvin Grove Park, located at 101 Ecclestone Drive in Bracebridge, is also a good option for sledding with the family.
Pratt's Pitt, found in Gravenhurst, offers a large hill that is suitable for tobogganing. As the hill is quite big, this one is best suited for the older kids. In Port Sydney, the Port Sydney Community Hall has an excellent sliding hill that is perfect for an afternoon of tobogganing fun. Finally, St. Mary's School at 36 Silverwood Drive in Hunstville boasts a hill that's ideal for sledding.
Muskoka Lakes Farm & Winery – Cranberry Ice Trail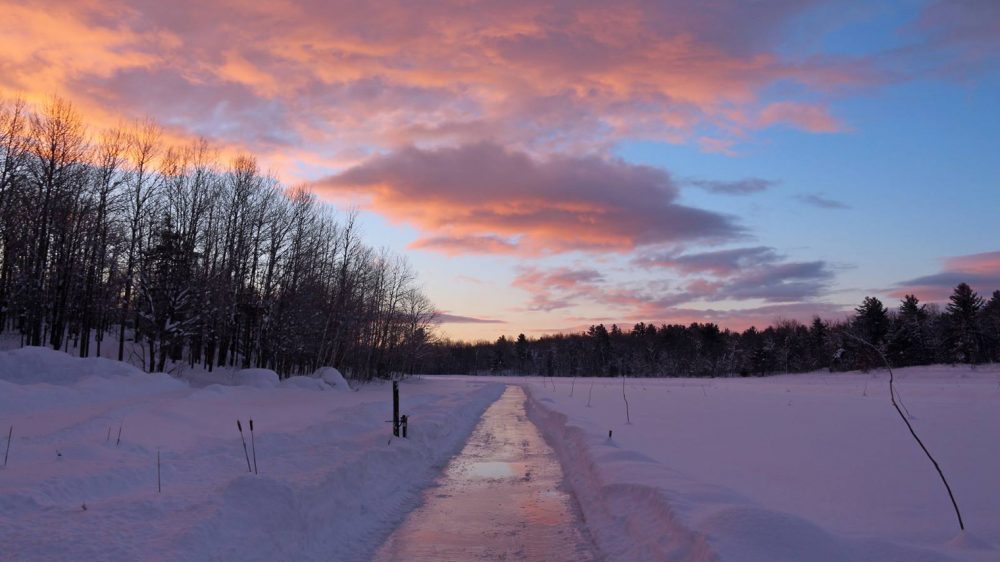 1074 Cranberry Road, Bala

This season, bring the kids and try out of one Muskoka's most-famous winter experiences – skating the Cranberry Ice Trail at Muskoka Lakes Farm & Winery! This 1.2 km ice trail loops around 12 acres of frozen cranberry beds for a truly Canadian experience. The trail is open daily from 11 am-4 pm, weather permitting. Online reservations for skating are required this year to limit crowding and ensure that social distancing can be maintained. Bookings are opened on a rolling basis according to the weather forecast.
After a day of skating, make the short drive over to Cottage Cravings in Bala to warm up with a hot drink. Cottage Cravings boasts the largest hot chocolate bar in Muskoka, with over 30 delicious flavours of hot chocolate, including Maple Chocolate and Salted Caramel. This quaint cafe and gift shop also offers a number of sweet treats and to-go meals that are the perfect way to refuel after skating. The cafe is open for take-out at this time and orders can be placed in person or by phoning 705-762-4444. Face coverings are required.
COVID-19 Modifications
The Muskoka region, including the restaurants and local businesses discussed above, have taken several precautions to help prevent the spread of COVID-19. Social distancing procedures must be followed. Masks are required for entry into all buildings and when social distancing is not possible. Frequent hand-washing is encouraged and everyone must self-isolate if experiencing any COVID-19 symptoms. For more information regarding COVID-19, please visit our COVID-19 Updates page.
Stay and Play
Make the most of your Muskoka experience and check out our top recommendations for places to stay and perfect getaway packages.