For too long winter has been a time to hunker down, but the challenge is on to make this winter hit different by pushing off that urge to hibernate and instead seeking out the amazing opportunities available in Muskoka, the nearby north where the granite of the Canadian Shield towers over lush forests and shining lakes. It's widely known that spending time in fresh air is good for the body, mind and soul, so when winter arrives to cover the landscape with a layer of ice and snow, there is no better place to make the most of the season than Huntsville, Ontario, where the magic of winter can be found in an abundance of local experiences.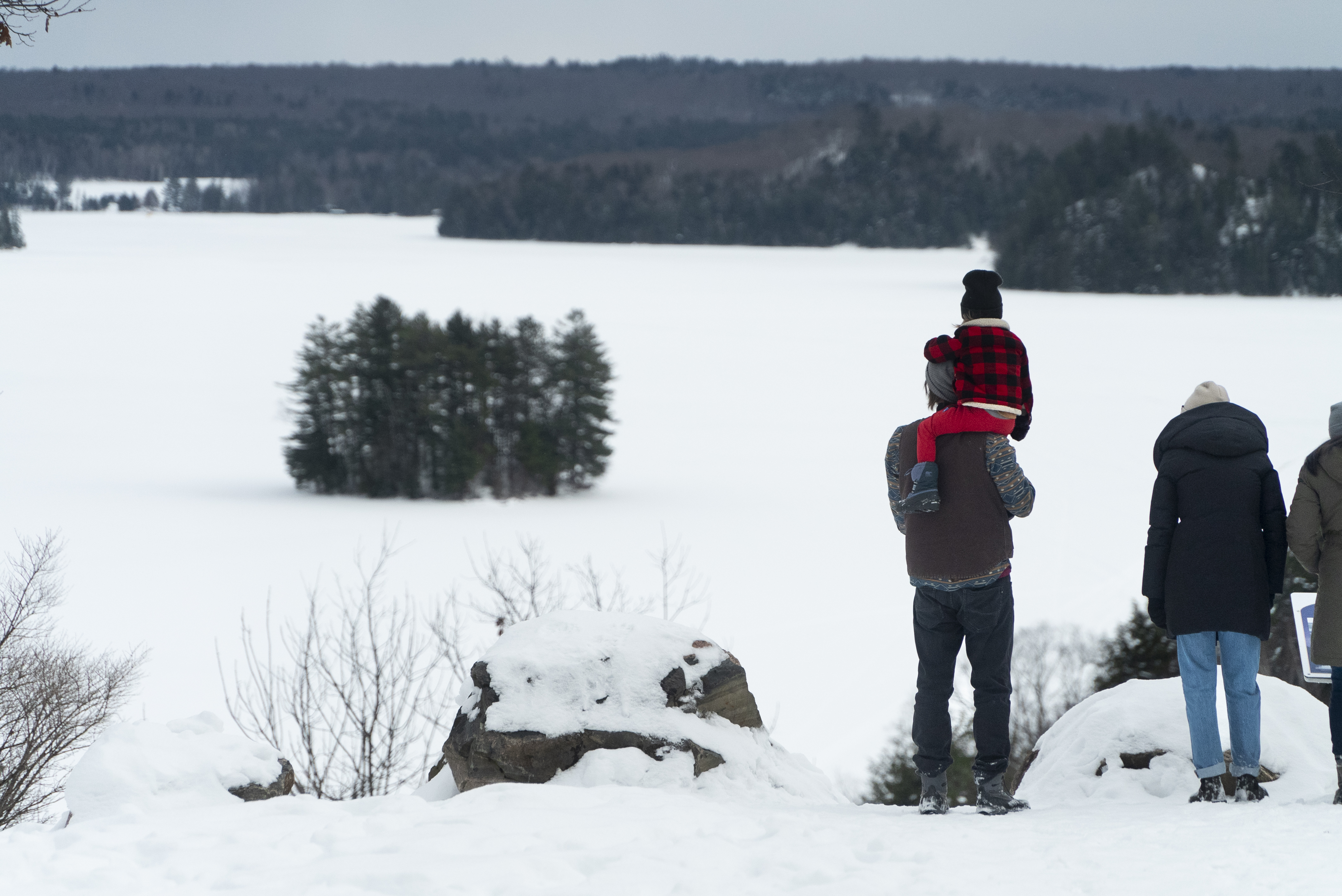 Enjoy this Huntsville Winter Adventure Guide, brought to you by Away We Go Trips
Make Moves
A winter must-do item on everyone's list should be outdoor ice skating, and the place that does it best in Ontario is Huntsville's Arrowhead Provincial Park. Grab a day pass online and then lace up to glide through this 1.3km icy forest skating trail. The most popular (and most insta-worthy) time slot is the evening "Fire & Ice" skate, where park staff light torches along the trail to give the experience a warm glow as you skate under the starry sky. You can really indulge when you book a rustic on-site cabin and pack your marshmallows for a cozy winter campfire to finish off a day of winter fun. Another amazing spot for skating is Lion's Lookout, offering up scenic views and a fantastic outdoor rink. Access to complementary but there are no rentals on site.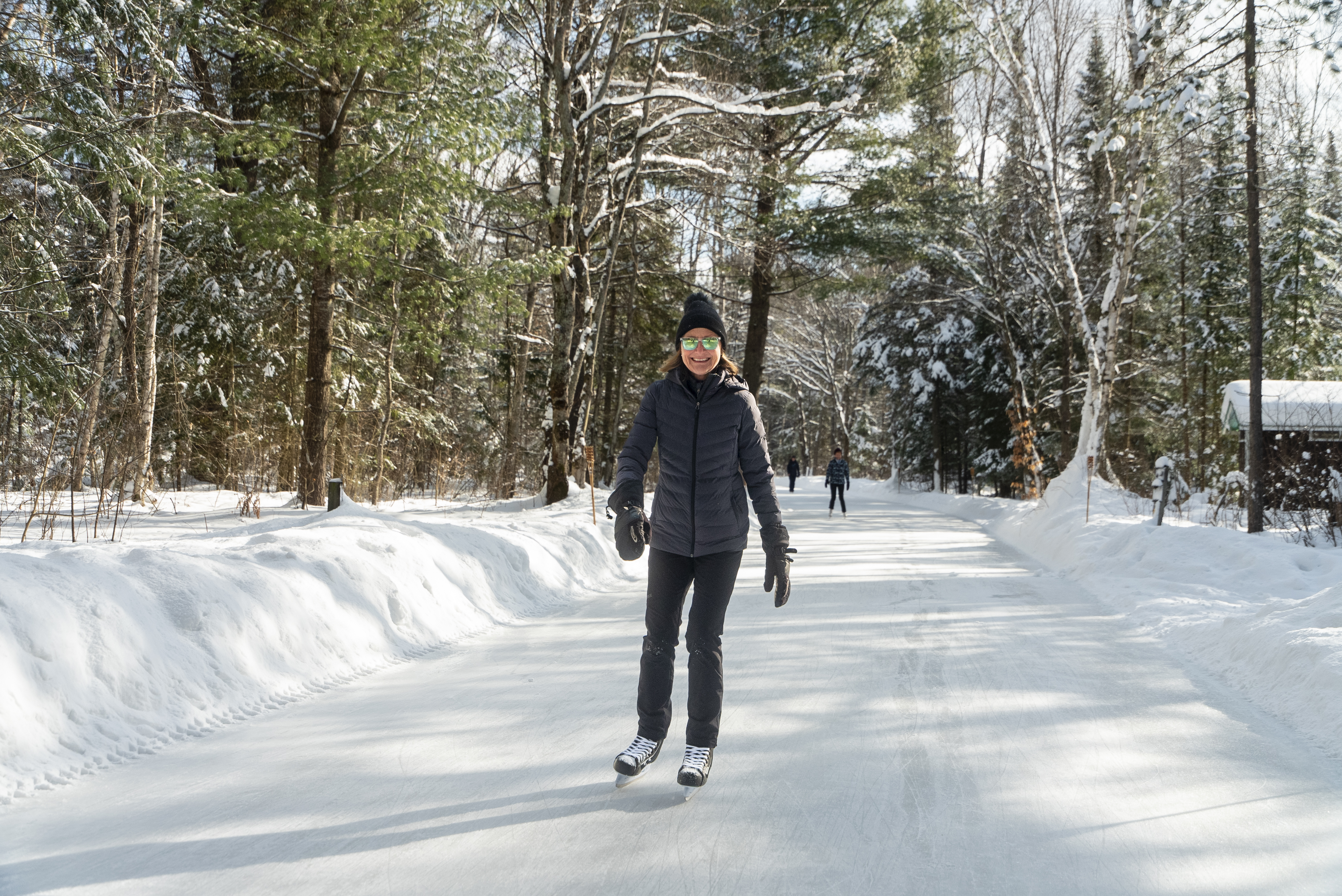 You can slide and glide even faster when the snow flies by heading to Hidden Valley Highlands Ski Area, which offers 15 groomed trails and a terrain park where skiers and snowboarders can shred all day and into the night. There are kids camps and snow school options to help anyone hit the powder at their skill level, and guests can stay at the slopeside Hidden Valley Resort or nearby Deerhurst Resort, both boasting delicious on-site restaurants and top-tier accommodations.
Into the Unknown
For those who really want to rev up their winter adventures, Muskoka Wild offers snowmobile rentals that will gear up your snow-season fun. The Ontario Federation of Snowmobile Clubs has a very active presence in Muskoka, with thousands of kilometres of trail in the Huntsville region. You can book guided tours or rent a machine to explore your own route – all of the gear and maps are included to get you on a sled for a few hours or a few days.
If a quieter guided trail tour is more your style, a bucket list worthy dog sledding adventure with the team of over 60 Alaskan Huskies at North Ridge Ranch will get you in on an unforgettable trip through the wilds of Muskoka.The experience starts with a meet & greet with the dogs, then the team takes you into the 20km trail system – you can even drive the team yourself if you're up for the challenge!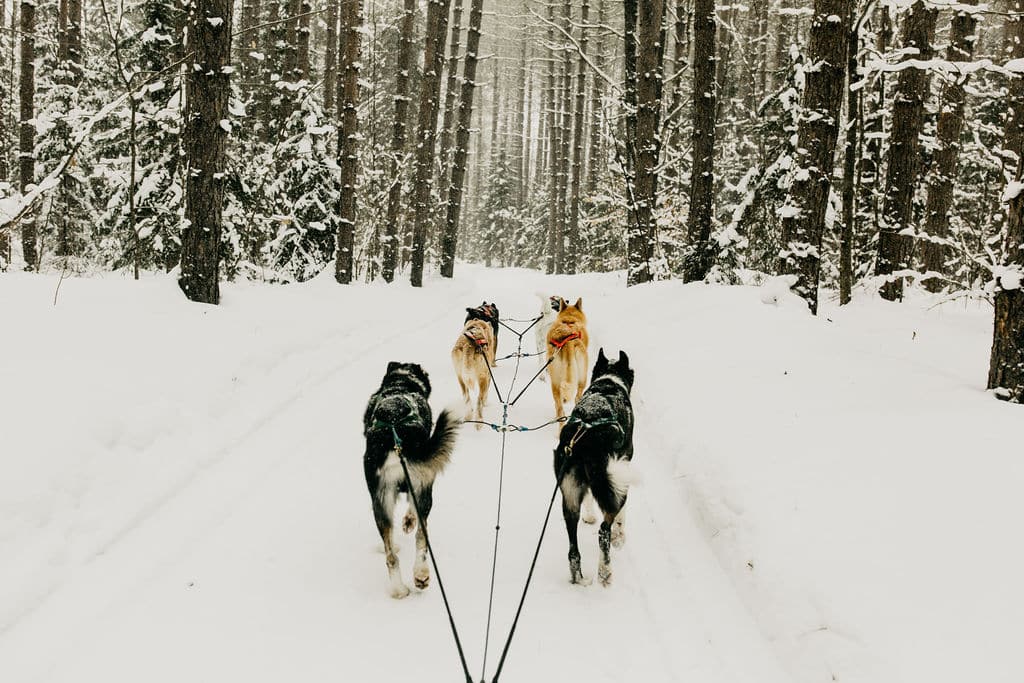 Healing Vibes
A more relaxed approach to embracing the crisp winter air can be found in the practice of forest bathing, where individuals are immersed in the sensory experience of a forest. It's been found to provide mental and physical calming, and Huntsville's Limberlost Forest & Wildlife Reserve has no shortage of wilderness to explore thanks to its more than 70km of trails that meander around 20 lakes across the 10,000 acres of forest. Visitors can access the property to soak in the fresh air amidst the towering coniferous and hardwood trees at no charge during the day, or level up their experience by booking a lodge, cabin or campsite.
For those who prefer a more traditional wellness experience, Huntsville boasts some of Muskoka's best spa experiences. Guests to Amba Spa can find relaxation through treatments that are designed to indulge and pamper the individual or connect and spoil couples with packages that include massage, aesthetics and access to amenities like a whirlpool, sauna and steam room – all sure to help guests unplug and unwind. The wellness menu at the downtown Huntsville's HM Day Spa features facials, crystal reiki energy healing, infrared sauna and medical aesthetics in their serene space that will recharge and recentre clients seeking balance and relaxation.
Sip & Shop
While downtown, those wandering Huntsville's historic streets can find a bounty of unique shops and restaurants featuring locally sourced goods that will indulge the tastes of even the most discerning shopper. The cottage-like ambiance of Reflections of Muskoka makes it the perfect shop to find the coziest cottage wear available from your favourite brands. Visitors to Wolfe Co Apparel's flagship store can experience a modern take on fashion in a beautifully renovated historic bank that still features the original safe – now integrated into the store's design.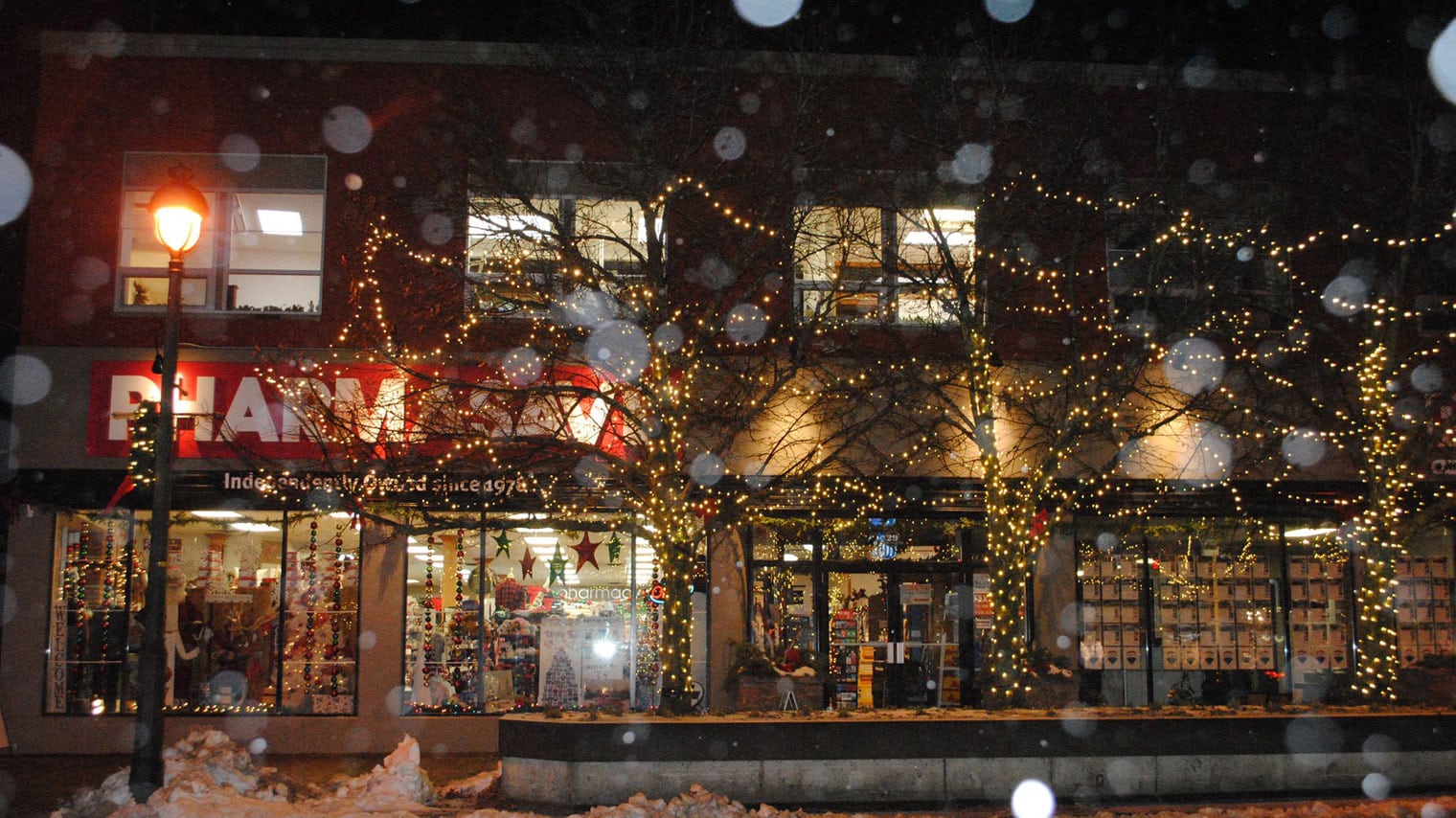 A fun twist on the traditional music store can be found at Music on Main, where you can find instrumental inspiration while also delving into a diner-style breakfast and lunch menu that has a reputation for rocking in all the best ways. If you need an evening out, Allora provides a menu that must be experienced. This upscale restaurant features a refined ambiance, a simple locally-sourced menu, and service that is second to none. Be sure to indulge in the Chili Chocolate Mousse – it's the perfect dessert to warm up those chilly winter nights.
Snow Village
Play in the snow like never before with this whimsical winter playground in Downtown Huntsville's River Mill Park. Discover and enjoy interactive snow activities such as snow sculptures, snow forts and a snow labyrinth with the entire family. This wonderful display of snow architecture is a sight like no other. Plan a fun day around the weekly events taking place at the Snow Village in Huntsville and rediscover your love for frolicking in the snow (before it melts!).
The Weekly Snow Village Schedule:
Mondays: Maintenance from noon – 5pm
Drop by and volunteer to lend a hand repairing and maintaining the Snow Village.
Tuesdays & Wednesdays: Open for Use All Day!
Thursdays: Creative Workshops from 4pm – 6pm
Enjoy hands on workshops in building with ice and snow.
Fridays: Night Lights from 6pm – 8pm
The attraction is lit up with colour and light, with free hot chocolate and music on-site.
Saturdays & Sundays: Get Creative from 1pm – 4pm
Come carve, sculpt and build with snow. Tools and artists will be on-site for assistance.
This attraction and its events are free of charge for anyone looking to have a little bit of fun in the snow!
Whether your approach to winter is to hunker down and get cozy or bundle up and get out to play in the blanket of snow, Huntsville has all of the best escapes to make it the ultimate winter wonderland.
This content is made possible through collaboration with Huntsville Municipal Accommodation Tax Association and assets provided by Huntsville Adventures.