An experience any true coffee lover will appreciate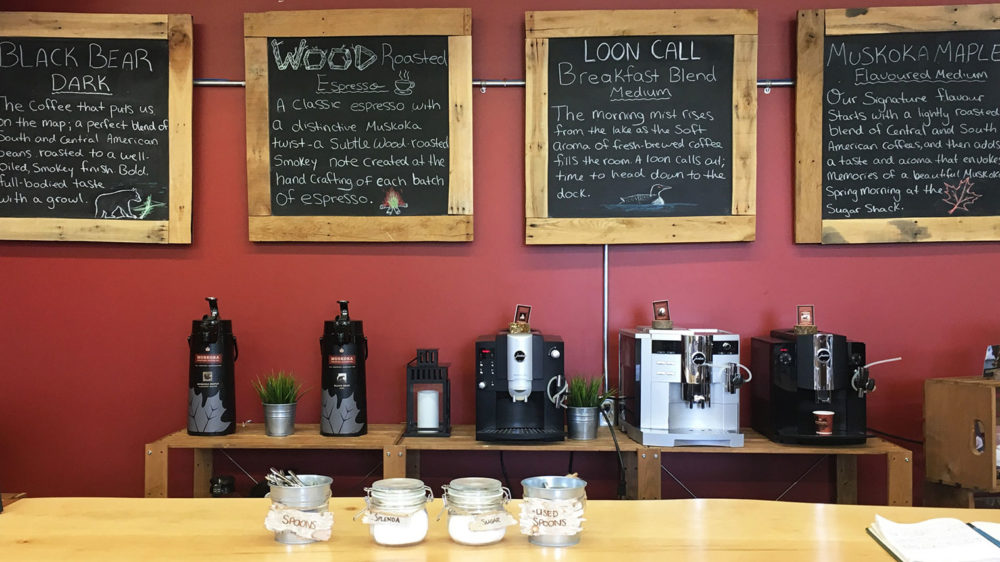 The Muskoka Roastery Coffee Co. is a Canadian owned and operated coffee roaster, handcrafting every batch of their coffee right here in Muskoka. Their beans are known as the taste of Muskoka, and offer up the perfect cup of Jo for an early sunrise on the dock or a relaxing evening in the sun porch.
You can try the taste of Muskoka at their Roastery Showroom (open to the public) in Huntsville, or you can buy it in over 900 stores. That kind of growth doesn't happen overnight, it takes years and years of crafting the best coffee around!
The Roastery recently launched a Cold Brew Coffee that is proving to be just as popular (and delicious) as their freshly roasted coffee beans or 100% compostable pods. True to their values, their Cold Brew Coffee uses 100% rainforest alliance certified organic coffee, roasted in small batches, then cold brewed in a state of the art, dedicated facility for 18 hours. That is passion!
You should also check out their latest blend AKI (Ojibway for Earth), an organic roast that honours the Indigenous peoples of our region. The palet of the brew is sweet with a honey taste and a medium body – Mmm organic java! Find stores where their AKI organic blend is available
Never been easier to pick up your favourite blend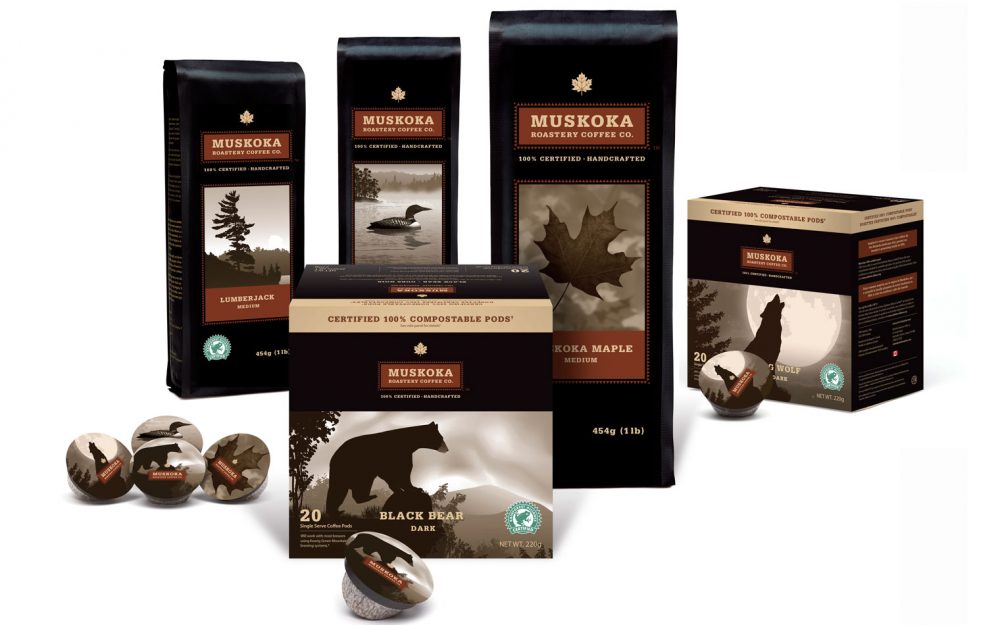 Available in over 900 stores in Canada, the availability, access and convenience of picking up your favourite beans has never been easier. If you don't feel like taking your PJ's off to go to the store, you can order all your favourite roasts online at muskokaroastery.com OR you can subscribe to have Muskoka Roastery's coffee delivered right to your door, at the frequency you choose, without any reordering required. Can I get an Amen?
Some of their flagship roasts include Black Bear, Howling Wolf, Loon Call, and the oh so delicious Muskoka Maple.
And this is pretty cool! If you are looking for a rocking wedding or special event favour, check out their mini Muskoka Roastery packages. Your guests will love brewing the taste of Muskoka over and over again.
Fun Collabs with Muskoka Brewery and Muskoka Spirits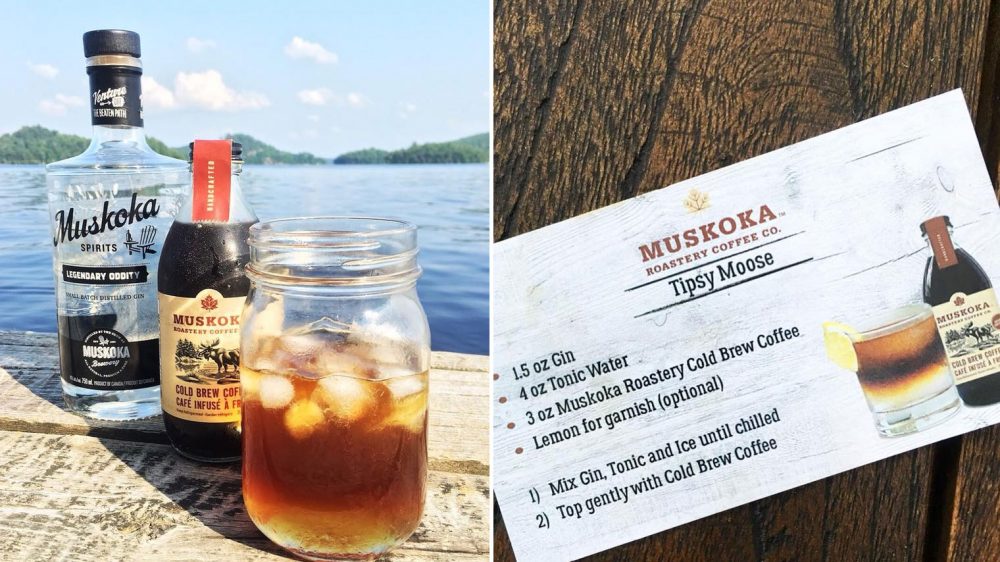 Muskoka companies that love their craft. You've got to try these fun collabs between Muskoka Roastery, Muskoka Brewery and Muskoka Spirits.
Pick up a can of Muskoka Brewery's Shinnicked Stout. Handcrafted using Muskoka Roastery's Lumberjack coffee, Shinnicked Stout was brewed to warm you up after a chilly late-night dip in the lake.
You can also pick up a few ingredients to make Muskoka Roastery's Tipsy Moose signature drink. A mix of Muskoka Spirits gin, tonic, and Muskoka Roastery's Cold Brew, this cocktail is the perfect combination for brunch or chillin' by the lake. Check out the picture above for the recipe.
A Roastery that cares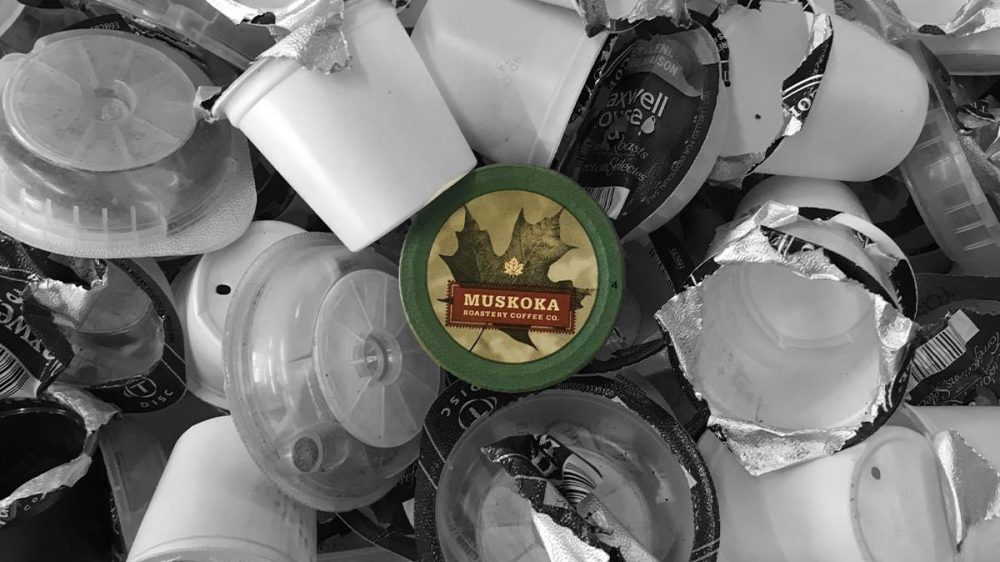 Muskoka Roastery is the first coffee roaster in Canada to source green beans exclusively from Rainforest Alliance Certified farms. Their beans come from eight different countries stretching from Indonesia to Kenya to Costa Rica.
They are also one of the first companies in the world to introduce certified 100% compostable single serve pods and have been doing so since 2016, which is HUGE! They are striving to reach a zero waste target and are certified as a 100% bullfrog powered company.
Amazing coffee brewed by amazing people!
If they're not pulling at your heart strings enough already, the summer of 2018 amidst the devastating forest fires taking place in Northern Ontario, Muskoka Roastery donated coffee to the firefighters who were working tirelessly to put out the flames.
Our hearts go out to all of those being affected by the Georgian Bay fires.
⠀⠀⠀⠀⠀⠀⠀⠀⠀
We're proud to partner with the local Parry Sound @sobeys to provide food, water and coffee to the brave first responders and volunteers working tirelessly to slow the burn. pic.twitter.com/bJsLY6OfI4

— Muskoka Roastery (@MuskokaRoastery) August 2, 2018
Oh, and one last thing. They make sure that at least 1% of their sales each and every year go back into their community. How about a round of applause for Muskoka Roastery?
Visit the Muskoka Roastery Interactive Showroom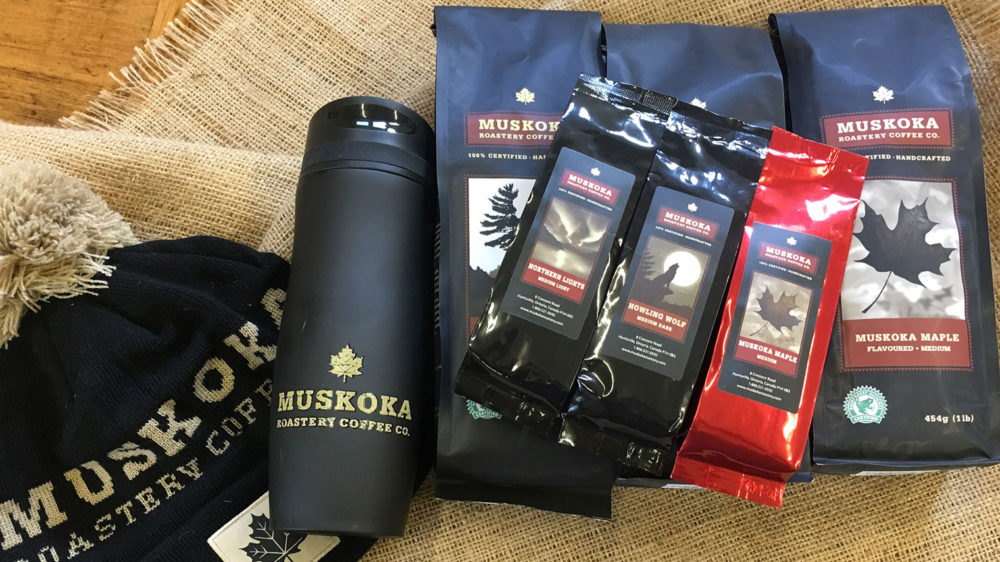 To get the full experience of everything that Muskoka Roastery has to offer, visit their interactive showroom. Coffee lovers, this experience is highly recommended! Learn about their coffee sourcing program, sample their beans to find out which one is your favourite, or just chat all things java with the team. You can also purchase Muskoka Roastery branded clothing and coffee cups that are available exclusively at their retail store. The showroom is open Monday to Friday every week.
For an extra special coffee experience at their interactive showroom, stop in from 1pm – 2pm on Fridays and you will catch a live roast of the beans. Meet the roaster and take home the most freshly roasted coffee known to man and woman kind.
For more information about their interactive showroom, visit their website