Light the Night tiki torch skating, Saturday nights at Muskoka Lakes Farm & Winery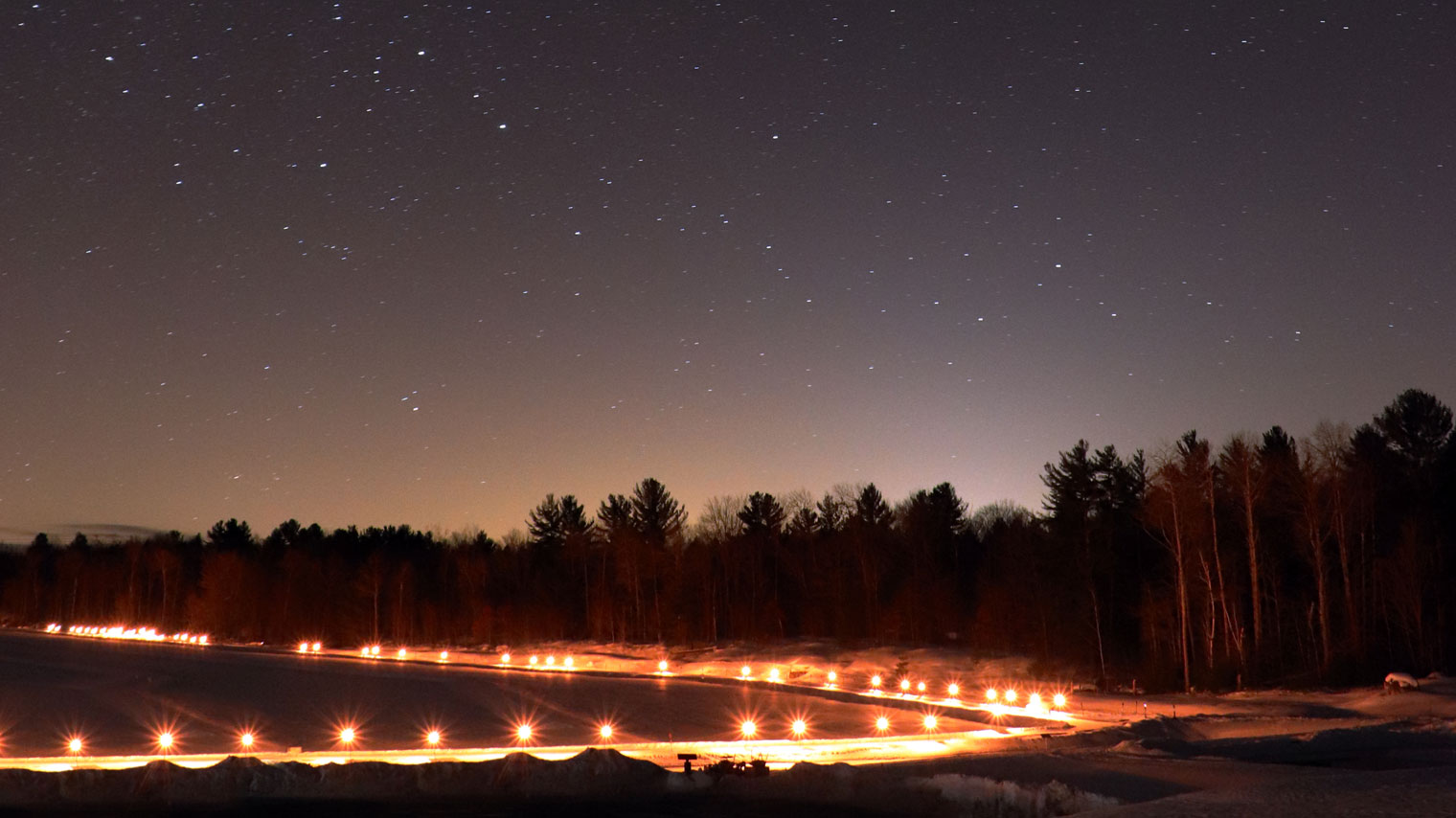 2020/2021 Update: The Cranberry Ice Trail will open on December 27th, 2020. To allow for social distancing, arrival times for the trail must be pre-booked online. Masks must be worn at all times, including on the trail. Muskoka Lakes Farm & Winery is still assessing how to offer Light the Night skating at this time.
Be sure to check out the other fun outdoor activities offered by Muskoka Lakes Farm & Winery this year, designed with COVID-19 restrictions in mind! Book an afternoon on the Snowshoe Trails, opening December 27th, 2020. Rent a Private Fire Pit to enjoy while skating or snowshoeing. This includes the fire pit, benches, and firewood, while food is available for an additional cost. Or, Rent a 1/4 Acre to skate with your bubble. Skating areas are available for 2-hour rentals and food, goals, and boards for ice hockey are available for an additional fee.
Skating by torchlight underneath a blanket of stars … it truly doesn't get any more Muskoka than this!
Experience one of the most magical wintry experiences in all of Muskoka with Light The Night at Muskoka Lakes Farm & Winery. 400 tiki torches will light the way for the 1.2 km Cranberry Ice Trail every Saturday night this winter (weather permitting), from 6pm – 9pm.  Don't fret if your skates don't fit anymore, the ice trail has skate rentals and sharpening on site.
What you need to know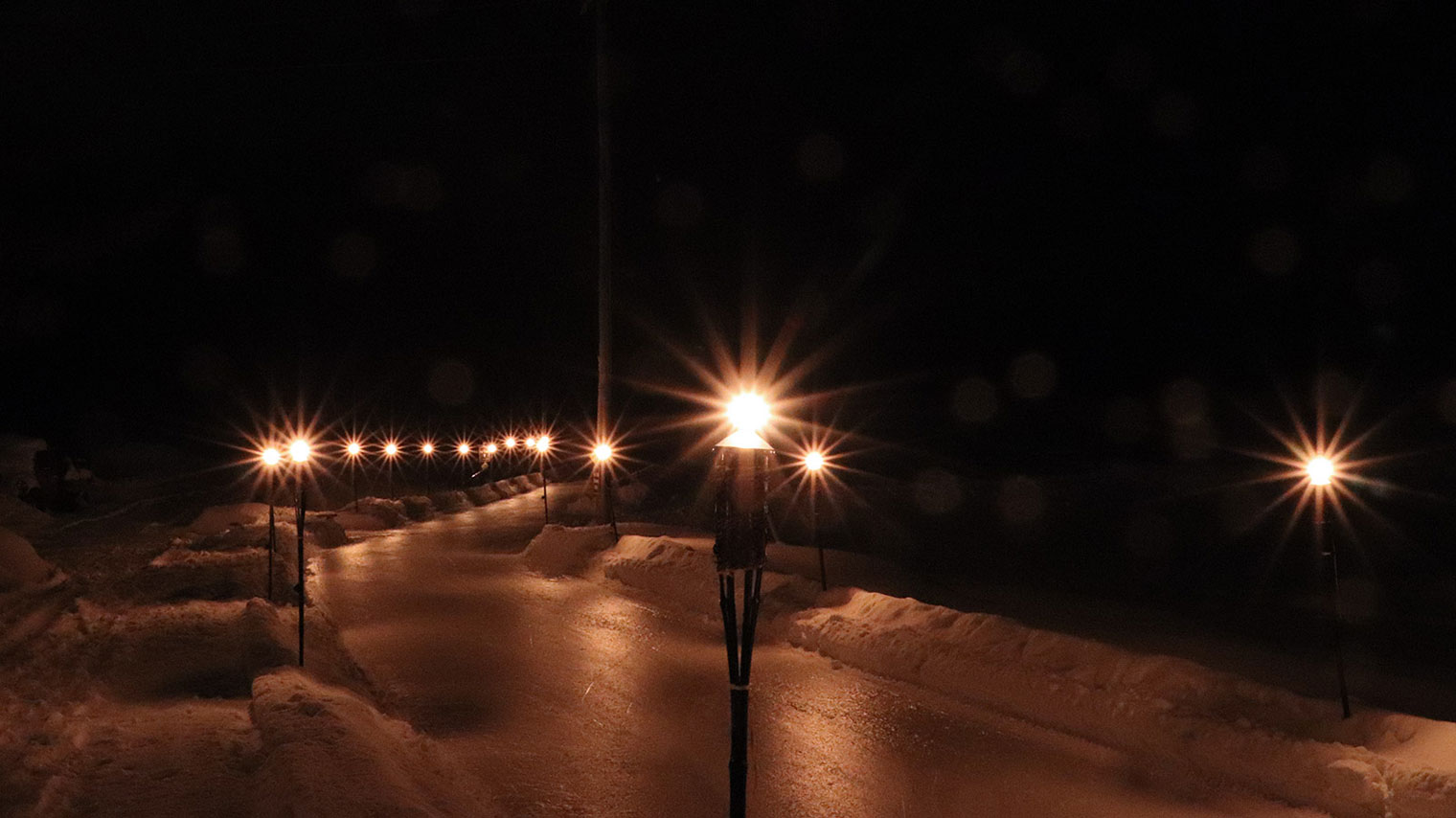 The ice trail is always subject to weather conditions. We haven't lost many dates to weather over the past few seasons, but the possibility exists. We always recommend checking the most up-to-date trail conditions on Muskoka Lakes Farm & Winery website before heading out.
Remember to dress warm and bundle up. Warm layers and a mug of hot mulled wine or cranberry apple cider should do the trick and keep you warm.
Other important tips to note:
The trail will be open 7 days a week

11am to 4pm daily
10am to 4pm on Saturdays
Light the Night: Saturdays, 6pm – 9pm

Adult Trail Pass is $10
Kids Trail Pass is $8
Children must be accompanied by an adult
Only skaters are allowed on the ice (no strollers, toboggans, pets, or people walking)
Helmets (CSA approved) are strongly recommenced to be worn, but you must bring your own
There is a changing tent with benches and storage cubbies
Hot drinks are allowed on the trail
The trail is unsupervised (use at your own risk)
Stay on the trail as there is thin ice in other areas
Crafty Food + Drink Menu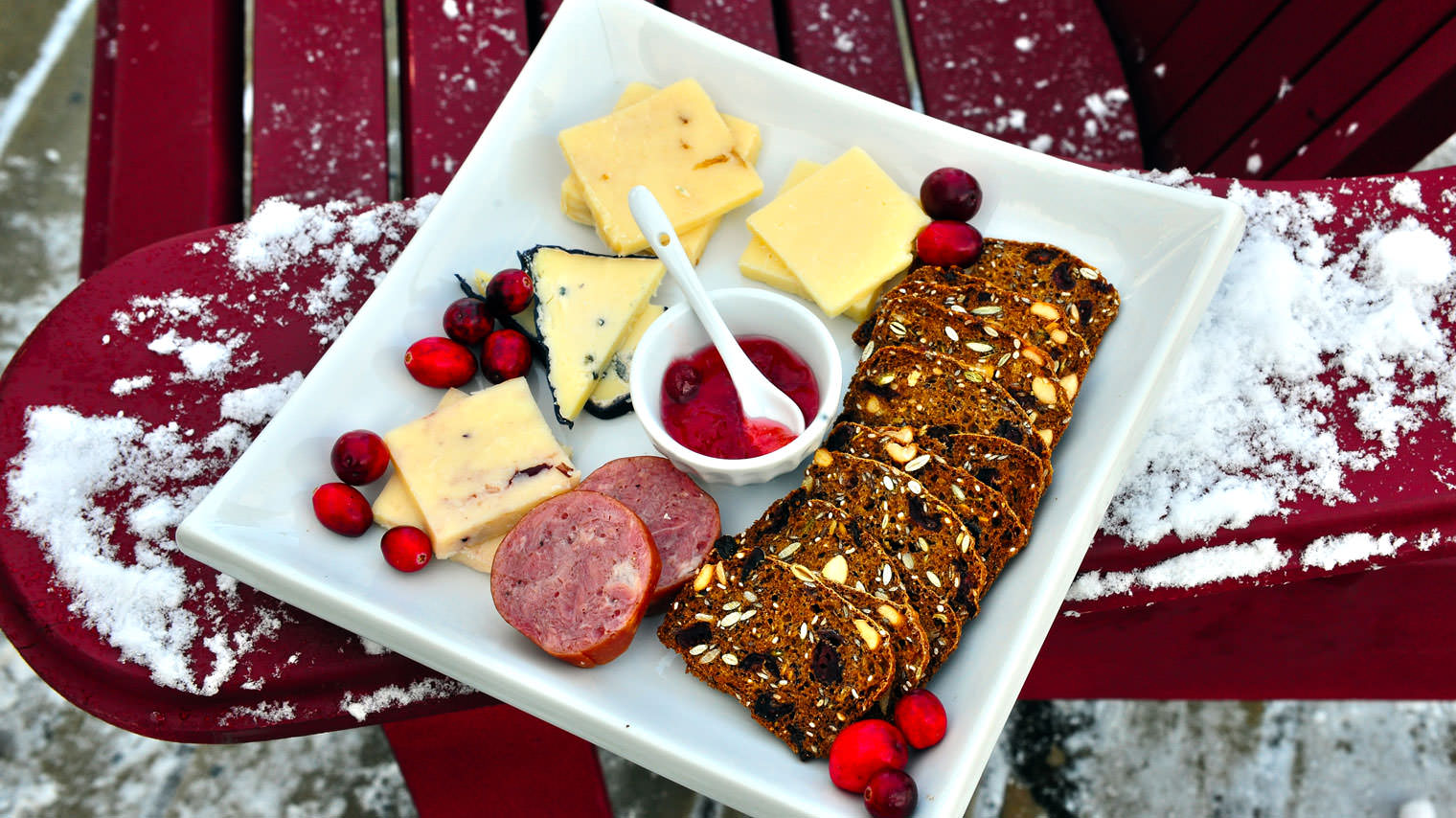 How does dinner and a skate sound? Or a post-skate mug of hot mulled wine while relaxing next to an outdoor fire? The Farm & Winery has a light winter menu featuring some great comfort food eats for their hungry (and thirsty) skaters. The winter menu is available during regular business hours, daily from 10am – 5pm, and extended hours from 10am – 9pm  on Light the Night Saturday nights.
Their winter menu has a number of favourites including fresh chili, soup, gourmet grilled cheese, and their local cheese plate featuring Ontario cheese and Mrs. J's preserves. Pair with their crowd favourite hot mulled wine, made with Cranberry Blueberry Wine and Mrs. J's mulled spice mix. This is the perfect post-skate bevvy to warm the soul!
To see their winter food and drink menu, visit their website
Stay and Play
Muskoka Lakes Farm & Winery has partnered with these great local accommodations to offer unique Muskoka winter package experiences.
JW Marriott The Rosseau Muskoka Resort & Spa: Accommodations and breakfast for 2, and experience Johnston's Cranberry Marsh & Muskoka Lakes Winery through the Bog to Bottle tour (guided tour and tutored wine tasting) for 2, 2 glasses of wine and local cheese plate.
Sherwood Inn: Enjoy your stay and breakfast at Sherwood Inn and experience the Ice Trail at Johnston's Cranberry Marsh. Package includes two Ice Trail passes, and the Bog to Bottle tour (guided tour and tutored wine tasting).