Swing, climb and zip through the trees with Treetop Trekking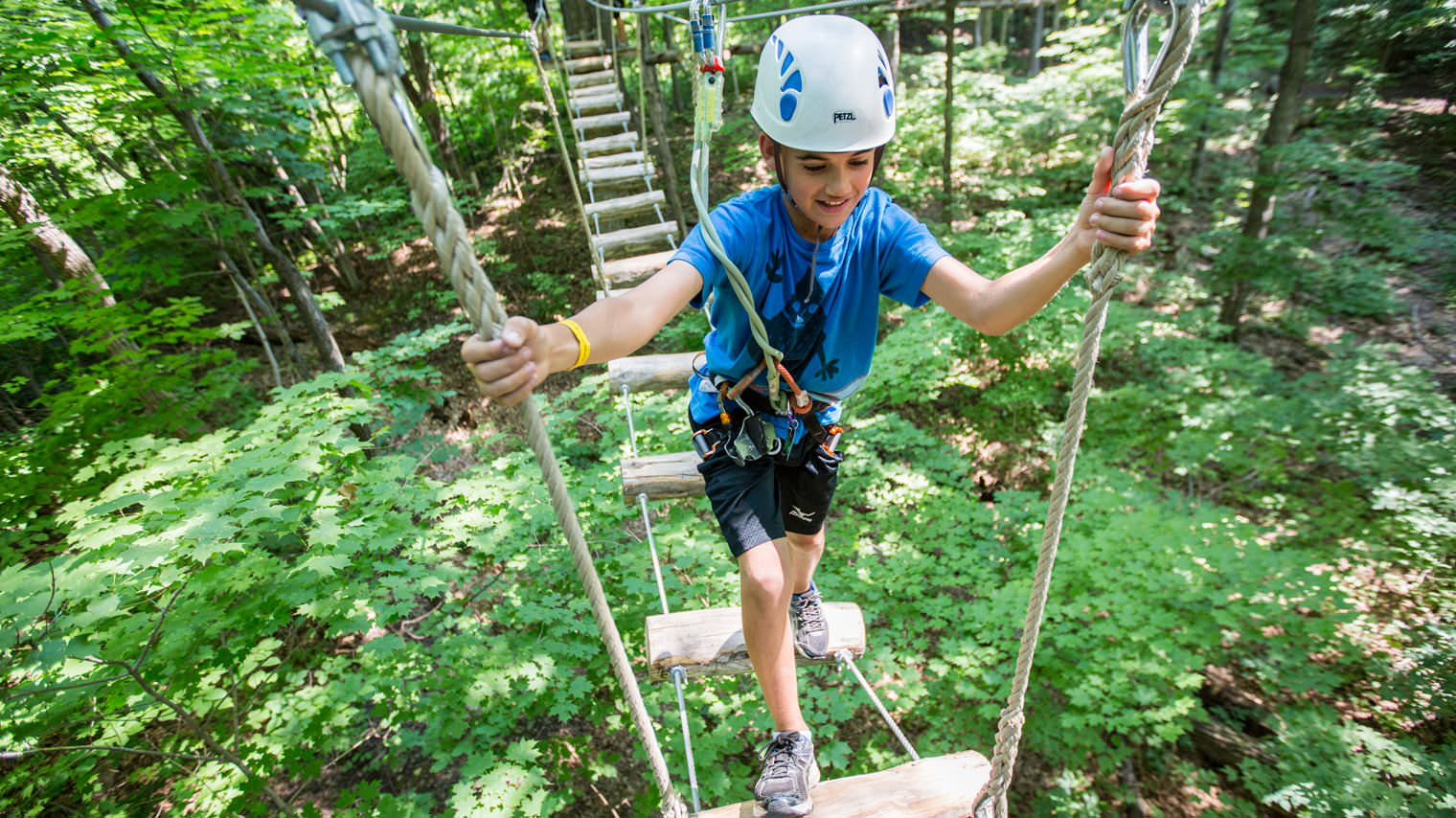 Treetop Trekking is one of Muskoka's most exciting adventures!
The 3-hour Zip line & Aerial Game Trek at Treetop Trekking brings you into the treetops for an adrenaline pumping experience that is tough to beat. Fly across ziplines, climb like a monkey and swing like Tarzan as you make your way through their aerial adventure course.
Keep in mind, this is not just for adrenaline junkies! The aerial courses are designed for ages 9 to adult, for climbers with a wide variety of abilities (and all level of bravery). The coolest thing about the journey is the confidence you will pick up along the way. You might start out timid, but by the end of your climb you are fearless and swinging without a care.
Family Fun
As always in life, kids are the most fearless. If you bring anyone under 15 for the climb, you might have a tough time keeping up!
My day at Treetop Trekking will definitely be your kid's first journal entry at school when they brag about their summer vacation.
Take advantage of their family rates when they climb in groups of 4 with 2 or more adults.
For more information, visit their website
Make it a date
Dinner and a movie has been done a million times.
Plan a climbing date with your girlfriend / boyfriend / partner/ wife / husband / first date. It is a pretty cool feeling to make it through the course together, and it is an experience that will be remembered long after both feet are back on the ground.
Zip and Sip
Finally, zip lining and after-adventure beers have joined forces. Treetop Trekking and Huntsville Brewhouse have teamed up to create the ultimate Muskoka experience.
Book the Zip and Sip adventure with Treetop Trekking, and  afterwards you can kick back with 5 free beer samplers (3oz) at the brand new Huntsville Brewhouse on Main St, in Huntsville.
For more information, visit their website

Monday Promo
Make every Monday in July and August a long weekend. Plan a group climb (4+) and save 25% on the 3 Hour Zip line & Aerial Trek. Mondays USED TO BE the worst!
For more information, visit their website
Book your Adventure in the Trees
August is definitely one of the best months to go climbing. Take advantage of this great weather and their great promotions.
Walk-ups are accepted whenever possible, but it is strongly recommend that you make reservations. You can reserve over the phone or online.
For more information or to book, visit their website