All aboard!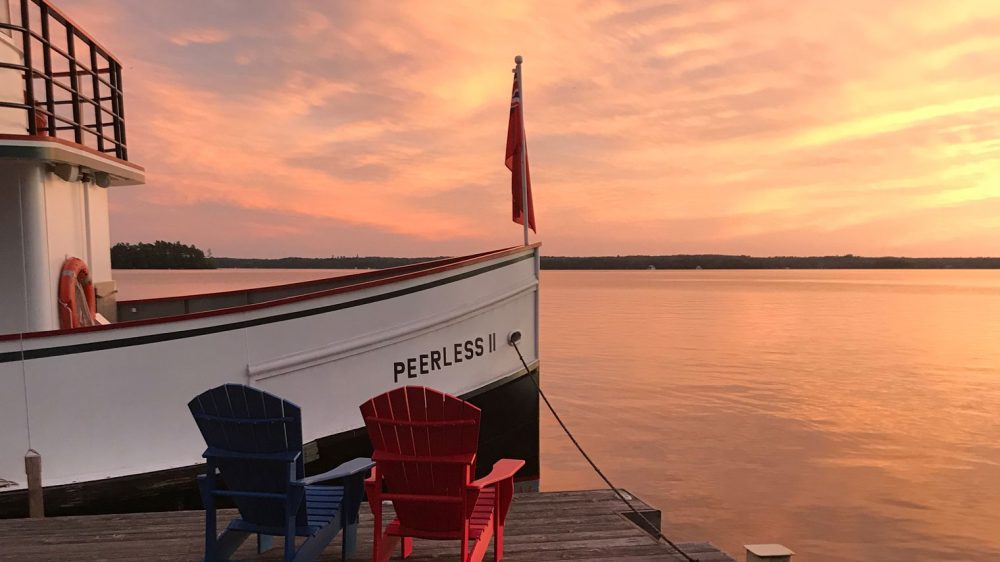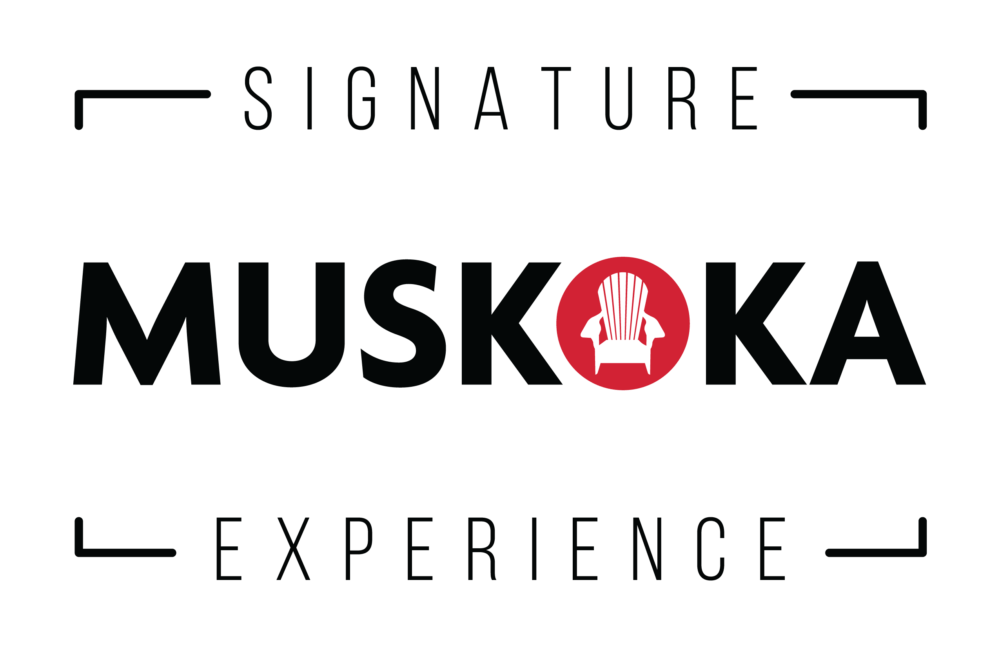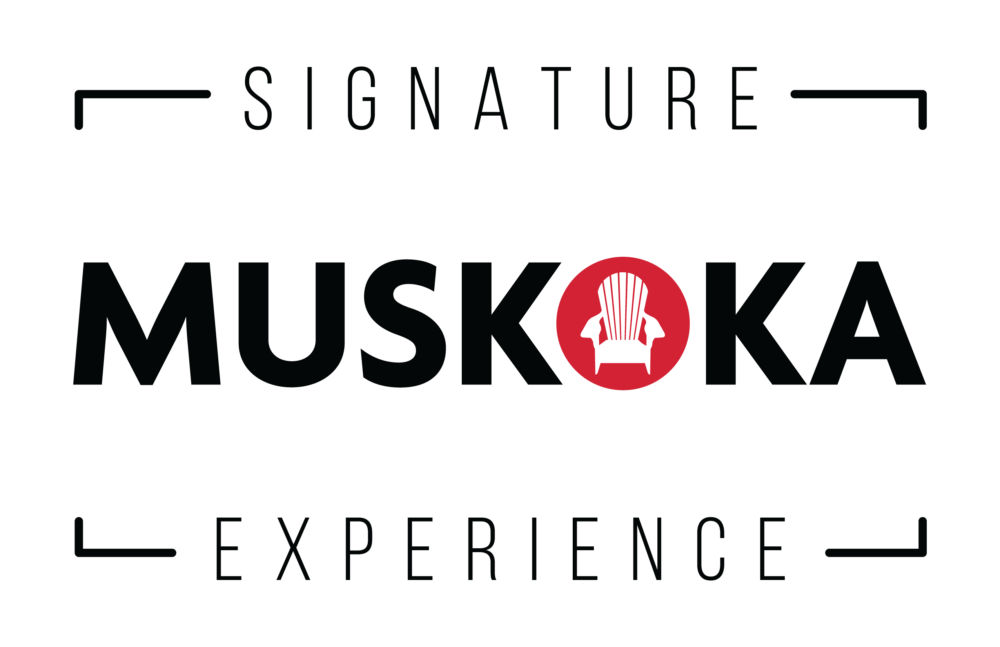 Sunset Cruises is part of the Muskoka Signature Experience Collection, a collection of Muskoka's must-do experiences!
Enjoy the last of the summer sunshine and sail into fall aboard one of Sunset Cruises' spectacular cruises. Muskoka's glittering blue waters, striking fall colours, and crisp northern air make for a truly relaxing experience. This is the perfect opportunity for you to unwind after a summer marked by uncertainty.
Unlike larger public cruise ships, Sunset Cruises offers an intimate cruise experience. The Sunset Cruise ship – Peerless II – is able to access Muskoka's scenic hidden gems that the larger boats can't access.
Peerless II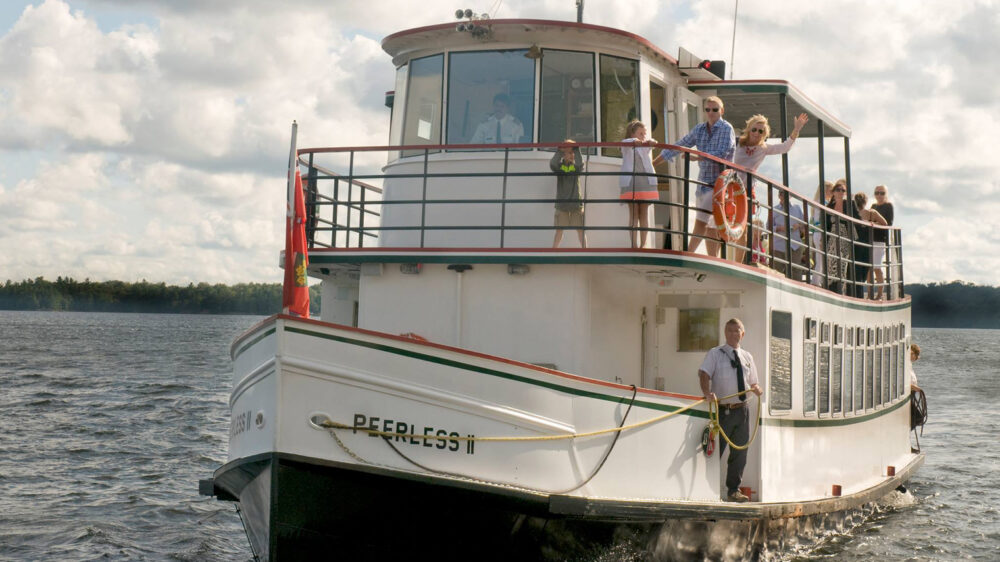 The Peerless II ship is currently offering cruises for the 2020 season. Built in 1946 at the Northern shipbuilding yard, it was originally used by the British American Oil Company to deliver heating oil around the Muskoka Lakes area. It continued to be used to deliver oil and gas products until 1994. At this point, after nearly fifty years of service, it was sold as a private vessel.
Sunset Cruises purchased the Peerless II in 2003. From there, it was restored as a public cruise ship to offer visitors the unique, historical opportunity to sail aboard the last supply boat operating in the region. Sunset Cruises quickly made a name for itself as being of the most interactive and enjoyable ways for visitors to truly experience Muskoka's rich, rugged history.
History aside, seated aboard the Peerless II is the perfect way to relax and savour the lake's peaceful atmosphere. Leaves your worries on the shore and get ready to feel the cool wind in your hair, basking in the glittering rays of September sunshine, as you listen to the lapping waves. Don't forget to bring your camera to snap some picture-perfect waterside views.
Captain Randy Potts

While Muskoka's rocky shorelines and clear waters certainly add to Sunset Cruises' charm, it is Captain Randy Potts' personable nature that truly makes the experience so appealing.
Captain Potts boasts an impressive, 45-year history on Muskoka's lakes, with 35 of those years as a licensed captain. As a local of the Muskoka region, he is an expert on the area's fascinating history. He will share with you countless stories of Muskoka, from both past and present. While cruising along the lake he is quick to point out significant landmarks on the shore and will happily explain their history and significance to visitors. His passion for history, and vast knowledge of the area, will show you that there is much more to Muskoka than cottages, trees, and shorelines.
For more information, visit their website
Millionaires' Row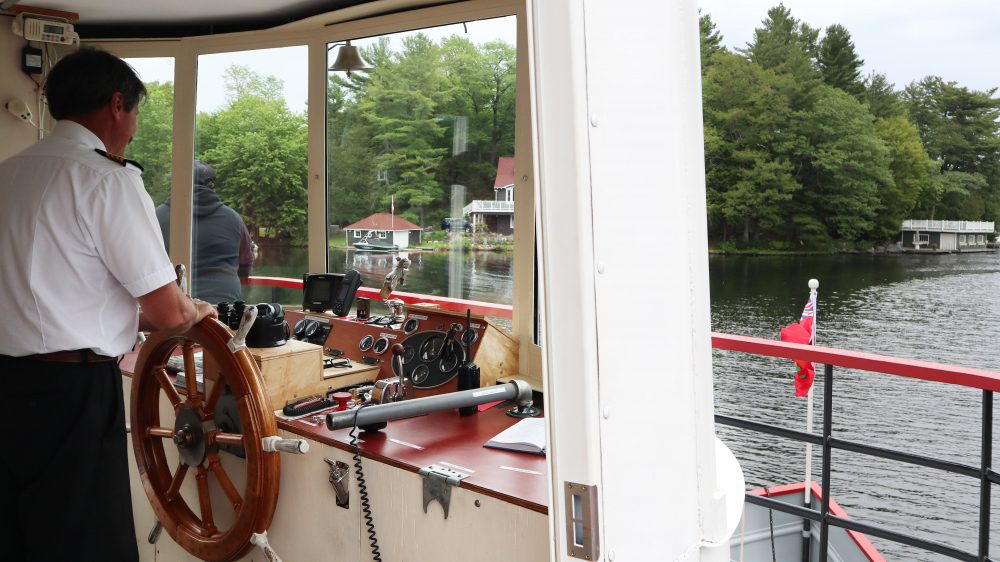 Peek into the world of millionaires by embarking on one of Sunset Cruises' Millionaires' Row sightseeing cruises. Marvel at the beautiful mansions and historic properties perched along the shoreline, complete with swimming pools, golf courses, and private boats. These are the summer homes of some of the wealthiest and most elite in Canada.
This engaging 2-hour experience is sure to spark some new design ideas for your own home – or some serious house-envy!
For more information, visit their website
Plan your trip with Sunset Cruises
The cruise experience is open until the 2020 Thanksgiving weekend. Fall is the best time to visit to view the gorgeous display of changing leaves, especially while on the water. Muskoka's dark blue waters look even more majestic with the red and orange leaves as a backdrop.
For more information on when to visit and admission, visit their website
COVID-19 Modifications
Cruises are operating at a 50% capacity level to help prevent the spread of COVID-19. Enhanced cleaning and sanitation procedures have been implemented aboard the ship. Tickets must be purchased by phoning the Sunset Cruises' office at 705-645-2462, or by emailing info@sunsetcruises.ca. You will be asked to provide your phone number and/or email address prior to the cruise to assist with contract-tracing requirements. Food is not permitted on the ship and will not be served during cruises. Face coverings and physical distancing practices are mandatory while boarding and disembarking from the ship.
For more information about COVID-19 modifications, visit their website