Explore local with a magical snowshoeing adventure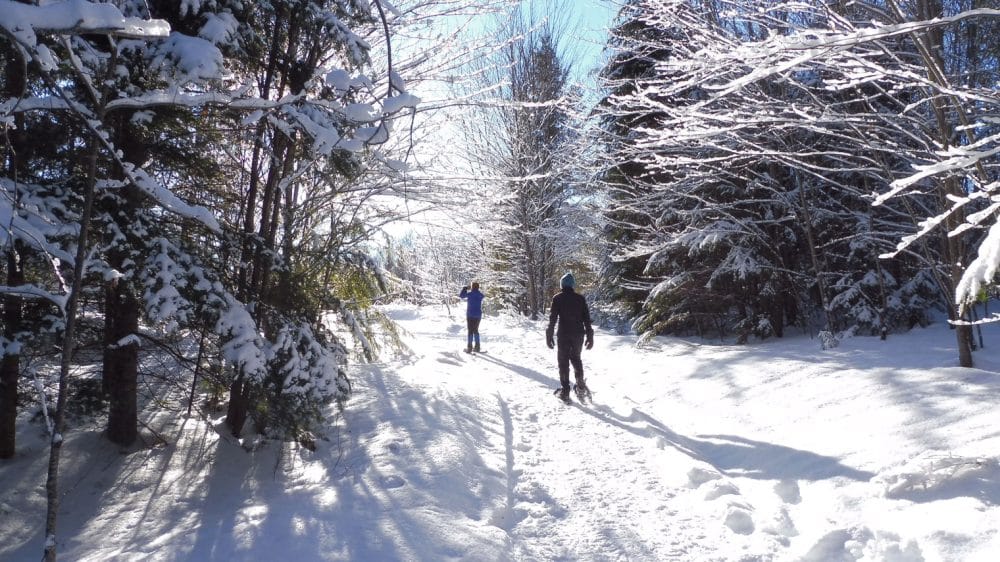 As a local, you already know that Muskoka is famous for the beautiful trail systems that criss-cross the region and vast areas of gorgeous, undisturbed wilderness. And while these stunning natural spaces receive a lot of attention in the summer, you know that they're just as breathtaking (if not more stunning) during the winter months. Snow-capped pine trees, icy waterfalls, and frosty lakeside views around every corner – Muskoka really is a winter wonderland! And what's the best way to experience these picture-perfect winter scenes while sticking close to home this winter? By strapping on a pair of snowshoes and heading out onto the nearby trails, of course!
Originally used by Indigenous Peoples and later adopted by the fur traders, snowshoes distribute a person's weight over a large area to help one 'float' over the snow. Besides being a great way to experience Muskoka's natural beauty, snowshoeing is also a terrific way to get active and explore local this winter.
Read on to learn more about snowshoeing trails, rentals, and tours in your own backyard
Snowshoe Trails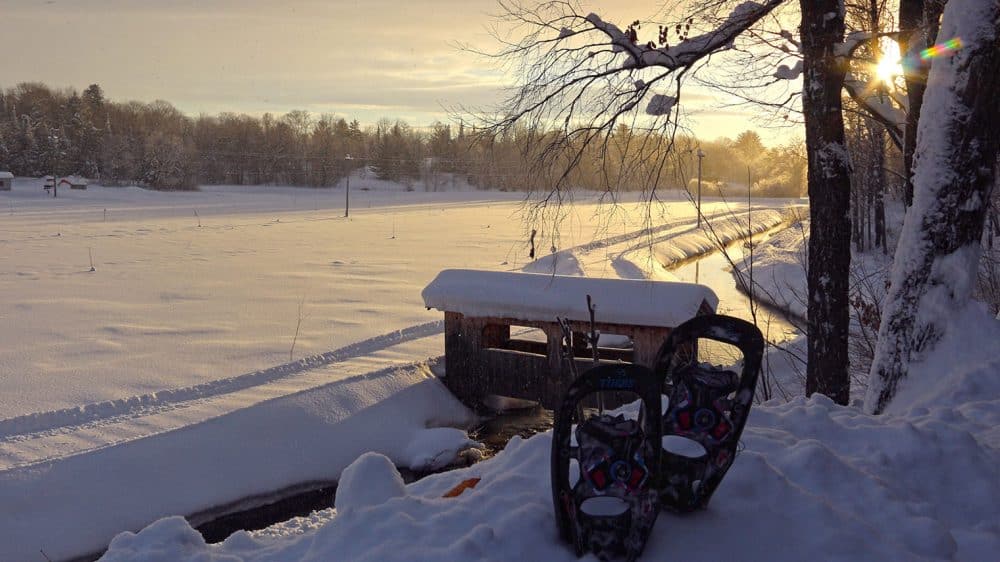 If there's one thing that Muskoka receives a lot of, it's snow. Along with the acres of pristine forests and serene natural landscapes, this means that you're lucky enough to live in an area that offers some of the best snowshoeing in Ontario. Bring your own snowshoes and check out one of these scenic winter trails!
The Echo Valley Nature and Bike Trails in Dwight are a great option for snowshoers. With over 3.5 km of trails, including one main trail and 14 smaller trails, you'll be able to make your snowshoe adventure as long or as short as you'd like. Be sure to check out the viewing platform overlooking protected land for some stunning winter views. Three on-site information kiosks are also available to enhance the learning process. For a trail map, visit Lake of Bays Township.
While in Dwight, stop by Erika's to warm up with a hot drink or sweet baked treat. This friendly, family-run bakery is a must-visit for their famous breakfast bagels, muffins, and doughnuts. Please text 705-571-9490 or call 705-635-9490 to place your order for pick-up.
Located just outside of the Town of Bracebridge, the Resource Management Centre Trails are a top-pick for snowshoers. The Centre provides 16.5 km of winter-groomed trails that are perfect for snowshoers, as well as cross-country skiers. You'll pass by stunning wooded areas and scenic vistas along the Muskoka River. And don't forget to keep watch for winter wildlife! For more information, visit the Muskoka Trails Council.
Feeling hungry? Stop by the Old Station Restaurant in Bracebridge for a delicious take-out dinner. Located on the site of a former service station, The Old Station has been a fixture of downtown Bracebridge since 1985. Fill up with one of their homemade burgers, warm soups, or tasty appetizers. Please note that only take-out is available at this time, and your order can be placed by calling 705-645-9776.
Trekking along one of the Frost Centre's snowshoeing trails should be a must-do on any local winter experience in Muskoka. The Centre offers 11 km of stacked loop trails, all with gorgeous cliff-top lookouts, spectacular ice falls, and the chance to glimpse wildlife like deer, owls, and martens. Access to the Centre is by donation and trail maps are available at the trailhead. For more information, visit their website.
Snowshoe Rentals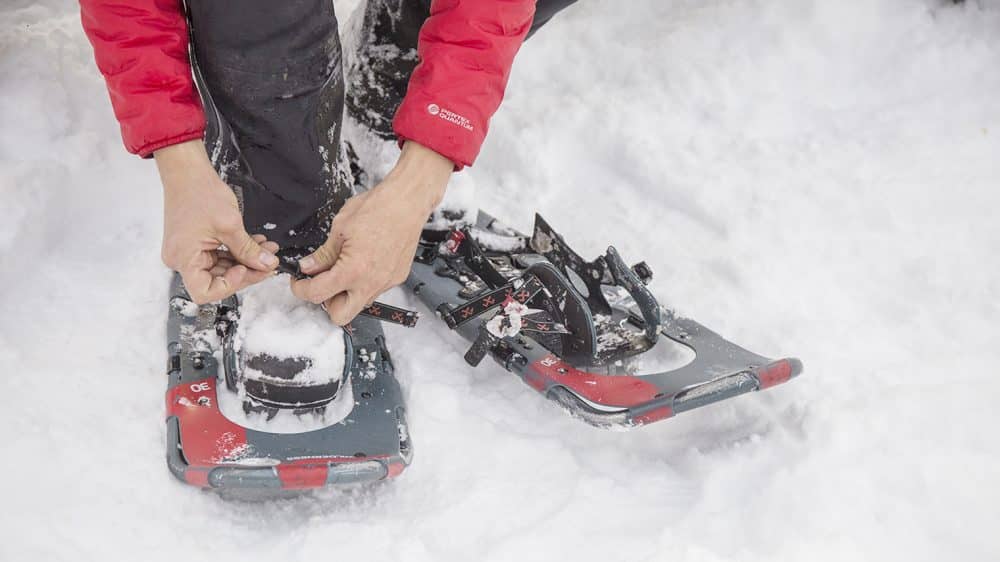 No snowshoes? No problem! Several outfitters in Muskoka offer snowshoe rentals, allowing you to explore the nearby trails without worrying about bringing or buying your own.
Well-known for their summer equipment rentals, Algonquin Outfitters also offers a wide variety of winter equipment rentals, including snowshoes. Both their Oxtongue Lake and Huntsville storefront locations provide snowshoe rentals for both adults and children, as well as snowshoe poles. Rentals are by the day and reservations are not required. The Bracebridge and Haliburton locations also offer rentals, although equipment is limited, and it is recommended that you call 705-787-0262 ahead of time to avoid disappointment.
The Muskoka Lakes Farm & Winery is also offering snowshoe rentals this year to use on their 10 km of scenic groomed trails. Choose from 5 different trails, ranging in length from 1.1-7.5 km and from easy-advanced difficulty level. Rentals are available daily from December 27th – March Break, from 11 am-4 pm.
Please note that arrival times must be booked to limit crowding and ensure social distancing. Masks must be worn where social distancing cannot be maintained, including on the trails.
Snowshoeing Tours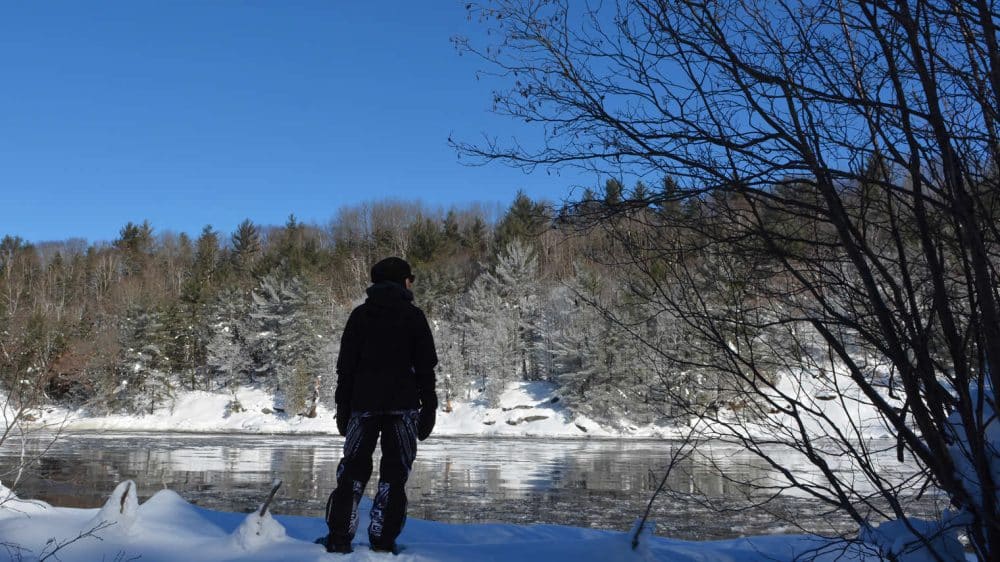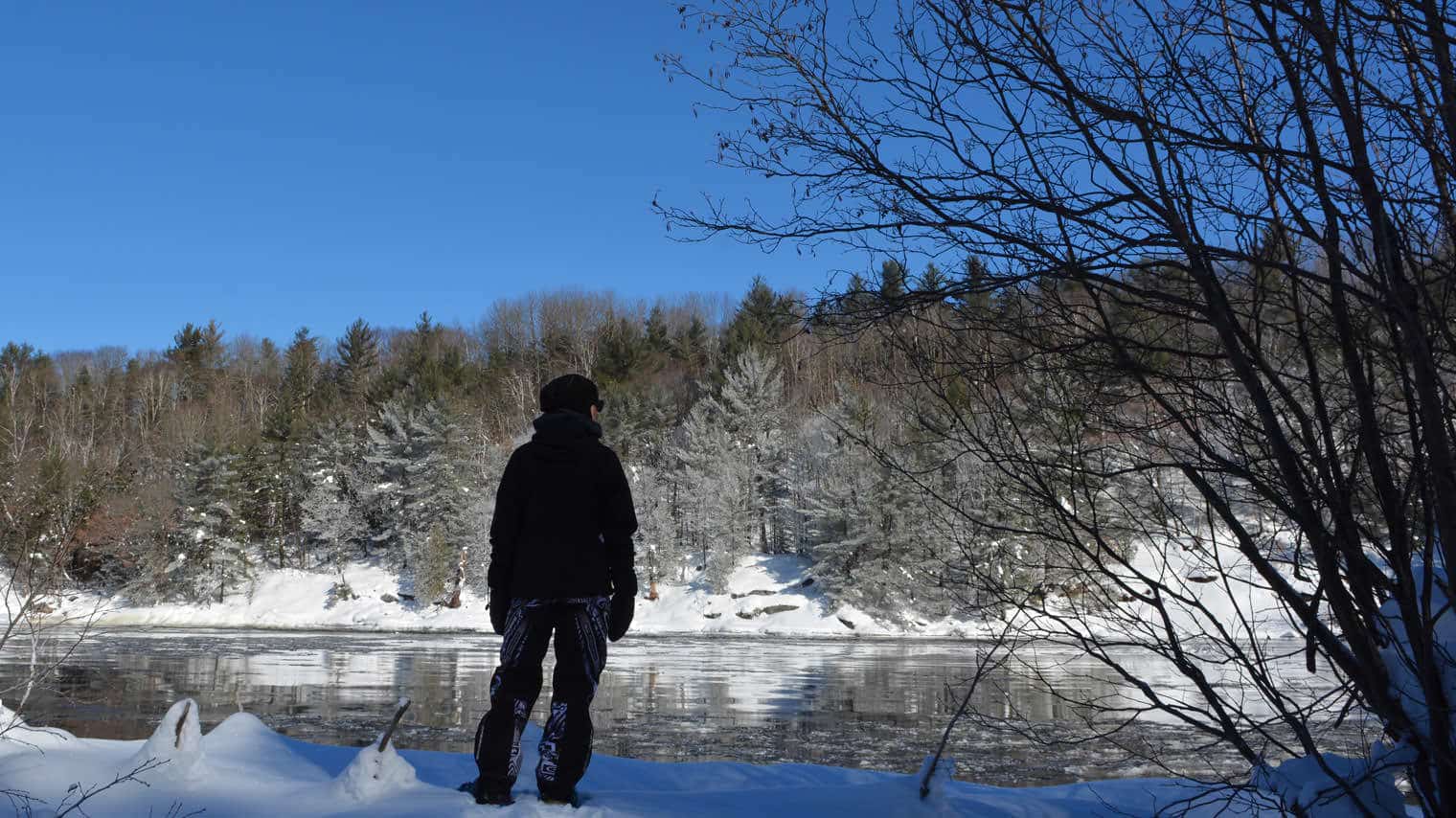 So you're curious about snowshoeing, but maybe you'd prefer that someone else take care of the equipment, transportation, route planning, and snacks….If this sounds like you, check out a guided snowshoe tour! These tours handle all the planning and preparation that goes into snowshoeing and include the knowledge of an experienced, local tour guide.
Algonquin Adventure Tours offers a Guided Snowshoe Tour through the world-famous Algonquin Park that is a must-try experience this winter. Available daily as a private tour from February 1st-March 15th, the tour includes a brief orientation to snowshoeing, followed by a guided trek to explore Algonquin Park's inspiring solitude and dazzling winter scenery. You'll also enjoy a hot beverage and gourmet lunch from Henrietta's Bakery as a part of your tour. This adventure is suitable for beginner to experienced snowshoers – just don't forget to bring your sense of adventure! Click here to reserve your Guided Snowshoe Tour with Algonquin Adventure Tours.
Take part in a Snowshoe Safari this winter with Find Your Wild for the chance to truly get off the beaten path. Choose from a guided half-day excursion on the Find Your Wild grounds or a full-day adventure in Algonquin Park. Snowshoes and a light snack are supplied with both excursions. The Algonquin adventure includes wildlife tracking with a local, experienced guide and wild-harvested tea. Visit Find Your Wild to book your snowshoe tour.
Liv Outside offers both guided and self-guided snowshoe tours through the well-maintained winter trails located on their pristine grounds. For the DIY snowshoers, check out the Self-Guided Snowshoeing Tour. This excursion includes snowshoes, snowshoe instructions, and a winter trail pass to access the Liv Outside trail system. The Guided Day Snowshoe Tour is also available, which includes an experienced tour guide for the duration of your adventure.
Take your winter experience even further with the Guided Snowmobile, Snowshoe, and Wine Tasting Adventure offered by Muskoka Stay N' Play Tours. This excursion includes 2 hours of snowmobile riding a day, fuel, riding gear, a half-day of snowshoeing, a tutoured wine tasting at the Cranberry Marsh, and overnight accommodation. At night, enjoy a winter bonfire at the on-site stone fire pit and admire the starry sky. For more information about guided snowshoe tours, visit their website.
COVID-19 Modifications
The Muskoka region, including the restaurants and local businesses discussed above, have taken several precautions to help prevent the spread of COVID-19. Social distancing procedures must be followed. Masks are required for entry into all buildings and when social distancing is not possible. Frequent hand-washing is encouraged and everyone must self-isolate if experiencing any COVID-19 symptoms. For more information regarding COVID-19, please visit our COVID-19 Updates page