A quintessential (and cost-effective) Canadiana experience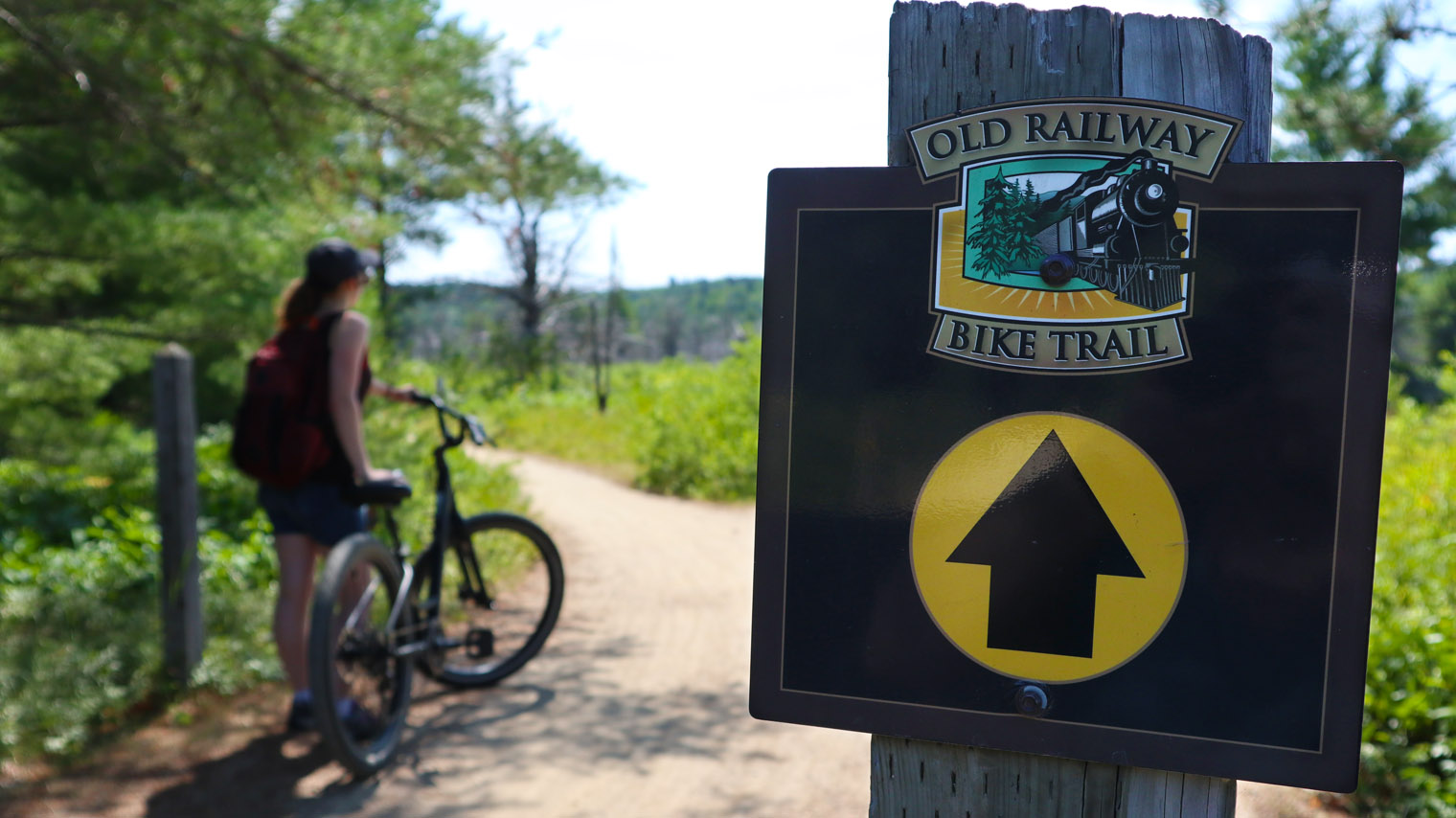 Algonquin Park is a special place for Canadians and visitors from all over.
Home for a multitude of animals, the Park offers you countless opportunities for wildlife viewing. And, with its waterways, lakes, and lush forest, it essentially offers you a sample of all that Ontario's natural beauty has to offer.
Bike Back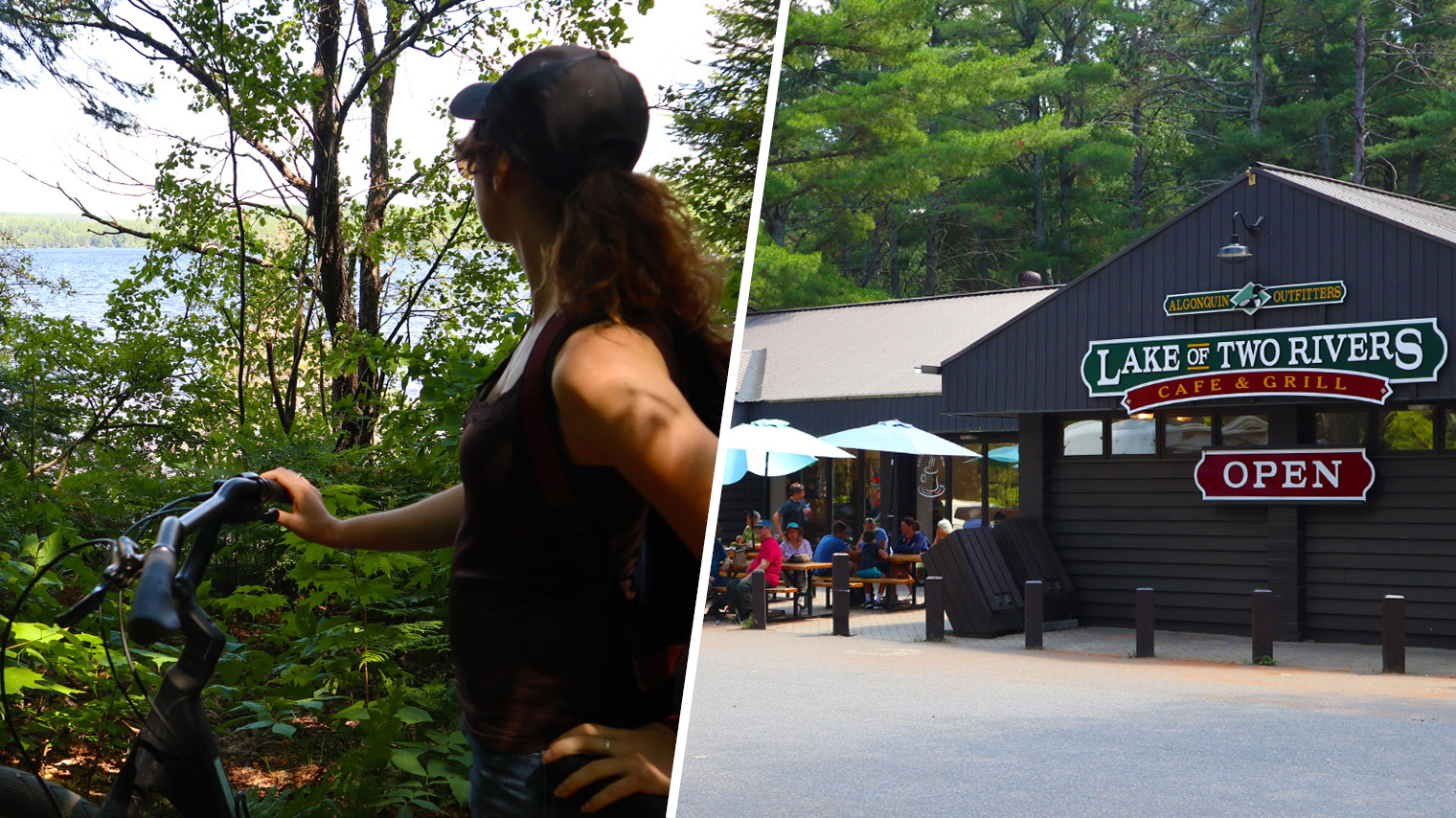 For a truly unforgettable and up-close-and-personal Park experience, you've simply got to explore the Old Algonquin Railway Trail on bike-back.
The speed and relatively quiet movement of a bike allows you to traverse a larger range of land and it doesn't scare animals away like other methods of transportation (or even walking) does.
And, thanks to Algonquin Outfitters, you can rent a bike at the trail's start at the Lake of Two Rivers Store, Cafe, & Grill – keep reading for our overview of this unforgettable adventure!
The Old Algonquin Railway Trail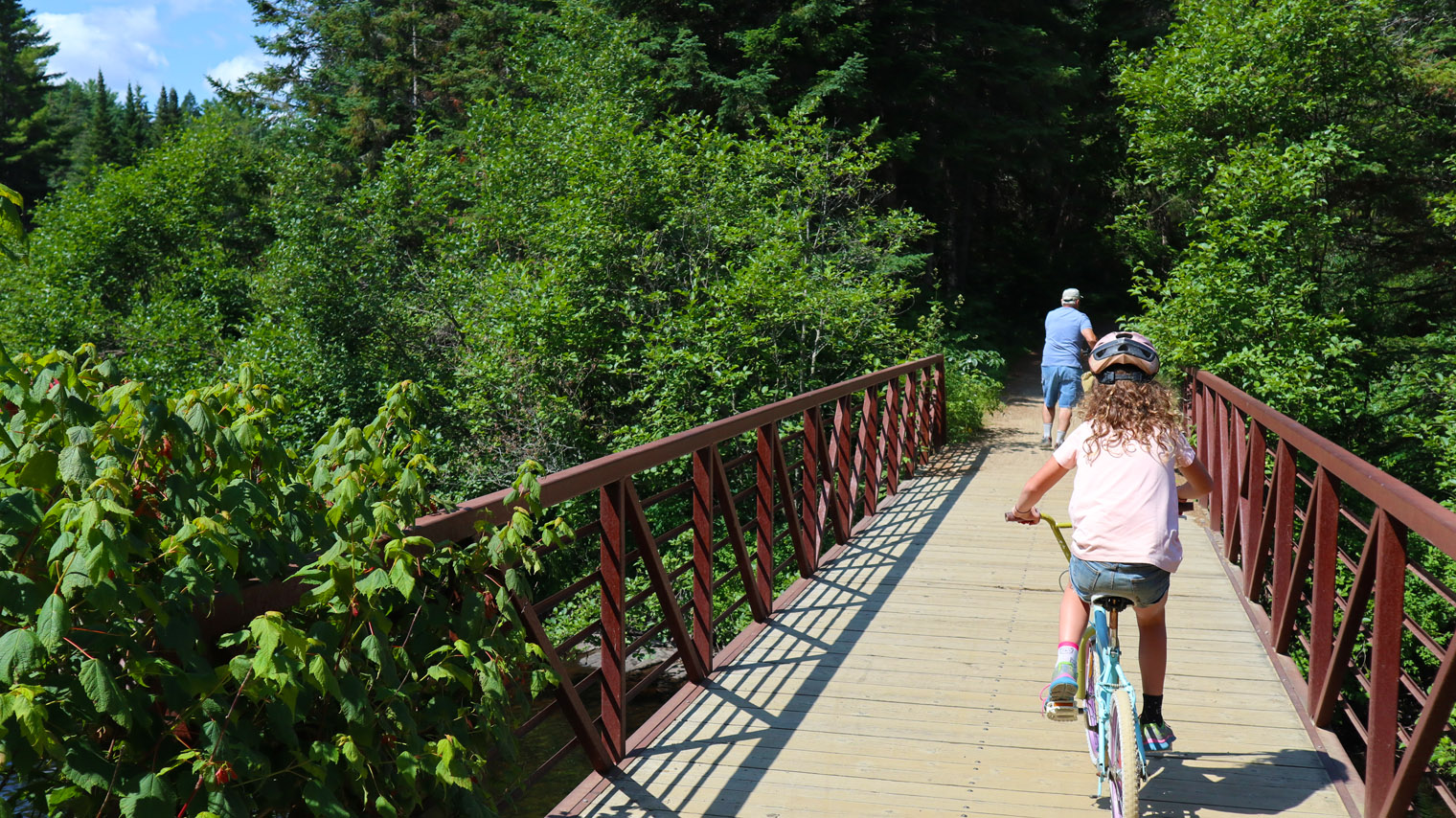 It's so tranquil on this trail that it's hard to imagine the loud chugging of a train cutting through the trees. And yet, for most of its 32 kilometers, the Old Algonquin Railway Trail follows the abandoned route of the historic Ottawa, Arnprior, and Parry Sound Railway, which opened in 1896 and decommissioned in 1959.
That means that the trail from Rock Lake to Cache Lake is wide, fairly flat, and bikeable even in wet weather.
Plus, since it's not extreme terrain, this trail is great for families and people with very little biking experience. However, while the trail is largely level, be warned that it is a little bumpy at its very start. But those small hilly spots soon end once you connect with the section where train tracks were once laid.
Visit their website for more information
Planning Your Route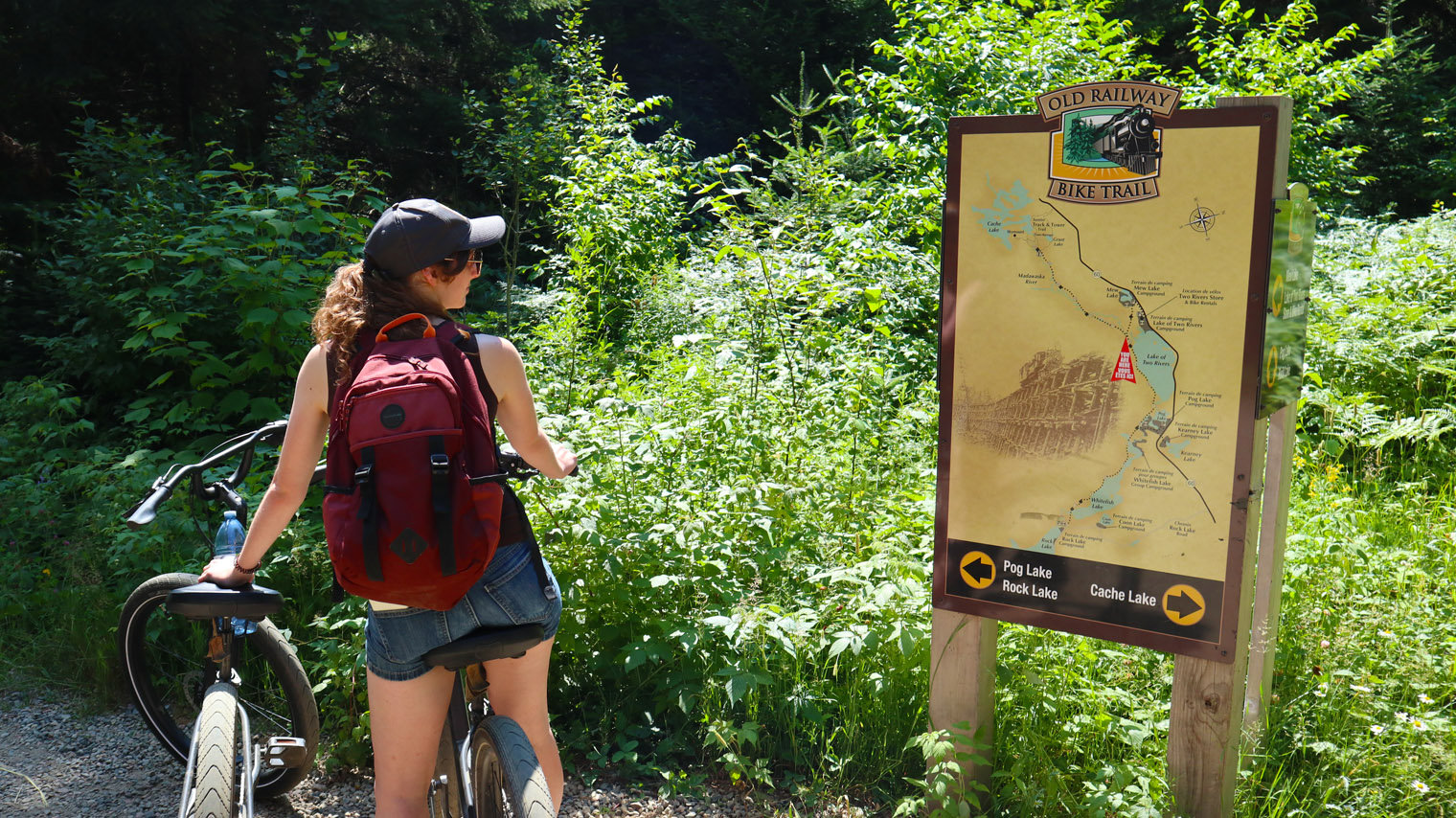 Beginning at the Lake of Two Rivers Store and eventually splitting in two directions, you have a couple of route options on this trail. You can take in its full 32km, opt to explore one branch, or sample a little of both directions by doing a T-shaped route.
If you venture East toward Pog Lake and Rock Lake you'll run parallel with the lakes, while to the West you'll intersect with rivers and see some sections of rapids. Either way, you'll soak up stunning scenery you won't soon forget.
The layout of the trail is an "out and back" format that means you always know what lays between you and your return – especially ideal for families with younger kids.
Staff for Algonquin Outfitters' bike rentals also emphasize that you absolutely do not have to do the whole trail, or even make it to the end of one branch. Just go to enjoy the journey, listen to your body, and go at your own pace.
Algonquin Outfitters' Bike Rentals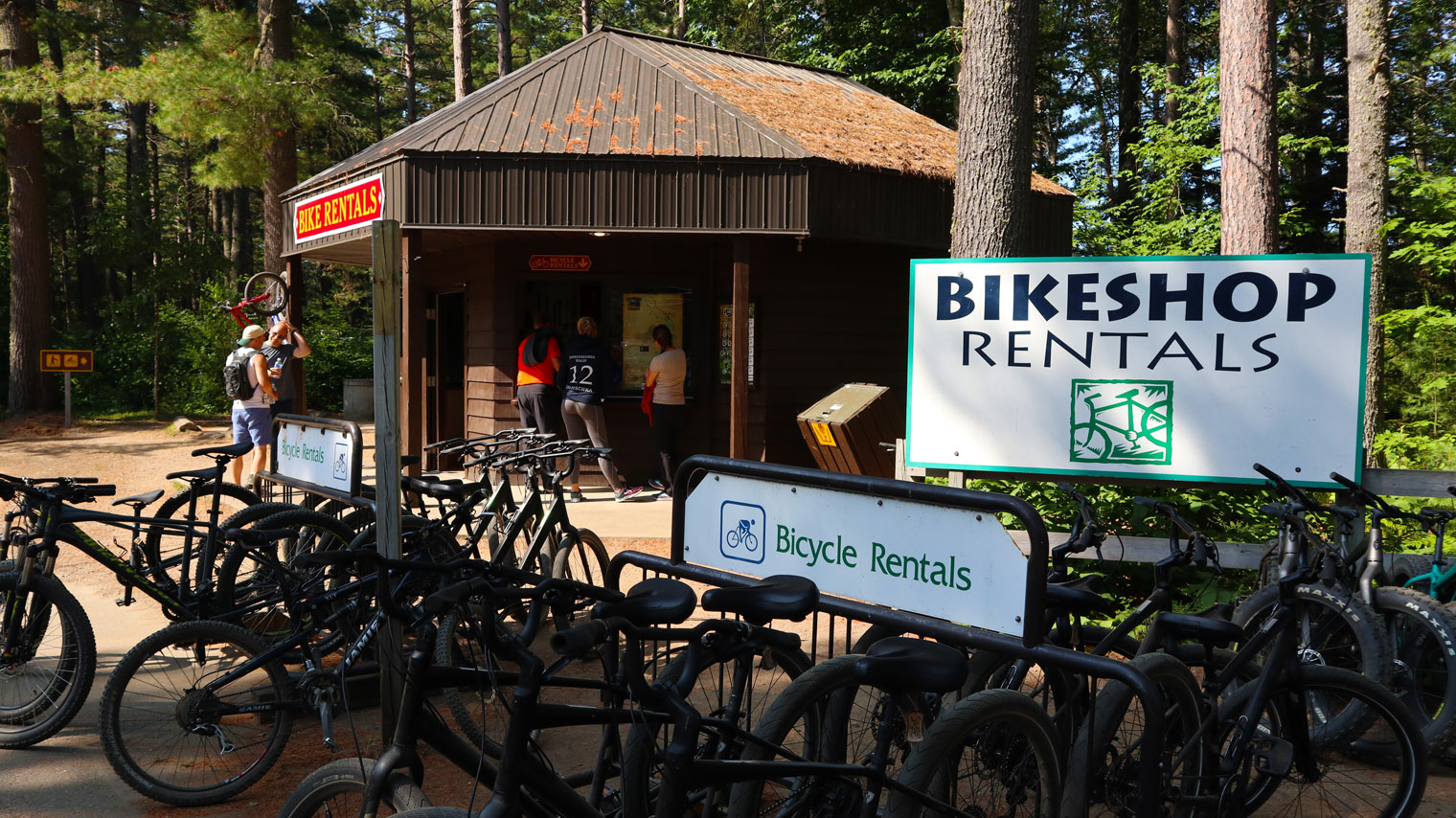 Cycling enthusiasts often bring their own bikes and equipment, but thankfully Algonquin Outfitters' bike rentals are here for all of us who aren't necessarily experts.
The trail starts by their booth, where they offer 3 styles of bikes for adults – mountain bikes, fat bikes, and cruisers. Their staff is well trained and ready to help recommend the best bike for your skill and comfort level.
Plus, they have awesome options for families and kids over 1-year-old, including toddler-trailers and trail-a-bikes, both of which attach to an adult bike to be pulled. And, since anyone 16 and under are required to wear a helmet when biking in Canada, they also have a selection of helmets available – including ones for adults.
Visit their website for more information about renting
Bike & Bite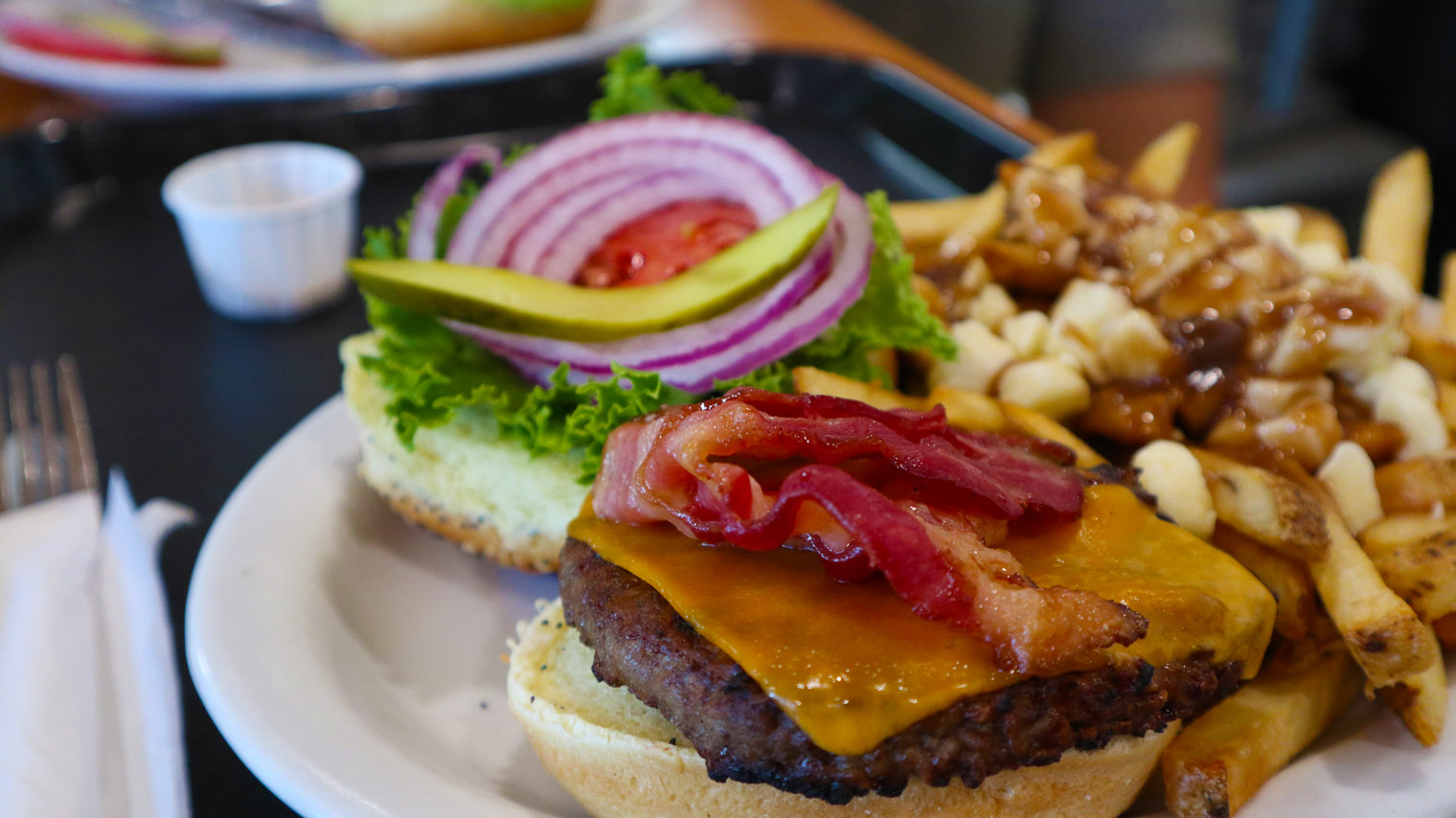 When returning from your adventure, the tantalizing smells from Lake of Two Rivers Cafe & Grill will likely waft through the air and carry you inside like a cartoon character.
They're a popular spot (especially around lunch), and their prices match the excellent quality of their food, but we can't recommend it highly enough!
Although we indulged in their mouth-watering Bacon Cheeseburger with a side of Poutine, they have a huge menu to choose from (and a staggering selection of sweet treats and ice cream) so there's sure to be something for everyone.
Visit their website for more information
Stay and Play
Make the most of your Muskoka experience and check out our top recommendations for places to stay and perfect getaway packages.