Walker's Point Lookout Trail will be a popular destination this summer!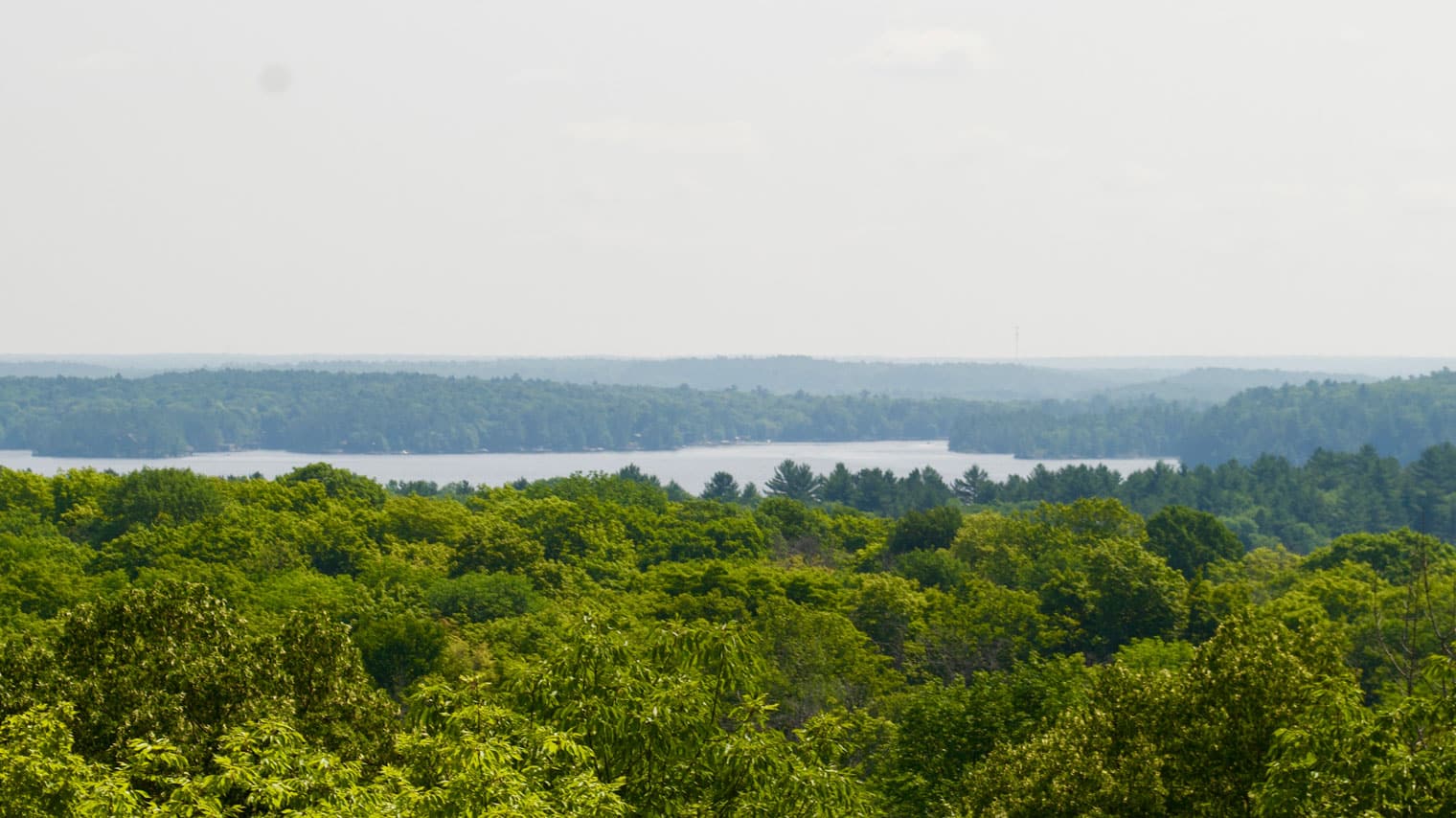 The Township of Muskoka Lakes is the epitome of cottage country lifestyle. Well known for its great waterways, iconic cottages and historic towns such as Bala and Port Carling, it is also home to some of the coolest hiking trails in the area.
Hardy Lake Provincial Park, Huckleberry Rock Lookout Trail, and Torrance Barrens are three of Muskoka Lakes' most popular hiking trails, but they now have company with the unveiling of the Walker's Point Lookout Trail.
The new lookout trail, known locally as Berry Mountain, was a long time hidden gem of Muskoka Lakes. Now an established Township trail, the lookout provides one of the best views of Lake Muskoka.
The actual hike itself is less than 1km, but it is uphill which makes it challenging. Expect this view to show up on Instagram feeds a lot this summer, as adventurers will be making the trek for that picture perfect moment.
Walker's Point Lookout Trail
Park at the corner of Bradley Road and Walker's Point Road and look for the trail opposite the flower garden. The trail is a moderate short straight up climb leading to a panoramic lookout point where sightseers and photographers will enjoy stunning scenic vistas. Soak in the sounds of the quiet lake all to yourself. This is one of the best views in Muskoka and is not to be missed.
Location: Intersection of Walker's Point Road and Bradley Road
Type: Hiking
Difficulty: Moderate
Length: < 1 km
Duration: 1 hour
Other Top Trails in the Area
Torrance Barrens: Encompassing 1,990 hectares (5,000 acres), the Torrance Barrens Conservation Reserve is one of the most striking geological areas in Muskoka. The Barrens also doubles as an exceptional hiking and mountain biking destination, with 3 well marked trails for public use. An ideal place to view the night skies, this conservation area was designated as the world's first permanent Dark Sky Reserve.
Hardy Lake Provincial Park: Hardy Lake Provincial Park Trails are some of the best in Muskoka. Well marked, fascinating geology and diversity, with brilliant vistas of Hardy Lake and Lake Muskoka.
Huckleberry Rock Lookout: Huckleberry Rock has been well known locally for over 100 years as a magnificent scenic lookout.  Rocks on this trail are some of the oldest in the world, well over a billion years old.  The view from Huckleberry Lookout is another must-see.
Whilst Visiting the Walker's Point Lookout Trail
You are only a hop, skip and a jump from bustling downtown Torrance, home of Clear Lake Brewing Co. Reviews of this new brew pub have been off the charts, and it has become a great destination since its opening in 2017.  Stop in for lunch, dinner, or for that post-hike craft brew. You can also pick up Clear Lake Brewing Co.'s beer on-site to enjoy at home.
Stay and Play
Make the most of your Muskoka experience and check out our top recommendations for places to stay and perfect getaway packages.