After all the winter fun it's time for Après, Muskoka Style!
Like meals when you're camping and tea when someone else makes it for you, for some reason a winter bevy and some hearty grub always taste better when enjoyed after taking a few runs down the slopes. This universal truth has put 'après-ski' —the social activities that don't even think about getting started until you've finished your final run — into a category of their own. From swank to sweet'n'cozy, Muskoka has a range of options for those who like to get the party started after the chairlift stops moving.
Ice Bar & Ice Caves
Be among the first to visit the newest luxury attraction in Muskoka, the Crystal Head Vodka Icebar at J.W. Marriott The Rosseau Resort & Spa in Minett. Co-founded by celebrated Canadian Dan Aykroyd, guests at the -15°C icebar will enjoy flights of all three Crystal Head Vodka expressions — Original, Aurora, and Onyx — followed by a special Northern Lights show.
Or, for an icy thrill of a different kind, try dining in the Muskoka Ice Caves, also at J.W. Marriott The Rosseau. Enjoy the outdoors from inside as you savour a private gourmet meal with your sweetheart or favourite friends in the warmth of a transparent geodesic dome overlooking beautiful Lake Rosseau.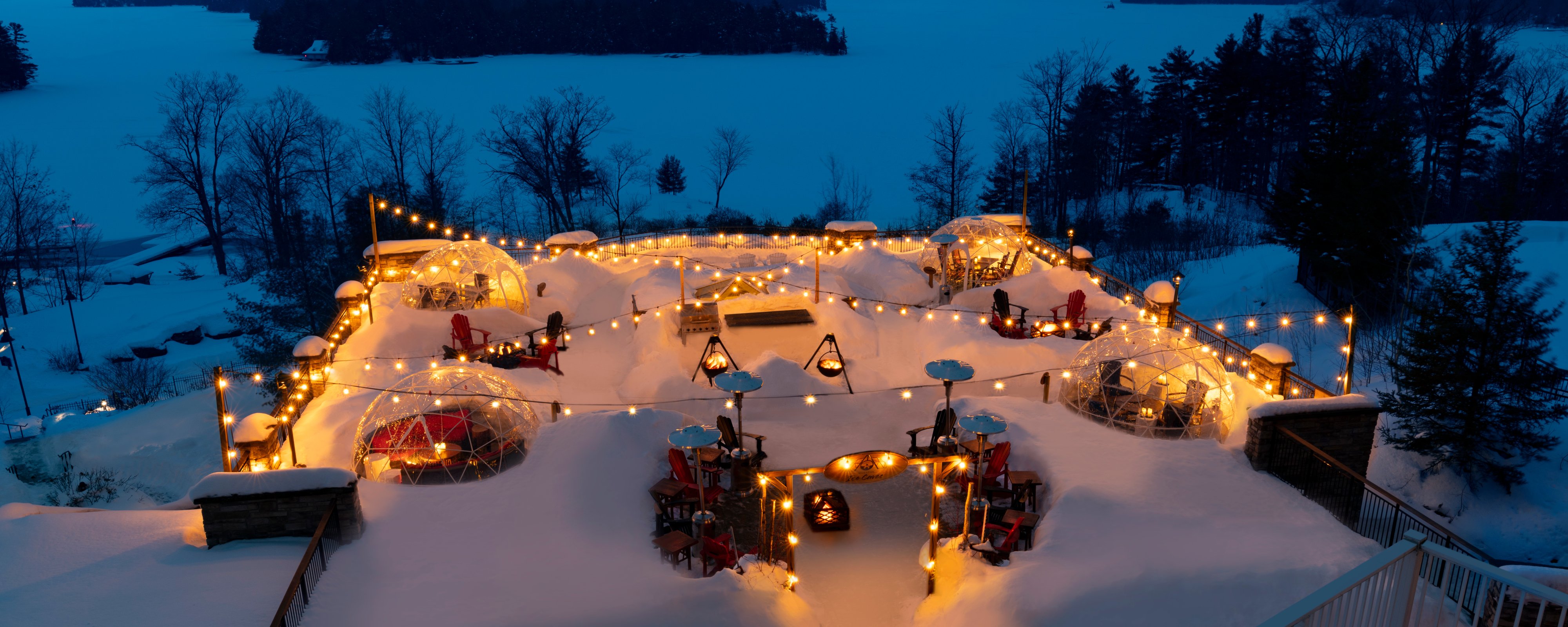 Outdoor Breweries
You love the outdoors, right? Otherwise, you wouldn't have spent all day on the slopes. So why not pair two of your favourite things, and visit an outdoor brewery to enjoy a Muskoka craft beer in the fresh air.
Torrance's Clear Lake Brewing Co., one of Muskoka's newest microbreweries, is stepping up their winter game this snowy season with an on-site ice rink nestled beside snow-capped pine trees and open daily until 9 p.m. Order a warming meal from the brewery kitchen to enjoy in the comfort of your own accommodations and pair it with one of Clear Lake Brewing's delicious beers.
If you're in the Bracebridge area, stop by Muskoka Brewery for a tasty brew by one of their outdoor fires.
Cranberry Marsh
What do you get when you combine cranberries and ice skating? One of the most quintessentially Canadian experiences available in Muskoka, of course! Following an afternoon of skiing, skate the Cranberry Ice Trail at the Muskoka Lakes Farm & Winery. The farm's 1.2-kilometre ice loop skirts 12 acres of frozen cranberries, making it a perfect wind-down activity to ease you into your evening. Follow your skate with a visit to the winery to warm up with hot mulled wine or hot cran-apple cider. And here's something really special: Weather permitting, every Saturday night, the farm offers 'Light the Night' skating, where the ice trail is lit by over 400 tiki torches, making for a one-of-a-kind magical night.
Hidden Valley Highlands Ski Area 
Hit the slopes at Hidden Valley Highlands, Muskoka's Ski Resort! Located in Huntsville with 15 runs for all abilities.  After a day (or night) on the hill, warm up in the chalet with an après-ski snack and a local craft brew. The Chalet serves up Muskoka Brewery, Lake of Bays Brewing Company, and the newest addition on the craft brewing scene in Huntsville, Canvas Brewing Co.
Play all day and stay all night when you book a Ski & Stay package at Hidden Valley Resort or Deerhurst Resort in Huntsville. Both resorts offering winter fun to compliment your ski and snowboard adventure. For the true devotee, follow a day of skiing with…an evening of skiing! Hidden Valley offers night skiing, so you can have the unforgettable experience of soaring down the hills under the moon and stars.
Something Cozy & Warm?
Quick, what pairs best with cold-weather activities? If you said a hot cup of tea, coffee, or chocolate, you're right! Although we do also recommend toques, gloves, and a good pair of winter hiking boots, there's nothing that compares to that first-sip feeling of a hot bevvie on a cold day.
Enjoy a little taste of Britain with a traditional English High Tea experience at the Blue Willow Tea Shop. Sip on your choice of black, white, green, or herbal tea, served in delicate china teacups, while admiring the idyllic Gravenhurst waterfront.
Enjoy a warm drink from Erika's, a quaint, family-run bakery in scenic Dwight. Choose from coffee, tea, hot chocolate, apple cider, or speciality drinks like the Muskoka Mist or Bigwin Steamer. You'll also want to pick up one of their delectable baked goods.
Located across Muskoka, you'll find various locations of Oliver's Coffee. This locally owned and operated coffee shop serves up their own tasty coffee blends and pastries.  Oliver's Coffee was named after a Chocolate Lab named Oliver. As compensation for using his name, Oliver arranged free dog treats for all his amigos at drive-thru locations in Bracebridge and Port Carling.
Looking to bring home a taste of Muskoka? The Muskoka Roastery Coffee Co. is a Canadian owned and operated coffee roaster, handcrafting every batch of their coffee right here in Muskoka. Their beans are known as the taste of Muskoka, and offer up the perfect cup of Jo for an early sunrise on the dock or a relaxing evening in the sun porch.