Plan Your Winter Adventure to  Arrowhead Park
Usually opens Christmas Break – stay tuned for updates!
Exploring the forest on skates is a must-do for any winter enthusiast! However, the secret is out about Arrowhead being a top winter destination, so it's crucial to plan your trip accordingly to avoid crowds.
What's different this year?
Arrowhead Provincial Park is making it easier than ever to plan your next outdoor adventure with the introduction of paperless day use permits! Gone are the days of stopping by the office to check in, now you can simply purchase your permit online up to five days in advance and hit the trails as soon as you arrive.
But that's not all that's new at Arrowhead this year. Ski enthusiasts will be excited to hear that ski races are back on after a two-year hiatus. However, with the added excitement of the races also comes a bit more crowds, so make sure to book your trip early or consider visiting on a different day. The race dates for this year are:
January 8
January 29
February 21-23
February 25-26
Additionally, the Visitor's Centre warm-up room will be closed for the Ontario Special Olympics on February 25-26.
If you're planning on attending one of our popular Fire & Ice Nights, you'll be pleased to know that you can now reserve your permit online in advance too! As a reminder, we are no longer offering ski permits. Visitors are asked to obtain a daily vehicle permit for access to all of the park's day-use activities, including skiing. However, we regret to inform you that Snow tubing has been permanently ended.
Make sure to check back often for the most up-to-date information, and we look forward to seeing you at Arrowhead Provincial Park!
The Legend of Muskoka's "Fairy Tale Skate Through the Canadian Forest" Continues to Grow!
Already one of Ontario's most popular winter attractions, the Arrowhead Ice Skating Trail was named as one of the Top 50 Canadian Winter Experiences by Flight Network, and one of 19 Stunning Natural Ice Skating Rinks Around the World by Travel+Leisure.
Very Important 'Insider' Information
Saturdays are the busiest days for the Ice Skating Trail, and it often reaches capacity. On the busiest Saturdays wait times into the park have reached up 30 mins, and worst case scenario vehicles have been turned away.
To avoid disappointment and for the absolute best experience, visit midweek, Sundays and

pre book your permit.

 
Should you find yourself unable to get into the Arrowhead Ice Skating Trail on the weekend because it has reached capacity, check out the Cranberry Ice Trail, the only skating trail in the world with its own on-site winery. Post-skate, cozy around their campfire and sip on a cup of hot mulled wine.
Where to Stay
Check out these great accommodations nearby. From resorts to cottages to b&bs, there is a cozy room with your name on it!
Related: click here to see our top winter vacation packages
Ontario's best kept secret…might not be a secret anymore. The Ice Trail at Arrowhead Provincial Park has graduated from local folklore, to becoming a mainstay in Muskoka's winter season! Opened in 2012 on a whim and a vision, the Ice Skating Trail has become one of the region's most popular winter attractions, and one of the province's most sought after winter 'bucket list' experiences.
The 1.3 km Ice Skating trail winds through the thick Muskoka forest and is a winter experience like no other. If you get to skate the loop after a fluffy snowfall, consider yourself in luck. Being surrounded on all sides by snow-covered evergreen trees is an absolutely stunning sight, and one that you won't soon forget. Bring your family and watch your kids whip around the track with the perfect backdrop, or surprise your loved one with a romantic 'hand-holding' skate through the forest.
Weather permitting throughout the winter, the Arrowhead Provincial Park hosts Fire & Ice nights at the Ice Skating Trail on select Friday & Saturday nights in January and February. As if a skating trail through the forest wasn't awesome enough, this is an experience you have to try first hand! Once the sun goes down and the stars come out, the Ice Skating Trail is illuminated by hundreds of tiki torches lighting your way as you carve through Muskoka's beautiful evergreens.
Important Info to Note:
The Ice Skating trail's open status is subject to weather conditions. In season's past, the trail has been open from the first week in January to roughly the second week in March
The best time to visit the ice skating trail is midweek. Less traffic on the ice means the ice is in considerably better condition
Fire and Ice Nights will tentatively be held every Friday and Saturday night beginning in late January, dependent on weather and ice conditions of the trail. You can reserve your permit for Fire and Ice Nights in advance. When reserving your permit, make sure you select the "Day Use + Fire and Ice Evening Skate" option. Please continue to monitor the Twitter page for updates.
Check out the Ski Report on the Ontario Parks website (updated daily at 9:00 a.m.) for skate and ski trail conditions
Follow Arrowhead on Twitter for live updates
Please note that Arrowhead Provincial Park can get extremely busy during peak times (the weekend) and often reaches capacity. 

Plan ahead and check @ArroPark on Twitter for real-time capacity updates. Mid-week is often the best time to visit. 

For more information and to pre-book, please click here.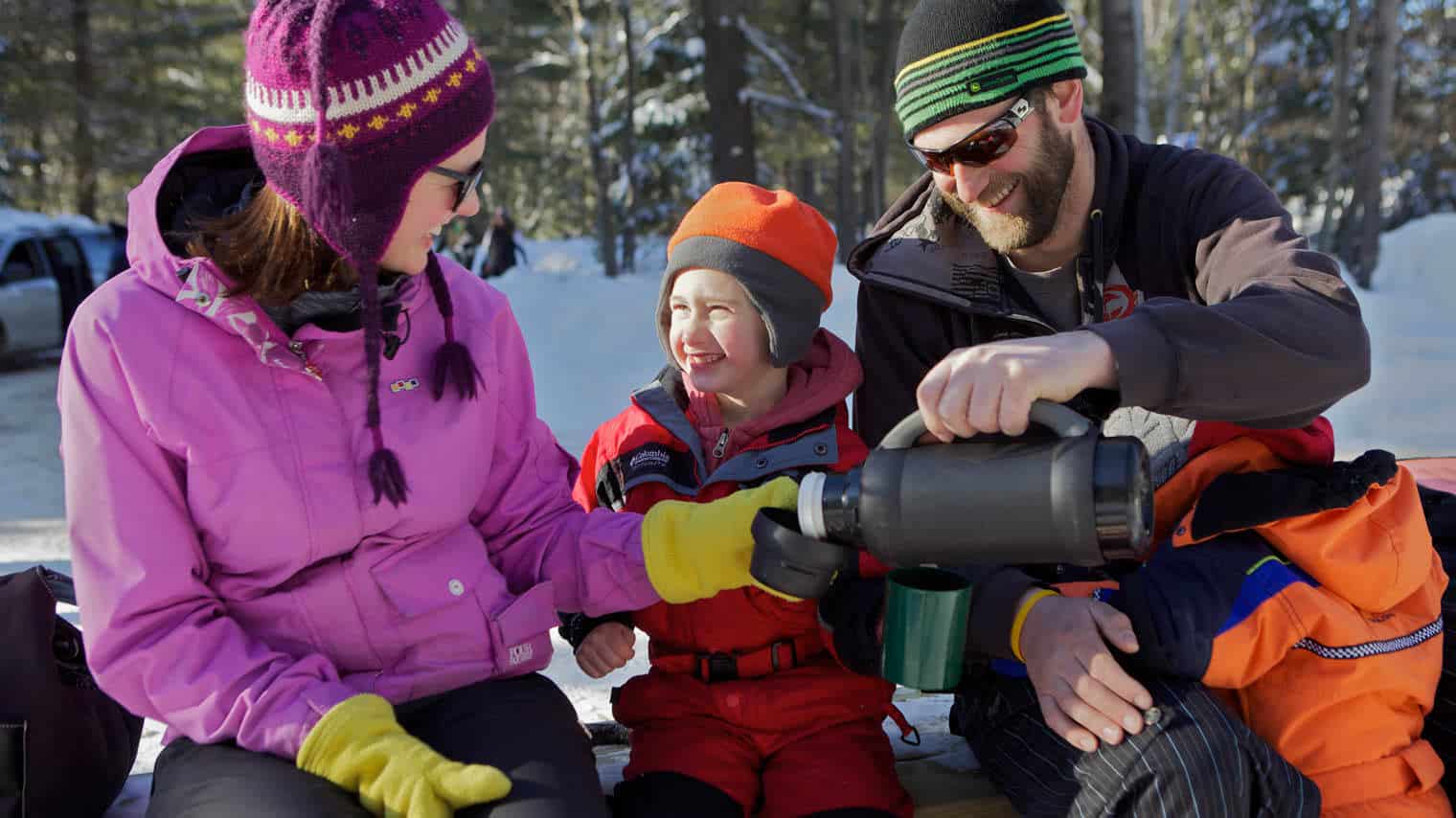 Arrowhead Provincial Park's ice skating trail may have garnered the park a lot of attention, but the truth is they have long been renowned as Muskoka's winter playground. The provincial park is regarded as one of the top cross country ski destinations in Ontario, with 28km of classic ski trails and 16km of skate ski trails, ranging in difficulty From beginner to expert. The park also features a number of snowshoeing trails, with rentals for both snowshoeing and cross country skis available on site. If you need a break from the cold, the park has a number of heating stations with wood burning stoves for you to cozy up inside, perfect if you packed a lunch for your day of winter fun!