Taste the World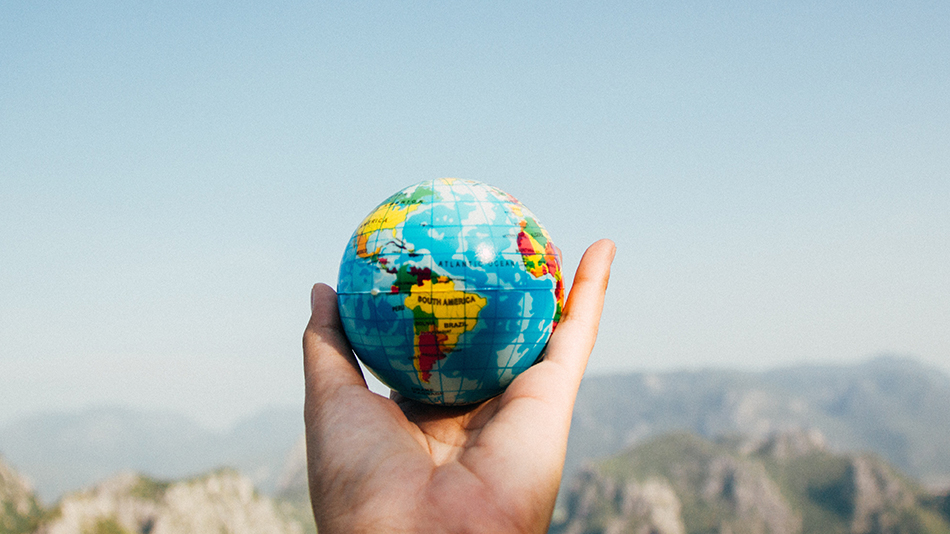 As tourism and travel-fanatics, we understand just how frustrating it is to have had to cancel or postpone your international travel plans this year. Obviously you want to see the beautiful sights, get some awe-inspiring photos, and, most importantly, try some new culinary creations. That's why we've cooked up a list of the 5 best international foodie experiences available at local Muskoka restaurants and businesses. Now you can travel the globe on a savoury tour, without even purchasing a plane ticket. Consider this your passport to the best international-inspired dishes, all available in your very own backyard.
Read on to learn more about 5 international food dishes and experiences in Muskoka.
Blue Willow Tea Shop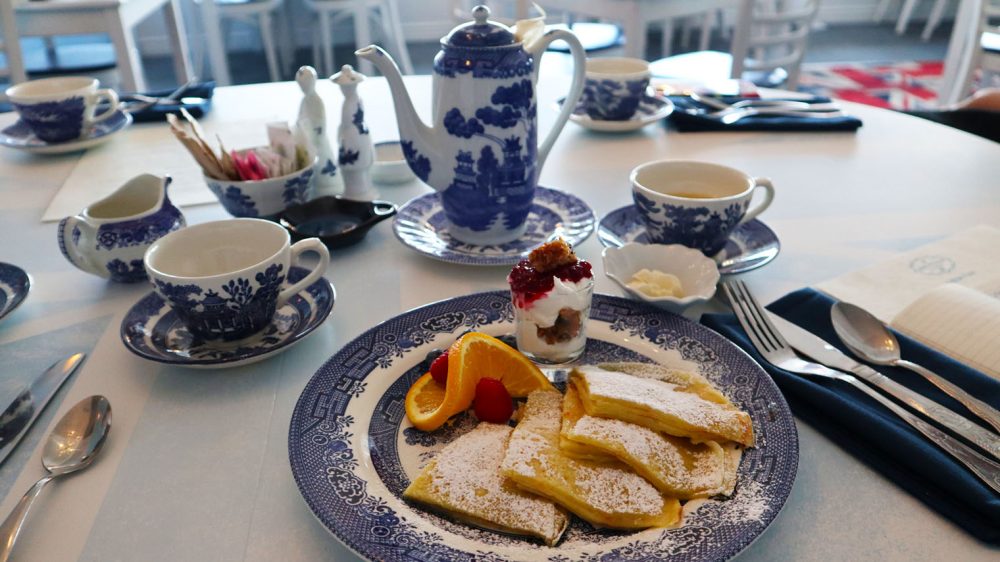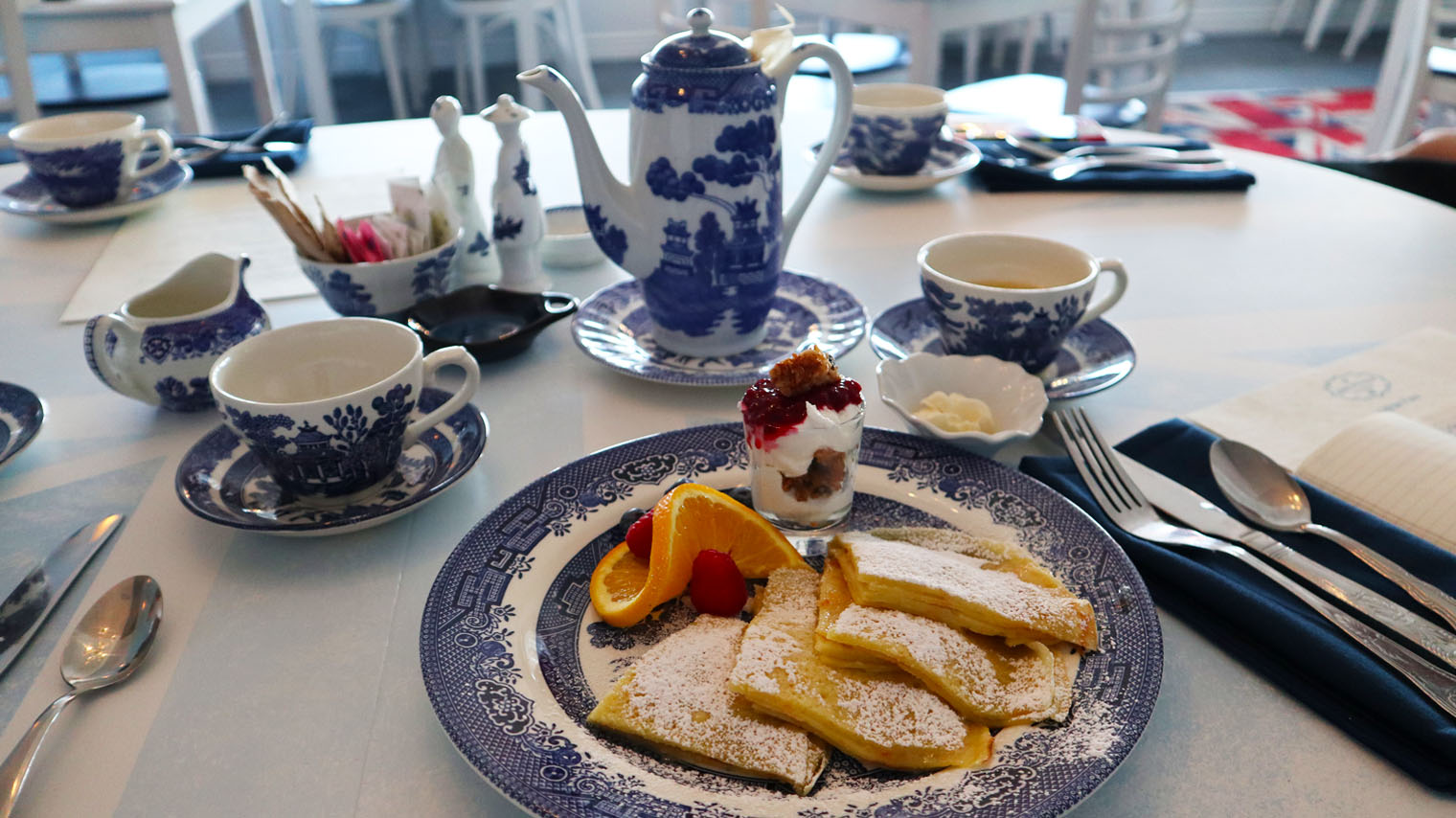 900 Bay Street, Muskoka Wharf, Gravenhurst
For a true taste of Britain, stop by the Blue Willow Tea Shop and enjoy a traditional high tea or an English-inspired lunch and a pint. This charming boutique and cafe offer antique and vintage teaware, British-imported goodies, and the chance to enjoy an authentic high tea experience. Sip on your choice of tea and nibble on assorted tea sandwiches and savories, mini scones with butter and jam, and a selection of sweets while overlooking the picturesque Muskoka Wharf in downtown Gravenhurst. Please call ahead (705-687-2597) to make a reservation.
Don't forget to visit the Blue Willow Gift Shop to bring home a little piece of Britain. Admire the antique teapots for sale or purchase one of their 27 different loose-leaf teas to brew later. All selections are available in 100-gram sampler bags and include black, green, oolong, and herbal teas. Try the Maple Tea, flavored with maple sap, for a unique. Muskoka-inspired brew.
Visit the website for more information
The Pasta Shoppe – Bakery & Fine Foods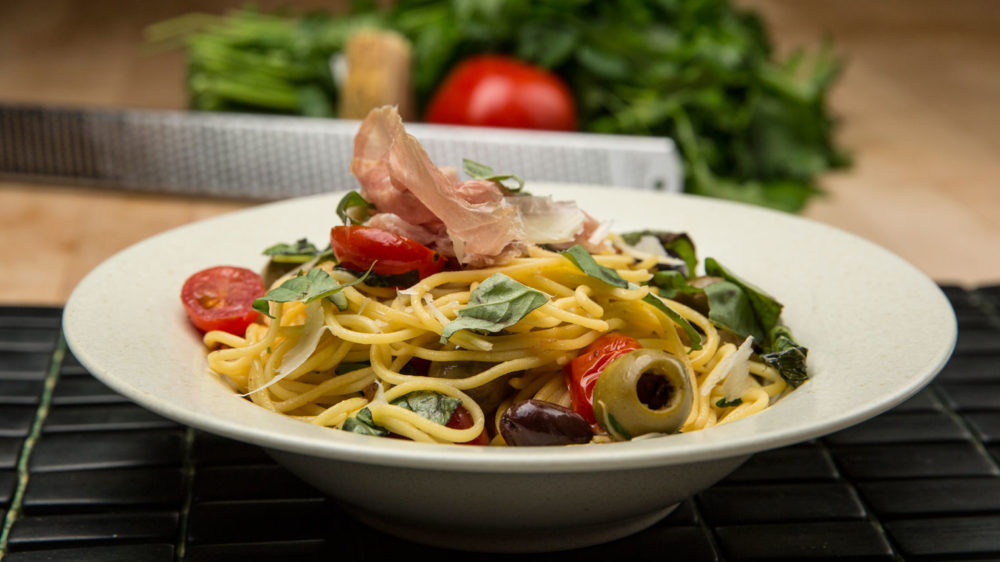 James Street, Gravenhurst
Enjoy a delicious, Italy-inspired dinner with one of many tasty offerings from The Pasta Shoppe – Bakery & Fine Foods. located in downtown Bracebridge. The Pasta Shoppe crafts gourmet, gluten-free pasta and bread products in their award-winning kitchen that those with celiac, IBS, and gluten-sensitive individuals can enjoy safely. Only the highest quality, locally-sourced ingredients are used.
Many of their appetizing dinners are available for curbside pick-up, meaning you can conveniently order your choice of dish online, pick it up from their Bracebridge store, and then safely savour it at home. Try their Gluten-Free Lasagna Bolognese, a hearty blend of bolognese sauce, premium ground beef, and slow-cooked Canadian tomatoes. Pair this dish with their light and airy Gluten-Free Focaccia Bread, a soft loaf baked with Italian herbs and topped with caramelized onion, for the perfect Italian-inspired meal. But be sure to finish off your meal with a nod to the traditional flavours of Muskoka! For a sweet Muskoka ending, try The Pasta Shoppe's Wild Blueberry Muffins, stuffed with flavourful Ontario wild blueberries.
Visit their website for more information
JW Marriott The Rosseau – Muskoka Chophouse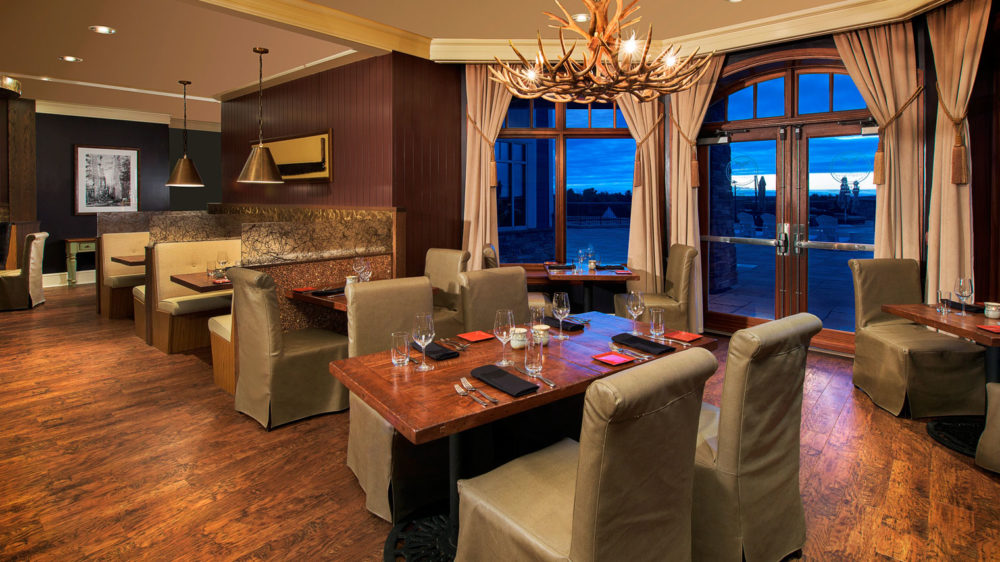 1050 Paignton House Rd, Muskoka Lakes
The Muskoka Chophouse is the newest dining addition to the JW Marriott – The Rosseau. The Chophouse offers American-inspired dishes in an elegant dining room overlooking the resort's terrace. An extensive wine list is also available to pair with the menu's offerings. Please make an online reservation for dinner.
The 12oz New York Strip Loin is an America-inspired favourite at The Chophouse. The Bacon Mac & Cheese with grainy dijon is also a good choice. But, for a Muskoka-influenced end to the meal, try the Smoked Muskoka S'mores in a Jar, a delectable blend of chocolate mousse, graham cracker crumbs,  marshmallow topping, and Jack Daniel's maple syrup.
Visit their website for more information
Windermere House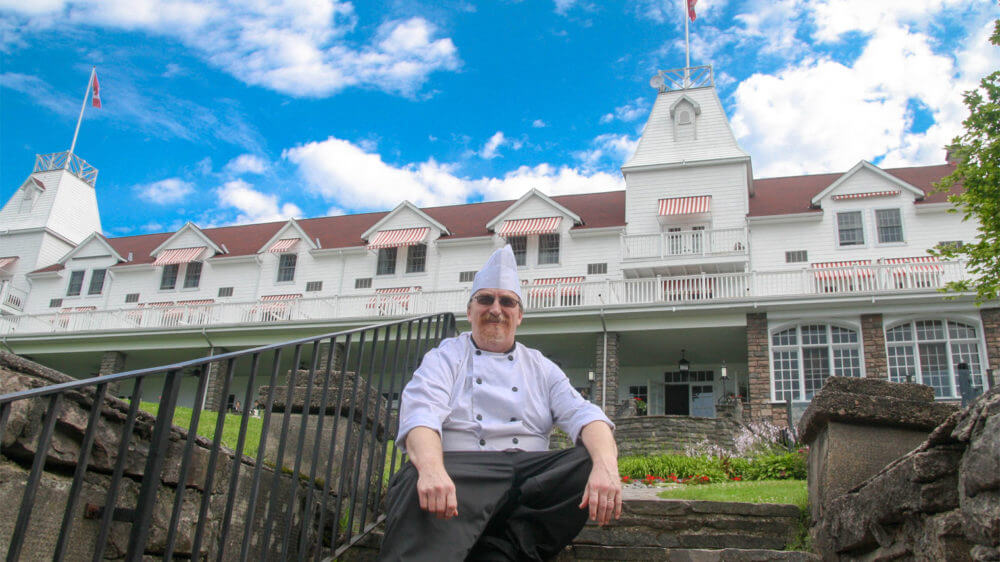 2508 Windermere Rd, Windermere
Windermere House offers an extensive take-out menu available on Fridays, Saturdays, and Sundays. including an entire section devoted to delicious Japanese dishes. Feast on lightly salted Edamame, Miso Soup, and Seaweed Salad as appetizers. Next, try one of their classic sushi rolls, like the California roll with avocado, crab, and cucumber. Or, if you're feeling more adventurous, try one of their deluxe rolls, like the Lady Bug. This roll includes unagi, cucumber, cream cheese, and is topped with avocado & eel sauce.
This special take-out menu is available from 12-8 pm. Please call 705-706-5334 to place your order or email takeout@windermerehouse.com.
Click here for more information
Muskoka Lakes Farm & Winery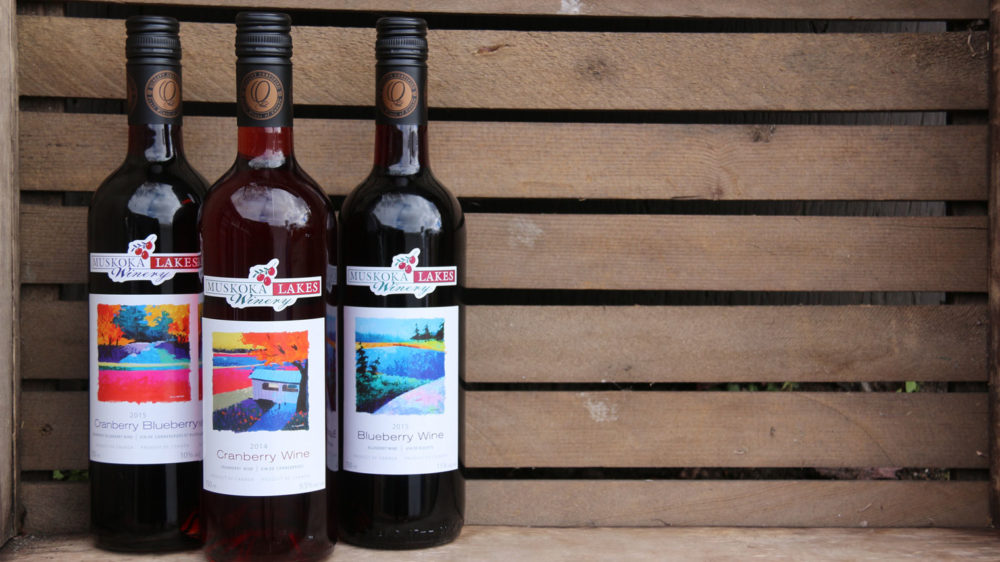 1074 Cranberry Rd, Bala

The Wine & Cheese experience at the Muskoka Lakes Farm & Winery is definitely one French-chic experience that you're going to want to say oui, s'il vous plait to! Enjoy a mouthwatering platter with seasonal and local cheeses, preserves, artisanal crackers, and cranberry goodies alongside your favourite wine. The wine flight includes 4 different wines and each person in the group (maximum 4) can choose their own wine flight style (dry to off-dry, off-dry to dessert). Please pre-book this experience online.
This French-inspired foodie adventure has been carefully crafted according to COVID-19 safety precautions. All patio tables are socially spaced apart. Four people maximum are permitted in a group and at a table. High-touch areas are sanitized after every use and visitation to the farm is being managed through authorized licence plate tracking.
Click here for more information
COVID-19 Modifications
The Muskoka region, including the restaurants and local businesses discussed above, have taken several precautions to help prevent the spread of COVID-19. Social distancing procedures must be followed. Masks are required for entry into all buildings and when social distancing is not possible. Frequent hand-washing is encouraged and everyone must self-isolate if experiencing any COVID-19 symptoms. For more information regarding COVID-19, please visit the Simcoe Muskoka District Health Unit website.
Stay and Play
Make the most of your Muskoka experience and check out our top recommendations for places to stay and perfect getaway packages.