Jam-packed with jaw-dropping enjoyment and hands-on heritage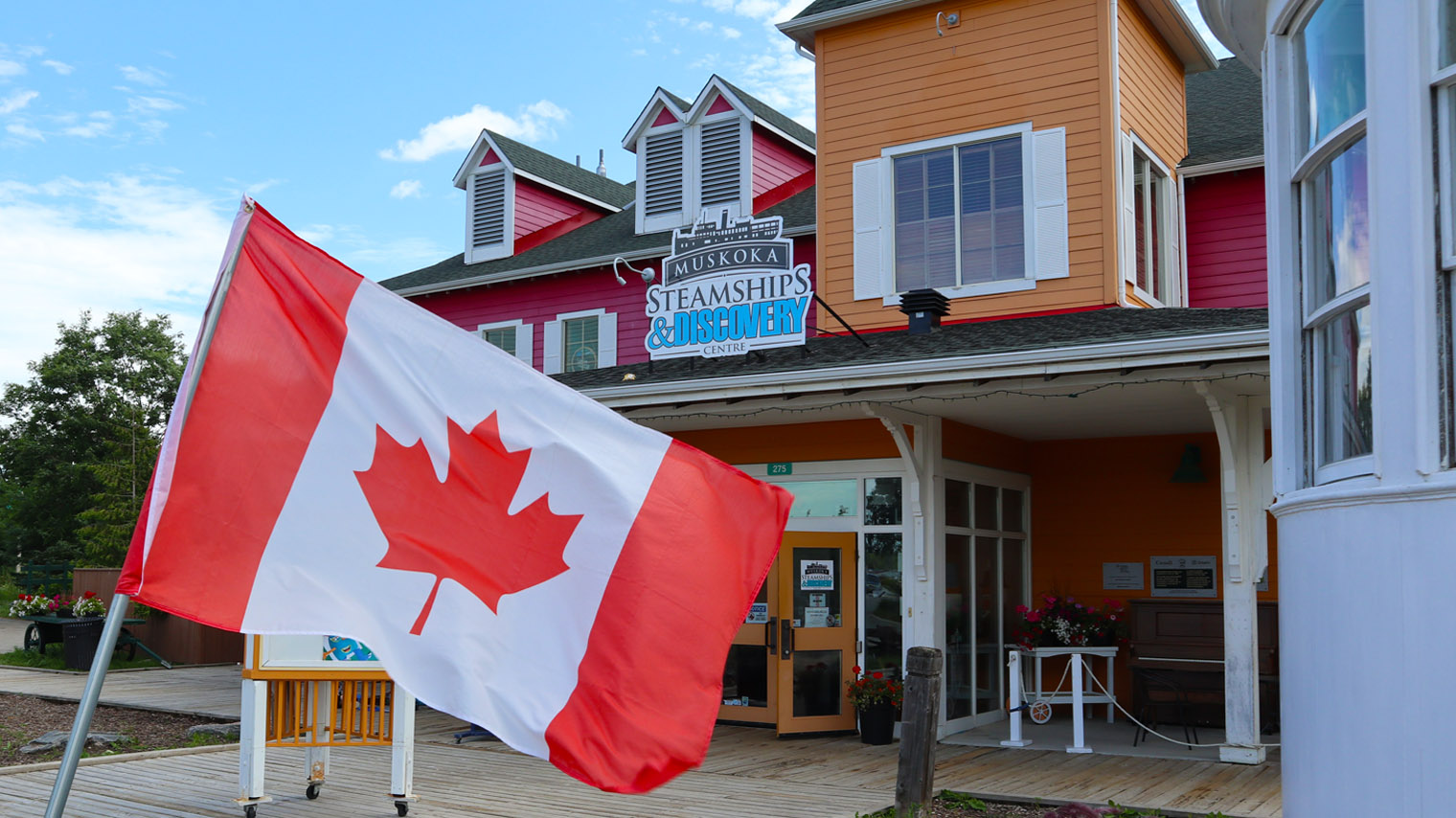 No matter what your age or interests, there's something about the Discovery Centre that ignites your imagination.
They bring the history of Muskoka's steamships, resort hotels, indigenous peoples, early settlers, and way, way more to life through their dynamic exhibits and cutting-edge, hands-on experiences.
Plus, they're constantly revitalizing their exhibits and offerings, so even if you've visited before, you're going to want to stop in again and again to see what's new at the Discovery Centre.
We visited to see what they're excited about this summer, and we can't wait to tell you all about it!
Exhibits & More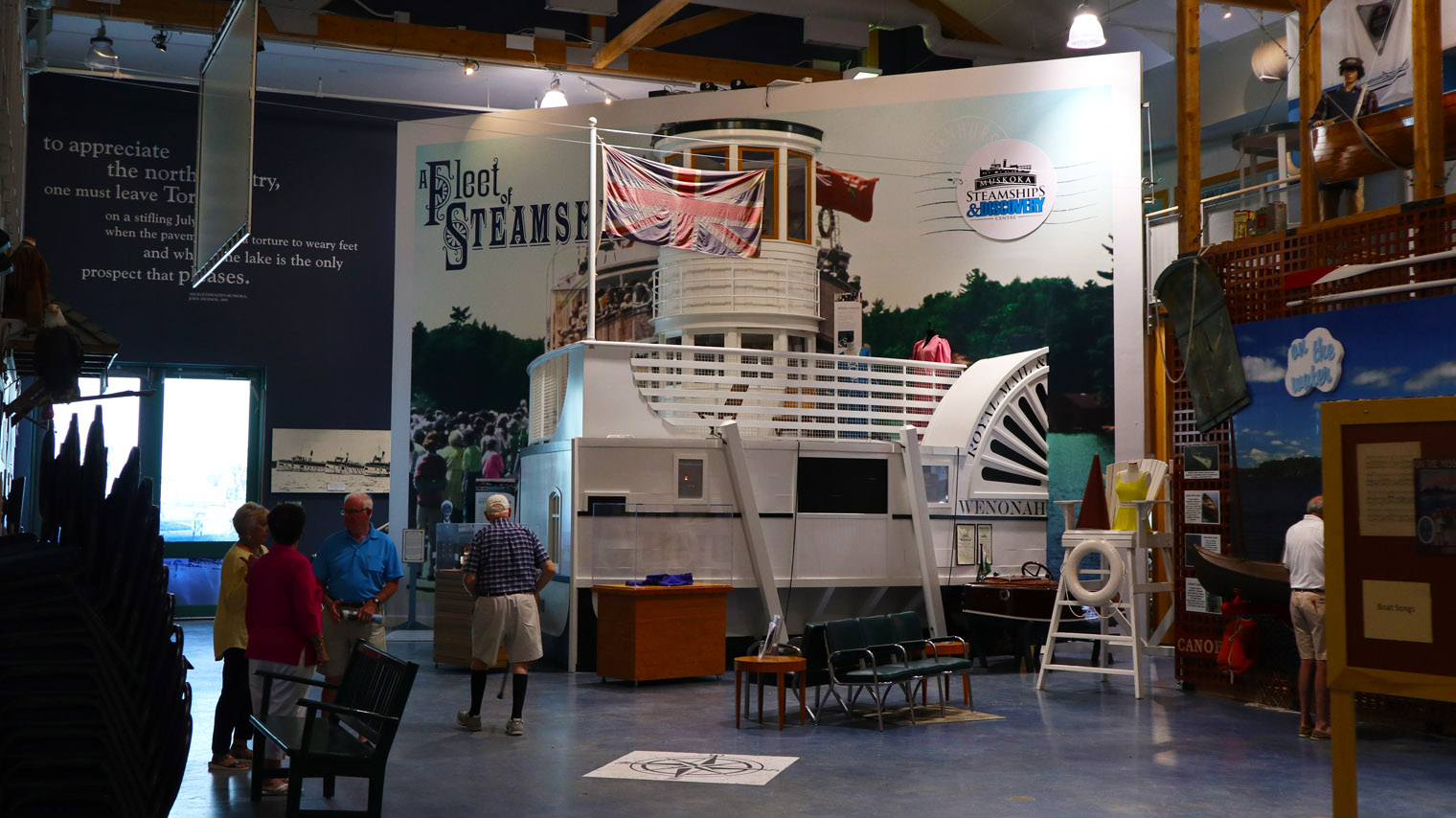 After paying admission, you enter the Discovery Centre's main exhibit space by passing through a large curtain-like hanging decorated with an old, black-and-white photograph.
As if you're stepping into the photograph itself, you push through the drape and emerge into a surprisingly large space where you're now face-to-face with a giant steamboat bow. The message is clear – it's all aboard for adventure!
With so many exhibits to explore and hands-on activities to try, you can choose your own route or download their app to guide your tour. And that's just the tip of the iceberg when it comes to their cutting-edge, hands-on exhibit aids!
Their exhibits and displays have been perfectly planned and are expertly folded into every aspect of the space. So much so that you almost feel like you're the first person to discover them!
Watershed Wonders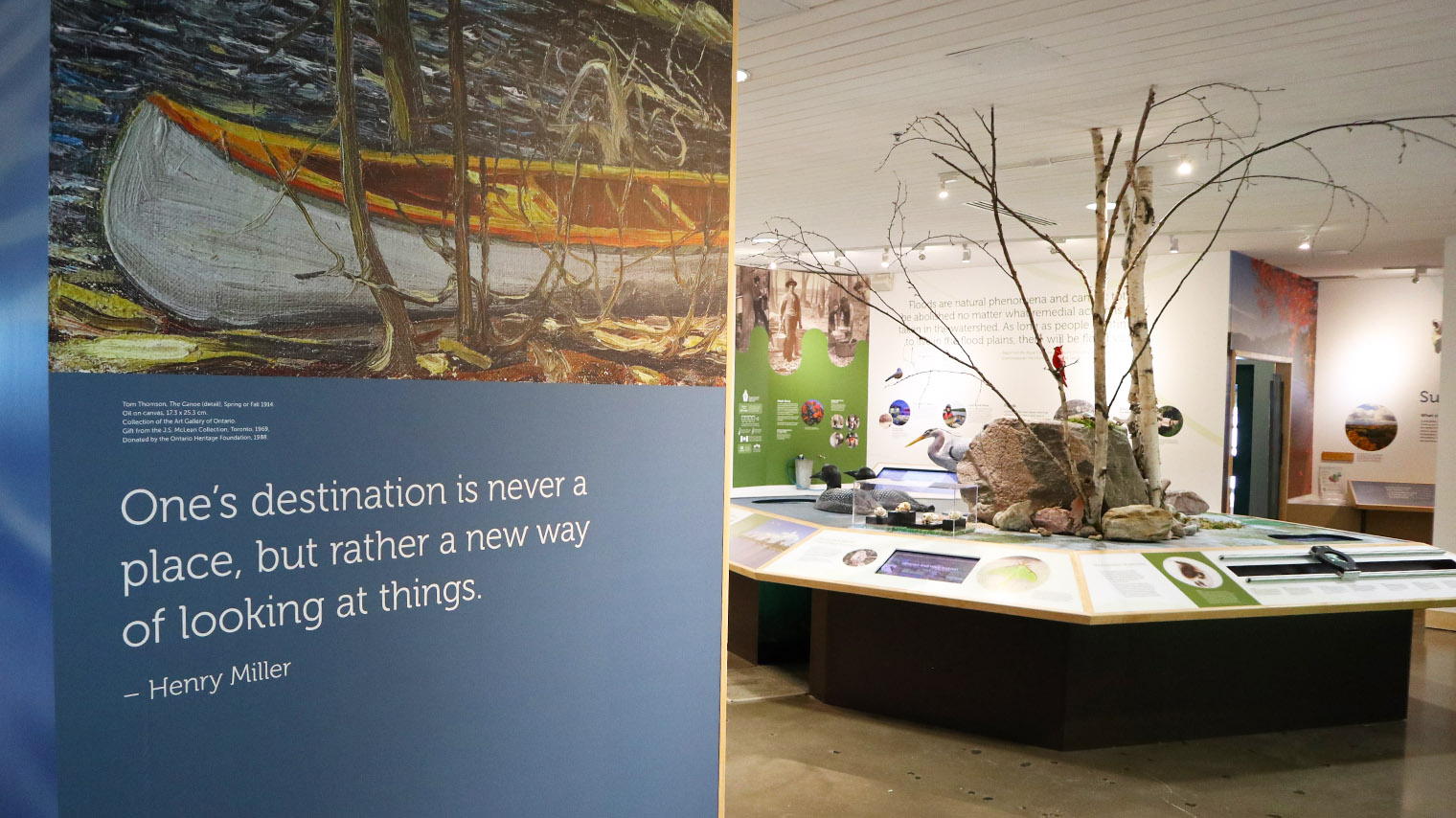 A still fairly new offering at their facility, their Watershed Wonders exhibit is a show-stopping delight to explore – especially for kids of all ages.
Among its numerous highlights, the sandbox and fish tank merit special mention.
Now, don't be fooled by those titles, their sandbox is actually augmented so that you create new terrains on its reactive, real-time map as you move the sand to create different peaks and valleys.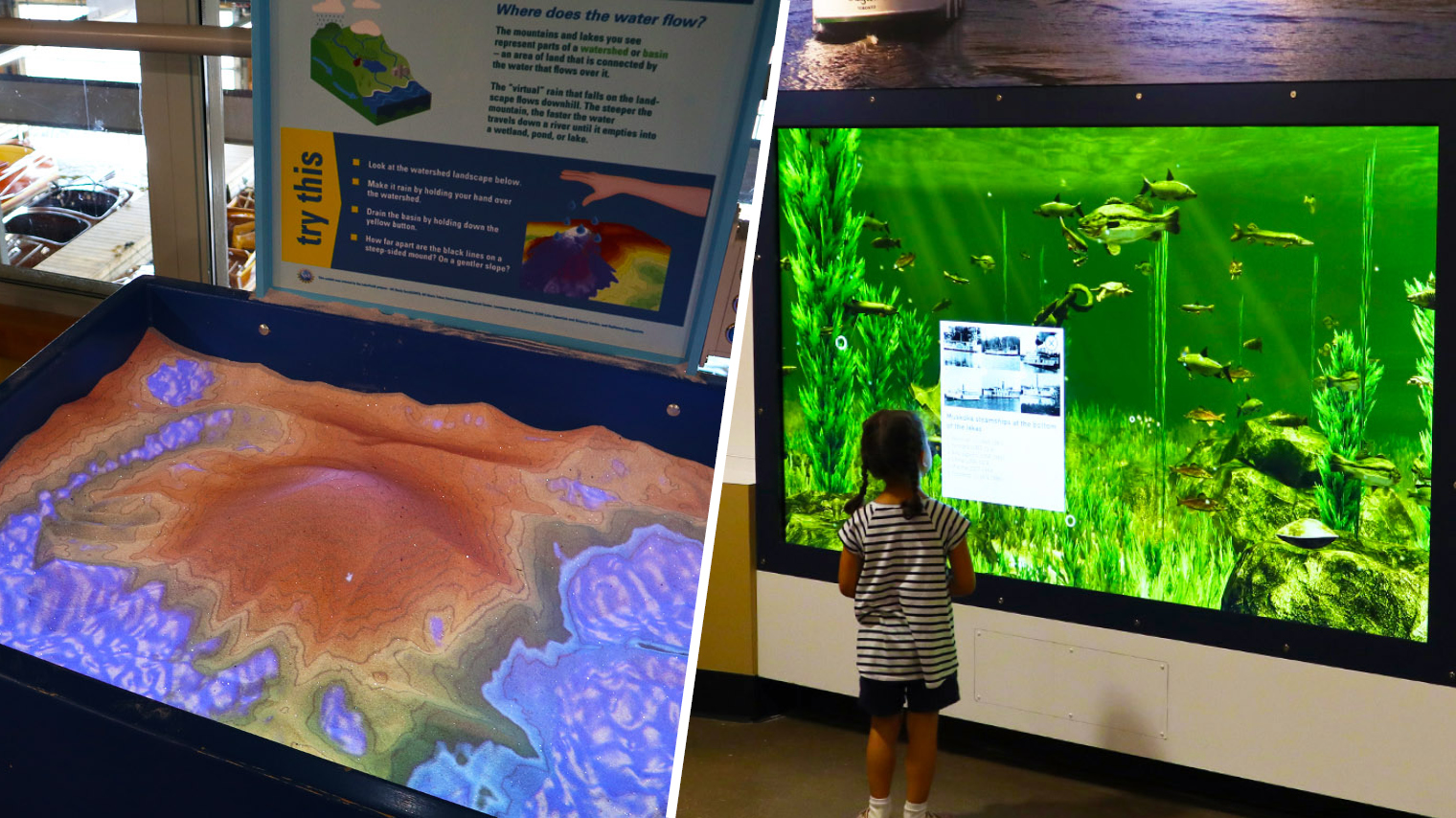 And their fish tank is actually a virtual reality tank, with a 96-inch screen where different aquatic lifeforms swim by for you to tap on and learn more about.
As if that wasn't cool enough, the Discovery Centre can also take pride in the fact that they are one of only two museums who have this technology in all of North America!
Murray Walker Grace and Speed Boathouse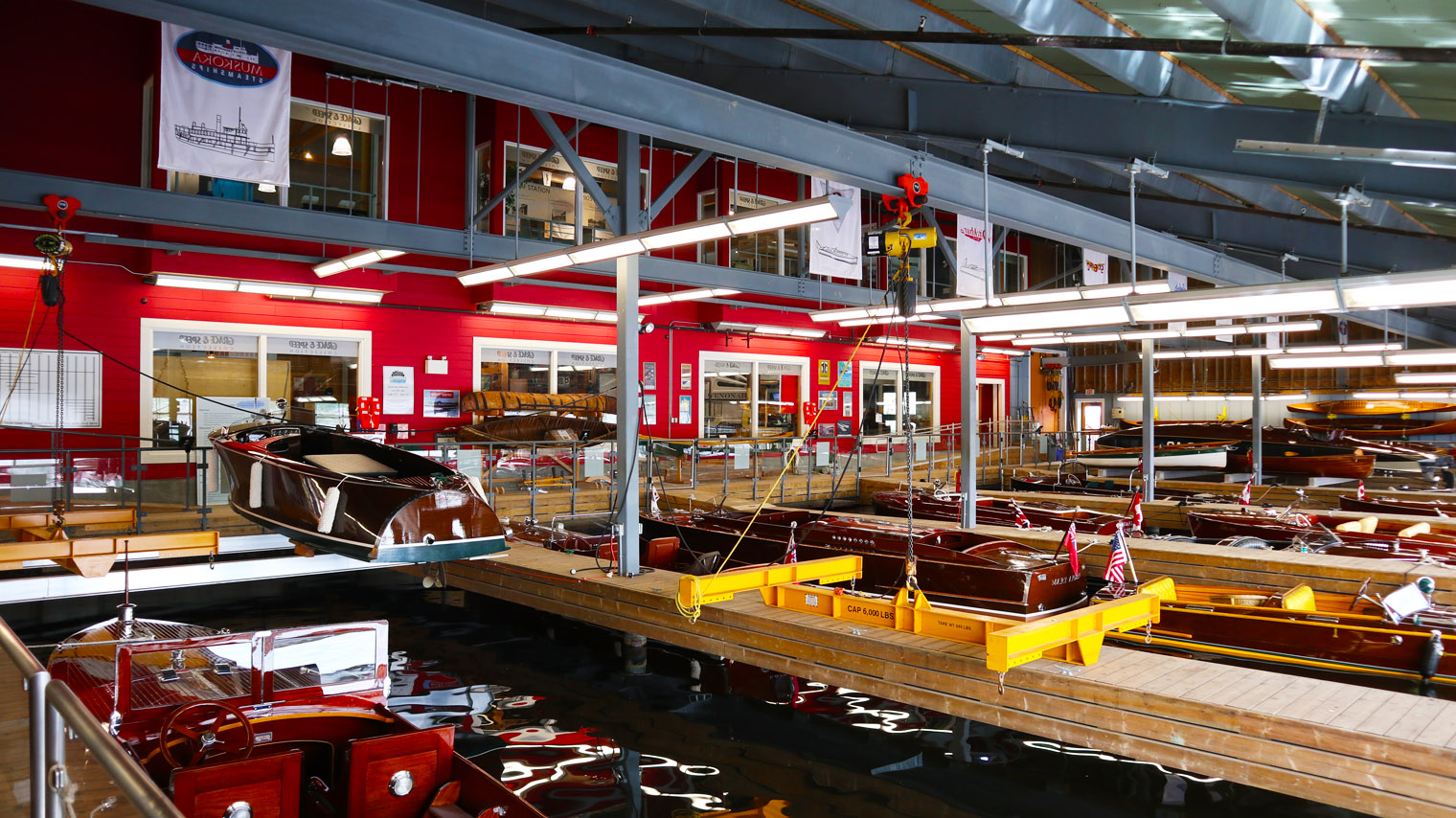 Unless you know it's there when you arrive, your first sight of their boathouse might be a delightful surprise.
Accessible via two different doors on their main floor, the Murray Walker Grace and Speed Boathouse (as it's formally known) is where you'll find North America's largest collection of in-water classic antique wooden boats. The boats themselves are privately owned but are on display thanks to their generous owners.
There are plenty more pearls of Muskoka heritage hidden all around for you to find, including as you head up to their second floor.
KidZone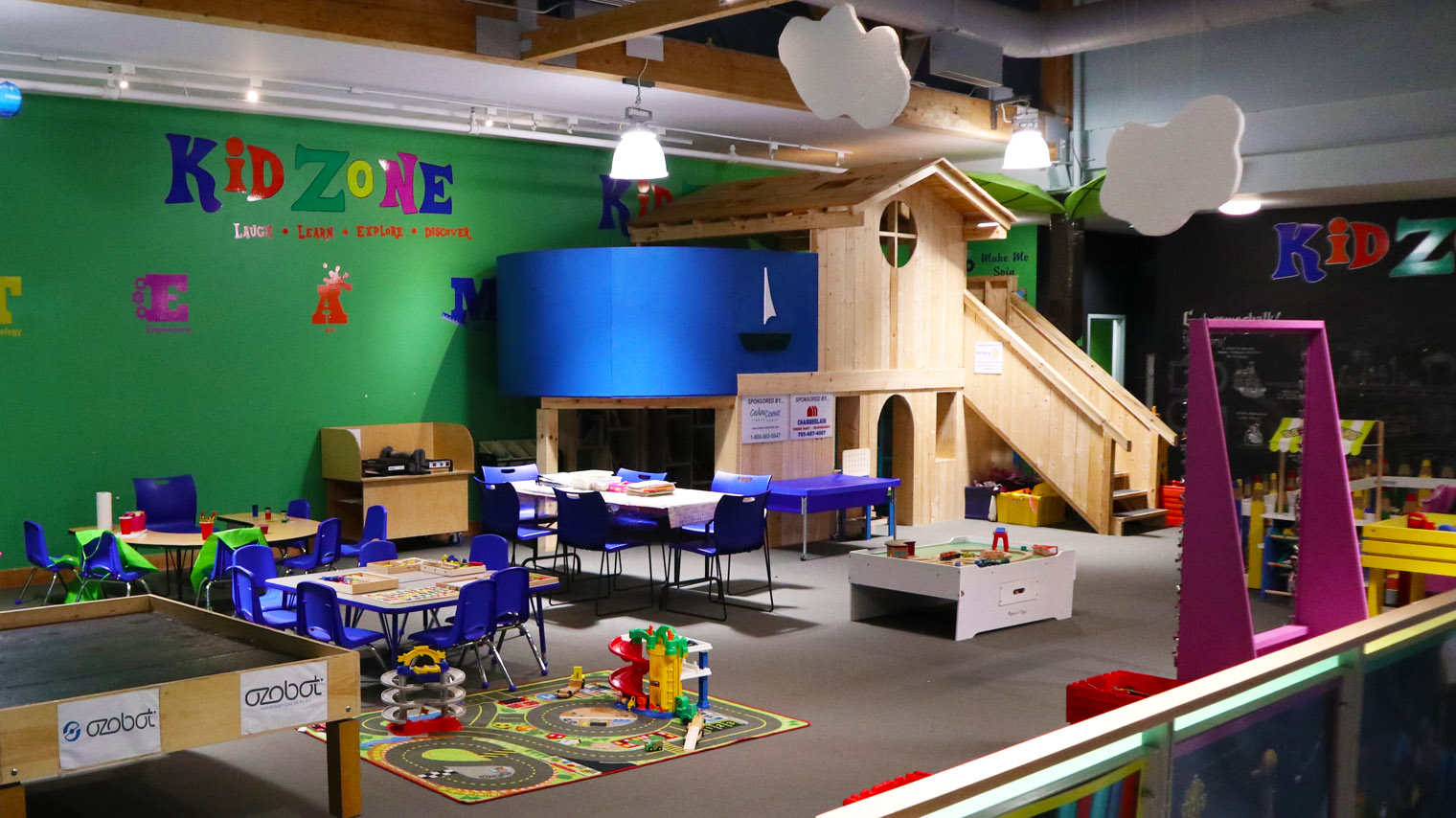 On the second floor is where you'll find the KidZone. Now, there are tons of things to see and do throughout the museum that will keep kids entertained, but they'll probably go away loving their KidZone most of all.
Housed on their second floor, their KidZone is a hub of fun, with its treehouse, Ozobots, and S.T.E.A.M. focus (science, technology, engineering, arts, and math). Best of all, they're offering crafts or some other crazy cool activity every day this summer!
Upcoming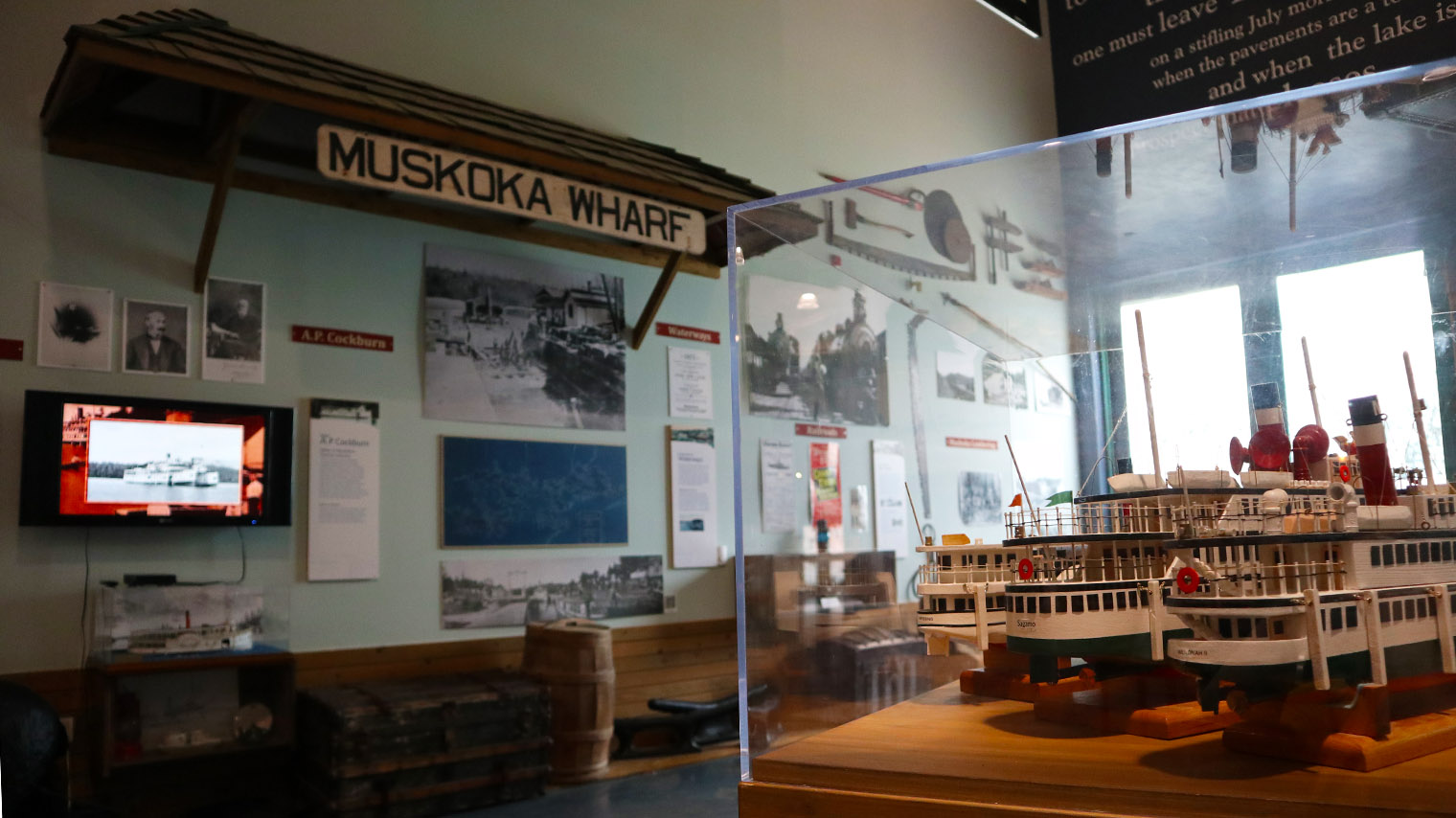 Always working on offering their community the best, the Discovery Centre has its eye on some exciting upcoming projects.
We were especially excited to learn a little more about the Stanley Meek Steam Era Exhibit. This multi-million dollar project will involve the construction of a new facility to house the Wanda III, as well as various refurbishment efforts for the ship itself, new programming such as eco-walking tours, and enhanced displays about the area's indigenous history.
Our Top Tips for Visiting
We collected some top tips for maximizing your visit:
When you buy your ticket, your admission is covered for the whole day, so plan to spend the day, pack a picnic that you can pop out and enjoy along the picturesque Muskoka Wharf, and then head back in for more adventure!
If you're coming with kids, staff recommends seeing the first floor before you make your way to the KidZone
Leave enough time for full exploration
Don't think that this is just a summer site, they're open year-round and make for a great visit in cold weather or warm
With the purchase of your admission for the Discovery Centre, you **also get a deal for admission on the steamships*** – and while a lot of people cruise and then stop in afterwards, their staff highly recommends stopping in at the Discovery Centre beforehand to really enhance your appreciation of the cruise
There are lots of things to love about this heritage gem, but we especially adore how it highlight's the industries and experiences that connect Muskoka's six-stunning districts.
Stay and Play
Make the most of your Muskoka experience and check out our top recommendations for places to stay and perfect getaway packages.