Discover Muskoka on Two Wheels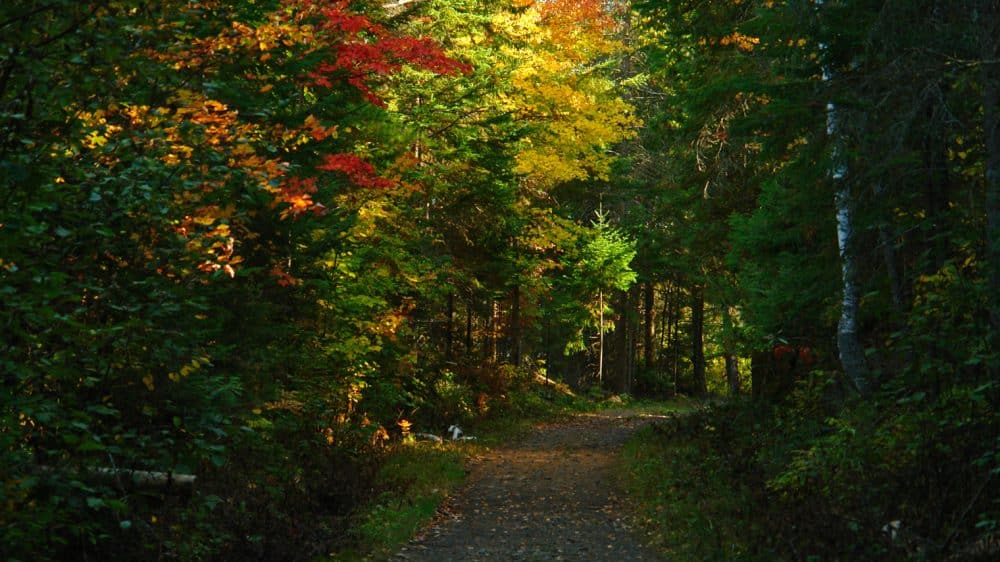 Did you know that Muskoka is a regular stop on the Ironman cycling circuits?
And there's a reason for that – Muskoka's stunning lakeside views, picturesque countryside, and fresh northern air makes it one of Ontario's top cycling destinations. Additionally, Muskoka's various towns are cyclist-friendly and cater to cyclists' various needs, including offering bike repair and equipment stores, route information, and the chance to refuel at local restaurants.
Read on to learn more about 5 cycling routes currently operating in Muskoka
Lake of Bays Cycling Route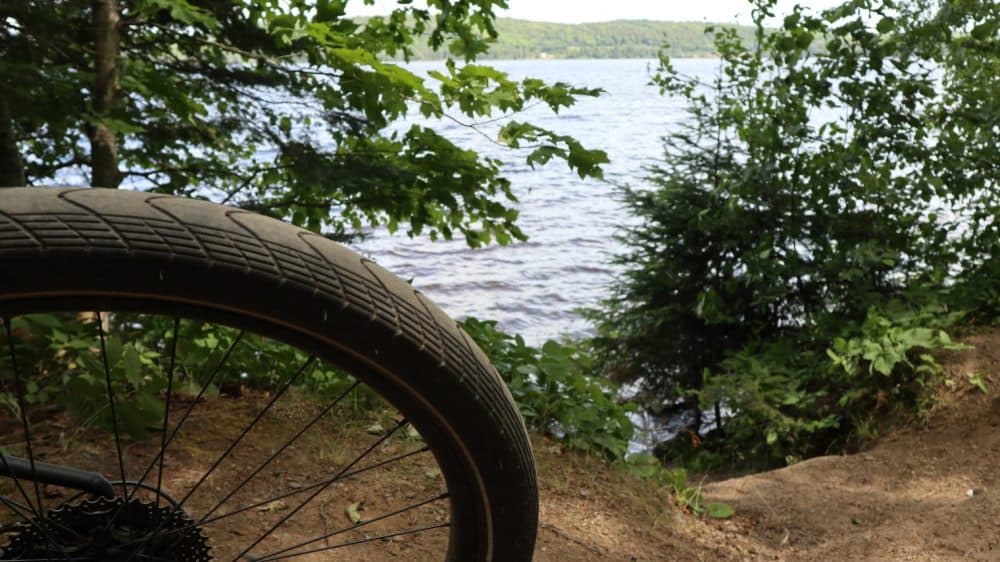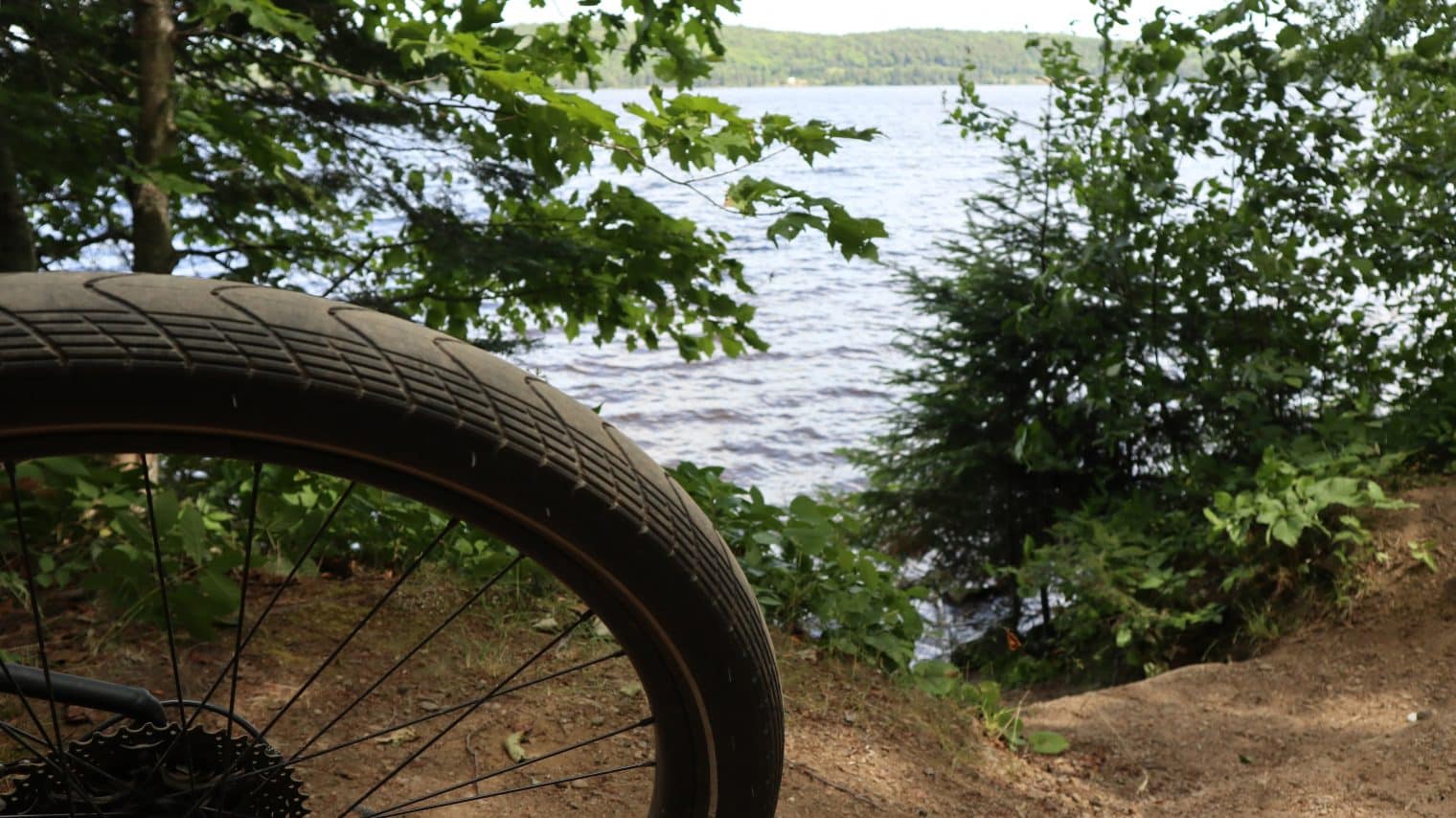 45°21'35.6″N 79°05'54.8″W, Limberlost Road, Huntsville
The stunning lakeside views this 70 km cycling route offers are going to make you want to get "Limberlost" in the woods! Rolling hills and smooth turns make for an enjoyable ride. Afterwards, stop in at the nearby 3 Guys and a Stove and treat yourself to one of their mouth-watering menu items.
Bracebridge Cycling Route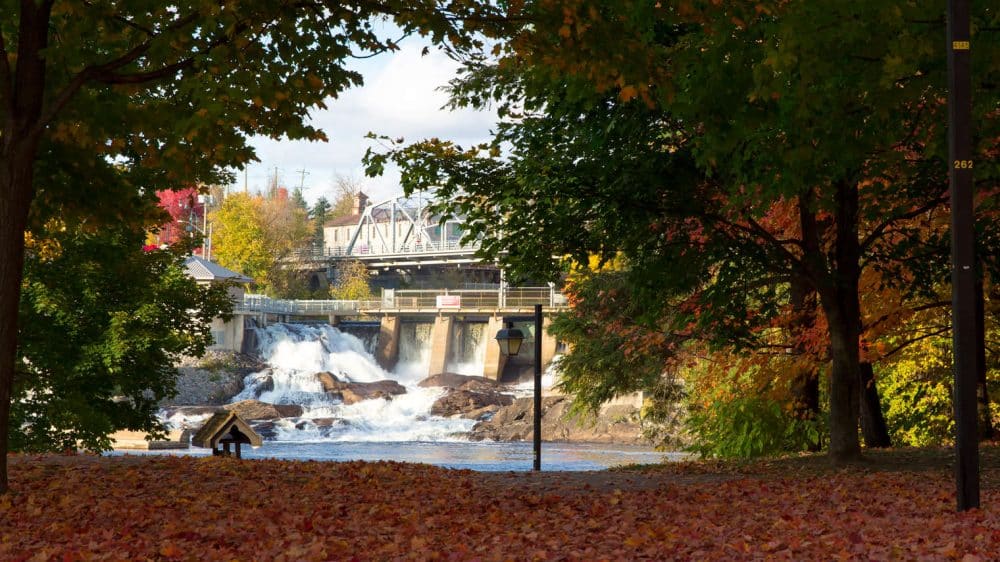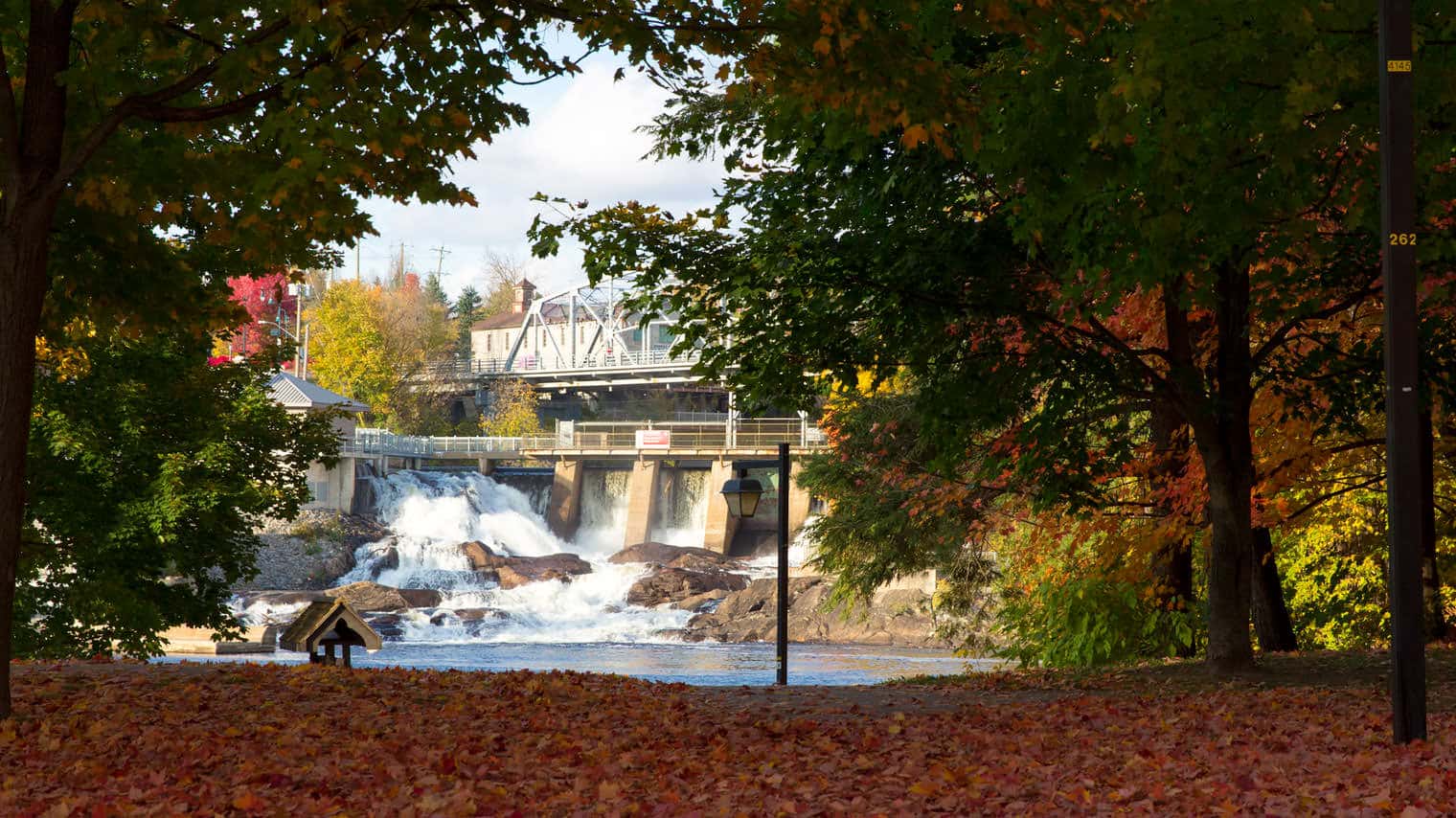 45°02'18.6″N 79°18'26.5″W, Ecclestone Drive, Bracebridge

This is the ultimate waterfall ride! The 27 km loop takes riders on a scenic journey around the Bracebridge area. It includes stops to view the Bracebridge Falls, High Falls, and South Falls, meaning you'll want to bring along your camera for the photo opportunities. Pack a lunch to enjoy while basking in the falls' beauty, or stop in at one of Bracebridge's many local eateries.
Gravenhurst Cycling Route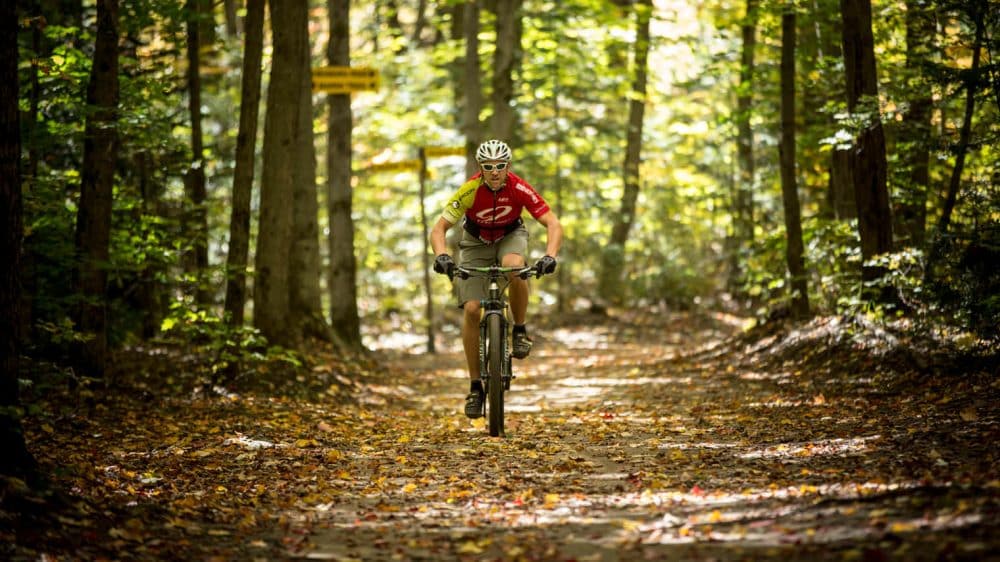 44°55'20.0″N 79°24'22.3″W, North Loon Lake Road, Gravenhurst

Looking to test your endurance? Check out the Loon Lake route, a 100-km loop with a 156 m elevation climb around the Gravenhurst area. The route begins near the picturesque Muskoka Wharf and takes riders on a spectacular journey alongside numerous lakes and natural areas, including through the serene Torrance Barrens Dark Sky Preserve.
Muskoka Lakes Cycling Route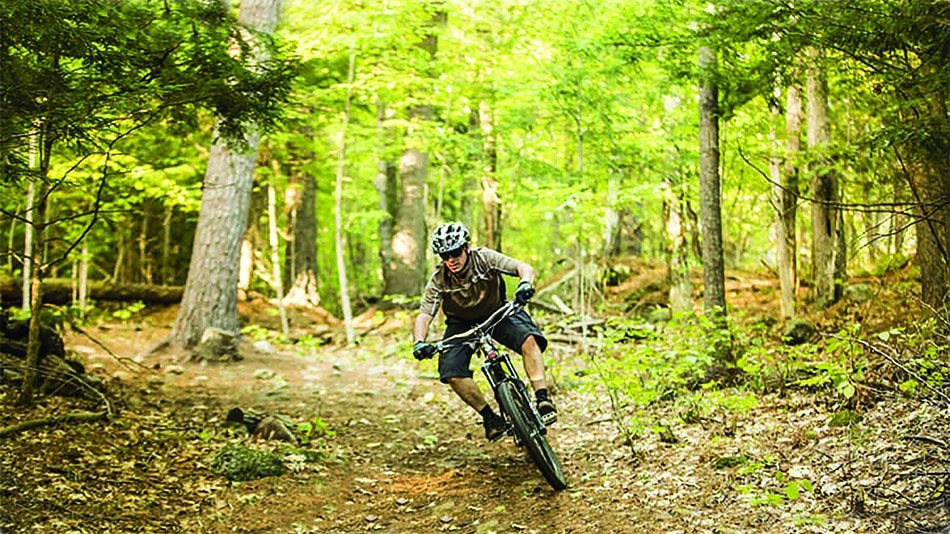 45°01'56.2″N 79°38'34.7″W, Moon River Road, Bala

This strenuous 93 km route loops around the charming Lake Rousseau. It's a great choice if you're looking to get some elevation training in, as it has a total ascent of 422 metres. Fortunately, if you're in need of a quick sugar fix after all that hill-climbing, this route begins and ends in Bala, the Cranberry Capital of Ontario, which offers several sweet-treat options. Who says a Cranberry Splash Wine Spritzer from the Muskoka Lakes Farm and Winery isn't the perfect post-workout bevvy?
Georgian Bay Cycling Route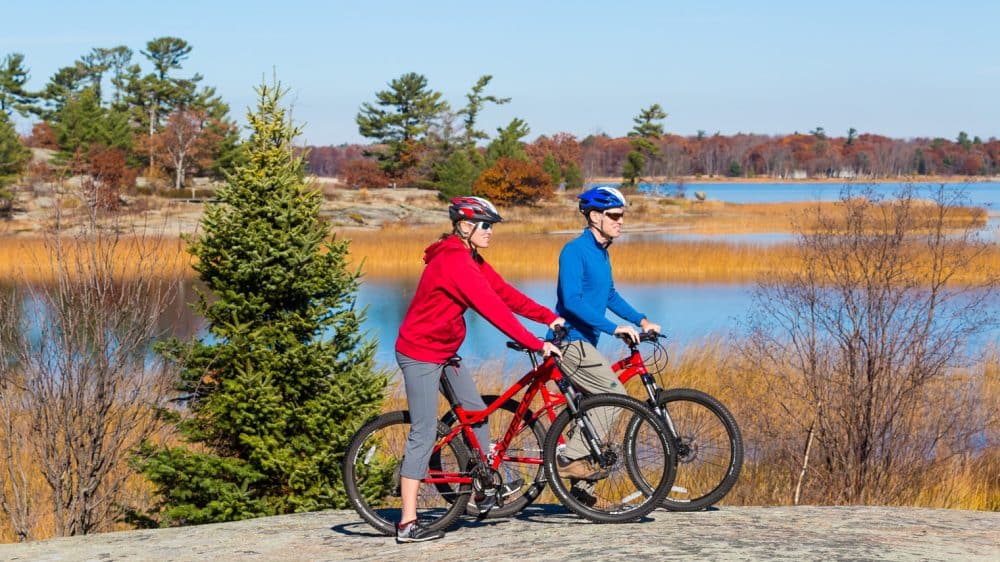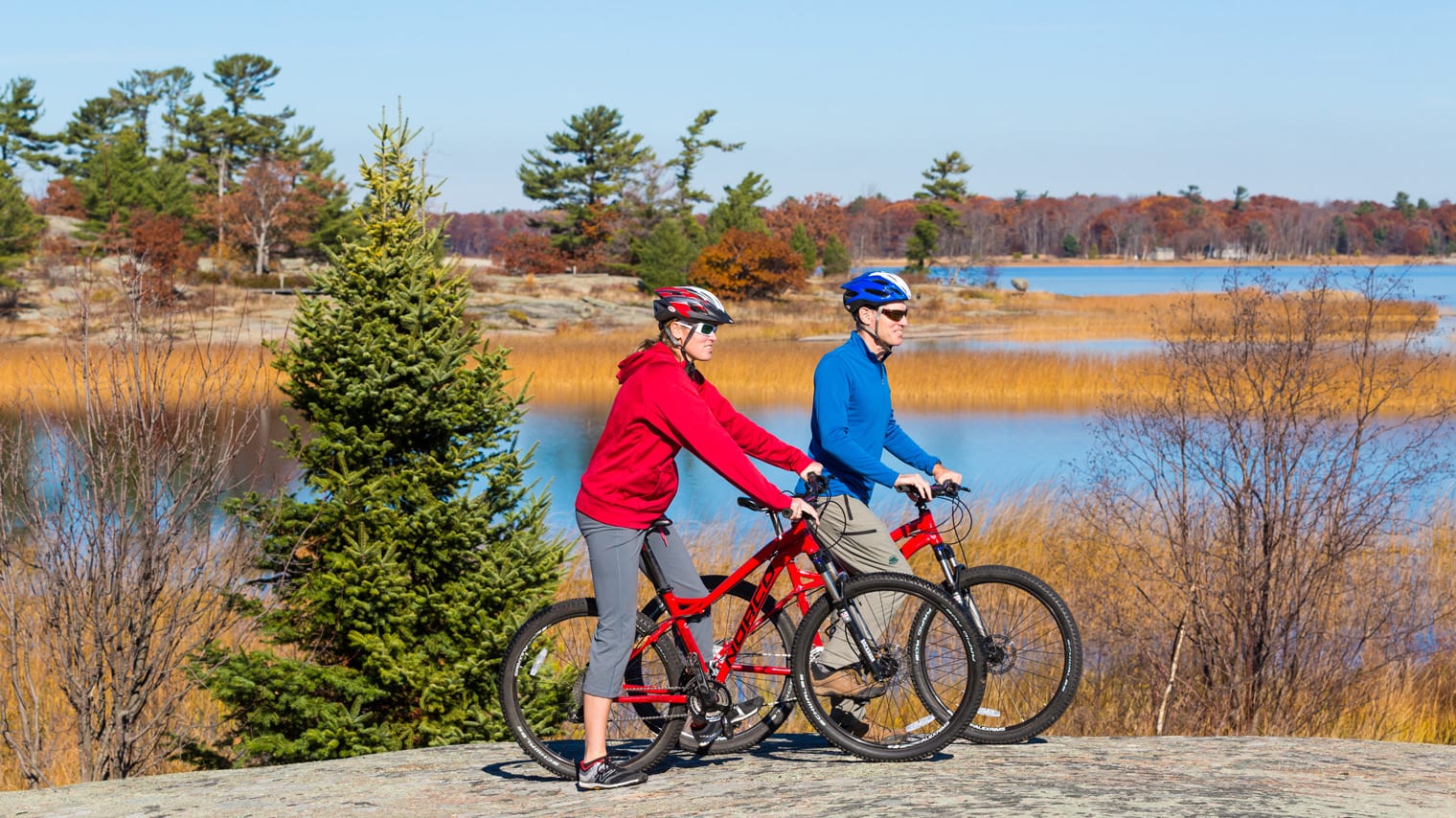 44°48'22.9″N 79°44'04.4″W, Lone Pine Rd., Port Severn

Beginning in Port Severn, this 65 km route takes riders west towards Honey Harbour and along the rocky shoreline of Georgian Bay. It stops at the water's edge on Picnic Island which, as the name suggests, is the perfect place to rest and enjoy a packed lunch while taking in Georgian Bay's natural beauty. Afterwards, ride east to marvel at the Big Chute Marine Railway, a great engineering feat that is the only one of its kind in North America.
Stay and Play
Make the most of your Muskoka experience and check out our top recommendations for places to stay and perfect getaway packages.