A Can't Miss Fall Event, the 2017 Cranberry Harvest Runs from September 23 – October 31
September 21, 2017 – MUSKOKA ON
Every fall, thousands of visitors flock to Muskoka Lakes Farm & Winery to celebrate the annual cranberry harvest.
For many, the trip has become an annual tradition to pick up cranberries for a fresh, farm to table, Thanksgiving cranberry sauce (like this one using Muskoka Lakes Farm & Winery Wine). Of course, we're crazy for our cranberries in Muskoka so the recipes don't start and end with just cranberry sauce. From Chocolate Chip Cranberry Cookies to Cranberry Pecan Pie, Muskoka Lakes Farm & Winery has pulled together their favourite cranberry recipes for you to try at home.
Aside from having the freshest cranberries for sale, the harvest has become one of Muskoka's can't miss fall events. From hiking and guided tours to wine tasting, wagon rides and even helicopter tours, the harvest has a ton of fun-filled activities – check out their top ten.
One of the most popular harvest activities (and likely the most popular fall photo in Muskoka) is the Cranberry Plunge. Visitors to the marsh throw on hip waders and stroll into the marsh to get that ever-popular photo in the berries. This photo is one that will last a lifetime, whether you want to make it your Facebook profile photo or take a new family photo to hang on the mantle. For more information on fees and schedule for the Cranberry Plunge, visit their website. Tip: purchase the All Farm Access Pass for the most fun at the best rate. The pass includes the wagon tour, wine tasting, cranberry plunge and trail pass for $25 per person + tax.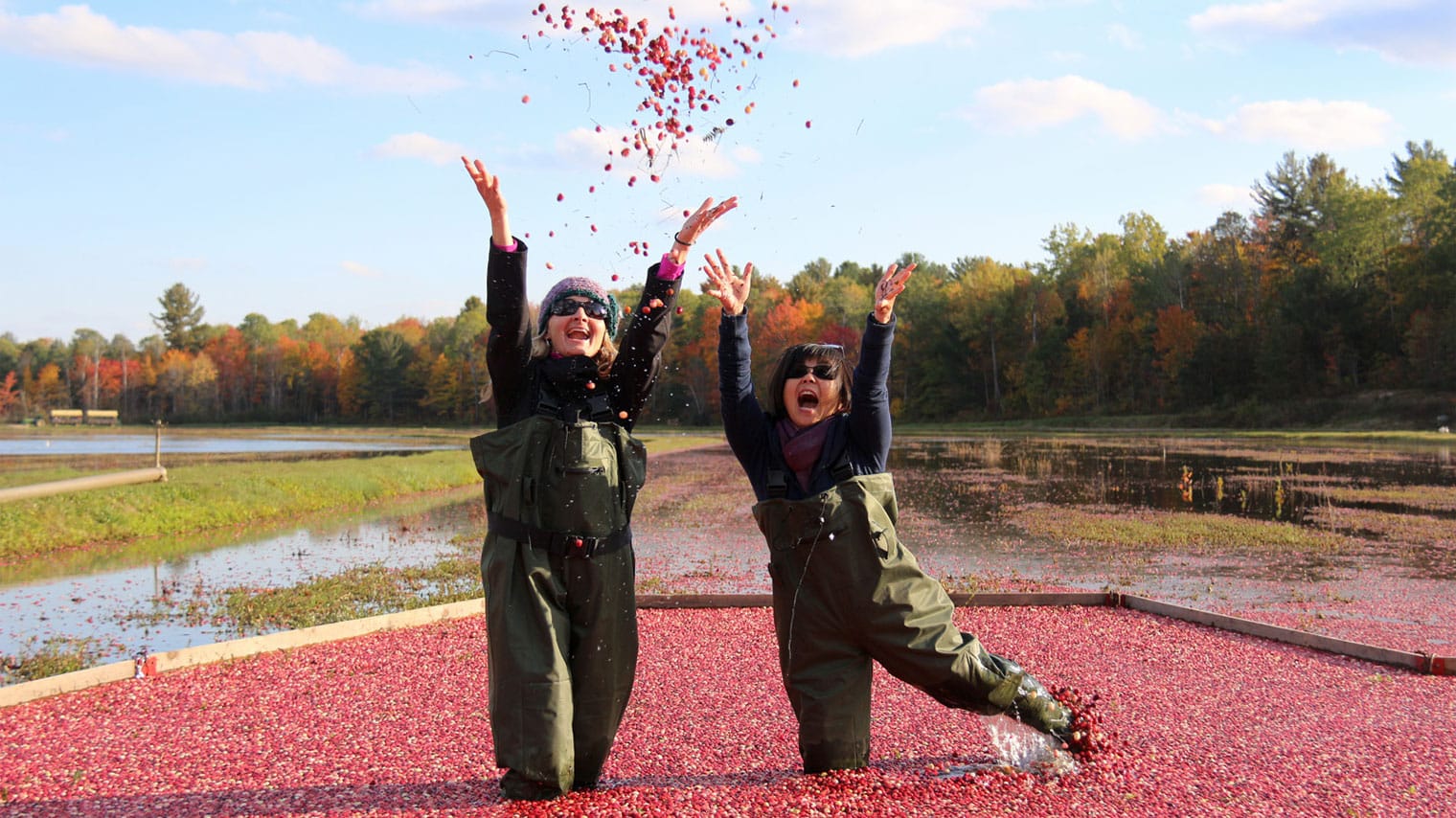 The Cranberry Plunge is awesome, but the fun doesn't stop there. The Bog to Bottle Discovery Tour is a Canadian Signature Experience, Ontario Signature Experience, and one of Muskoka's must-do experiences. This one-of-a-kind guided tour takes you on an exciting journey from the harvesting of our beloved cranberry, finishing with a tutoured wine tasting from their on-site winery.
If you want to fast forward to the wine tasting, you can do that as well. Established in 2000, Muskoka Lakes Winery crafts local fruit wines made in small batches, by hand, using traditional methods. It is almost a guarantee that after you've tried their line-up, you will want to purchase a few bottles to take home and share with friends.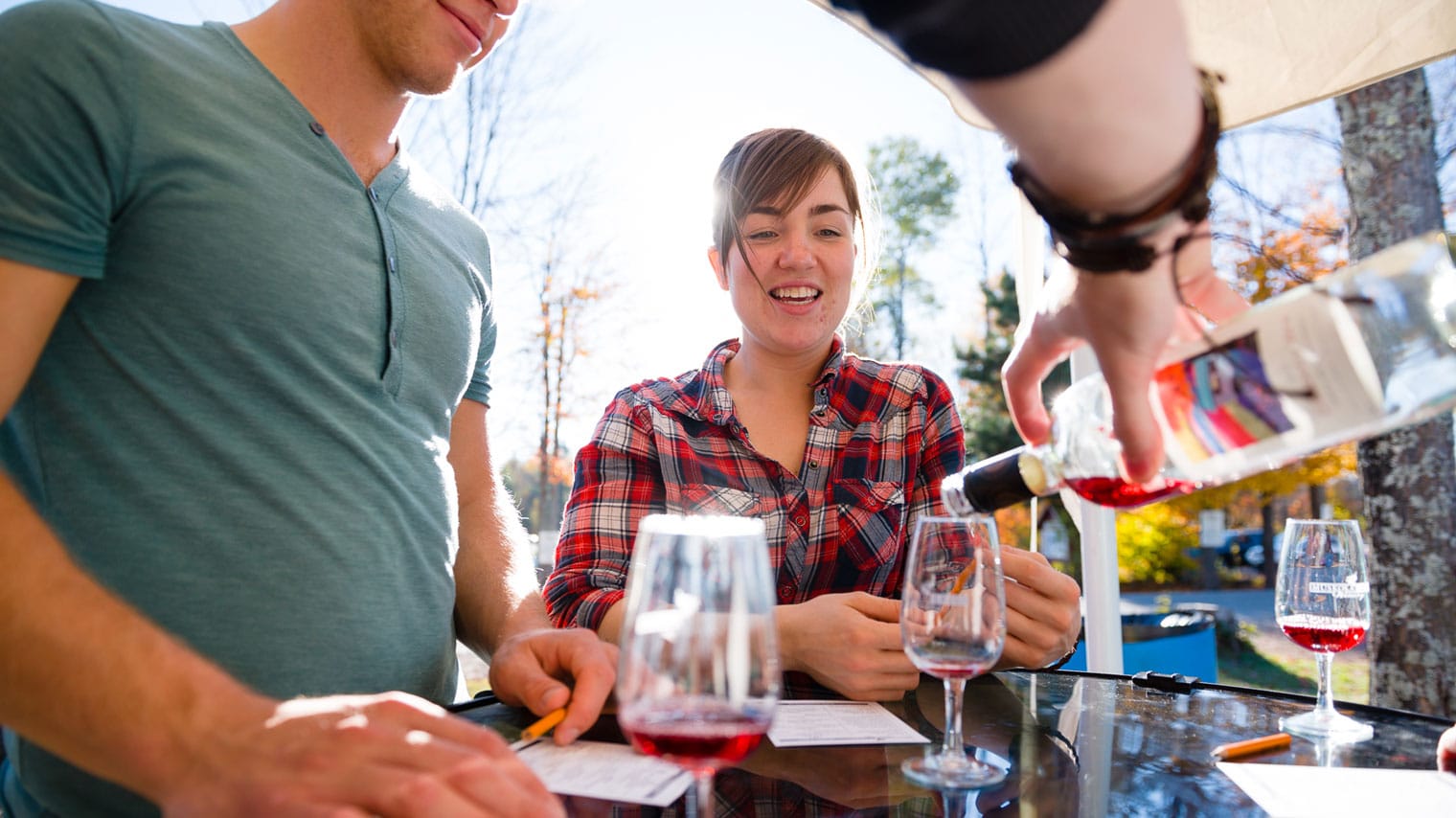 The Cranberry Harvest is really a one-of-a-kind experience in Canada. There are only a few cranberry marshes in Canada, and even fewer that offer you a backstage pass during harvest time. We've pulled together a few tips to help you with your trip:
Cranberry Harvest runs now until October 31, 2017. Hours of operation are 9am – 6pm daily
Saturday, October 14 (Bala Cranberry Festival weekend) is the farm's busiest time. For the best possible experience, we recommend choosing a different day for your visit
Make the most out of your day with the All Access Farm Pass, only $25 per person + tax
If you want to eat while you are visiting, Cranberry Café will be open September 30 – October 15. You can also bring your own lunch as there are picnic facilities on-site
Looking for a place to stay? Check out our Fall Getaway packages, or use our online booking engine to find rates and availability
For more information on the Cranberry Harvest, visit their website