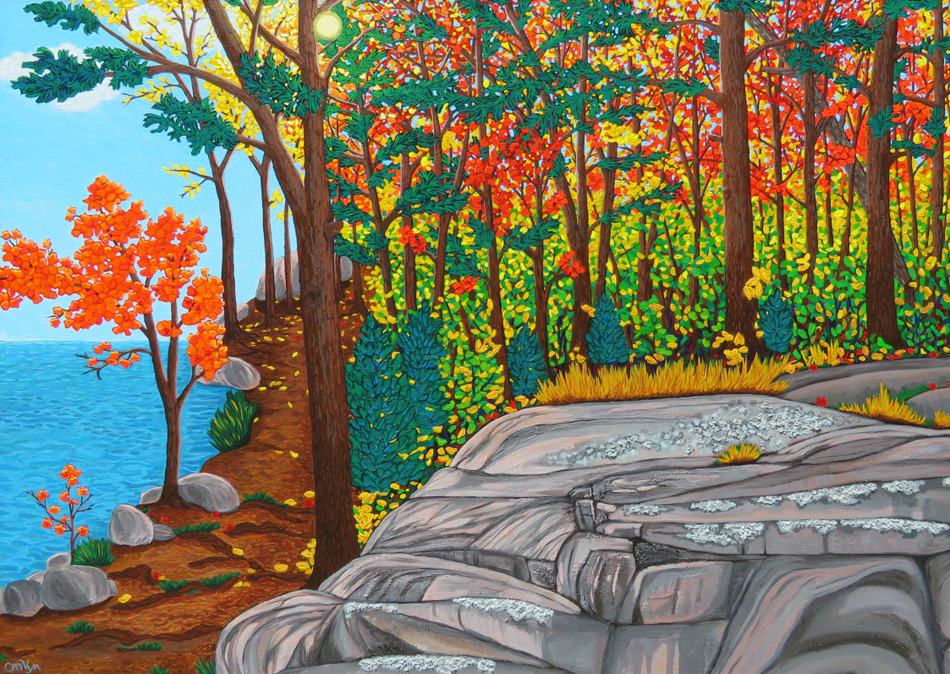 Michelle has explored a great number of artistic mediums since she knew at the age 5 that she was an artist. After taking leave of other full-time pursuits, she began her professional art career in 2015 in St. Thomas, Ontario. In that same year, she won a best in show award and then moved to Bracebridge, where she continues to train herself through practice, and by researching new techniques and materials. After exploring many acrylic mediums in depth, what emerged was a special love for texture, in addition to colour. Time and care are taken in the shaping of delicate strands of animal fur, the roughness of tree bark and the coarseness of granite rock, with depth and layers of colour throughout.
The painting technique she developed independently over the past couple of years has involved learning how to build texture on canvas or wood with acrylic mediums, by sculpting over the surface (while still wet) to achieve the appearance of fur, feathers, lichen, tree bark, coarse granite rock, and other textures, which she paints over when dry.
Michelle often paints endangered and keystone species to increase awareness of our obligation to protect them and their habitats, and to increase respect for diversity. She has painted several sea turtles, which are endangered species, and there will be more to illustrate a special book she has written to raise awareness through art. The wolf is a keystone species (in some places endangered), elusive and rarely seen by humans, and is blamed for killing livestock, while its purpose is misunderstood. Another keystone species is the black bear, which runs the risk of habituating to areas where they come face to face with humans. Each of these animals is affected by human interactions and the threats to their lives and habitats. Michelle's landscape paintings depict the beauty and ruggedness of the often harsh Canadian landscape.