Easy-riding and close to nature, it doesn't get any better than this!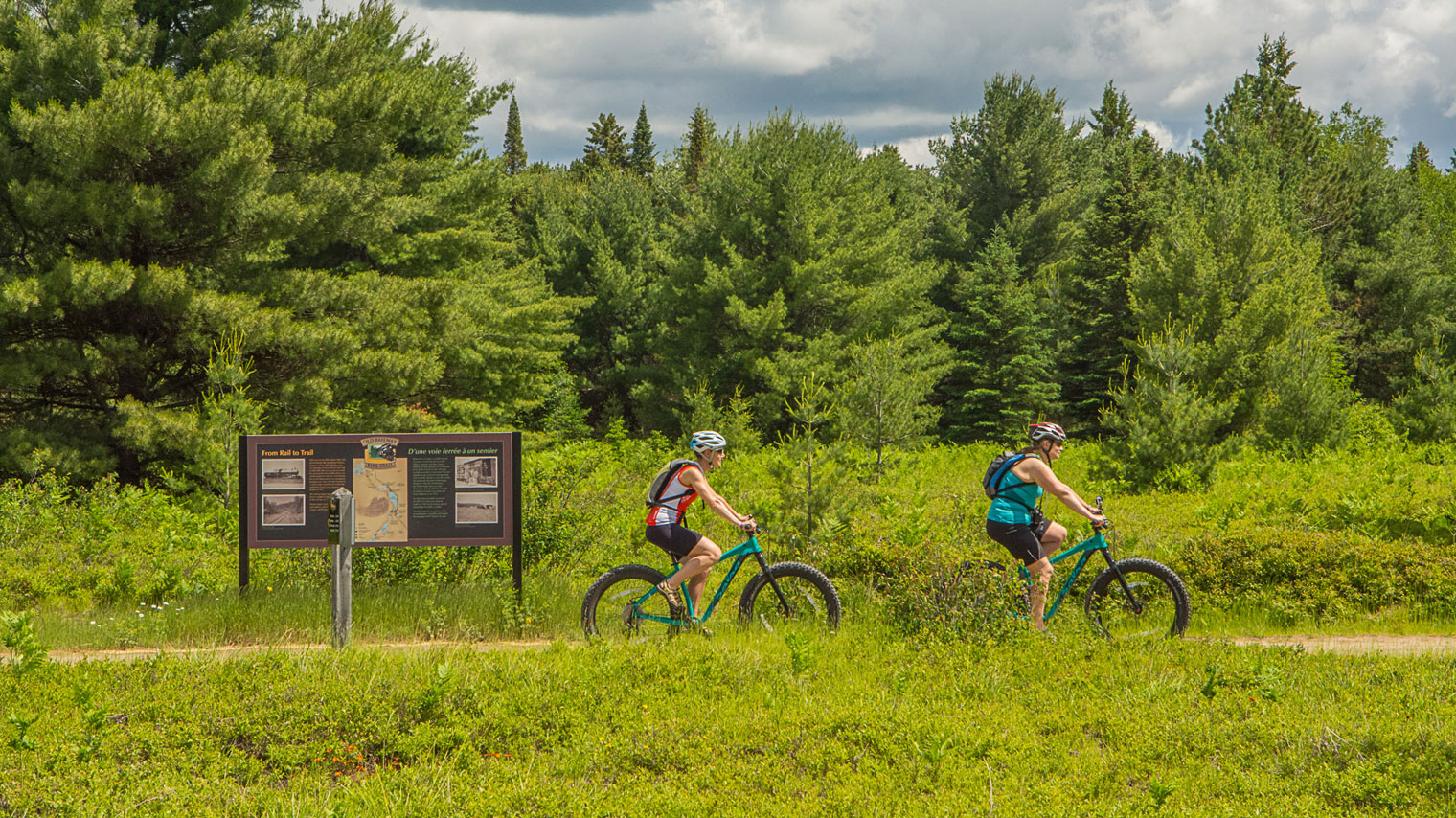 The Old Railway Bike Trail is an exceptional biking experience suitable for any skill level. There are no technical areas to maneuver on this track, just one of the best leisurely bike rides through the pristine Algonquin Park wilderness. Algonquin Outfitters has everything to outfit you for a day on the trail, from bike rentals to maps to post-biking ice cream.
Old Railway Bike Trail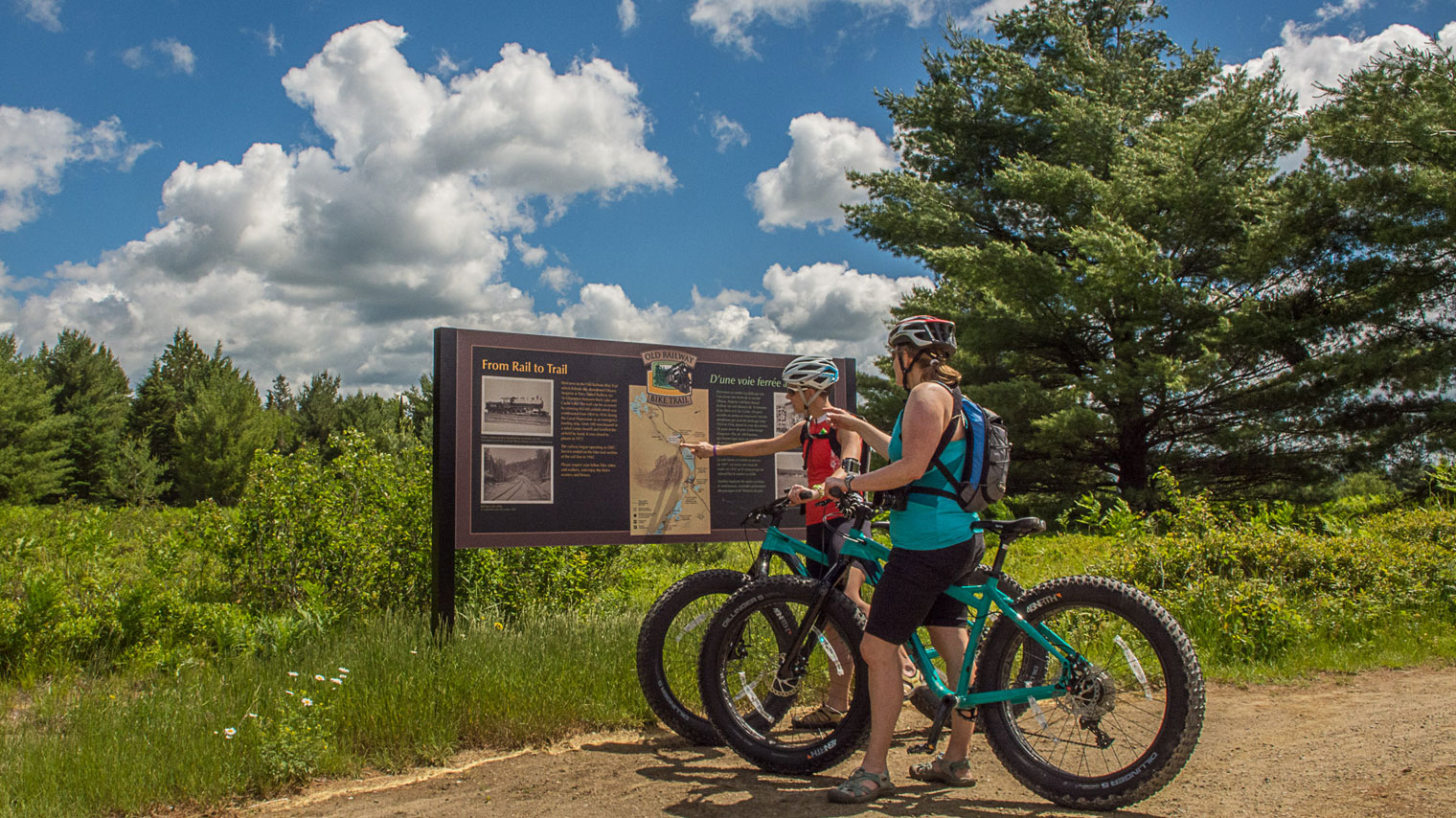 This biking adventure is truly scenic, Algonquin Park at its finest. The ride is challenging, but not too challenging. If you have ridden a bike, you will be able to master these trails. Algonquin Outfitters' employees at the Lake of Two Rivers Store are excited and eager to help plan your perfect outing. The bike trail spans from Cache Lake in the East to Rock Lake in the West, a total of 16 km one-way. Although it is not a difficult trail, you will still feel the burn!
Before you hit the trails, talk to an employee for the best tips and tricks. They can even suggest where the best places are to stop off along the way for a well deserved break or a picnic lunch.
Mountain bikes, fat bikes and tandem bikes are available to rent from the Lake of Two Rivers Store. If you are new to the fat bike phenomenon, they are a super cool invention created to help pedal on natural terrain. They work wondrously when travelling over sand, loose gravel, mud and snow and are surprisingly light for their super thick wheels. They are a great option to try out on this bike trail.
Getting the hang of riding tandem can be a challenge at first, but it doesn't take long to master the art! Staff will teach you how to ride before your departure. Algonquin Outfitters has a challenge for anyone who rents their tandem bike to ride all the way to Rock Lake and back, about 25 km in distance. Think you can do it?
BYOB is not what you're thinking, bring your own bike if you so fancy! If you want to bring your kiddos along for the ride they have bikes for them too. If they're too small to ride on their own, they can fit you up with a Chariot carrier. Talk about service!
Reward yourself with burgers and ice cream from the Lake of Two Rivers Cafe & Grill upon your return. They serve Kawartha Dairy ice cream, need we say more?
Ragged Fall Paddling Trip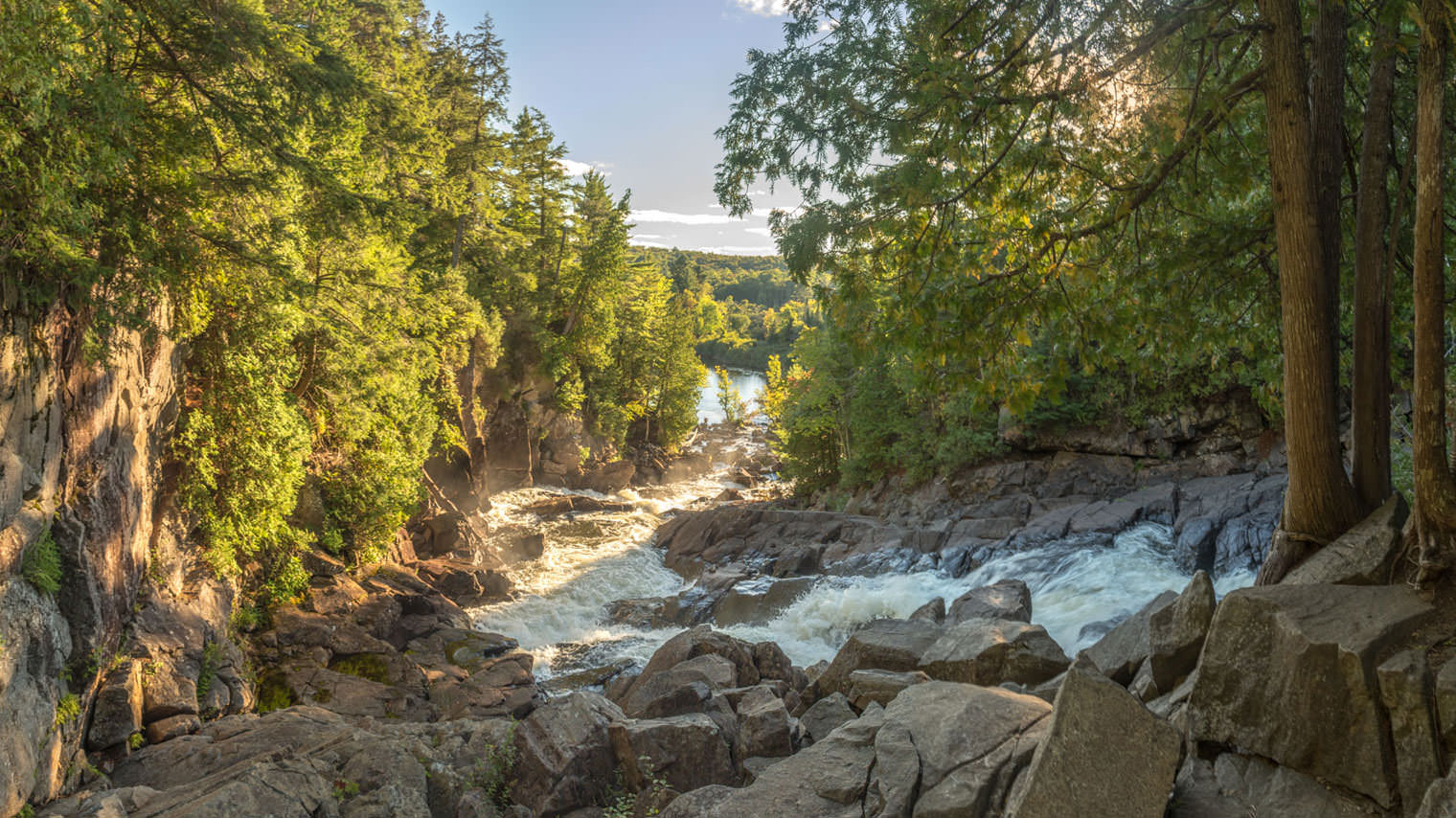 One of the most magnificent waterfalls in the area and listed as one of the top 10 waterfalls in Ontario, you must see it in person to take in its full beauty. The surrounding area was frequented by Tom Thomson as well as the group of seven, with the waterfalls being captured on canvas by renowned group of seven artist A.J. Casson.
This paddling adventure is enjoyable for all skill levels. Departing right from the dock at the Algonquin Outfitters Oxtongue Lake store, this scenic 3 – 4 hour round trip paddle through the lake and river leads to the base of Ragged Falls. You will want to hike to the top of the falls once you've reached your destination to breathe in the fresh air and take in the stunning view from the top. For the ultimate experience, pack a picnic lunch to enjoy by the cascading water.
You can rent 1 person and 2 person kayaks, as well as 2 and 3 person canoes or if you want to travel like the voyagers, take their 10 person North Canoe, just call ahead to reserve! All rentals also come with a map, paddles and PDF's for everyone on board.
Paddle on! Paddle forever!
Algonquin Outfitters, providing fun in Algonquin since 1961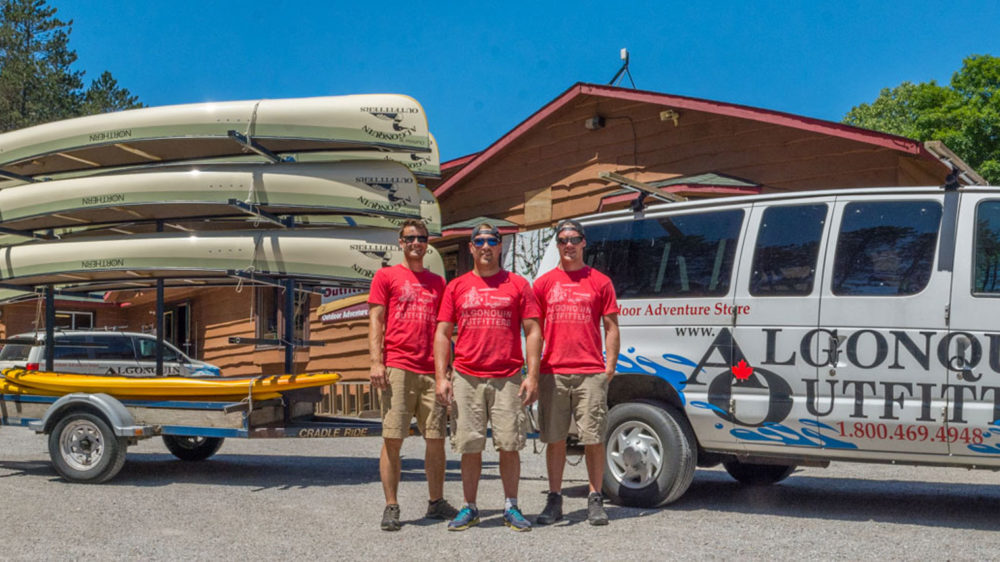 Algonquin Outfitters is one of the major outfitters in the area, helping campers and adventurers prepare for the great outdoors for decades.
Initially an Algonquin Park wilderness canoe trip company, they have expanded their services and sales to include include bikes, canoes, kayaks, wakeboards, waterskis, snowboards, alpine / nordic skis and snowshoes. Basically any wilderness adventure in and around Muskoka, they are there!
They care about the communities they operate it (just look at their 50+ community involvement initiatives in the last 3 years), and the natural environment they work in,  educating children and adults any chance they can on how to preserve the land and water for generations to come.
Paddle Art Contest Celebrates 125 Years of Ontario Parks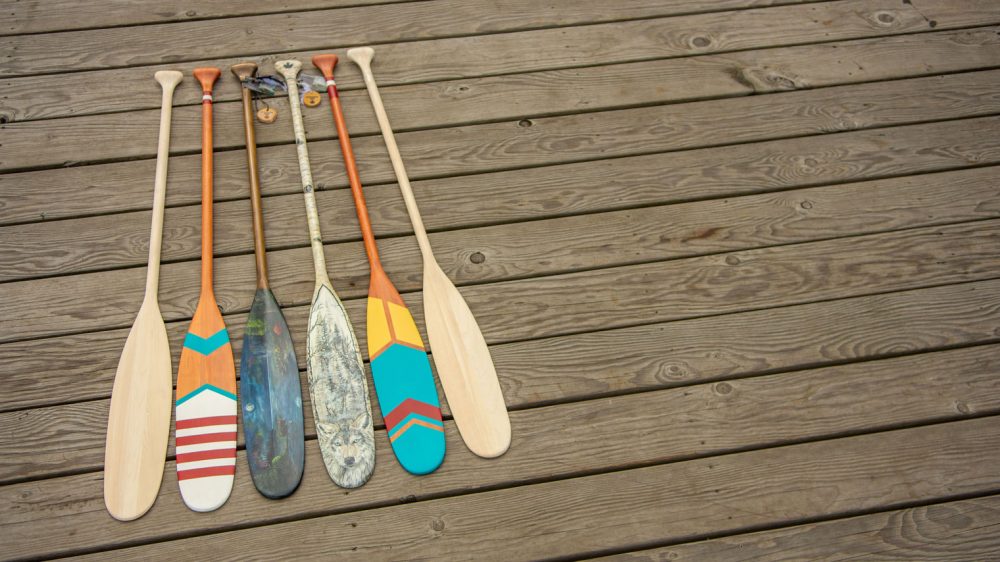 Algonquin Outfitters is hosting a paddle art contest to celebrate 125 years of Ontario Parks. If you have never seen paddle art, check out some of the top auctioned paddles from last year. Wouldn't you love to hang one of these beautiful pieces on your wall?
The contest is open to anyone with a creative idea for a paddle, whether they are a professional or amateur artist. Blank paddles can be picked up at select store locations, or you can use/make your own! A $30 registration fee must also be paid in store.
The deadline for contest entries is August 31, 2019, and the paddle art will be auctioned off between September 15 – 29, 2019. All proceeds will go towards OLAC and the Town of Huntsville Public Art Acquisition Fund.
Click here to learn more about the contest and to register your paddle