Hot bevvies & hikes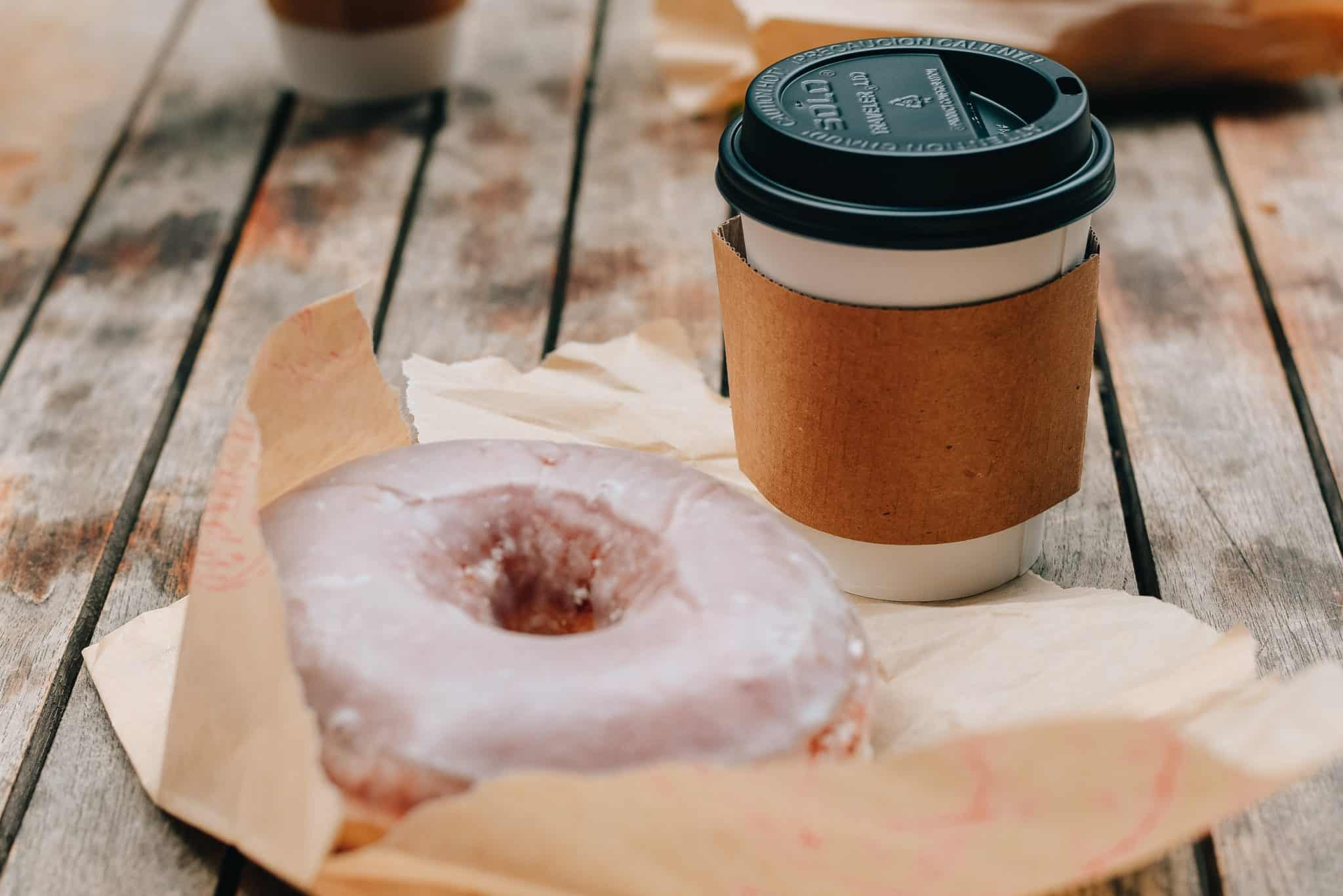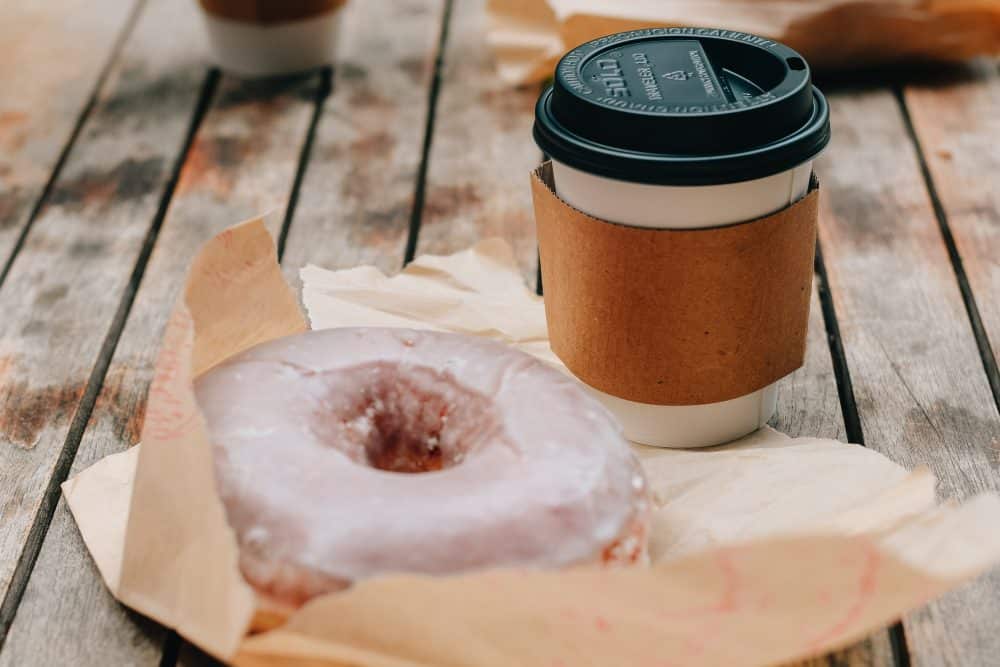 Quick, what pairs best with cold-weather hikes? If you said a hot cup of tea, coffee, or chocolate, you're right! Although we do also recommend toques, gloves, and a good pair of winter hiking boots, there's nothing that compares to that first-sip feeling of a hot bevvie on a cold day. Check out these perfect hike-and-a-hot-drink combinations for the ultimate weekend day trip or after-work adventure.
Read on to learn more about 6 hot drinks and hikes in Muskoka.
Baysville – Humble Pie & Baysville Historic Walking Trail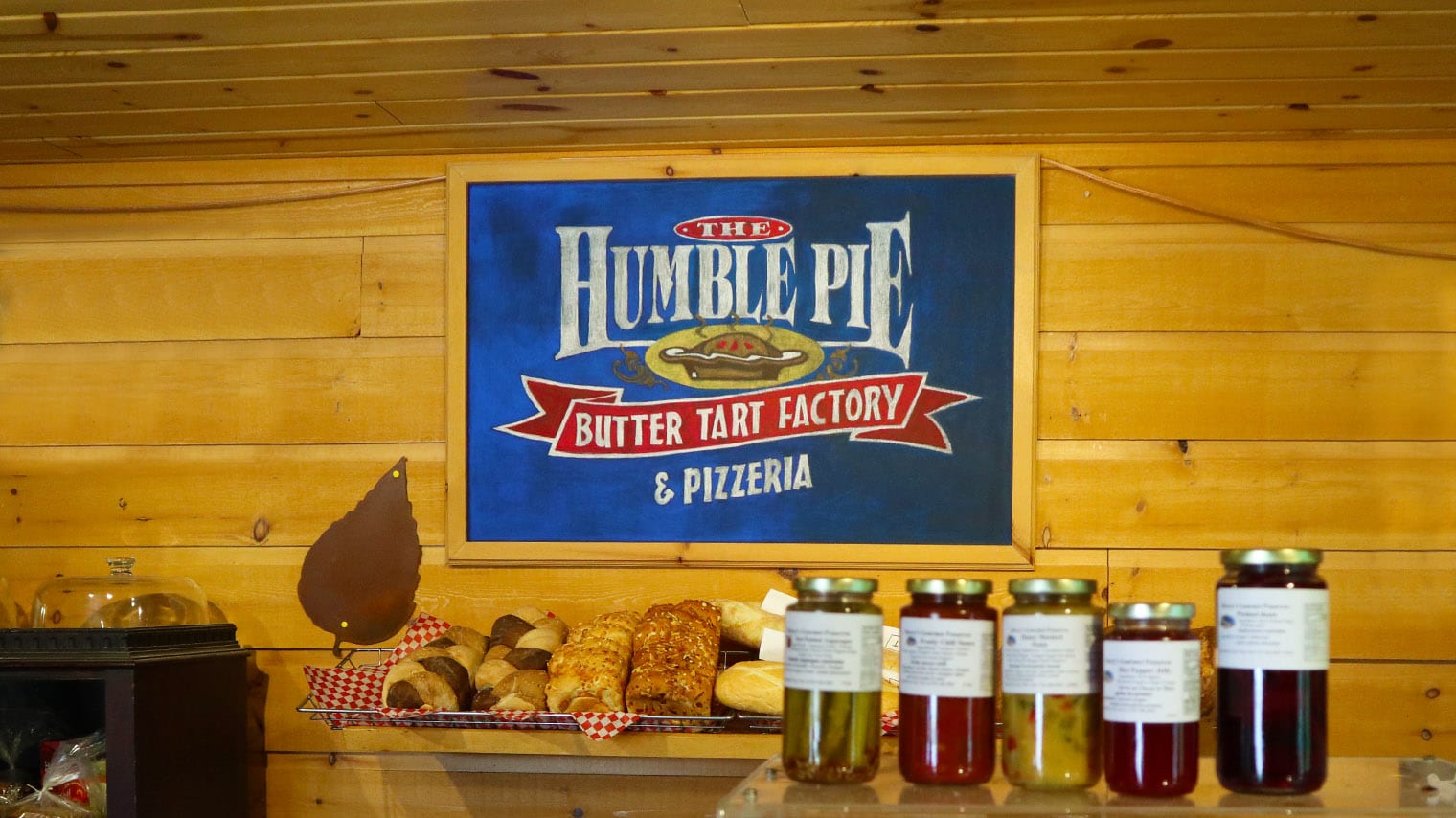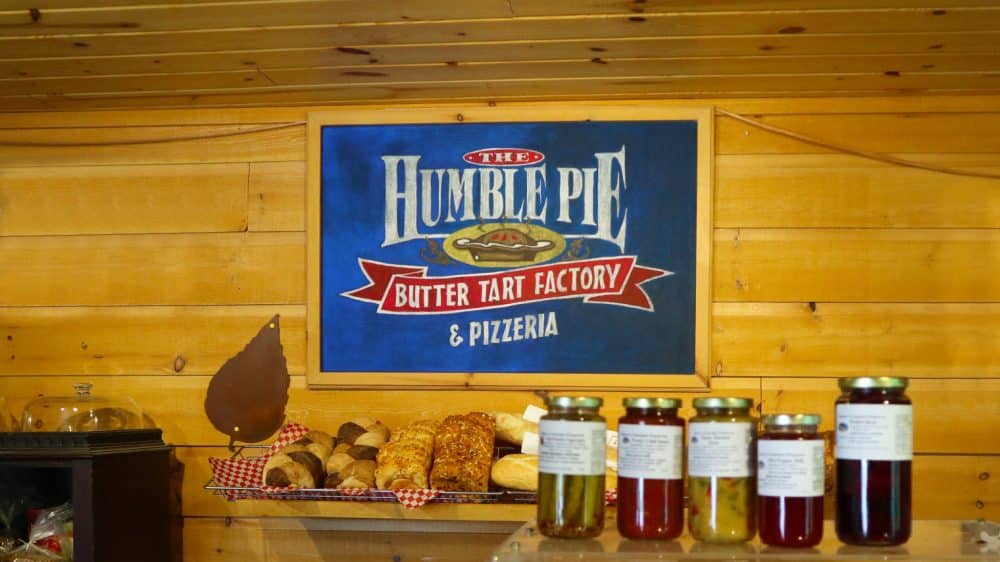 University St., Baysville
Stop by the friendly Humble Pie Butter Tart Factory & Pizzeria in Baysville and pick up a hot cup of freshly brewed coffee to warm up. Don't forget to choose one of their delectable pastries to save for a sweet, post-hike treat! The bakery is well-known for their award-winning butter tarts, available in plain, raisin, coconut, and raspberry-coconut.
Next, check out the Baysville Historic Walking Trail, a moderate, 2.5 km tour that takes visitors on a lovely walk around the quaint village. It passes by numerous historic homes, churches, and local buildings and takes approximately 1.5 hours to complete. Tour highlights include the Baysville Union Cemetery, the Bethune United Church, the General Store, the Dam, and the remainders of the landmark Bayville House. There are several historical plaques along the route.
Access the trail from University Street, just off District Rd 117 (west from Dorset or east from Hwy 11). Or, follow Brunel Rd south if traveling from Hunstville.
Bala – Muskoka Lakes Farm & Winery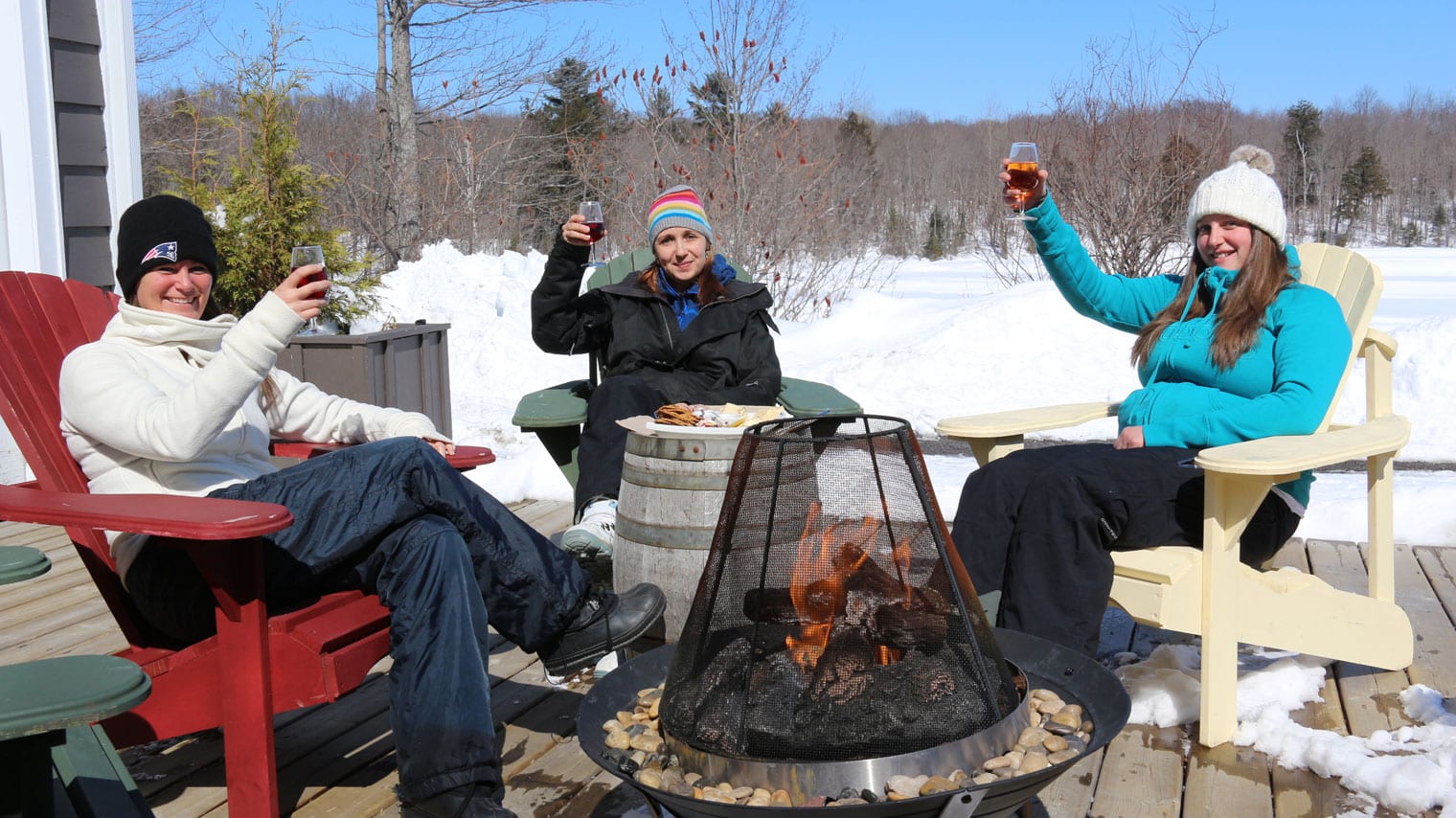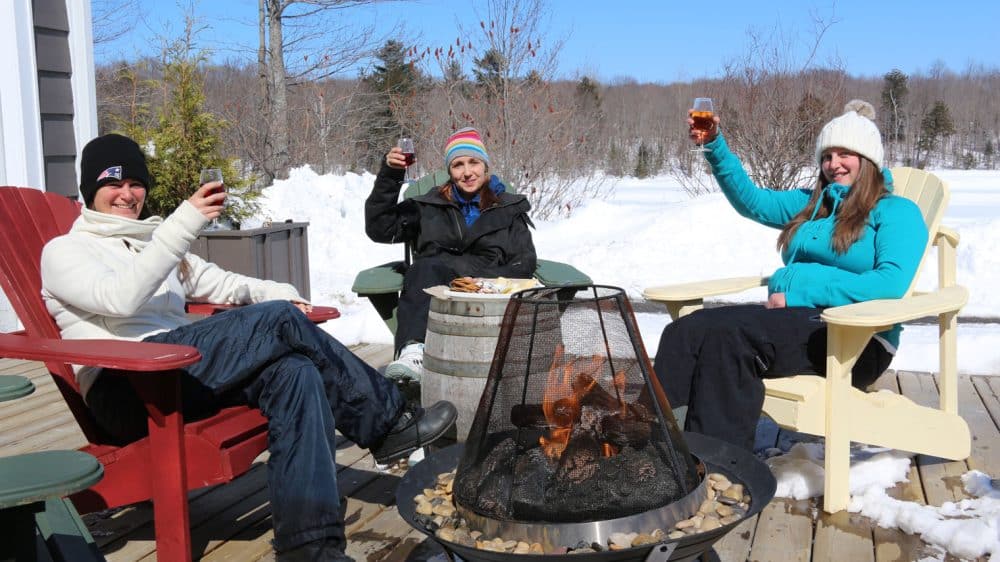 1074 Cranberry Road, Bala
Visit the Muskoka Lakes Farm & Winery to explore their 10 km of scenic hiking trails. The Farm & Hiking Trail pass grants you access to 6 unique trails, ranging in length from 1.1-7.5 kilometres and in difficulty from easy to advanced. The trails contain wind along the cranberry beds and past several interesting stops, including an iWetlands research site, historic homestead fence, and beautiful picnic site overlooking a scenic vista. Don't forget to snap a picture with the iconic Bog Monster on the Sandsmen Trail!
Afterwards, warm up with a hot cup of mulled wine or a spritzer on their cozy patio furnished with fire pits. Pre-packaged food items are also available to be savoured fireside, including cheese plates, hummus & salsa platters, and other daily features.
Please note that The Farm & Hiking Trail pass must be pre-booked online in advance.
Visit their website for more information
Huntsville – Arrowhead Provincial Park & Muskoka Roastery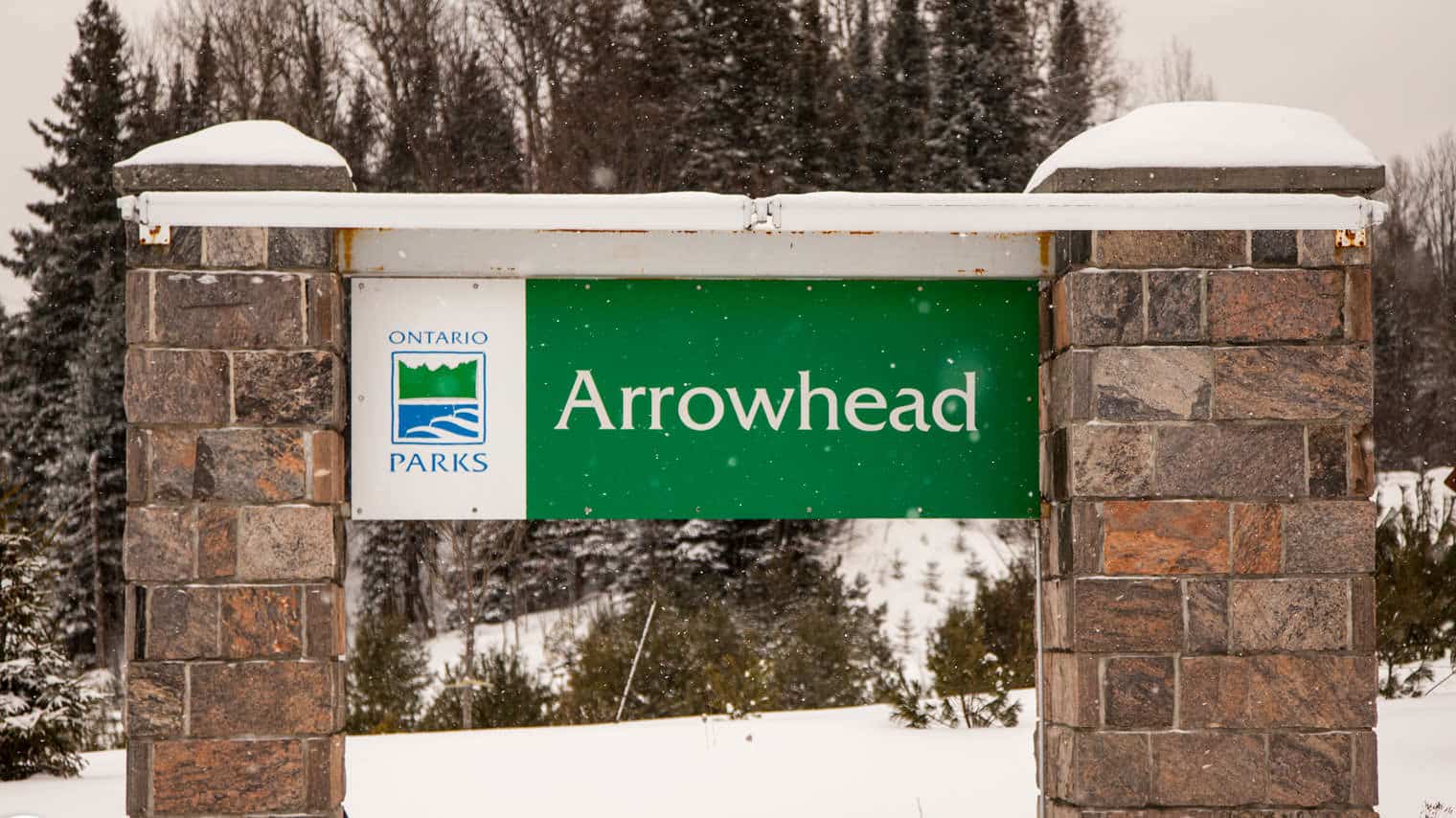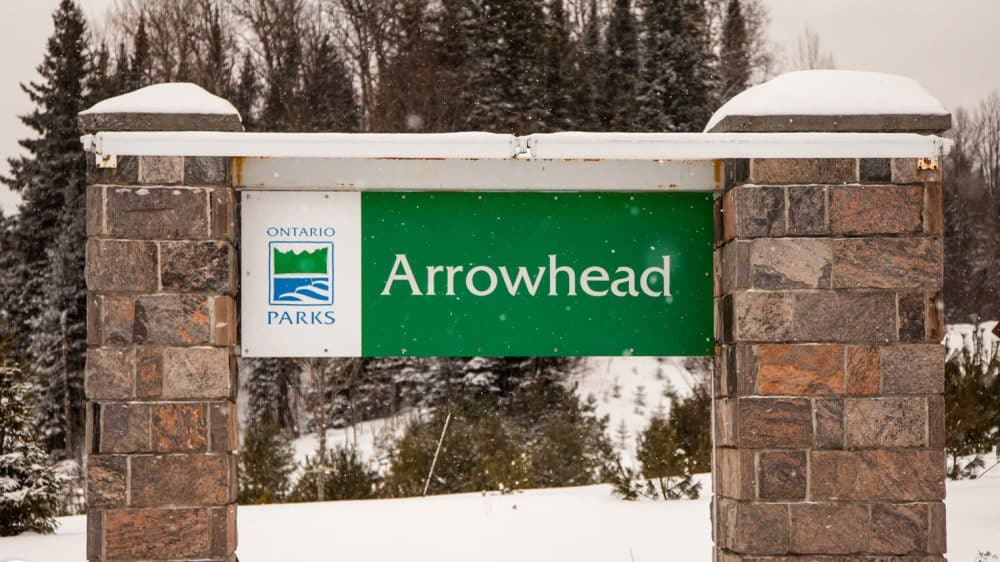 8 Crescent Rd, Huntsville
Arrowhead Provincial Park is a hidden gem in Huntsville. Check out the park's 15 kilometres of hiking trails, one of which leads right to a majestic waterfall. Choose from 5 different trails, ranging in length from 1-7 kilometres. You'll pass through several different landscapes, including old-growth forests, bogs, and the remnants of an old homestead.
Any visit to Huntsville isn't complete without a sip of Muskoka Roastery's divine coffee brews! While the roastery and showhouse are currently closed to COVID-19, the roastery's many delicious brews are available for purchase online. For the perfect pick-me-up, we recommend brewing a pot of their seasonal Roastmaster's Winter Blend and packing it in an insulated mug to enjoy trailside. Sipping handcrafted coffee while traipsing through Muskoka's pristine forests? Sounds like the perfect afternoon!
Bracebridge – Old Station Restaurant & Bracebridge Bay Trail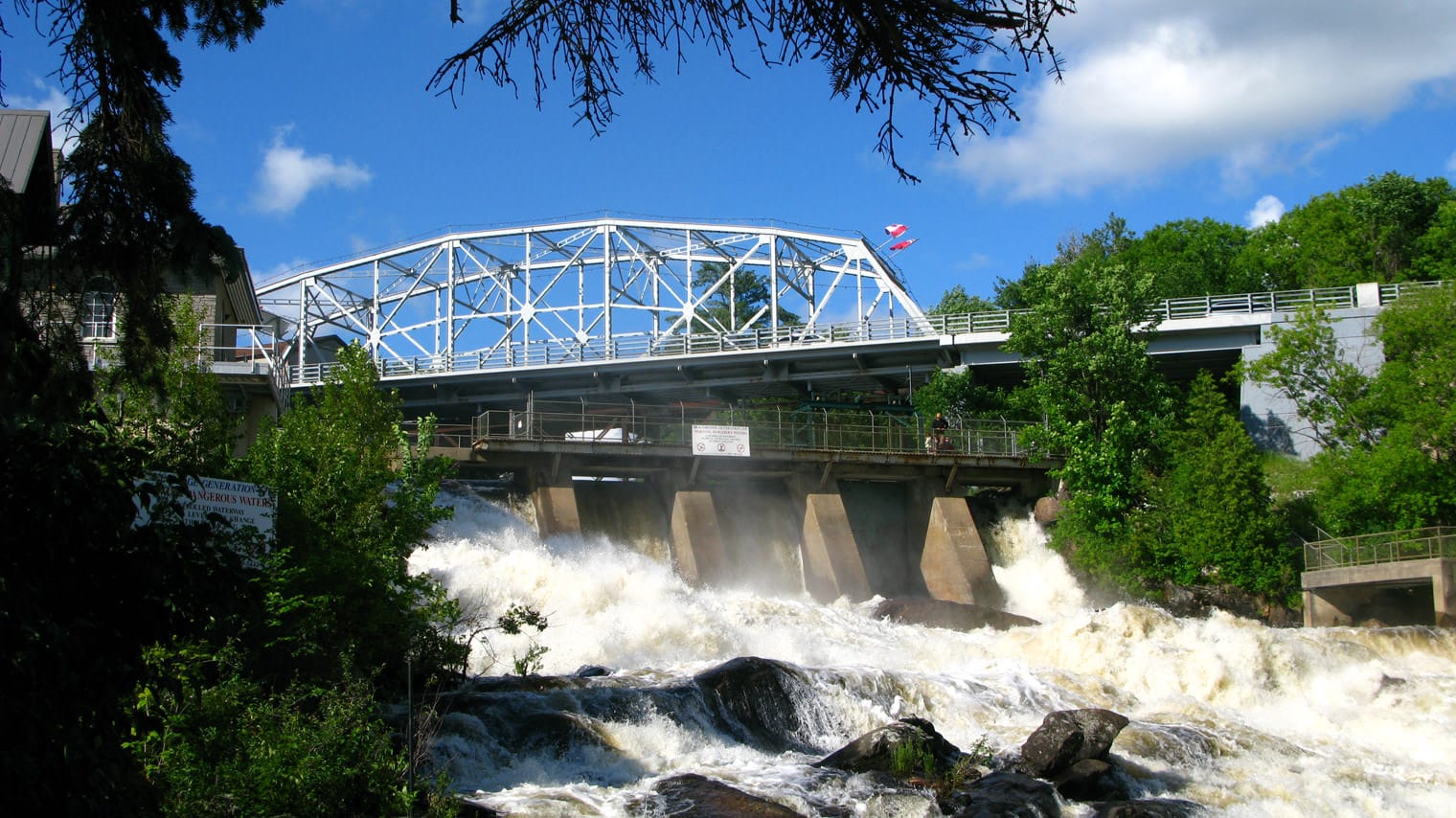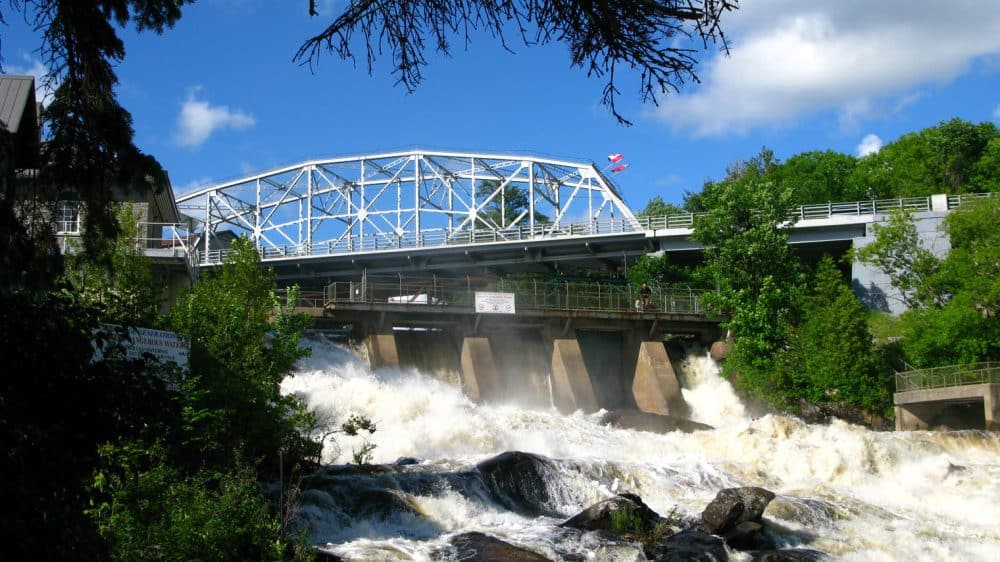 88 Manitoba St., Bracebridge
The Old Station Restaurant has been a fixture of downtown Bracebridge since 1985. It is housed in a historic building that was originally the town's central service and gas station. They boast an extensive menu with both classic pub favourites and unique, fresh finds. Try one of their delicious speciality coffees as the perfect end to a meal or as a sweet way to warm up. Their Spiced Hot Apple Cider with real apple cider is a great seasonal pick.
Then, continue down Manitoba street to take a leisurely 1.3 km walk along the scenic Muskoka River and around Bracebridge Bay. You'll pass by 10 different historical points of interest, marked by information plaques, that tell the story of Bracebridge. Landmarks include Woodchester Villa, which is an octagonal house, and the beautiful Bracebridge Falls. Find trail parking at the nearby Bay Park on Wharf Road. Access the park from either Manitoba Street or Ecclestone Drive. Find a trail map from the Muskoka Trails Council here.
Gravenhurst – Blue Willow Tea Shop & the Muskoka Wharf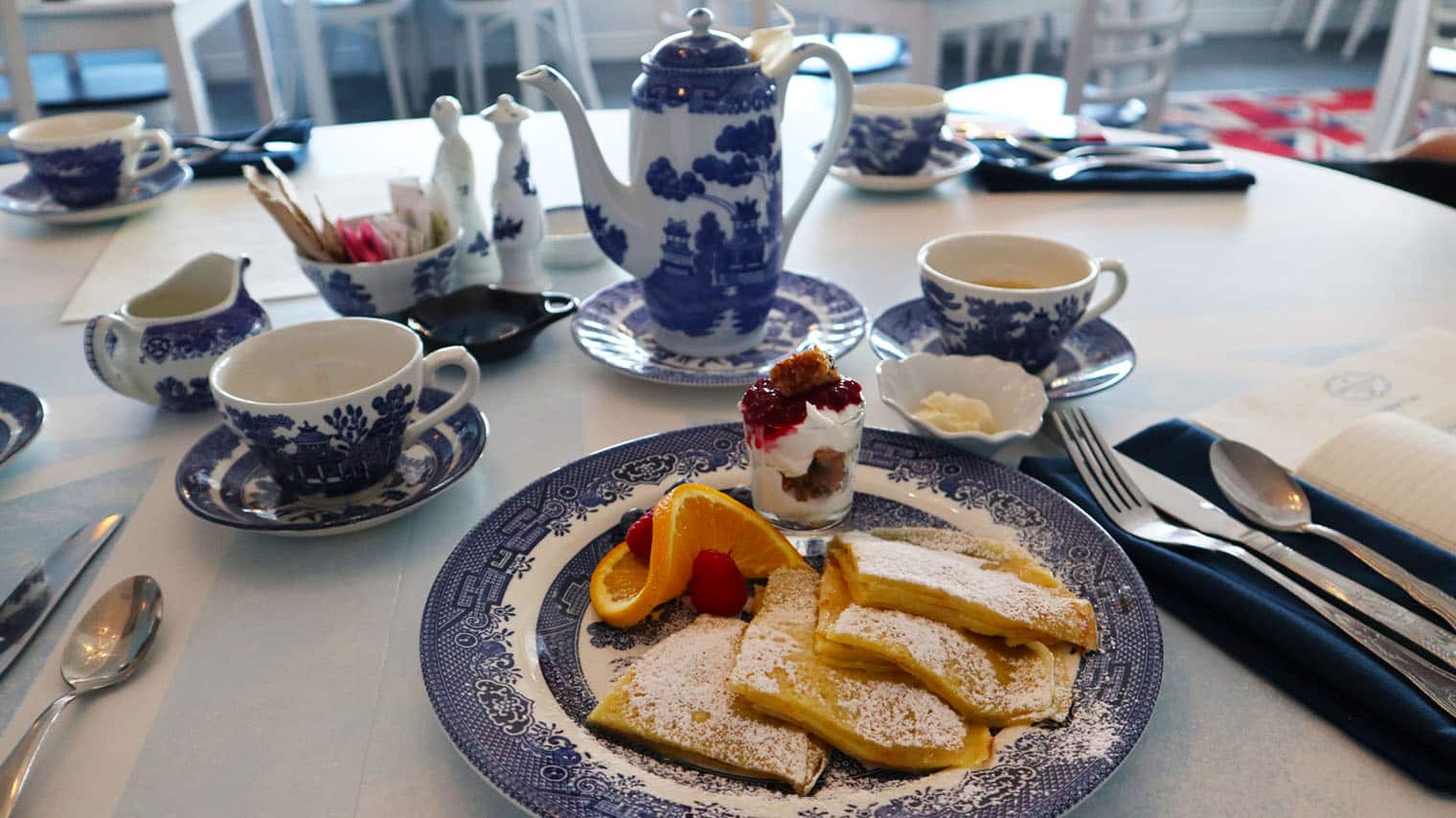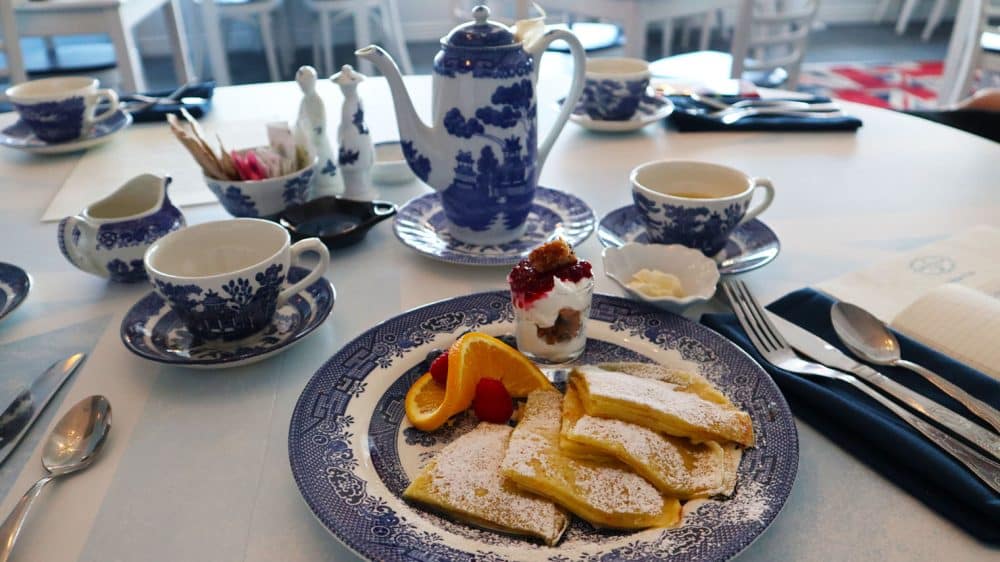 Muskoka Wharf, Gravenhurst
Enjoy a little taste of Britain with a traditional English High Tea experience at the Blue Willow Tea Shop. Sip on your choice of black, white, green, or herbal tea, served in delicate china teacups, while admiring the idyllic Gravenhurst waterfront. If you're feeling a little peckish, feast on the Bickies and Scones dish, served properly British with Devonshire cream and jam.
Once you've finished your tea, stroll along Muskoka Wharf and admire the beautiful Lake Muskoka. The 2000-feet of boardwalk makes for a peaceful, easy walk with breathtaking views. To take the walk a bit further, check out the Peninsula section of the trail, which traverses slightly more rugged terrain and passes by the Children's Memorial Gazebo.
Dwight – Erika's & the Dwight Heritage Tour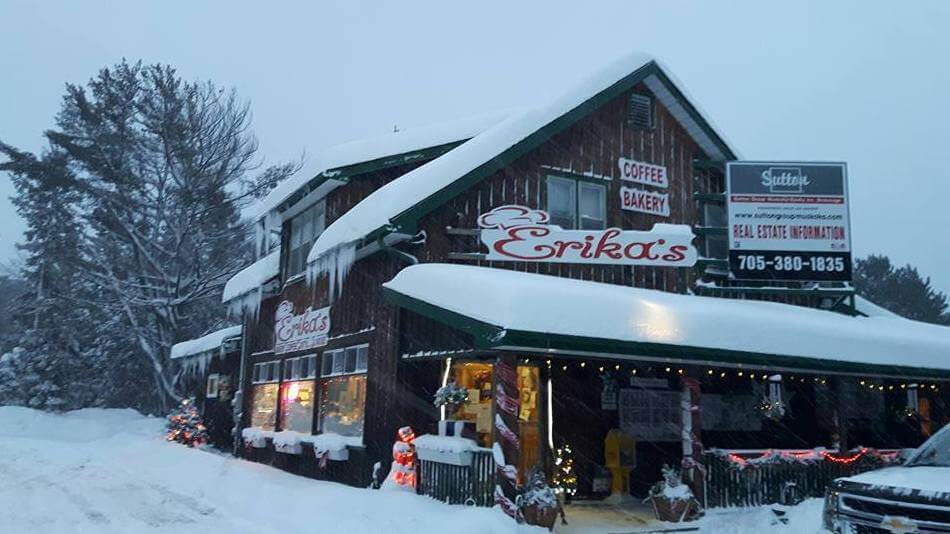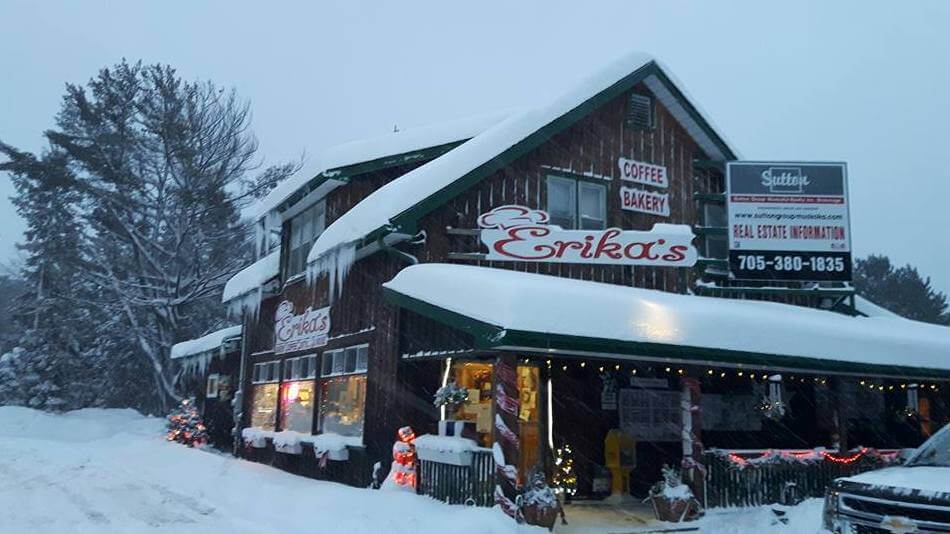 2832 Hwy 60, Dwight
Start your adventure with a warm drink from Erika's, a quaint, family-run bakery in scenic Dwight. Choose from coffee, tea, hot chocolate, apple cider, or speciality drinks like the Muskoka Mist or Bigwin Steamer. You'll also want to pick up one of their delectable baked goods. From warm apple fritters to crumbly date squares, there's something to delight every sweet tooth! The bakery is currently offering curbside pick-up. All orders can be placed by calling 705-635-9490 or texting 705-571-9490.
Hot drink in hand, start to explore the charming community of Dwight with the Dwight Heritage Tour. This is primarily a walking trail around the village, although additional areas of interest can be accessed by either bike or car. It should take about 1.5 hours on foot.
The Alderside log cabin, built in 1881 and later used as a summerhouse for visiting tourists, is a must-see landmark on the tour. It is believed to be the oldest building in Dwight. Treasures Past and Present is also an important stop, as it housed one of the area's first trading posts and was run by Earl Boyden, the uncle of Canadian author Joseph Boyden. Start your tour at Gouldie Park on Dwight Bay Rd, accessed off Hwy 60 and near Dwight Beach.
Stay and Play
Make the most of your Muskoka experience and check out our top recommendations for places to stay and perfect getaway packages.