Plan a visit to these picture-perfect patios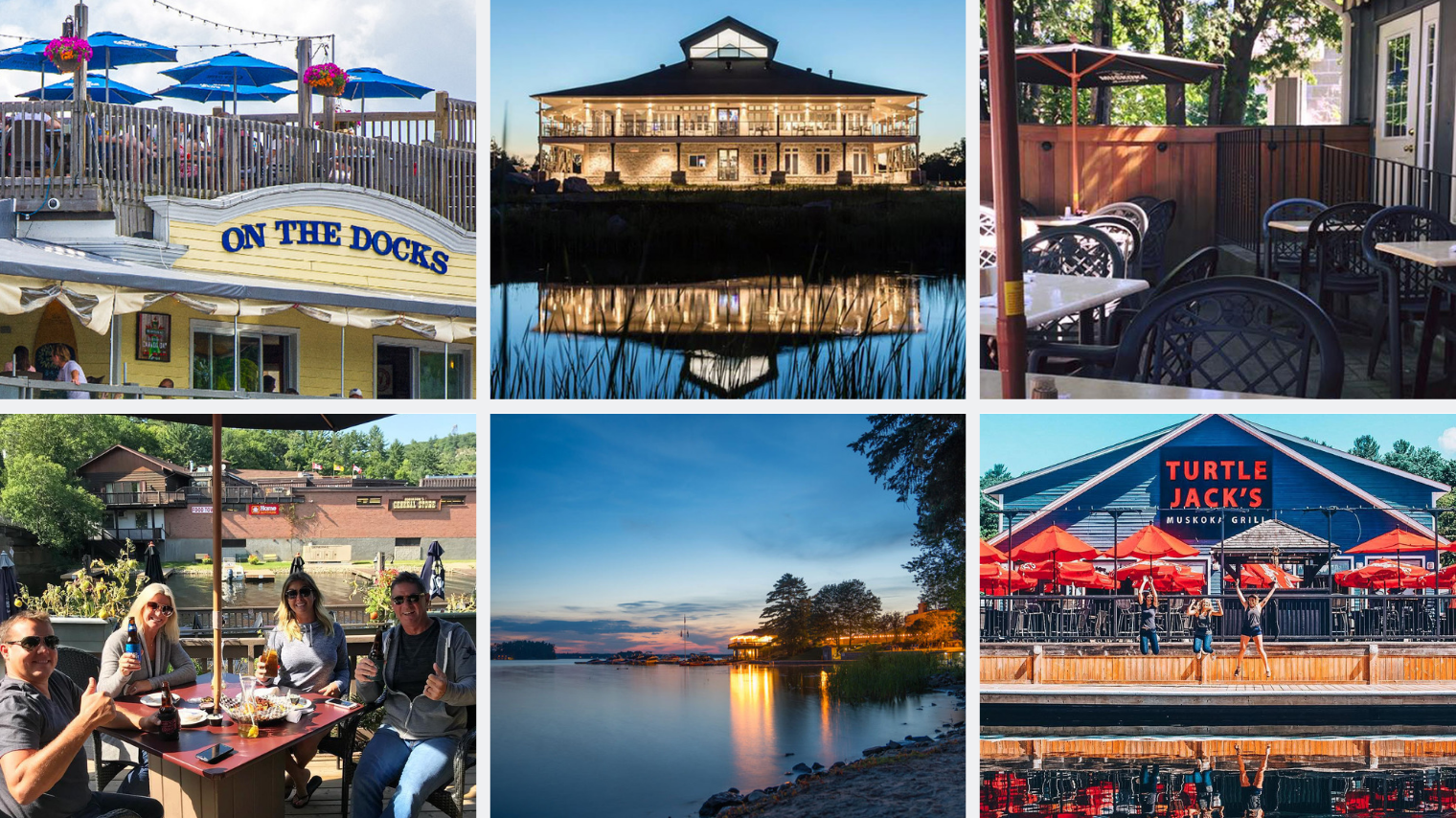 Warm sun, a light breeze, maybe some classic tunes cruising through the air – there's nothing quite like relaxing on a picturesque patio, and Muskoka has got an amazing selection for you to enjoy.
Old Station
Bracebridge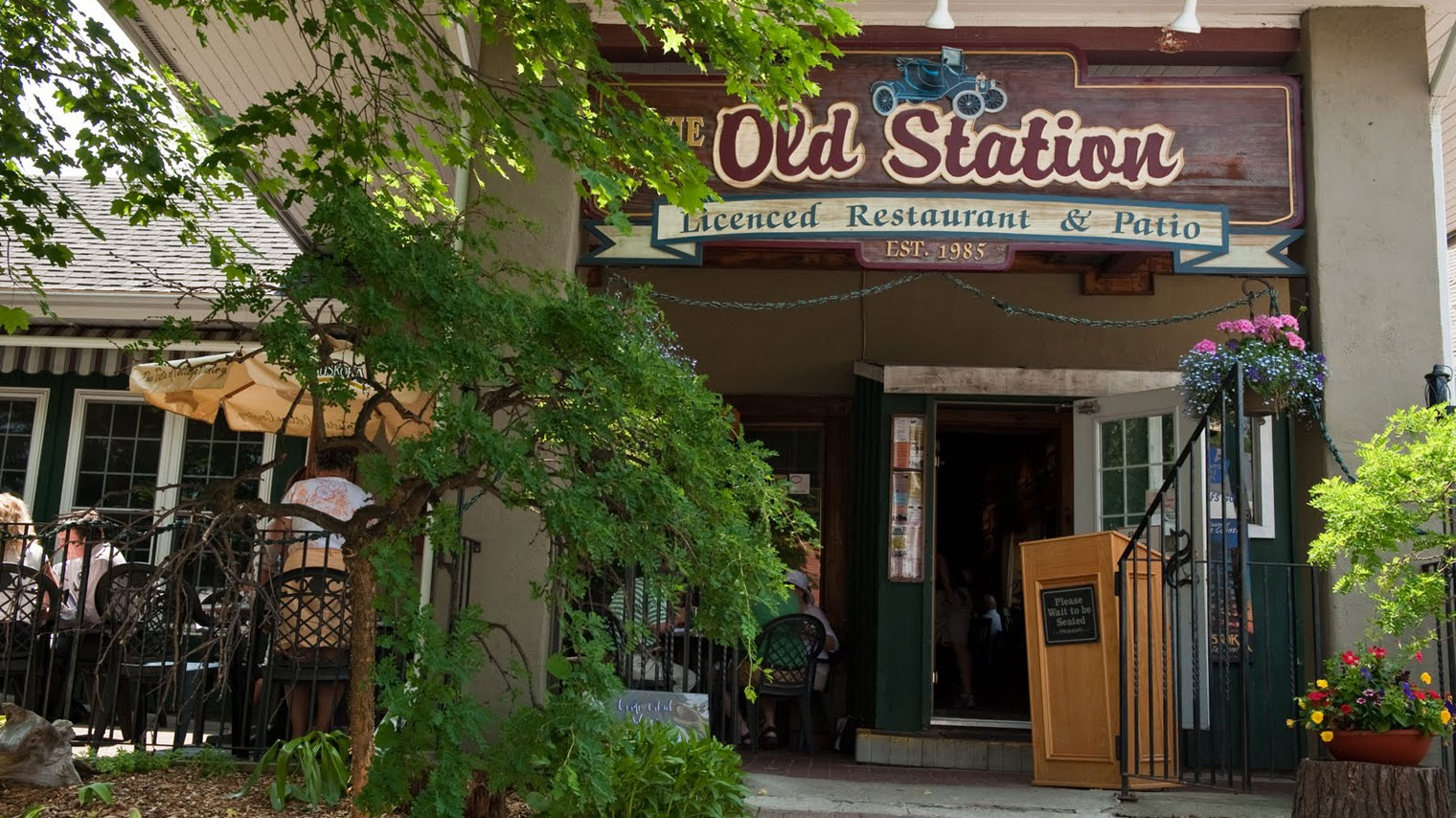 Proudly serving Muskoka since 1985, the Old Station Restaurant has been offering the best service and cuisine at reasonable prices for over thirty years!
Recommendation: Try their Smoked Turkey Nann-wich, crisp bacon, shaved smoked turkey breast, tomato and baby greens topped with herbed havarti cheese and served on a warm naan bread with maple-Dijon mayo. For a signature cocktail go for their Patio Perfection, with vodka, peach schnapps, cranberry, orange and lime juice, and topped with Sprite.
Visit their website for more information
Oak Bay Golf Club
Port Severn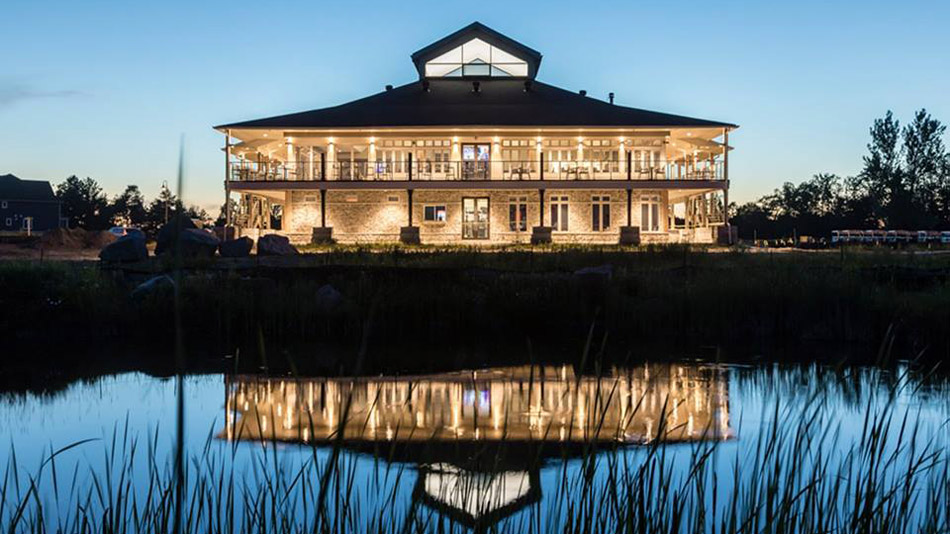 Dine al fresco on the wrap-around deck of Oak Bay Golf Club and take in gorgeous panoramic views out to Georgian Bay. Their menu brings fresh elements together in a way that captures the best of Canadian cooking with a local approach that highlights the Georgian Bay region. Plus, they offer themed nights over the summer, so check in with their social media to find out what's happening this week!
Recommendation: Try one of their very popular veal options, like their lightly breaded Veal Parmigiana, served with pasta and topped with tomato sauce and mozzarella cheese. Yum!
Visit their website for more information
On the Docks Pub
Huntsville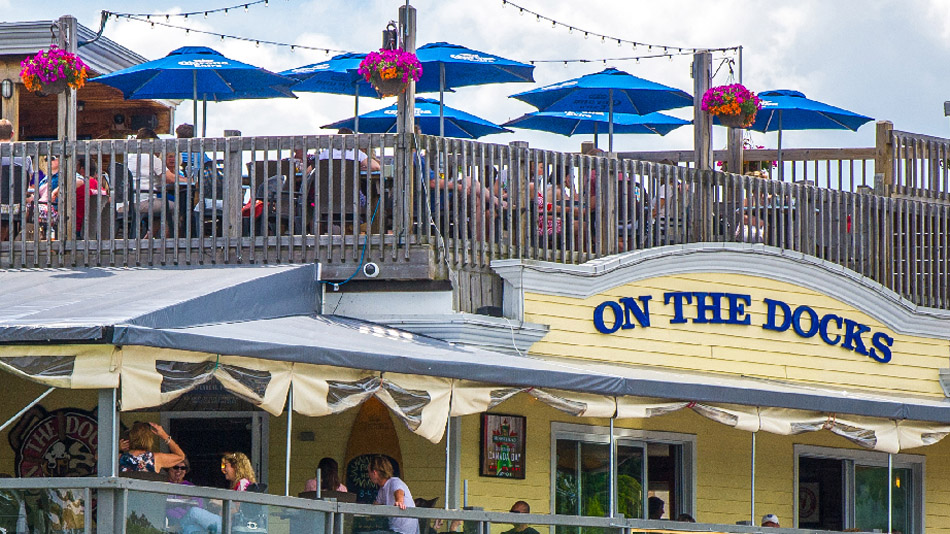 The epitome of Muskoka Cottage life, Huntsville's On the Docks Pub has been the hot spot for visitors and locals in the Huntsville area for the last 20 years. In the hot summer, there is no better place to be than on their rooftop patio enjoying a cold drink and something off of their "no fry" menu while watching the boats (and occasional plane) pull in to the town docks.
Plus, they host live entertainment every single weekend, so there's always something to check out.
Recommendation: We love their Jerk Chicken Wrap, although groups go ga-ga for their Pub Nachos. Pair it with one of their popular cocktails like Long Island Ice Tea or Pink Lemonade.
Visit their website for more information
Turtle Jacks
Port Carling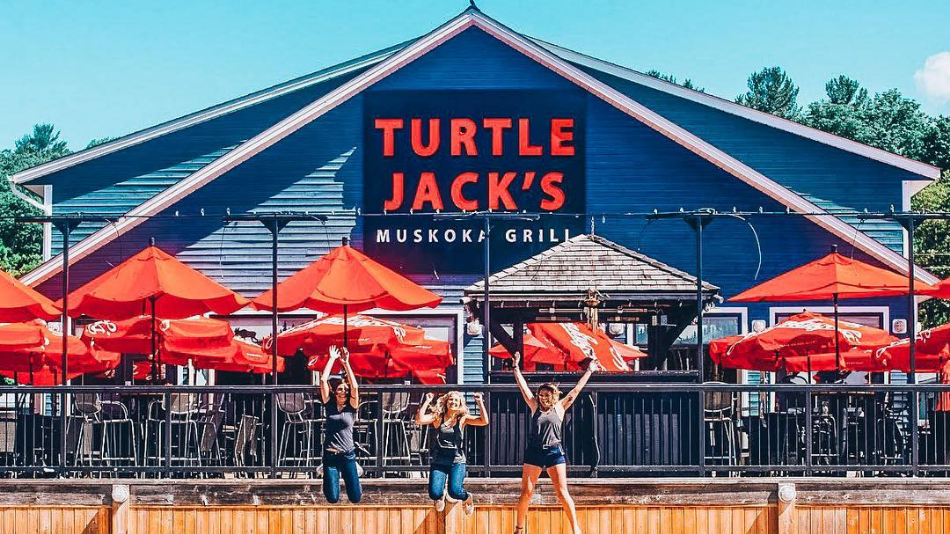 Turtle Jack's in Port Carling is a premium-casual dining experience where you can enjoy fresh foods served in a relaxing atmosphere. Located right on the water, they offer a large patio where you can indulge in their cottage-inspired menu and one of their signature cocktails.
Recommendation: Guests love their Basa Fish Tacos, – blackened basa, pineapple mango salsa, guacamole, sweet & spicy aioli. Pair with a Port Carling Cooler, cucumber mint infused  vodka, blue Curaçao, on the rocks with a bit of soda and garnished with cucumber mint sprig.
Visit their website for more information
The Boathouse at Taboo
Gravenhurst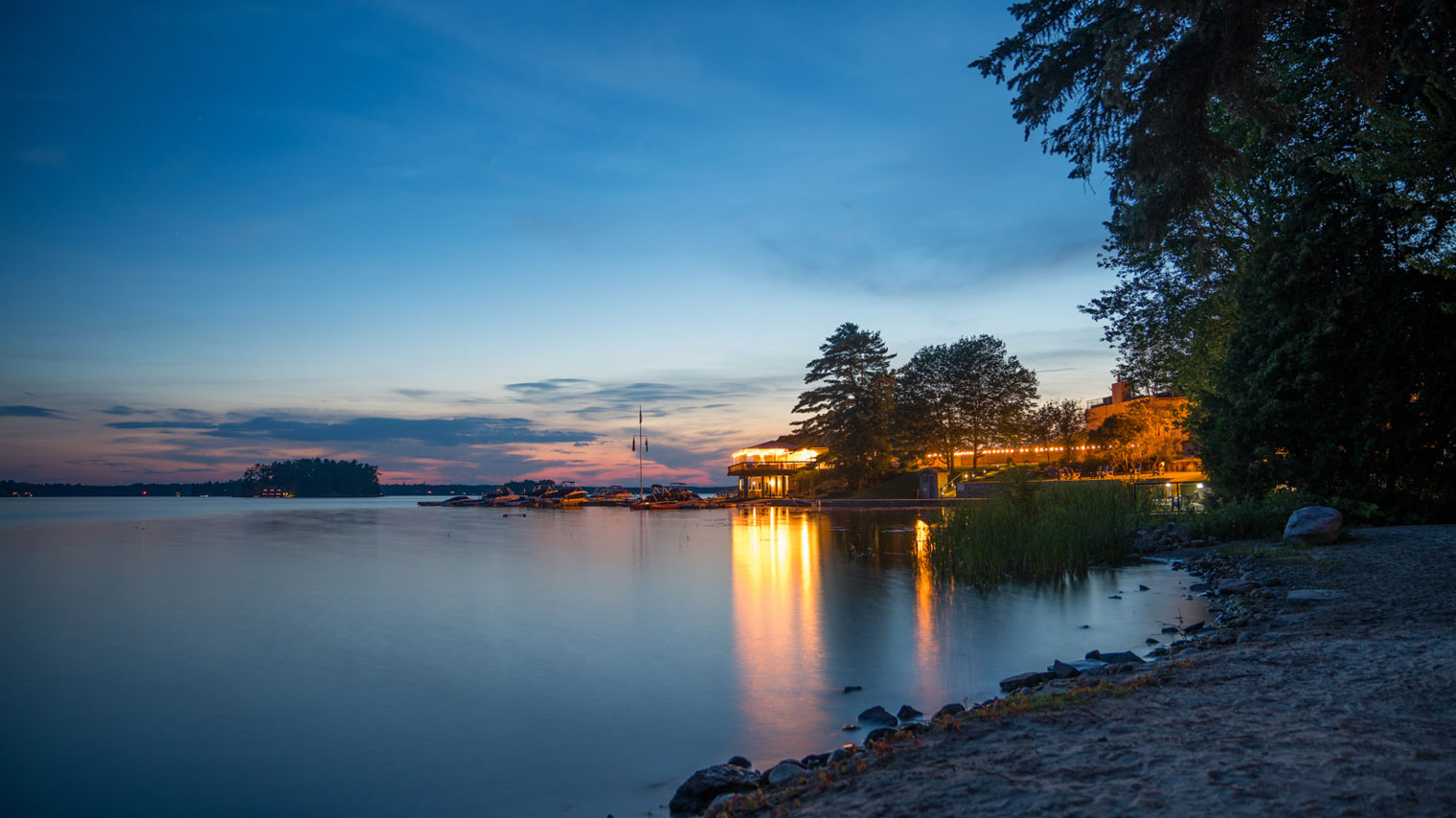 With ample seating for locals, resort guests, and cottagers, Taboo's Boathouse Restaurant overlooks the staggeringly beautiful Lake Muskoka. A Muskoka summer tradition, the Boathouse is your place to soak up the sun, admire the view, have drinks and dine from their globally inspired, locally sourced menu.
Recommendation: Try their Hopped Up Bird – a crispy chicken breast topped with avocado, tomato, baby gem, bacon jam, Little Norway cheese sauce, and smoked cheddar and served on a chive waffle bun.
Visit their website for more information
Trading Bay Dining Company
Lake of Bays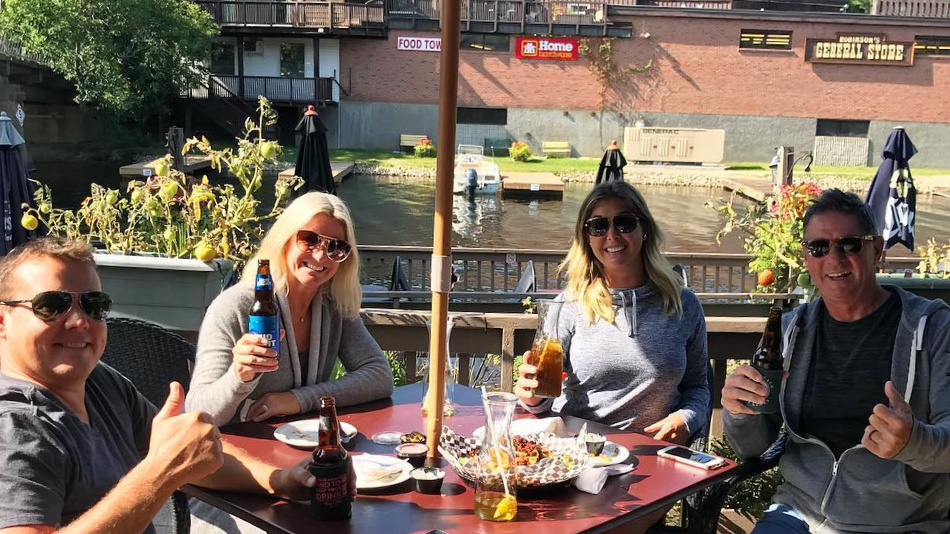 With its rich history, superb staff, and casual atmosphere, the patio of the Trading Bay Dining Company is the perfect place to enjoy a fresh, seasonal Canadiana dining experience. Found in the village of Dorset, they have breathtaking Lake of Bays from their waterfront location and delicious menu options that are sure to please every appetite.
Plus, make hump-day all the easier by visiting their Wing Night Wednesdays!
Recommendation: We can't get enough of their classic Fish and Chips accompanied with a Liftlock Light Lager from the local Lake of Bays Brewery.
Visit their website for more information
Stay and Play
Make the most of your Muskoka experience and check out our top recommendations for places to stay and perfect getaway packages.