There's snowhere else like Muskoka in the winter!
#1: Hidden Valley Hideaway – Ski & Stay
A winter wonderland awaits you at Hidden Valley! A place to unwind, dine and explore Muskoka's iconic landscape, blanketed with snow! Choose how you spend your time at Hidden Valley Resort. Go solo for some 'me-time' or bring the whole family; get as active or as laid back as you prefer. With a variety of indoor and outdoor activities to experience, Hidden Valley is the ultimate winter resort destination.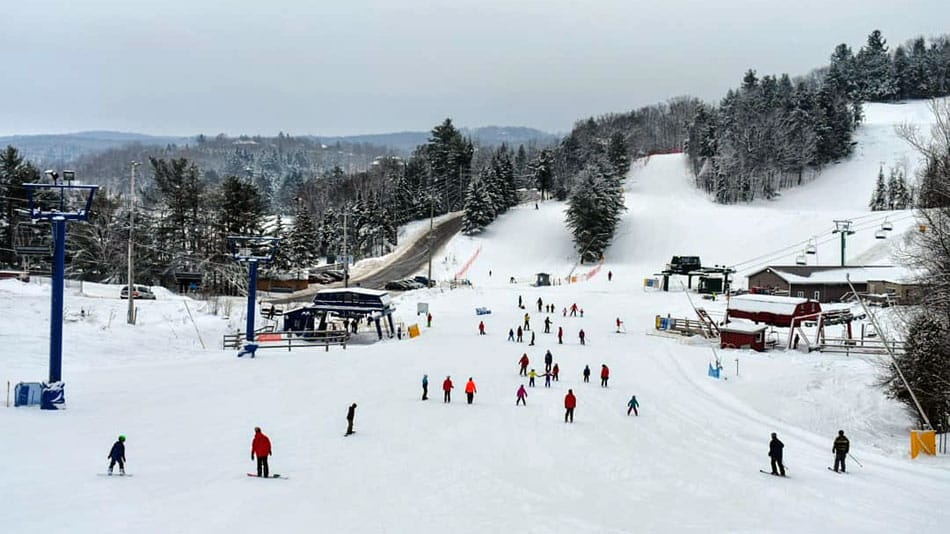 Carve your way across the Hidden Valley Ski Area on either skis or boards and let the crisp clean air kiss your cheeks! Welcome the adrenaline and excitement as you embark on an action packed trip to Muskoka. Not a pro? No worries, they offer lessons for all levels of ability, from new to expert. From learning to turn and stop to refining your riding skills, instructors will guide you through the skills to tackle the hill safely. Kids winter camps and programs are available during the holidays as well as over the March Break. Book a Ski & Stay Package for the ultimate getaway.
Click Here to book your Hidden Valley Hideaway
#2: Adventures at Arrowhead Provincial Park
Escape to Arrowhead Provincial Park with a group of your favourite adventure-seeking, outdoor enthusiasts. There is so much to do at Arrowhead in the winter and nowhere better to play in the snow! Snowshoe, cross-country ski, ice fish and skate through the forest on a majestic ice trail, all conveniently in one place. With 28 km of classic ski trails, 16 km of skate ski trails, more than 8 km of snowshoeing and a 1.3 km ice skating trail, you can experience a truly Canadian winter. Find all your snow gear at Algonquin Outfitters in Huntsville, where friendly and knowledgeable staff will help you buy or rent the right equipment. Always ensure to pack warm clothes and dress in layers, it can get chilly!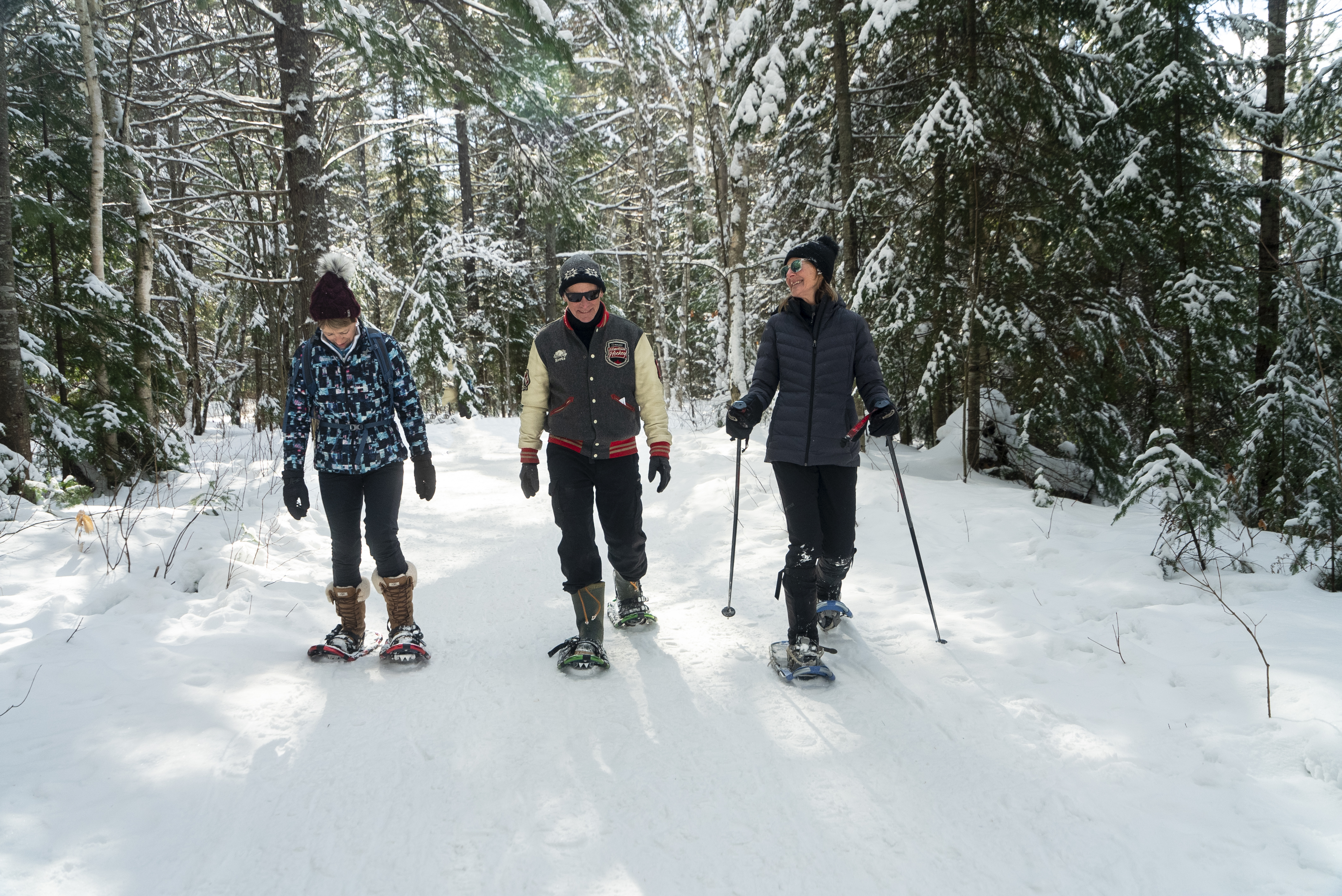 Welcoming warmth awaits you at the Comfort Inn, just a 10-minute drive from the park. The Comfort Inn has a host of amenities and is pet-friendly, so you can bring your four-legged adventure partner with you! Enjoy a comfortable, clean stay nearby some of Huntsville's best attractions and downtown core. There, you and your group will find local shops, great eats and a few outdoor art installations inspired by the Group of Seven. Visit Beavertails for a sweet, warm and delicious treat after a day of snow much fun!
#3: Romantic Getaway
Romance is in the cool and crisp air  – it's the season for some serious cozy time. Enjoy skating at Lion's Lookout with your favourite person. This skating spot is complementary and has a large ice rink and you can also enjoy stunning views from the lookout. After skating, head downtown for a tasty meal at one of the incredible restaurants like Tall Trees Muskoka, Huntsville Brewhouse or enjoy Italian at Allora Muskoka. Huntsville has over 15 accomodation options including Rainbow Inn, Rodeaway Inn or Cedar Grove Lodge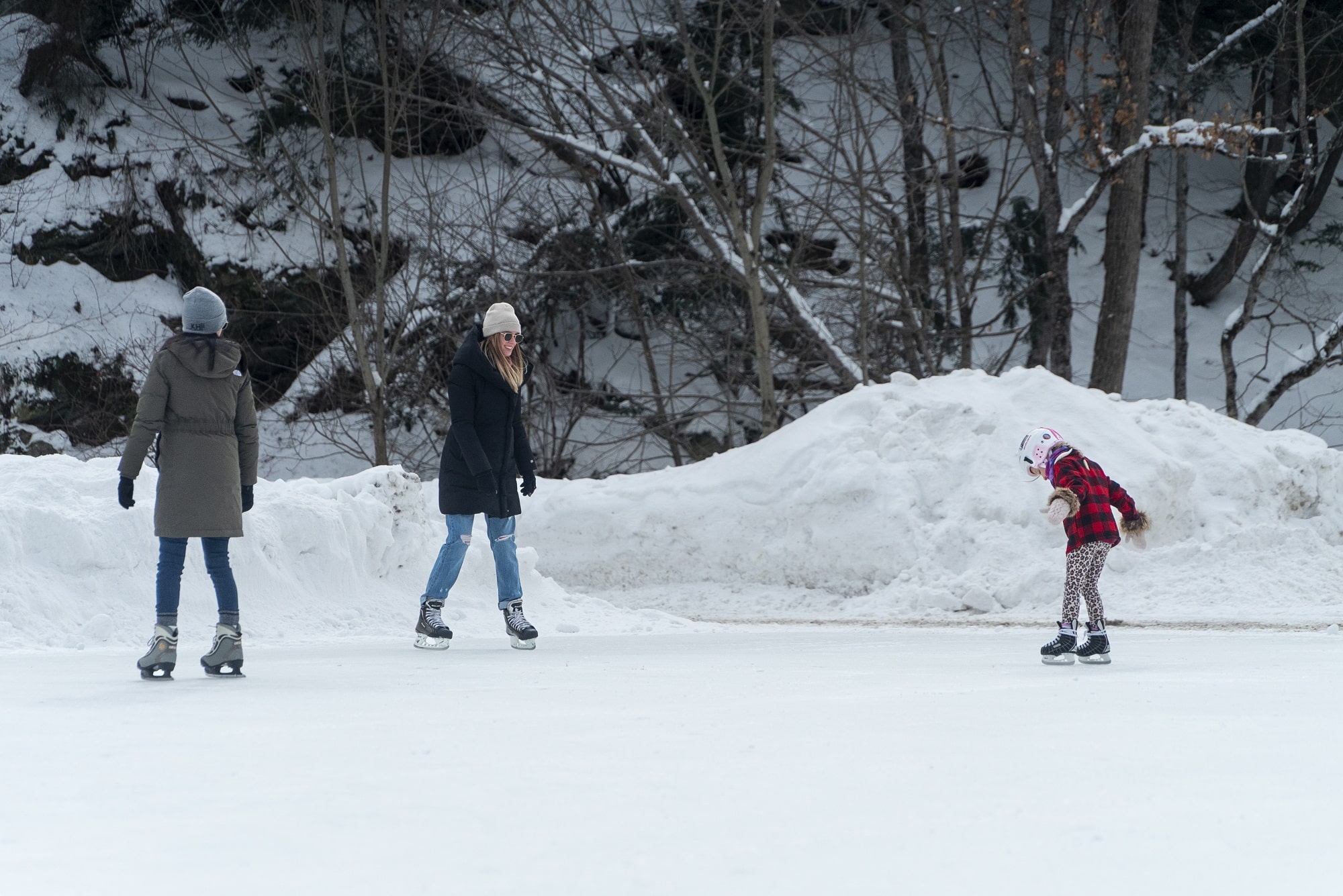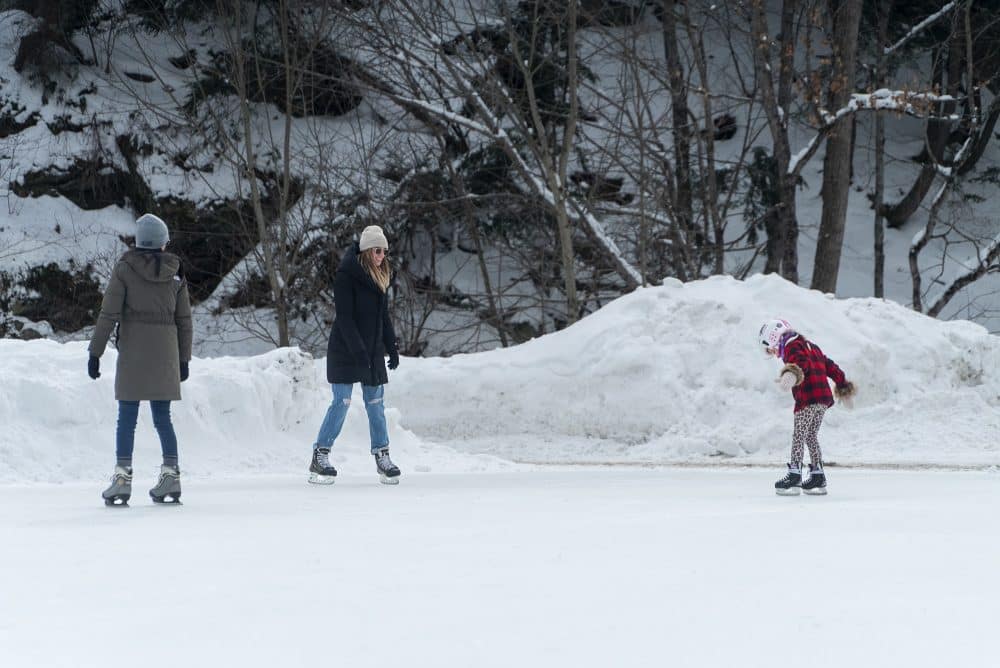 #4: Slay the Vacay
A horse drawn sleigh at Back of Beyond Equine Centre is an absolutely magical experience! Witness these big, beautiful beasts in action as they bring you through the forest on a groomed trail. Perfect for families with young, curious children, the entire experience is an hour to an hour and thirty minutes. Start your family's adventure with a visit around the horse farm to meet the 10 resident horses and ponies, and learn their stories. Then, pile under blankets aboard one of the classy red sleighs to begin your private journey through woodland trails. End your sleigh ride at a crackling private campfire to warm your toes while sipping hot chocolate and roasting marshmallows…it doesn't get any better than this! There is also an option to arrange a professional photographer to capture these moments forever.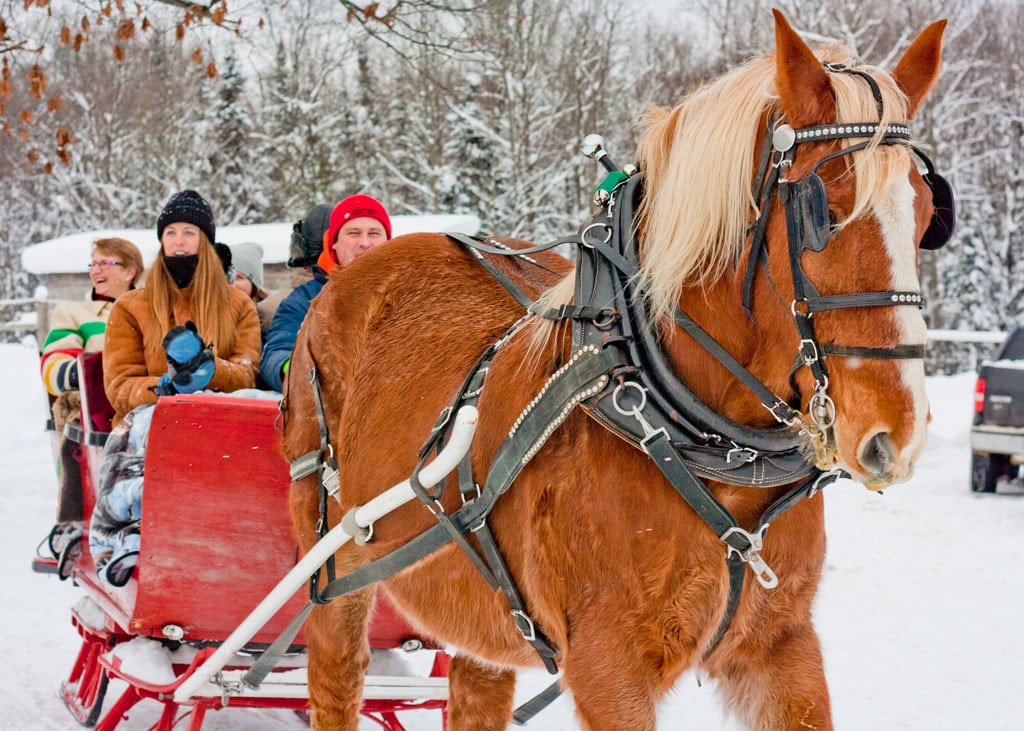 Afterwards, head to your private cottage at Tally Ho Inn. At the inn there is an outdoor skating rink (so bring your skates!), ice fishing opportunities and endless amounts of snow to play in! Eat at one of the few restaurants surrounding Tally Ho, or take a short drive Downtown to check out the different local eateries. Huntsville Brewhouse is a great option for the whole family to enjoy, with a wide selection of menu and beverage options.
Book your horse drawn experience
Book your stay at Tally Ho Inn
#5: Family Fun
Want some more time in the snow? Check out Huntsville's Snow Village downtown at River Mill Park. With a weekly schedule, you and your family will have a blast discovering interactive snow activities such as snow sculptures, snow forts and exploring the snow labyrinth.
After a fun-filled, active day head over to Deerhurst Resort to relax and unwind. Take a dip at the indoor pool or book a service at the Amba Spa. Other attractions at Deerhurst Resort include indoor rock-climbing, golf simulator, cross country skiing, fat biking and the Indoor Treehouse Playspace. Enjoy breakfast, lunch and dinner at the resort's different on site restaurants when you book a stay at Deerhurst!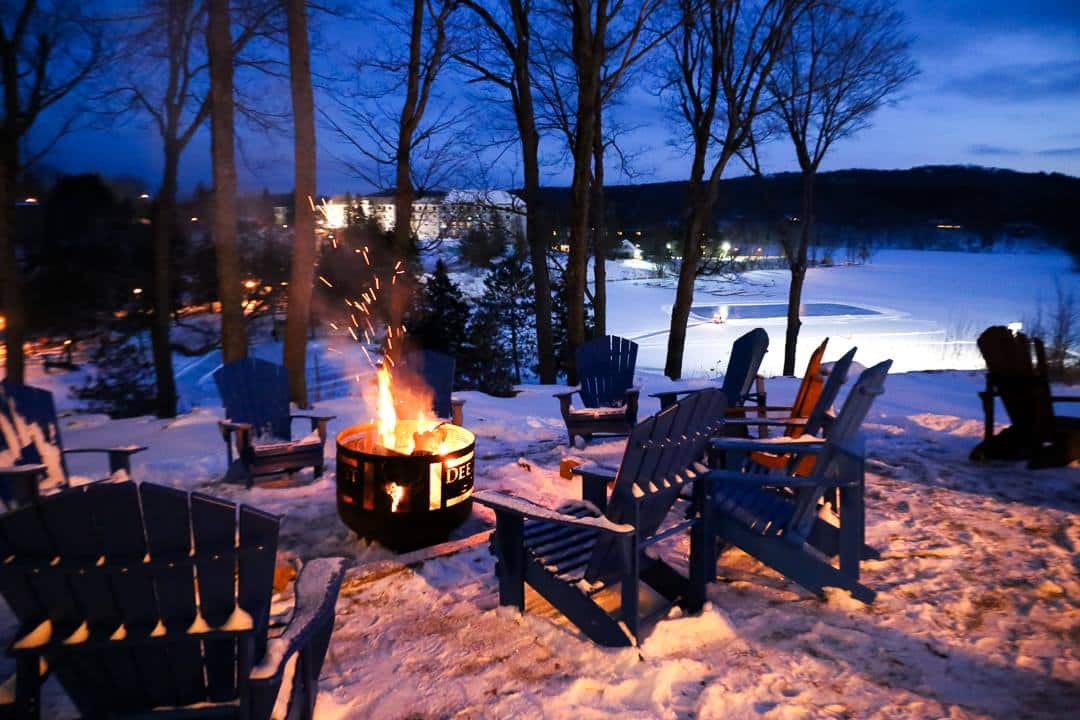 Book your stay at Deerhurst Resort
Whether you are looking for a quiet hideaway or an active adventure, Muskoka has you covered for every possible winter getaway you could imagine. Blanketed with snow, the region is still bustling with excitement, events and – dare we say- holiday cheer!
This content is made possible through collaboration with Huntsville Municipal Accommodation Tax Association and assets provided by Huntsville Adventures.
Other fantastic accommodators in Huntsville:
MOTEL 6 HUNTSVILLE
CEDAR GROVE LODGE
HIGH STREET GUEST HOUSE
KNIGHTS INN – HUNTSVILLE
BEST WESTERN MUSKOKA INN
COLONIAL BAY COTTAGES
DEERHURST RESORT
COMFORT INN
HIDDEN VALLEY RESORT
HUNTSVILLE INN
RODEWAY INN
ECONO LODGE
HOLIDAY INN EXPRESS HOTEL & SUITES
MUSKOKA GRANDVIEW CONDOS
JAYNE'S COTTAGES
BLUE WATER ACRES
RAINBOW INN