Sweet seasonal favourites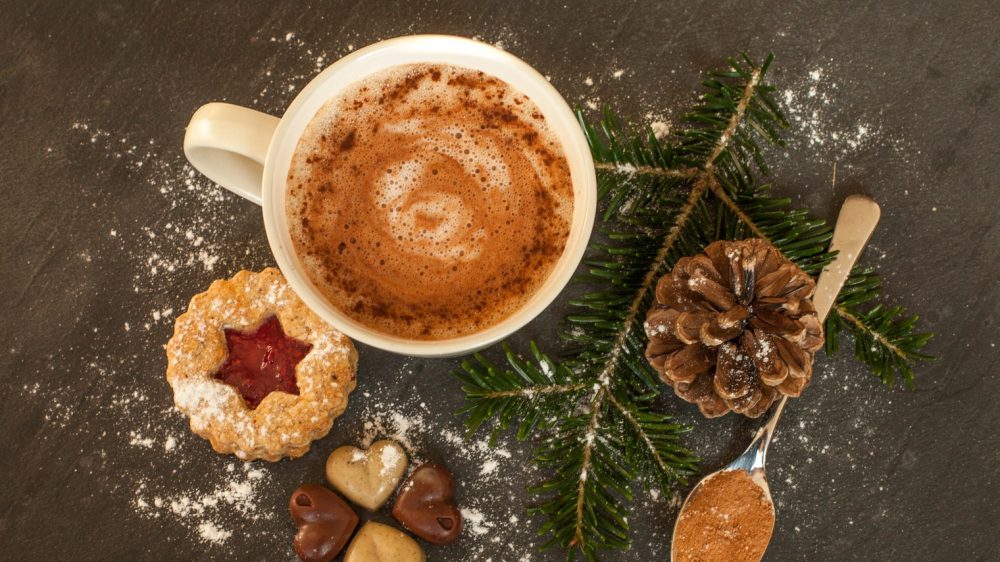 Frothy Eggnog lattes with a hint of nutmeg. Gingersnap cookies with just the right amount of spice. Creamy mint hot cocoa. Soft, buttery shortbread with festive sprinkles. Is there anything more delicious than festive hot drinks and baking?
Take a break from your holiday shopping and stop by one of Muskoka's local scratch bakeries for a seasonal hot drink or some sweet baked goods. From steamers to lattes, to pies and cookies, there's a seasonal favourite for every type of sweet-tooth in Muskoka. And, we don't know about you, but we think sugar is the perfect mid-shopping trip pick-me-up.
Read on to learn more about 5 places to get seasonal goodies in Muskoka.
Erika's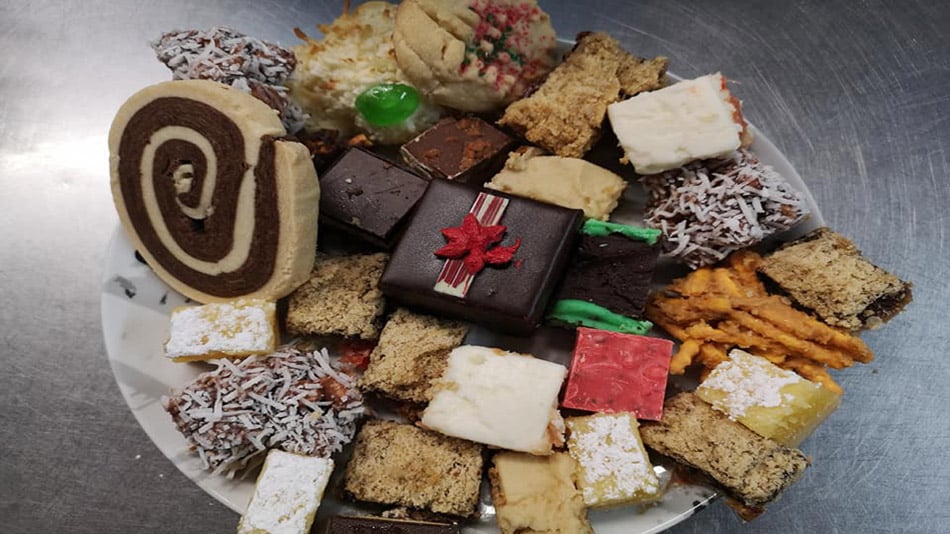 2832 Hwy 60, Dwight
Located in scenic Dwight, Erika's is a must-stop for seasonal hot drinks and baked goods. As a local, family-run business, Erika's prides itself on its top-quality customer service and the impressive amount of passion that goes into their baking. And, this passion is made obvious when you try one of the bakery's mouthwatering breakfast bagels, muffins, or sandwiches. You'll want to try more than just one of their delectable goodies!
To celebrate the holidays, Erika's is currently offering dessert platters that include a few special Christmas desserts, like Festive Shortbread, as well as some of their year-long favourites. These trays are available in both small and large sizes and make for a great gift.
Don't forget to try one of the bakery's delicious hot drinks while in Dwight. Choose from several seasonal latte flavours, including Gingerbread, Eggnog, White Chocolate Chai, and Fog Nog. Prefer something creamier? Check out the Mocha Cookie Crumb Frappucino,  Peppermint Mocha Frappucino, or the Candy Cane Steamer.
Please place your order for take-out by calling 705-635-9490 or texting it to 705-571-9490. Due to COVID-19 precautions, the bakery is only open for take-out.
Visit the website for more information
Humble Pie Butter Tart Factory & Pizzeria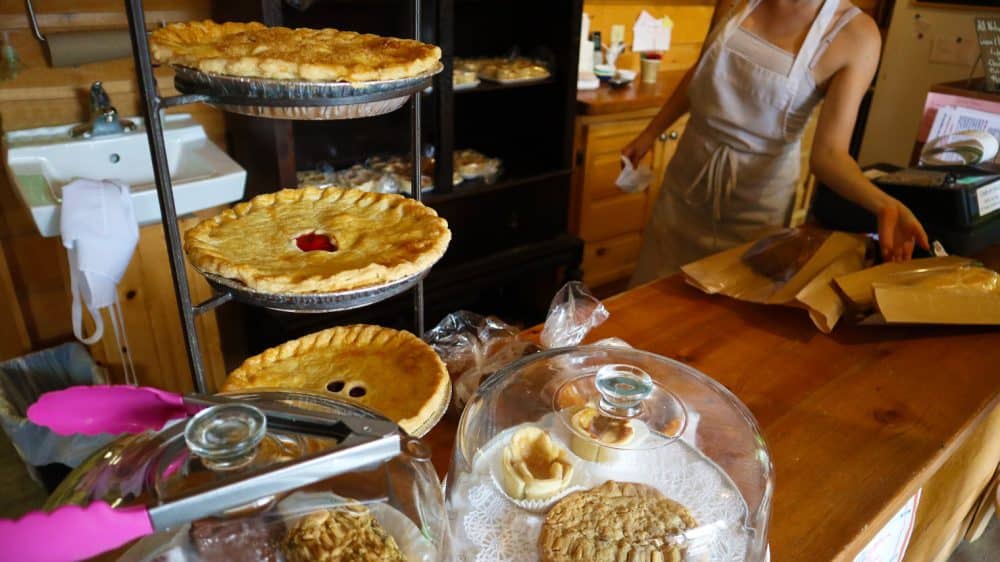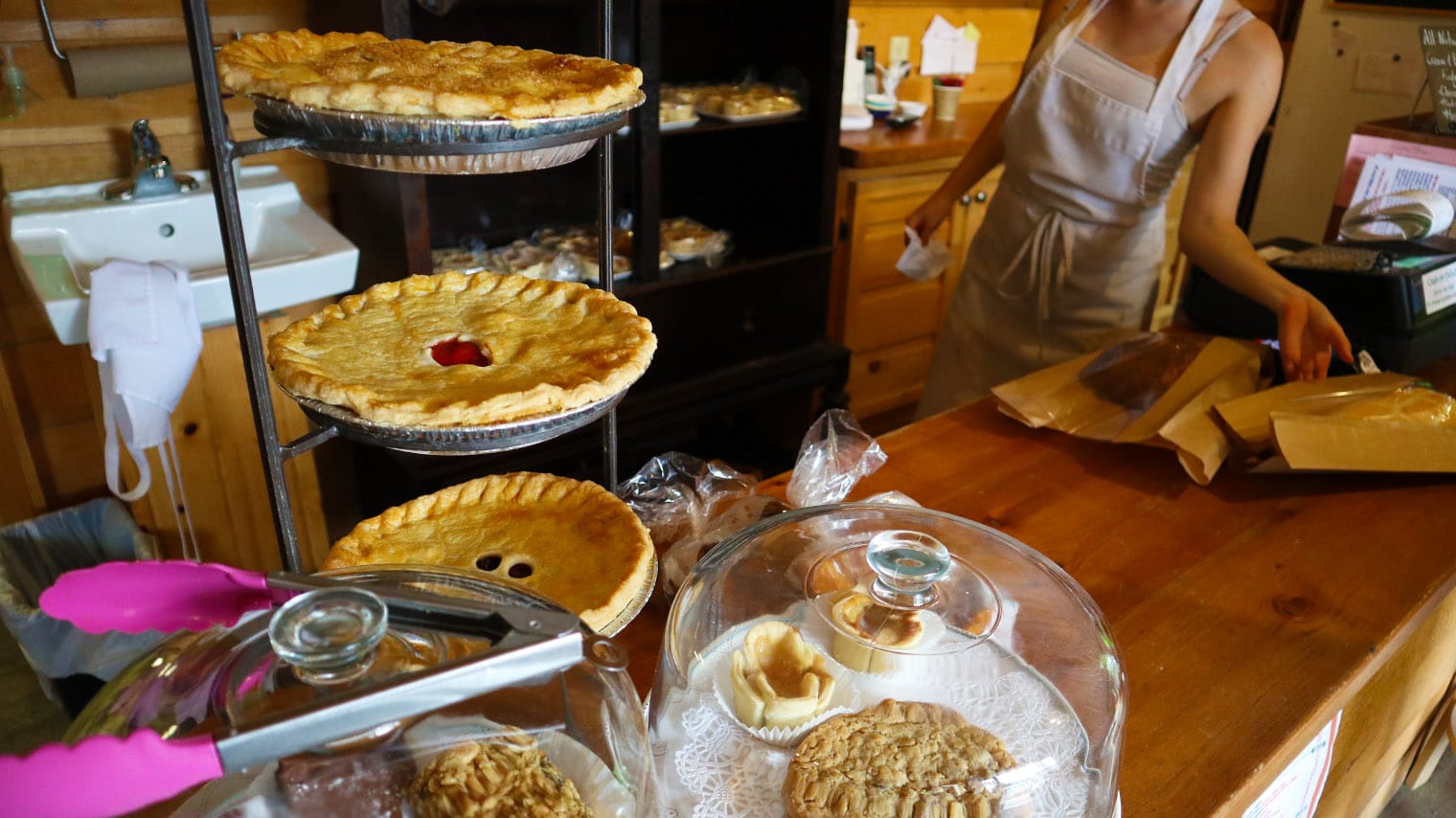 6 Bay St., Baysville
The Humble Pie Butter tart Factory & Pizzeria is famous for its award-winning butter tarts, but the amazing holiday goodies they offer also deserve some recognition. Situated in the quaint village of Baysville, Humble Pie offers home-style fruit pies, pastries, breads, quiches, and, of course, butter tarts!
Pick up one of the bakery's perfectly spiced Pumpkin pies to enjoy with your family this holiday. Or, for an eye-catching dessert, order the Humble Pie Gingerbread Christmas Tree. This Christmas cookie tree features layers of sweet, gingery cookies stacked together to form a tree, with a generous layer of delicate icing sugar that's almost as pretty as real winter snow. Don't forget to check out the bakery's weekly goodies, available for order every Saturday morning. From Grammie's Spice Cake & Brown Sugar Sauce to Pumpkin Streusel Pie, there's a delicious new offering each week.
Please call Humble Pie at 705-224-8278 to place your orders for the holiday season. The bakery is currently open Wednesday-Saturday for take-out only.
Visit their website for more information
The Pasta Shoppe Bakery by Beat the Wheat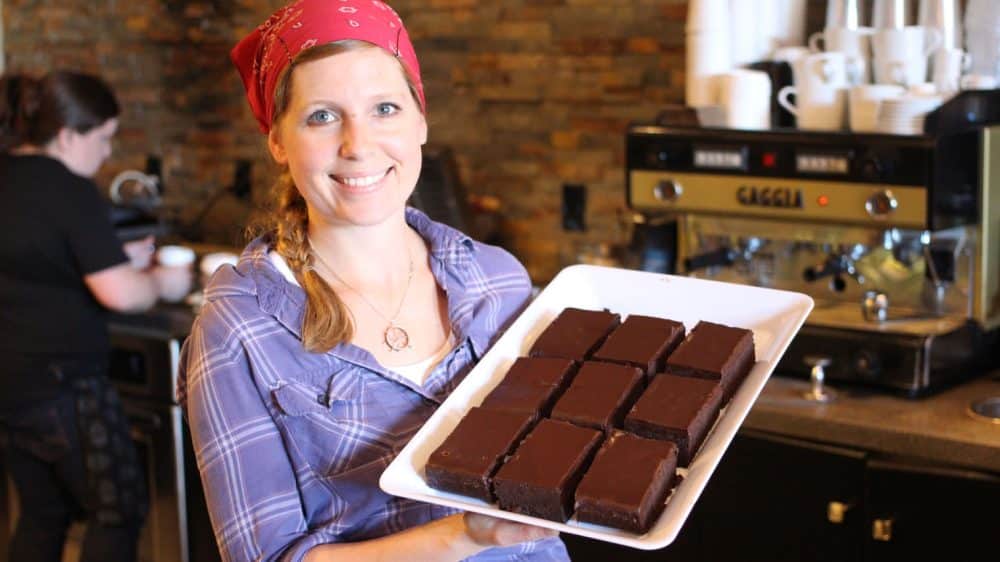 60 Manitoba St., Bracebridge
The Pasta Shoppe Bakery & Fine Foods by Beat the Wheat offers a wide variety of goodies carefully baked for those with gluten sensitivities, but their sweet treats are so delicious that even those without allergies will enjoy them! This holiday, the bakery has prepared a special Christmas menu with both sweet and savoury seasonal items. Please call 705-645-6500 by December 22nd to place your orders in time for the holidays. Orders can also be placed online for delivery through Beat the Wheat's online store.
Craving something sweet? Check out Beat the Wheat's holiday cookies, available in half-a-dozen quantities for $9. Choose from Mini Sugar Cookies, Gingersnap Cookies, Haystack Macaroons, Mini Gingerbread People, or Jam-Filled Thumbprint Cookies. Or, try one of their speciality desserts, including Sticky Toffee Pudding, Nanaimo Bars, Biscotti, Gingerbread People, and Yule Logs. Looking for a dessert your entire family can enjoy, or the perfect end to a holiday meal? Pick up one of the bakery's Pumpkin, Apple Cranberry, Apple Crumble, or Wild Blueberry Pies.
Beat the Wheat is also preparing several savoury options for you to enjoy this season. Add some flavour to your holiday meal with their Seasonal Sausage Stuffing or Seasonal Vegetarian Stuffing, both available in small, medium, and large sizes. For a quick meal that's both hearty and delicious, try Beat the Wheat's Tourtiere, Braised Mushroom, or Chicken Pot Pies, all made with a perfectly-flaky pastry.
Visit their website for more information
Cottage Cravings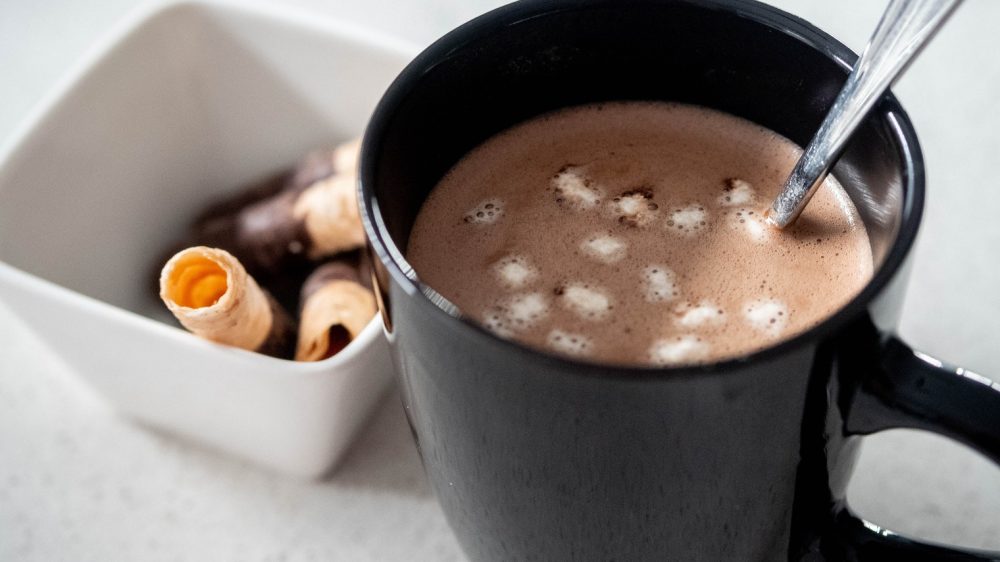 3181 Hwy 169, Bala
There's nothing better than a steaming hot cup of cocoa to warm up with on a cold winter day. The combination of sweet-meets-creaminess and warmth is absolutely divine.
You'll find the perfect cup of hot cocoa at Muskoka's largest hot chocolate bar, found inside Cottage Cravings. Located in picturesque Bala, Cottage Cravings offers more than 30 different flavours of hot chocolate in their cafe, alongside other delicious hot drinks. Try one of their holiday-inspired hot chocolate flavours, like Egg Nog, Hot Butter Rum, or Mint Chocolate. Not a chocolate fan? Check out their other special seasonal drinks, like the Gingerbread Tea Latte or Spiced Apple Cider. 
Be sure to pick up some tasty baked goods to pair with your hot chocolate. Cottage Cravings serves up pies, tarts, and squares, as well as savoury favourites like grilled paninis and gluten-free bread.
Please note that Cottage Cravings is only available for take-out at this time.
Click here for more information
The Blue Willow Tea Shop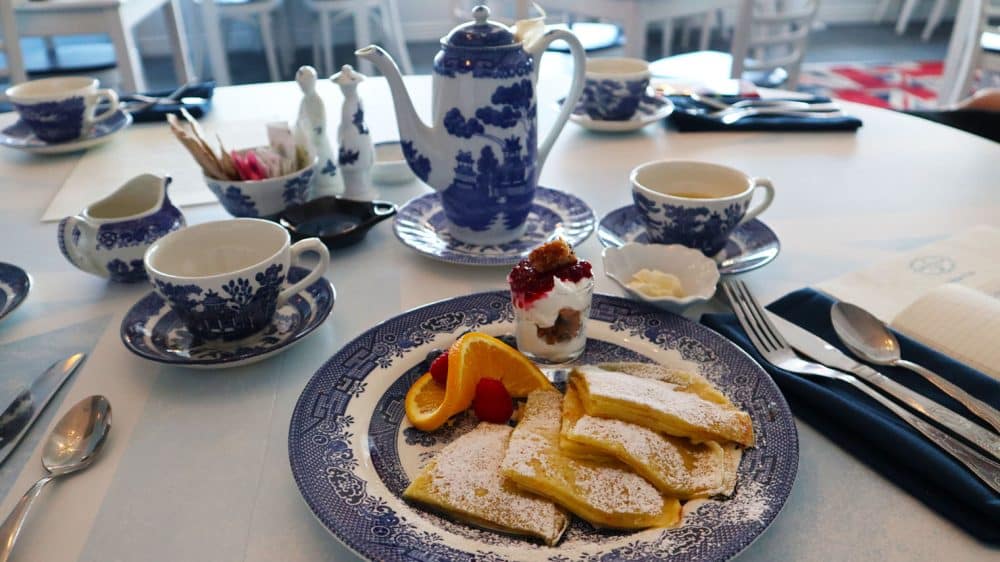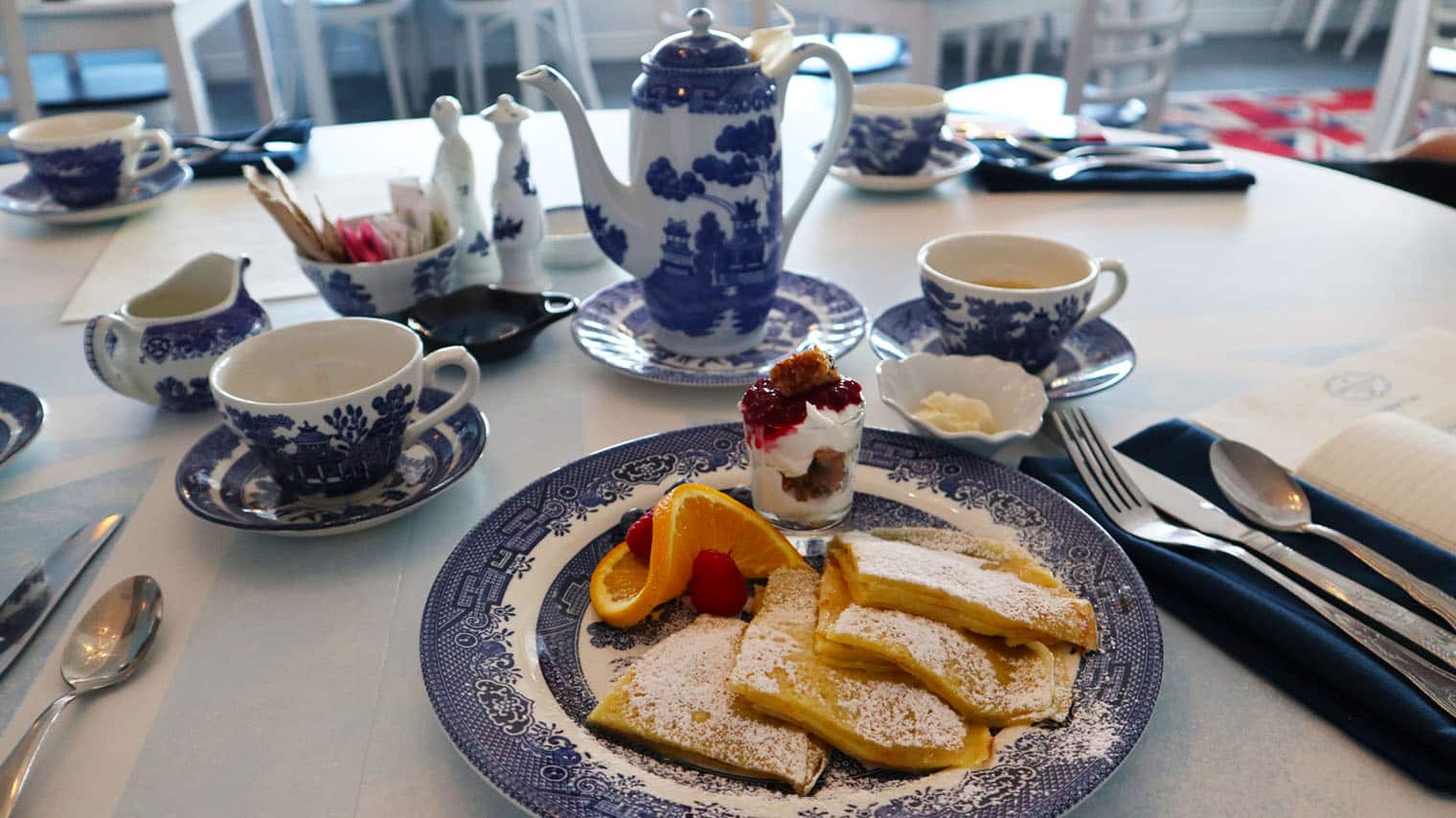 900 Bay St., Muskoka Wharf, Gravenhurst

The Blue Willow Tea Shop is a delightful place to enjoy a cup of English tea or British-inspired goodies at any time of the year, but it's especially charming over the holidays. Join Blue Willow throughout the month of December to enjoy one of their special holiday tea selections, alongside a festive lunch menu.
Treat yourself and a loved one to Blue Willow's Holiday High Tea for an afternoon off from shopping. Savour Yorkshire sliders, Turkey Stuffing Bites, Brie & Pear Tarts, and Smoked Trout Crostinis as well as a variety of assorted cheeses. Then, nibble on assorted scones and preserves while you sip your holiday tea. Finish off your High Tea experience with Sticky Toffee Pudding, cheesecake, cupcakes, and Christmas cookies.
Please call the Tea Shop at 705-687-2597 to make your reservation (they are required). As per COVID-19 restrictions, a maximum of 4 people are permitted at one table, masks must be worn unless seated, and social distancing measures are in place.
Click here for more information
COVID-19 Modifications
The Muskoka region, including the restaurants and local businesses discussed above, have taken several precautions to help prevent the spread of COVID-19. Social distancing procedures must be followed. Masks are required for entry into all buildings and when social distancing is not possible. Frequent hand-washing is encouraged and everyone must self-isolate if experiencing any COVID-19 symptoms. For more information regarding COVID-19, please visit our COVID-19 Updates page.
Stay and Play
Make the most of your Muskoka experience and check out our top recommendations for places to stay and perfect getaway packages.