Magical ice trails & frozen rinks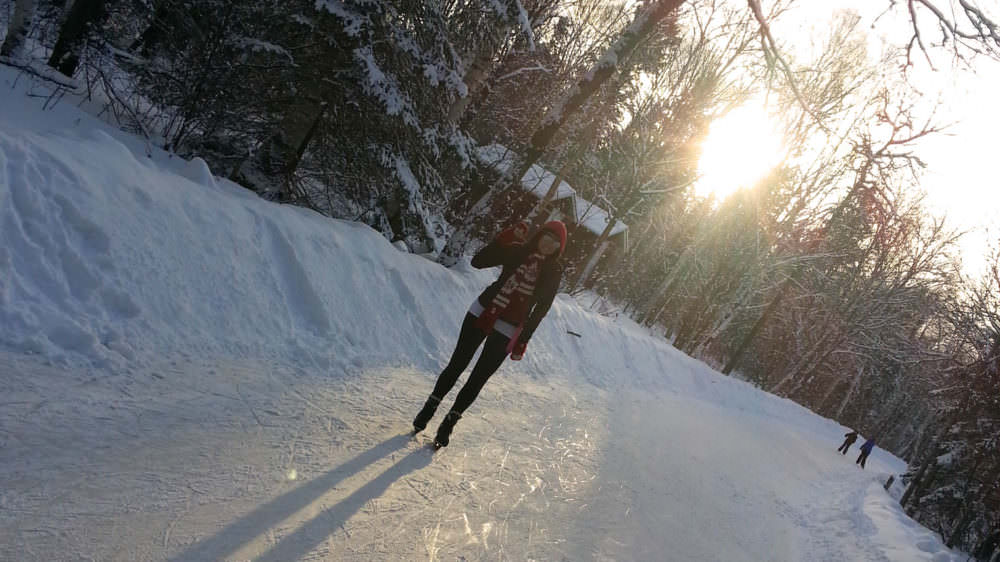 Need a break from the same four walls of your own home? Craving something more exciting than catching up on your favourite TV shows or scrolling social media? Look no further than outdoor winter activities, available right in your own backyard!
The perfect solution to lockdown-induced cabin fever is to get out and explore the wonderfully-snowy region that you call home. And what's one local winter activity that's great for the entire family bubble? Ice skating, of course! Dust off the skates and bundle up for a fun-filled day of ice skating at one of these local rinks. Choose from a unique skating adventure at a microbrewery, cranberry marsh, luxurious resort, or provincial park, all found locally in Muskoka.
Read on to learn more about 4 places to go ice skating in Muskoka.
Clear Lake Brewing Co.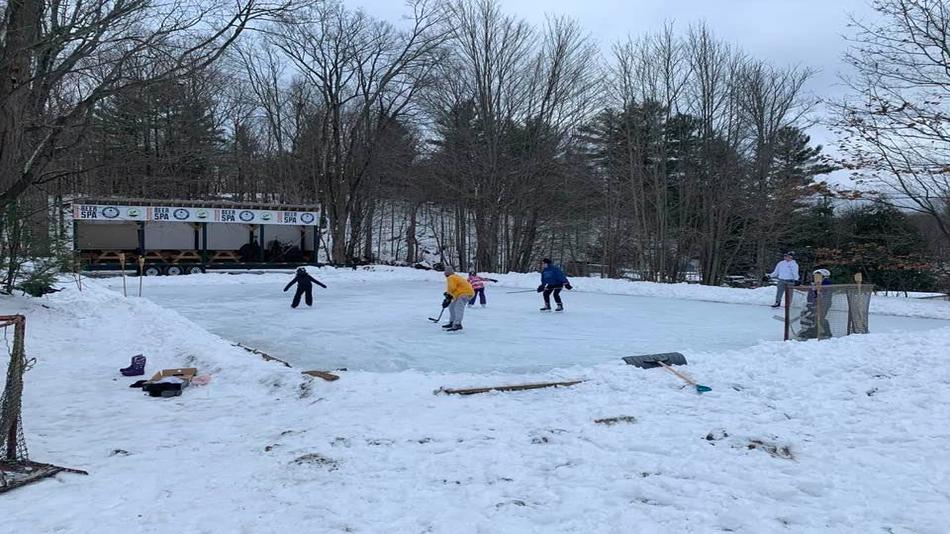 4651 Southwood Rd., Torrance
Have you heard? Clear Lake Brewing Co., one of Muskoka's newest micro-brewery, is stepping up their winter game this snowy season and have built an on-site ice rink. Nestled among the gorgeous winter scenery in Torrance, this rink is a must-visit for an afternoon of ice skating. Glide along the freshly-flooded rink with your family bubble and admire the stunning snow-capped pine trees and peaceful winter atmosphere.
The ice rink is open daily from 9 am-9 pm for you to enjoy with your family bubble. Please remember to always follow social distancing protocols. Call 705-762-0234 for information on daily ice conditions and rink availability.
After a day of skating,  you'll want to order a toasty meal from the brewery kitchen to enjoy back in the comfort of your own home. Choose from several different daily comfort food options, like Sloppy Joes and Roasted Corn & Beef Chowder. Find their complete takeout menu here. And don't forget to pair one of their delicious brews with your meal! The bottle shop is available for pick-up from 9 am- 9 pm.
Muskoka Lakes Farm & Winery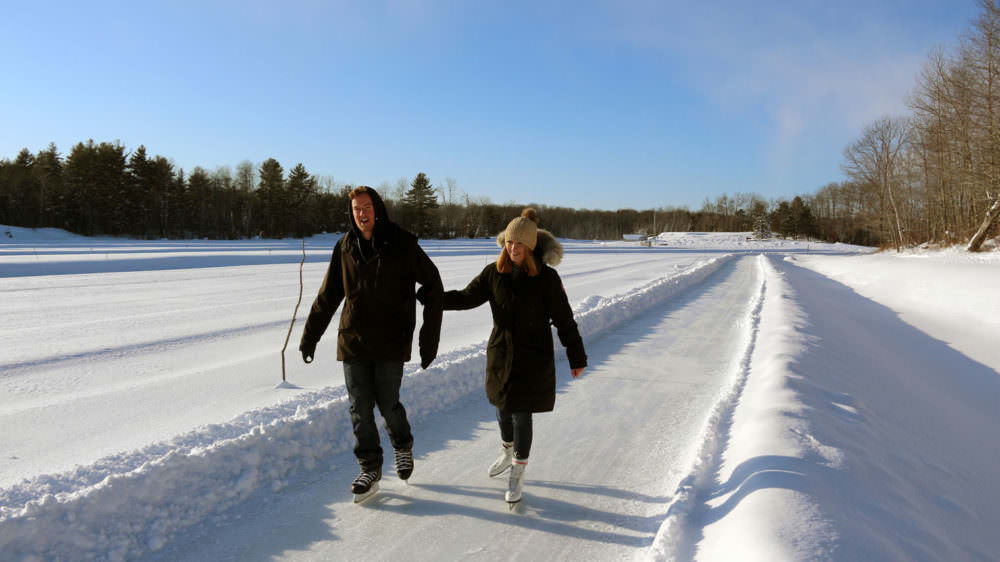 1074 Cranberry Road, Bala
What do you get when you combine cranberries and ice skating? One of the most quintessentially Canadian experiences available in Muskoka, of course! Bring your family bubble to skate the Cranberry Ice Trail at the Muskoka Lakes Farm & Winery for an unforgettable adventure that's close to home this winter. Skate around 12 acres of frozen cranberries on the farm's 1.2 km ice loop and take in the beautiful winter scenery as you glide with your family members. To allow for social distancing, ice trail passes must be reserved online prior to your visit. Passes are good for 2 hours of ice trail use.
Enhance your ice skating experience with a private Fire Pit Rental. This includes the use of a sanitized fire pit and benches for up to 6 people, an ice trail pass, gourmet s'mores with dark chocolate, hot dogs with cranberry chutney and coleslaw, and water for all guests to enjoy. Fire pits are located alongside the ice trail, so guests will receive their food upon arrival and then skate to their designated area. Additional items from the food and drink menu, including alcohol, can be ordered after arriving. Bookings for the fire pits are available on a weekly rolling basis and can be made online through their website.
Muskoka Bay Resort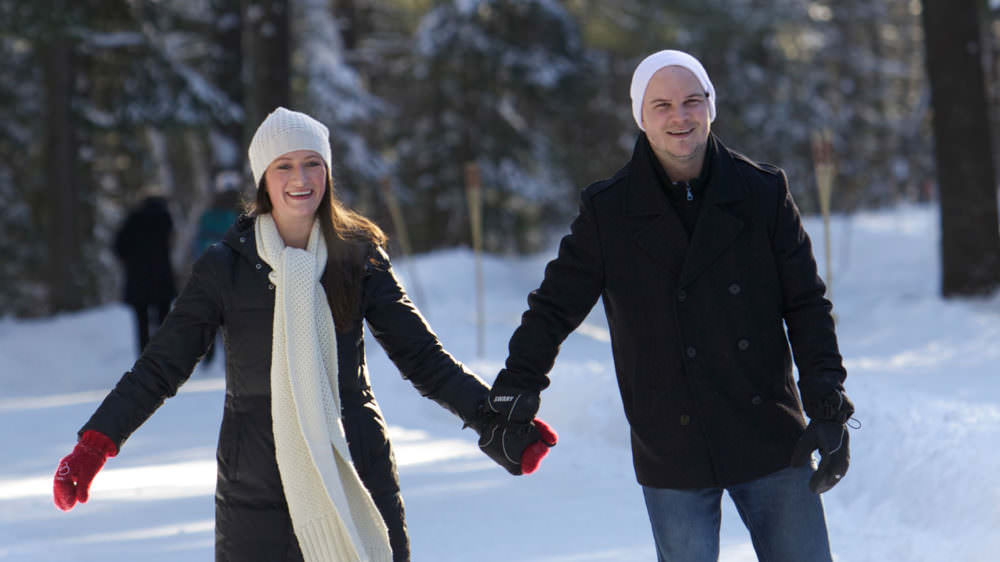 1217 North Muldrew Lake Rd., Gravenhurst
Check out Muskoka Bay Resort this winter for the very best in outdoor Canadian fun. From cross-country skiing to tobogganing on the resort's snowy slopes, there's a must-try winter activity for everyone.
Be sure to stop by Muskoka Bay Resort for a peaceful skate around their on-site ice rink. Admire the resort's gorgeous winter wonderland scenery as you challenge your family members to make figure-eights on the ice. Afterwards, warm up with a hot drink from the kitchen or order a delicious meal for take-out to enjoy back at home.
Skating is available in one-hour time slots and must be booked to allow for social distancing. Please email experiences@muskokabayresort.com to book your skate time.
Arrowhead Provincial Park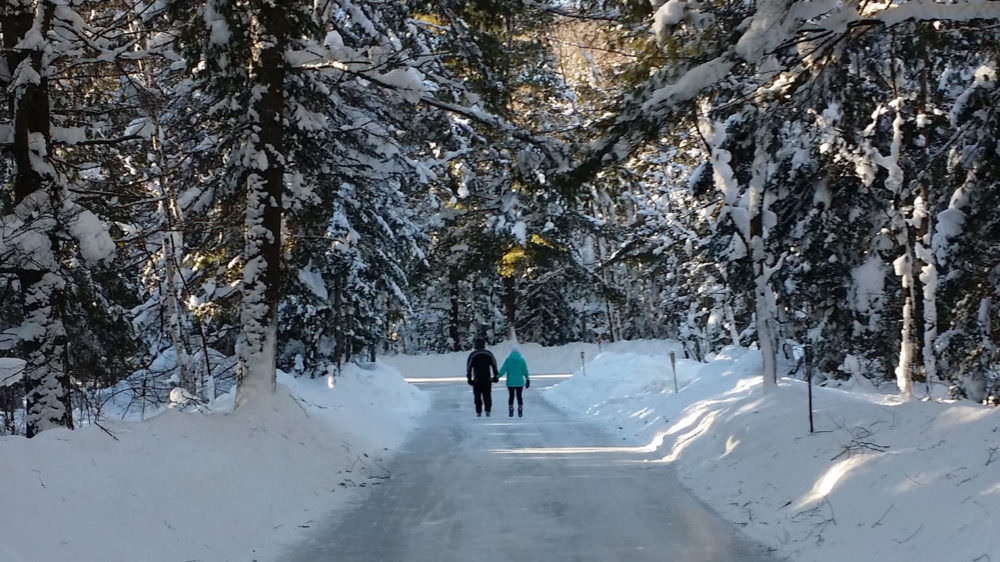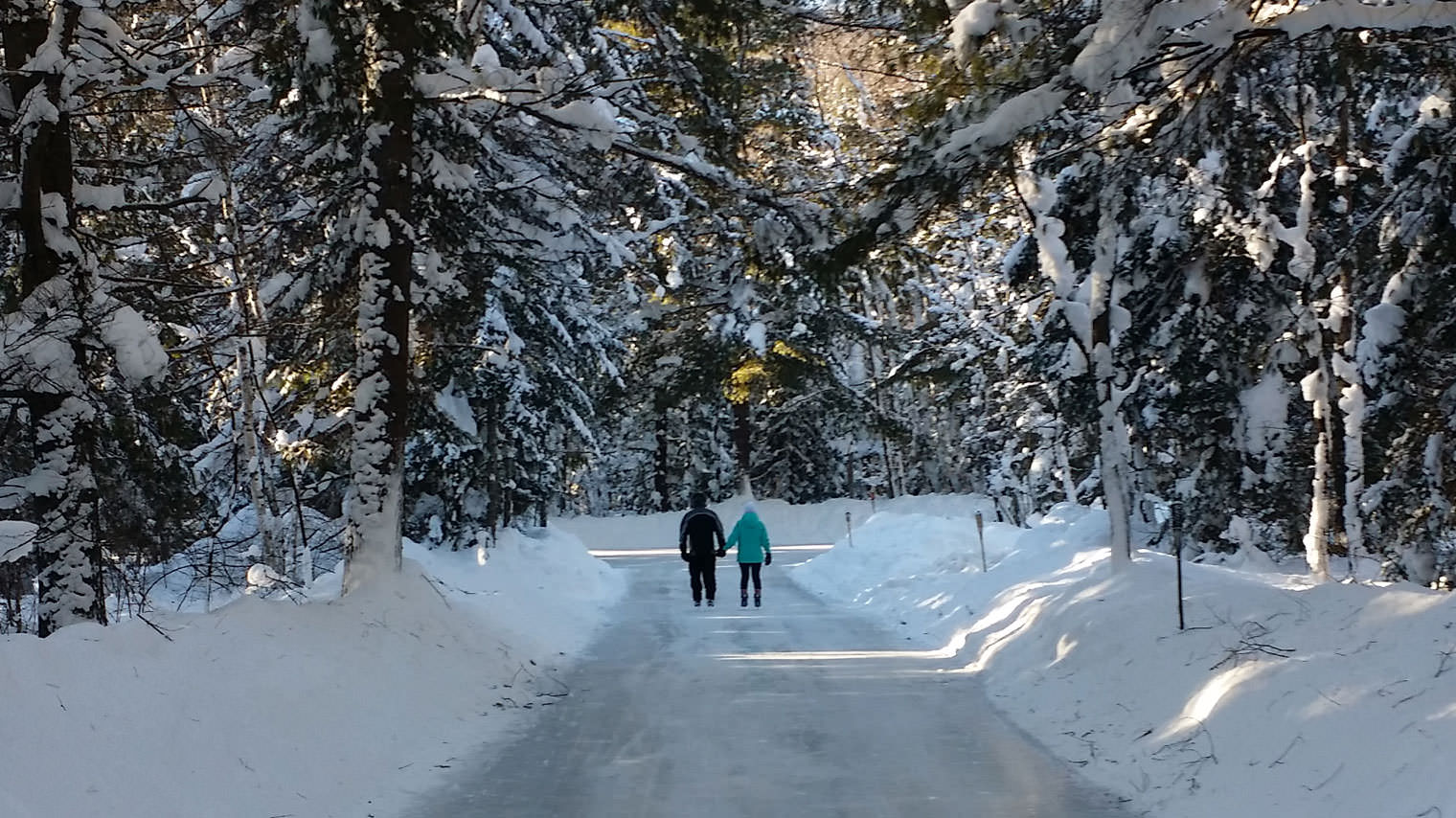 451 Arrowhead Park Rd., Huntsville
Of course, no ice skating list in Muskoka would be complete without Arrowhead Provincial Park's legendary ice trail. The 1.3 km trail winds through the majestic park forest, past snow-capped pine trees and frozen scenery straight out of a winter fairytale. Although you're likely familiar with Arrowhead, as a Muskoka local, the park is transformed into an almost unrecognizable winter wonderland during the snowy months, and is one winter experience that shouldn't be missed.
Please note that the ice trail is expected to open in mid-January, 2021. Skating on the trail will be available daily from 9 am to 5 pm. The trail will be closed between 11:30 am and 1 pm each day for scheduled maintenance.
To allow for social distancing, Arrowhead Provincial Park will be posting park capacity updates each day to their Twitter account (@ArroPark). Visitors will not be permitted into the park when capacity is reached. Be sure to check for capacity updates prior to visiting the park to avoid disappointment. Or, consider planning your trip during low-peak periods, such as mid-week. Click here to read more about the changes to visiting Arrowhead Provincial Park this winter.
COVID-19 Modifications
The Muskoka region, including the restaurants and local businesses discussed above, have taken several precautions to help prevent the spread of COVID-19. Social distancing procedures must be followed. Masks are required for entry into all buildings and when social distancing is not possible. Frequent hand-washing is encouraged and everyone must self-isolate if experiencing any COVID-19 symptoms. For more information regarding COVID-19, please visit our COVID-19 Updates page.
Stay and Play
Make the most of your Muskoka experience and check out our top recommendations for places to stay and perfect getaway packages.