Muskoka is a Top Destination for Couples
Muskoka's reputation as a couple's destination has skyrocketed, and this little slice of paradise two hours north of Toronto is now widely considered to be one of the most romantic vacation destinations in Ontario. Muskoka has long been a family destination in the summer but during the fall, winter and spring months, couples venture to the area to experience a different side of Muskoka, a more romantic side.
What sets the area apart from other romantic destinations, is what you won't find here. Instead of the bright lights of Toronto, Niagara Falls or Ottawa, you have bright stars illuminting the sky at night as you hold hands by the fire. The busy sidewalks of a downtown metropolis that are seemingly always at a fever pitch are replaced by the peace and calm of a loon serenading you on the lake as you sip your morning coffee. The relaxation you will find on a romantic getaway to Muskoka will rejuvinate both you, your partner, and your relationship.
Muskoka is widely considered to be of the best places to visit in the world! Don't just take our word for it: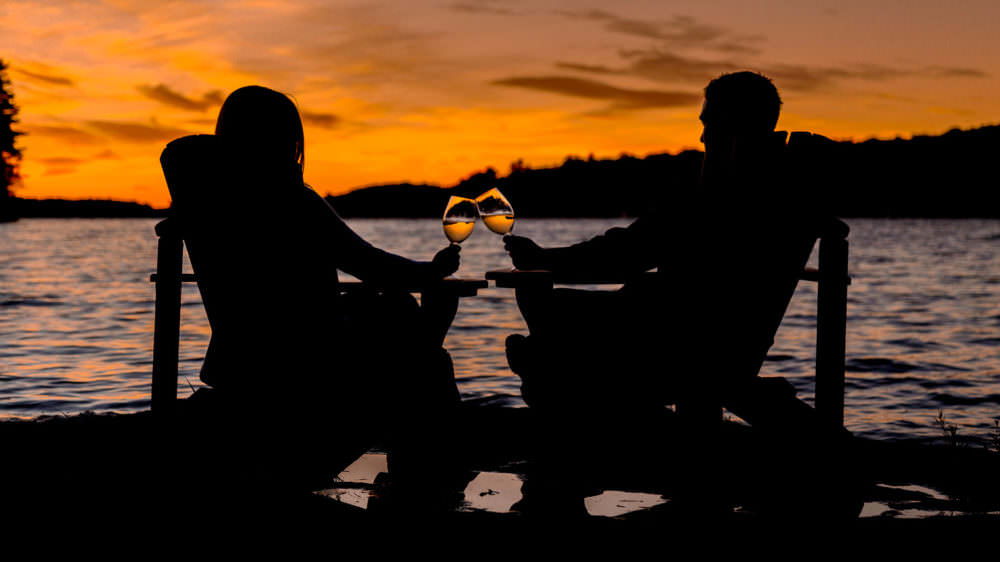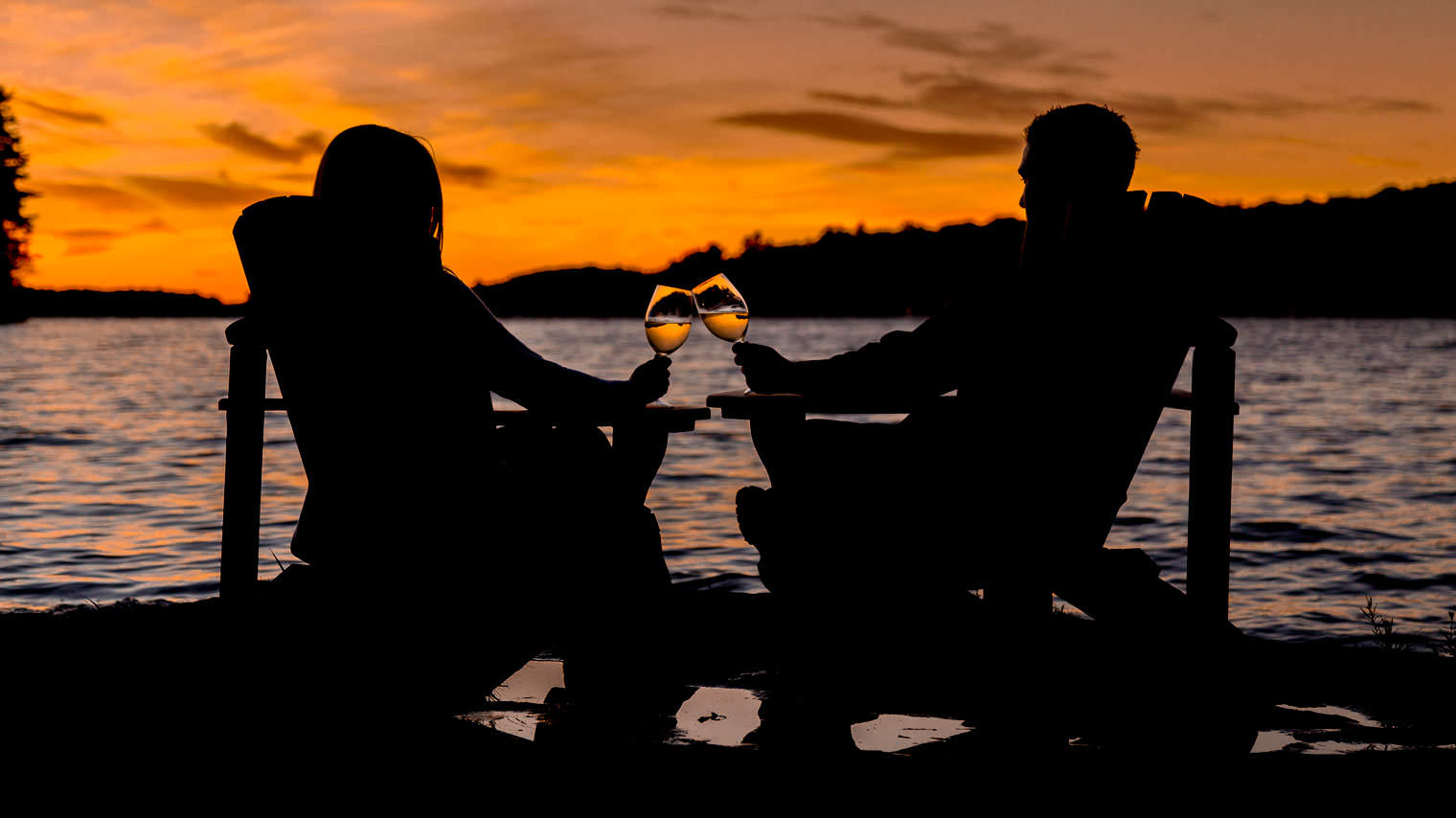 The most memorable moments of a romantic getaway happen when it is just the two of you. The sunsets on Lake Joseph at Sherwood Inn create a magical moment for couples that are craving some alone time.
Aside from the stunning natural setting of Muskoka, couples will love all of the fun activities they can do together while on their romantic retreat. Muskoka is full of unexpected surprises and delights year round!
One such delight is the culinary scene, and Muskoka's many talented and award-winning chefs. No matter your preferences, you will be able to find the perfect spot for a romantic dinner. You can dine at a top restaurant in one of Muskoka's charming downtowns. Or find one of the hidden gems that are off the beaten path, like the Norsemen Restaurant, known for its authentic 'Old Muskoka' ambiance. Many of the resorts across Muskoka specialize in their culinary delights, featuring inspired dining from renowned chefs, with extensive wine lists and local craft beer for tasty pairings.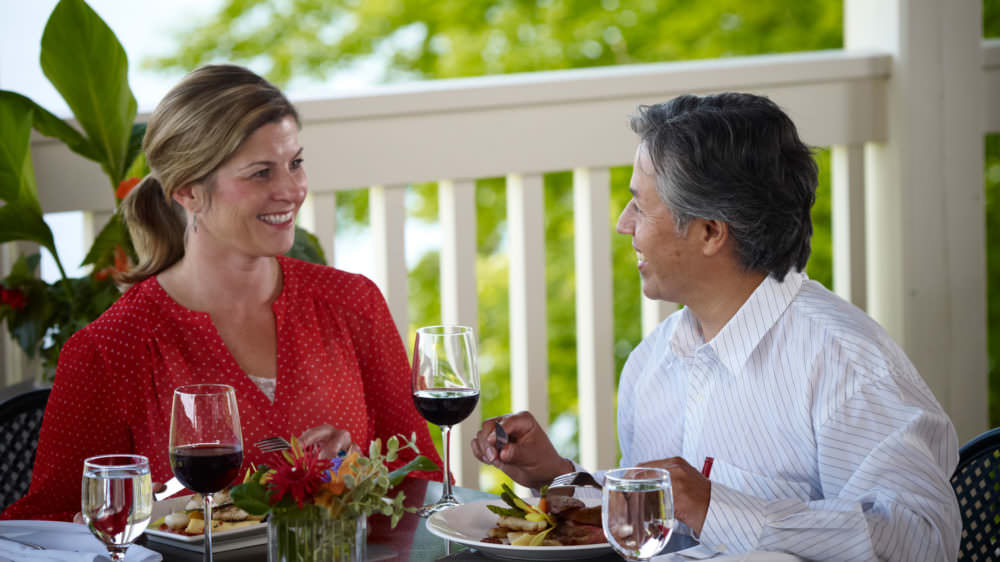 Overlooking Peninsula Lake, Eclipse Dining Room at Deerhurst Resort is a Muskoka favourite for inspired dining, impressive views, and locally-inspired menus.
You are certain to find some of Canada's most talented chefs, passionate about the dishes they create and the ingredients they use. Field to fork is a philosophy that runs deep in Muskoka, and our many talented chefs draw inspiration from all things 'made in Muskoka', from our local farmers' crops to our craft beer, wine and roasted coffee.
After dinner, why not catch a show? Muskoka boasts excellent live entertainment year round, bringing in top notch music talent and featuring exceptional live theatre. Nowhere is Muskoka's charm more evident then the intimate, small-town venues headlining some of Canada's greatest artists. Click here to see who is it hitting the stage.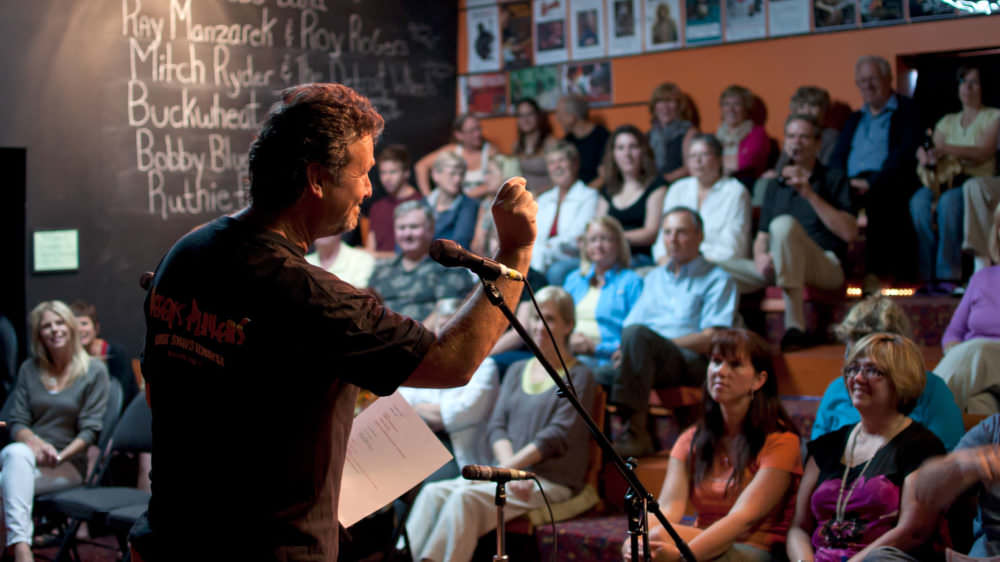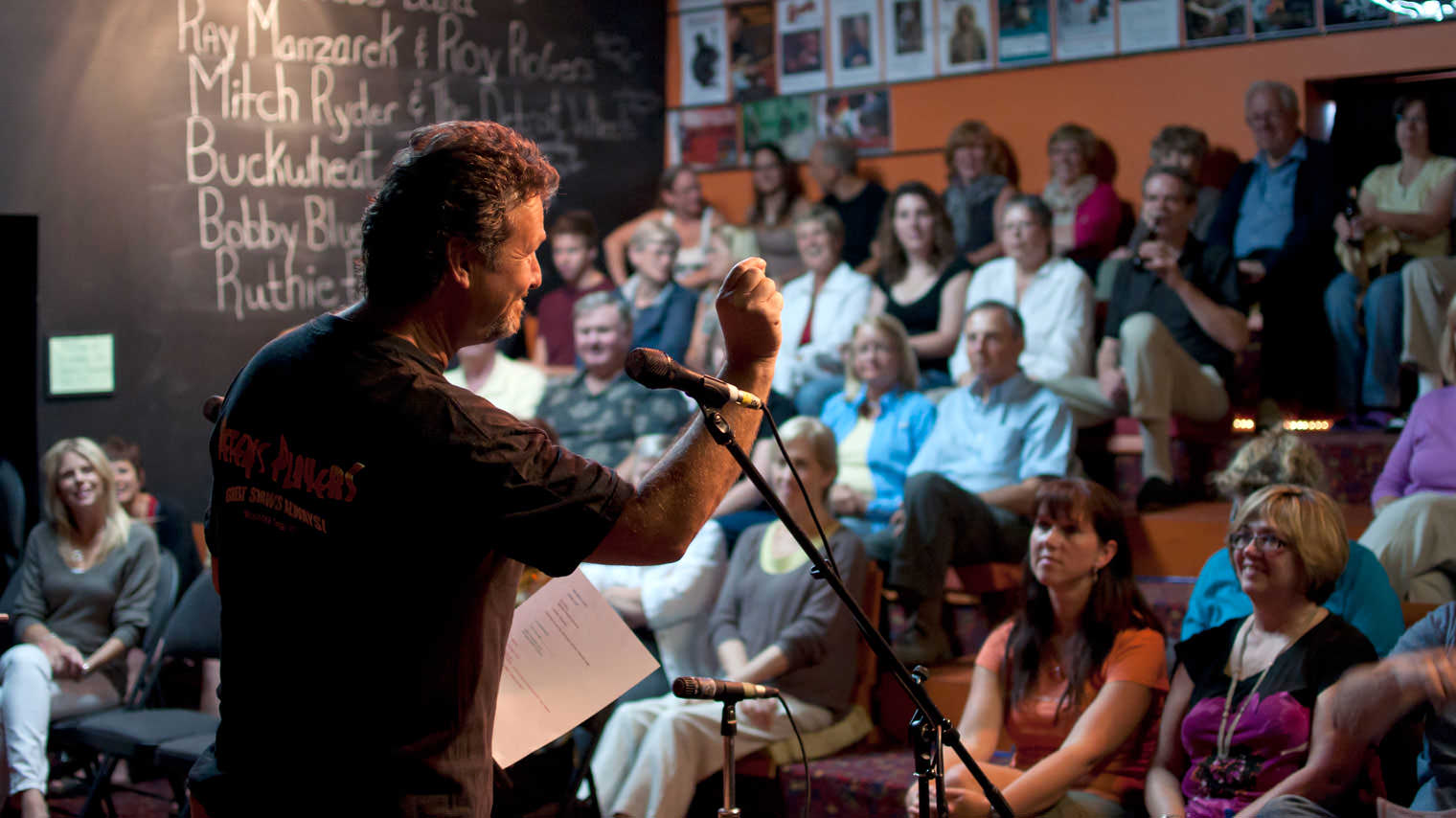 ---
Fall Fun Together
A popular romantic destination in the fall, Muskoka offers a more intimate feel when the leaves begin to change colours. Couples enjoy the relaxing atmosphere paired with fun and exciting ways to experience the fall colours.  Most will map out a driving route or complete one of Muskoka's driving tours, taking in the beautiful colours, fun attractions, and great company as they spend the day together on their own adventure.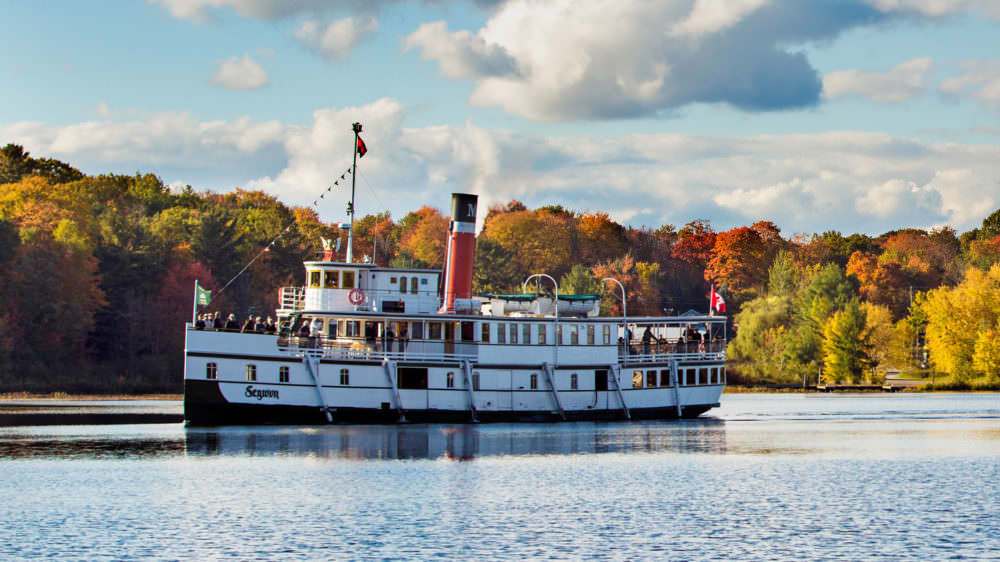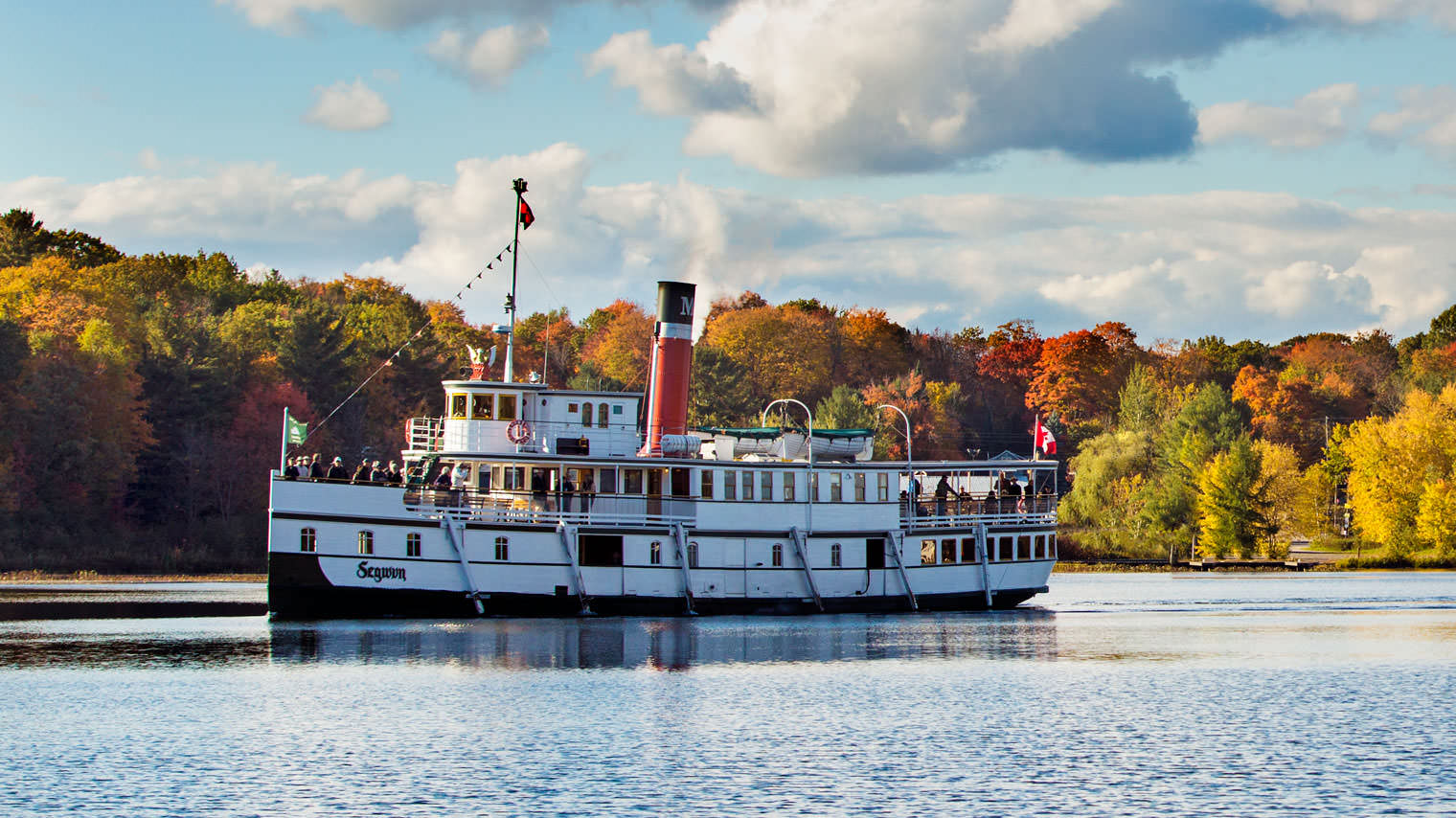 The most popular way to view the fall colours together is a Fall Colour Cruise. Couples admire the beautiful lakes and stunning colours in a relaxing atmosphere. Fall colour cruises are available accross Muskoka in Gravenhurst, Bracebridge, Port Carling, Lake of Bays, and Port Severn, and sailing season runs until Thanksgiving.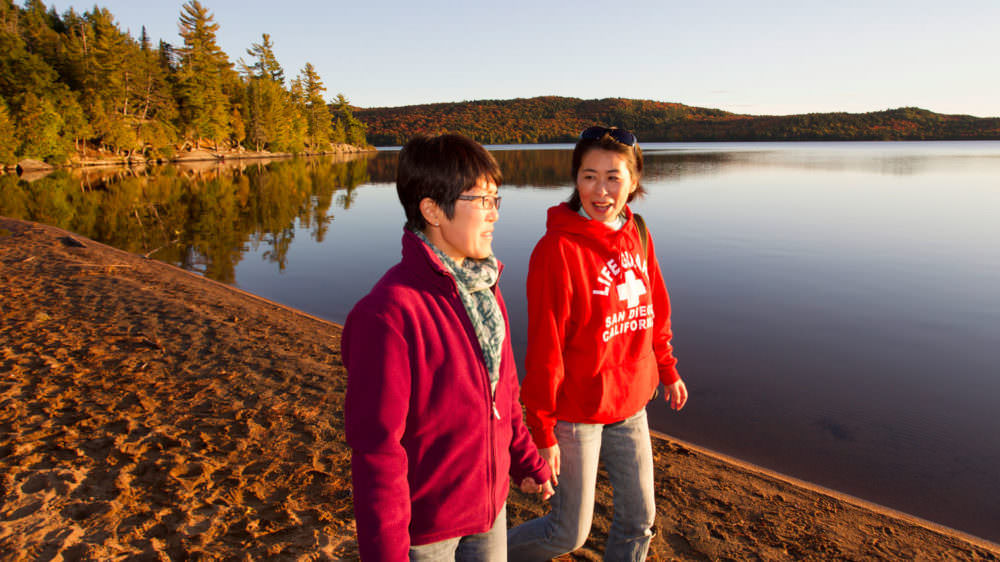 Hiking is the best way to experience the colours up close and personal. Muskoka has 100's of kms of hiking trails just waiting to be explored. To get that picture perfect photo of the two of you, hike to one of the popular fall colour lookouts; Dorset Fire Tower, Huckleberry Rock or Lion's Lookout.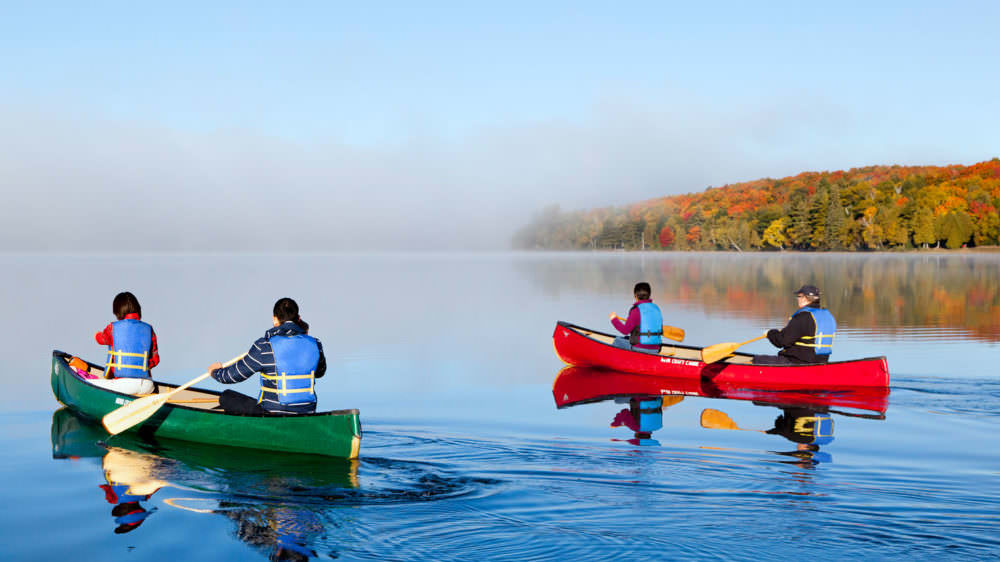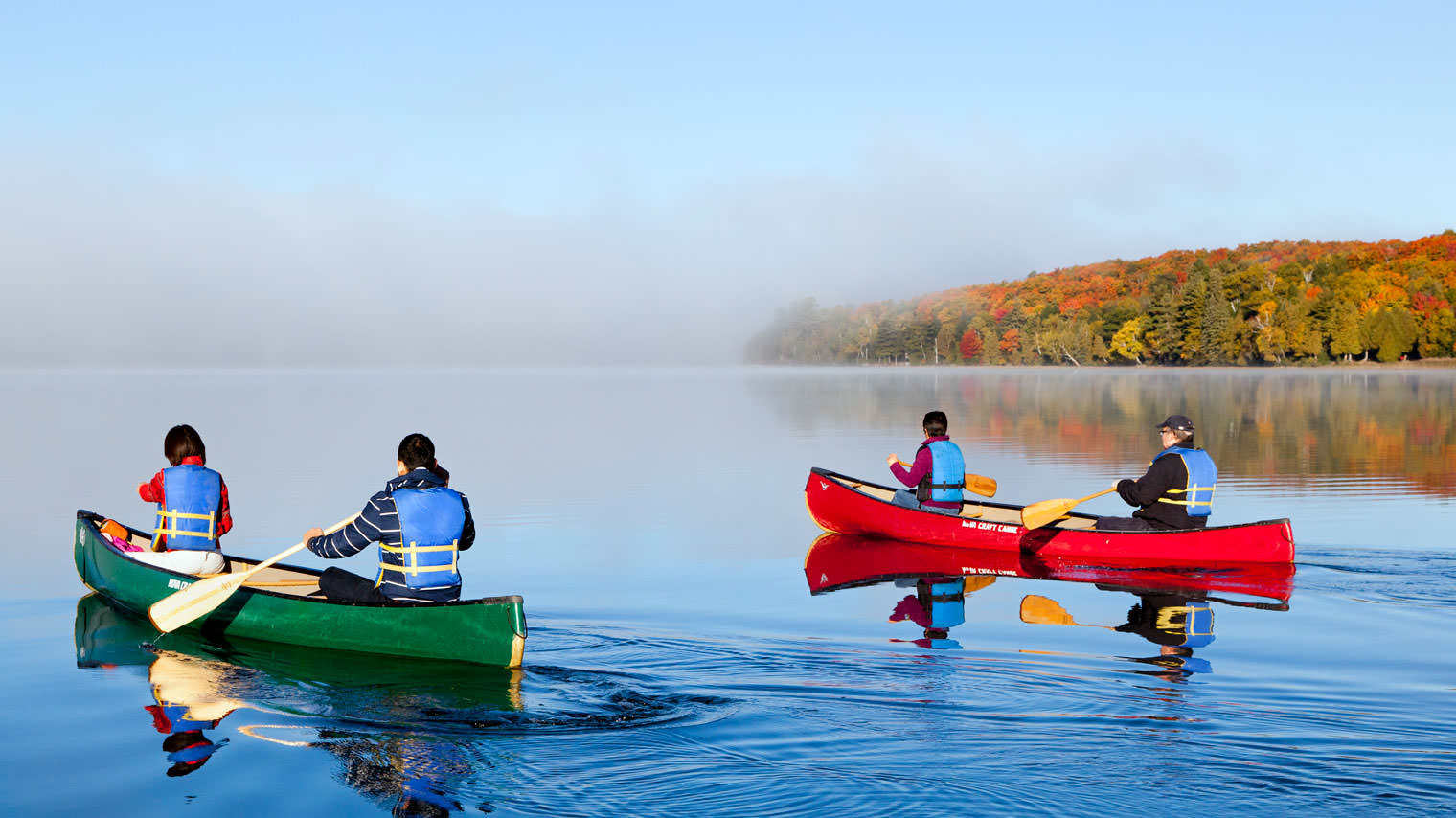 The key to your romantic getaway is to make the most out of your day. Set the alarm clock and experience a sunrise canoe paddle together. This awe-inspiring start to your day is a moment you won't soon forget.
There are countless adventures for the two of you on your romantic fall getaway. Uncover excitement at a museum, take a winery or brewery tour, get off the ground in a sightseeing airplane or helicptor tour, visit an art gallery, glide through the trees at one of our zipline and aerial parks, go boating on the crystal clear water, or just relax by the lake together and soak up your surreal setting. However you choose to spend your romantic vacation together, it is easy to see why Muskoka is considered Ontario's most romantic vacation spot! You and your partner will fall in love, with fall in Muskoka!
---
Winter Excitement, Just the Two of You
When the weather dips, the romance keeps you warm. Winter days are spent enjoying the exciting activities in our winter wonderland, while winter nights are made for relaxing together in your cozy accommodations. Some of Muskoka's winter accommodations feature fireplaces, so you can curl up with a nice glass of wine, or a creamy hot chocolate.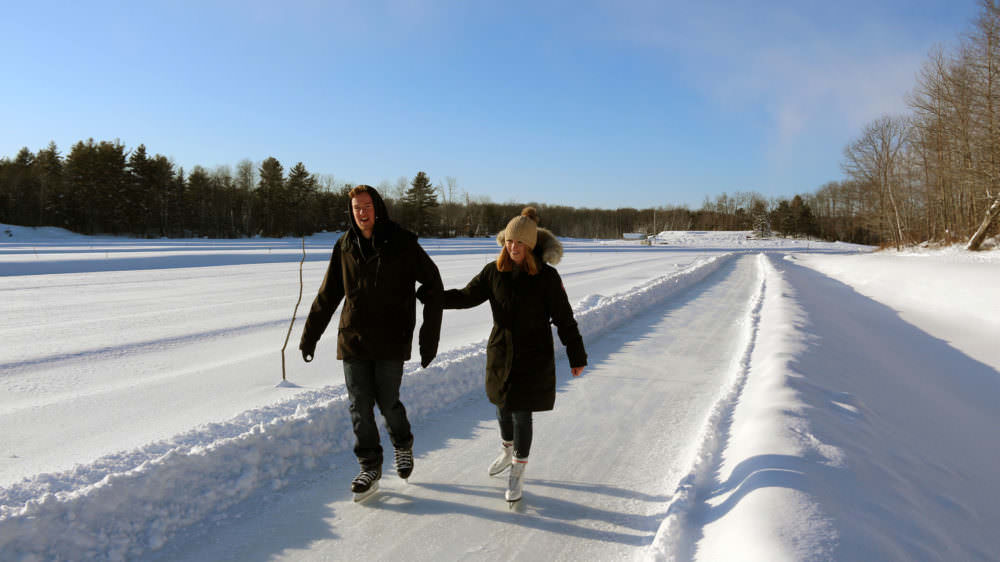 One of those outdoor winter adventures is a hand-holding skate on one of Muskoka's ice skating trails. Ice skating trails are the most popular winter activity in Ontario right now. Muskoka features four ice skating trails, each with its own unique experience. Check them all out!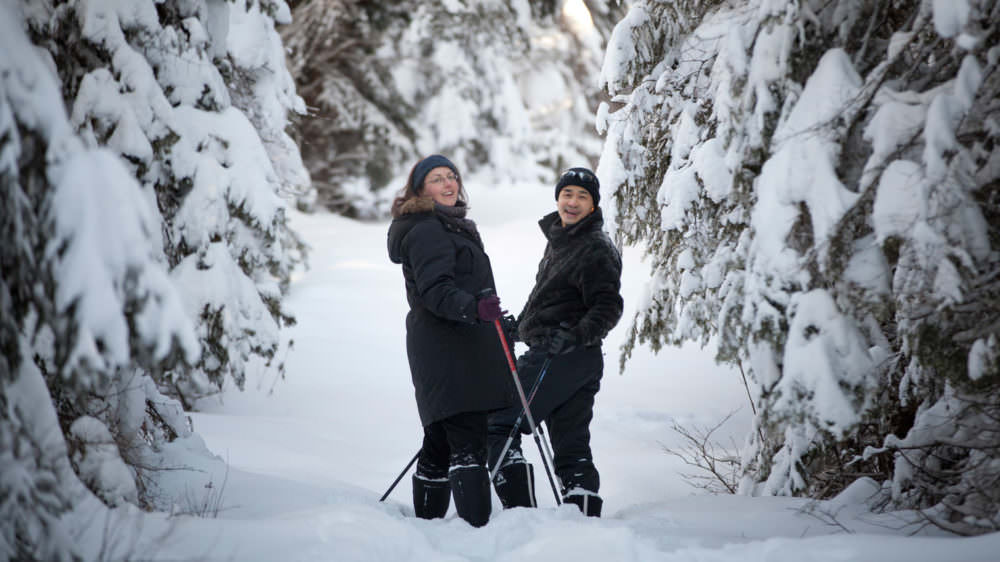 For couples that like getting outside and experiencing the great Canadian winter, another popular activity is snowshoeing. Explore Muskoka's back country, marvelling in the snow-covered evergreens while getting some great exercise. Muskoka has many places to rent shoes, and some excellent trails systems in place for all skill levels.
Winter is full of fun and excitement, with dozens of 'just the two of us' activities for you to enjoy. If you want a unique experience, try a dog sledding excursion. Rev up your excitement with a guided snowmobile tour together. If you want to bring your romance to new heights, you and your partner need to try one of the guided ice climbing tours offered by Liv Outside. Or trot at a slower pace with a romantic horse drawn sleigh ride through our winter wonderland, a staple Muskoka winter experience. After your adventures during the day, curl up together in your cozy accommodations and start planning the next day's fun. A top destination for couples year-round, Muskoka turns up the heat during the winter with fun and excitement for you and your partner.
---
Spring into Romance
Spring is the best time of year for a romantic holiday. As the flowers bloom and the forests show signs of new life, couples breathe new life into their relationship with a romantic holiday to one of Ontario's most romantic destinations.
The waterways during the spring time are less busy, which means there is more room for you and your partner to stretch out. Stand up Paddleboarding is a fun and exciting way to hit the water in the spring, and you don't need to be experienced to give it a try.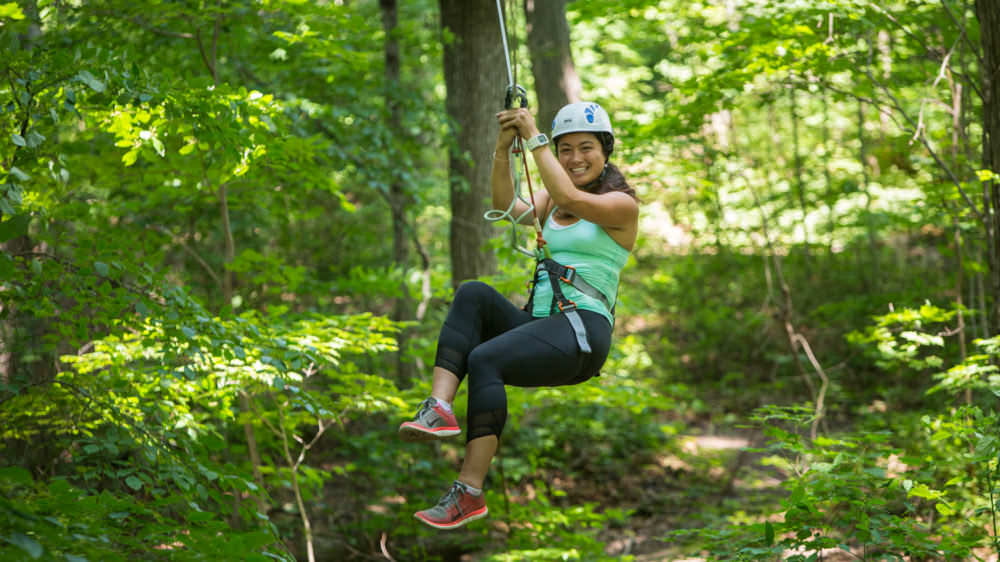 For couples that crave adrenaline, why not try one of Muskoka's Zip Line and Aerial Parks? This aerial experience will be exciting for both of you, as you push each other through the course.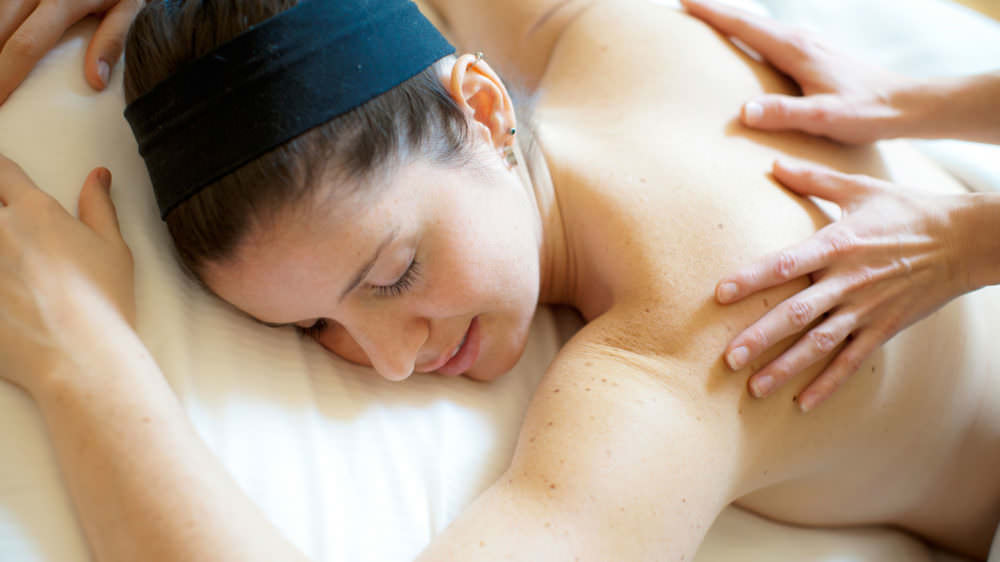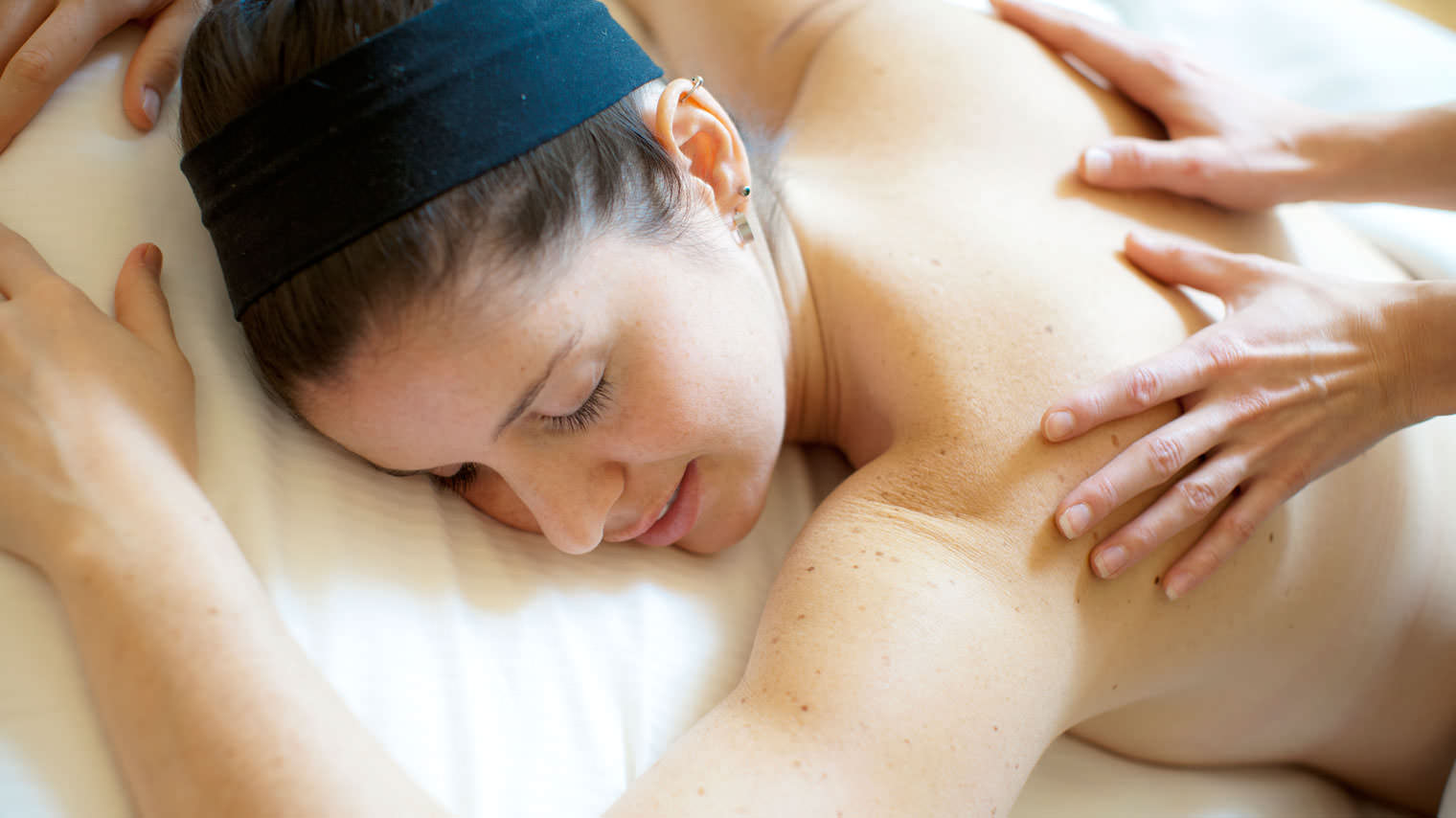 On the complete other end of the spectrum, an afternoon of his and her massages is the best way for the two of you to rejuvinate together. Nothing is quite as relaxing as a day at the spa, so go ahead, pamper yourselves and pamper each other. Find a spa nearby, or book a spa package.
Spring is the best time for a romantic holiday to Muskoka. The weather is beautiful, there are things to do aplenty, and you will be able to find a great rate for your stay.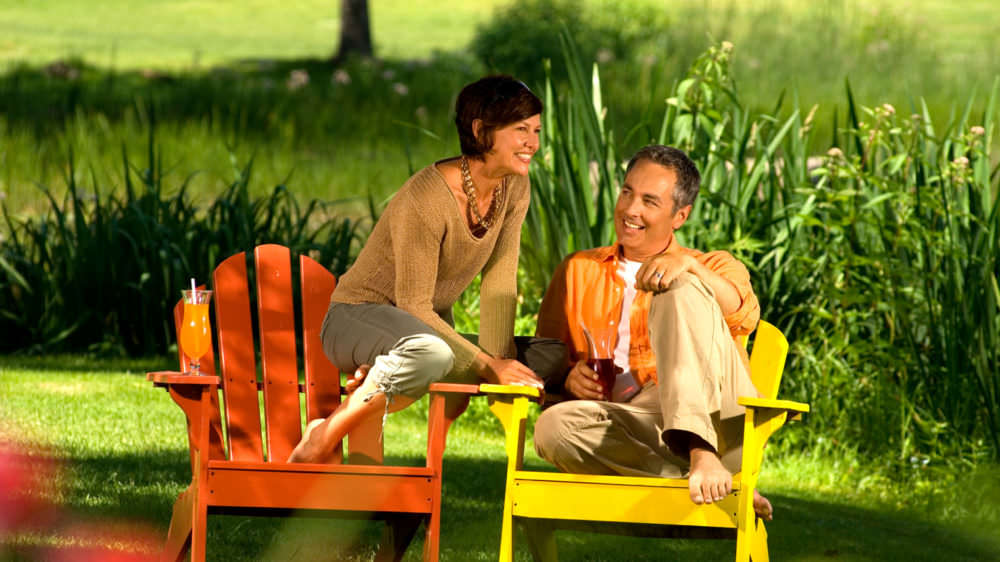 Whether you choose to visit in fall, spring, or winter, you are certain to have a romantically charged time in Muskoka. With cozy accommodations to suit all budgets, the most spectacular natural scenery, and tons of exciting 'just the two of us' activities and experiences, you too will crown Muskoka as the most romantic vacation spot in Ontario, and one of the Canada's top destinations for couples. Your time together in Muskoka will be relaxing, rejuvinating, and best of all, full of romance!