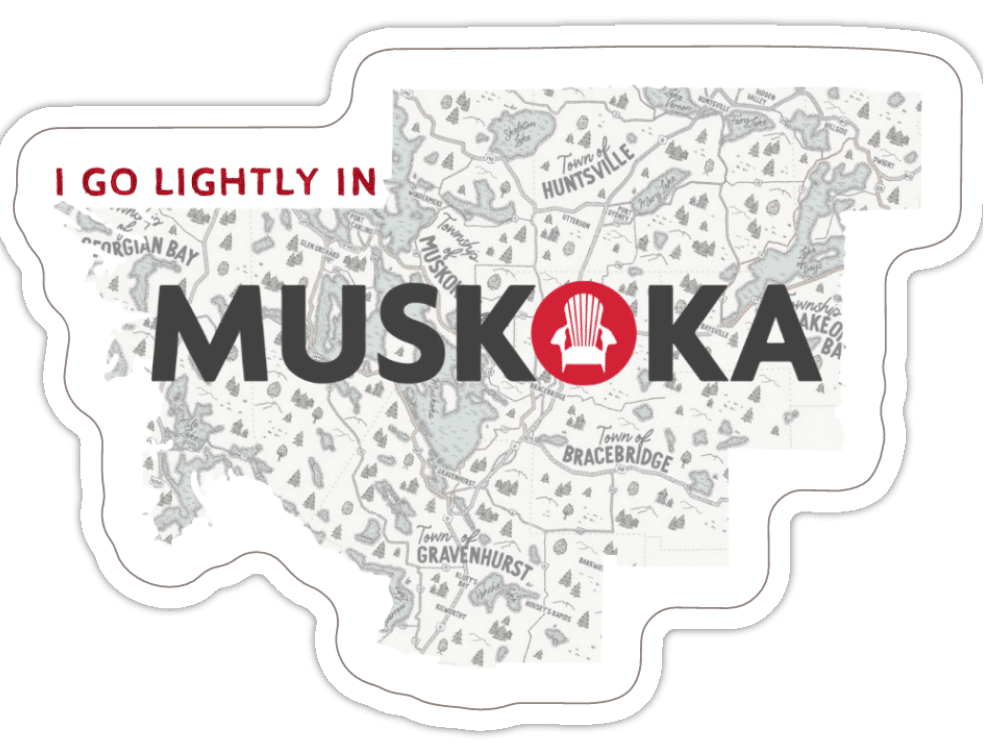 Muskoka is home to endless natural beauty, providing the perfect backdrop for adventure or escape but while you're here… Go Lightly. Whether you're on the trails, lakes or sitting dockside, take what you brought with you and take care of this beautiful land we call home. Let the stunning landscape speak for itself.
1. Paddle 
Keep calm and paddle on with the folks at Hatchets Rowing Centre – who love rowing and everything about it. They'll happily tell you that it's the perfect pastime for everyone of all ages. Rent a Stand-Up Paddleboard from Liv Outside and experience the Muskoka River like never before! Offering only the best in modern equipment, environment, and instruction, this outing is a great way to connect with friends, family, and nature.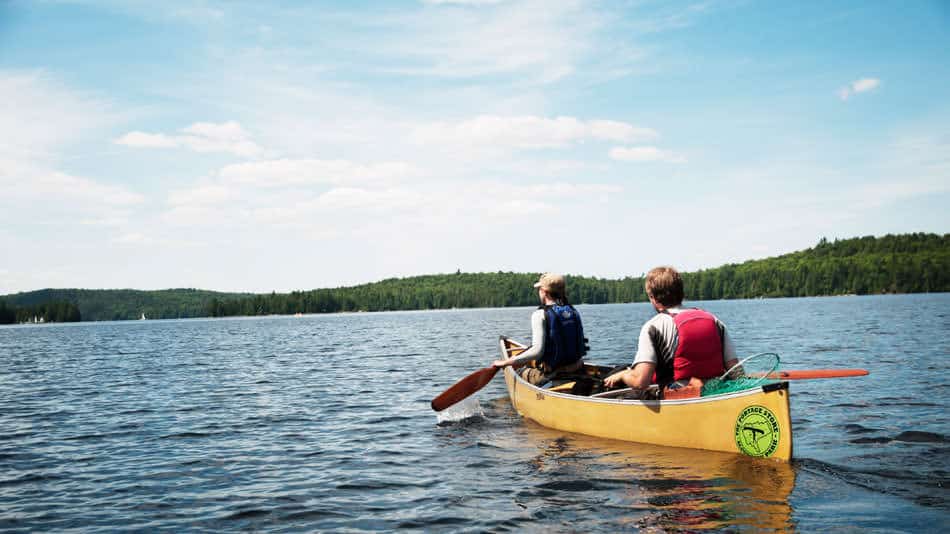 Backing onto the Muskoka River, the Huntsville Algonquin Outfitters features 3 floors of great gear and clothing for outdoor adventure. In the summer, they also offer canoe, kayak, stand-up paddleboard, and bike rentals so you can cruise through Huntsville's historic downtown, taking in the sights and sounds of this charming town. Pair your paddle with a pint on one of the downtown's picturesque patios.
Enjoy a paddle through secluded wilderness thanks to Limberlost Forest & Wildlife Reserve. Here, you'll head out from Buck Lake Landing and make your way to where the water flows into Poverty Lake. It's an excellent adventure you won't soon forget.
2. Step Back in Time with Wanda III
This summer you can cruise Wanda III and experience one of the few surviving steam yachts that is now electric-powered! This special vessel has transformed steam to green! With the transition to electric power, she will become a display and a touring symbol of sustainability and our need to make our world a more environmentally friendly place. Sustainability and climate change is a core theme of the Muskoka Discovery Centre. Wanda III will be available for cruises and for viewing in the new exhibit. Click here for the up-to-date schedule and launch of Wanda III, planned for mid summer.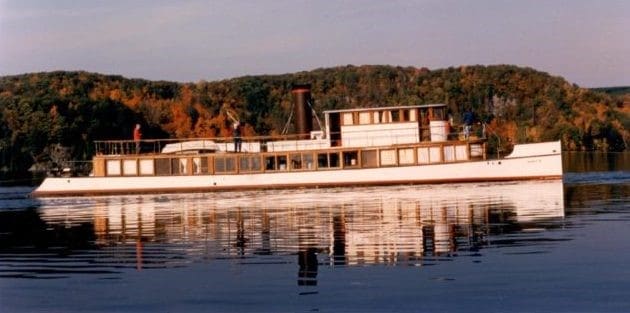 3. Explore Your Wild Side 
The Muskoka River Adventures tour begins in the town of Baysville. Our guides take your group 4km through pristine sections of deep water and shallow swifts on the South Muskoka River before reaching our 145 acre riverfront camp. Muskoka is the gateway to Algonquin Park. Take in the beauty of the Park with a 6 hour guided tour with Algonquin Adventure Tours. This tour will take you across historic Canoe Lake, cliff jumping and a scenic lookout. Book in advance to avoid disappointment.
Aspen Valley Wildlife Sanctuary is committed to caring for injured and orphaned wildlife. Once rehabilitated, these animals are released back into the wild for a second chance. The Sanctuary also provides forever homes for native species that cannot be returned to the wild due to human interference. All experiences provide the unique opportunity to see the Sanctuary's permanent residents, hear their stories, and learn how to live in harmony with wildlife. Aspen Valley has moose, coyotes, bears, and wolf packs in residence – to name a few of the animals you may meet on any given day.  Book a guided group tour this summer, with a tour nearly daily.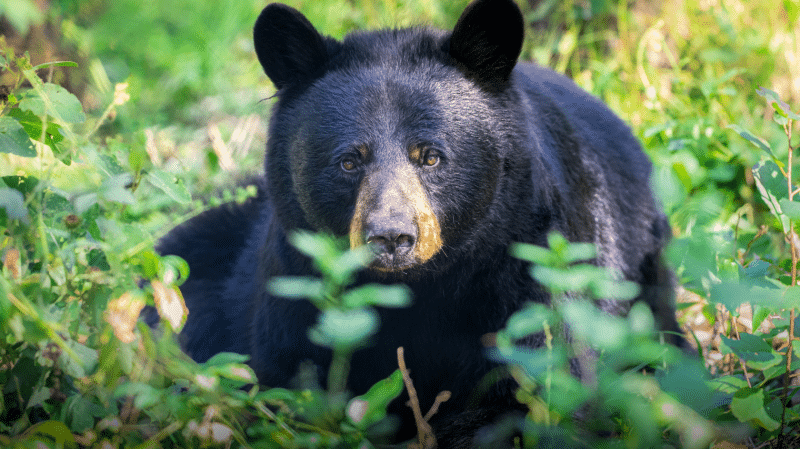 4. Take the Trail Less Travelled 
The Hunter's Bay hiking trail is unlike any other trail in Muskoka. This 3.6km urban trail has a little bit of everything; riverside views, orchards, wooded trails, beaches, and over 500m of floating boardwalk over the waters of Hunter's Bay.
Everybody knows the iconic Bracebridge Falls and Silver Bridge located right downtown, but just a few km upstream is Wilson's Falls, a popular hiking trail and waterfall.
Nature the way it was intended to be, with 20 private lakes, 70km of trails, and 10,000+ acres of unspoiled wildlife just waiting to be explored. Located west of Huntsville, Limberlost Forest and Wildlife Reserve is in Lake of Bays, and is only 11km (as the crow flies) from world-famous Algonquin Park. 
Experience the history and beauty of Georgian Bay Township by traversing the 4 km School House Trail, located on Violet Drive near Port Severn. The trail gives guests the full Georgian Bay landscape experience, traversing a local watercourse via a boardwalk and running past many of the area's native species.
5. Explore Indigenous Culture
Opening soon! Misko-Aki: Confluence of Cultures. A presentation about the Indigenous presence in Muskoka for more than 10,000 years, this unique exhibit is being created by a curatorial circle of Indigenous elders, scholars and linguists representing the four cultural groups including Huron-Wendat, Anishinaabek, Metis and Haudenosaunee that are part of that history. This exhibit is part of a 9 million dollar expansion of Muskoka Discovery Centre at the Gravenhurst Wharf.
The visitor will be taken on a seven-stop metaphoric canoe journey through the region. The trip will cover the arrival of Indigenous hunters at the end of the last ice age, the adaption by hunter gatherers to the changing environment, farming, colonial engagement, and contemporary times. The content that has been developed over two years could not be more authentic and rich.
No matter how you explore Muskoka, remember, Go Lightly.