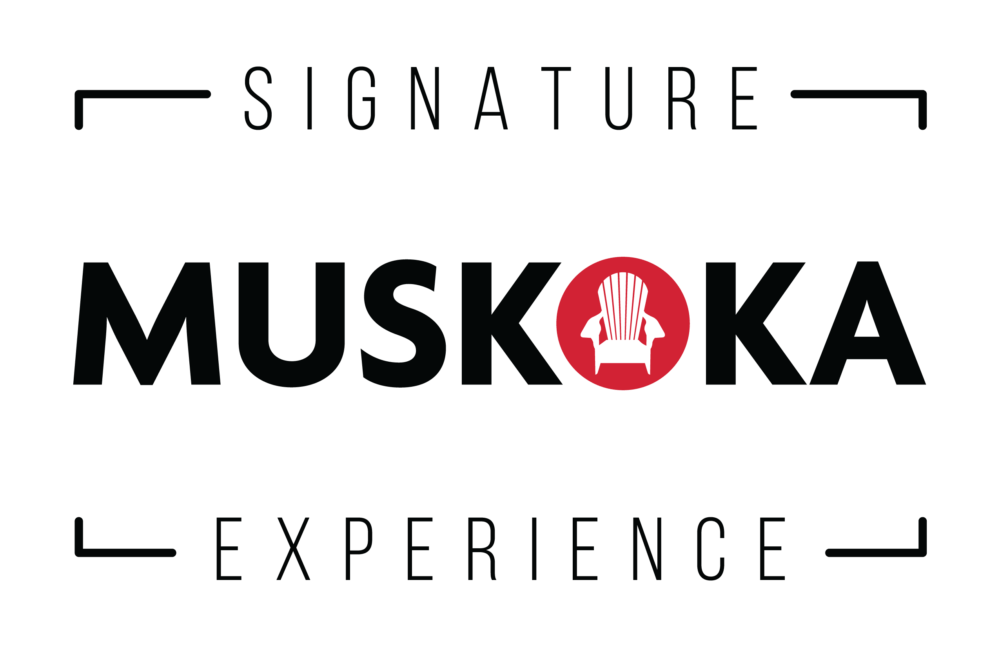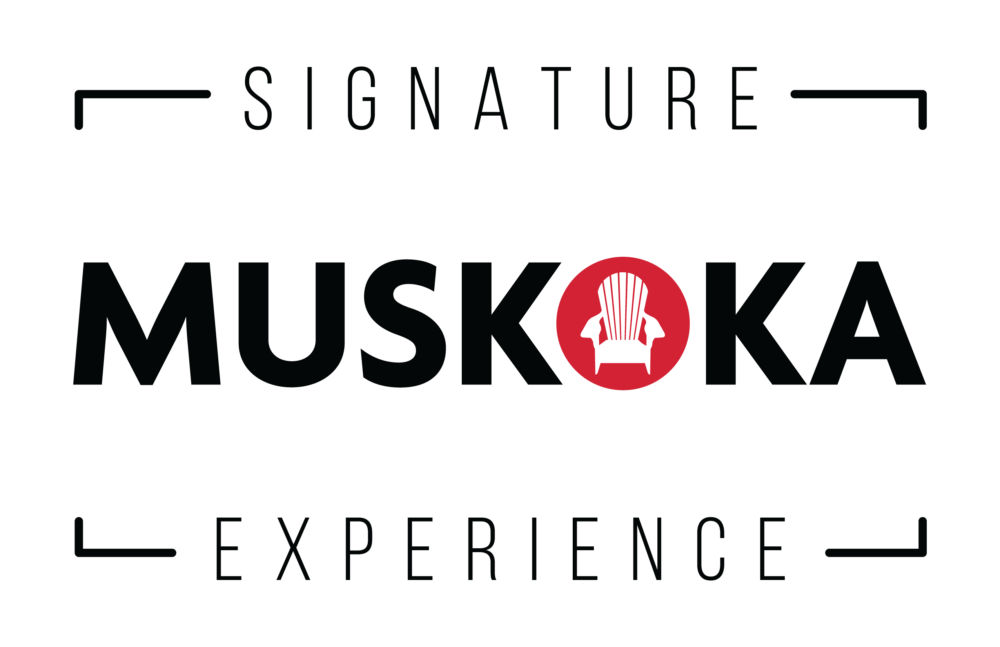 The Muskoka Autumn Studio Tour is a part of the Muskoka Signature Experience Collection,  a collection of Muskoka's must-do experiences!
This years' dates for the Autumn Studio Tour are September 23 – 24, and September 30 – October 1. Expect the fall colours to be in full bloom both weekends, making the drive from studio to studio even more enchanting.
In order to get ready for the Tour we sent our Marketing Manager, Jordan Mulligan, to meet with some of the artists and uncover their favourite piece.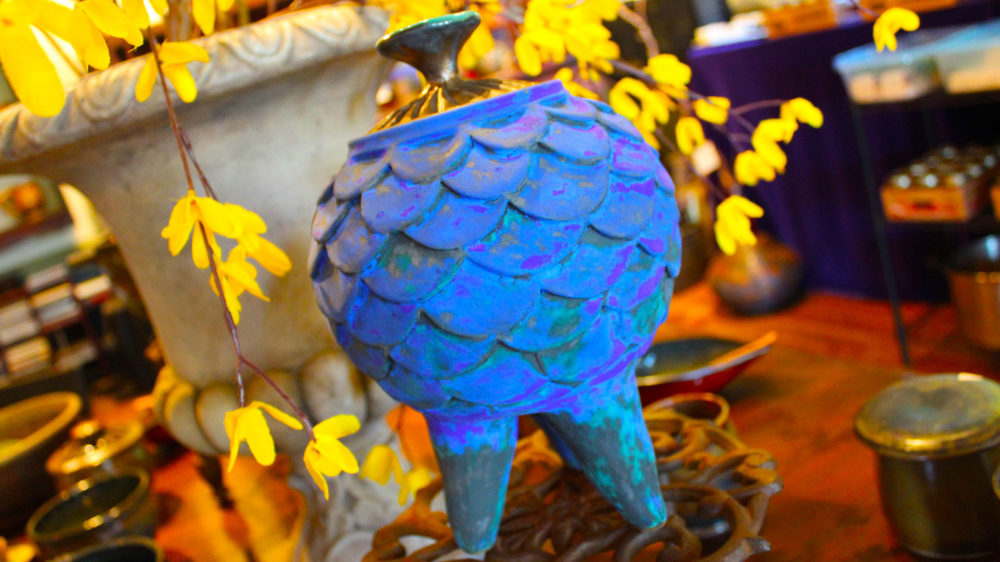 Jonathon Bullock Pottery
My first stop in the morning was to a charming pottery gallery and studio in Gravenhurst. Jonathon Bullock shares his favourite piece of work, a wheel-thrown, hand carved, colourfully glazed piece. This was unlike any piece of pottery I've ever seen, and it is obvious a lot of skill went into crafting it. What immediately captures your attention is the colour, something Jonathon attributes to his chemistry skills. Like a true artist, Jonathon creates his glaze from scratch which gives him the ability to tinker with the recipe in order to create a stunning, unique piece. Jonathon also created the piece's texture by hand, knife carving the design into it.
Jonathon's gallery features ceramic functional wares (mugs, serving bowls, dishes etc), garden sculptures and more, but your eyes are certainly drawn to the colourful pieces that his studio has become well-known for. The piece pictured above is large enough to fit your hand through the opening, so its function can range from a cookie jar to a change collector, and everything in between.  Some families use this particular piece as an urn for a family member or beloved pet, while others still have it featured as part of their home decor. Jonathon has two other pieces in his studio that were crafted in the same manner that are both suited as floral vases.
Stop in at Jonathon Bullock's Pottery during the Muskoka Autumn Studio Tour to see these one-of-a-kind pieces first hand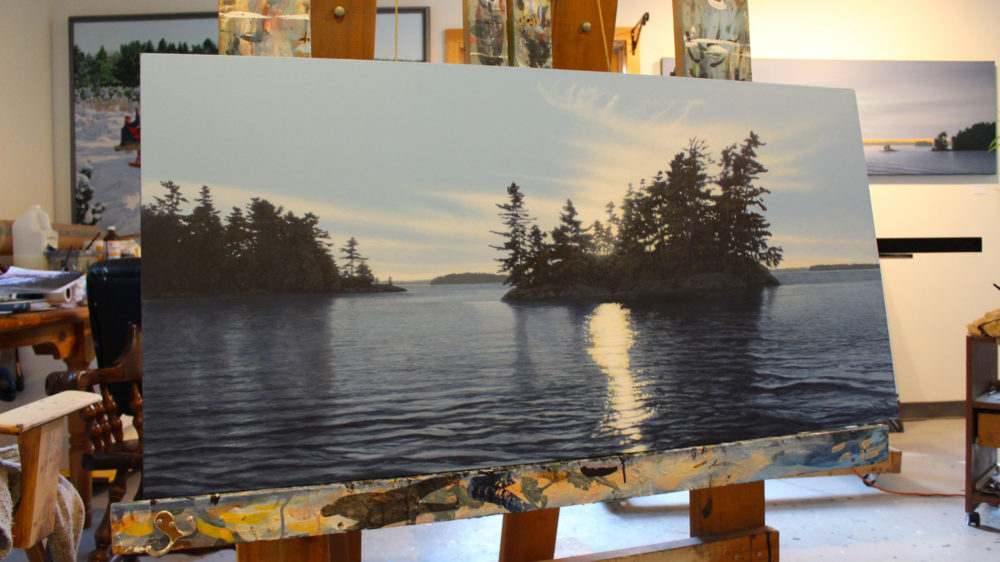 D.A. Dunford
The next stop on my self-guided tour was to D.A. Dunford's gallery just outside of Bracebridge. Doug (D.A.) is a realism artist, and when I walked into his gallery I was blown away with how real the scenes were that his art was depicting. I had to ask a couple of times if some of his paintings were actually photos.
Doug has been painting full time since 1974. Specializing in realism, he also dabbles in impressionism and abstract, comparing the cross-over to speaking multiple languages.
Doug tells me that he pulls his inspiration from Muskoka's natural beauty, but he maintains that experiencing Muskoka and seeing it through his own eyes is what truly inspires his art.
Doug's favourite piece is usually the one he is working on. His latest piece is a painting of the Seven Sister Islands on Lake Muskoka. While out on an evening cruise with a friend, Doug witnessed a spectacular sunset at the Seven Sister Islands. The way the sun was reflecting off the water he knew he had to capture this moment on canvas.
Check out Doug's latest piece and all of his 55 pieces during the Muskoka Autumn Studio Tour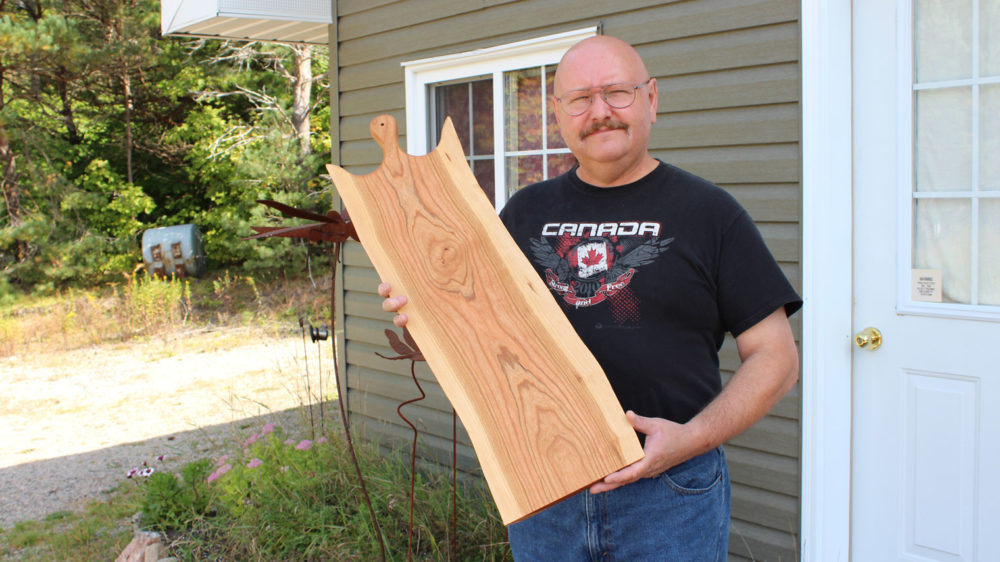 Jim Carter
It was a quick jump over to Falkenburg Road to visit Jim Carter, blacksmith and woodworking artist. A blacksmith by trade, Jim told me the story about how he got into woodworking. One day, while out splitting wood, he had an a-Hah! moment that black cherry wood would make a great cutting board. The black cherry wood  in particular has a natural contrast between the cherry colour wood in the centre and the white coloured wood on the exterior. A one-piece cutting board was the key, creating this layered look naturally as opposed to gluing pieces together. Jim's first cutting boards took a painfully long time to make, crafted with the use of a chainsaw and Alaskan Mill. He took this first batch of cutting boards to the Farmers' Market where he determined his new work would be in high demand, and the wheels were set in motion for the next 20 years.
Jim's favourite piece was one of his cutting boards. As someone that likes to cook, this cutting board was right in my wheelhouse. About 3 feet in length, I could see this being used to chop fresh salads, but also as a beautiful charcuterie board loaded with Milford Bay Smoke Trout, apple smoked cheddar cheese, cured meats and fresh baguette pieces.
Jim did make mention that his wife never gets enough credit for her role in the woodworking business. He'd be in trouble without her help!
Stop in at Jim's gallery to see his woodworking art, but also his blacksmith art during the Muskoka Autumn Studio Tour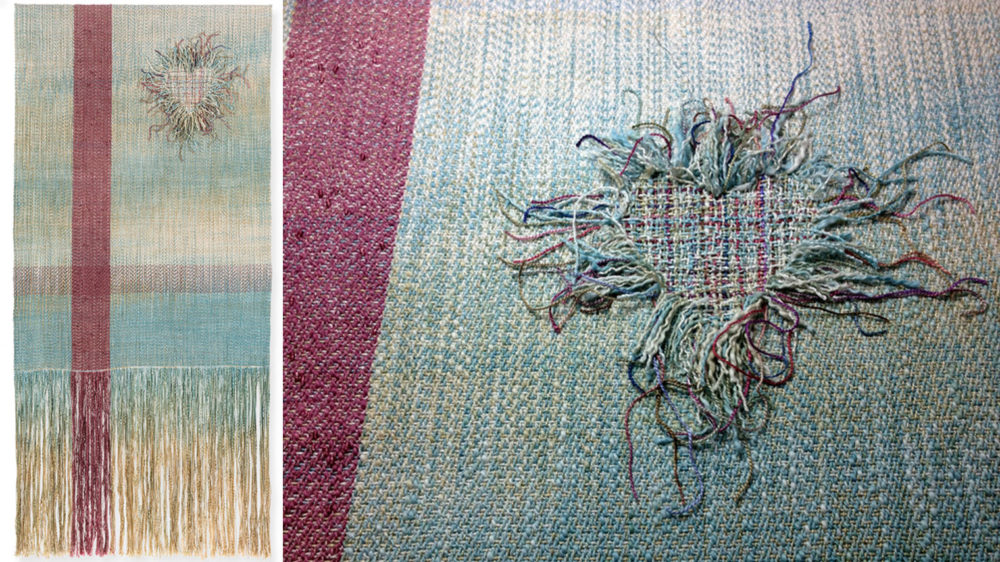 Marni Martin
Marni is one of the area's preeminent fibre artists, specializing in tapestry art, woven panels, and wearables such as scarves and wraps.
The first thing you notice when entering her gallery is the stunning collection of scarves and wraps on display, a popular fall item for her clients. During the G8 Summit, Marni was commissioned to create woven wraps as gifts for the spouses of world leaders including Michelle Obama. Marni loves creating one-of-a-kind pieces and having people adorn themselves in her wearable (and very fashionable) art.
Her tapestry art on display in the studio is amazing. Marni skillfully works the loom for months at a time to create a woven masterpiece, a skill that has taken her 15 years to master. Witnessing this in action will give you a tremendous appreciation for her talent.
Marni's favourite piece that she shared with us was a woven panel called "Mend – to Heal a Broken Heart'.  What was so amazing about this piece was the way it evolved. At the onset, the piece was envisioned in one manner, but as she began to unweave a design into the fabric, Marni saw the heart shape take place. She listened to her heart and followed a new direction, mending the unwoven design, and in the process created a piece more brilliant than what she envisioned.
Visit Marni's studio on the Muskoka Autumn Studio Tour to see her fabulous tapestry, woven panels and wearables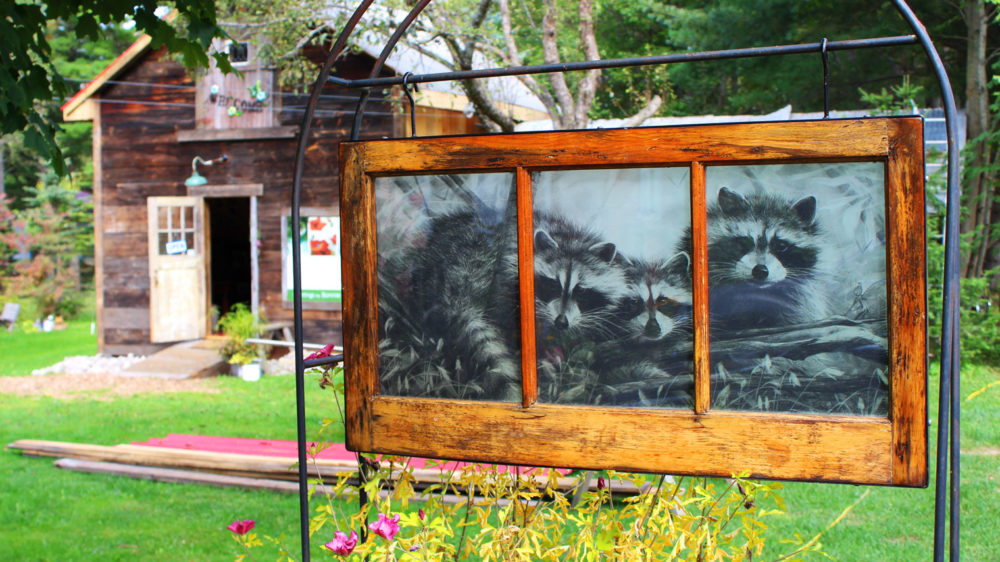 Bonnie Bews
Bonnie is a hinterglass painter, a German term which stands for reverse glass painter. Studying her craft overseas under the direction of renowned artist Rudolf Schmid, Bonnie brought her talent to Muskoka where she draws inspiration from her surroundings. Her new studio in Bracebridge is in an old Livery, a fabulous location to showcase her stunning paintings.
One of Bonnie's trademarks is the 'Muskoka Fairies' that have found their way into her work, now showing up in nearly every painting she does. Bonnie explains that the fairies represent that there is more to this world than just us. The fairies represent a different world that we don't notice unless we take the time. Your garden isn't just flowers, it's the sun coming in, the gentle breeze, the bees taking pollen, there is a lot of things unseen or unnoticed that create that beautiful garden and that beautiful moment.
Bonnie's favourite piece was a black and white charcoal painting called 'Troublemakers'. The painting is a story about three voyaging raccoons that she came across regularly. Most people find raccoons a nuisance, but she is proud that is able to make them look cute, cuddly and not intimidating. People always want to get rid of raccoons but they have a spot in our environment … just don't leave your garbage out.
To see Bonnie in her new gallery, visit her during the Muskoka Autumn Studio Tour