Saturday, January 25, 2020
2021 Update: Due to current provincial restrictions, and for the safety of the community, volunteers, stakeholders, and visitors, the 2021 Fire and Ice Festival has been canceled for the year. While the festival has been postponed for the year, the spirit of the event will remain alive as Downtown Bracebridge celebrates with other fun experiences for families. Please visit Fire and Ice Bracebridge for festival updates.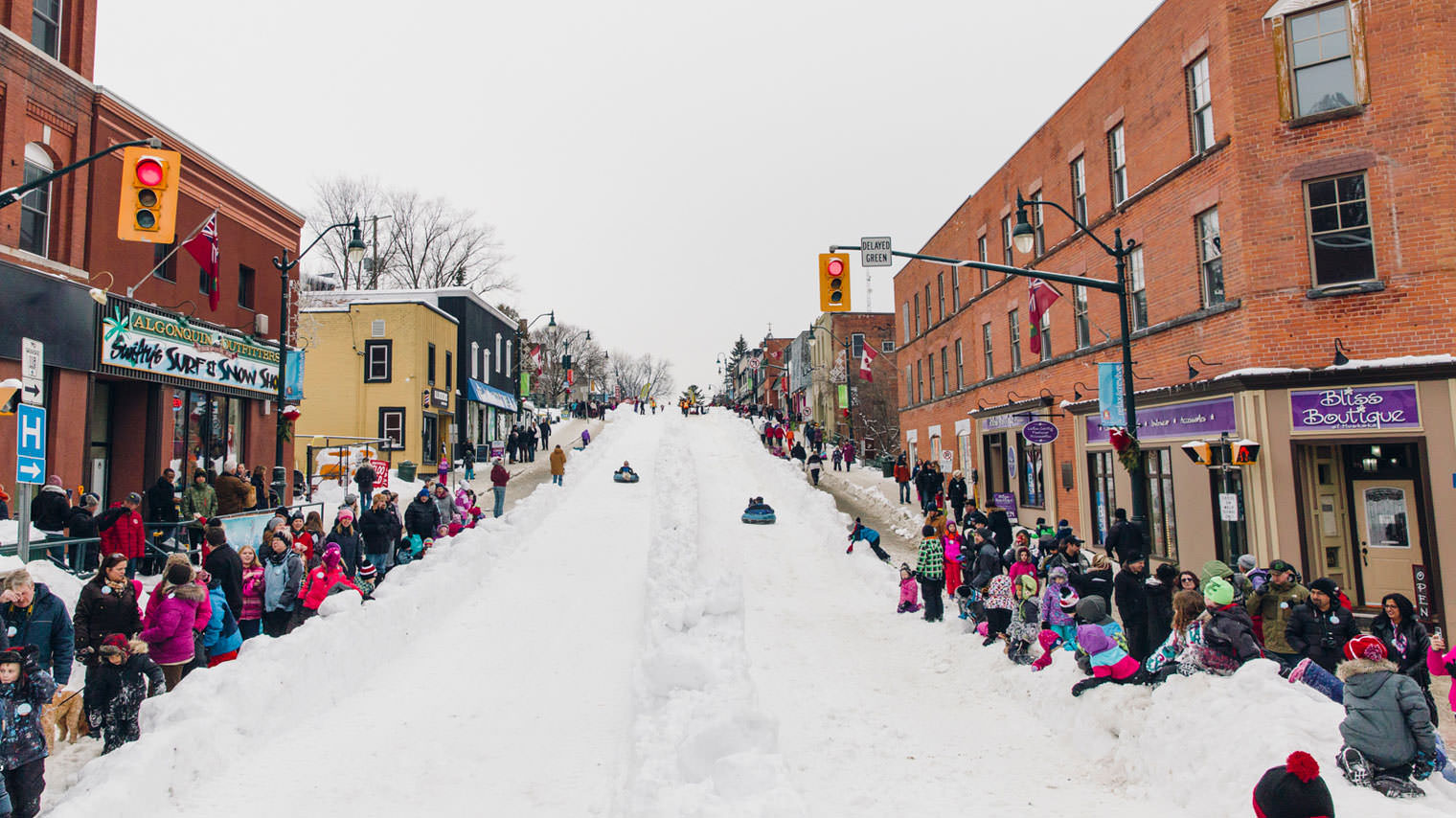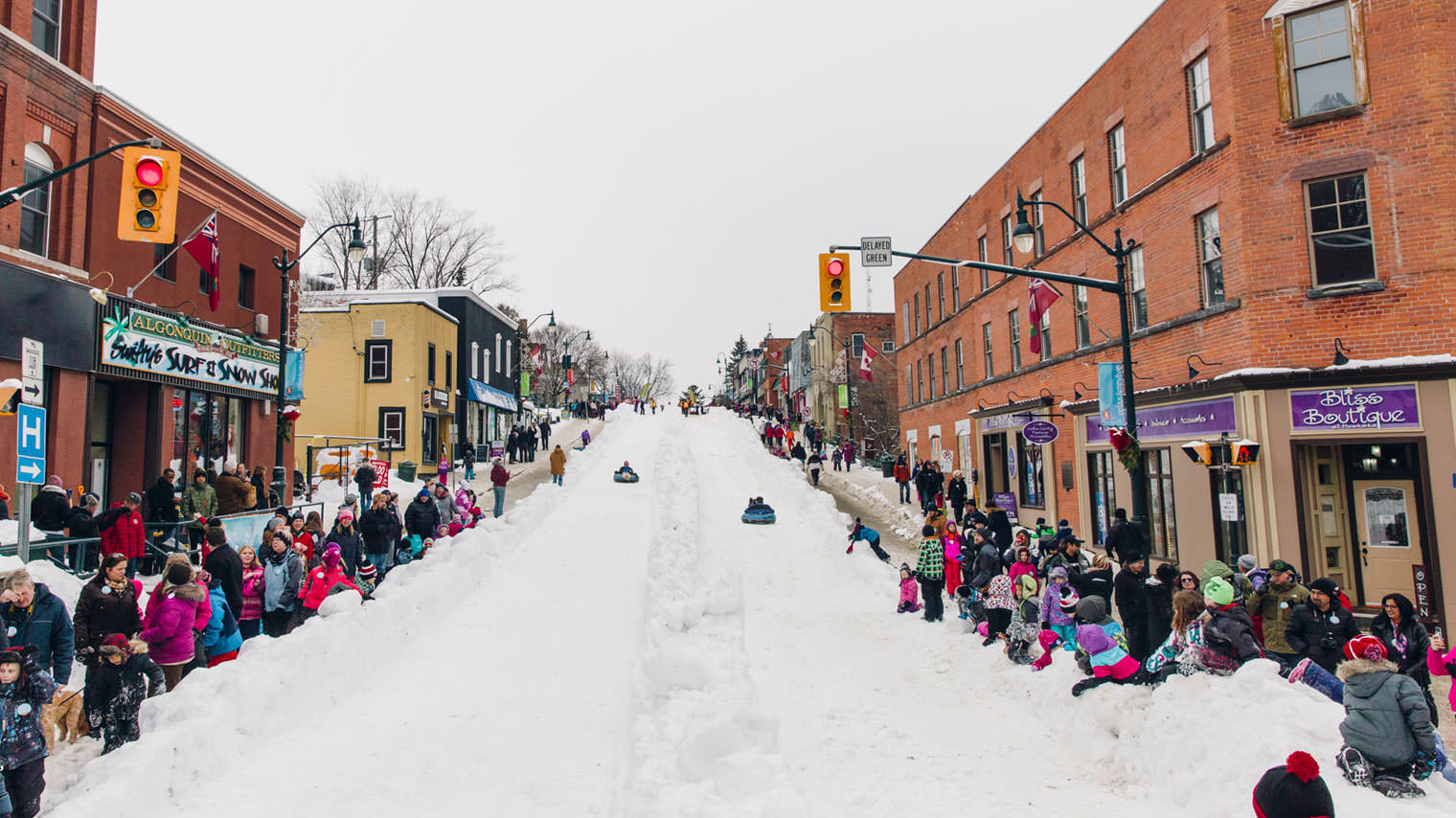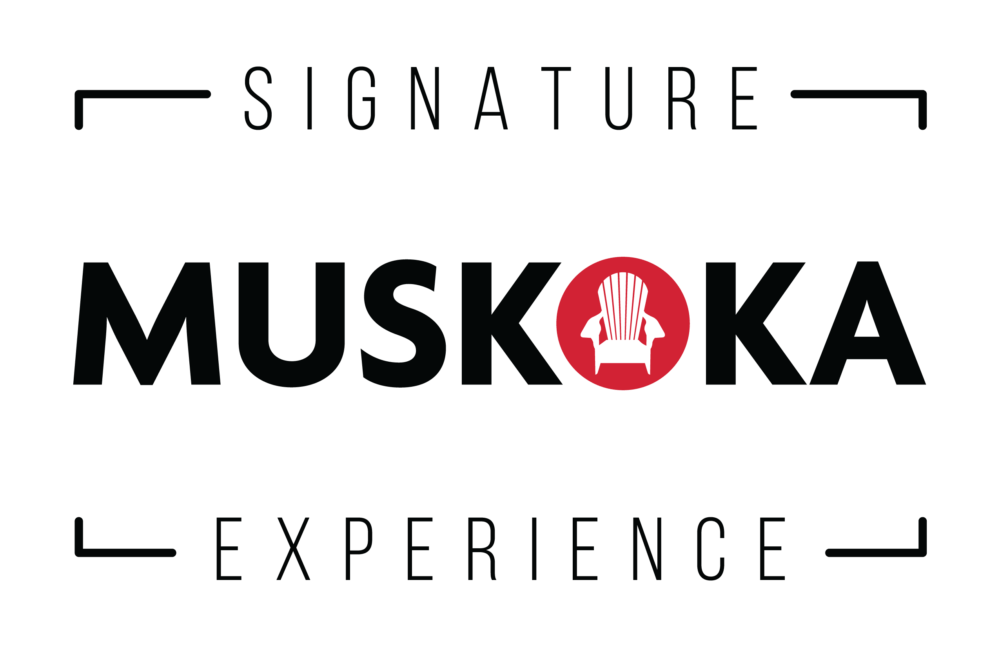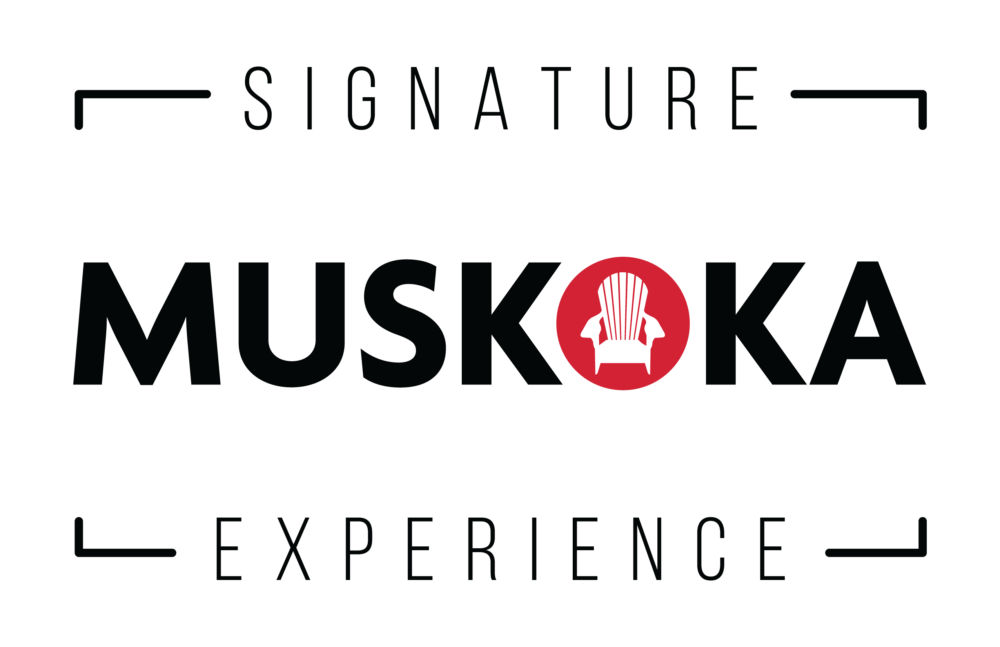 Bracebridge's Fire and Ice Festival is a part of the Muskoka Signature Experience Collection, a collection of Muskoka's must-do experiences!
Fire and Ice Festival in Downtown Bracebridge made its debut in 2016 and has been the talk of the town ever since. I guess that is what happens when you bring 50 truckloads of snow onto your main street to make one of the most amazing tubing hills ever created!
The festival will be making its triumphant return on Saturday, January 25, 2020, and you can expect Bracebridge to once again be crowned the 'coolest downtown in Canada' when it is transformed from its quaint and charming core into an epic tubing hill for all to ride.
30+ festival things to do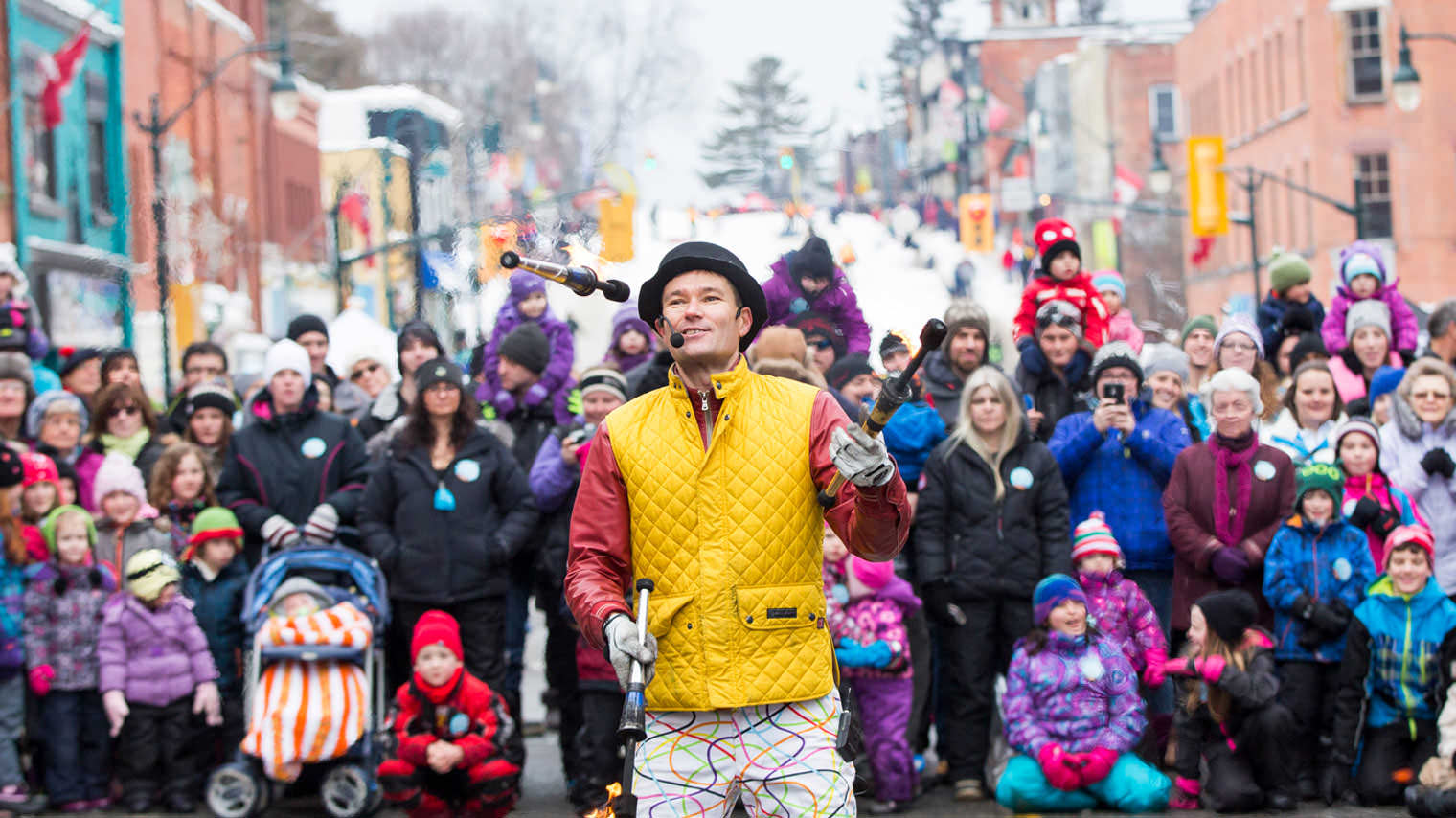 Yes, this festival has the coolest tubing run EVER, but this one-of-a-kind slope is just one of MANY fun winter carnival activities to partake in.
In 2019 the festival is really amping up the live entertainment shows with street busker shows, birds of prey shows, and NEW for 2019, three Canadian Lumberjack shows! To see the entertainment schedule, visit their website.
Check out the long list of fun-filled activities going on:
Memorial Park Skating Trail
Polar Rush Obstacle Course
Axe Throwing
Ice Sculpting Demonstration
Tube Runs
Maple Taffy
Entertainment Shows
Kids Carnival and Games
Great Canadian Lumberjack Show
80's Ski Lodge at Bracebridge Hall
Interactions with an Ojibway Story Teller
And of course…. Fireworks!
There are so many more activities to mention, but not enough room. Check out the ENTIRE activity schedule on the Fire & Ice Festival website
Helpful tips to make your experience the very best!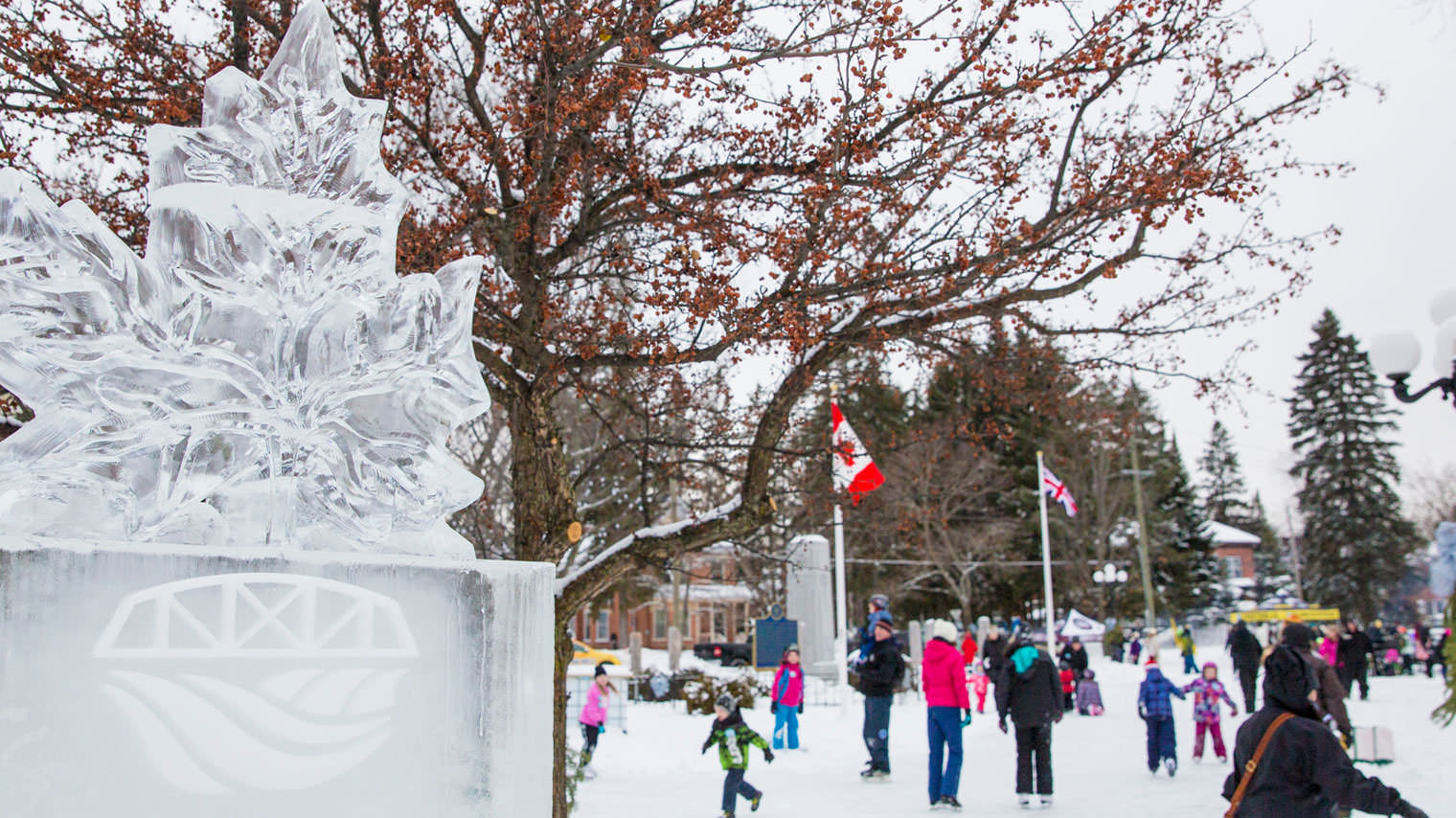 The secret about Bracebridge's extraordinary small-town winter carnival is out, and fun-seekers are coming from all corners to experience one of the coolest winter events in Canada. There is no denying that the event will be busy, but here are a few tips to help you beat the crowds:
There is parking available in downtown Bracebridge, but it is likely to fill up early. Take a shuttle bus from one of the satellite parking lots to avoid any congestion or frustration. Click here for more information on the free shuttle service
The festival runs from 9am – 7pm, and the busiest time of day is from noon – 4pm. Try coming right at 9am or after 4pm. If you come after 4pm, you will be treated to the special winter fireworks show at 6pm
Admission into the festival is $5 for ages 6 and over, and FREE for children 5 and under
Consider purchasing your event pass ahead of time at any of the following locations:

Bracebridge Visitors Center – 3 Ecclestone Drive
Veranda's Moose Crossing – 21 Manitoba Street
Veranda – 22/24 Manitoba Street
Kala House of Colour – 26 Manitoba Street
Annex – Art, Shop, Food – 27 Manitoba Street
Unique Muskoka – 28 Manitoba Street
Little Black Bow Lingerie – 34 Manitoba Street
The Healing Room Muskoka – 40 Manitoba Street
Sun Chasers Swimwear – 52 Manitoba Street
Algonquin Outfitters – 60 Manitoba Street
Bliss Boutique of Muskoka – 63 Manitoba Street
Momma Bears Ice Cream & Sweets – 95 Manitoba Street
Classy Cuts by Lisa & Cathy – 97 Manitoba Street
Muskoka Natural Food Market – 229 Manitoba Street
Bracebridge Centre for Active Living – 54 Dominion Street

Out of Town Locations: 

Minds Alive – Huntsville
Minds Alive – Gravenhurst
Stay and Play!
With typically lower hotel rates in January, this weekend is the perfect opportunity for families to escape to Muskoka for some quality time together that is not far from home!
The festival has recommended a number of accommodations nearby for visitors from out of town looking to turn this one day festival into a winter weekend away.