Muskoka is Waiting for You! 
Want in on Ontario's best kept travel secret? The word is out that Fall is the ultimate time to experience Muskoka. Sure, tons of people hit up the region in summer, when sunny days by the lake lead to campfires under starry skies, but visiting Huntsville in fall means you'll get to experience those best parts of summer lake life plus so many more amazing autumnal indulgences available only in the fall.  
Get The Fall Vibes Flowing 
The Sandhill Nursery Fall Festival is the perfect kick-off to celebrate the harvest season, where the 100-acre property is transformed with beautiful living displays, art installations, giant mazes, a beer garden, a scavenger hunt, fall-themed games and even an epic pumpkin slingshot where you can launch pumpkins far out into the field to see if yours flies farthest. There are endless photo ops under the umbrella canopy, inside the pumpkin houses and alongside the farm animals, not to mention with the performers at the brand new harvest stage where there is an expanded line-up of musicians and performers ready to enhance the experience over the weeks-long event. You'll find your perfect pumpkin, squash and straw bale while having an epic experience as you're immersed in this fall harvest celebration.  
Catch Live Music 
Something very special is coming to Huntsville this Fall. Nursery Nights is an intimate concert series taking place on the beautiful grounds of Sandhill Nursery. The series is a collaboration between Sandhill Nursery and the Huntsville Festival of the Arts (HfA) as a compliment to the incredibly popular annual Fall Festival at Sandhill. Between September 16 to October 22, 2023, a series of evening concerts will take place inside Greenhouse #4 at Sandhill Nursery. This 1800 sq ft space features an intimate performance space with charming rustic décor and great acoustics.
This year's featured musicians include ethereal folk rockers Great Lake Swimmers (Sep 30), a solo show with multi-Juno nominated Jenn Grant (Oct 13) and a raw and raucous performance by Ben Caplan (Oct 22). Audiences are invited to arrive early to explore Sandhill Nursery's annual Fall Festival. Features include a pumpkin slingshot, two mazes, the scavenger hunt, cornhole games, art installations and more. 
This fall, the exciting new music series – Muskoka Music Crawl "Campfire Sessions" – carries on in unique locations around Huntsville giving guests an unforgettable, classic Muskoka experience. Imagine sitting by a roaring fire, feeling the soft sand or cool grass beneath your feet, and being serenaded by talented musicians. That's exactly what you'll continue to enjoy every Friday and Saturday night from September 8 – October 7. That's an additional 10 shows, guaranteed to delight all ages!

The Campfire Sessions give you the highlight of a classic Muskoka camping adventure, and when it's over, you can head back to your hotel, cottage, or home for a restful night's sleep. So, mark your calendars, gather your family and friends, and join us to create some cherished memories under a starlit Muskoka sky.

Visit muskokamusiccrawl.com for more information, or follow us on Facebook and Instagram
@muskokamusiccrawl.
2023 Fall Schedule:
• Friday September 8: Tina Turley at Avery Beach
• Saturday September 9: Leah Leslie at Avery Beach
• Friday September 15: Sean Cotton at Port Sydney Beach
• Saturday September 16: Gina Horswood at Port Sydney Beach
• Friday September 22: James Gray at Muskoka North Good Food Co-op
• Saturday September 23: Jack Gaughan at Muskoka North Good Food Co-op
• Friday September 29: Sawyer Lance at Brunel Locks
• Saturday September 30: James Gray at Brunel Locks
• Friday October 6: Gina Horswood at Hutcheson Beach
• Saturday October 7: Sawyer Lance, Gina Horswood & Leah Leslie at Hutcheson Beach



Capture The Brightest Fall Colours 
You've heard the rumours, but until you've seen the Muskoka fall colours with your own eyes you just can't understand how gorgeous fall in Muskoka can be when the colours are peaking. One of the prime locations for viewing is on top of Lion's Lookout, located in the middle of the Town of Huntsville. You can walk or drive up to the top of this amazing vantage point above the Muskoka River, where you can take in the incredible view of Fairy Lake one direction and the Town of Huntsville from end to end in another direction. It's definitely a bucket-list experience for anyone who wants to see the best that Ontario has to offer.  
If you hit Highway 60, the lake shores, exposed granite and towering forests will lead you straight to Ragged Falls Provincial Park, which is on the eastern edge of Algonquin Provincial Park. The scenic half hour drive will take you to the ultimate fall colour experience, where you can hike a really short trail that directs you alongside one of the top ten waterfalls in Ontario. You will experience the power of the thundering water crashing against the walls of the canyon, surrounded by lush forests that showcase the mix of tall pines and vibrant deciduous varieties that  offer views that are every photographer's dream.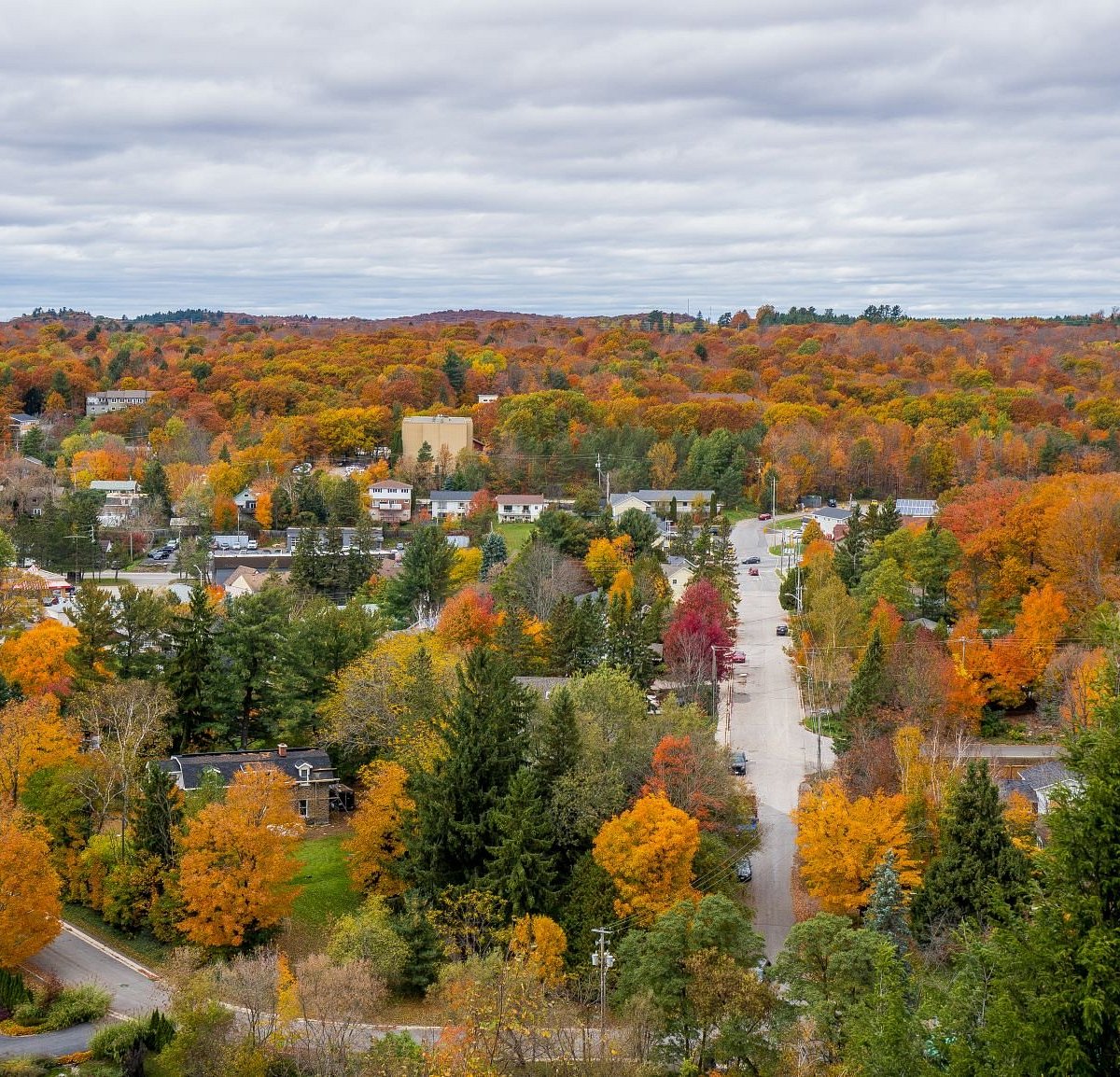 Walk With The Group of Seven 
The Group of Seven created that iconic Canadian artistic style that leans into the moody yellows, oranges and reds that pop in nature each fall. The Group of Seven Outdoor Gallery is a series of 90 murals found in Huntsville, Lake of Bays, and Algonquin Park, with the majority of the art located throughout downtown Huntsville. While you seek out each painting, you'll definitely want to pop into the specialty shops along the route.  
To get the best of the current Canadian art scene, Coles Art Market in downtown Huntsville is a curated space that features pieces by contemporary art in many forms, including Meghan Irvine and Paul Healey's gorgeous acrylic paintings, Peter Allan Rice's stone and wood sculptures and Craig Henshaw's locally-crafted Damascus knives. Special events and artist features rotate to keep the space fresh while telling the more intimate stories of the artists displayed in the market.  
A few doors down, Cedar Canoe Books is a fresh new bookstore that embraces the Muskoka vibe by offering a space that is perfect to hook bibliophiles up with their next favourite Lakeside read. The store is a book-lover's dream, mixing the newest hot releases with local authors who share about Muskoka's natural landscape, culture and history, including books that explore the mystery around the death of the Group of Seven leader, Tom Thompson. The shop has already hosted impressive author talks and book signing events, so check out their calendar to see who is hanging in their stacks when you visit.  
Find Your Cozy Comfort 
After every fall adventure, the best way to wind down the day is with a delicious warm meal. Huntsville's restaurants have a menu for every taste, so you'll never go hungry. No matter what time of day, the team at Main St Local create farm-to-table meals from scratch, so whether you're hungry for breakfast, lunch or dinner, this is the spot where you'll find your newest locally-sourced favourite dish. Its location downtown, backing onto River Mill Park and the Huntsville docks, makes it the perfect launching or landing pad for your day. If you prefer a more intimate experience, you could also choose to reserve a private gazebo at Tall Trees Restaurant to keep those outside vibes rolling while you enjoy their signature three-course seasonal menu features that are designed to marry delicious palate-pleasers with an elegant dining experience. These and so many other culinary options will please the inner-foodie in every crew.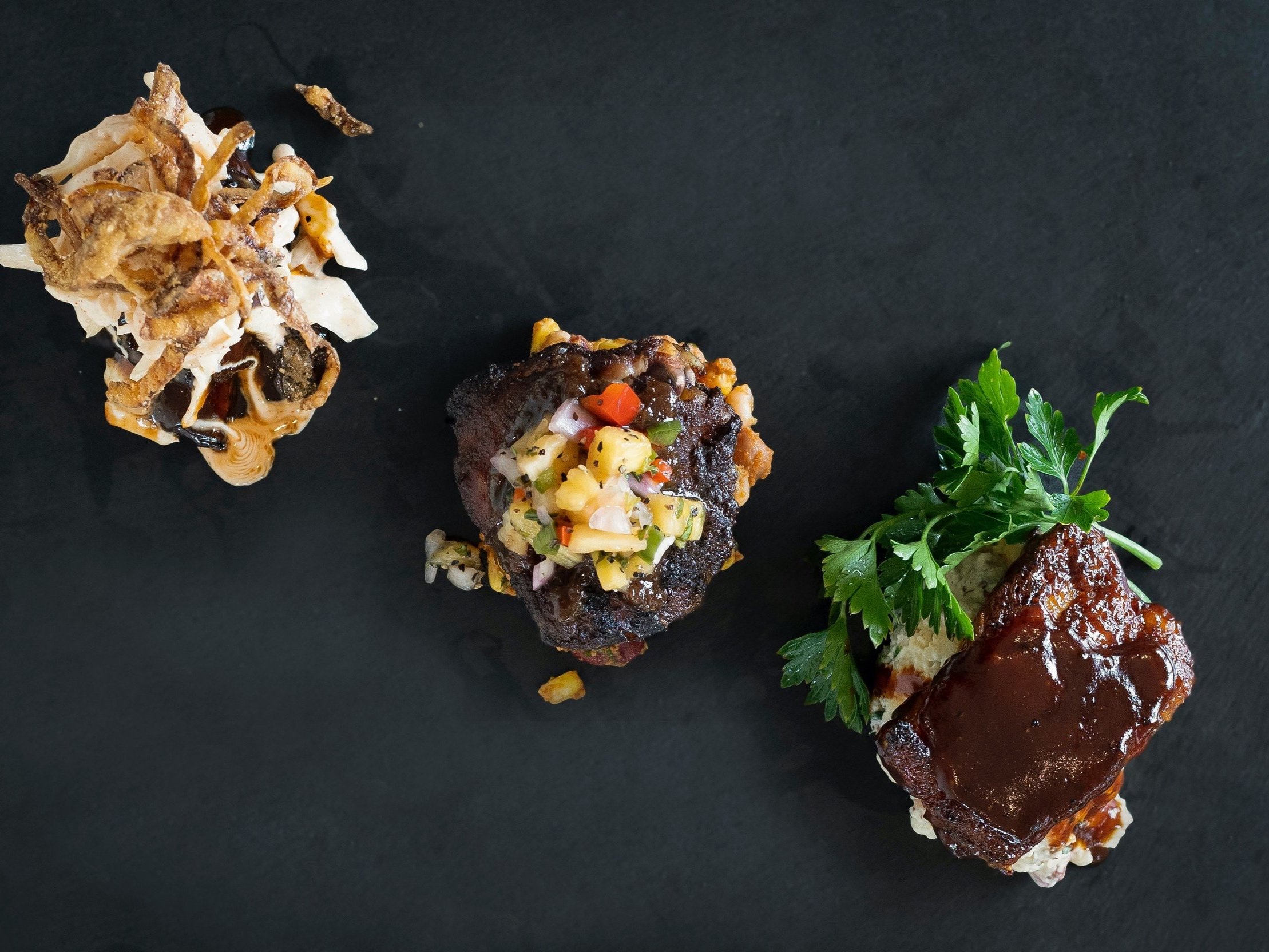 The best parts of the fall season are so easy to experience in Huntsville, making it the perfect destination to celebrate the season change, delve into delicious harvest flavours and capture the flaming colours burst to life in the trees everywhere you venture. 
If you needed any more reason to choose Muskoka as your leaf peeping destination!
Aside from the stunning colours, Muskoka is praised for the fun and exciting ways to experience the fall colours, including boat cruises, hiking trails, golfing, zip line excursions, and kayaking adventures.