Winter fat bike trails at Liv Outside in Bracebridge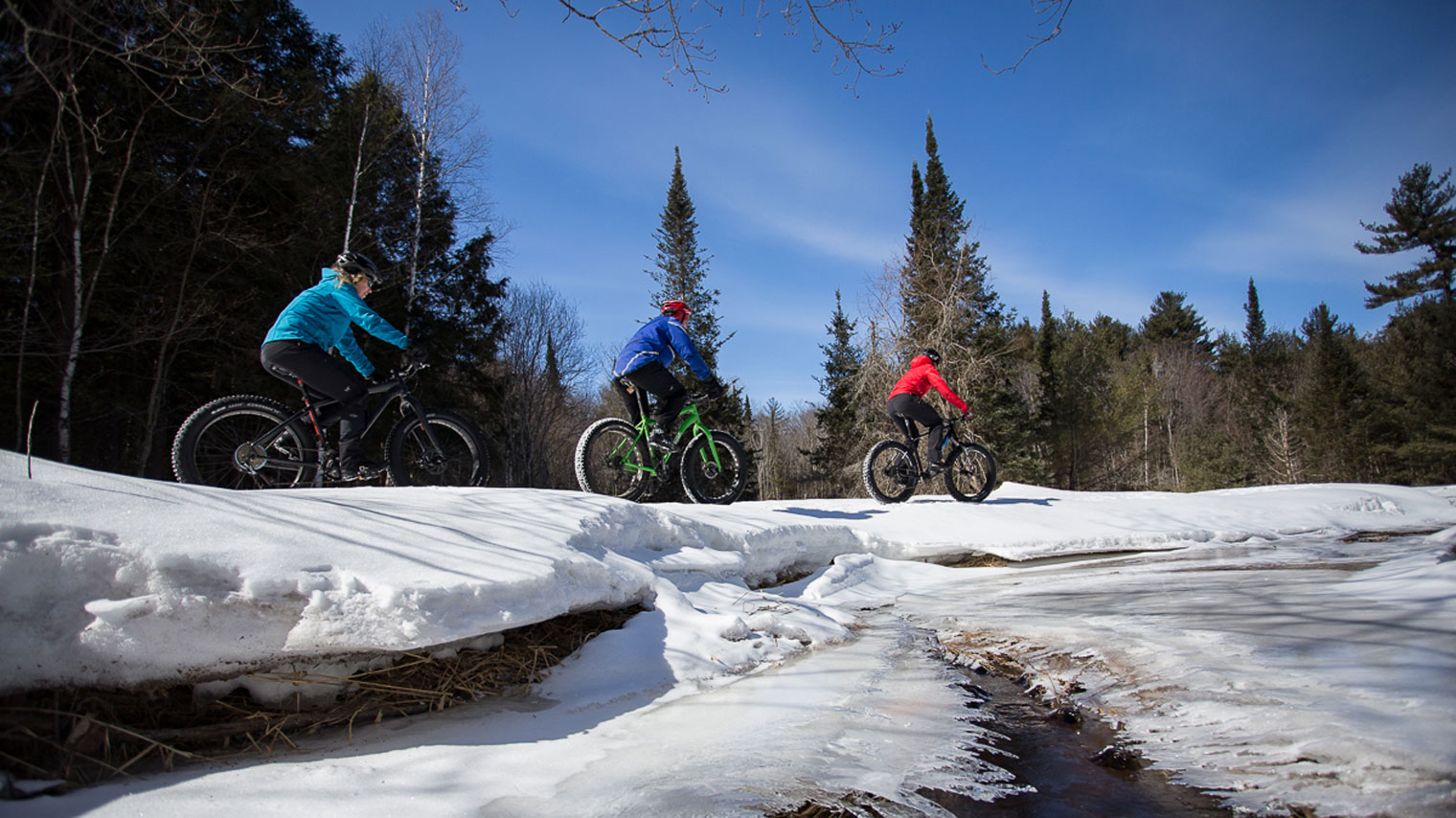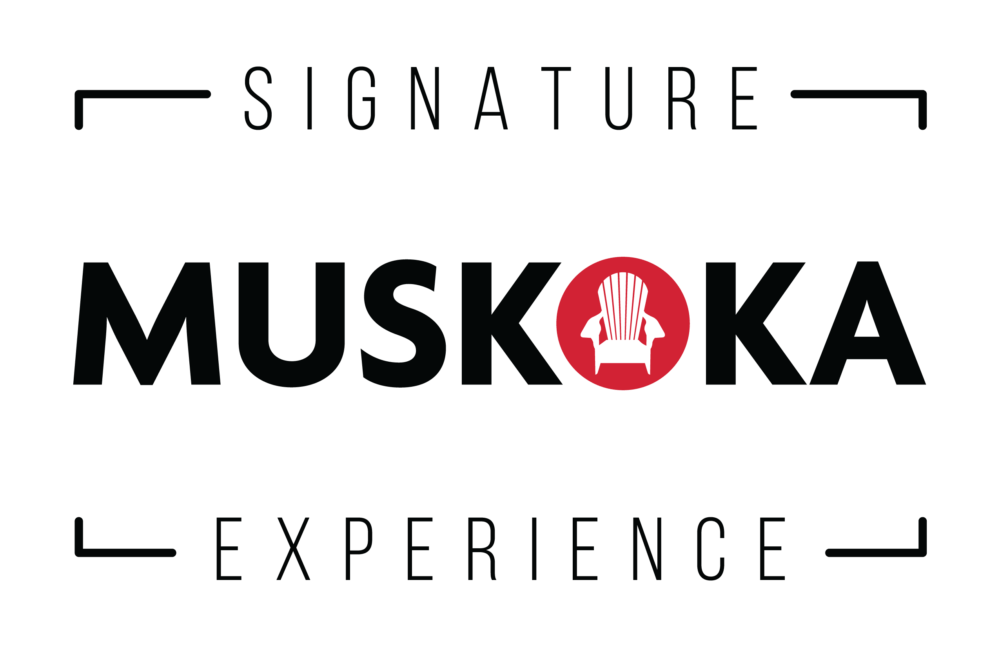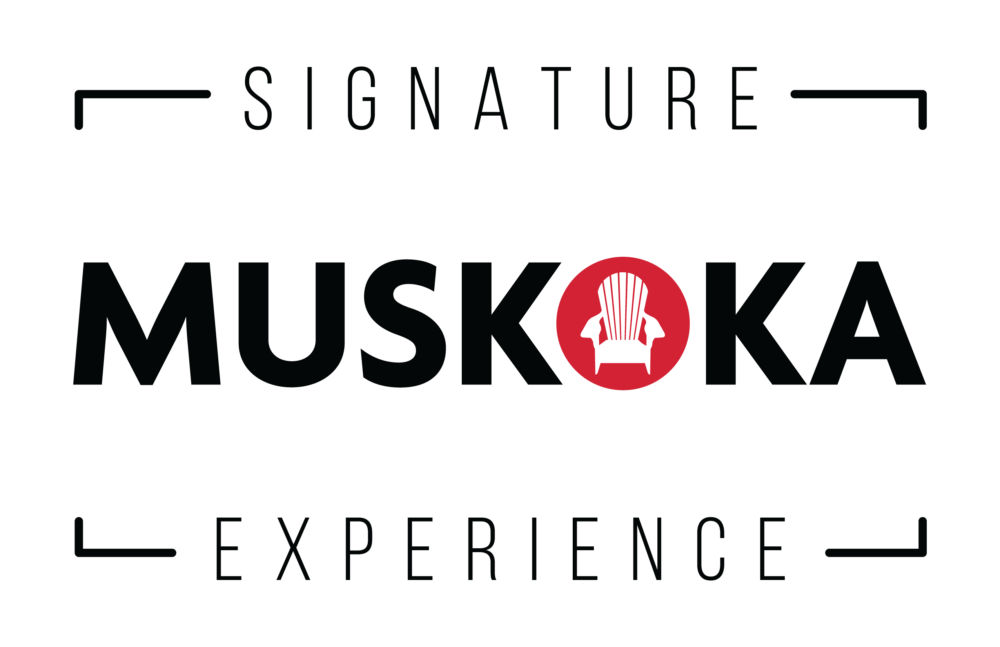 Liv Outside's fat biking adventures are a part of the Muskoka Signature Experience Collection, a collection of Muskoka's must-do experiences!
Remember the old saying, it's as easy as riding a bike? Well the same holds true when you take your two-wheeled adventure to the snow trails with a fat bike.
If you are asking what the heck is a fat bike? You're not alone. Fat bikes are just like regular bikes, except their wider than normal tires allow you to traverse through the snow and experience the wintry landscape in an entirely new way!
There is something truly remarkable about the Muskoka forest in the wintertime. White, fluffy snow blanketing the trees, crisp air, and the calm nature rewards you with winter beauty around every turn. Add to the mix the excitement of mountain biking and you have a super cool winter experience that is well worth the trip.
One of the top winter experiences in Canada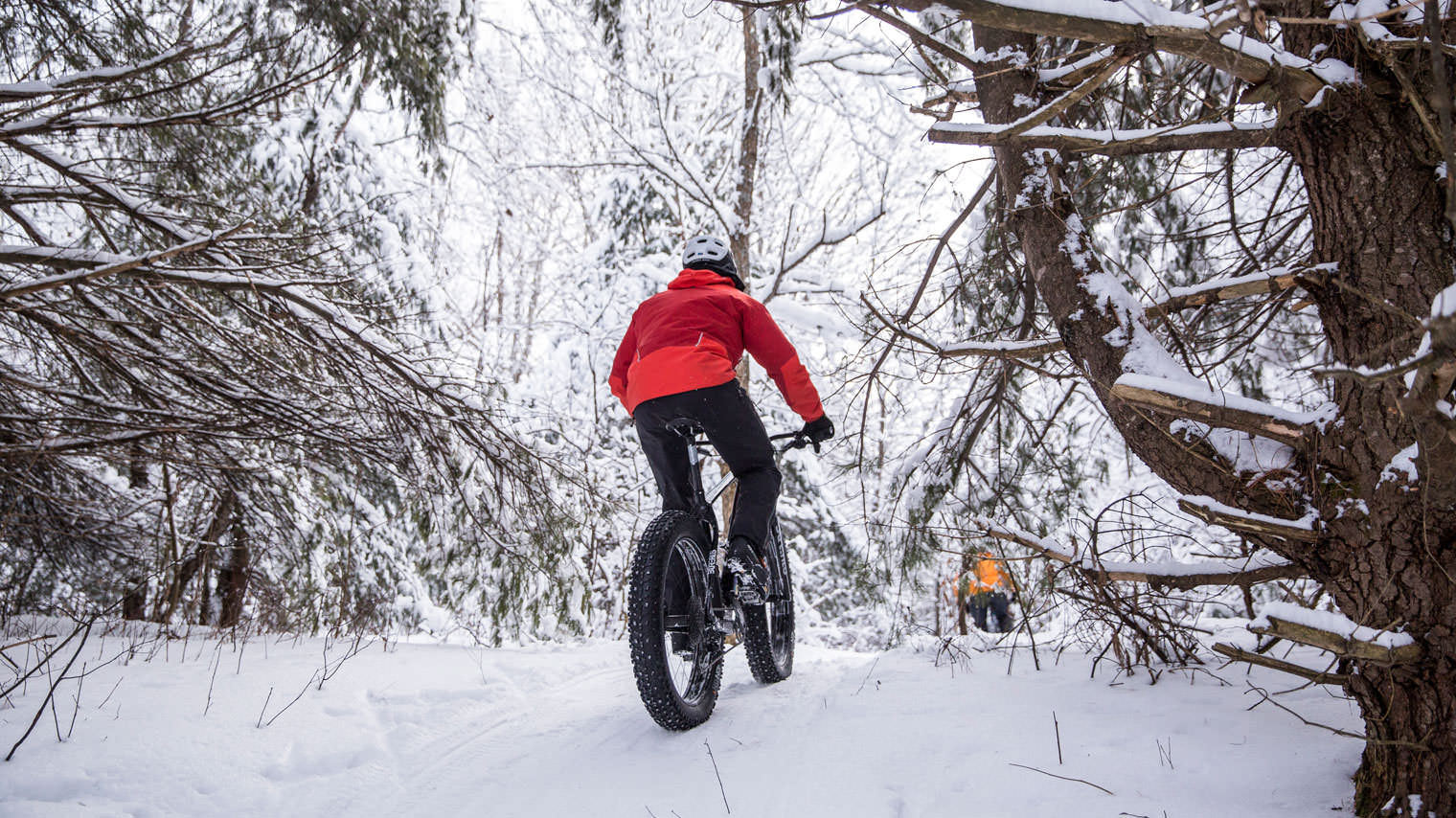 Winter biking is more than just a craze, this special experience has become a winter must-do in Muskoka. In 2018, fat biking through the snowy Muskoka wilderness was named to the list of Top 50 Signature Winter Experiences in Canada. That is impressive!
The best part is how easy it is to get out on the trails. Liv Outside in Bracebridge has trails and rentals all conveniently at one location, and there is no special training required. If you can ride a bike, you can go fat biking!
For more information on the fat bike trails and rentals at Liv Outside, visit their website
Liv Outside and the Riverside Bike Park in Bracebridge, Muskoka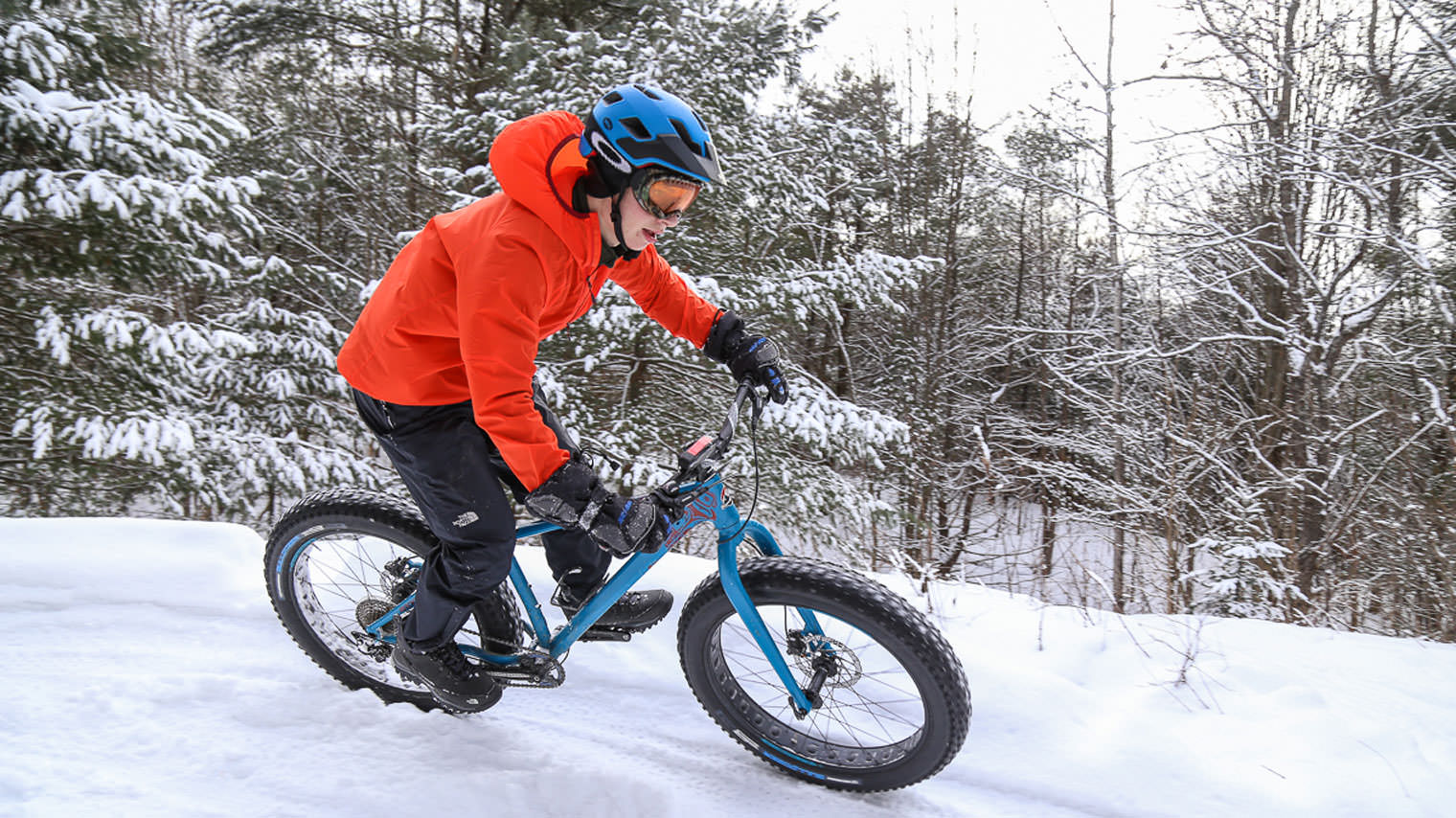 Liv Outside Gear + Adventure Store in Bracebridge is one of Muskoka's top fat biking destinations, offering guided and self-guided fat bike adventures throughout the winter. Fat bike adventure packages come with bike/helmet rentals, expert advice, tour guide (optional), and a trail permit for their on-site fat biking trails.
The on-site fat biking trails are at the new Riverside Bike Park located just a 30 second pedal from the Liv Outside Gear + Adventure Store. During the winter months, the Liv Outside staff groom the 5km of trails so their guests can enjoy optimal riding conditions. With two trail loops, an Upper Trail and a Lower Trail, this bike park is a fun challenge for complete newbies to more experienced riders.
Adventure seeking friends and couples love this new wintry take on an 'ol favourite', but families are also trying it out as well. Liv Outside has a few youth bike rentals in their fleet for ages 12+, but be sure to reserve ahead of time as there are limited quantities available.
If you are looking for a new winter adventure that is off the beaten path, this is it!
For more information on Liv Outside's fat biking adventures, visit their website
Book Your Adventure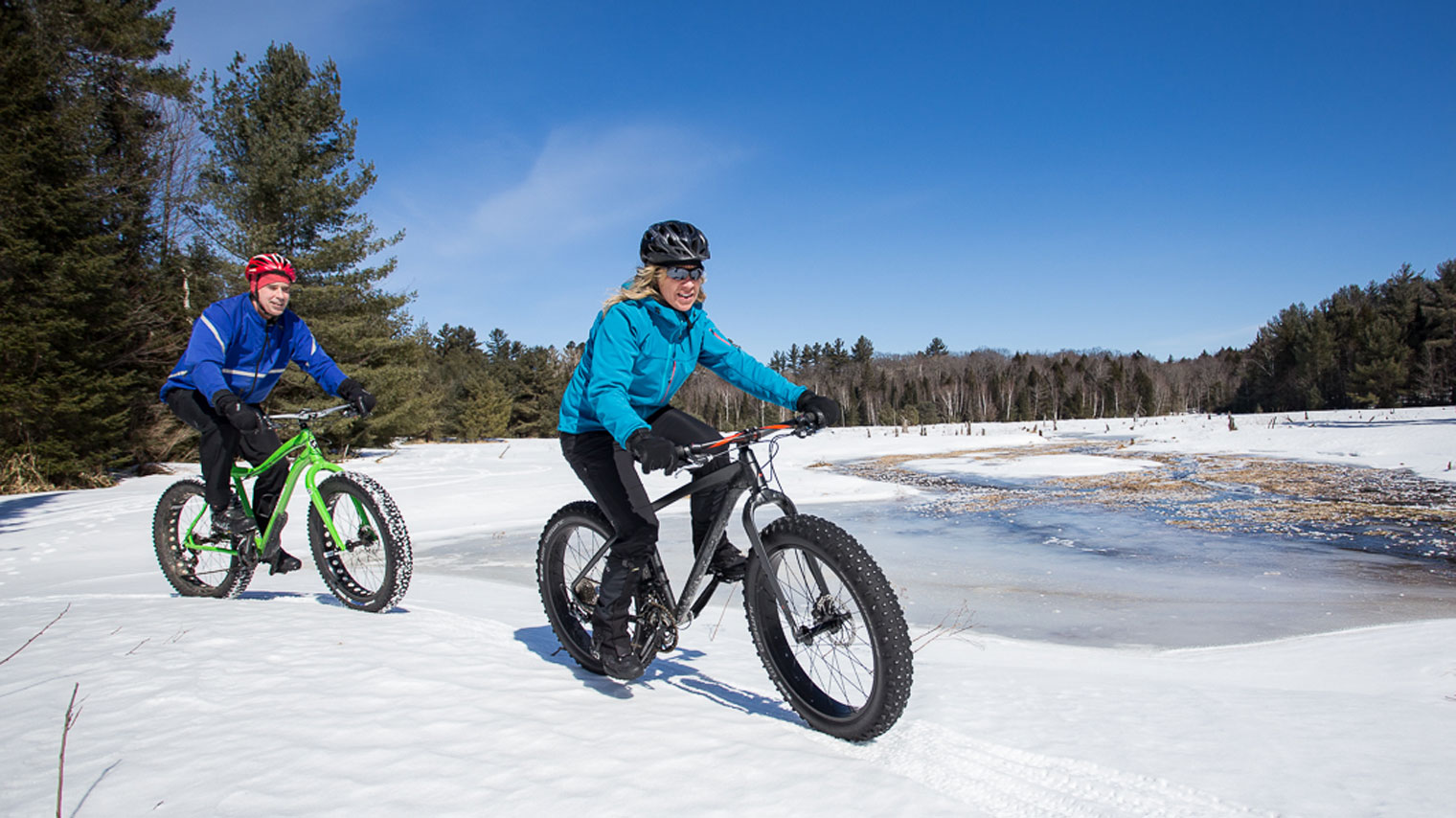 If you already have your own bike and gear, you are still able to ride the Riverside Bike Park trails. Just obtain your one-time permit at Liv Outside during regular business hours.
If you are looking to book their guided or self-guided fat bike tours, give them a call at 705-646-0492.
For more information, visit their website
Fat Biking Tips for First Timers
The best conditions for winter fat biking are when the snow has a hard crust. This year's weather conditions have created great fat biking conditions (as of the time this article was published in January 2019).
You do not want to go fat biking directly after a snow fall, as you want the trails to be packed down. Usually give it a couple of days for the trails to be either packed down or groomed.
Like any aerobic activity in the winter, you are going to get warm when you're riding. Don't overdress for the weather. You will also want to make sure that you wear a thin toque, as pom-poms will not fit very well underneath your helmet.
Warm gloves and dry winter boots are key!
The bike's single chain ring protects rider's snow pants from getting caught, so you don't have to worry about any rips.
Pack some water and snacks for the journey! Even though it is cold out, it is important to stay hydrated.