A fun-filled (and tasty) trail inspired by Muskoka's love for cranberries!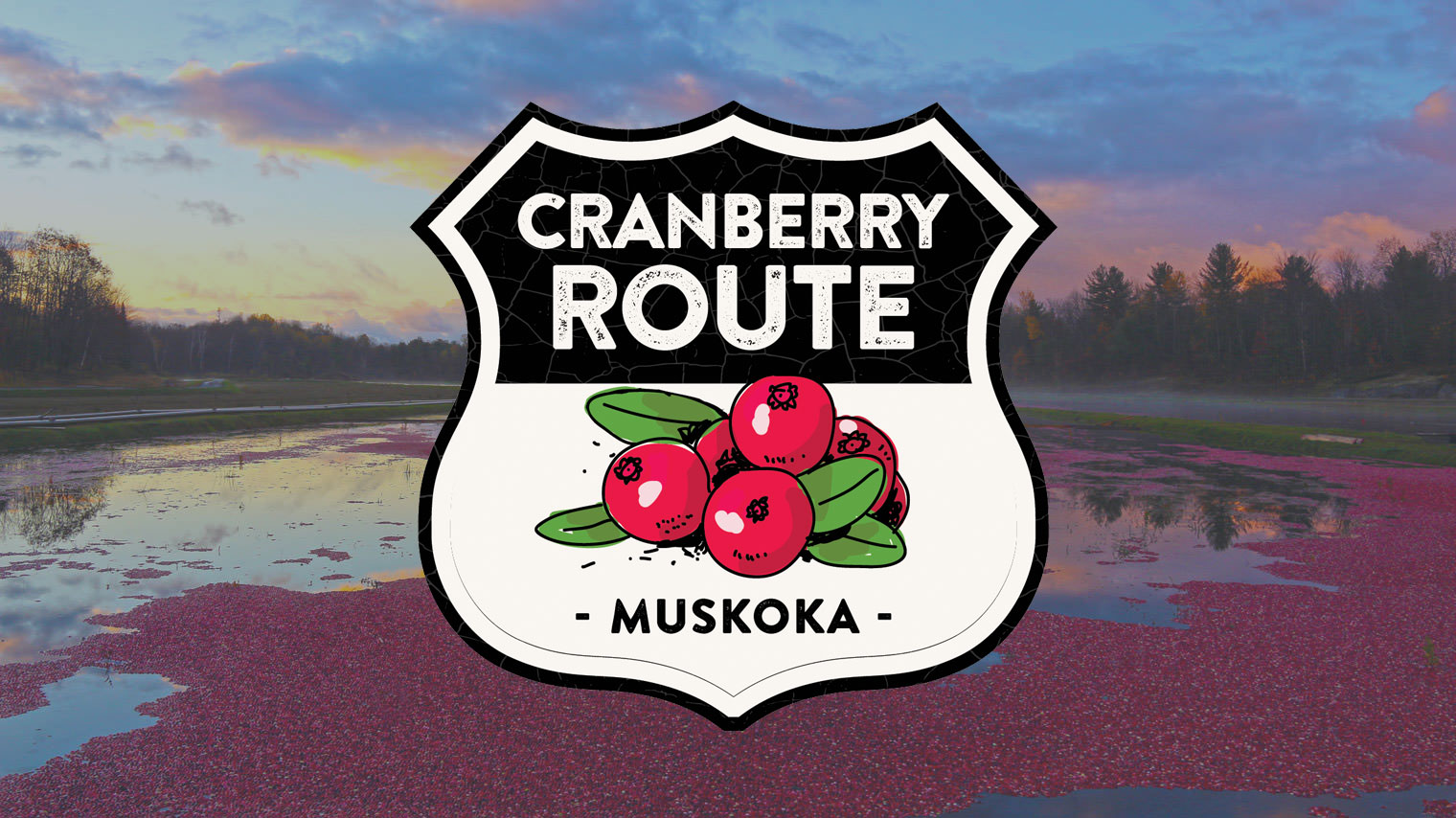 This fall the annual Muskoka Cranberry Route is back for another season! Join us on the culinary trail en route to 13 Muskokan stops, giving you the opportunity to enjoy cranberries in a plethora of different ways.
Bala is the cranberry capital of Ontario and has been hosting one of the largest cranberry celebrations, the Bala Cranberry Festival, for the last 30+ years. This cranberry capital is also home to the oldest cranberry farm in Ontario, and the only cranberry farm in the world with its own on-site winery! Cranberry Festival is back! You must purchase your ticket in advance.
The cranberry love doesn't stop in Bala; in fact Muskoka has long been crazy for cranberries! Across the region talented chefs, bakers and brewers have been incorporating local cranberries into their craft for years. The Muskoka Cranberry Route pulls this collection together to showcase local food, talent and culinary creativity.
Tour the cranberry marsh, sip cranberry craft beer and cider, indulge in cranberry baked goods, taste cranberry inspired cuisine, and so much more! Your cranberry adventure will take you down some of Muskoka's most historic main streets, scenic back roads and along iconic lake side views.
Plan your #CRANROUTE culinary adventure today. This is one crantastic experience you won't want to miss!
Visit the Cranberry Marsh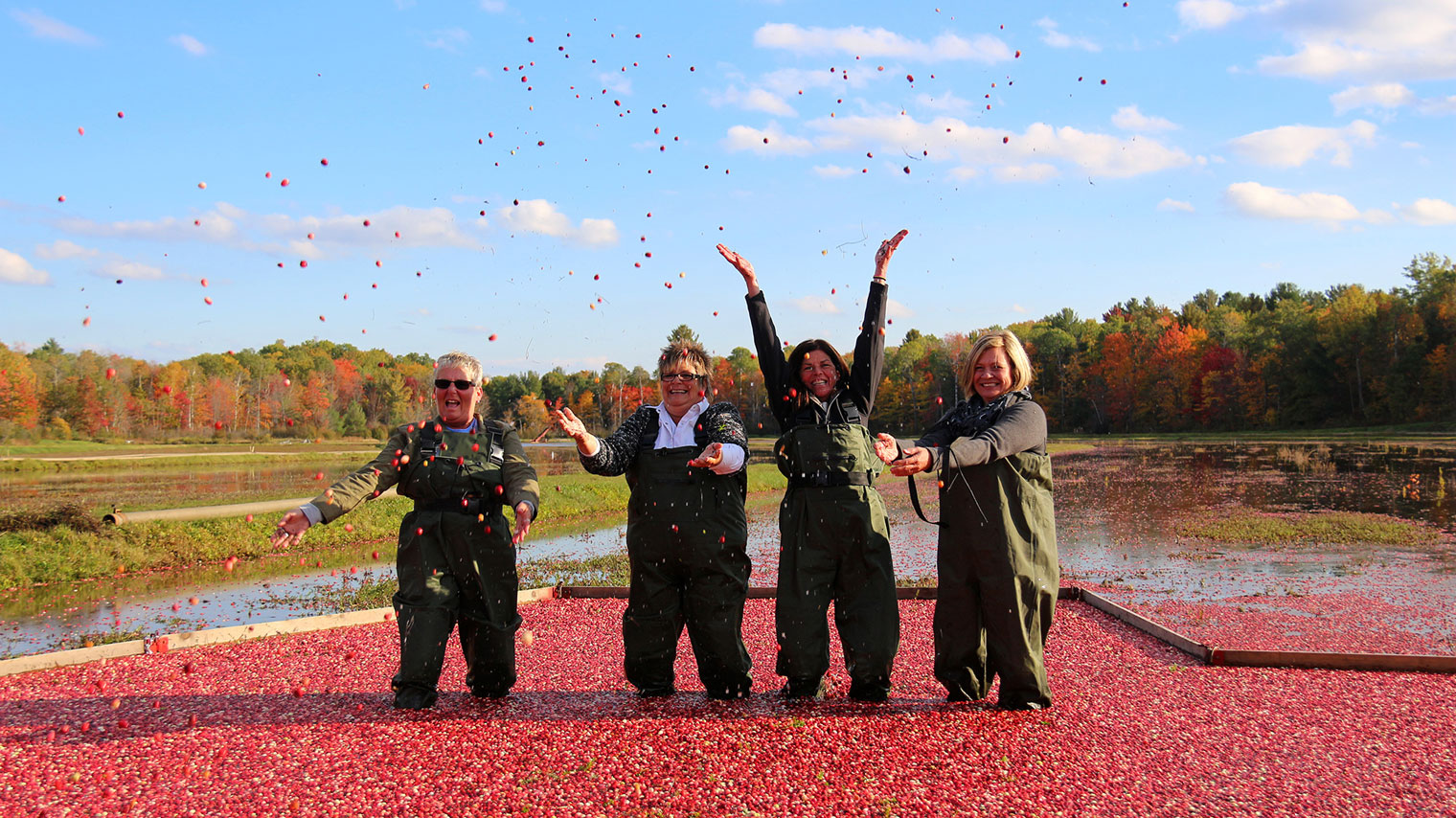 It is only natural to start the Muskoka Cranberry Route culinary adventure with a visit to Muskoka Lakes Farm & Winery. Here, you can gain a true appreciation and understanding of how versatile cranberries really are before journeying on to the next stops.
Take the Bog to Bottle Discovery Tour, an experience so special it has been designated a Canadian Signature Experience. This one-of-a-kind experience includes a tour of the farm followed by a guided wine tasting of their delicious wines. The Bog to Bottle tour is available weekdays at 1:30pm and weekends at 1:30pm and 3pm – and all day during cranberry harvest weekends.

Take the Cranberry Plunge, one of Muskoka's most exciting fall experiences. Don a pair of hip waders and venture into the cranberries for that iconic candid photo of raining cranberries that will surely liven up any photo album or Instagram feed! There have even been marriage proposals in the berries (they said yes)!

Shop the Cranberry Store for some amazing goodies to take home like fresh cranberries, wines, Mrs. J's famous preserves, cranberry honey, cranberry teas and so much more cranberry inspired delicacies. A must-take-home treat is one of their Cranberry Ciders or Cranberry Splash Wine Spritzers!
For more information, visit their website
Dining & Culinary
Muskoka is home to many hidden culinary gems and deemed a worthy foodie destination by food enthusiasts. With exceptionally talented chefs committed to fresh, local ingredients (like Bala cranberries), it's no wonder Muskoka is starting to gain a reputation for fantastic food!
Discover the amazing tastes of cranberry-inspired cuisine at these great eateries and restaurants:
Huntsville Brewhouse: The In-House Smoked Trout Salad is a tasty blend of Georgian Bay Rainbow Trout, dried Bala cranberries, maple granola, four seasons greens, and drizzled in a smoked peach and cranberry vinaigrette. Don't forget to try their cranberry-inspired brew, including the Red Sky at Night cranberry-peach radler.
Bracebridge Barrelhouse: The Warm Brie Wheel is topped with spiced cranberry compote and caramelized walnuts. Pair with their cranberry-inspired brews, including the Red Sky at Night cranberry-peach radler.
Bala Bay Takeaway: Experience several cranberry products on the menu, which are available year round and a few that available seasonally.
Bala Falls Pub: Try the Fall Harvest Moonshine Cocktail featuring Johnston's Cranberry Juice and Fire Water Moonshine From Murphy's Law Distillery. This beverage is perfect for any kind of fall day, and available all year for those who just love cranberries!
JW Marriott The Rosseau Muskoka: Treat your taste buds by sipping on one of the Bala cranberry infused cocktails as you indulge in the Ontario center cut pork chop with apple cranberry compote and Muskoka Fall Salad. Follow that savoury meal with the delightful Cranberry Cheesecake. Cocktail in hand, head outdoors to the resort's terrace and overlook scenic views of magnificent Lake Rosseau from a hundred foot granite bluff.
Local Craft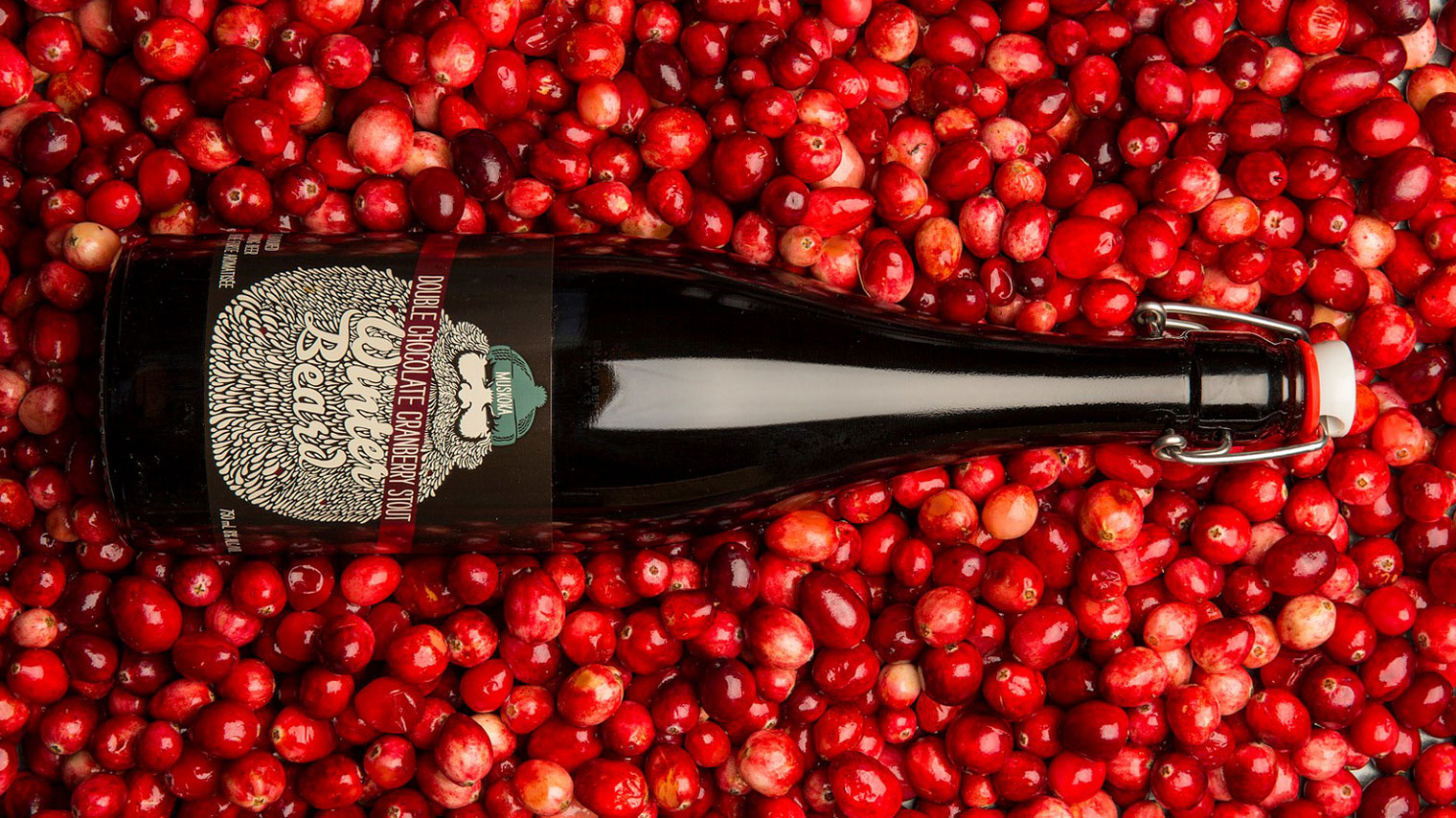 Crack a pint, stop in for samples and discover great local craft breweries. Be sure to bring some craft pints home to enjoy throughout the harvest, taking a bit of Muskoka home with you!
Try these delicious cranberry-inspired craft brews:
Muskoka Brewery: Stop by the Muskoka Brewery Taproom to try a wide selection of local craft beer. Celebrate cranberry season with the Winter Beard, a double chocolate cranberry stout that boasts notes of rich, dark chocolate and tart cranberry. Take some cans home to celebrate the season all winter long! Open Sunday to Wednesday 11am to 6pm and Thursday to Saturday 11am to 7pm. No reservations are required unless booking a tour. The outdoor patio includes a covered and uncovered section.
Huntsville Brewhouse: The Red Sky at Night cranberry radler is a delicious blend of peach and cranberry. This light, not too sweet, not too tart thirst-quencher goes down easy while watching the sun disappear into the horizon. A perfect blend of mulled apple cider and soft peach, this dry radler is distinctly crisp and aromatic, complemented by Magnum and Cascade hops. The delicate sweetness is created from a combination of two Row malts and a mix of fruits, creating a light and refreshing drink. The brewhouse features all the Lake of Bays brews and is conveniently located right downtown Huntsville.
Bracebridge Barrelhouse: This is the Lake of Bays brewery's newest venture! Now you can conveniently enjoy your favourite Lake of Bays brews right in Bracebridge. The Red Sky at Night cranberry radler is a light mix of peach and cranberry flavours.
Clear Lake Brewing Company: Find this local brewery downtown Torrance, just off of Southwood road. The Clear Lake Cran Radler is a refreshing blend of tart cranberries and beer with just a hint of blood orange. Or, try the Torrance Tea, brewed specially for the cranberry harvest. This OG malt beverage is flavoured with iced tea and fresh cranberry juice from the Johnston's cranberry marsh.
Attractions
Have a berry good time at these must-see local attractions that are celebrating the joys of cranberries in Muskoka!
Muskoka Lakes Farm & Winery: Take the Bog to Bottle Discovery Tour, a one-of-a-kind experience includes a tour of the farm followed by a tutoured wine tasting of their delicious fruit wines. Take the Cranberry Plunge, one of Muskoka's most exciting fall experiences. Put on hip waders and venture into the cranberries for that amazing candid photo that should be hung on your wall, on your fireplace, or your social media accounts.
Cranned Goods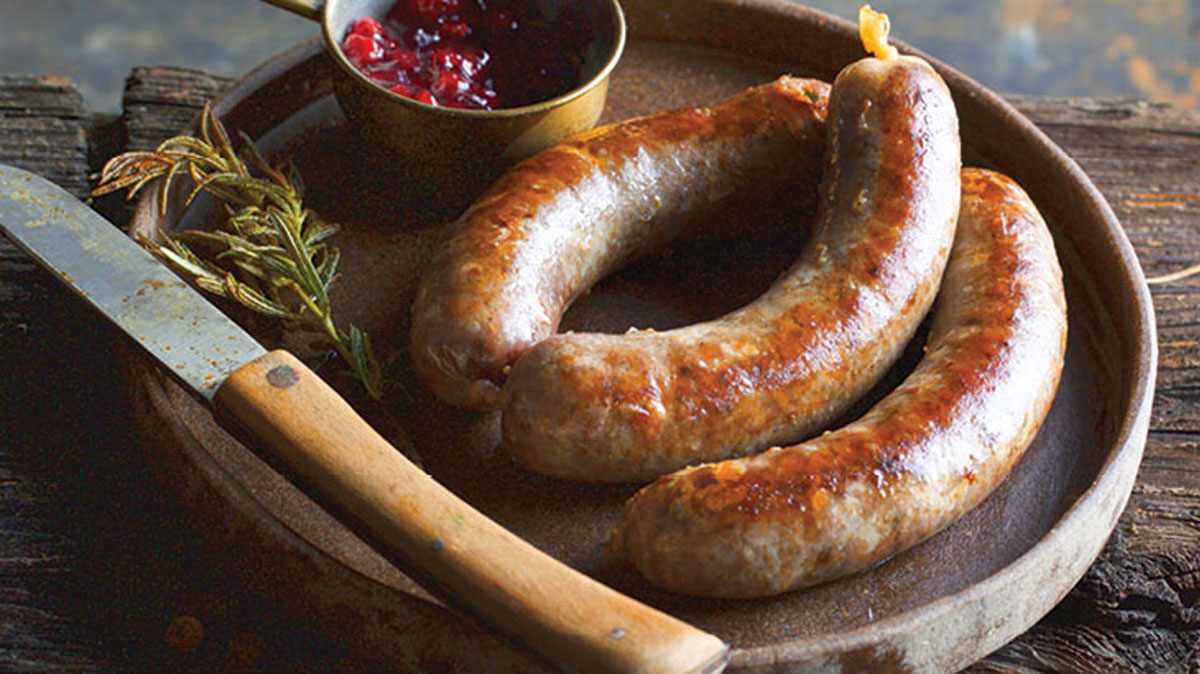 Visit these route stops and bring the cranberry harvest home with you to enjoy year round!
Bala Freshmart: Don't forget to pick up some of their famous pure pork Cranberry Sausages, the perfect hearty fall BBQ headliner. The sweet and savoury combination is a match made in heaven. Pair with fresh-baked buns for a delicious cranberry dinner you can enjoy from the comfort of your own home. Available fresh or frozen.
Inn at the Falls: Enjoy our two new Cranberry Route inspired items! Our delicious Baked Brie with Roasted Cranberries, Pistachio and Fresh Basil and signature Cranberry and Ginger Sparkling Rum Cider. Both Available after October 15
Spa Treatments
JW Marriott The Rosseau Muskoka: Welcome the cranberry harvest this fall at Hydrospa with cranberry inspired treatments for the whole month of October!
Where to Stay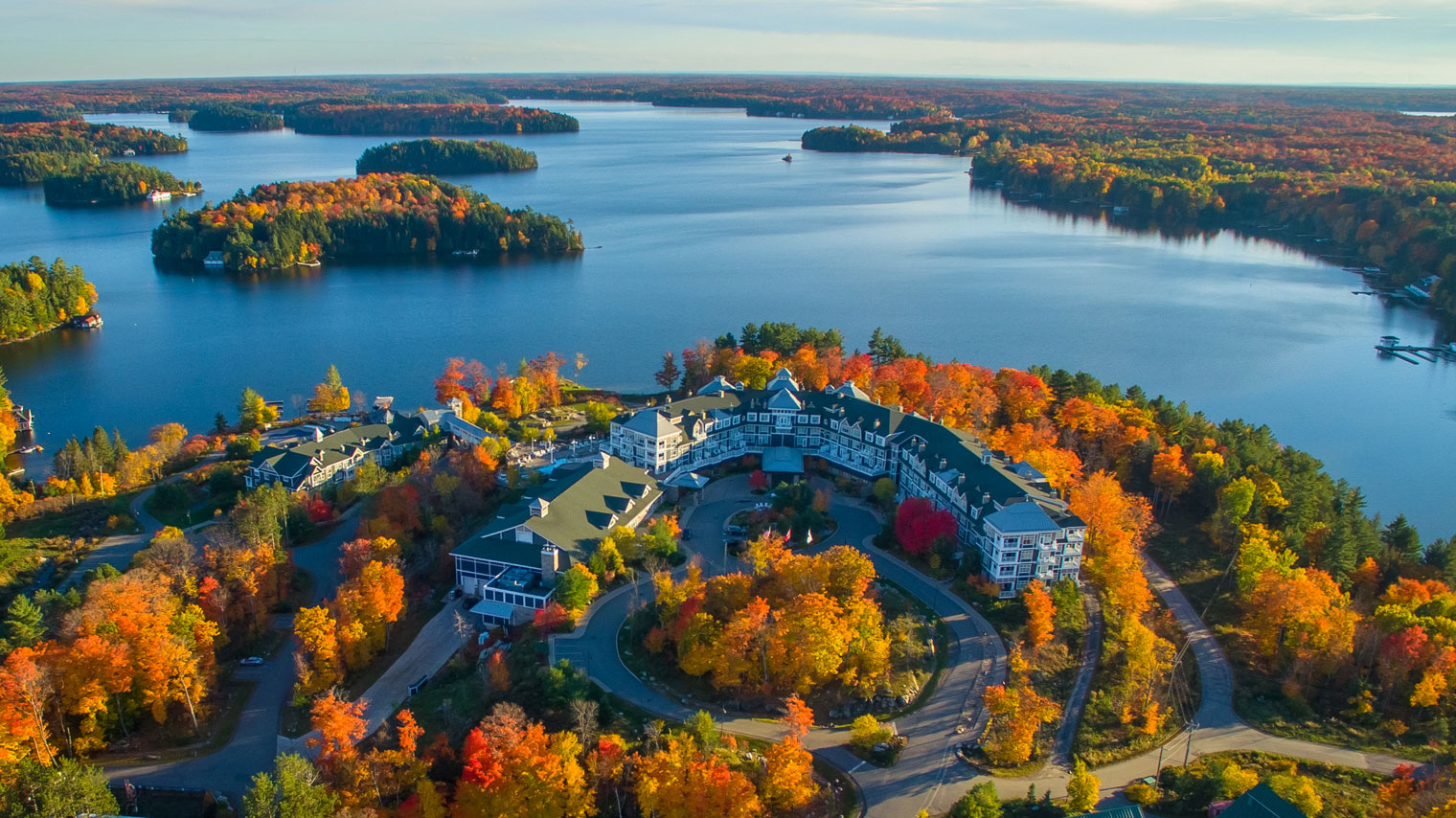 Muskoka is brilliant during the fall season, and a Muskoka Cranberry Route culinary adventure is the perfect excuse for a fall getaway. Stay at one of these great Muskoka Cranberry Route accommodation partners: