Guest Contribution: Sina and Family from Happy Grey Lucky, a lifestyle blog out of Toronto
Severn Lodge, Muskoka ON – After a busy month and a half travelling through Europe, followed by a hectic first week back in Toronto, Chris and I decided we needed a weekend to reconnect and recharge as a family. Chris didn't travel with us for all but one of our five weeks abroad and we wanted a chance to spend some quality time as a family of four away from the hustle and bustle of city life. Summers in Canada are my absolute favourite, and there is nothing that says quintessential childhood quite like spending time in the great outdoors. A few years back, Muskoka was recognized as one of 10 places that can change your child's life by CNN Travel. Having grown up spending almost every weekend at our family cottage up north I can absolutely attest to how perfect the Ontario lake district is for a weekend family getaway.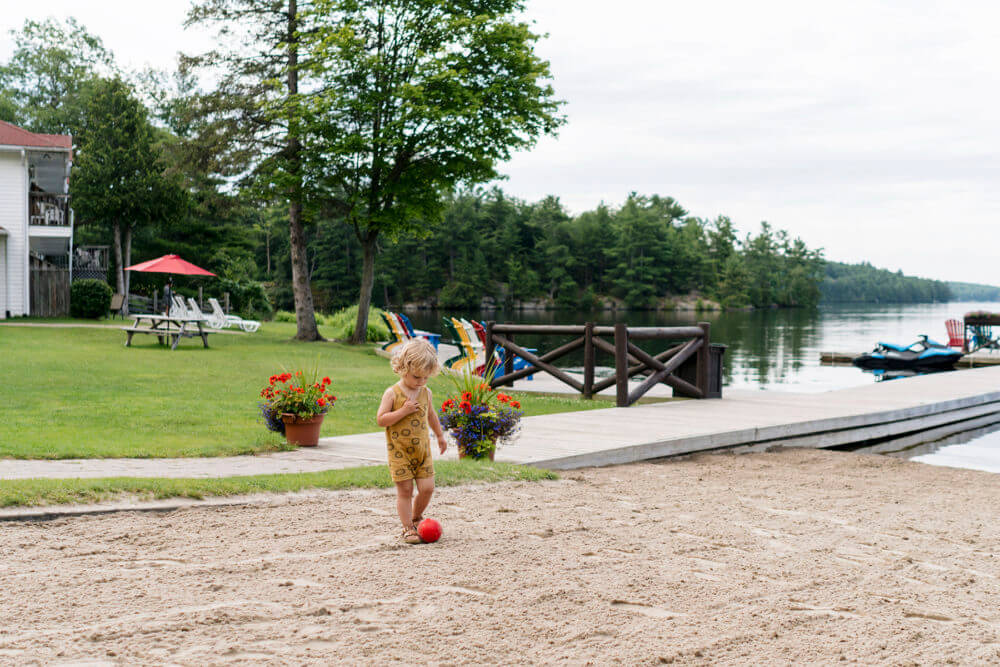 When heading to cottage country there are essentially two main options: rent a cottage or stay at a hotel or resort. Since we were looking to unwind, we chose a resort so we didn't have to worry about cooking or cleaning. I spent a lot of time researching all the various resorts in Muskoka (there are so many beautiful places to choose from!) and we ultimately settled on Severn Lodge as it wasn't too large and looked really child friendly. And, I've got to say, I was really blown away with the amount of careful thought and consideration that has gone into making Severn Lodge perfect for kids and ergo for parents who want a vacation to actually be stress-free.
First and foremost, they have supervised kids activities during the summer months, including a toddler program that would have been perfect for both of my kids. We didn't actually get a chance to try out the program as we ran into a bit of bad luck with the kids coming down with a stomach bug on our first night at the lodge. The staff were all so helpful and attentive with the kids' sickness, I was really impressed. The owner even got up in the middle of the night to bring us more sheets and towels, which was so incredibly thoughtful and very much appreciated. But, with the kids not feeling as well, they were much clingier than usual and we didn't really want to expose the other kids in the toddler program to this stomach bug.
Anyways, back to the kids activities, we were often playing right next to these groups so got a good feel for them. It looked like a really lovely experience for kids. The counsellors were all very attentive, especially with the toddler group, and all the kids seemed to be having a blast. You can bet that next time we're at this lodge, we'll be using this service.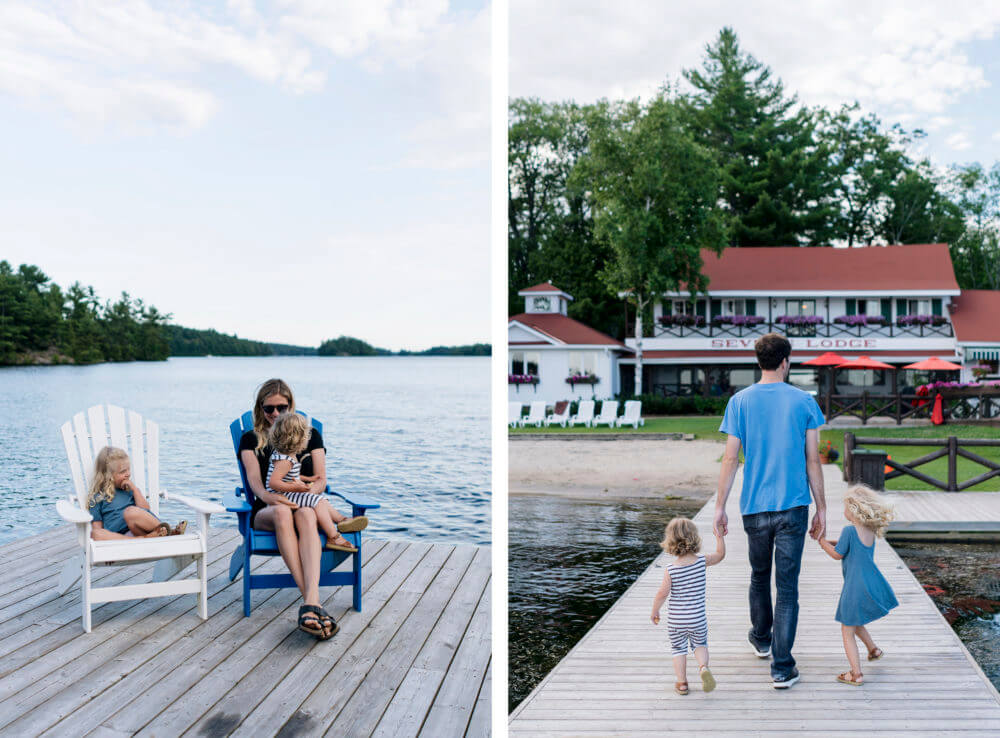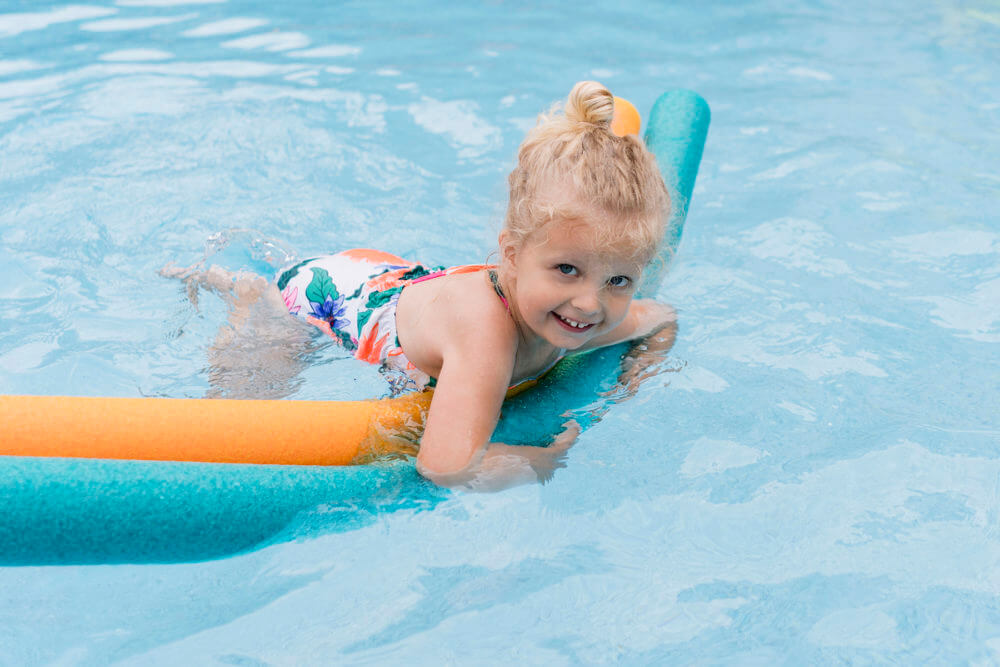 They also offer babysitting and various entertainment in the evening. There was a karaoke night the first night and a games night the second night which sounded like a lot of fun. (Anyone who knows me knows I'm obsessed with card and board games.) Again, because of our kids being sick, we wanted to be there for them at night while they slept but during our next stay we will absolutely be getting a babysitter and having a little night out. As it was, we did get ourselves some delicious cocktails to enjoy on the porch while the kids slept.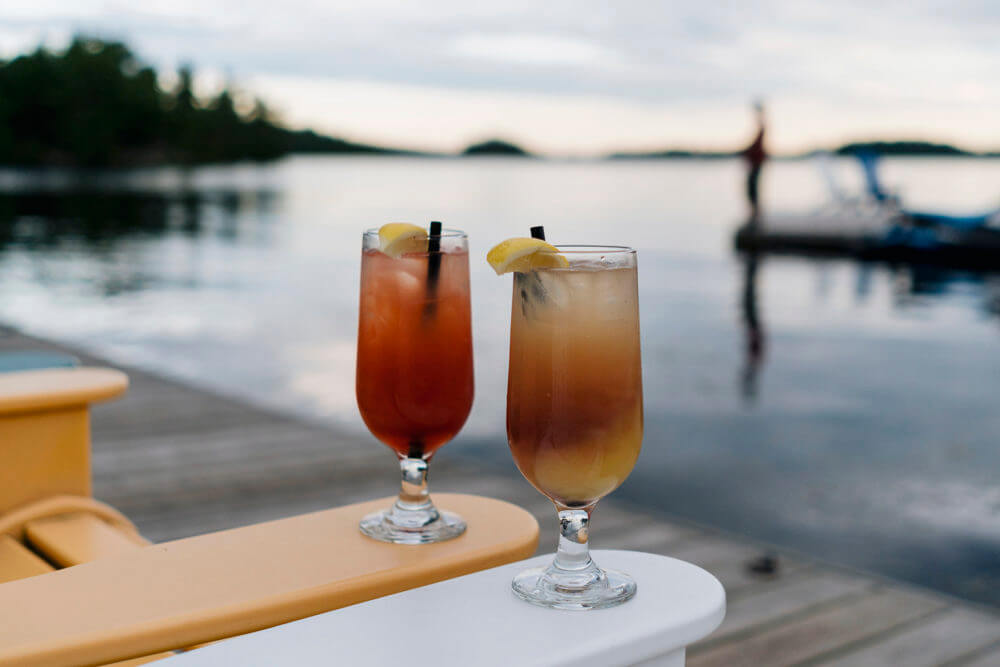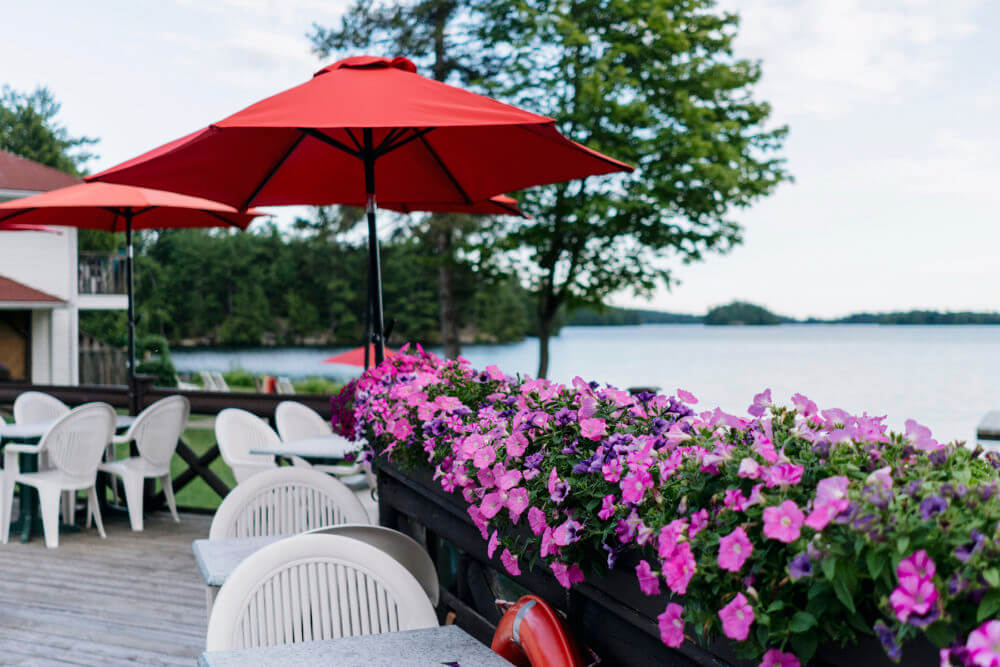 Luckily, despite the kids feeling sick in the evenings, they were pretty happy and up for having fun during the day and we really enjoyed our weekend outdoors in nature. At home we always end up getting sucked into chores and todo lists and what not on weekends and hardly ever have truly uninterrupted family time. So it was really nice to spend two full days just us four, watching the kids play, trying out some fun water activities, and just having quality family time.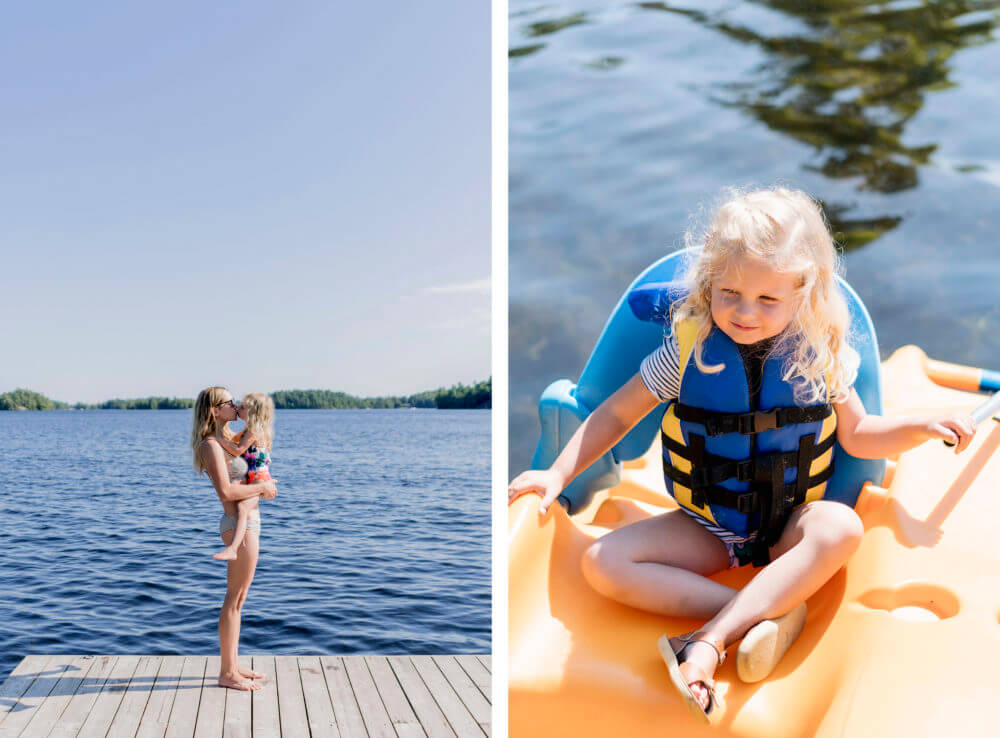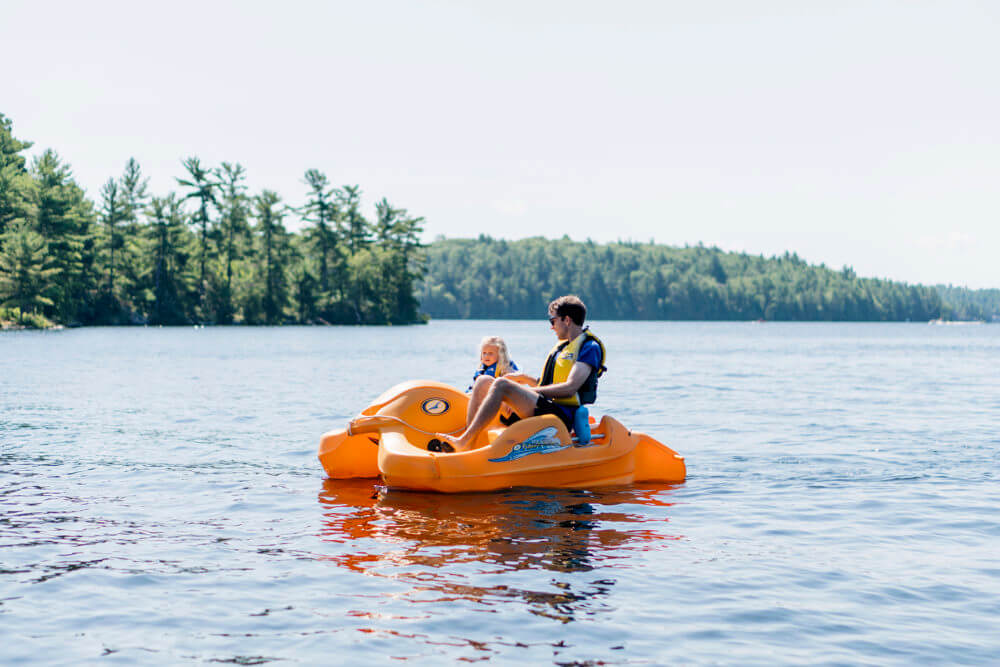 We spent two half days and one full there and were really lucky with the weather on Saturday (our full day). It was sunny and warm the whole day and so we really got to make full use out of all the amazing activities Severn Lodge offers. Isabelle loved the paddle boats and gave her daddy a good workout first thing in the morning. Nicolas really wanted to go on a jet ski (such a daredevil haha) but watching them was pretty fun as is.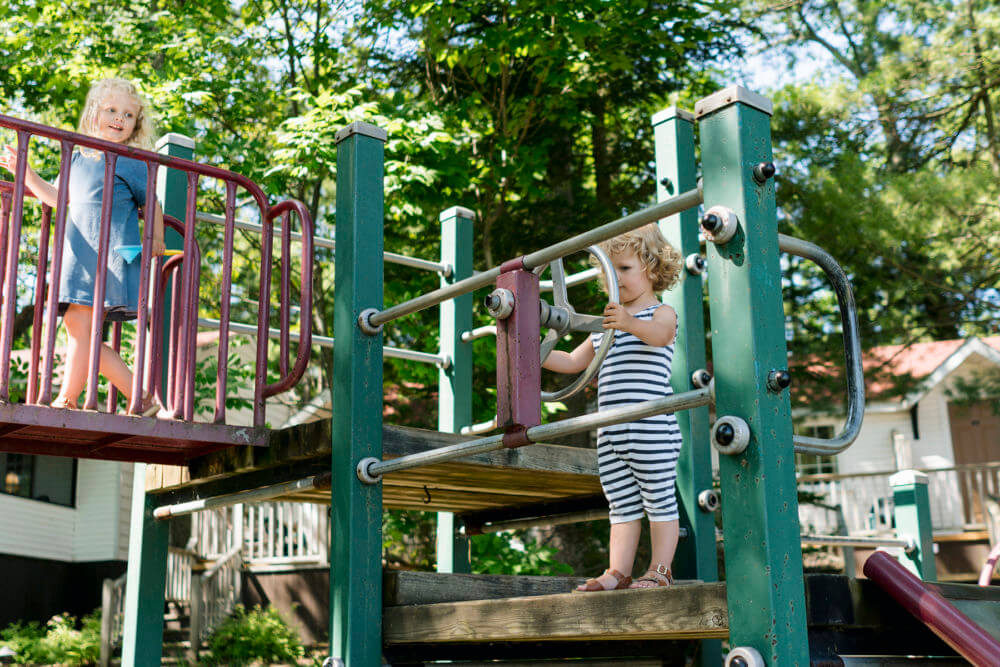 There was a playground next to the beach (all resorts should come standard with playgrounds! just sayin') with a steering wheel that Nicolas was obsessed with.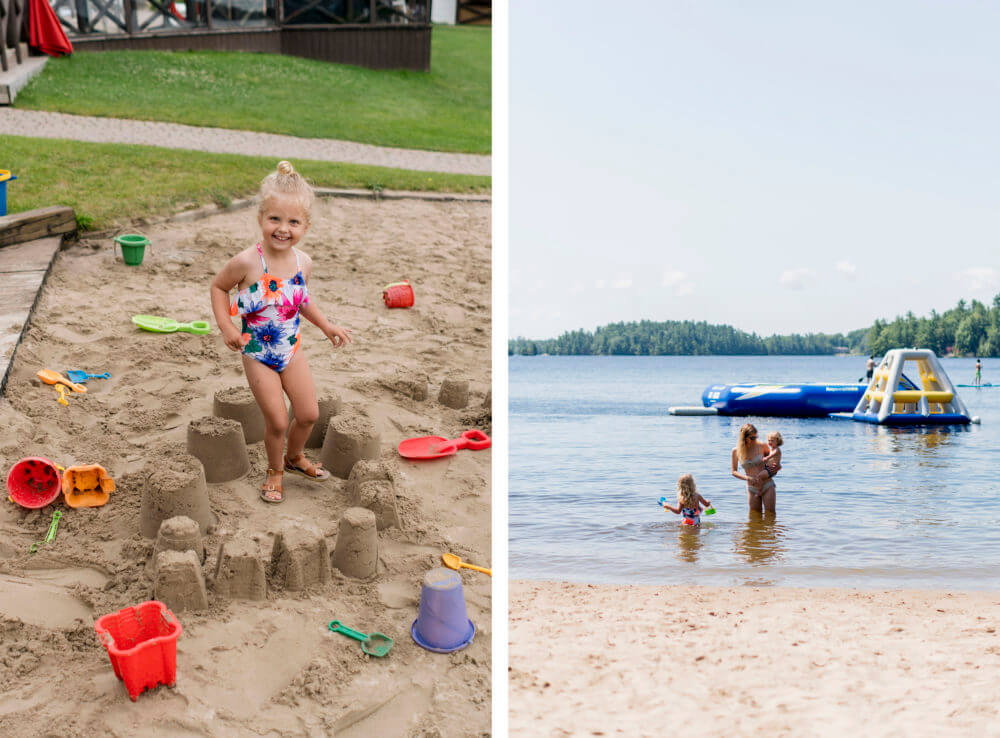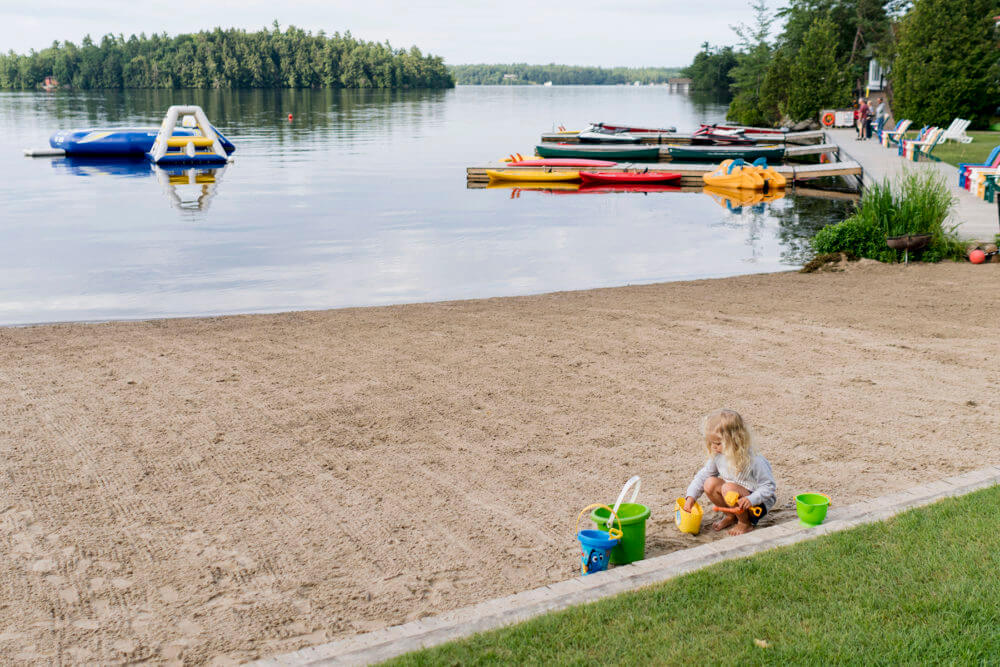 Our favourite was probably the beach with the giant trunk full of sand toys. There was a row of lounge chairs right above the beach so Chris and I could relax whilst the kids played for hours. We had brought our own sand toys but those were quickly discarded for the way cooler and bigger shovels and buckets provided by the resort.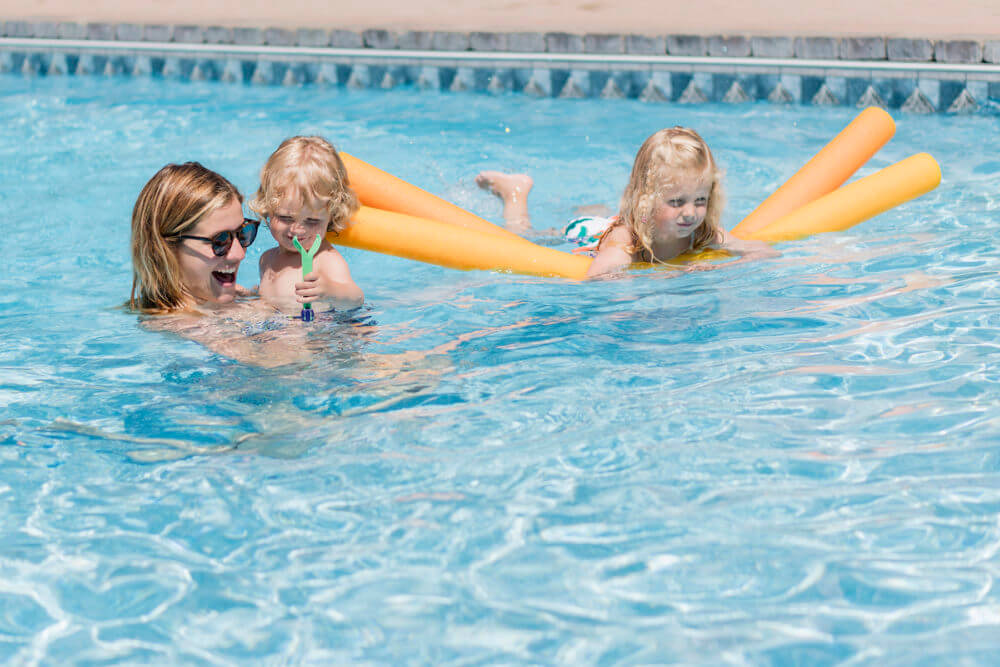 The pool was also a big hit – Isabelle would have spent all day in there if we let her and loved using the pool noodles to swim all by herself. The pool area also had a hot tub that this can't-handle-cold-water-of-any-kind mama made good use of.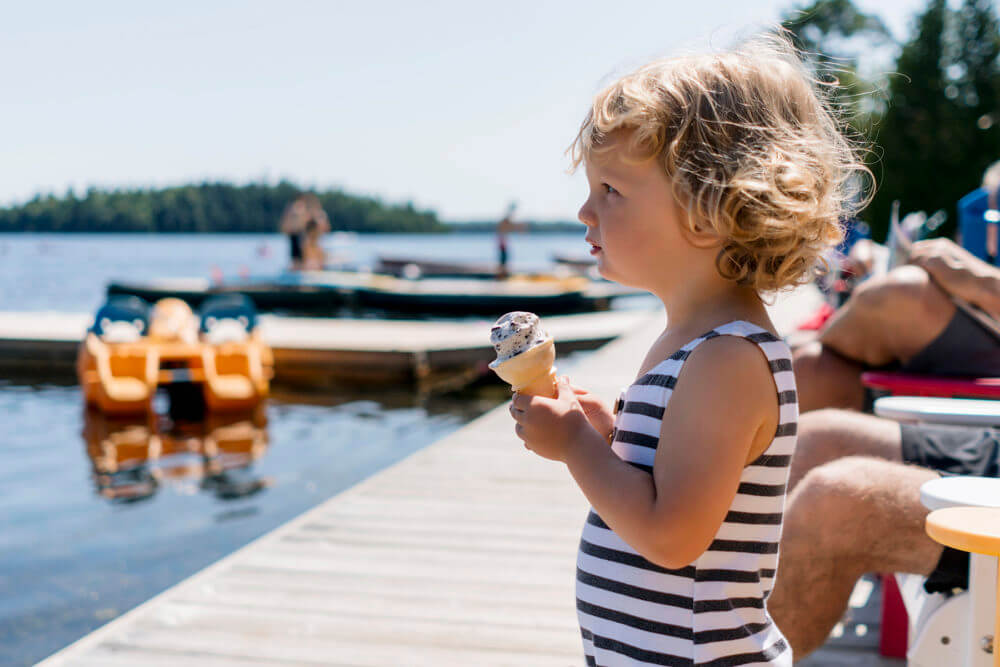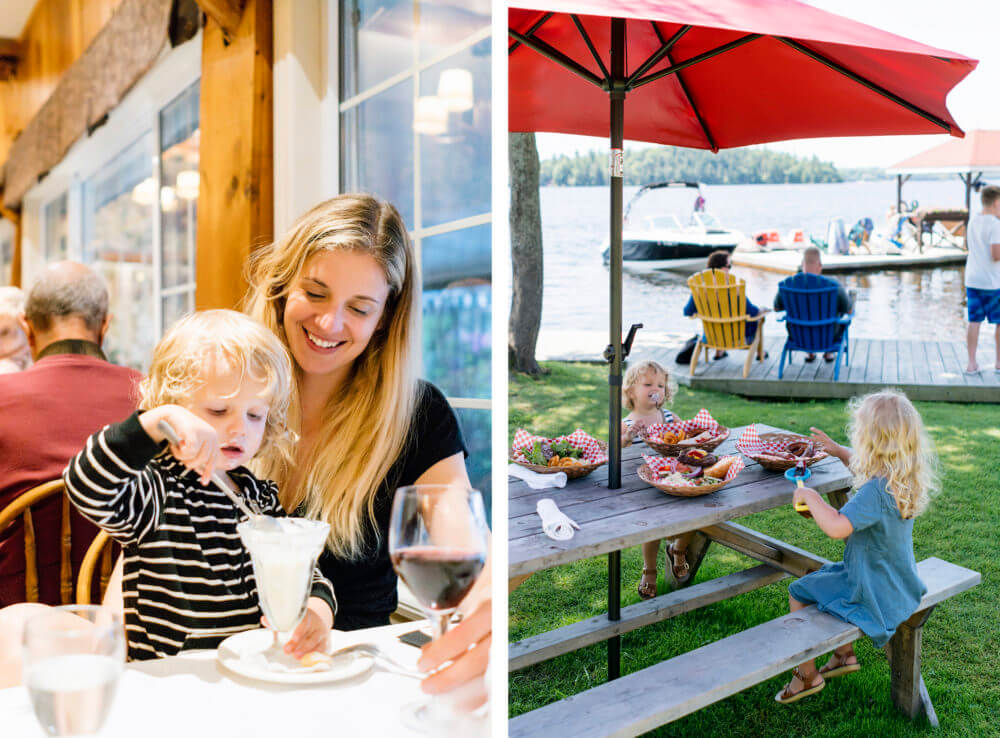 Let's talk about food. Activities and entertainment are of course extremely important for making a place family friendly but for me, personally, food is just as important. My kids are picky eaters (much to my food-loving chagrin) and I find eating out with them to often be quite stressful. There's nothing for them to do, they're hungry, have to wait forever for the food to come (even when we order it right away), and then us parents spend the entire time trying to keep them calm and happy followed by quickly scarfing down our food so we can get the heck out of there. Severn Lodge has this covered with a kids buffet while parents get the regular a la carte menu. A kids buffet! How genius is that?? Seriously. I cannot believe that I have never stumbled upon this before because this is the Best. Idea. Ever. Parents get a traditional restaurant experience (I love plated food – the selection, the presentation) and kids get a large selection so they can eat a big of everything and, more importantly, they get to eat right away. If nothing else, this alone is a reason to come to Severn Lodge with young kids.
On Saturday, they also did a BBQ lunch outdoors with hotdogs, hamburgers, curly fries (ahh, childhood), pretzels, salads, and veggie sticks. I loved the informality of it, the eating outdoors picnic style and, of course the pretzels. And they were good German pretzels (which are so hard to find here in Canada).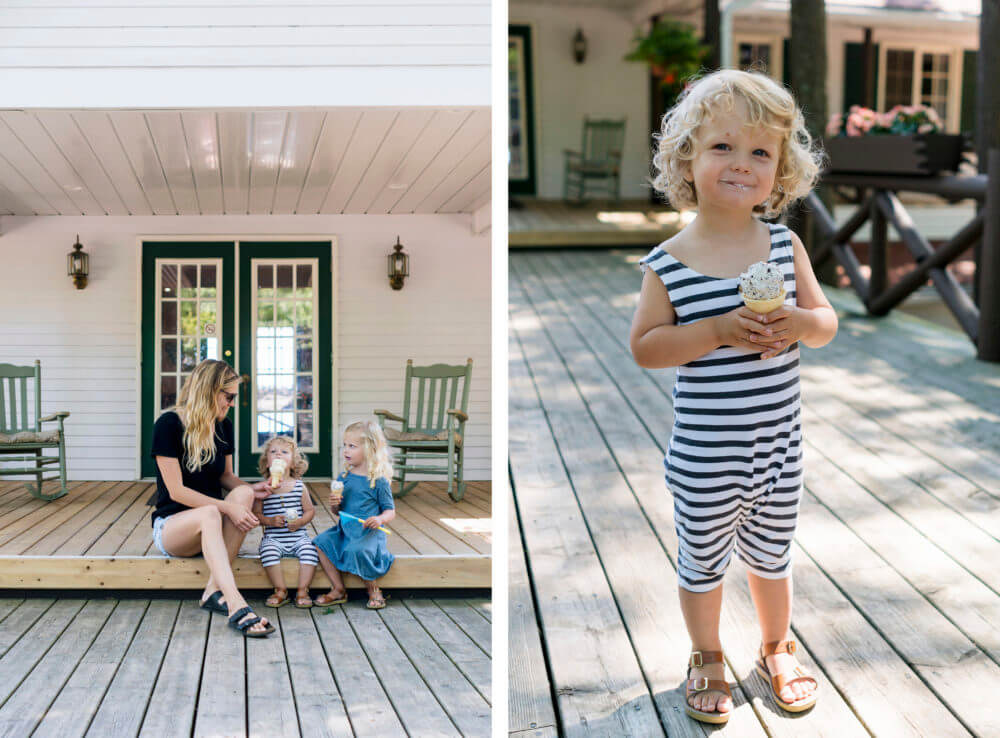 They also have a little gift shop that sells Kawartha ice cream. Kawartha Dairy seriously makes the best ice cream – if you're from Ontario and have never tried it, I suggest you do so stat. We discovered them years ago when my family had a cottage near Bancroft and us kids would actually walk into town (over an hour) just for their milkshakes. Soooo good.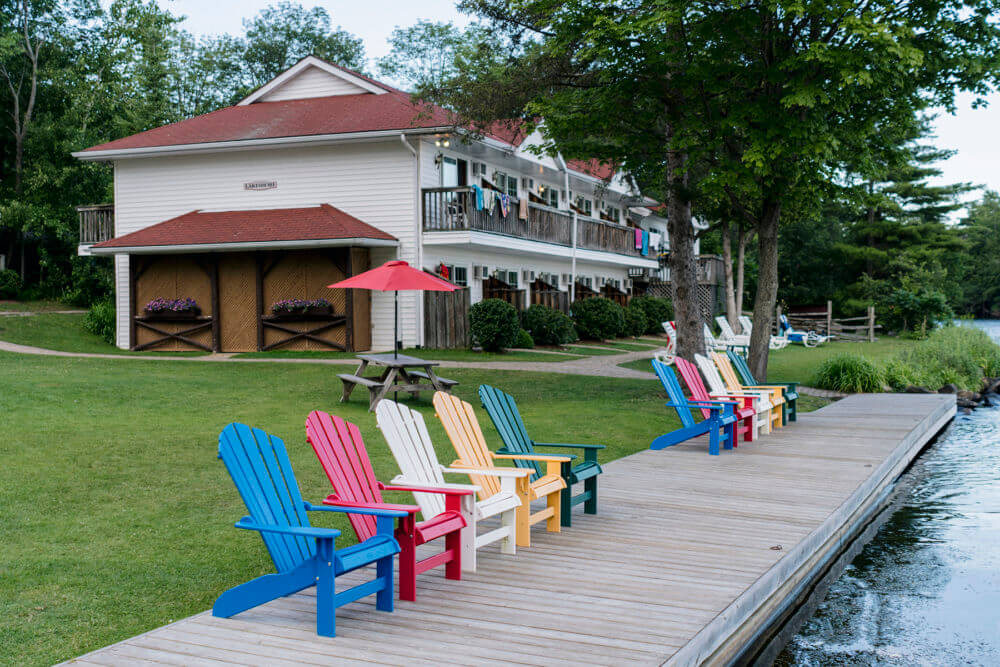 Last but not least, the rooms themselves. I don't often book hotels and resorts anymore for family vacations because traditional "one open space" hotel rooms are not that great when you've got young kids. My kids are great at sleeping in the same room as us, so that's not an issue for us personally (although it used to be with Nicky), but rather my kids go to bed pretty early (7:30pm in the summer) and there's nothing worse than sitting in the dark in complete silence every night on vacation. So I really appreciated the two-bedroom unit we had. It was essentially a traditional open-space hotel room (bed / sofa / etc. all in one room) with an extra room with two single beds off to one end. There was also a balcony to sit and drink a cocktail while the kiddos slept.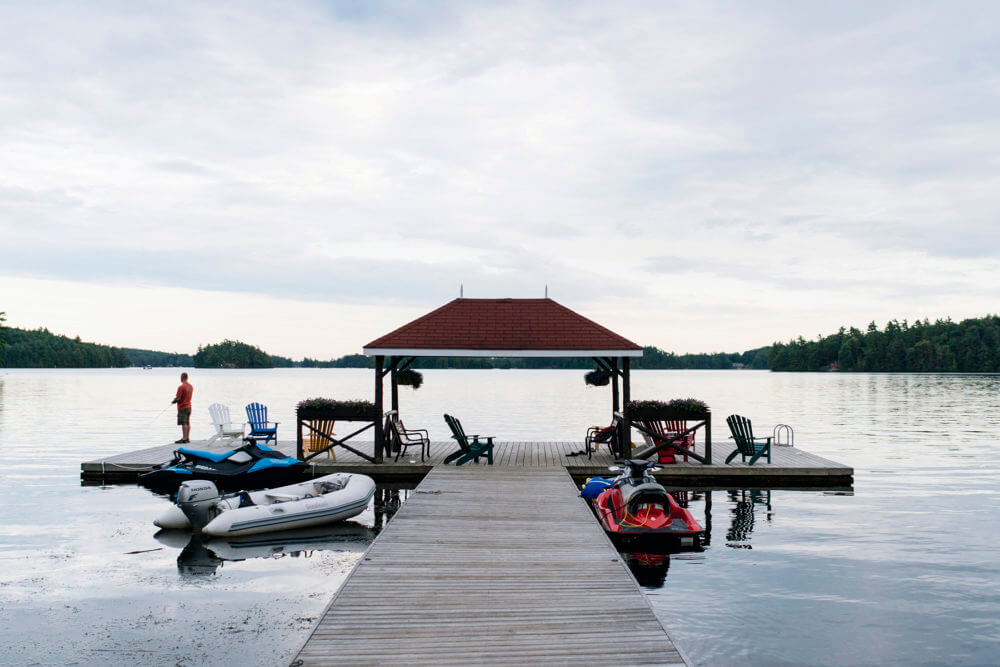 We had such a fabulous stay even with the unfortunate stomach bug circumstances. The kids loved all the fun outdoor activities, us parents loved being able to kick up our feet a bit while the kids played and, of course, just spending a weekend together as a family in beautiful Muskoka. Thank you Severn Lodge for hosting our family!