Remember the old saying, it's as easy as riding a bike? Well the same holds true when you take your two-wheeled adventure to the snow trails during the winter months with a fat bike.
Fat bikes are just like regular bikes, except their wider than normal tires allow you to traverse through the snow and experience the wintery landscape in an entirely new way!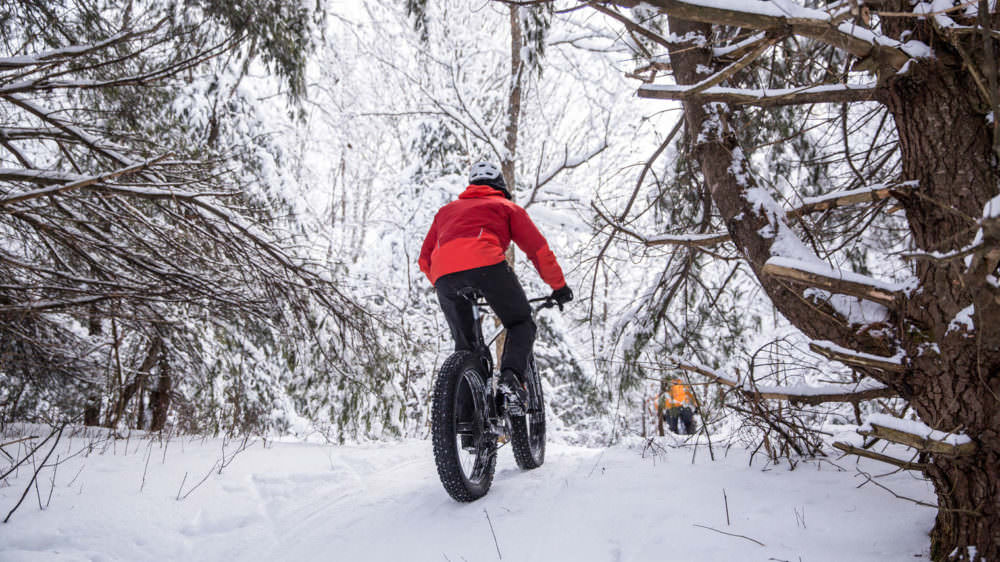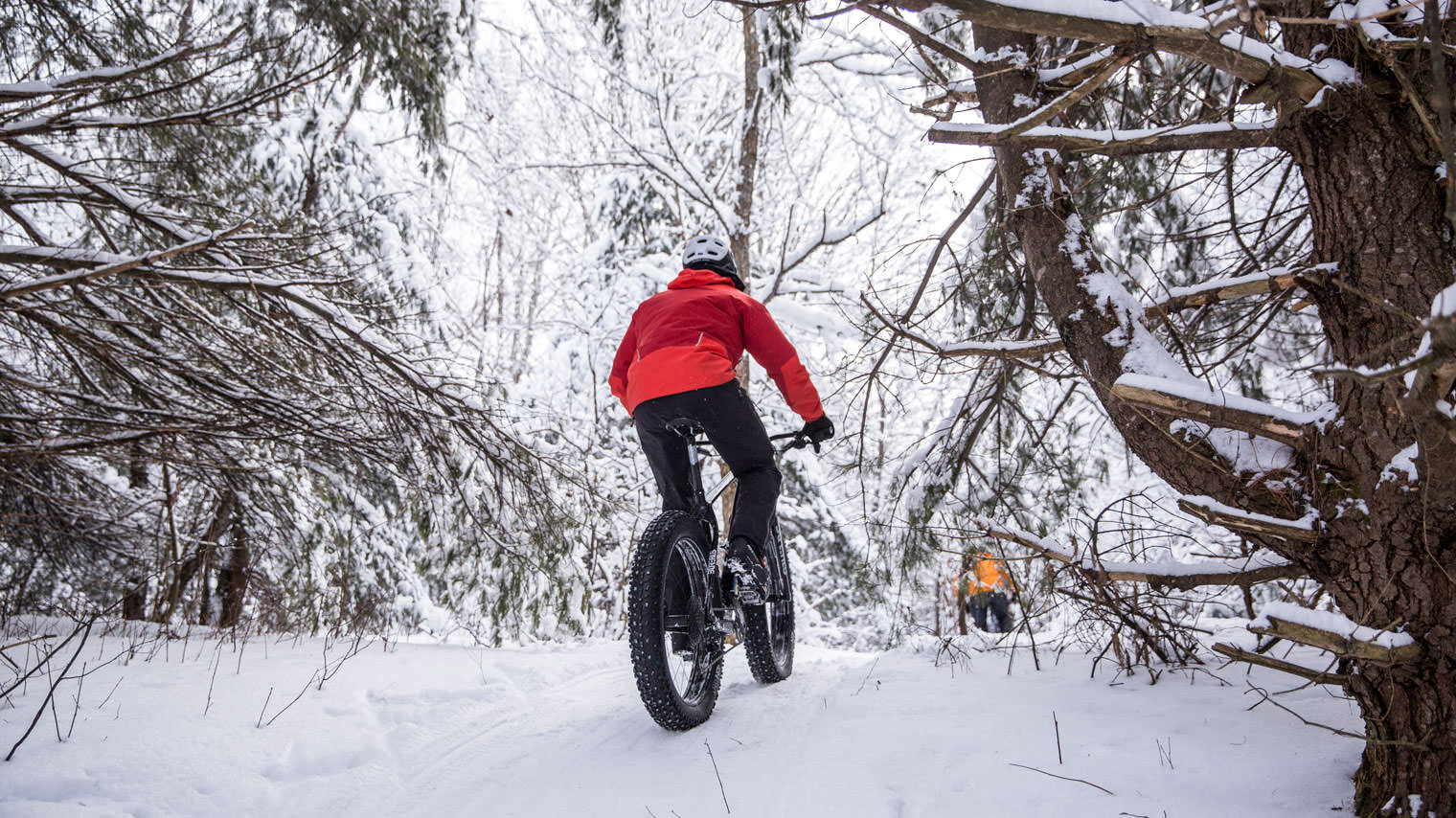 This new sport is the latest winter craze, and with good reason. It is an exciting way to get out and experience Muskoka's Great Canadian Winter.
The best part is, anyone can try it! With rentals and trails available across Muskoka, it has never been easier to get out and try this new experience.
For those who want to give it a whirl but don't know where to start when it comes to fat biking, we're sharing the beginner's guide to help make your trip planning even easier.
Check out this amazing footage from the fat biking trails available through Liv Outside
Not to be outdone, Algonquin Outfitters in Huntsville created their video to show how epic this adventure really is!
2 Steps to Get You Fat Biking

Step 1. Rent a fat bike. Algonquin Outfitters in Huntsville, and  Liv Outside in Bracebridge both provide rentals. If you call ahead and book, they can also arrange for a guided tour for your group. Our fat bike outfitters want you to have an exceptional experience on the trails, and they are a great resource for first-timers. They will be more than happy to give you any advice, pointers, and trail recommendations! If you have any questions, feel free to give them a call!
Step 2. Find a trail. This is easier than it sounds! Liv Outside  in Bracebridge has an extensive, fat biking trail system leading right from their doorstep, and a trail pass is included in your fat bike rental! If you are renting from Algonquin Outfitters in Huntsville, head out on the trails at Limberlost Forest and Wildlife Reserve in Lake of Bays, or the Old Railway Bike Trail in Algonquin Park, both exceptional trails!
Yup, it is that easy. Check out some more tips and answers to first-timer FAQ's below.
Fat Biking Tips for First Timers
Peter DeMos is Muskoka's leading expert in fat biking, and he's offered a few tips for first timers. Peter is the owner of LivOutside, an outdoor adventure company in Bracebridge. One of their many offerings is the complete Fat Biking Adventure, which includes fat bike rental, and a trail pass to their groomed trail system.
There is a misconception that fat bikes are heavier than regular mountain bikes, but this couldn't be further from the truth. The bikes just have larger tires, which is actually what makes them so easy to ride. The increased surface area of the tire means more contact with the ground, which gives the user better grip, comfort, and stability.
For winter rides, February and March offer the best conditions for winter fat biking because the favourable temperatures have created a hard crust on the trails.
You won't want to go fat biking directly after a snow fall, as you want the trails to be packed down. Usually give it a couple days for the trails to be either packed down or groomed.
Like any aerobic activity in the winter, you are going to get warm when you're riding. Don't overdress for the weather. You will also want to make sure you wear a thin toque, as pom-poms won't fit very well underneath your helmet.
Warm gloves and dry winter boots are key!
The bike's single chainring protects rider's snow pants from getting caught, so you don't have to worry about any rips.
Pack some water and snacks for the journey! Even though it is cold out, it is important to stay hyrdrated.
Always wear a helmet! This one is fairly straightforward.
HAVE FUN! Fat biking is one of the greatest winter activities you can get into, and it is so simple to do. Even if it does take you a few laps to get the hang of it, remember, wiping out in the snow doesn't hurt!
It really is that simple, so there is no excuse to put this one off for next year! Take advantage of the few weeks remaining this winter, and take your adventure to two wheels!