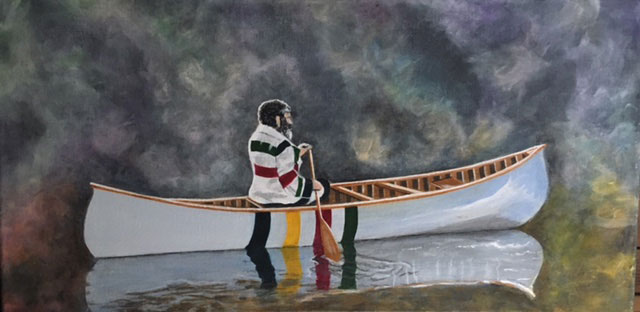 Hudson Bay Canoe by Nancy Watt shows the iconic Hudson's Bay Point Blanket on another iconic Canadian symbol – the canoe.
Throughout the 18th century, wool blankets were among the most popular trade items in the Canadian fur trade, accounting for more than 60% of all goods exchanged by 1700. Although blankets had been a trade good offered for some time, it was not until 1779 that the item that would become the iconic Hudson's Bay Point Blanket was born. This painting is part of a series that is inspired by the variety of canoes that ply the rivers and lakes of Canada.
To see this and other paintings by Nancy Watt, please visit Muskoka Tourism's Travel Information Center located at 1342 Highway 11 North, Kilworthy. This display continues until January 9, 2019 and is part of Muskoka Arts & Crafts' Community Display Program. By showing art in various public venues, the Community Display Program makes art available for everyone in the community to admire, enjoy and appreciate.