Check out our Instagram post @discovermuskoka to see some mouth watering pictures of the sandwiches listed below:
Muskoka is not only famous for its stunning natural landscapes but also for its diverse range of mouth-watering eateries. From food trucks to delis, Muskoka offers a blend of unique flavors. So come and delve into some of the top local restaurants that will leave your taste buds satisfied.
#1: Din's Fresh Cut Fries – The Smash Burger – Dwight
Tucked away in the parking lot of Lake of Bays Garden Centre, Din's Fresh Cut Fries is a must-visit for burger enthusiasts. They serve Jamie's delicious smash burgers alongside their fresh-cut fries. While satisfying your cravings, you can feel good knowing that Din's Fresh Cut Fries prioritizes sourcing their ingredients locally.
#2: Coop Wicked Chicken – The Big Coop – Port Carling
Port Carling is home to Coop Wicked Chicken, a restaurant that combines punk-rock vibes with rustic henhouse aesthetics. Their menu features darn delicious chicken dishes made with high-quality, locally sourced ingredients. Coop Wicked Chicken is dedicated to providing a memorable dining experience while maintaining sustainability with their vegetarian options all while showing an appreciation for '80s and '90s nostalgia.
#3: The Pearl Muskoka – The Schnitzel Sandwich – Bala
Bala is proud to host The Pearl Muskoka, a hot spot backed by The TOBEN Hospitality Group. With nearly 20 years of experience in the hospitality industry, The Pearl offers delicious cuisine made with fresh, accessible ingredients. By emphasizing sustainability and exceptional service, The Pearl aims to become a long-term community staple in the Muskoka region.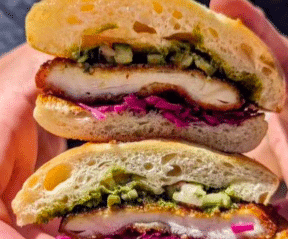 #4: Main St Delicatessen – The Reuben – Bracebridge
Located in Bracebridge, Main St Delicatessen is a deli that never disappoints. With fabulous lunch options and great sandwiches, this establishment prides itself on providing outstanding service. Main St Delicatessen showcases sustainability by locally sourcing quality ingredients while also creating a lovely and accommodating dining atmosphere.
#5: Smokin' Hot BBQ – Dave's Texas Style Brisket – Huntsville

Started as a chip truck and now expanded to a permanent location on Highway 60 in Huntsville, Smokin' Hot BBQ offers delicious Texas-style brisket and poutines made with fresh-cut fries. Their commitment to sustainability is evident through their collaboration with the Town of Huntsville to learn about permits and impact studies. Their use of mobile smokers for catering events is an added bonus for if you are interested in event hosting. They also focus on providing locally sourced ingredients for your pleasure.
#6: Fox in the Henhouse – The Buffalo Chicken Sandwich – Huntsville
Fox in the Henhouse, nestled alongside the Muskoka River in downtown Huntsville, is a must-visit spot for the best-fried chicken sandwiches and doughnuts. Their made-from-scratch ingredients ensure maximum flavor in every bite. Enjoy your meal on their patio with a refreshing beverage from the neighboring Canvas Brewery.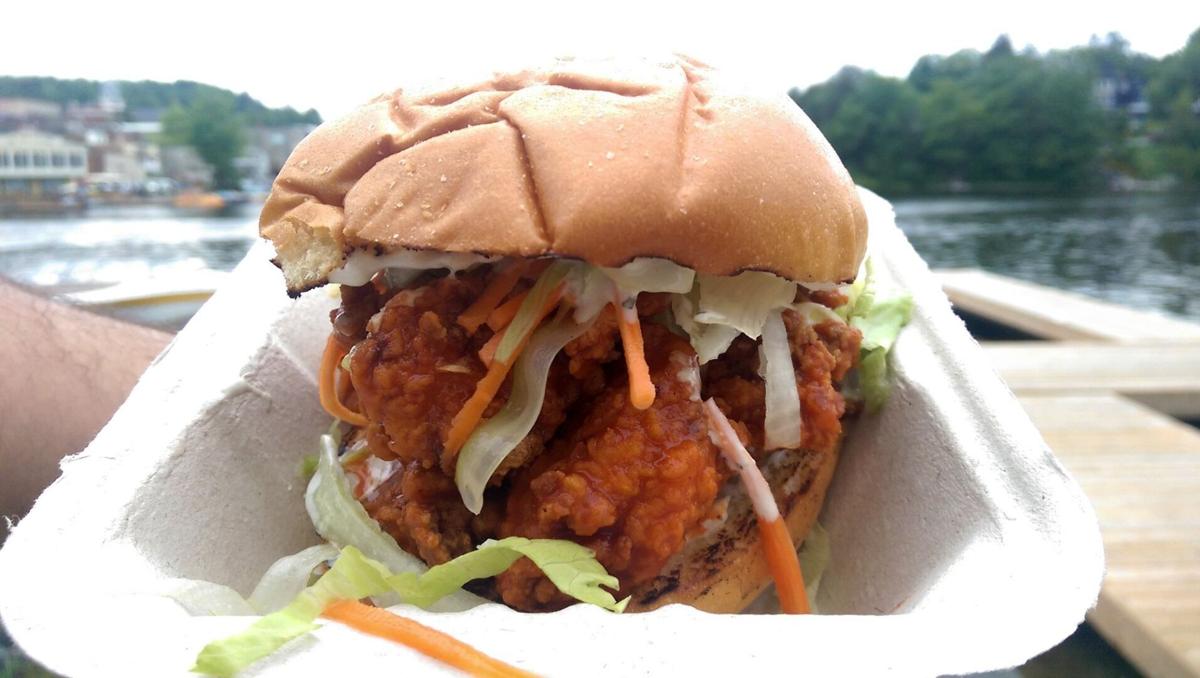 #7: The Smokin Birds – The Beef Brisket – Bala
The Smokin Birds in Bala, run by Jennifer Dewasha and Jane MacDonald, is a roadside smokehouse that will leave you craving more. Their mouth-watering BBQ, seasonal sides, and handmade juices are available for takeout. They prioritize sustainable practices and source fresh ingredients from local farmers to ensure top-notch quality year-round.
Honorable Mention: Mrs. H's Fish & Chips – Wahta
Although a little off the beaten path in Wahta, Mrs. H's Fish & Chips won multiple awards for "Best Fish & Chips in Muskoka." Their dedication to quality and serving generous portions of fish and chips is evident in every meal. Mrs. H's commitment to providing high quality food shines through her use of fresh and locally sourced ingredients in a charming eatery.
When visiting Muskoka, make sure to explore these fantastic eateries serving delicious dishes crafted with care. From burgers and chicken sandwiches to schnitzel sandwiches and fish & chips, these restaurants combine culinary excellence with a commitment to sustainability and quality service. Enjoy the flavors and support businesses that contribute positively to both your taste buds and the Muskoka community.