Skijoring Trails in Ontario
Skijoring might just be the best development in dog friendly vacations yet!
Skijoring might be difficult to explain, and a picture is worth a thousand words, so…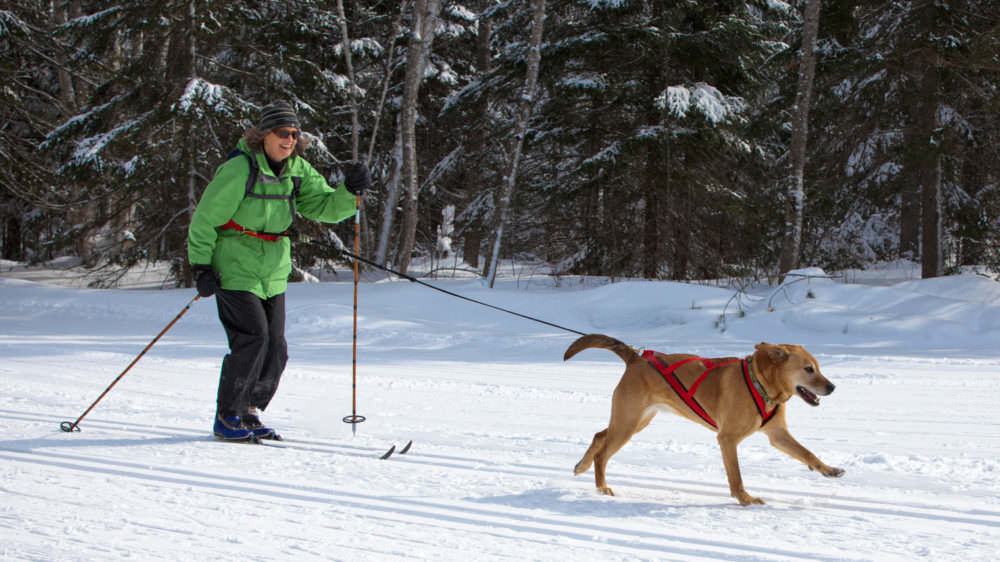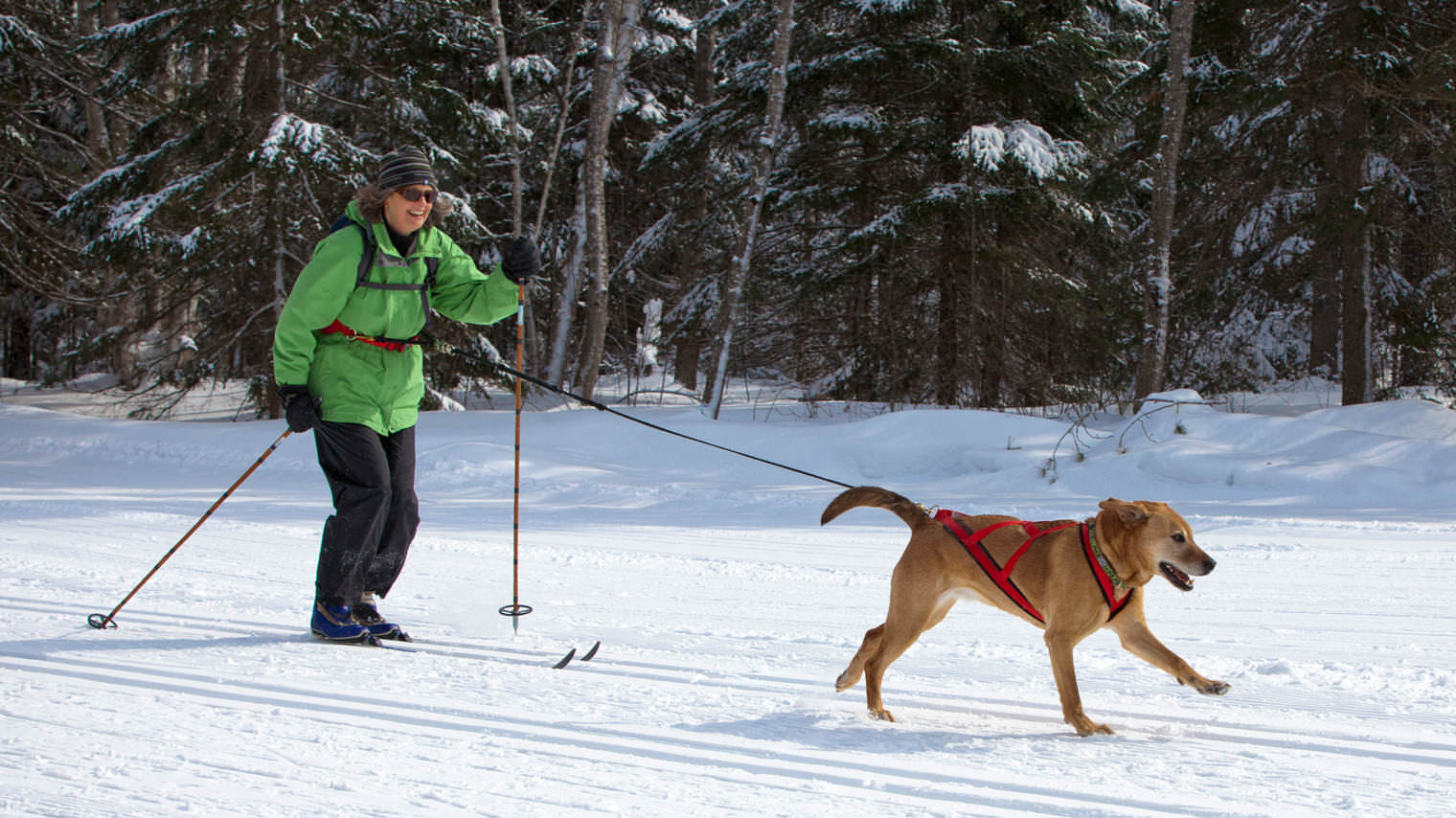 Although a relatively new sport to our area, skijoring has been around for centuries in the nordic skiing popular countries of Scandinavia. This activity brings a whole new meaning to winter fun, and might just be one of the greatest winter experiences you will ever try!
Skijoring is relatively simple, and is a great way to get outdoors with your loyal four legged friend. Even if you have never skied before, skijoring is for all skill levels. All you need to try this amazing winter experience is:
(a) A dog that is big enough to pull (a chihuahua likely won't work). Some more experienced skijorers will use two or even three dogs, but to start out one should be enough.
(b) Dog harness: for the comfort of your dog, please don't use a collar as they will be doing quite a bit of pulling.
(c) Skijoring belt and line: the skijoring belt will wrap around your waist, and connect you to your dog. Skijoring belts are available to purchase at Algonquin Outfitters in Huntsville.
Once you have everything you need, now you need to find a place to hit the trails!

---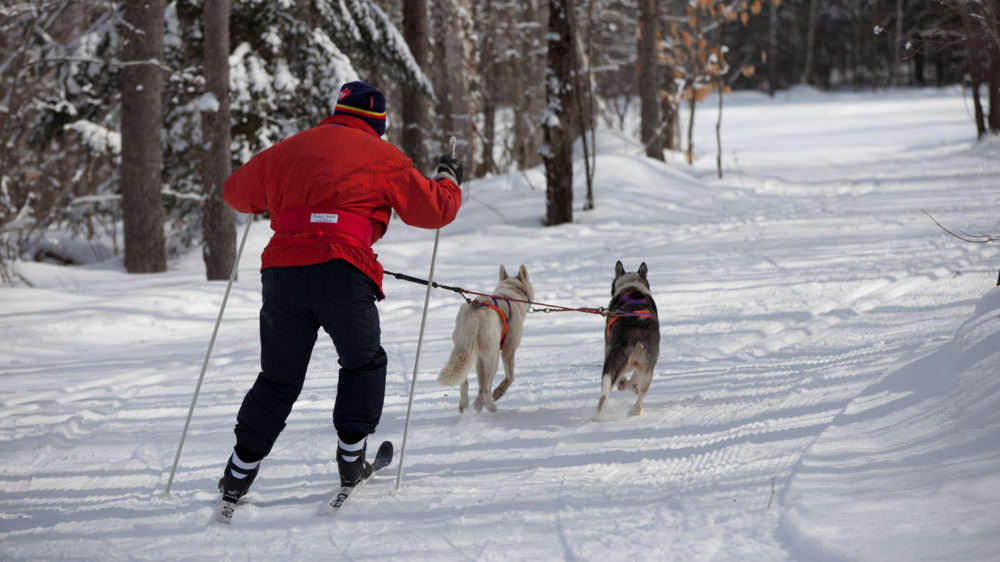 The SportLab will be hosting skijoring sessions at Arrowhead Provincial Park.
Meet at the Arrowhead Provincial Park Birches Parking Lot, and look for The SportLab banner. Please note, these are the only days of the winter where skijoring is permitted at Arrowhead.
Sunday, February 5 from 1pm – 4pm
Sunday, February 12 from 1pm – 4pm
Sunday, March 5 from 1pm – 4pm
The SportLab makes this exciting sport as accessible as possible during these sessions! If you do not have your own dog, you must call The SportLab (1-855-776-7852) to register prior to the date you wish to attend.
For the day of, all you will need to participate is:
An Ontario Parks (and ski) pass (purchased at the front gate)
Cross country skis and poles (or if you do not have a pair you can rent from Arrowhead)
Your pooch!
Harnesses, belts and lines will be available for loan or purchase on the day of (Thank you Raven's Watch)
As local experts in Sport Therapy and Sport Nutrition, The SportLab supports community events which promote healthy lifestyles, build community capacity and increase participation in physical activity.
---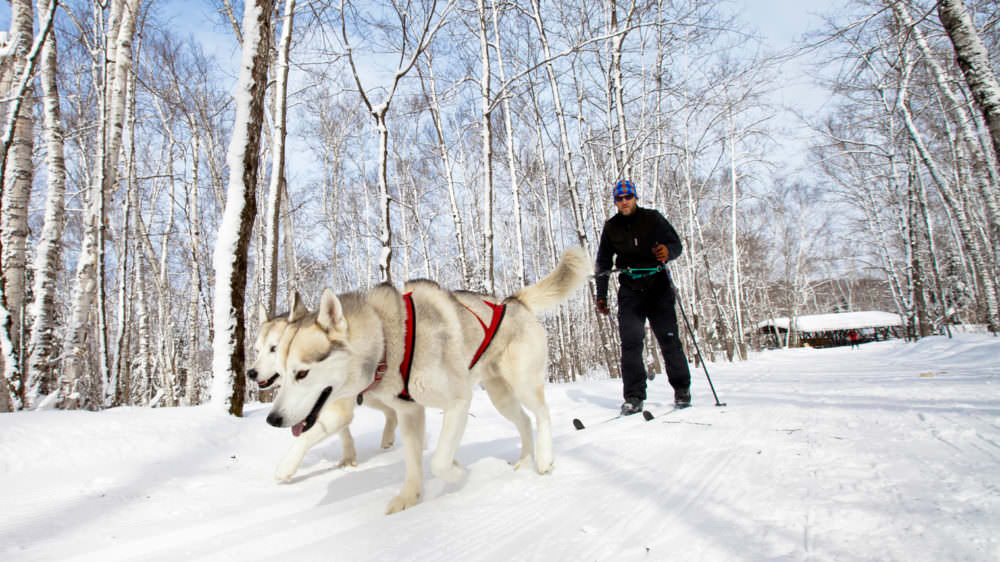 If these dates do not work for you, there are still plenty of opportunities for you to try this exciting sport out this winter.
The easiest spot to test your skills is actually on the lake, especially for beginners. Having no set trails allows you and your dog to get acquainted to the sport without any added difficulty. If you need to rent skis, Algonquin Outfitters in Oxtongue Lake has the equipment you need.
It is important to remember, no ice is safe ice.
Always be cautious when it comes to the ice, and it never pays to be out too early or too late in the season. Always auger to measure the ice thickness and quality before you go out and only go where you know the ice is safe. Here are some tips from Red Cross on ice safety that you should follow.
If you want to try skijoring on a trail, the only trail that allows skijoring on a full-time basis is the Sunday Lake Dog Sled Trail or the Old Railway Trail in Algonquin park. These are great tracks, but it is recommended you have cross country skiing experience before trying these out. Algonquin Outfitters in Oxtongue Lake is right on the way to these two trails when heading north and east, making it convenient if you are renting skis.
---
Skijoring definitely brings a whole new meaning to pet friendly vacations! If you plan on heading to Muskoka to try this exciting winter activity with your four legged friend, we recommend staying at one of these pet friendly accommodations.
Pet Friendly Resorts
Sherwood Inn
Deerhurst Resort
Trillium Resort & Spa

Pet Friendly Cottages
Adventure Lodge
Cedar Grove Lodge
The Norsemen Restaurant & Walker Lake Resort
Tally-Ho Inn
Muskoka Shores Cottages


Pet Friendly Hotels
Inn at the falls
Sleep Inn Muskoka
Travelodge
The Nordic Inn
Howard Johnson Inn
Residence Inn Marriott
Skyways Motel
Holiday Inn Express
Canada's Best Value Inn
Comfort Inn
Quality Inn Bracebridge

Pet Friendly B & B's