Saturday, October 21 and Sunday, October 22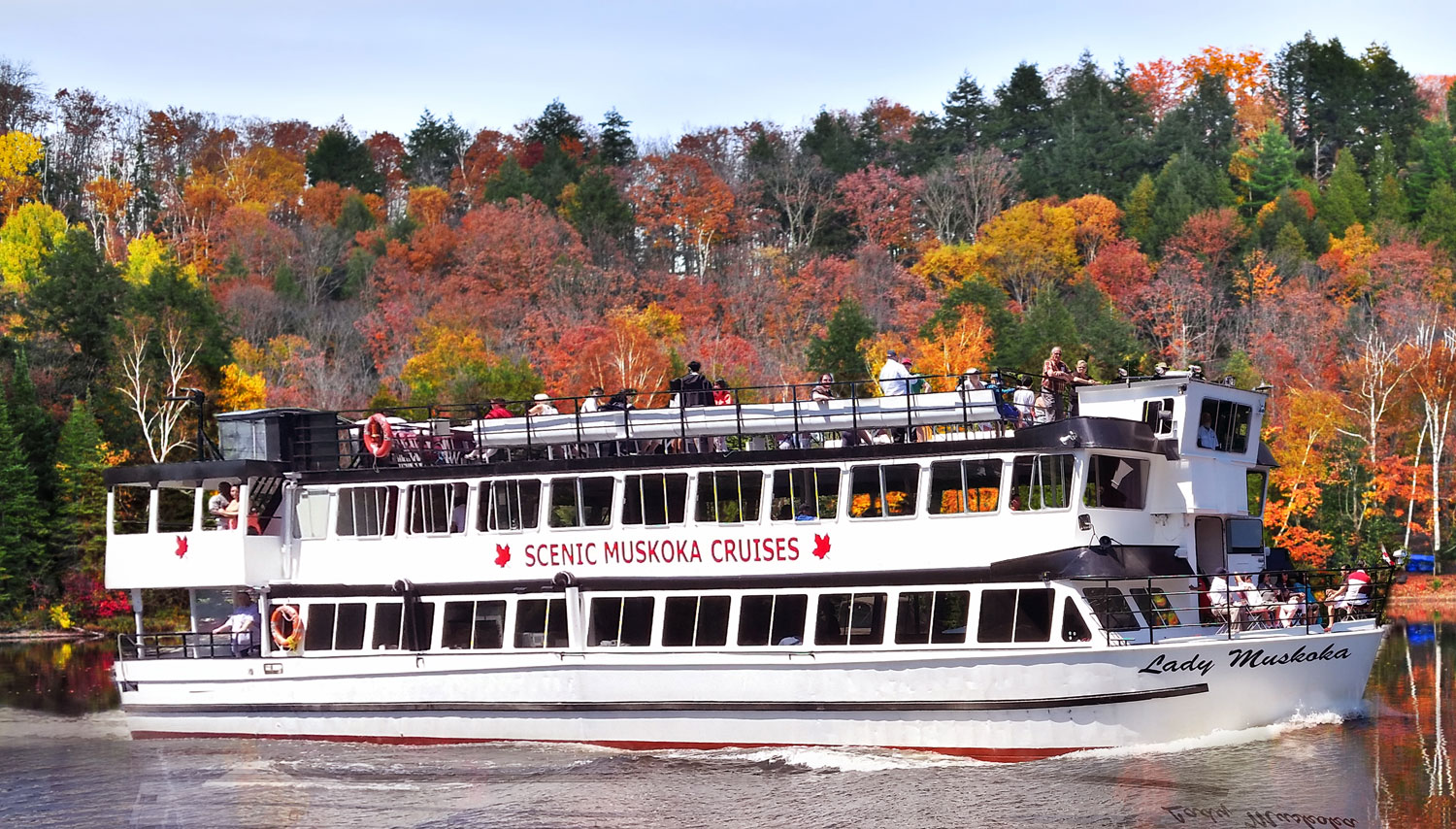 OCT 17, 2017 – MUSKOKA, ON
This upcoming weekend is expected to be one of the fall's best, with temperatures expected to reach 20°C and Muskoka's famed fall colours putting on one heckuva show! With poplar and birch trees still making their colourful transition, fall's Golden Encore is underway and there is still plenty of leaf peeping to be found in Muskoka. One of the best ways to experience fall's Golden Encore is aboard one of the area's majestic boat cruises.
Lady Muskoka's 2017 sailing season was originally scheduled to finish after their cruise on October 15, but the late fall colour bloom, picture perfect weather forecast, and non-stop inquiries have encouraged Lady Muskoka to extend their season. This hidden gem will be hosting two more cruises this upcoming weekend, October 21 and 22. This is certainly the latest in recent memory that Lady Muskoka will be sailing.
The two added cruises will feature their Millionaire's Row Cruise, a classic cruise that shows Muskoka's fall season in all of its glory. This 2hr 45 min cruise meanders its way up the Muskoka River and into Lake Muskoka, where it tours the lake for an intimate look at the fall colours, wildlife, nearby cottages, and famed Millionaire's Row. Passengers can sip their drink of choice, including local craft beer from Muskoka Brewery, and purchase food from the on-board snack bar.
Lunch is available as an add-on to your cruise, but there are limited number of openings. Lunch is prepared with local ingredients by award-winning chef David Friesen. A few of the mouth-watering entrée selections include Smoked Chicken Breast with house-made BBQ sauce and Pork Ribs smoked "low and slow". See their entire lunch menu here
For schedule information or to book, visit Lady Muskoka's website
Need a Place to Stay?
Check out our fall getaway packages, or check out prices and availability instantly with our online booking engine