For the week of May 27 – June 2, 2019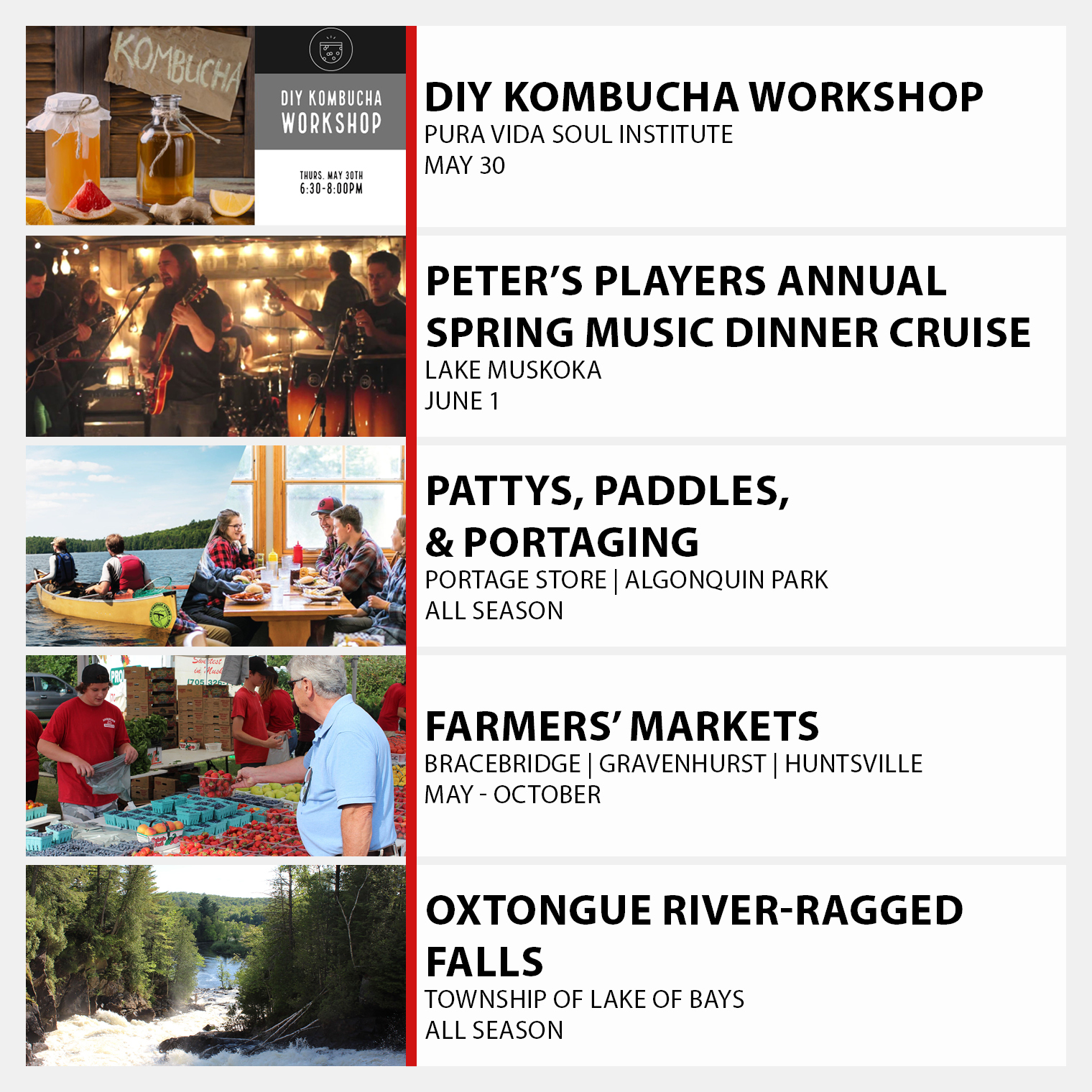 It's all about excitement, exploration, and education this week!
Explore one of Muskoka's many amazing Farmers' Markets. Learn a new, delicious skillset with the Pura Vida Soul Institute's DIY Kombucha Brewing Workshop this Thursday, May 30th. Have a tune-tastic time with to Peter's Players Spring Music Dinner Cruise this Saturday, June 1st.
Jumpstart your warm-weather explorations by picking up a patty and a paddle at the Portage Store Restaurant in Algonquin Park. Or, challenge yourself and chase some waterfalls by exploring the Oxtongue River-Ragged Falls.
DIY Kombucha Workshop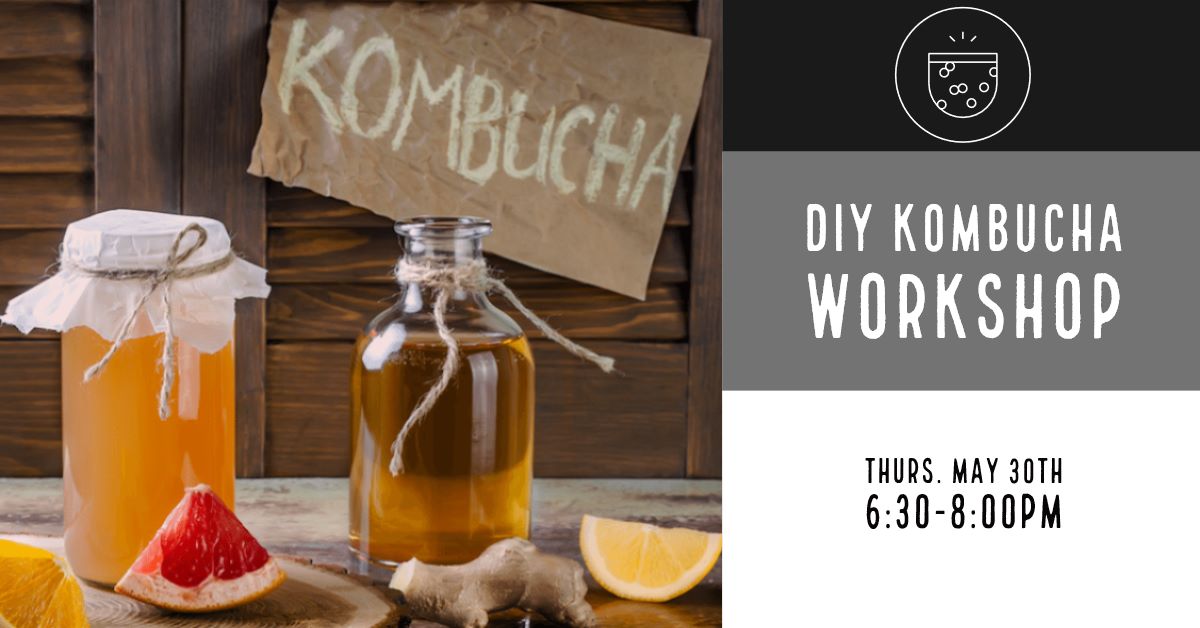 If you haven't heard of kombucha, you're missing out – this fermented sweet tea is easy to make and believed to be great for your health. But, it can also cost a pretty penny to acquire. Enter the Pura Vida Soul Institute and their DIY Kombucha Brewing Workshop.
Happening this Thursday, May 30th, you'll get to learn all about this popular beverage AND walk away with your own DIY kit to try it out at home. Advanced registration is required though, so act fast for what promises to be a fun and informative night!
Visit their website for more information
Spring Music Dinner Cruise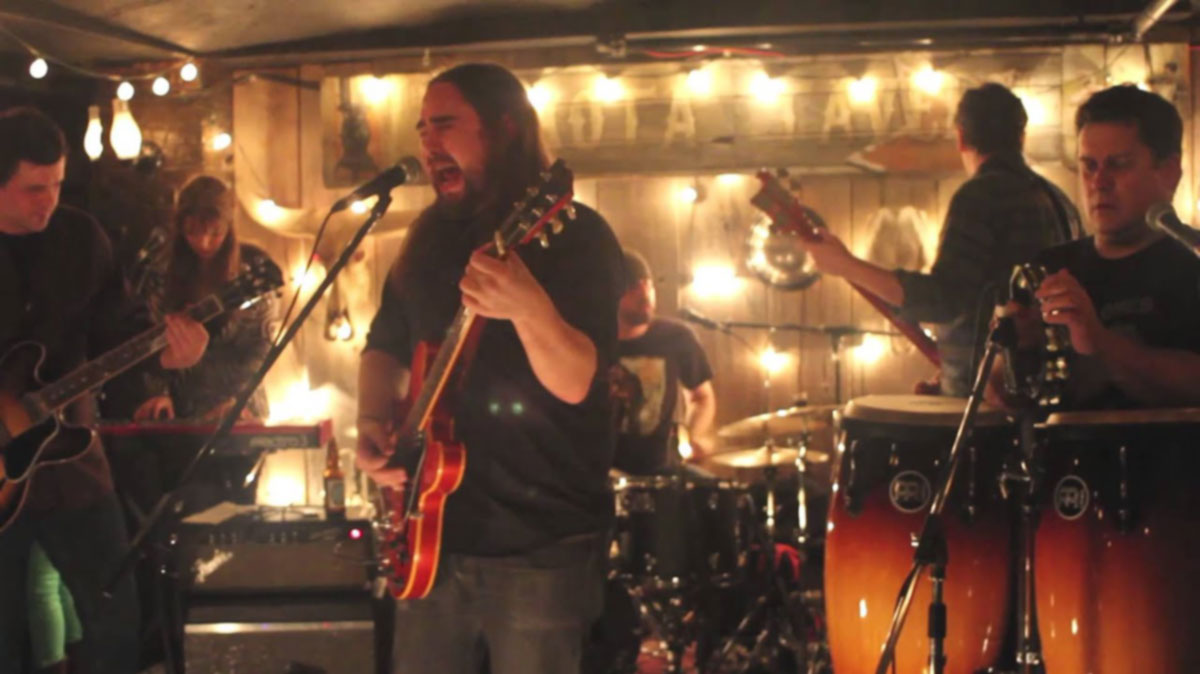 All aboard the Wenonah II this Saturday, June 1st, for some great music and stunning views thanks to Peter's Players annual Spring Music Dinner Cruise. Featuring two phenomenal bands, The Neil Young'uns and Hot Wax Meltdown, this 4-hour excursion also includes a buffet-style dinner. This event always sells out, so get your tickets right away!
Visit their website for more information
Pattys, paddles, & portaging
Tuesday, May 28th, is Hamburger Day, so honour it the Muskokan way with a patty and paddlin' adventure! One of our top spots to grab a burger is at the Portage Store Restaurant on the waterfront of Canoe Lake (and right in the heart of Algonquin Park's 7,700 square kilometers).
Your planning will be no problem thanks to the store's many resources. You can strike out on your own, or book one of their guided tours. You can bring your own canoe, or rent one of theirs. You decide!
For more information, visit their website
Get out and chase some waterfalls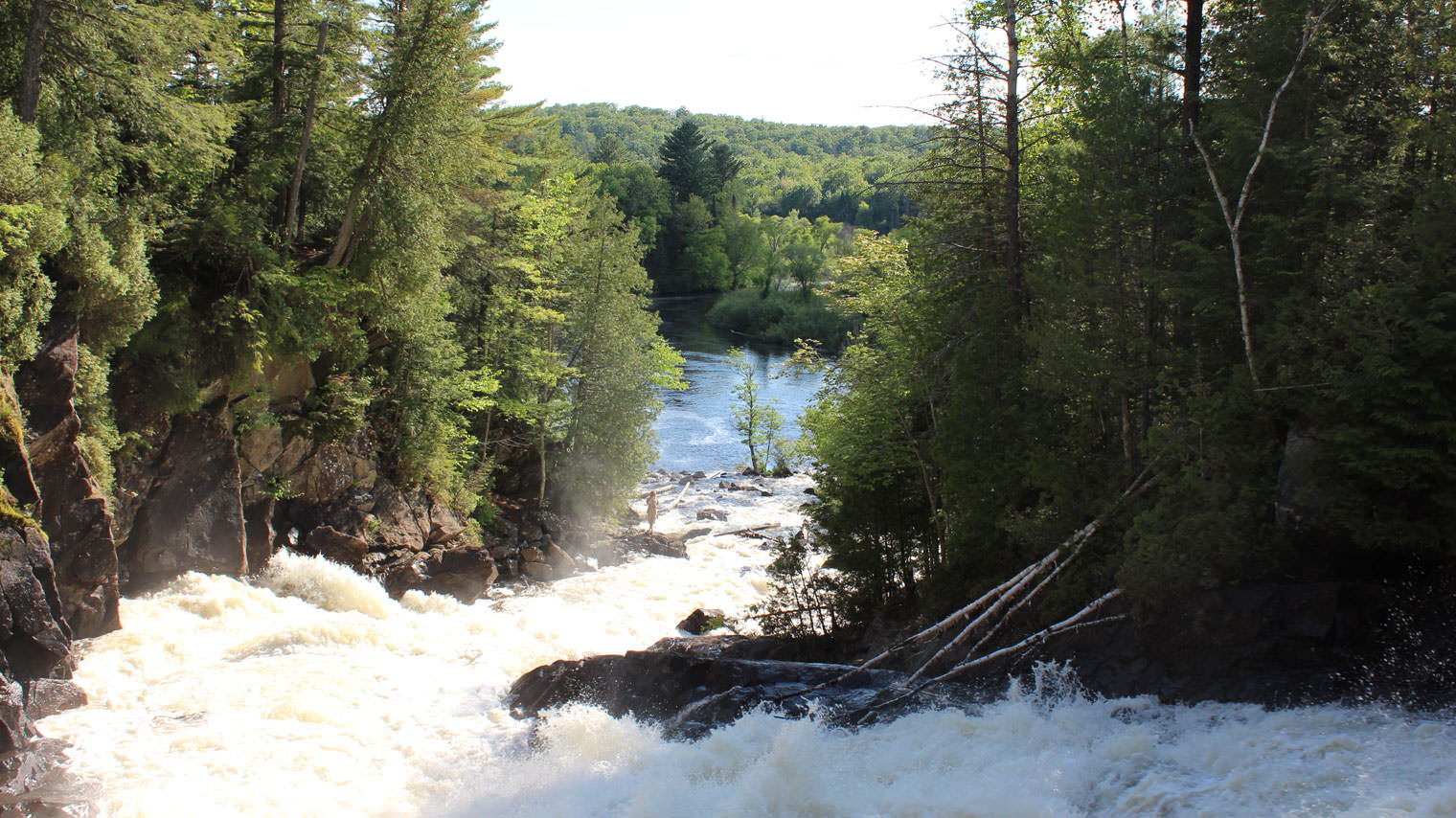 We've hit a seasonal sweet spot when it comes to waterfall watching, and one of the most spectacular falls around is the Oxtongue River-Ragged Falls. Close to Algonquin Park, the 3.7km trail to get these falls is not for the faint-of-heart. And, safety is definitely key for anyone making this trek, as it follows along the shore of very fast-moving water. But, if you keep safety front of mind and obey all signage, you will be rewarded with a magnificent and memorable adventure.
Click here for more information
Farmers' Markets open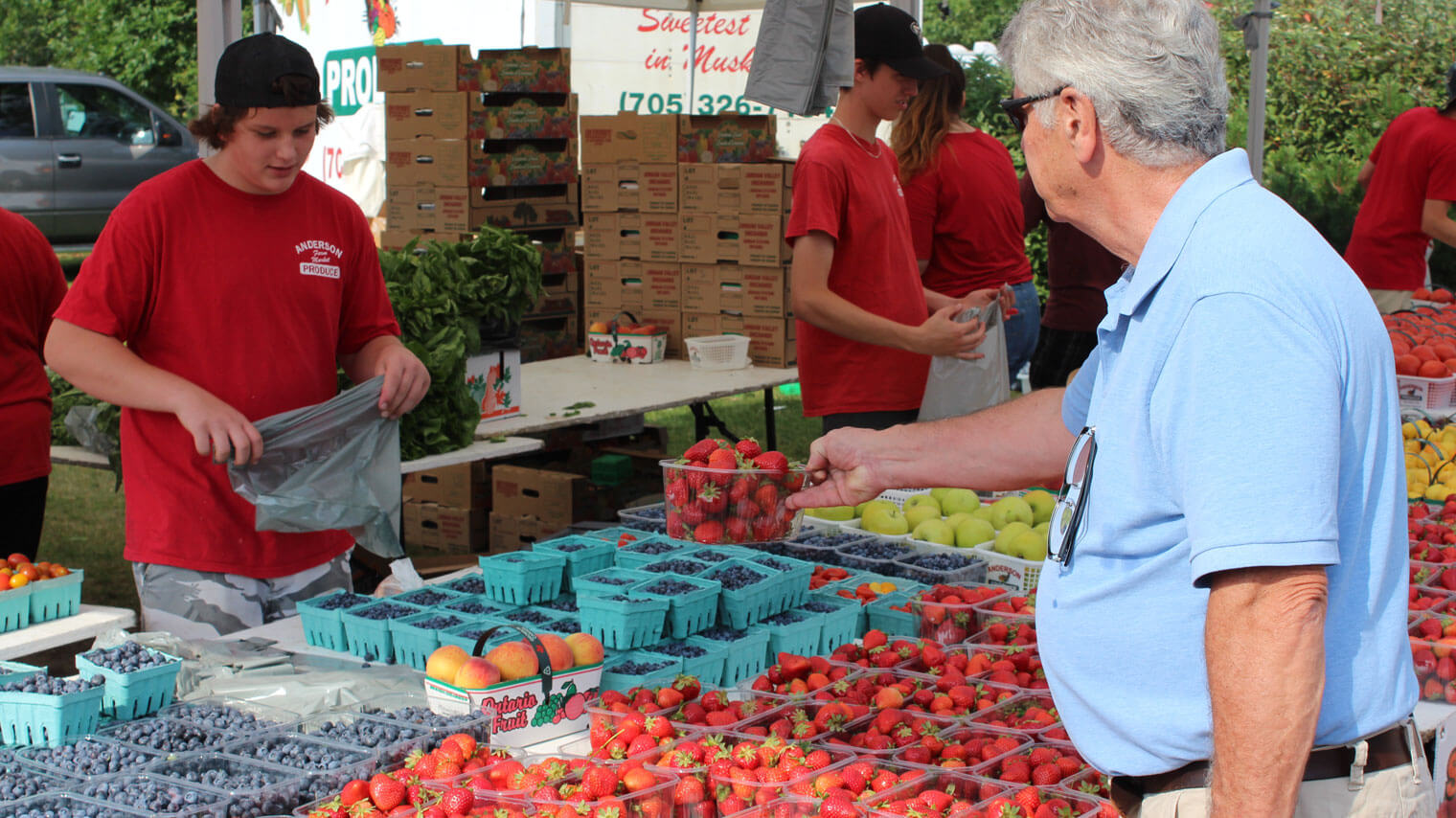 Many of Muskoka's beloved farmers' markets are beginning again. Whether you're browsing for homemade goods, locally sourced foods, or local art, these markets have got what you need (and more). A visit to the local market is so much a part of Muskoka's cultural fabric that every community has one! See below for information about all the markets that opened in May.
Bracebridge
Saturdays, 8:30am – 1pm;
May 18 – October 12
Memorial Park
Gravenhurst
Wednesdays, 9am – 1pm;
May 15 – October 30
Muskoka Wharf
Huntsville
Thursdays, 9am – 2pm;
May 16 – October 3
Huntsville & District Agricultural Society Fairgrounds
Click here for information on starting dates for all of Muskoka's Farmers' Markets
Stay and Play
Make the most of your Muskoka experience and check out our top recommendations for places to stay and perfect getaway packages.
Content produced in partnership between Muskoka Tourism and the government of Ontario