For the week of May 13 – 19, 2019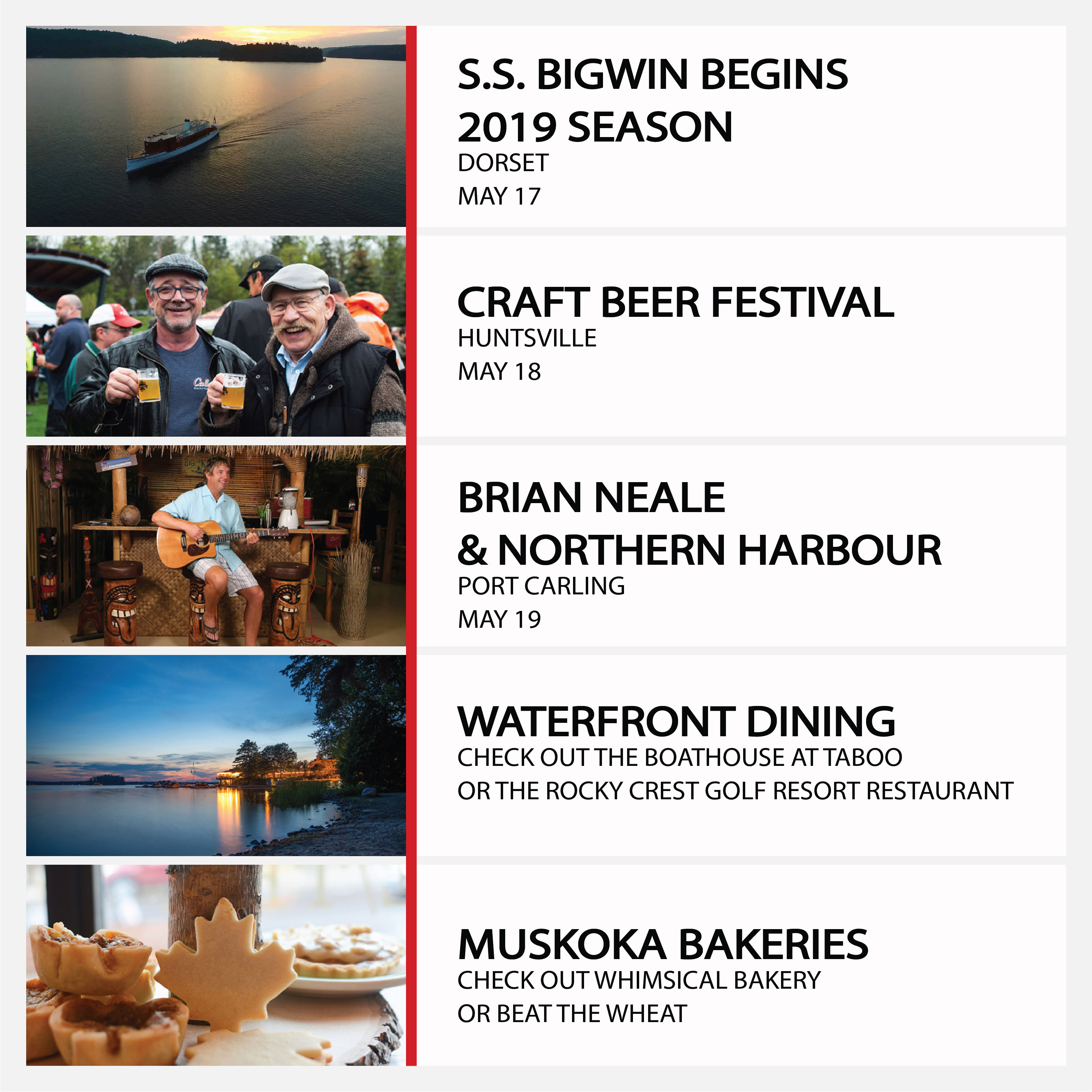 It's a marvellous week to get out with friends and family in Muskoka. Friday, May 17, the S.S. Bigwin launches its cruising season and the fourth annual Muskoka 2/4 Craft Beer Festival will be held in Huntsville Saturday, May 18. Then Brian Neale & Northern Harbour will help us welcome in warmer weather on Sunday, May 19. Top the day off with a couple of Muskoka traditions that have been long missed; find a waterfront patio for delicious dining with a view, or make that all-important stop at one of our local bakeries for scratch-baked goodies.
S.S. Bigwin begins 2019 season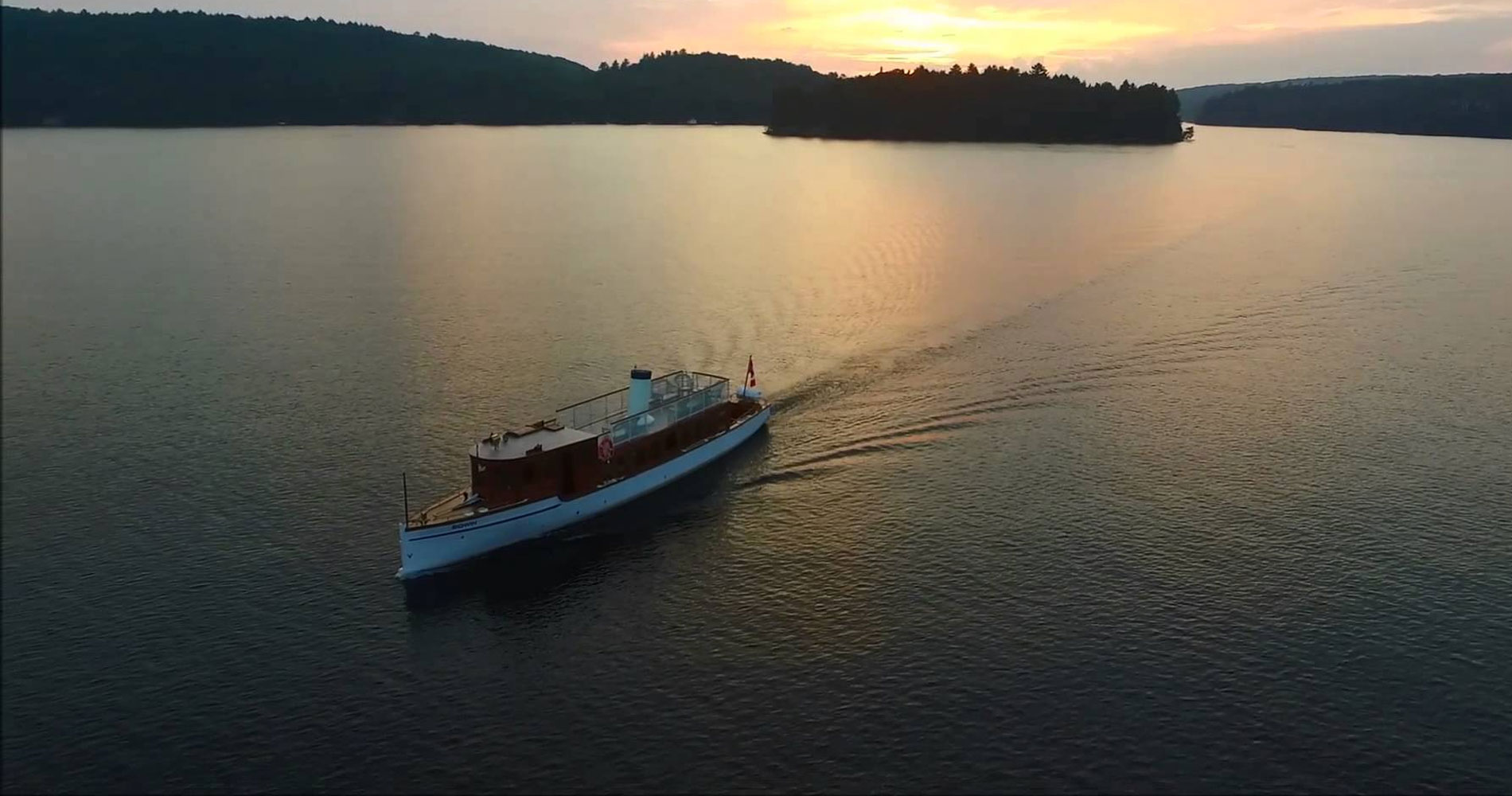 Join the company of Clark Gable and Louis Armstrong by touring the Lake of Bays aboard the historic S.S. Bigwin, which kicks-off its cruising season this Friday, May 17. At over 100-years-old, the Bigwin is a classic (and totally glamorous) way of enjoying Muskoka's stunning scenery and mesmerizing waterways. We recommend that you arrive well before your departure time because your ticket also gets you into the Lake of Bays Marine Museum. That means you get to really dive-in and fully immerse yourself in the heritage of this Muskoka tradition!
Visit their website to learn more and plan your trip today
Muskoka 2/4 Craft Beer Festival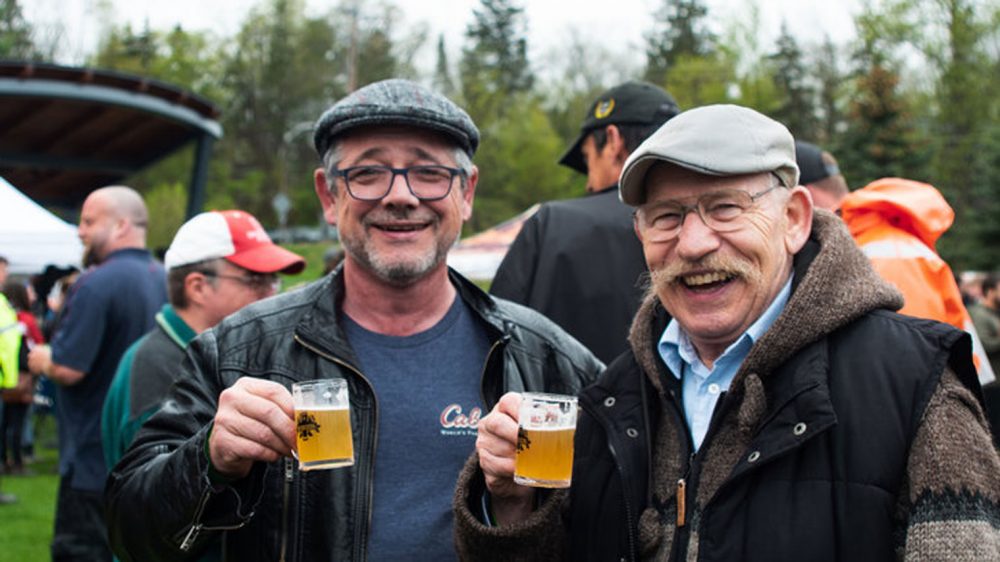 There will be plenty of grins (and glasses) to be found in downtown Huntsville on Saturday, May 18, as the town hosts the fourth annual Muskoka 2/4 Craft Beer Festival. With over 30 food and drink vendors in attendance, it's sure to be a real a feast for the senses. Get your tickets in advance and you will receive two additional beer coupons.
For more information, visit their website
Brian Neale & Northern Harbour – Spring Thaw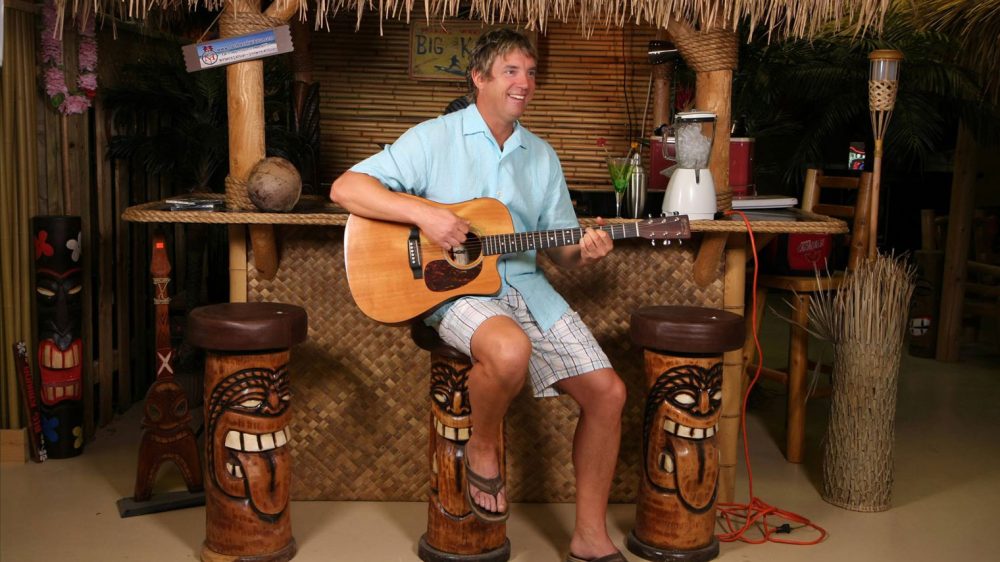 Bye-bye winter blues! Brian Neale & Northern Harbour will be at the Port Carling Community Centre on Sunday, May 19, to celebrate the arrival of warmer weather. Bala's own Taco Kar will be serving up some Mexican cuisine and the full bar by Clear Lake Brewing Company opens at 7pm. Add-in Neale's original tunes and classic covers to the mix and you've got the perfect sun-and-sand celebration.
Click here for more information about the event
Dining with a view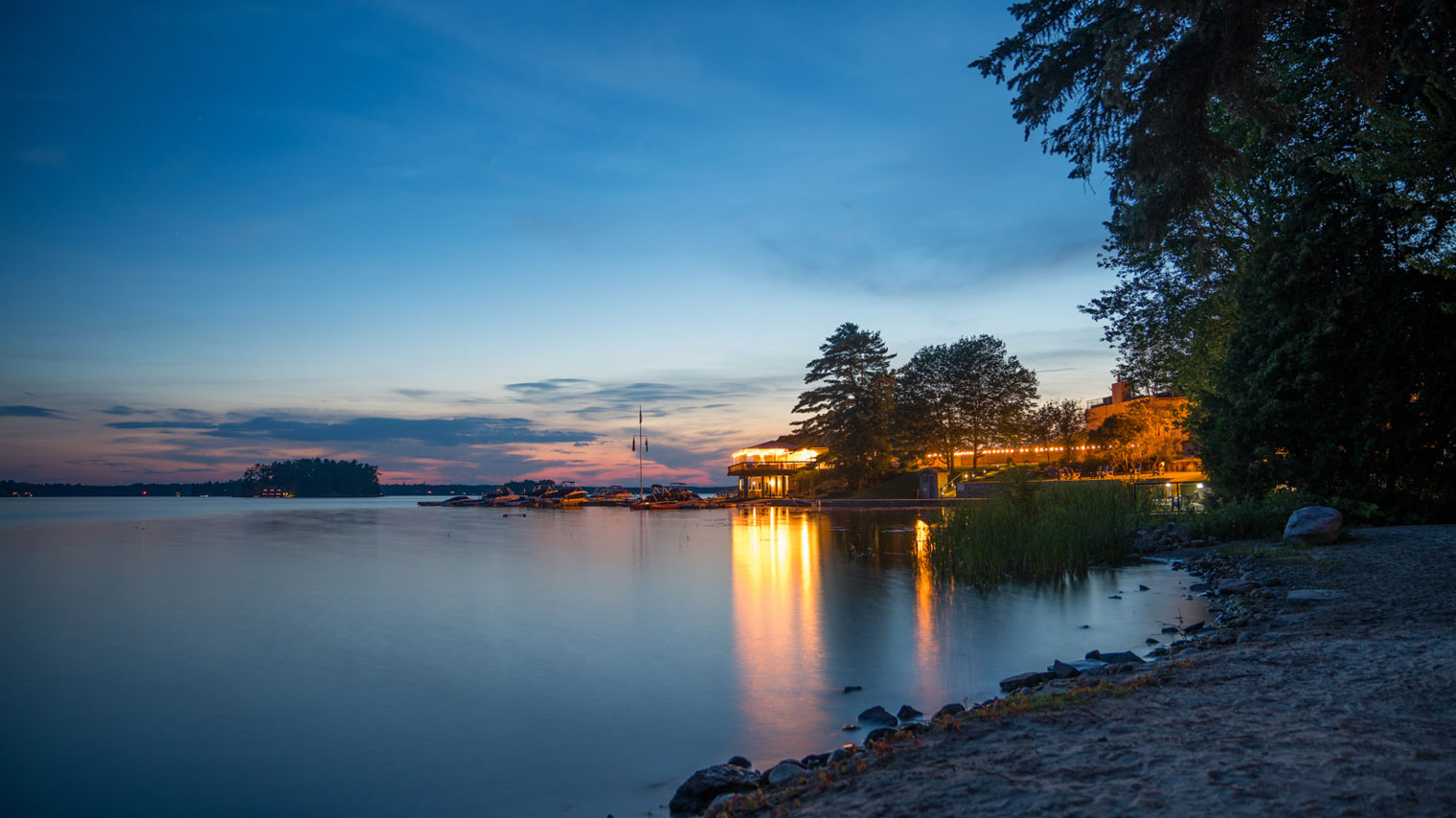 Opt for the quintessential Muskoka experience, dinner with a view, along the shores of one of our beautiful bodies of water. If the weather is nice, dine on the patio! Nothing signals summer like dining on a waterfront patio.
The Boathouse at Taboo has spectacular views and superb menu items – try a classic dish like a Gravenhurst Market Salad or perhaps sample something from their "Creative" Plates offerings. If you have been craving patio season but waiting for the weather to warm up, The Boathouse patio is covered, and if needed, heated.
Rocky Crest Golf Resort on Lake Joseph is another dining hot spot serving up excellent dining paired with stunning views. Bayside Patio and Lounge offers casual dining favourites like a Smoked Brisket Sandwich or their tasty On the Dock Burger, and have extended lunch hours this weekend, open Saturday, Sunday and Monday (May 18 – 20, 2019). If the weather is nice, dine on their comfortable patio and really kick off the summer. For casual-fine dining, make reservations for Windows Restaurant, known for premium cuts of steak and a menu of Canadiana-inspired dishes.
Stock up on delectable treats at one of Muskoka's local scratch bakeries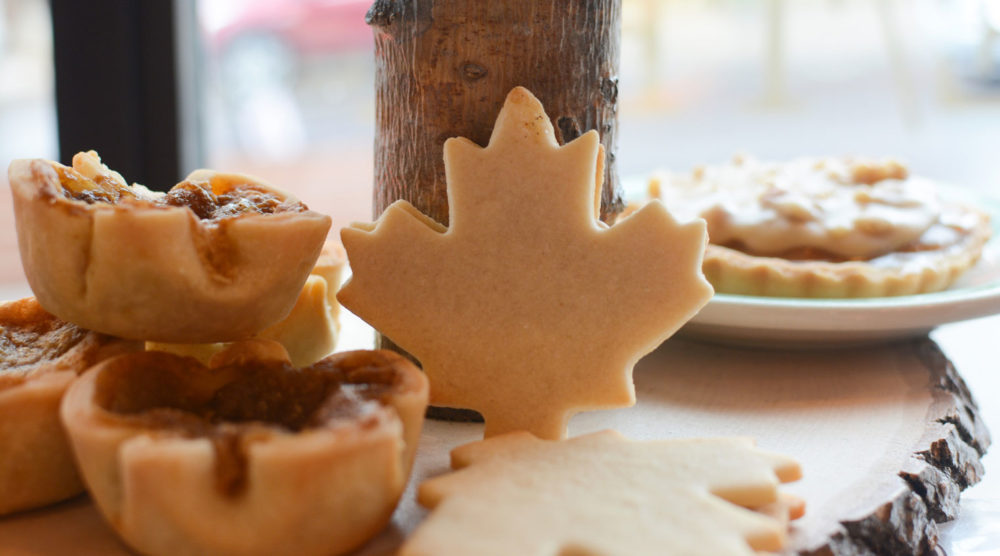 If you'd like to just stay in for a night, grab yourself a delectable dockside treat from Whimsical Bakery or The Pasta Shoppe Bakery & Fine Foods (or both if you're feeling a little wicked). Between the Party Confetti and Chocoholic cupcakes from Whimsical Bakery, and sumptuous classics like Sticky Toffee Pudding and Lemon Poppyseed Muffins from The Pasta Shoppe Bakery, these Muskoka bakeries have got your cravings covered. And we've just skimmed the sweet, sweet surface of what they offer. Check out their websites to see more – Whimsical Bakery and The Pasta Shoppe Bakery & Fine Foods.
Stay and Play
Make the most of your Muskoka experience and check out our top recommendations for places to stay and perfect getaway packages.
Content produced in partnership between Muskoka Tourism and the government of Ontario