For the week of July 8 – 14, 2019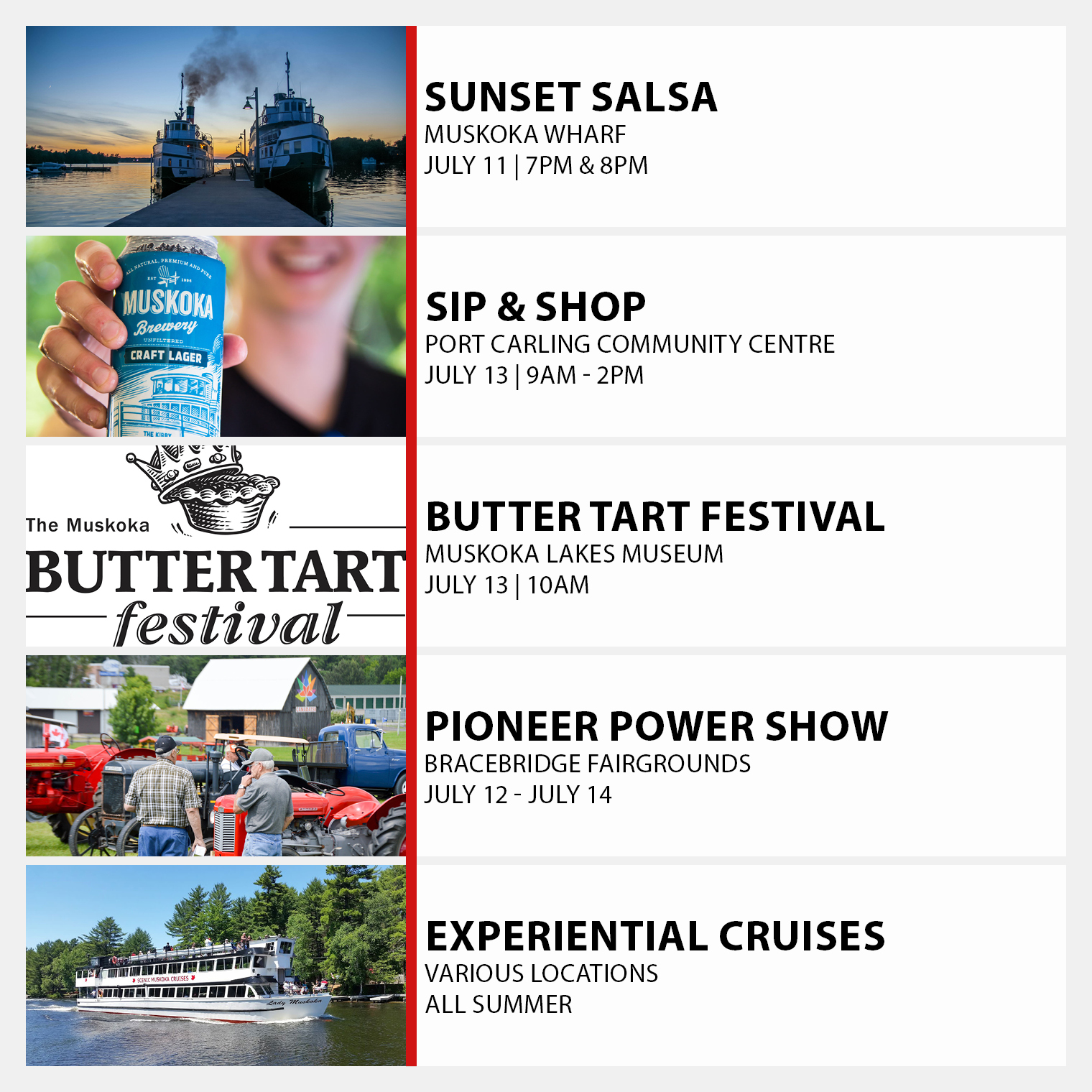 Prepare to swing your way through many a Muskoka sunset thanks to Sunset Salsa on the Muskoka Wharf.
Indulge in some double decadence thanks to Sip & Shop Muskoka – pairing perfect refreshments with an array of awesome shopping opportunities. Treat yourself to that beloved Canadian classic – butter tarts – thanks to the Muskoka Butter Tart Festival on Saturday, July 13 (but be warned, you'll want to be there early)!
Plus, get powered up with the Muskoka Pioneer Power Show at the Bracebridge Fairgrounds. And, end the week by unwinding aboard one of Muskoka's amazing experiential cruises.
Sunset Salsa Dancing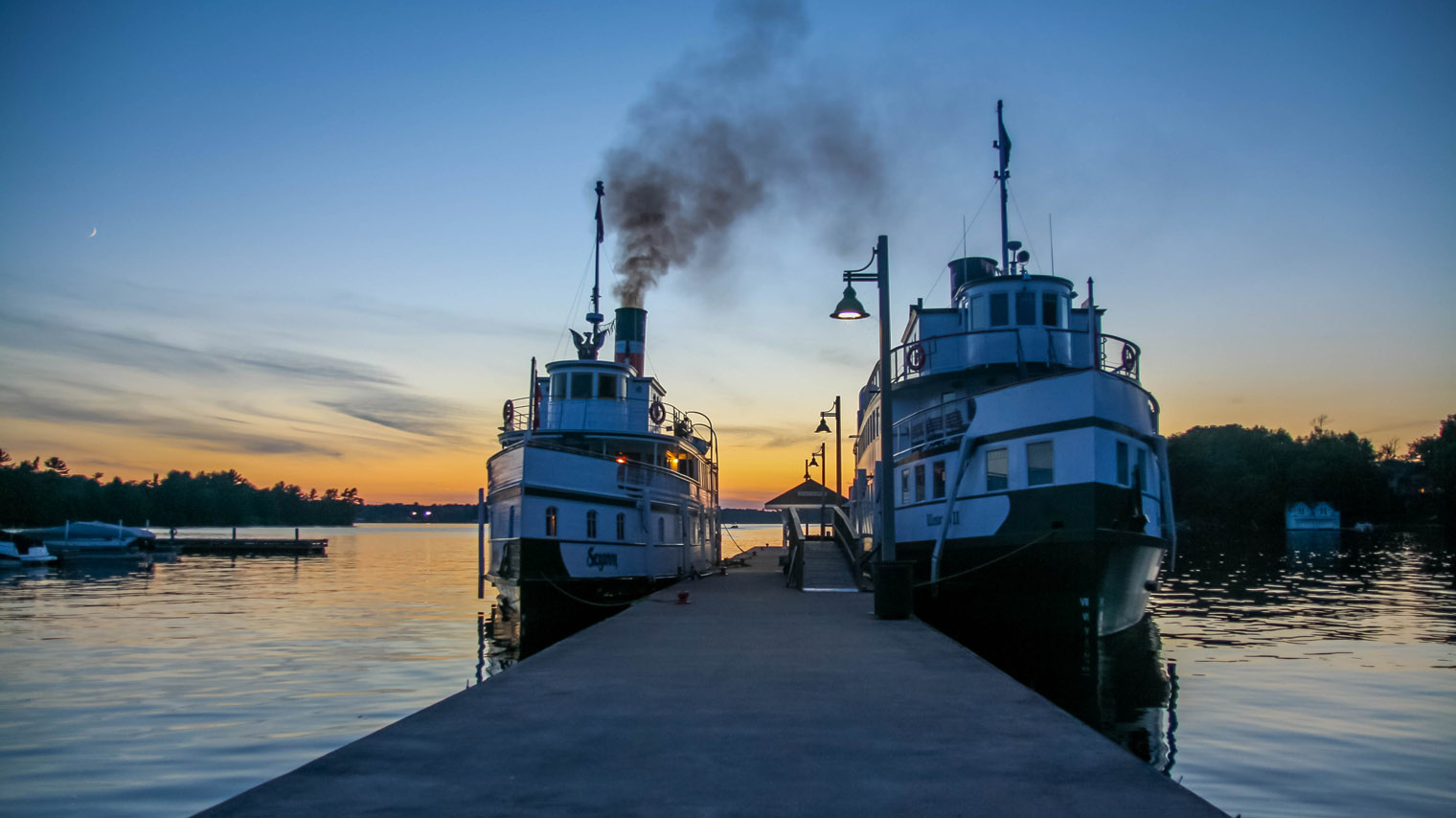 Music flows through the evening air, the warm sun waves goodbye to another summer day, and you've just taken your partner's hand. Now, it's time to dance! Throw your dancing shoes on and head to the Muskoka Wharf every Thursday this summer for some Sunset Salsa.
This rhythmic romp is for pros and novices alike, offering beginner lessons at 7pm and social dancing at 8pm. Best of all, admission is by donation – so give what you're able, and have some fun knowing it's all going to a good cause, as the funds raised go to Gravenhurst Against Poverty.
Visit their Facebook page for more information
Sip & Shop Muskoka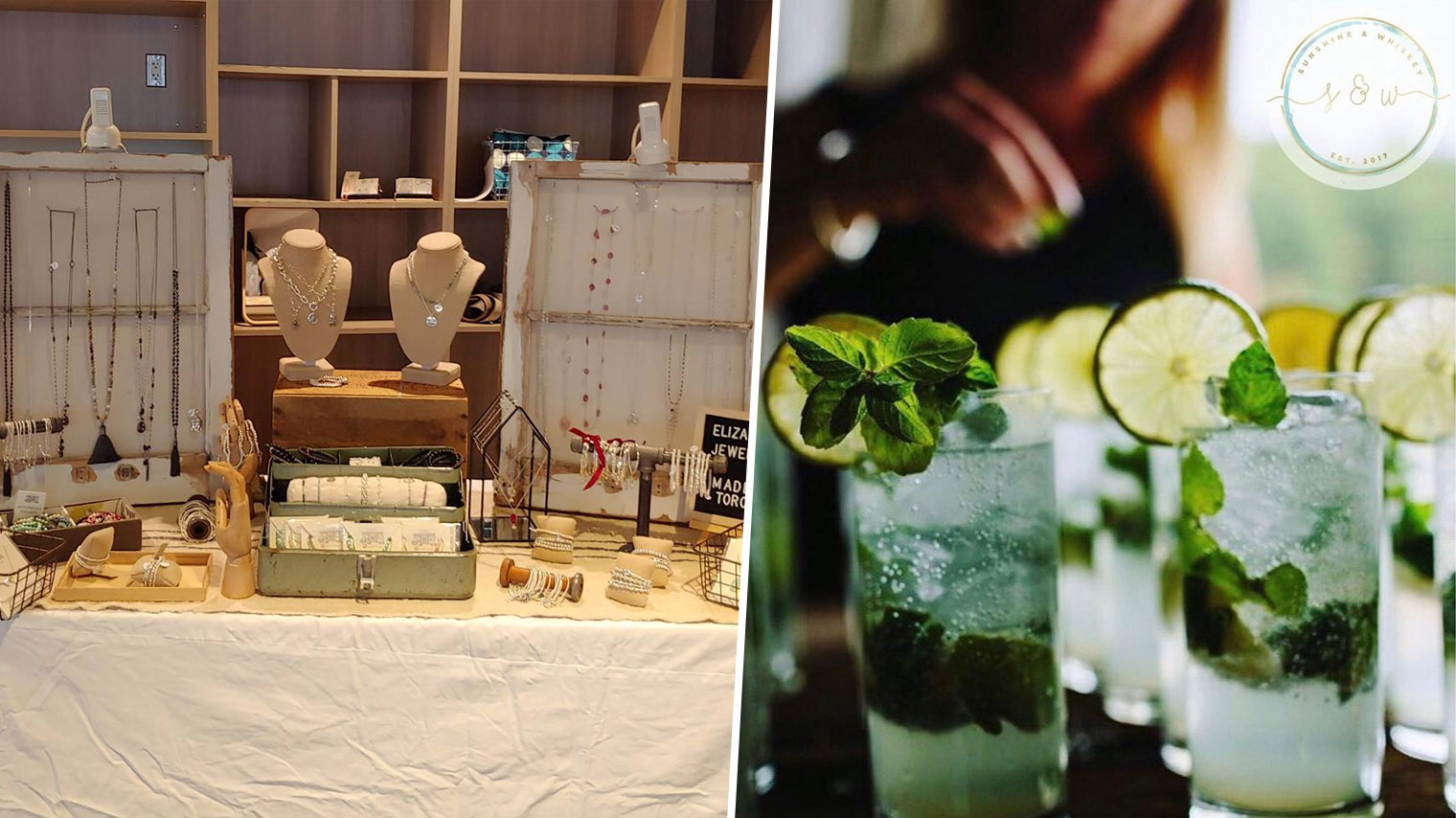 Sipping … AND shopping!? The geniuses behind Sip & Shop Muskoka have really made a perfect match-up. On Saturday, July 13, enjoy this awesome combo at the Port Carling Community Centre, where they've partnered up with local institutions like Muskoka Brewery and Field of Greens to offer you a different kind of shopping experience.
So come on over, sip on some delicious craft brews, summer cocktails or summer mocktails, and peruse offerings from awesome Ontario vendors like Wood Be Cute and beCH Life Co.
Visit their Facebook page for more information
Butter Tart Festival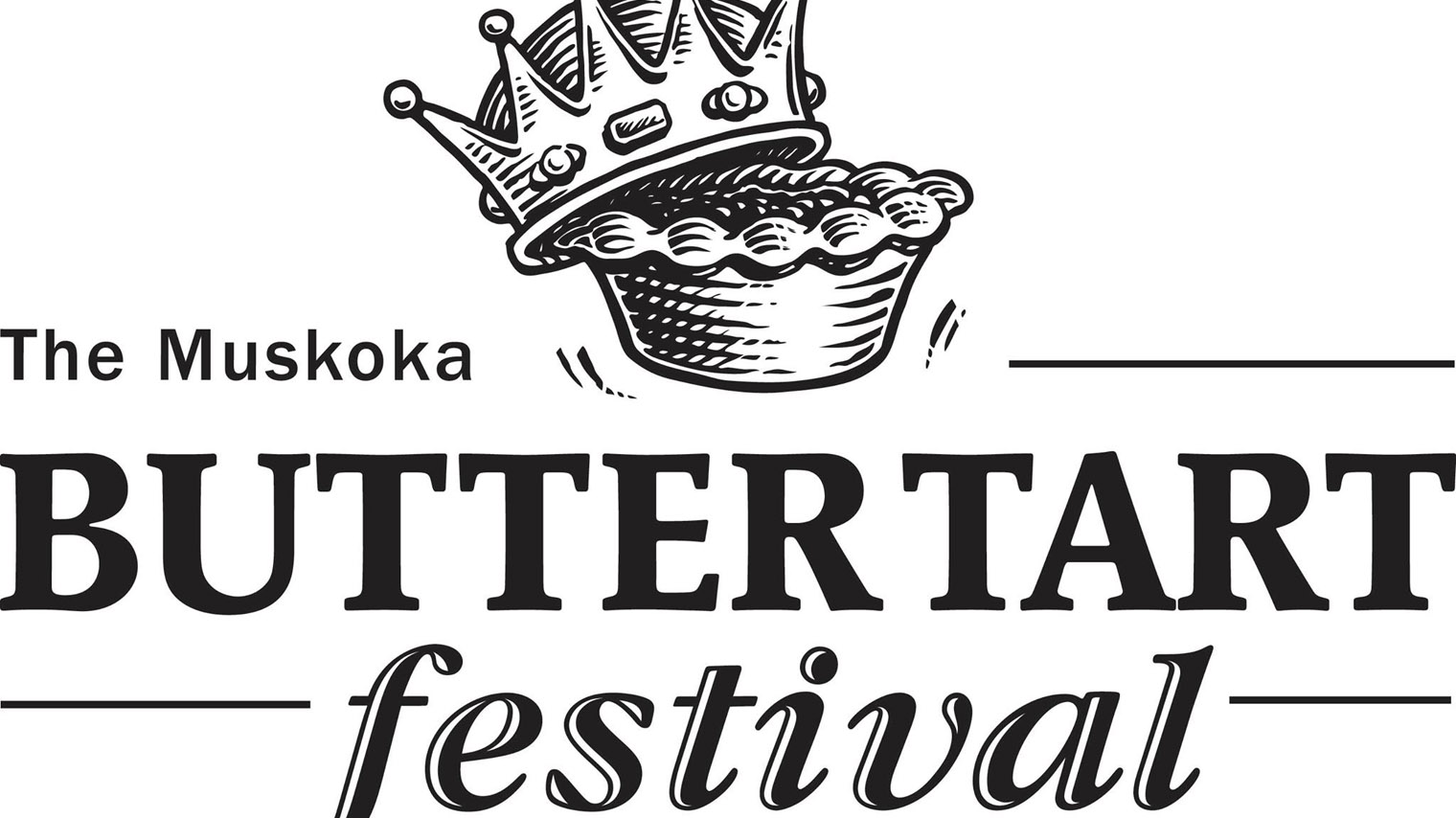 There's nothing better than biting into a fresh, flavourful butter tart. And, for all the fans of this beloved Canadian baked good, you've got to check out the Muskoka Butter Tart Festival this Saturday, July 13th, at the Muskoka Lakes Museum.
With even more food displays than ever before, the enticing excitement kicks off at 10am – and definitely, don't be late! These tarts are so tantalizing that they usually sell out by noon!
Visit their Facebook page for more information
Muskoka Pioneer Power Show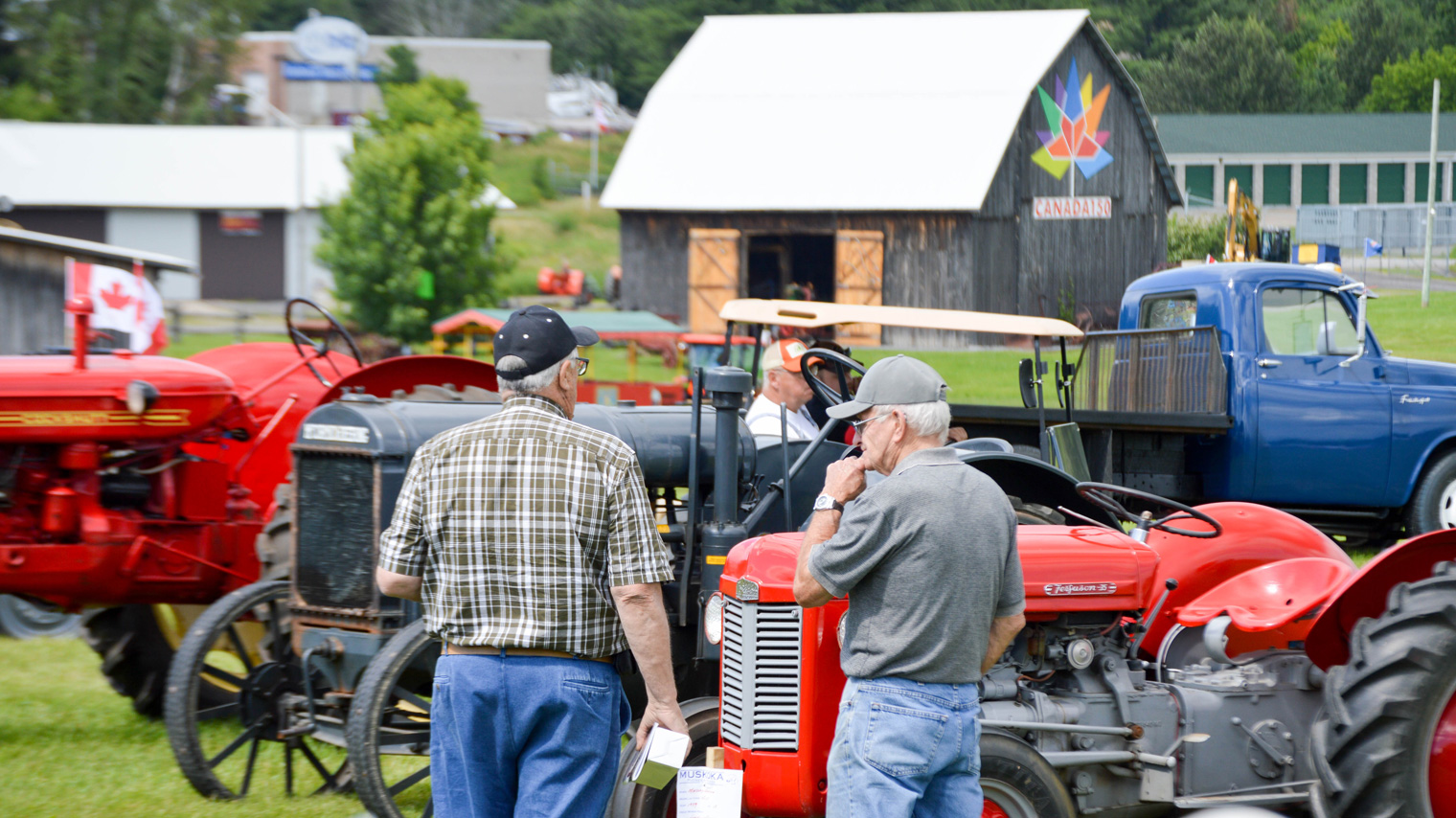 The Bracebridge Fairgrounds will be powered-up to the max this weekend, from July 12th to 14th, for the Muskoka Pioneer Power Show. This year's theme is "Ford," which celebrates cars, tractors, and everything else Ford. It's the perfect event for every antique buff or machinery and memorabilia enthusiast.
Visit their website for more information
Experiential Cruises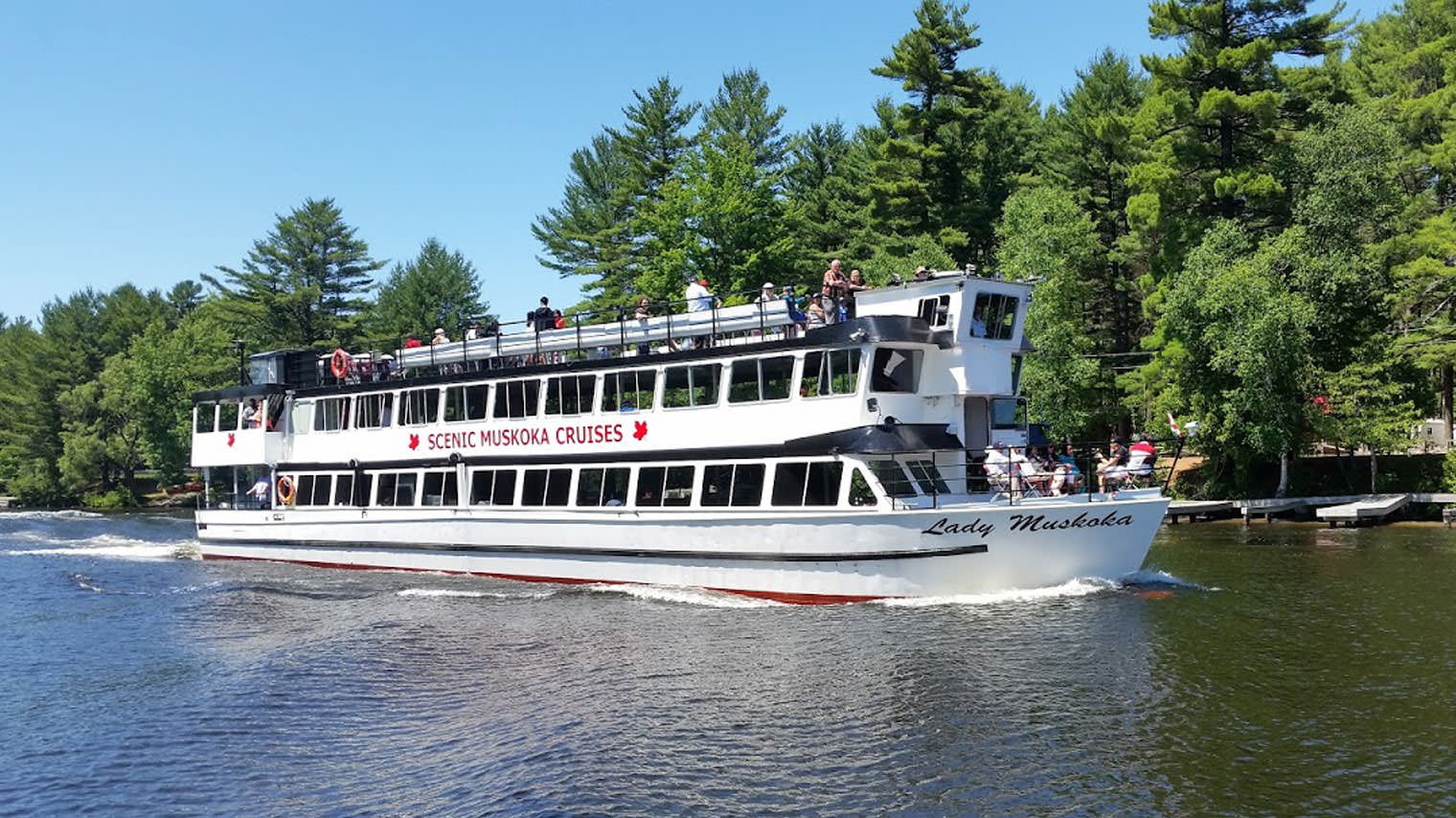 There's more than one way to enjoy Muskoka's mesmerizing waterways – including through the awesome experiential cruises offered by our local lines.
Sightsee and savour with…
See a sensational setting sun with…
Have some family fun with…
Stay and Play
Make the most of your Muskoka experience and check out our top recommendations for places to stay and perfect getaway packages.
Content produced in partnership between Muskoka Tourism and the government of Ontario