For the week of February 25 – March 3, 2019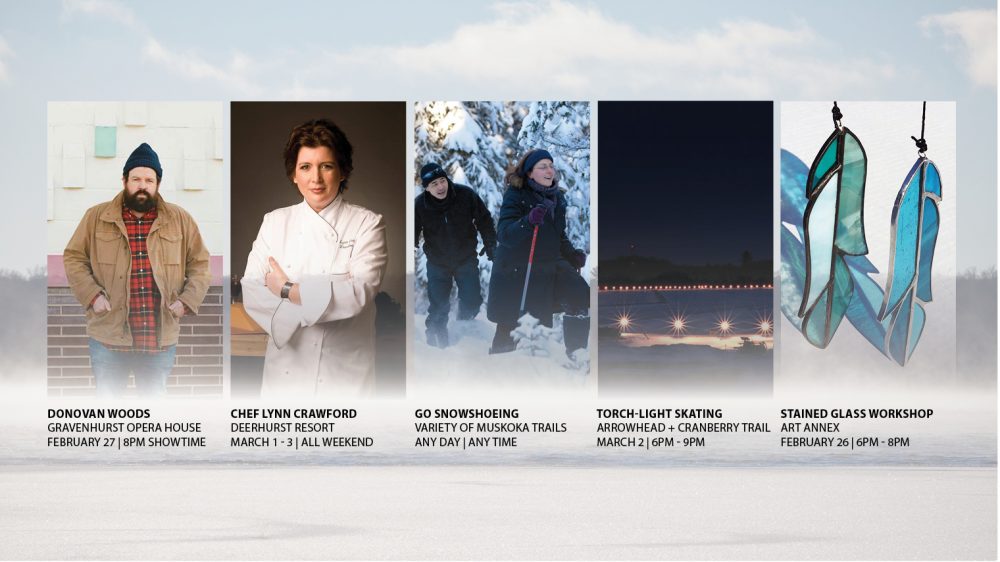 We are officially closer to the end of winter than the beginning, so get outside this week and get active.
One of the most amazing winter experiences in Muskoka is skating by torchlight. There are two opportunities to go torchlight skating this Saturday, March 2, at  Arrowhead Provincial Park or Muskoka Lakes Farm & Winery. They both take place at the same time, so take your pick.
Sticking with the winter fun theme, pack your snowshoes and hit the trails at one of our beautiful all-season parks. Hardy Lake Provincial Park is a local favourite open seven days a week (daytime hours only), or sign up for the Snowshoe Nature Quest, a group snowshoe hike with the Muskoka Conservancy on Friday, March 1.
After your fun outdoors, check out the arts, culture and culinary events happening around Muskoka. A very cool stained glass workshop is taking place on Tuesday, February 26 at the recently opened Art Annex on the main street of Bracebridge. The next night, Wednesday, February 27, JUNO nominated artist Donovan Woods will be taking the stage at the Gravenhurst Opera House for a highly anticipated concert.  And then this weekend, celebrity Chef Lynn Crawford will be at Deerhurst Resort. You can get tickets to the special culinary dinner and demo she is hosting, featuring a menu that Chef Lynn has designed specifically for this special evening.
Stained Glass Workshop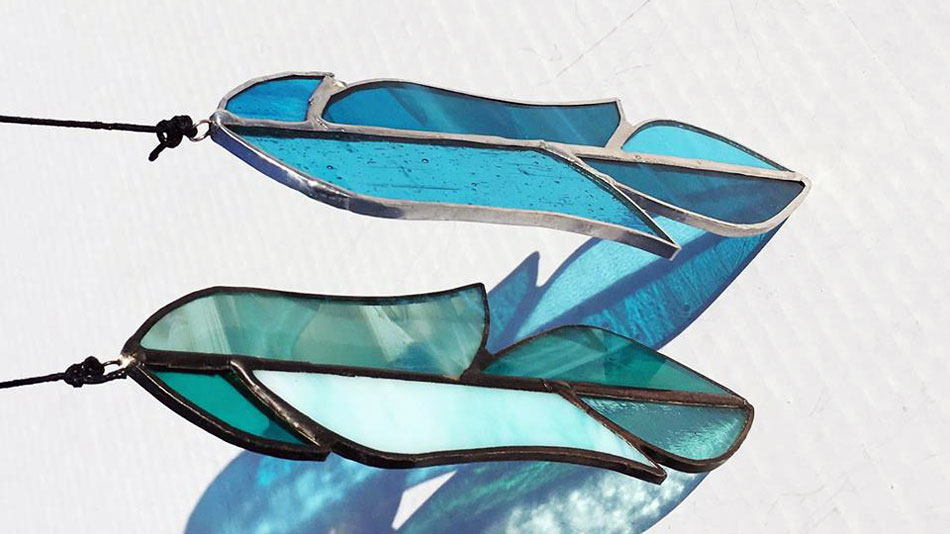 Have you always wanted to learn the art of stained glass? Now is your chance with a workshop facilitated by the talented Jessica Wisniewski of Flux Glass Co. at the Art Annex – Muskoka on February 26 from 6pm – 8pm. You will learn how to foil, solder, patina, and polish stained glass, while creating a custom stained glass piece that you will get to take home with you. It is recommended that participants be 12+ years old when signing up for the workshop.
For more information and to purchase your ticket, visit their page
Donovan Woods and the Opposition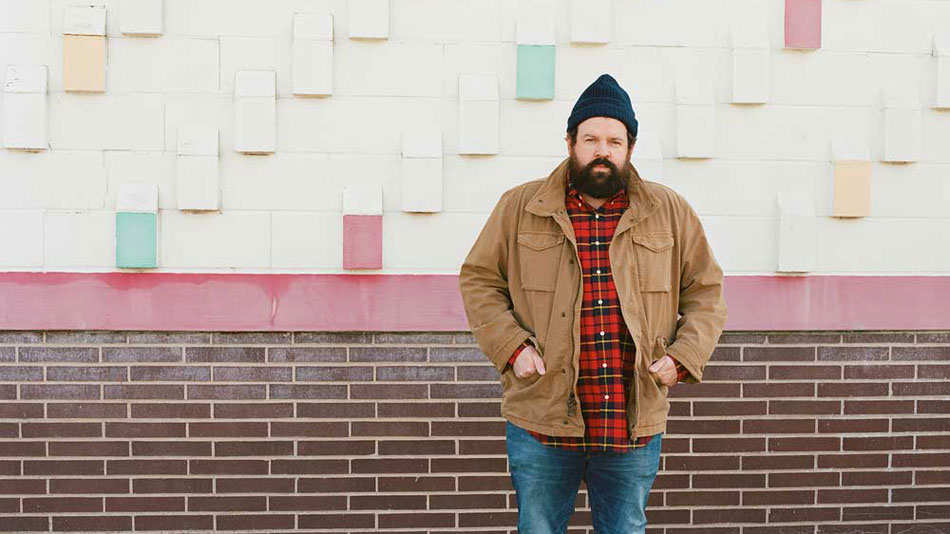 Donovan Woods and the Opposition will be performing songs from their new album at the Gravenhurst Opera House on Wednesday, February 27 at 8pm. The album, Both Ways, is a blend of roots, folk and country music. Donovan is not only a phenomenal singer, he is also a notable songwriter in Nashville for some very big names in country music. Get your tickets, you will be blown away by the talent on stage!
For more information and to purchase your tickets, visit their website
A weekend in cottage country with Chef Lynn Crawford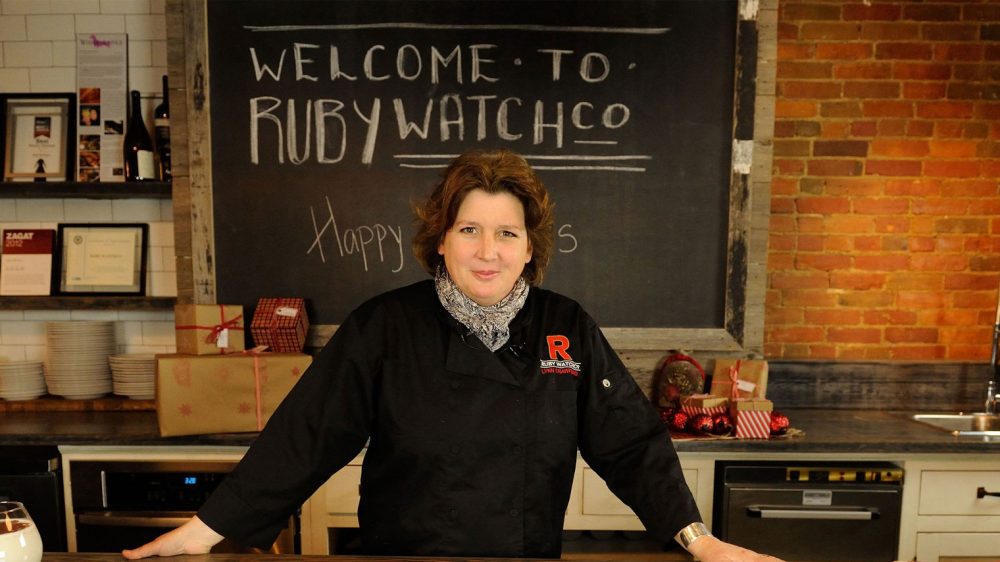 Celebrity chef Lynn Crawford  is coming to the picturesque lakeside setting at Deerhurst Resort this weekend. The best-selling cookbook author and Food Network television host will be taking guests on a culinary adventure of mouth-watering tastes and smells. The highlight of the weekend will most definitely be the Saturday night dinner and culinary demo, prepared and crafted by Chef Lynn Crawford herself. You can book the entire weekend package, or just get tickets to the Saturday night dinner. This will be a real fun one!
For more information and to purchase your weekend package, visit their website
Go snowshoeing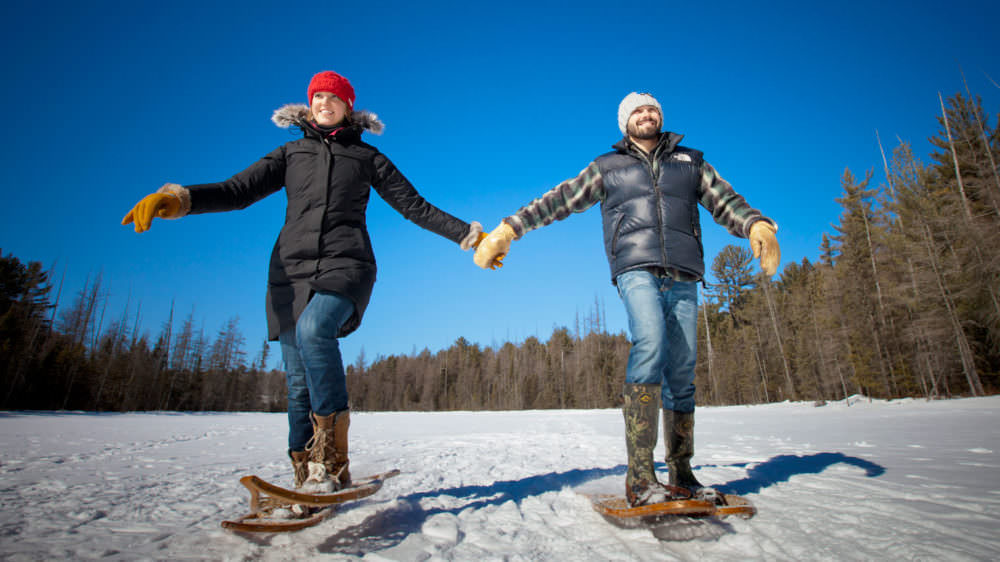 Muskoka is a snowshoer's dream, with beautiful year-round parks and trails ideal for trekking and exploring. One of the most popular trails is Hardy Lake Provincial Park, open daily for day use with a maintained and plowed parking lot. All you have to do is bring your snowshoes.
If you prefer guided winter adventures, Muskoka Conservancy has organized a unique group hike on Friday, March 1 from 10am – 12pm. They are calling it the Snowshoe Nature Quest, and it will take place at the Upjohn Nature Reserve in Bracebridge. You may have never heard of the Upjohn Nature Reserve or its story, so this guided hike should be as interesting as it is breathtaking. To learn more and register about the Snowshoe Nature Quest, visit their Facebook event page.
Torch-light skating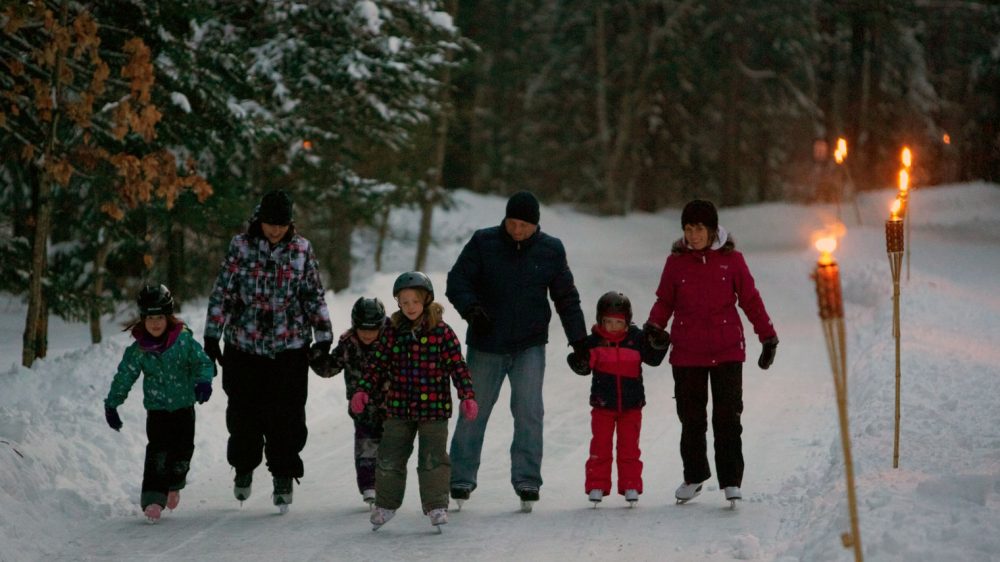 There are two opportunities to go torchlight skating this Saturday night in Muskoka. Muskoka Lakes Farm and Winery opens their 1.2km Cranberry Ice Trail for Light the Night every Saturday night from 6pm – 9pm. The trail is lit by 400 tiki torches and it is truly a magical sight to see and experience. They also offer hot mulled wine, cranberry apple cider and a light winter menu filled with comfort food favorites. New in 2019, they have opened up a new indoor seating and warming area, a great new addition for all the outdoor fun to be had.
In Huntsville, Arrowhead Provincial Park hosts Fire and Ice night on their outdoor torchlit skating trail on select winter evenings. There are 3 more Fire and Ice nights taking place this season, happening every Saturday until March 9, 2019. The enchanted ice trail in the woods opens at 6pm and closes at 9pm.
Check both Muskoka Lakes Farm & Winery website and Arrowhead Provincial Park daily update for the latest updates on the ice skating trails before heading out.
Stay and Play
Make the most of your Muskoka experience and check out our top recommendations for places to stay and perfect getaway packages.